Best Bathtub Chair for Elderly – Shower chairs are an essential device for elderly or disabled people who require the assistance of a support chair to have a relaxing shower. They can also be used in larger showers as a place to sit while scrubbing your feet or shaving your legs, and some are able to hold your soap, shampoo, body wash, or other shower necessities.
The best shower chair for you will address your needs in your bath and vanity area. Before buying, consider the weight restrictions of the chair so that you don't end up with a seat that breaks when you try to use it. Shower chairs can come with arms or without arms, and they can be adjustable or fixed. If you want a little extra height on your chair, so it is more comfortable to stand up and sit down, then invest in an adjustable shower chair with arms.
Big shower spaces can allow you to install a shower bench, which is essentially an extended shower chair, except that it often has a higher weight restriction and more sitting space, making it ideal for larger individuals. You will also want to note the material that the bench is made from so that you can select a durable, waterproof chair that will work well and last for a long time.
ROUND UP
1.Dr. Kay's Adjustable Chair
Dr. Kay's Adjustable Height Bath and Shower Chair is a great option for people under 250 pounds who don't need arms on their chair for support when sitting or standing. This chair has a rounded, ergonomic shape that makes it very comfortable to sit on. It weighs just 4 pounds and has built-in side handles, so you don't have to struggle to get it into or out of the shower.
The shower chair is assembled using wing-tipped screws so that you never have to worry about using tools when you are setting up your chair, or adjusting it. The chair is ideal for people who may want a little extra height in their seats to comfortably sit down because it adjusts from 12.5 inches in height to 18.5 inches. The body is made out of strong, lightweight anodized aluminum and comes with non-slip rubber feet so you won't have to worry about ending up on your back at the bottom of the shower.
Pros & Cons
---
LIGHTWEIGHT AND EXCEPTIONALLY STABLE: Don't sacrifice your comfort for safety when you can easily have them both with Dr. Kay's Adjustable Height Shower Seat. Weighs only 4 lbs but can hold 250 lbs.
OUR MAXIMUM HEIGHT IS A FULL 2-INCHES HIGHER: Some of our closest competitors make a similar product, but they skimp on the height - which could leave you struggling. Adjusts from 12.5" to 18.5".
FITS EVEN IN SMALL TUBS AND SHOWERS: The ample anti-slip platform and wide base give this stool maximum stability while the non-slip rubber feet ensure the bench won't slip out from under you.
DESIGNED FOR EASY NO-TOOLS ASSEMBLY: Leave the tools in the garage! Unlike other bath and shower chairs, Dr. Kay doesn't send you a jumble of hard-to-insert screws. No way! Instead, this heavy-duty anodized aluminum seat is specifically designed with professional-grade hand-saving Wing-Tipped screws that can be hand-screwed into place without the use of tools.
EASILY LIFTS WITH BUILT-IN SIDE HANDLES: We want this seat to help make your life easier, so we made it unbelievably lightweight, stable and strong. Tall or short, you'll be able to adjust it to the height that best suits you.
---
2.Vaunn Medical Tool-Free
If you are looking for a tall chair that you won't have to drop down into, then the Vaunn Medical Tool-Free Assembly Shower Lift Chair is your ideal choice because it can be adjusted between 16 inches to 21 inches at the height of the seat. The chair can be moved into and out of the shower area without much effort, weighing just 8.5 pounds. To reduce its weight further, you can remove the back support, dropping the weight down to only 6 pounds.
The shower chair has a heavy-duty anodized aluminum frame, which features uniquely angled legs with non-skid rubber feet so that any weight applied to the seat can be distributed over a wider base, allowing it to support up to 250 pounds. The polystyrene seat and padded armrests let you lower yourself to the chair or stand up without discomfort, and micro drainage holes in the seat help to quickly and efficiently drain excess water so that you do not slip and slide while you are bathing.
Pros & Cons
---
SIT, SHOWER & RELAX- Shower chair allows individuals i.e. anyone or seniors or those with limited mobility or injury to sit during shower. Create a relaxing shower experience; allows fall risk individuals to shower independently
DURABLE & SECURE - NEW model shower chair is now made with heavy-duty anodized aluminum frame with a weight capacity of 350lbs (compare to competitors' 200lbs). The user manual printout shows a 250lbs max weight capacity. Product has been updated in 2022 to 350lbs
COMFORTABLE: High-density, polyethylene seat with padded armrests brings increased comfort and support for users
VERSATILE & EASY TO USE- Removable back support and padded armrests with height adjustable legs allow users to customize chair based on specific preferences. Tool free assembly. Easy to assemble and use
LIGHTWEIGHT & PORTABLE - Weighs 6lbs (without back support) and 8lbs (with back support). Comes with padded armrests to easily lift or move the chair
---
3.Medline Tub
This premium shower bench is an excellent option for athletes with a knee or hip injury because two legs can be placed inside your tub or shower, while two legs sit outside the shower space. In this position, you can transfer into or out of the shower without applying pressure to the injured body parts. The molded plastic backrest is reversible so that you can enter the tub from the left or right side without issue.
You can assemble and adjust the Medline Tub Transfer Bench without tools while you set up the bench, reverse the backrest, and change the height in 1-inch increments from 14.5 inches to 19.5 inches. It weighs only 12 pounds but can hold up to 350 pounds due to the anodized aluminum frame and broad base. You won't have to worry about slipping with the suction cup feet and side armrest, while the Microban antimicrobial protection will help prevent the growth of bacteria, mold, or mildew, keeping your shower chair clean.
Pros & Cons
---
This product protection is built-in to this transfer bench safety product and providing 24/7 cleanliness protection
Lightweight, easy to assemble
Side arm provides additional stability
Heavy duty transfer bench supports up to 350 lbs.
Suggested for people with arthritis, bending or stretching limitations, and for those with a recent knee or hip surgery
Textured backrest and seating surface offer a non-slip surface with holes for water drainage
Suction cup feet grip the tub floor for added safety
Weight Capacity: 350 lbs, 300 lb
---
4.Drive Medical RTL12505
If you need a shower chair, but don't have the funds to put out for a pricey product, the Drive Medical Premium Series Shower Chair is the inexpensive option you need. It is made almost entirely of sturdy, durable plastic that is waterproof and corrosion-resistant so you won't have to worry about a metal shower chair that might rust and give out. The chair weighs only 10 pounds, allowing you to move it with ease, but it supports an impressive 350 pounds.
The back support, legs, and arms can all be assembled or removed without tools for quick and easy storage and portability. The shower chair comes with a wide seating area that is designed to be comfortable for larger people, and it can be adjusted in ½ inch increments from as low as 16 inches to as tall as 20.5 inches in height. The chair makes it simple to adjust each leg to an even level using the visible height indicators, so you aren't trying to sit on an uneven surface in a slippery shower.
Pros & Cons
---
Bathroom Bench: Designed to fit just about any style of bathtub, our tub bench for bathroom is exceptionally easy to install without tools
Quality Construction: The ultimate handicap shower accessories for daily living, our tub chair for elderly, disabled, and injured individuals is made of durable plastic.Do not use an abrasive cleaner
Adjustable: Designed to fit your unique needs, our adjustable stool has legs that can be adjusted in 0.5-inch increments
Secure and Scratchproof: Our bath seat for bathtubs and showers comes equipped with suction-style tips on the legs, providing stability and drainage holes that reduce slipping
Dimensions: Width: 21.75 inch; Height: 16 inch to 20.5 inch; Weight Capacity: 350 lbs
---
5.NOVA Medical Chair
This chair is ideal to share with other household members who have significantly different heights. A NOVA Adjustable Shower and Bath Chair's seat height can be set to the level each person requires for comfortable showering. The seat level can be adjusted in 1-inch increments, increasing in height from just 16 inches to 21 inches. The shower chair has a blow-molded plastic seat specially designed with a U-shaped cutout to allow unhindered access while washing.
This shower chair has a snap-together design that can be assembled or taken apart without the need for tools. The lightweight anodized aluminum frame resists rust and corrosion and supports up to 300 pounds, despite weighing just 6.8 pounds. The shower chair legs are covered with non-slip rubber tips, and the padded arms provide a slip-resistant surface to hold when sitting or standing.
Pros & Cons
---
SHOWER OR BATHE IN COMFORT AND SAFETY with a bath chair with back and arms
HYGIENIC DESIGN adds comfort and aids in cleaning.
COMFORTABLE PADDED ARMS provide support and stability to get up and down from the bath seat. Arms are easily removable.
ASSEMBLES IN MINUTES – TOOLS FREE ASSEMBLY. Push button - snap together design requires no tools and assembles and un-assembles in just minutes. Great for storage or travel.
DURABLE & LIGHTWEIGHT design is made of blow molded plastic and rust proof aluminum. Skid resistant rubber tips have a wide base and drainage holes..SPECIFICATIONS: Weight Capacity: 300 lbs., Width between arms: 18.75"; Seat height: 16" to 21"; Seat dimensions: 15.75"W x 13"D; Overall dimensions: 19.75"W x 18.75"D, Overall footprint at the lowest adjustment: 18.75"W x 17.25"D; Overall footprint at highest adjustment: 19.75"W x 18.5"D, Product weight: 6.8 lbs.
---
6.Carex Bath Seat
Many shower chairs can only support up to 250 or 300 pounds, which might be enough for most people. Still, for larger individuals, or those who don't want to gamble on a light- to medium-duty chair, you need the Carex Universal Bath Seat and Shower Chair. This shower chair has a maximum weight capacity of 400 pounds and sits on non-slip rubber feet, so you can sit down on and stand up from the shower chair without concern.
The shower chair can be assembled without the need for tools and adjusts in height from 16 inches to 21 inches. It is built with a wide seat and no chair arms so that you can sit comfortably without worrying about anything digging into your sides. However, the lightweight chair is only 8 pounds and has side handles that make it easy to place, remove, and carry, so you don't have to struggle with an oversized seat.
Pros & Cons
---
RELAX IN A SHOWER SEAT. A bath chair that is also a perfect shower chair for elderly or adults who may be fall risks but still want to be independent. Bath bench chair is also a good fit for handicap individuals.
PATENTED EXACT LEVEL height adjustable legs for our shower stools and benches make it easy to adjust our shower chairs to the perfect height, no tools required. The shower bench chair disassembles quickly for storage or travel.
DURABLE - HOLDS UP TO 400LBS. Our shower chairs and benches come with durability built-in. Our specialty is building shower seats for the elderly and disabled, and they go through rigorous testing with our QA department. Buy in confidence. The widest point of the legs for this bath seat is 21 inches
TUB CHAIR FITS MOST BATHTUBS AND SHOWERS. Bathroom chair is made to fit most standard bath tubs and showers. The bathtub seat has adjustable legs and fits bathtubs and showers with curved bottoms. Extra-large seating area
MADE IN THE USA TUB SEAT. American workers know the importance of manufacturing safe shower seats for adults, elderly and shower benches for the disabled, a bath chair shower chair made in the USA.
Innovative design provides comfortable seating
Weight capacity up to 400 pounds
Easily assembled with no tools
Fits into virtually every tub or shower
Smooth edge notch provides convenient placement for hand-held shower
---
Things to Consider
So much goes into choosing the best showering chair for the elderly. If you are not armed with the right information, the process is more of a hell of an experience. This section contains all the necessary information that will give you buyer's confidence before you go shopping, from the benefits of shower chairs for the elderly to the key features one must possess.
Benefits of shower chairs for the elderly?
Shower chairs, also famously known as shower benches or bath benches, offer support to people who have a high fall-risk or cannot stand in a standalone shower or bathtub shower combo. The elderly who have joint pains, arthritis, or any motion issues can benefit highly from shower chairs.
Here are the top benefits of using shower chairs:
Comfort
Shower chairs offer anyone with injuries or motion challenges an opportunity to have an independent and comfortable bath/showering experience. Some of them are built with features like padded seats and armrests to offer premium comfort. Some even have backrests.
Safe and convenient
The main reason why most people get a shower chair is for the convenience and safety it offers. Most models are made with safety-conscious features like anti-slip rubber tips on the legs and non-slip seat texture. These ensure the seat remains firm on the floor or tub when you are showering.
The tub transfers offer enough support for entering and leaving the tub. Even more, some shower chairs have hygiene cutouts that allow you to clean your hard-to-reach body parts without straining.
Features to consider when buying the best shower chair for elderly
Here are some of the main parameters to be extra keen on when buying the best shower chair.
Type
There are different types of shower chairs based on designs. You can choose to get a portable chair or a permanent mountable chair. As for the design, it is a matter of personal preference, the convenience that comes with it, and the layout of your bathroom or shower. For instance, if you have a bathtub-shower combo, then it would get the most out of a tub transfer or a tub cum-shower chair combo like the Carex Tub Transfer Bench.
For added comfort and convenience, you can also opt for a chair with a hygiene cutout, back support, and armrests.
Construction material
This is very crucial as it determines the overall quality of the chair plus its weight. Anodized aluminum and polyurethane are the most common material used to make shower chairs because they are lightweight and rustproof. Also, be keen to choose a chair with anti-bacterial material with a non-slip texture for extra safety.
The legs of the chair should have non-slip rubber pins for added stability.
Weight capacity
This is one aspect that cannot be overlooked. It is important to get a chair that can comfortably support your weight as it will last you longer. If you are overweight, go for a chair with a weight capacity of over 250 pounds like the Platinum Health Deluxe Shower Chair.
Adjustable height
To get the best suitable chair height, it is safe to go for one with adjustable height. It also offers more versatility, especially if you have a family with multiple preferences.
Portability
A portable shower chair is much easier to handle as well as travel with. It should be easy to assemble and dismantle (tool-free) and have several removable parts like a backrest. With a portable chair, you have more flexibility in the bathroom, as you can choose to shower from your desired position every time.
Safety of use
Be sure to go for a chair that focuses on safety in its build. Some common safety features include an ergonomic handle for support, seat safety lock, a non-slip textured seat, and non-slip rubber tips that secure the chair on the floor.
Some shower chairs even come with a commode to ensure you enter and leave the bathroom safely, especially after you're done showering, and it's all wet and slippery. If you don't get one that comes with a commode, you can choose one that accommodates it and get it separately for added convenience and safety.
Installation
The last thing an elderly person wants is sophistication and complexity. Luckily, most manufacturers have considered this when making showering chairs as they require minimum efforts to assemble. Many of the latest models have easy tool-free assembly and come with user manuals with clear instructions.
Drainage
This is a huge bonus. Proper drainage ensures you have the most comfortable bath without the inconvenience of a pool of water gathering on the chair when you are done showering. It is also hygienic. Very few models come with drainage, and the Vaunn Medical Shower Chair with Removable Back is a rare prime example.
Storage space
Before you go shopping for a showering chair, you have to consider the space you have to store it in your house. If you have a small
space, then go for a compact model. If you have enough space in your bathroom, you can choose a permanent mountable chair.
Who needs a shower chair?
Anyone who has mobility issues and cannot stand without support in a standalone bathroom or shower cubicle needs a shower chair. Whether they have joint pains, arthritis, back pain, or just injuries. Elderly people who have lost their motion abilities due to aging can also benefit largely from shower chairs.
How high should a shower chair be?
A shower chair should be high enough to allow your legs to touch the floor without bending. You can opt for a chair with an adjustable height if you are not sure of your height or if it's meant to be used by more than one person.
It is worth taking the time to ensure you are making the right choice for your individual needs and situation.
If possible, consider both the current needs as well as the likely needs of the foreseeable future (maybe an individual is fairly mobile now, but they expect an upcoming surgery will reduce mobility considerably).
Choosing the right solution can make a big difference in an elderly individual's comfort and safety.
Whichever solution you choose – whether stool, chair or bench – be sure to measure the bathtub and bathroom space carefully. Many shower chairs and benches can't be returned after they are opened since they are considered hygiene products.
It can be a waste of money to purchase something that doesn't end up fitting into the available space.
Worse, an awkward fit could compromise stability and safety. Never force a shower chair, or alter it to fit anywhere particular.
Be sure to be mindful of weight capacities as well as seat size to ensure a safe and comfortable fit. Choose a chair that supports well more than the senior's weight. If their weight falls close to the upper limit, it is a good idea to choose another model.
Be aware of seat design and seat size. Even if the chair is rated high enough for the senior's weight, if the seat is too small for their body shape, it won't be comfortable, and it may not be safe.
Some seats are designed with small holes to allow for water drainage. This can make the seat less slippery and more comfortable.
Some seats have openings to allow for access to the senior's private perineal areas. This is especially important if the senior has difficulty standing and will have assistance from a caregiver.
Ensuring the shower chair is at a proper height is important for safety and comfort. If it is too high, getting down can be awkward or dangerous. Too low, and it can be hard to get up.
A shower chair set to the proper height will allow the senior's feet to be flat on the floor when their knees are bent at ninety degrees.
Many shower chairs are adjustable in height to accommodate a range of needs.
Will the chair or bench will need to be used just occasionally? A smaller, lighter stool or chair might be a good choice.
Will it need to be relocated elsewhere during another person's shower? A fold-away option could work well to make space.
Will it need to be taken along to various locations, such as a hotel or family member's home? Some shower chairs are designed to be easily assembled, disassembled and transported.
A shower chair with arms and backrest will generally be more supportive than one without.
Shower chairs with back rests provide additional support while washing and allow the senior to lean back if needed. Armrests can offer greater weight support and assistance when standing up or sitting down. 
Aluminum frameworks are often strongest and most stable, although they may cost more than plastic options. Wooden options provide a more stylish look, but at a premium price tag.
Some shower chairs are designed with compartments or slots to accommodate soap, shampoo, shower wands or other items. Aside from simply being convenient, these features can help limit reaching and movement.
Limiting unnecessary reaching can help conserve energy and can keep a senior safer in the shower – an important feature in some cases.
Shower chairs are not just for the elderly. Individuals who are recovering from surgery or an injury, such as a broken leg or foot can benefit from shower chairs. 
Individuals with disabilities or medical conditions that affect balance, fatigue or energy level can also really benefit from the added stability of a shower stool or chair.
Some individuals without injuries enjoy using a shower stool while shaving their legs, washing their feet – or even brushing their teeth!
< class="rank-math-question ">Do I need to clean my shower chair?
Shower chairs should be cleaned regularly according to the directions from the manufacturer. The materials and build vary and each requires different cleaning procedures.
Because they are in a warm, humid environment, shower chairs tend to be susceptible to bacterial and mildew growth. Different chair designs and material affect how quickly they grow.
In general, after each use, rinse off all soap from the chair and then dry it thoroughly with a towel. Removing the chair from the shower when not in use can also cut down on complications and breakdown related to humidity.
Use a solution, such as bathroom cleaner designed to prevent mildew, monthly (or as recommended by the specific manufacturer).  Thoroughly clean each crack and crevice with a scrub brush for sanitation and longevity of the chair.
Always be sure to rinse all chemicals and dry the chair thoroughly after cleaning.
< class="rank-math-question ">Are shower chairs covered by Medicare?
Shower chairs are not usually covered by Medicare, although there may be some exceptions. If a senior is hospitalized or staying in a skilled nursing facility under Medicare Part A coverage, it may help cover the cost.
There are also certain Medicare Advantage plans that offer additional benefits, which may include over the counter items such as shower chairs.
Always talk with your agent to answer specific questions about your situation and plan.
< class="rank-math-question ">What height should my shower chair be at?
A shower chair should allow the senior's feet to rest flat on the floor when their knees are bent at ninety degrees.
Measuring from the back of the person's knees to the floor can give you an idea of this height ahead of purchase.
Shower chairs keep seniors safe in the shower by providing a safe place to sit while bathing. This is especially important if you have limited mobility.
Instead of standing up for an entire shower, you can sit and enjoy your bathing time. You also won't need to grip onto a handrail or hold onto the shower wall either.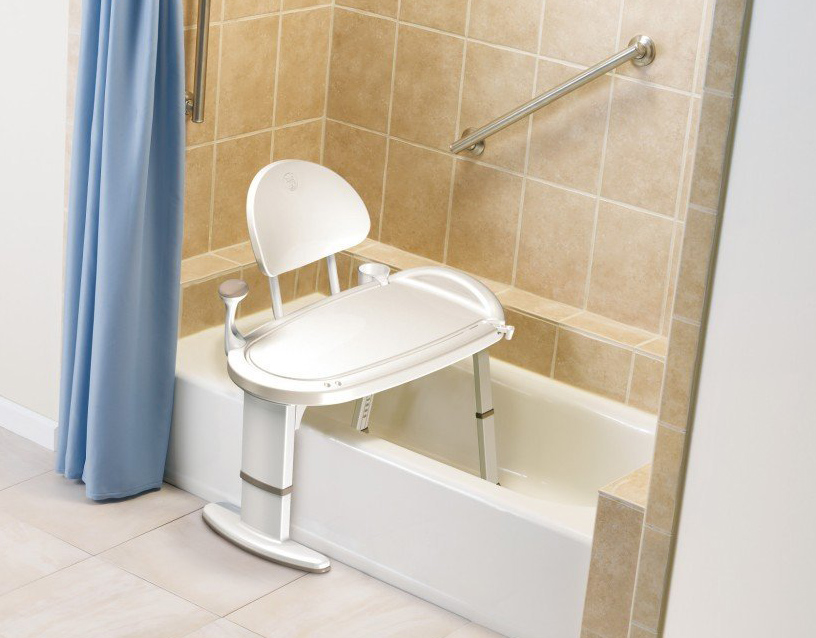 How Can I Make a Shower Chair More Comfortable?
Here is a great hack if your seat is not padded: place a few washcloths, a hand towel, or even a folded bath towel on the seat. This will add some cushioning without being concerned about it getting wet!
So, I put together this list of the best shower chairs for seniors to use in the tub or shower. I've also included a list of recommended features to help you shop as well.
Not everyone can afford to remodel or to install a walk in tub in their bathroom.
This makes shower chairs are a very important bathroom accessory for most seniors along with shower heads and non-slip bath mats. They helps you shower safely while maintaining your independence.
I hope I have given you all the information you need to choose the best shower chair for an elderly loved one in your life or for yourself.
WRAP UP
Best Bathtub Chair for Elderly – We rounded up the best-rated shower chairs for the elderly to ease the burden of making the right choice for you. Our extensive reviews include the essential features a good shower chair should possess, including materials, height and width, weight capacity, and safety features. The features determine the chair's durability, ease of use, and its overall performance. You have to ensure the chair can hold up well to frequent use, and its weight capacity matches your body weight or is even more. The height and width also affect your comfort, and the more the safety features, the better.
Source: https://bathroomer.org/best-shower-chair-for-elderly
A recent CDC study found that an average of  640 people per day fall in the bathroom. More than a third of injuries sustained in the bathroom occur while bathing.
Slipping and falling is a leading cause of bathroom injuries, and it's no surprise why. Showers and bathtubs have hard surfaces that become slippery when wet, making them big fall risks.
Stepping over the bathtub wall is also a huge danger to seniors, as this high stepping motion can affect an elder's balance.
To make things worse, the warm humid shower environment can contribute to dizziness and medications common amongst elders can contribute to lightheadedness.
Luckily, there are some fairly simple steps seniors can take to protect themselves in the shower. One of the simplest is to invest in a shower stool, chair or transfer bench.