A comfortable, convenient, and durable beach chair is a must for any beach lover who wants to enjoy their days in the sun. If you're a big and tall person looking for a sturdy and comfortable beach chair for the upcoming summer season, there are a few things you should keep in mind while you shop. A beach chair for the larger beachgoer should be sturdy, comfortable, and durable, and have at least a few extras that make your day on the beach more convenient and enjoyable. Look for chairs that stand out from the rest, and have the extras you really want.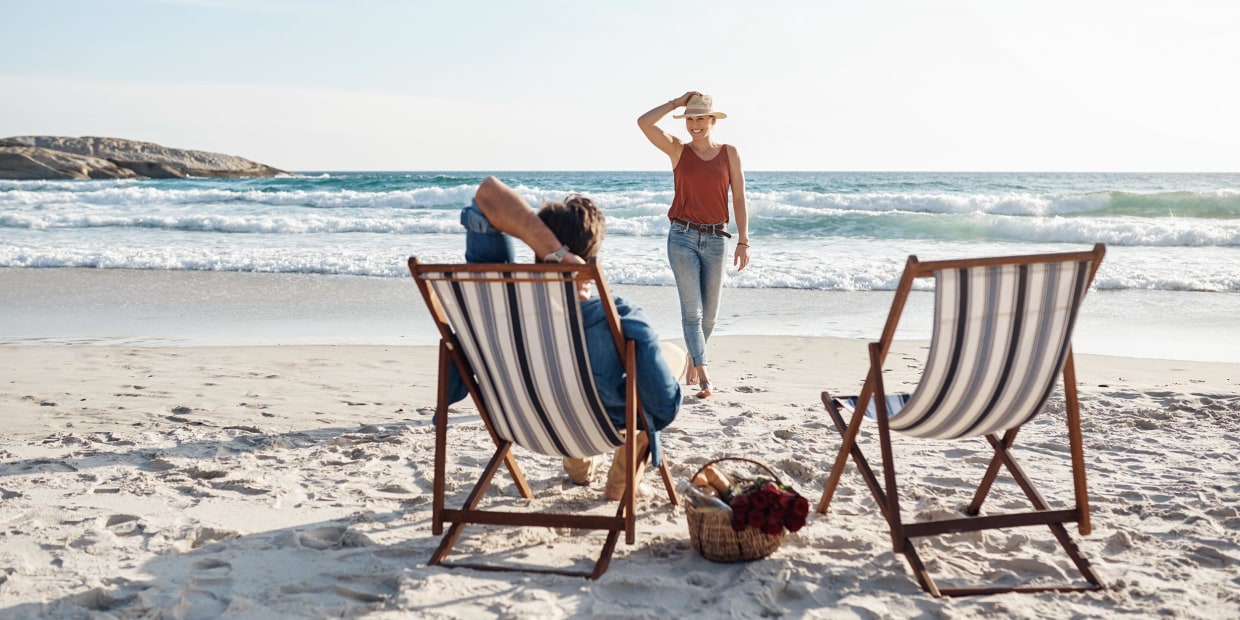 The build will be the most important consideration when buying your new beach chair. There's no point in buying a chair with all the convenient extras if it can't support your weight, or if it'll rust and break in one season. The quality of the materials used, the strength of the frame, the weight of the chair, and the height of the seat are all things to take into consideration.
Look for strong, reinforced fabrics that are breathable, robust frames made from steel or aluminum, and a seat height that will work with any problems you might have, such as sore knees or a weak back. The frame should be rust coated, and the feet should be spaced widely apart for a more stable stance.
If you're a bigger person, you'll want to look for a chair that can comfortably carry your weight. Buying a weaker chair to save money may end up costing you more in the long run. Look for chairs with a weight capacity of at least 10 lbs. over your own weight, and preferably higher. After all, you'll want your chair to be able to hold a little more than just you – a book, phone, bottle of sunscreen, and of course, the clothes you're wearing
You'll know which beaches you spend most of your time on, and how far you have to carry your belongings to get to your favorite spots, so be sure to choose a beach chair that is light enough to lug that distance. A good beach chair for plus-size people should be durable and strong, but also lightweight, foldable, and easy to carry. Look for a chair with a carry bag or padded strap, and one that weighs as little as possible – anything over 20lbs will not be convenient or comfortable to keep with you wherever you need it.
Less important than the considerations above, but still important for an enjoyable day on the beach, are the little extra additions that make many beach chairs stand out these days.
If you're a reader, look for a chair with a waterproof pouch that is big enough for a book. Most people don't go anywhere without their phones, so look for chairs with a waterproof phone pocket. If you love to sunbathe, look for a reclining chair with a pillow or headrest. And if you like to enjoy a beer on the beach, look for a chair with a good cup holder, or even a small cooler section.
If you have kids, or if you love to swim, a very useful extra is a towel rail. These are usually able to fold away, and sometimes have more than one use. One final optional extra that is a good choice for people with sensitive skin is a canopy or umbrella. These are often sold separately and can be an excellent choice if you spend a lot of time on the beach, and want to stay out of the sun for most of it.
There are a number of different types of reclining chairs, but most will either have a few preset angles or be made in the "zero-gravity" style.
Recliners with preset angles will allow you to choose between four or five different positions, and the chair will lock into place at your chosen angle. Zero-gravity chairs will allow you a full range of motion over 180-degrees or more, and will also lock into place once you have found a comfortable position.
Reclining chairs are great for sunbathing, napping on the beach, or reading a book. A few will even offer arm and face holes for lying on your stomach and reading. Always be sure to check out the quality of recliner locking mechanisms when choosing your chair, to avoid sudden unwanted movements.
If you intend to spend a lot of your time in your recliner chair lay flat, make sure the chair is long enough to support your whole body, and you don't end up with your head or feet hanging over the edge.
Most times, people tend to ignore the weight limit specification of the products they buy, which is a bad thing to do. The higher the weight specification, the more durable the product will be since the manufacturers will need to use sturdier materials to accommodate heavy persons. 
As such, when looking for a heavy-duty beach chair, you always want to look for chairs that are 10-20 lbs over your weight. More is better, so if you can afford it, always buy the chair that can handle the most weight. 
The second most important feature to pay attention to is the type of feet of the plus size beach chairs you plan to buy. The best type of chair to get is one with a four-piece leg design for rocky beaches. This is because these chairs can adjust to any incline or uneven surface. Whereas if you go with the traditional design, the chair will be uneven. 
If you are going to a sandy beach, the best type of heavy-duty beach chair for fat people to get is the traditional one-piece leg design as they will sit on top of the sand perfectly. 
You could also opt to get the Coastrail oversized chair as it features a mixed leg design that makes it suitable for any surface. 
You also want to go with a chair that uses a durable mesh fabric that allows water and sand to fall through. These chairs are also cooler than other types and offer better comfort for use on the beach. 
The height of the beach chair you like is subjective to what you prefer. But in general, beach chairs should be shorter as the shorter the chair, the more stability it will offer. However, taller chairs like the camping style chairs make it easier to get up when you need to. I found the taller chairs more comfortable as a big and tall guy. 
You should also consider whether you want to sit upright, in a reclined position, or have a mixture of both by getting an adjustable chair. I prefer a mix that allows me to relax when I want and then upright when I want to see my kids playing. 
For bigger people, a beach chair needs to be more than just solid and comfortable, it must be durable, lightweight, able to support a good amount of weight, and wider than the average beach chair. There's nothing worse than a flimsy chair that is easily crushed or broken.
Spending a bit of cash right from the get-go can ensure that you never have to deal with the embarrassment or inconvenience of a silly little chair giving up under your weight. Below are our recommendations for the five best chairs for plus-size people.