This entry has been published on May 2, 2022 and may be out of date.
Last Updated on November 15, 2022 by admin
Best Camping Chair for Tall Person – There are certain disadvantages to camping as a tall person. One of them is finding adequate sized camping chairs for tall people. Sure we can go find a tree branch to sit on, or lower our standards to a regular height chair. But man do those options just plain ole suck.
For starters, there is not always a tree around, so climbing it to sit on the branch is sometimes impossible. When there are trees around, people just think you're weird for climbing it to use it as a seat. Then a mate offers his camping chair which sits a measly 10 inches from the ground height.
Ah no thanks buddy, I appreciate the gesture buy I literally cannot lower myself and pick my self up from 10 inches off the ground without falling over. Not worth the embarrassment I'm afraid. Especially as a big and tall camper.
It doesn't matter if you want to sit down and enjoy a football game, go hiking, or simply hang out in the backyard with your friends, a comfortable folding chair for tall people can make all the difference. However, if you are a tall person, you already know that finding the right folding chair can be challenging since most chairs are built for an average-size person.
We know how difficult it can be to find a perfect folding chair for your height, and that's why we have decided to make things easier for you by trying out different tall chairs. We hope our comprehensive list of top 6 tall folding chairs will help you make the right decision and find a model that fits your needs!
Table of Contents
ROUND UP
1.Kijaro XXL Dual
"This is quite honestly the most sturdy foldable chair that I have ever used in my entire life," writes one reviewer, describing it as "solid as a rock and the fabric does not sag like most of those other folding chairs on the market." Reviewers rave about how "sturdy" and "heavy-duty" this camping chair is. Many mention the seat that "stays flat," which is one of their favorite features. The dual-locking legs are another selling point. "They lock the chair in place when you fold it as well as unfold it. This is great because it stops the chair from collapsing on you by chance." Some note that it's "heavier" than some but that this is part of what gives it strength: "Quality items usually weigh more."
Kijaro XXL Dual Lock Portable Chair is another excellent model that falls into the category of tall folding chairs. It weighs around 12lbs and can support up to 400lbs.
This model offers a fantastic level of comfort, and it is easy to get out of. The seat height is taller compared to regular folding chairs, which makes it a perfect option for people with longer legs. This model is very breathable thanks to the mesh back, and its durable ripstop polyester fabric doesn't sag much. Another very useful feature is the Dual Lock mechanism that adds extra security and locks the chair in the open and closed position. Also, this chair comes with a carrying bag that allows easy transport.
Finally, this model has two cup holders and an organizer with a zipper and mesh pockets. However, after sitting on this chair for a while, I started feeling the metal frame in my legs, and I felt like I needed a cushion on the seat.
2.TIMBER RIDGE
Timber Ridge Camping model has a heavy-duty steel frame and polyester fabric, and it is very sturdy. This chair for tall people can support up to 400lbs, and it weighs around 13lbs.
It is a super-comfortable chair with an ergonomic padded high back, padded armrests, and a wide smooth foam padded seat. It stays comfortable even after sitting on it for a few hours. Side rails are exceptionally strong, which is another thing I liked about this model. When folded, this chair can be stored easily because it doesn't take up too much room, and it also comes with a carrying bag that allows easy transport. Padded armrests are detachable, and there's a swivel cup holder on the side.
Finally, Timber Ridge Chair is backed up by a 1-year manufacturer's warranty. However, I have to admit it was a bit difficult for me to open it.
3.GCI Outdoor Freestyle
This less-expensive, tripod-style camping chair gets high marks for being lightweight, small, and easy to carry. "Simply the best combination of being well constructed but lightweight and easy to carry around festivals and the like. Folds up to easily be carried with the strap over your shoulder, leaving both hands free for whatever else you have to carry," says one reviewer, and many others say that the portability is excellent. However, it does have limitations: "No, you are not going to be happy sitting in this for hours at the beach.
That is not the intended use. For a kids' sports event, though, it is easy to carry, easy to deploy, and easy to pack up." One artist uses it to paint en plein air and says it's a "great, sturdy little chair for painting out in the field. I am a fairly small person, and it is quite comfortable for me, especially with the backrest. Well-designed shoulder strap, which distributes the weight, and lightweight to carry. Love having the water-bottle holder for a handy drink and to refill my watercolor-brush water."
Another model that falls into the category of the best chairs for taller people is the GCI Outdoor Freestyle Folding Rocking Chair. What makes it different from other models on this list is that it delivers a smooth rocking action on any surface.
This chair has a solid construction, with a powder-coated steel frame, and it can support up to 250lbs. It was extremely well built, with quality components. The seat is wide, but it is a bit shallow, which made it uncomfortable after a while since the front edge hit me mid-thigh. The weight of this model is around 12lbs. Also, this chair has a patented Eazy-Fold technology that makes it easy to carry around.
GCI Outdoor Freestyle Rocking Chair has a mesh backrest, padded armrests, a carrying handle, and a built-in beverage holder to store your drinks while rocking comfortably in this chair. However, armrests are a bit short. Finally, it comes with a limited lifetime warranty.
What's The Solution?
I thought you would never ask. It's quite simple really. Buy a camping chair designed for taller people with longer legs and torsos. I told you it was simple. But, finding such a camping chair is not always easy. That's the dilemma.
Fortunately, I have been in contact with a few other tall campers and got some recommendations. Along with my own ninja-like research skills, I have compiled this list of what I believe to be the best camping chairs for tall people. Never again will you have to suffer the embarrassment of climbing a tree or using an inferior camp chair.
These chairs below will have short people shaking in their boots with inferiority. For the nail in the coffin, look into buying a tent for tall people as it will intimidate the entire campsite like no chair can.
To make choosing the best camping chair easier, we're going to look at 8 common features. Once you know which features are most important, you'll be ready to grab a camp chair that's just right for you!
Collapsed Size of Your Camp Chair
Depending on your camping setup, the collapsed size of a camping chair may be a major factor to consider. We've personally purchased camp chairs in the past simply because they fit perfectly in the space in our diy truck camping platform that we needed them to.
But if you've got the space in your car camping setup or you won't need to lug your camping chair very far when you get to camp, this may not matter as much.
Weight
Similar to collapsed size, if you're planning to tote your camping chair's weight back and forth at camp, the beach, or while hiking, weight is really important to consider when picking out the best camping chair.
Seated Height of Your Camp Chair
Seat height is how far the seat of your camp chair is from the ground. Typically, the lower a camping chair's seat height, the trickier it'll be to get in and out of – especially for taller people. However, too tall of a camp chair can be uncomfortable for shorter people and put excessive pressure against the back of your knees or thighs. We recommend measuring the distance from the ground to the crux of the back of your knee and finding a camping chair that has a similar seat height.
Low camp chairs do have their place though – they're great for beach camping, or setting up on soft terrain where a higher center-of-gravity may feel unstable, or even to take along to music events where chair height may be restricted. But if you go with a low seat height, be prepared for your kids to routinely swipe them from you because kids love them too!
Comfort
Comfort in a camping chair is a bit more subjective, and can vary from person to person. But camp chairs that offer things like high backs, adjustable recline, rocking, or quilted, ventilated, or even heated seats can be a real game-changer when it comes to comfort while camping.
Price
Cost is always a factor worth considering, and will certainly play a role in finding a camping chair that'll both meet your needs and budget.
In our Best Camp Chair roundup below, we've got a few great budget options listed. But this is definitely an area we've found worth spending a little extra on to have a comfortable and durable camp chair that you won't need to replace every year.
Durability of Your Camping Chair
A camping chair is subjected to a good deal of abuse – from windy campfire flops to drunken brother-in-law plops, you want a camp chair that will hold up to anything you may throw at it. Keep an eye out for things like loosely riveted plastic joints and weak stitching around fabric attachment points as these can be an indication of a low quality camp chair.
Capacity / Stability of Your Camp Chair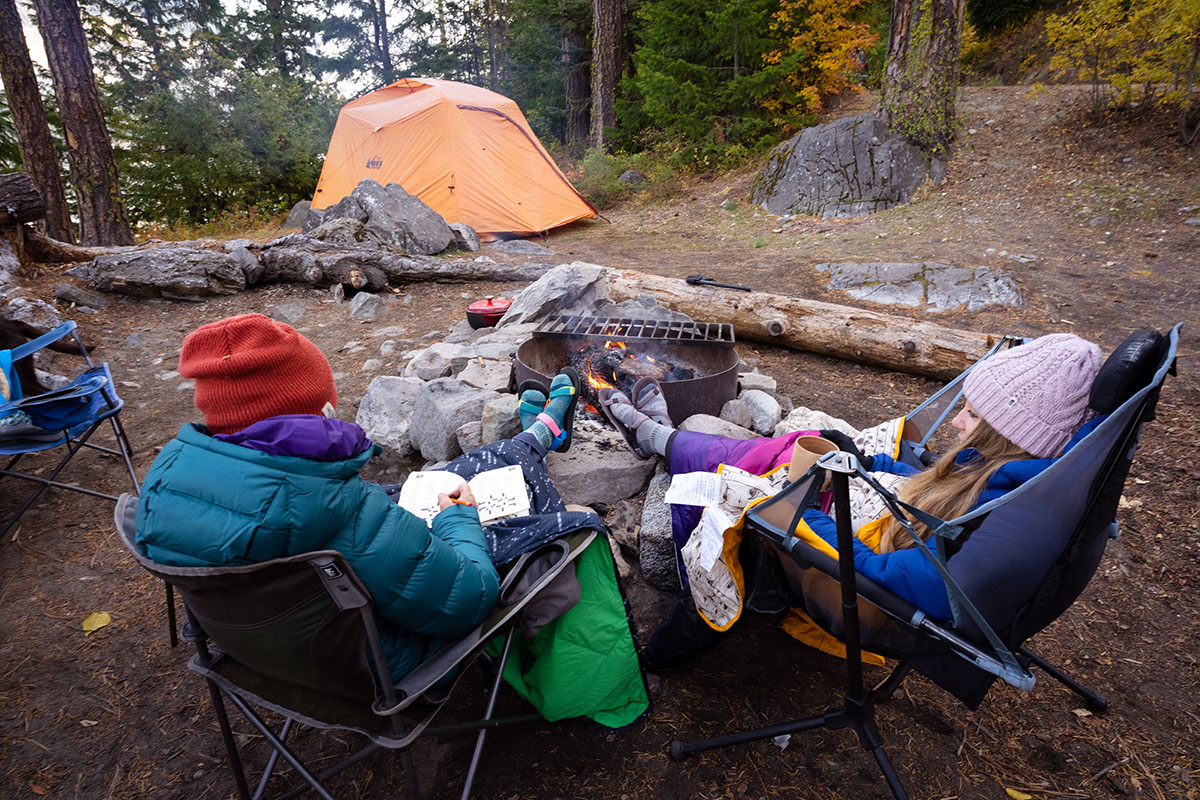 A camp chair's weight capacity and stability often go hand in hand, and if you're a heavier set person, the max weight will be an important stat to look at. Many of the compact or ultralight camp chairs can feel weak or be limiting in this way – resulting in an unstable perch rather than a relaxing spot to sit around the campfire!
Sturdy camping chairs will often be heavier and bulkier, so they typically won't be as portable. But this tradeoff is well worth the added comfort and support a heavy duty camping chair will provide.
Camping Chair Extra Features
Extra features on camp chairs are things like drink holders, pockets, storage bags, heated seats (can you believe that?!), or any other add-ons that fall outside the role of providing a place to sit.
Some of these added features may seem fairly inconsequential, but they can definitely make the difference between a camp chair that's alright and a camp chair that's awesome!
Choosing A Camping Chair For Taller Persons
When it comes time to buy one of the extra tall camping chairs below, you first need to know your measurements. Like most furniture suitable for tall people, there are only three measurements a tall person needs to consider when buying a camp chair. That is unless you are a bigger and heavier person. But don't worry, I got you covered as well. For warning, this chair is massive!.
Seat height is important if you have long legs. I would not go under 18″ in height. Anything below this and your knees will almost be touching the ground.
Backrest height. With this, it's ideal that the back of the chair supports your shoulders and your neck. Getting a camp chair to fully support your head is almost impossible.
Overall height of the chair. How high is the chair that you are sitting in now?. Measure the total height. If you feel the chair is comfortable for your height, then you will want a camping chair of a similar overall height. The overall height for a tall chair should be no less than 38 inches.
Best Camping Chair For People With Long Legs
Camping is meant to be about getting away from the hustle and bustle of reality. So as a tall person, the last thing we need is a camp chair that sits so low to the ground we're basically sitting on the ground with our legs straight out in front.
Which is why I like the XXL Dual Lock camp chair by Kijaro. Strange brand name, but excellent chair if you have longer legs. This is because the Kijaro sits at a comfortable 21 inches in height from ground to the seat. Which is between 3 and 5 inches higher than your standard camp chair. Plus the taut fabric doesn't sag down 3 inches leaving you low to the ground either. So you really do sit tall and proud in this chair.
The overall height is also taller than standard camp chairs measuring in at 40 inches tall. Combine this with a 400-pound weight capacity and you got yourself one super strong camping chair for the big and tall people.
< class="fusion-responsive-typography-calculated" data-fontsize="25″ data-lineheight="30px">What is the Best Tall Folding Chair?
If you are searching for tall folding chairs, you need to take into consideration a few things. You should look for chairs with a high back and a wide seat that will match the size of your body. Also, the best tall folding chairs have seats that are higher off the ground, so that tall people have enough room for their legs. Folding chairs should be comfortable even after sitting on them for a long time, and they should be stored easily. Additionally, it is always a good idea to choose chairs that come with a warranty. Timber Ridge Camping model offers all of these things, and that's what makes it a great choice for tall people.

< class="fusion-responsive-typography-calculated" data-fontsize="25″ data-lineheight="30px">Where to Buy Folding Chairs?
You can buy tall folding chairs in traditional stores and online, whatever you find more suitable. However, purchasing chairs online has numerous benefits, such as having a wide range of chairs to choose from, and saving time since the entire buying process can be finished in a few minutes. Also, the ordered product will arrive at your doorstep, which is very convenient.
Once you've got your tent and somewhere to sleep, you're going to want to invest in one of the best camping chairs Australia has.  You might think that sounds a bit strange, but if you're anything like me, you're going to be spending a lot of time in that chair, so investing in one of the most comfortable camping chairs you can afford, is money well spent.
Over the years, we've had so many different folding camping chairs.  We tried to save money the first time we went camping and just purchased the best cheap camping chairs for sale we could find.  Sure they provided somewhere for us to sit, but after a while, they were pretty uncomfortable and eventually they just fell apart.
We then upgraded to some better quality yet still budget camp chairs for sale, but again still not that comfortable. So last year we finally decided to invest in some pretty nice comfy camping chairs which we just love.  They're certainly no deluxe camping chair, but they're really comfortable.
Now with all the money we've spent on outdoor camping chairs over the years, we could have actually saved money by purchasing good quality fold up camping chairs from the get-go.  But you live in and learn, and I'm here to help you avoid making that mistake.
In this guide, I take you through everything you need to consider to purchase the best camping chair Australia 2022 has.  Well, the best for you anyway.  In the camping chair reviews section, I'll also look at some of the top rated camping chairs currently on the Aussie market and compare their features closely, so with any luck you'll find exactly what you're after in this guide.
No matter what sort of camping chair you're after, whether it be the best lightweight camping chair Australia has, the best reclining camping chair Australia has, the best kids camping chairs Australia has, the best double camping chairs Australia has or just a small camping stool, hopefully after reading this guide, you'll be well on your way to buying one that's right for you.
Everyone should have a cushioned chair to rest on while camping, hiking, or simply relaxing. Camping chairs feature ergonomic design and superior comfort that makes couch-like seats more than enough for camping and comfort. Our chair is designed to make your camping more comfortable! The chair is made of high quality aluminum, high-density foam, and covered with solid rubber. The chair will provide you with great comfort while you're on camping. Best camping chairs for tall people! Camping chairs for tall people.
WRAP UP
Best Camping Chair for Tall Person – A camping chair is just the beginning to successfully go camping as a taller person. To complete the ensemble you will also need a suitable tent where you won't head your head on the ceiling every time you stand. When it comes to sleeping at night, it can get quite chilly. An ordinary sleeping bag won't suffice for a tall person. It must be extra long.
Whether you're wanting to sit down and enjoy your kids football game, hiking in the wilderness, or simply enjoy some marshmellows around the campfire with friends – a comfortable, purpose built, camping chair can make all the difference!
Whether you're spending a weekend away in the great outdoors, or just going to a socially distanced picnic, a camping chair makes relaxing outside more comfortable. And while we've written about camping gear before — including the best tents, sleeping bags, and even everything you need for car-camping — here, we've rounded up the best camping chairs (that would also be a comfortable spot to sit at a park or even on a fire escape) as praised by the most enthusiastic reviewers on Amazon.