Best Chair for Artists – When it comes to drawing or painting for prolonged periods of time, comfort is everything.
Therefore, we wanted to round up some of the best chairs for artists who not only need uncompromising comfort in their studio, but also the range of movement and versatility within the chair that won't impede performance.
That's why during our thorough research we found that the Herman Miller Sayl Task Chair was simply the best all-around chair for artists.  It's relatively small footprint along with the ample adjustments for seating and pitch made it incredibly versatile for studio use. 
Ancillary to the comfort found in this chair was also the design aesthetics.  Highly revered for their incredibly detailed design process, Herman Miller has always set the standard when it comes to both the office and studio environment.
While the Sayl chair delivers on all the key components of a quality chair for artists, we did also review several other alternatives within the market.
Table of Contents
ROUND UP
1.Herman Miller Sayl
Ushering in the mid-century modern design movement with the Eames Lounge Chair in 1956 (now part of the collection at the Museum of Modern Art), Herman Miller knows a thing or two when it comes to design.
Their latest addition, the Sayl task chair, designed by Yves Béhar is without a doubt one of the best chairs for artists.
While originally designed to be a task chair for the office environment, its uncompromising comfort and range of mobility makes it truly remarkable.
Whether you are painting a watercolor on a relatively flat surface or an oil painting that has been mounted on a full easel or even a pochade box, the Sayl chair will conform to your movement allowing you to concentrate fully on your work.
So, what makes the Sayl chair so great?
For starters, depending on the model of the chair you get (or you can fully customize it through the Herman Miller website), you can fully adjust virtually every component of the chair.
Artists who don't like when armrests get in their way, you can not only adjust them on the Sayl up and down, but also side to side.
Plus, the overall width of the arms allows you to rest your elbow – helping to steady your arm when working on detail work.
Of course, when you are drawing from the elbow or shoulder, the lowered arm rests won't get in the way so you can have clean and straight strokes.
While the chair cushion fabric can be customized, the seat itself can also be adjusted both forwards and backwards helping the blood circulate below your waist.
Not probably an important factor when it comes to painting, but the back of the Sayl can be locked in to different angles allow you to lean fully back – perhaps great when you are reviewing your work.
Here's an overview of all the adjustments you can make when using the Sayl:
Pros & Cons
---
One of the most notable features of the Sayl chair is its 3D Intelligent back. Its gently sculpted and webbed design allows you to move and stretch, ensuring the balance between support and freedom of movement is struck. The webbed back is made from elastomer strands that provide exceptional support to the spine.
Height (in): 40.75 Width (in): 24.5 Depth (in): 26 Weight (lbs): 54 Seat Height (in): 20.5 Seat Width (in): 18
3-Year Mechanical Replacement Warranty By Chairorama.
---
2.Steelcase Leap Chair
If there ever is a company that will keep Herman Miller honest it's going to be Steelcase.
Their most popular chair – the Steelcase Leap chair is the ultimate task chair for artists.
With the most loved feature of this chair being both the extraordinarily comfortable seat cushion for larger folks the 'live back' technology of the chair comes in at a close second.
With the ability to fully support your lumbar no matter the position, the Steelcase Leap is great for artists of not only all ages, but of any form of painting or drawing as well.
Even if you suffer from sciatica, the Steelcase Leap has been favored by those with lower back pain by helping to drastically reduce the discomfort.
The arm rests can be lowered (they cannot be removed) down to your hips so you have full range of motion when it comes to selecting the instrument you may need in order to keep painting or drawing comfortably.
Pros & Cons
---
Fabric is 100% Polyester
Wheels for Hard Flooring
Ergonomic chair – features include adjustable seat depth, fully adjustable arms, height adjustable lumbar, lower back firmness control, pneumatic seat height adjustment, recline tension adjustment, 5 position recline lock, upholstered back and seat
Ergonomic chair – features include adjustable seat depth, fully adjustable arms, height adjustable lumbar, lower back firmness control, pneumatic seat height adjustment, recline tension adjustment, 5 position recline lock, upholstered back and seat
Quality & durability – designed to withstand 24/7 use while providing maximum comfort
Ships fully assembled; 12 year manufacturer warranty
---
3.Flash Furniture Mid-Back
A bit more versatile than the stool comes this swivel task chair by Flash Furniture.
Featuring a much more contemporary design than your typical task chair, this task chair is perfect for artists who want the full mobility and range of motion of a stool but require just a little bit of back support.
With no arm rests to inhibit your range of motion, you can concentrate on your artwork rather than moving the arm rests out of the way when you go to make larger strokes with your brushes.
With the ability to adjust the height of the chair only (does not tilt), this will allow you to get eye-level with your painting or drawing and really work the details.
While a tilt feature is a 'nice to have' and not a 'must have', artists who use this chair will often forget about tilting since it will be seldom used when painting or drawing.
Pros & Cons
---
If you're seeking exceptional seating comfort for yourself or multiple employees this ergonomic mesh back office chair will fit the bill. Everyone from the CEO to the front office staff will enjoy working in comfort with this office task chair.
SAFETY & COMFORT: Our chair conforms to ANSI/BIFMA standard X5.1-17. Ventilated curved mesh back with built-in lumbar support prevents overheating, 3" padded waterfall seat relieves pressure from the legs while providing cushioning for long workdays
HIGHLY CUSTOMIZABLE: Pneumatic height adjustable 360 degree swivel seat, Tilt lever - push in to lock in an upright position; pullout to activate rocking motion, Tilt tension knob controls tilt resistance, Functional flip-up arms allow ease of access
VERSATILE USE: Commercial grade material and quality creates a superior chair that can be used in home offices, commercial business work spaces, college dorm rooms and student study spaces in the home
Note : To ensure proper assembly, please follow all steps provided in the Installation manual (provided in pdf below)
PRODUCT MEASUREMENTS >>> Overall Size: 24.5"W x 25.5"D x 37.5-41.25"H. Seat Size: 20.25"W x 19"D x 17.25-20.75"H. Back Size: 17-20"W x 23"H. Arm Size: 26.25-30.25"H from floor; 8"H from seat
---
4.Sleekform Austin Kneeling Chair
Invented in 1979, the kneeling chair is designed to be much more ergonomic in order to reduce back pain.
With a 90-degree chair and an extremely soft cushion, this kneeling chair by Sleekform is perfect for artists.
While art horses or art benches (covered next) are popular within art schools, a chair like the Sleekform is a much more comfortable alternative for studio and home use.
Allowing you to have an unobstructed view in front and to the sides, this Sleekform chair will give you a full range of movement whether it comes to larger brush strokes or selecting just the right tool, medium, or solvent for your piece of artwork.
Should you like to draw or paint from a live model, the unobstructed and ergonomic design will allow you to efficiently work on your piece while studying the contours of the model.
A word of warning when it comes to kneeling chairs:
Given that they rely on core strength, some artists find that they can work on these only for a limited amount of time before their muscles begin to tire.
Therefore, you will want to have another chair at the ready when first starting out on this one.
But as your core muscles begin to strengthen, you will find that you can stay on the kneeling chair for longer periods.
What we really liked about this Sleekform kneeling chair was its satisfaction guarantee. Given that some may be a bit apprehensive about trying out a kneeling chair (although as you can see the review average is 4.2 out of 5), you do have 30 days to try this and still receive free return shipping.
Overall this is a great chair for artists looking to improve their posture and comfort while painting.
Pros & Cons
---
[REDUCE PAIN] The Austin positions you with an open hip angle that effortlessly encourages an active upright posture. Kneel position will align your back, shoulders and neck, lower risk of injury. Improves and corrects posture, reminds you to stop slouching.
[DURABILITY] The Austin features a 4" thick seat and comfy memory foam knee cushions, 3 wood cross bars instead of one; and reinforced 20 ply instead of 14 ply birchwood for strength and durability.
[CAPACITY] It has a weight capacity of 120 kgs (almost 265 pounds). Heavy-duty ergo angled cushions for lumbar. Perfect for anyone 5'2"-6'6", works for standard 29" table height.
[VERSATILE] The Austin is a perfect posture corrector for meditation, study, writing, computer work, gaming, a sewing or crafting chair or a posture correcting chair. Supporting muscles and relaxing backaches through alignment correction.
[ROCKING] The rocking movement helps with recovery, increased blood flow, energy and helps maintain focus. The balance and rocking makes sitting comfortable while you work.
---
5.Boss Office
Designed for comfort and increased productivity, this stool-chair could be ideal for a dorm room, spa, medical room, or home. It is also tattoo-artist approved, with an upright design that mimics your spine's natural shape for improved comfort. It has a backrest, footrest, wheels, and a swiveling feature. It comes in beige, black, and gray color options available in two styles – with and without back cushion.
Pros & Cons
---
Ergonomic design Emulates the natural Shape of the spine to increase comfort and productivity.Product Width: 24″, Product Depth: 24″, Product Height: 33.5″, Max Product Height: 39.5″ Back Height: 9.75″, Back Width: 16″, Seat Depth: 16″, Seat Width: 16″, Seat Height: 20.5″-26.5″ H
Upholstered in durable Cares soft vinyl for easy maintenance and cleaning
Adjustable Seat Height with a 6" vertical Height range
Attractive chrome Finish on the base and gas lift
Dual wheel casters allow for easy movement
---
6.Casual Home 24″ Director's Chair
The Causal Home classic-style director's chair is made of sustainably sourced solid wood. It features built-in armrests, footrest, and canvas. This is suitable for homes, schools, businesses, and events. The net dimensions of the chair frame are 23(W)x19(D)x39.5(H)in, and the seat depth is 24in. You can pick from different frames and canvas color options for the chair.
Pros & Cons
---
Classic style fits permanent or temporary seating for any occasion
Simply remove the footrest and foldable design provides effortless transport and storage
Built-in armrests and footrests provide comfort and support.
Made with 100% Solid Wood for increased durability and longevity
Dimensions: 23"W x 19"D x 39.5"H. Seat-height approx: 24". Back cover size: 20"W x 6"D. Seat cover size: 18.5"W x 16"D.
---
How To Choose The Right Chair For Artists?
You should look for the following features to purchase the best chair for artists.
Type of seat: The amount of comfort a seat provides is an essential factor to consider. If you have to sit for a longer duration, then find a seat with a backrest, proper cushioning, and armrests. If you work for a limited time, a drafting stool can work.
Back support: This is essential to improve your posture when sitting for long periods. Some are high-backed, while some have low backrests. Pick according to your requirement.
Swiveling and wheels: Purchase a chair that can swivel easily, especially if you have multiple tables that you need to move to while working. If the work areas are separated by distance, consider wheels as they make it convenient to move the chair.
Armrests: Look for the chairs with adjustable armrests. High armrests raise the shoulders and may cause pain over time, especially if you work for long periods.
Adjustment options: Consider a chair with adjustment options for the headrest, footrest, and armrests for relaxation.
Artists end up spending a significant part of the day working on their projects. So, they need the right chair to feel comfortable and maintain the right posture while they're at their next masterpiece. When buying a chair designed for artists, make sure that it offers good back support, adjustable height, and heavy-duty construction for optimal comfort. The seat should be cushiony enough to help you sit for long hours. Finally, choose a swiveling chair for easy movement while working and check the wheels to ensure safety.
< id="who-makes-the-best-executive-office-chairs">Who makes the best executive office chairs?
People that want excellent craftsmanship and the most comfortable money can buy from an executive chair, then look no further than the Herman Miller Aeron by Herman Miller.
It is the most popular ergonomic chair and the first choice of professionals and executives worldwide.
It provides excellent support to the back, and the gently adjustable and flexible lumbar system provides superior back support for hours of work.
< id="what-is-the-best-chair-for-crafting">What is the best chair for crafting?
The best chair for crafting is a comfortable one with an excellent ergonomic design. Some people prefer a swivel chair to allow a full range of motion, but others need a recliner that is easy to adjust.
Whatever your preference, you should look for a chair that has a comfy, well-cushioned seat, adjustable height, lumbar support, and wheels for easy maneuvering. If you're an artist or an illustrator, these are the best chairs that suit your needs.
< id="which-is-the-best-herman-miller-chair">Which is the best Herman Miller chair?
There are so many types of ergonomic chairs made by Herman Miller. There are, however, some that are more popular than others. The best Herman Miller is the Aeron. There are several reasons why people love Aeron.
< id="what-is-the-best-chair-for-sitting-at-a-computer-all-day">What is the best chair for sitting at a computer all day?
If you are a graphic design professional or even if you are a designer who works from home and spends hours sitting in front of your computer, this is the most important part of your workspace.
The best desk chair is one that is ergonomically designed to fit your body and is most comfortable. It allows you to adjust the height and features to move around effortlessly while still feeling supported. It has to be comfortable enough to sit in for long hours while supporting your back and neck so that you can concentrate on being creative.
Do you love painting, drawing or co? If yes, you need the best chair that offers comfort, so you can sit for hours to portray your creativity on the canvas.
You can only show your best creativity when you are in your comfort zone. And that's why we are here with this article. In this post, we have covered the best chairs for artists that are extremely comfortable and adjustable.
Furthermore, the article contains a buying guide as well to help you in selecting the right chair. Go through these reviews, and choose the chair that you love.
How was this list made?
We wanted our readers to select the best chairs only, and that's why we did extensive research for them. Also, we asked several artists about the chairs that they use.
Chairs for artists are different from regular chairs in terms of comfort, design, and adjustability. Moreover, we searched for the selected chairs to make sure that they are good for artists.
In the end, we shortlisted the top 5 chairs that most of the artists' use. If you too are an artist, then these chairs are definitely for you.
A chair for artists comprises several components such as a seat, armrests, swiveling mechanism, and back support. In order to select the best chair, you should look for a plethora of things to make a great choice.
The chair should offer comfort so that you can work for hours without feeling tired. Make sure that the chair has excellent back support so that you can relax while working.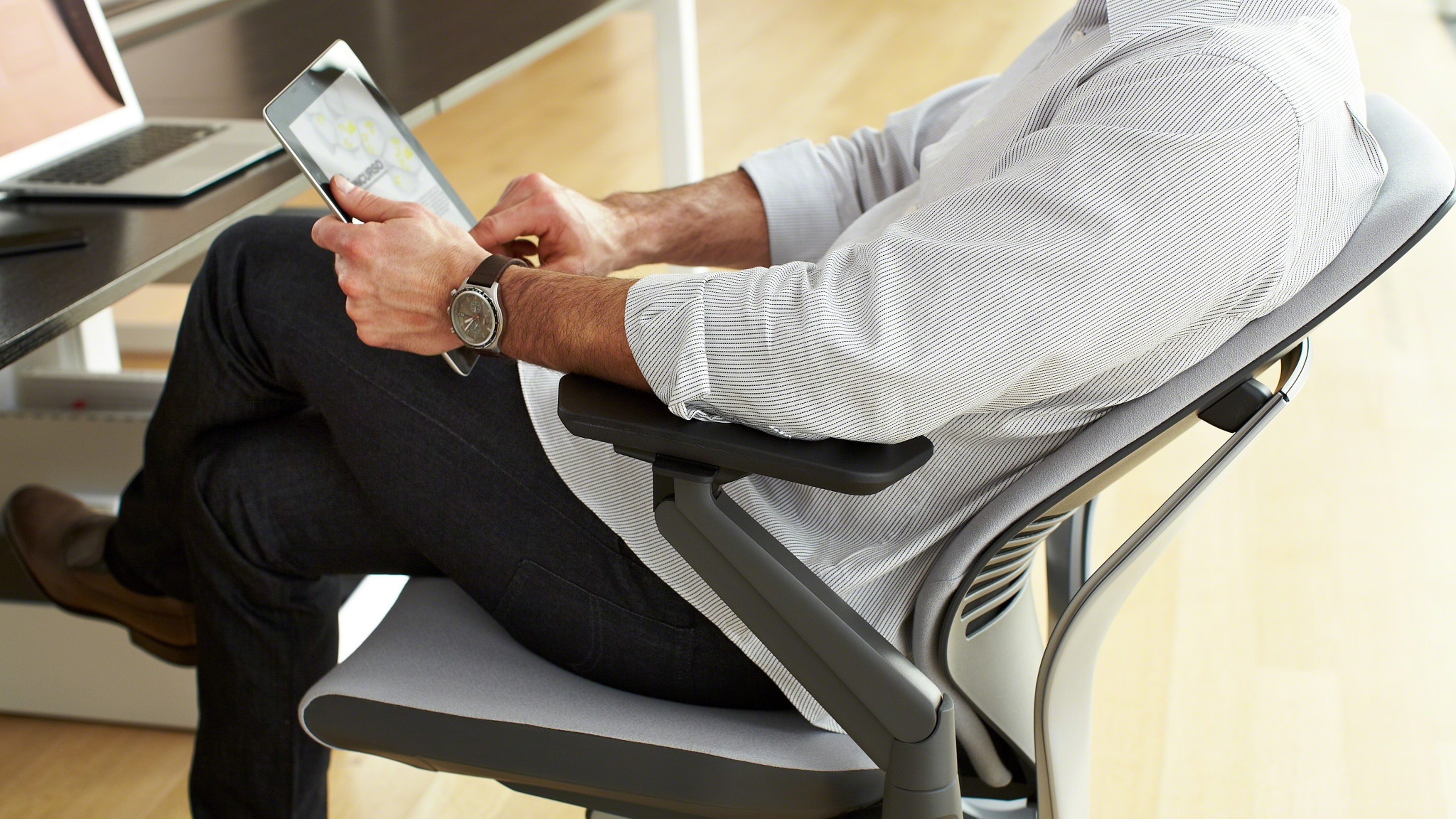 Also, the chair should be swiveling as it is essential for artists. A lot of artists love using chairs with wheels so that they can move it to their favorite spot. Check the armrests and padding to ensure that the chair provides comfort.
Lastly, make sure to go through the customer reviews to have a better idea about the chair.
With these best chairs for artists reviews, you can make a great decision. But before you select a chair and purchase it, it is essential to crosscheck if it is perfect.
Here is a list of factors that you should check before purchasing a chair.
Artists love stylish chairs, and that's why we shortlisted the most attractive chairs for this list. Consider a style in your mind that matches the décor of your workshop. You will find differently styled chairs in this list.
Next thing to check is the weight capacity. Go for a chair that can bear your weight. Best chairs for artists are available in different options with varying weight capacities. Check the comparison table to know about the weight capacity of a chair.
The choice of material will impact the breathability, comfort, and cleanliness of a chair. So, it is important to make a wise choice. In this article, we have covered mesh and leather chairs. Mesh chairs are great for breathability, whereas leather chairs look attractive and are comfortable.
Consider the pros and cons of the material and then purchase a chair.
The choice of color is a matter of personal choice. Also, you should go for colors that require less cleaning. Dark colors, such as black and brown, are easy to maintain. On the other hand, colors like white and cream require more cleaning.
The sitting posture depends on the type of field you are in. If you are a music producer, you need a chair that ensures a straight position. Some artists, such as painters, love a kneeling posture for sitting.
Adjustability comprises the seat height and tilt adjustments. These are the two must-have features of every chair. All the chairs that we have listed in this article offer seat and tilt adjustability.
The price of the chair depends on multiple factors such as brand and type. Best chairs for artists are available at different prices, so you should consider a budget before searching for one.
With a specific budget, you can purchase a reliable chair without breaking the bank.
Every artist needs to have one of the best chairs artists. When you experience the comfort, you can work better and can show your best creativity.
Go through the reviews, and check all the pros and cons to make a great choice. Also, make sure to skim through the guide for more information about these chairs.
First things first, back pain is avoidable, and it is curable too. As for the past, people had to attend chiropractic sessions or other forms of therapies that aim at subsiding backache, the present just calls for an ergonomic office chair. Provided that it suits your size, occupation, and work environment, an ergonomic office chair can be a godsend.
These amazing seating configurations are much more supportive, adjustable, and accommodative than regular chairs. From height to reclining angles, armrest and backrest- almost everything is adjustable for ultimate comfort. Not to mention that an ergonomic office chair evokes powerful physical and emotional attachments than most of the other office furniture.
Thus it's essential to invest in a quality office chair. Below are some of the ways in which office chairs can help deal with back pain:
A quality ergonomic office chair under $300 comes with vital features such as backrest and headrest to support your sitting position, especially for long sitting with scoliosis. It also allows for adjustments for, where you can achieve straight back and recline sitting position. For instance, you can customize the height with your feet on the floor to attain a right-angled degree configuration, thus correcting and improving your overall posture.
There are many office chairs out there that are designed to promote good sitting posture by offering a straight 90 degrees backrest, with some such as yoga balls and kneeling chairs featuring a backless design. Nonetheless, numerous studies affirm reclining office chairs to be the best for persons suffering from lower back pain.
Comfort and back pain relief are two things that never part. Ergonomic office chairs are far more comfortable compared to traditional chairs. They are user-friendly and will allow you to adjust the features to match your partialities. Once you are in a relaxed position, it will be much easier to manage most of the musculoskeletal issues.
For people with back pain, particularly lower back pain, Cornell University's research shows that even a more reclined sitting angle can help alleviate the pressure, stress and other complications exerted on the discs, all of which will only exacerbate the already existing condition.
Regular chairs are generally associated with hard surfaces, where sitting on them tend to exert impact within the hip area. Such influence often results in numbness in the hips due to constant discomfort. On that note, ergonomic office chairs are meant to provide adequate support to your hip bones and buttocks, thus eliminating numbness and exhaustion even after extended sitting periods while in office.
There isn't ground-breaking research on the backrest height on an office chair, in relation to back pain relief. However, it's not hard to draw some prolific details based on logical conclusions. Considering that a reclined backrest is ideal for back pain, it's safe to say that a high back chair with ample headrest can provide more comfort and support at that angle.
Under this particular aspect, an ergonomic office chair will provide support to your upper back, lower back, and even neck. This is contrary to most classical chairs that leave your neck dangling, putting more stress on your head whenever you recline.
There's a wide spectrum of anecdotal evidence showing that lumbar support, particularly the adjustable ones, can help in relieving strain and enhancing back pain relief. Optimal pressure distribution in an office chair should be within the thoracic and lumbar areas.
As such, a chair with adaptable lumbar support that conforms to the user's lower back can be helpful for sustainable comfort, especially at a reclined position for those suffering from sciatica or lower back pain. According to Mayo Clinic, persons suffering from sciatica (lower back and thigh pain usually due to irritation of sciatica nerves) can also benefit from office chairs with proper lumbar support.
We recommend choosing chairs that feature adjustable lumbar support, where location and firmness can be adjusted. This is because everyone's body type is different, and being jammed with immovable lumbar support can even aggravate the condition.
Seat edge design is yet another significant aspect of ergonomic office chairs that can be very beneficial where back pain, especially lower back, is the primary concern. For most back pain sufferers, the pain is not solely confined to the back region; it can spread to the thighs and, to some extent, even lower legs.
For instance, consider a person suffering from sciatica, a condition caused by strained and compressed spinal nerves. These people often experience shooting pain that involves the path of the whole sciatic nerve system, from the lower back to thighs and sometimes even legs.
Luckily, where back pain extends to thighs and legs, a good office chair with a flexible edge or waterfall can help significantly in reducing pressure and stimulating blood circulation in your lower back as you sit. This will result in less pain and numbness in even your lower limbs.
Finally, try to avoid static posture when sitting in office chairs. Remember that irrespective of how comfortable you feel in your chair, prolonged and inactive posture can raise adverse effects on your back.
Instead, try to stay active by standing, stretching, and walking for a couple of minutes after every half an hour. This will help to keep your joints, muscles, ligaments, tendons loose, thereby ensuring comfort and relaxation.
A twenty-minute walk can help even more by promoting a healthy blood flow allowing nutrients to access all of the spinal structures. In other words, simple movements and stretches on a regular basis can contribute to a more effective pain relief, which in turn promotes the overall ability to focus productively.
WRAP UP
Best Chair for Artists – Are you looking for a chair that is comfortable, ergonomic, affordable, good-looking and supportive for long hours of your sitting time?
Do you find yourself sitting more than four hours per day at your computer? Are you looking for chairs for artists and illustrators that incorporate ergonomic features that promote healthy posture?
We've done the heavy lifting for you in this guide and have uncovered the five most comfortable and ergonomic chairs for artists and illustrators.
You'll find all the information you need like features, pros and cons, and more. Let us help you find the best office chair for your computer desk as an artist.
To make the best recommendations for artists and illustrators, we wanted to make sure that we looked at many different artists and creators to see what they liked. And we're committed to coming back to look at artists' chairs every single year. If you need more help choosing the right chair, be sure to check out our ultimate guide to the best chairs.