Best Chair for Computer Programmer – As a programmer, software developer, software engineer, or tester, you're almost guaranteed to spend most of your workday sitting in a chair. Most of the time, you probably don't think about it. Why would you? You're busy trying to get that last piece of code working to meet the deadline for that all-important release.
But over time, your choice of seating can make a difference. For any programmer, it's essential to find something that is both comfortable and ergonomically supportive. Comfort keeps you going during those long hours of intense coding; proper support keeps you healthy for the long term.
If you are in the market for a new chair, you will find that there is a vast selection to choose from. No worries! Let's comb through the noise and look at our choices for programmers' best chairs.
Working from a computer has excellent benefits and perks but requires a significant amount of focus. Programmers can develop unique and creative projects but still need to focus on doing their job correctly. If you are thinking about back pain and having a bad posture, you are more likely to be distracted. Since we want you to be comfortable doing the best job you can, we bring you a list of the top 10 best chairs for programmers in 2022.
Whether it's a back strain or just feeling less active while working, these problems can determine if your job performance gets worse. No worker should suffer from those problems, but it's very common ergonomic office injuries since not everyone is actively investigating the issues that using a conventional chair can cause.
Table of Contents
ROUND UP
1.Steelcase Gesture Office Chair
With much alike build quality and comfort level to its sister Leap office chair, the Gesture resembles a lot with Herman Miller Embody. Looking for a best programming chair, you'll discover tons of adjustability options, the same minimalist comfort-oriented design, and a hefty price tag starting from 1000$.
It comes with a variety of upholstery options, with Buzz2 as the default variant. Besides, leather, Remix, Cogent, Billiard, and Bo Peep are other upholsteries varieties available at a minor/major price difference.
But then, the seat cushioning is still thin but rich in comfort. With 2" of seat padding, it produces the same comfortable feel to use it for long 8-10 hours of sitting. So don't let the slim padding seat fool you; the seat comfort is the strong performer here.
The Gesture arises with tons of adjustability capacity, including a whole unique Armrest setup. The armrest design is "Never seen before" in the market with an incredible movement range. Technically, the armrest material is the same as the Leap variant, yet the specialty here is the movement that delivers 10.25" width (10.25-22.50") and 4.5" height adjustment.
So for some longer arms or bulkier body frames, long movement plays an important role in your productivity.
Furthermore, you would also see adjustable lumbar support that feels minimal, nevertheless, renders enough satisfaction. The lumber support befalls in a flexible plastic material that better flex according to body size and pressure. However, the backrest height adjustment is still lacking in this model, too.
Notwithstanding, the backrest is already long, posing a 24.1" height for guys above 6Ft.
Meanwhile, the seat is adjustable through a dialer like a controller. You'll experience smooth seat adjustment without standing from your position.
Another department where this programmer chair shines explicitly is the weight capacity. With a 400lbs weight limit, Gesture has attained 2 cylinder variants same as Leap V2 setup. The standard one is the 4.2" inches chair model, yet if you want to take it into drafting chair styling, a long-range cylinder will suit you better.
On the whole, the chair feels much like a small boy, but practically, it's a comfort and flexibility beast.
Pros & Cons
---
Connect fabric is 100% polyester
Wheels for carpet flooring
Ergonomic chair – features include adjustable seat depth, fully adjustable arms, pneumatic seat height adjustment, recline tension adjustment, 4 position recline lock, shell back and seat, light/light frame color scheme
All day comfort and back support - Gesture's seat and back move as a synchronized system, following your body as you move throughout the day to ensure long-term support
Quality & durability - designed to withstand 24/7 use while providing maximum comfort
---
2.Steelcase Leap Office Chair
The Steelcase Leap V2 is a king of adjustability, comfort, and the highest-grade of craftsmanship. For users who are looking for a simple, fully ergonomic, and highly resilient seating solution in the luxury class, Steelcase is unquestionably a worthy programmer chair for your consideration.
Starting with the upholstery, the chair comes with various upholstery options but at a fraction of some extra bucks. As a base model, it comes with Steelcase signature Buzz2 fabric that is 100% polyester. Leather lovers will also taste this chair in leather materials, but it'll cost you some 50+ bucks.
Factually, the upholstery materials and variety make it highly versatile in this section.
Well, taking Hermon Miller as its primary competitor, the Steelcase Leap V2 is in the high books of comfort and adjustability. The seat padding isn't very beefy or substantial; however, it's a sheer wonder how it handles 10-12 hours of seating without giving any sign of soreness and hip fatigues.
There is quite a unique flexible feature for fatigue control. The seat pan and backrest move along with your body movement, so you never miss an inch of support. So, your body never remains unsupported, and it largely depreciates the chances of discomfort.
As its king of adjustability, the wonder starts from adjustable lumbar support. You'll find two interesting mechanisms to find generous support for your back. The one is manually up and down lumbar support movement. On the second, there is a knob-styled controller to manage the tension of lumbar support.
These both processes allow you to better adjust the back support according to the C-arc of your back and enjoy stress-free and most prolonged sittings in your office. However, the Leap chair controversially lose a point by not adding backrest height adjustment into its recipe.
So, for big unfortunate fatty programmers and developers looking for a well-heightened backrest, it may not be a well-pick for you. But it gives you 5 sweet spots for backrest tilt to tune your sitting posture accordingly.
However, the armrests section is impeccably the greatest in the market. The movement range is broader, and the 4-dimensional setup lends you a helping hand to find a comfortable spot for your wrists and arms. The armrests are big and soft padded, so it won't dig into your elbows and arms after some time of usage.
Well, Steelcase has given a whole new dimension to adjustability. As far as the cylinder system is concerned, it comes in two variants; the regular chair and the stool model. For the chair model, the height adjustability with no surprise remains in 16 to 20.5", covering 90% of the heights.
On the other equation side, the stool variant; however, costs you high but comes with a staggering 22" to 30" range to better become a drafting chair model.
In both models, the armrest height and sideways movement remain the same, covering 7-11 inches and 12.75 to 20 inches, respectively. The same goes with seat depth as it can roll from 15.75" to 18.75" for better thigh support management.
Pros & Cons
---
Buzz2 fabric is 100% polyester
Wheels for carpet flooring
Ergonomic chair – features include adjustable seat depth, fully adjustable arms, height adjustable lumbar, lower back firmness control, pneumatic seat height adjustment, recline tension adjustment, 5 position recline lock, upholstered back and seat
All day comfort and back support - Leap's contoured backrest changes shape as you move to support your entire spine, ensuring long-term comfort
Quality & durability – designed to withstand 24/7 use while providing maximum comfort
---
3.Ergohuman
I know many users lust for luxuries but can't afford them. As a result of this, here is a mid-ranger that originates with a weird design but never loses the ground of comfort and adjustability.
Firstly, this boy is an all-mesh material chair, which means you won't struggle for breathability in hot summers, just like Florida, where humidity squeezes your sweat. The edges of the mesh stitching have been padded with soft foam that sometimes gives you a sinking feeling. The mesh material displays remarkable durability and toughness against wear and tear situations; however, it gets loose after long usage.
Bring your mind at peace; it's highly subjected to sitting and usage style and won't slip from its place after some sittings.
The chair presents a unique look at the very first glance. The backrest has been divided into two portions, separately targeting the lower and upper back. The most prominent part here remains the lumbar support that has been pivoted outside a bit to better support your C-arc and pelvis.
The backrest is flexible, and you'll feel the support when the pressure is applied to this segment. It adjusts its position according to your posture and brings better support and comfort pillars for your back. Other than this, there is an adjustable headrest that moves above 2" for variable heights and neck posture.
However, it has been built for slightly bigger guys above 5.7 to 6.4ft. Individuals below this mark would certainly feel neck support not complying with their body size. For that reason, the ideal move is to bring the chair without neck support.
Wholly, the backrest has 3 lockable tilt positions. Besides, the armrest also supplies you with a 3D adjustment. Yes, it's not 4D as you won't be able to stretch in/out the armrest width. But then, the armrests are long, soft padded, and don't wobble.
The chair is big and tall but not big enough in the weight-bearing capacity. Where many luxury and midrange programming chairs hit above 300Lbs, this only falls to 250lbs. Though it can easily handle over this mark, yet keep the chair effectiveness in your mind.
Pros & Cons
---
Made of Chrome/polypropylene base with nylon casters, this chair is made of 97% recyclable components
Product dimensions – 29" D x 26.5" W x 46"-52" H | Seat dimensions – 18.5" D x 20.5" W | Seat height (lowest/highest) – 18.5"/22.2" | Back dimensions – 20.5" W x 28" H | Product weight – 66 lbs. | Weight limit – 250 lbs.
Synchro-tilt mechanism and seat depth adjustment ensure users sit correctly and get the support they need, whether sitting upright or reclining
Pneumatic cylinder raises and lowers chair quickly | Back, seat cushion, and headrest all adjust to fit an array of users and accommodate their individual needs
Back angle adjustment with 3 position tilt-lock adjusts easily - lock the chair back into place in one of three positions, or simply use the tension control adjustment to control the amount of force to recline or sit up straight
---
4.Alera ALEIN4811
The Alera ALENR4199 Neratoli Series Chair is a basic, but an elegant-looking chair that satisfies the primary purpose of comfortable seating for a long duration. As a programmer, that is your main lookout feature.
The profile is slim but robust. This office chair is very durable as it comes made from solid material. The cushion is contemporary and offers comfortable seating. The seat also has a waterfall design that ensures less pressure is placed on the thigh area.
Apart from that, adequate blood circulation is not affected when you are seated for extended periods of time. The armrest comes with sufficient padding that ensures your wrists are placed comfortably.
The material used to design the chair is metal leather. It is designed in Canada and has been in business for several years as of now. The Alera office furniture comes with all the factors that one can want, like ergonomics and styling, and cheap price.
The office chair comes with a 5-year limited warranty. The manufacturer is known for its stringent testing procedures that ensure that you receive an excellent product at the end of the day. The wheelbase is a 5-star shaped base that has casters for sufficient mobility.
You can easily adjust the height of the seat by using the lever. It is light and easy to access with your hands. The tilt tension is proper too. You need to use the knob that is placed below the seat, and you can adjust the pressure likewise.
Depending on your body shape and height, the chair comfortably reclines without hassle. It comes in 3 vibrant colors, namely black, white, and red. You can choose the one that blends in with your office décor, or that matches your preference.
Pros & Cons
---
Designed to fit in tight workspaces
Molded plastic shell resists impact
Waterfall seat edge helps relieve pressure points on the underside of legs
---
5.Amazon Basics
As a programmer, you like to sit on a chair that offers you not only comfort but also looks appealing to others. You can maybe be performing a plethora of work like writing your program, replying to emails, having discussions with colleagues, and so on.
The AmazonBasics High Backed Office Chair appears like a high-end model, but costs significantly lower than them. The office chair comes with decent features and provides you with reasonable comfort.
The dimensions of the office chair are 29.1L X 26.1W X 45.5H inches. The seat depth is 1 inch, and you will require assembling. This is an entirely adjustable chair, offering you personalized comfort.
The AmazonBasics executive chair comes with adjustable settings, a butterfly seat plate, and a curved contour for excellent support to your knees. It also ensures that your body is rightly aligned when you are seated for those long hours at work.
You can quickly raise the seat by pulling the control handle. It is simple as you need to get up a little bit, to ease off the pressure on the office chair. The height of adjustment is from 41.34 to 45.08 inches.
The tilt of the chair is also nicely controlled. You can rock to and fro or decide to sit in the upright position when you want. It is located just under your seat. Users have commended the upholstery of the leather chair.
It comes with superior-made leather that gives your chair the ultimate appearance and looks. Not to mention, the seat cushion comes with extremely comfortable padding. The armrest is padded, offering you additional support to your wrists at all times.
The office chair comes in elegant but classic colors of black, brown, and white. A typical executive chair, you could say.
Pros & Cons
---
Comfortable: ergonomic desk/office chair with adjustable seat height, padded flip-up arm rests, headrest, and synchro seat mechanism for easy reclining
Contoured mesh seat: high-back design with suspension seat made of breathable mesh for added support and extra comfort with airflow
Durable construction: ruggedly built with quality materials and a sturdy 5-point base for reliable strength and stability
Maneuverable: 360-degree swivel mobility and caster wheels (not lockable) allow for easily moving around a workspace
Set-up and warranty: easy to assemble (all necessary tools included); backed by an Amazon Basics 1-year limited warranty
---
6.Duramont
Besides, there are plenty of different adjustment options available with this chair. The pneumatic controls will allow you to raise or lower your seat and tilt the backrest back or to sit upright. Precisely, that is what makes this chair is one of the best chairs for programmers who sit many hours at their desks writing and debugging code.
Also, the seat height, backrest inclination, the angle of the headrest, the arm rests, and the lumbar support position, amongst many other features can be adjusted. All of these features are designed specifically for workers doing diverse jobs.
When you spend several hours sitting in front of a computer you will start sweating on your back, particularly during the hot summer season. Well, this Duramont ergonomic office chair features a mesh back for perfect breathability so your back doesn't have to go through that uncomfortable situation.
This affordable work chair has been designed to last. With a 330 LBS weight capacity, it is constructed with the highest quality materials, featuring a soft padded seat, durable armrests and neck rests, and swivel casters for easy mobility across your office floor.
Another special feature of a chair is its 100% money—back guarantee. You can use this chair for 90 days. During this time, if you do not like this chair, then you can also return it. It is good. Isn't it?
Pros & Cons
---
★ MORE ADJUSTABLE THEN ANY OTHER CHAIR IN ITS CLASS — Unlike the office chairs sold by our competitors, which allow you to either fully recline or sit upright, we have a SECOND adjustment lever that allows you to lock in your desired recline angle at ANY degree. That way, you can be assured of finding the perfect comfortable seating position just for you.
★ BREATHABLE MESH - The breathable mesh back on this ergonomic office chair provides support while keeping your back cool and comfortable. Cool air circulates through the mesh keeping your back sweat-free and allowing you to sit in the chair comfortably for longer periods of time compared to traditional chairs
★ FULLY ADJUSTABLE BACK SUPPORT - Having back issues or don't want to develop them? Our unique office chair includes adjustable lumbar support that goes in and out, up and down, and a recline feature that allows you to tilt the backrest back or sit straight. Now you can quickly find a position that makes your back feel the most comfortable!
★ EASY TO INSTALL - Simple instructions enable anyone to put this executive chair together in eight simple steps! Then once built you'll be able to adjust the chair to your individual needs. The chair's pneumatic controls will let you raise or lower the seat and tilt back the backrest or sit straight up. You can easily find the ergonomic position that will allow you to work comfortably for long periods of time
★ HIGHEST QUALITY WITH 5-YEAR WARRANTY - This adjustable task chair is made to last. It has a weight capacity of 330 LBS and is made from the highest quality materials, including a soft cushion seat, sturdy arm and head rests and rollerblade caster wheels that allow you to move easily across the office floor. Get your office chair – and boost your work comfort! Your purchase will be backed by a 100% money-back guarantee. Try this chair for 90 days - if you don't love it, you can return it
---
How to choose the best chairs for programmers in 2022
In this guide to find the best chair for programmers, I'll cover what an ergonomic office chair is, its characteristics, what to look when buying an office chair for coding comfortably, and I'll try to answer all your frequently asked questions about it.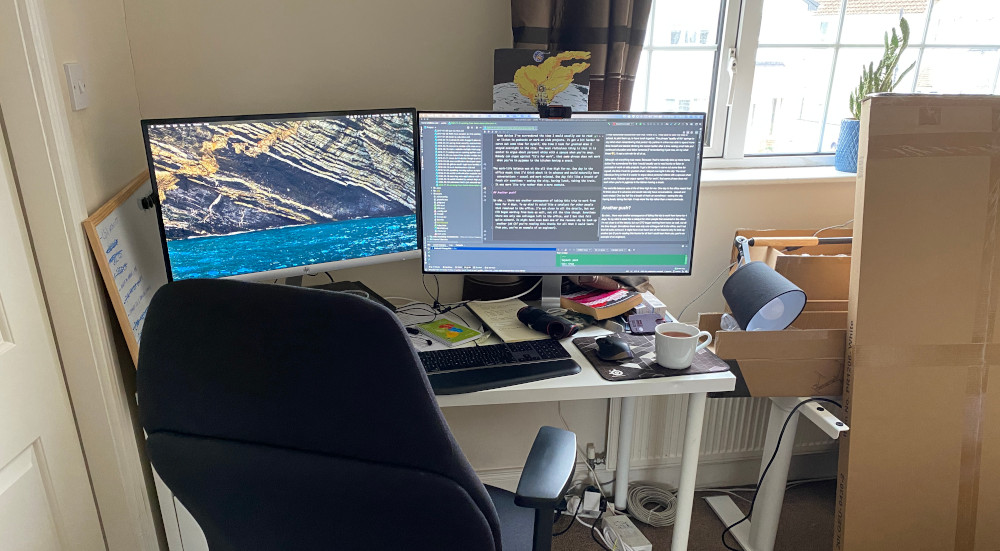 But first, let me tell you why an ergonomic chair is essential for all professionals. In this fast-paced and competitive world, it is a common fact that people have barely sufficient time to care about themselves at home.
We are required to be in the office and do our work for at least 8 – 10 hours each day. When the office is not equipped with adequate facilities and furniture for the staff, the workers may suffer from severe health issues.
If you are someone who usually suffers from pain (in the back, shoulders, and neck) by the end of the working day, you might have to replace the chair you are using at work.
Being in the same sitting position while working puts extra pressure on your spine. For this reason, it is important to use a comfortable work chair.
An ergonomically designed chair is entirely different than a traditional chair. They are specifically engineered for the complete relief and relaxation of the body's main structures which are easily stressed during work.
When it comes to the benefits of an ergonomic office chair: Well there is more than just one! Now let's take a closer look at them…
Things you should know before finalizing the programming chairs
Today the best chair for programmers are available in all types of styles, designs, and colors. A few will come with adjustable headrest, and a few will come with stylish leather cushions.
A few are available under $100, and a few are above $1000. It is not necessary that a $100 chair is the worst one. Same time it is not necessary that $1500 chair is the best available ergonomic chair in the world.
Therefore, it is essential to decide the budget, required features, and other aspects before taking a look at the list of best chairs. This will help you to filter out many chairs which are not suitable for you.
Tips on choosing the right chair for programming
Each chair comes with a few different features. Some chairs have headrests some don't. A few chairs come with a mesh back and some have adjustable armrests. A few of the chairs cost 1000 or more and some are available for 200 or 300.
But, finalizing a good ergonomic chair entirely depends on your budget, body type (height, weight, etc), and other requirements.
So, let's discuss a few key points for choosing the right chair for a software developer.
Height: We recommend you to use a chair which has a perfect mechanism to adjust the height of the chair. Before you purchase the chair, make sure you sit on it and ensure your feet lie on the floor whilst your knees are at 90°.
Adaptable: All individual components in the chair need to be adjustable to adapt with your body. The armrest, backrest, lumbar support, seat height and headrest have to be adjustable freely from each other.
Lower back support: The backrest should be comfortable for supporting the upper and lower back. It must properly support your natural back curve.
Lumbar support: It is important to have lumbar support since our lower back curves inward so the chair that you choose has to precisely adjust to this curve for comfort.
The size of the chair: While a chair that is too small will be uncomfortable, an oversized chair will also not be healthy. An ideal chair would be one inch wider than your hips.
Seat cushions: The cushion of the chair should be of excellent quality for ensuring that it can withstand your weight during long working hours. When the foam gets damaged, they will make sitting cumbersome.
Tilt Mechanism: You have to have the capability to tilt the chair's back. That is useful when you sit for long hours in a stretch and you want to relieve strain on your back, you can recline the chair in order to rest your back.
This is not an extensive list, only an honest endeavor to note down the most important characteristics that you will need to check.
Keep in mind that before purchasing, you should always test the chair in person, otherwise if it is not possible, then still you can purchase the good ergonomic chair and try. You can always return them if they are not suitable for you.
What is the best chair for sitting all day?
Many people ask this question or a similar question: What is the best chair for programmers?. I always politely tell them.
Sorry, but I am unable to answer this question in just one line. The reason is simple. I can't recommend an $1200 chair to a student. That's the reason I tried to include a few best chairs in the different price ranges.
For example, if a budget is not a constraint you can go with Herman Miller Embody or Aeron. If you are a Steelcase fan, then you have an option to purchase a Steelcase leap chair.
Similarly, If you want the best chair for programmers under $300, then look no further and buy the Duramont Ergonomic Adjustable Office Chair. Moreover, if you don't want to spend over $100 then you can buy AmazonBasics High-Back Executive Swivel Office Chair which is the best chair for programmers under $100 price range.
I believe, now you are clear. First, set a budget and then recheck my list. I am sure that you will find the best product available on the market.
Does the ergonomic office chair pay off?
There is a saying: Health is Wealth.
Let me tell you the facts, choosing the perfect chair to fit your body will be the most vital decision you will ever make through your professional career. Remember, sitting on a bad chair is like the smoking which can be as problematic over the long period of time.
Putting number of hours each day coding and sitting in the front of laptop can cause serious health problems, as mentioned above.
So, It is good to spend a few extra dollars on a comfy chair. If you are a serious programmer who loves the coding, and is aware that in the future you will still be writing code, than you should invest in a professional chair to avoid any back problems. That makes sense. Isn't it?
Finally, let me tell you my example. I become very productive when I am well. However, when I am not feeling well, I can't focus on work no matter how much I try to focus.
The same is true with the chair. If your chair is not comfortable, you can't focus on your work. That's the reason I always say that en ergonomic chair is not a luxury option but a necessity to work comfortably for 8-10 hours every day.
WRAP UP
Best Chair for Computer Programmer – If there is one professional activity that truly necessitates for those who perform it to be sitting as comfortablely as possible whilst working, that activity most certainly is the one called coding.
Computer programming, otherwise known as coding, is a concentration-intensive occupation where you seek to solve a problem and implement a solution it via a software that runs in a precise, logical, and efficient way every time it is required to.
Needless to say, it needs you to be sitting in front of your screen figuring out the best way to achieve just that for many, many hours developing each part of said project. Ao you better get comfortable. Getting a seat that's just right for the job has been something programmers have always looked forward to, and lucky for you, they've figured out long ago which are the best chairs programmers can sit on these days, check them out.