Best Chair for knee Pain – If you experience knee pain and want to find the best office chair for your needs, then our article can help you track down the best option for you.
The relationship between sitting behaviour and a sedentary lifestyle promotes health-related issues. If you have a desk job, you are probably sitting all day long, and most of the time, you are sitting in the wrong posture that leads to knee pain.
According to the Journal of Orthopaedic & Sports Physical Therapy, prolonged sitting with the knee in sustained flexion is the reason behind developing knee pain. Even 90-degree knee flexion can be dangerous while sitting for prolonged hours.
ROUND UP
1.SIHOO Chair
The Sihoo ergonomic office chair is so popular that it does not need any introduction. It offers every adjustability to fit you properly, and it also provides a footrest to get relaxed from work.
Currently, this chair costs $275.99 in the USA. As office chair prices change every day, you should check the latest price on Amazon.
If you are from UK, check the price on Amazon UK by clicking here.
This particular model of Sihoo ergonomic office chair offers two different colours Black and Orange. The backrest of this chair is made of breathable woven mesh fabric that promotes air circulation to keep you nice and clean during the hot weather.
For a better sitting experience, this chair provides a "W type" sponge cushion for comfortability and better ergonomics. Speaking of ergonomics, the Sihoo office chair is approved by "Ergonomics Association" and offers better ergonomic adjustability for sitting.
You will get multiple adjustment features such as headrest, armrests, seat height and inclination angle. You will also get an additional footrest that will help you a lot to get relief from knee pain. For the footrest option, I particularly picked this chair.
A backrest recline is essential when you would like to sit more comfortably during long projects. The backrest can be reclined in three different positions and can be locked using the handle underneath the seat.
This chair provides adjustable lumbar support to get the optimal support to your lumbar region. You can adjust the lumbar support pillow in two ways. So, that will become handy when you are sitting in a different position.
This chair's seat height adjustment is ideal for a person's height ranging from 5'3'' to 6'6'' and has a maximum weight capacity of 330 pounds.
Pros & Cons
---
【Multiple adjustments】The computer chair is designed according to ergonomics and has multiple adjustment functions, which can adjust the backrest, headrest, footrest, seat height and inclination angle, armrests and debugging pedals. This executive office chair can provide you with a customized experience.
【High-quality backrest】We select mesh woven fabrics with high tensile strength and strong air permeability as the backrest. The mesh backrest promotes air circulation, helps you relax better, and provides you with a comfortable sitting posture.
【Ergonomic design】Approved by the Ergonomics Association, through extensive research on human digital models, ergonomic designs are provided to protect your spine health and greatly reduce your spine pressure.
【Easy to install】This ergonomic chair has been certified by BIFMA and SGS. The office chair can bear a maximum weight of 150 kg. According to the installation manual, the installation can be completed quickly.
5.【Warranty】If there are any quality problems, please contact us. After confirming, we will provide a replacement part or product for you. SIHOO provides full parts coverage for the three years of the warranty period, at zero cost for you!
---
2.NOUHAUS Ergo3D
The NOUHAUS Ergo3D is the most popular office chair from Nouhaus right now in the market. This chair is well known internationally because of its comfort and durability.
The price of this chair is $329.99 but the price always keeps changing. So, check out the current price on Amazon by clicking here.
The Nouhaus Ergo3D ergonomic chair has a weight capacity of  275 pounds which can be a turn off for people over this weight limit. Other than that, this chair has all the ergonomic features that you can ask for.
The backrest, headrest and seat contain high-quality mesh fabric. This will promote super ventilation of air from your body and you will feel how awesome this feature is during the hot days of summer.
The armrest of this chair is adjustable, which allows you to fit with your working surface properly.
The dynamic lumbar support automatically adjusts to your body, and it provides awesome support for the back.
You can also adjust the seat height of this chair from 18.5″ – 22.44″. This seat height adjustment range makes this an optimal choice for people of height from 5'7″ to 6'8″. So, if you are a tall guy like me, this chair will fit you perfectly.
The main attraction of this chair is the five years of warranty from the manufacturer. It's really amazing to get such an extended warranty period on a chair of this price.
Pros & Cons
---
CONFORMS TO YOUR LIFE: With it's 4D Adjustable Armrest and Lumbar System, ElastoMesh, 135 Degree Back Tilt, Smooth HydraLift, Dual Castors (and a set of hardwood floor Blade Castors) – it's easy to think the Ergo3D is from the future, but instead it's evolved Ergo Seating at its finest and it's here now.
EASE INTO WORK, OR PLAY: Mesh Headrest adjusts up and down while the 4D Adjust Arms go forwards, back, up, down, side to side, and rotate for the best fit to your body. 3D Lumbar Support hugs your back, while the seat glides up and down for the ultimate in customized comfort in the office, or in front of your game!
SOFT HD OFFICE CHAIR: Our breathable ElastoMesh provides optimal airflow to avoid sweating and sticking. But it's also smooth, and nothing like sitting on wire like many of the chairs you'll see today. And while it's good to take regular breaks, the Ergo3D is so comfy you'll forget you're even working.
HEAVY DUTY: Our 5-Point Base with dual castors gives greater stability and strength over common 4-Point, single castor chairs. And our strong iron base makes this heavy-duty office chair ideal for adults up to 275 lb. We also give a set of blade wheels – smooth as silk on hardwood.
SUPER-LOUNGE RECLINE: Settle back, because you have up to 135° of tilt to keep you in the perfect position for your next task, or to simply lounge back and admire how smart you are for finding such a remarkable ergonomic chair. Try the Ergo3D and feel the difference it makes to your life.
---
3.NOVELLAND Ergonomic Office Chair
Novellad is a trustworthy office chair manufacturing brand. This office chair from Novelland has the perfect balance of everything.
At the time of writing this post, it costs $219.99 only. But, the price changes constantly. So, you should check the latest price on Amazon by clicking here.
To ensure extra comfort for your back and knees, novelland has provided 5 adjustable ergonomic features on this chair.
The backrest, headrest, arms, seat height and lumbar support of this chair are highly adjustable.
You can recline the backrest up to 130 degrees. The backrest contains mesh fabric that ensures proper air circulation and heat from your back to keep you cool.
This chair is certified by BIFMA and SGS. It has passed a static load of 1136 kg. The recommended weight limit of this chair is up to 280 pounds.
You will also get a three years of warranty from the manufacturer. Other chairs at its price point only have 1-2 years of warranty.
Pros & Cons
---
【Unique Ergonomic Design】The office chairs use the most comfortable ergonomic design. The adjustable backrest can perfectly fit your spine and significantly ease the fatigue and pain of your back. Also, the V-shaped lumbar design provides more support for your waist.You can easily adjust it according to your sitting posture which is very friendly to long time sitting users.
【Breathable Mesh Material】 The full-back mesh design of the comfortable office chair , allowing air circulate smoothly which helps avoid sweating and sticking even after long periods of sitting. At the same time, the high-quality elastic mesh backrest gives you the most comfortable sitting experience.
【 Flexible Adjustable Parts】This lumber support office chair is made of flexible adjustable parts, including the adjustable lumbar support system, 2D adjustable armrest, ​130 degree back tilt and lock functiuon, adjustable headrest which meets all your personalized needs.
【World Class Quality & Easy Assembly】This branch ergonomic chair is manufactured to meet the office chair's highest industry standard.Premium grade metal made strong aluminum alloy base that is totally different from cheap bases of other brand. High quality casters roll smoothly and never scratch, smudge or damage your floors. Weight capacity up to 300 LBS. We provide installation videos. Anyone can assemble it in just a few steps.
【100% Satisfaction Guaranteed】 Great value, top quality, excellent performance but costs less than other brands.We provide 30 days money-back guarantee and are committed to providing the best quality service.If there is any problem, please feel free to contact us and we will provide 100% satisfied solution for you.
---
4.Steelcase Series 1
Steelcase is a well-known brand for manufacturing office chairs. Their chair has a lot of demand in the secondhand market because of their durability and comfortability.
Right now, the Steelcase Series 1 chair costs around $492.00. But the price always fluctuates. So,  check out the latest price on Amazon here.
This office chair comes with an adjustable seat height of 16.5 inches to  21.5 inches. This means it supports a wide variety of heights. If you have knee problems, this can be helpful as you will be able to adjust the height as per your comfort level.
It has robust build quality. The materials used to build this chair feels very premium and durable by touch.
The quality of the casters and the base is also excellent. It supports people up to 300 pounds. The design of this chair is also cool.
The mesh back design of this chair promotes enough airflow from the back, which will keep your back cool during the hot summer days as well.
I almost forgot to mention, Steelcase provides 12 years of warranty which is cool to have from a chair of 400 bucks price range.
Pros & Cons
---
Back mesh and Connect seat fabric are 100% polyester
Wheels for carpet flooring
Ergonomic chair – this stool height model includes adjustable seat depth, fully adjustable arms, adjustable lumbar, pneumatic seat height adjustment, recline tension adjustment, flexing back with mesh upholstery and upholstered seat, black base and frame finish
All day comfort and back support – back technology features flexor system in the backrest conforms to your body and moves with you to support the spine as you change postures
Quality & durability – designed to withstand 24/7 use while providing maximum comfort
---
5.Steelcase Gesture
Steelcase is a well-recognized office chair manufacturing brand throughout the globe. They make the best office chairs out there. Their office chairs are unique because of the ergonomic features. The Gesture chair is one of the flagship chairs from Steelcase, which means it's on the expensive side.
This chair currently sells at $1,198.90. However, the pricing of a chair changes, so check out the latest price on Amazon here.
The adjustable seat height of this chair makes it a suitable choice for people of a wide range of heights. You can adjust the seat height of this chair from 16 to 21 inches which makes it comfortable for people of height from 5'0″ to 6'6″.
The maximum weight capacity of this chair is 400 pounds or 181.4 kg. This means that this chair will be a perfect fit for you even if you are a big and tall guy.
The quality of the fabric and other materials are extremely premium. You will not have to worry about the quality of this chair. It comes with 12 years of warranty which proves the confidence of the manufacturer on this chair.
Everything on this chair is adjustable. The arms can be adjusted at any angle. However, It would be better if the back was made of mesh fabric. I like the ventilation from the back as I sweat a lot. I would like it even more if it had mesh back.
The quality of the casters is unlike anything I have seen. They are very silent and the movement is very smooth.
Pros & Cons
---
Connect fabric is 100% polyester
Wheels for carpet flooring
Ergonomic chair – features include adjustable seat depth, fully adjustable arms, pneumatic seat height adjustment, recline tension adjustment, 4 position recline lock, shell back and seat, light/light frame color scheme
All day comfort and back support - Gesture's seat and back move as a synchronized system, following your body as you move throughout the day to ensure long-term support
Quality & durability - designed to withstand 24/7 use while providing maximum comfort
---
6.Oak Hollow Furniture Aloria
Oak Hollow Furniture is a reputable American brand. Their office chairs are usually well built and durable. This office chair from Oak Hollow Furniture is very comfy and reliable. The ergonomic features of this chair make it an excellent choice for people who are worried about knee pain.
The price of the Oak Hollow Furniture Aloria Series Office Chair is around $679.99 right now. But the price keeps changing, so check the latest price on Amazon by clicking here.
The seat of this chair is made of genuine leather. If you have used a genuine leather chair before, you must know how premium it feels. This chair provides extra comfort and a premium feel because of the good quality leather.
The backrest and headrest of this chair contain mesh fabric. This promotes the air and heat flow. It is an essential feature to have.
The seat height of this chair is super adjustable. You will be able to adjust it as per your height which will help you to minimize knee pain.
The lumbar support of this chair is adjustable. You will be able to adjust the height of it as well. This improves the back support and makes long hours of sitting more comfortable.
The weight capacity of this chair is 300 pounds which is enough for most people, I guess. Also, this chair comes with five years of warranty. So, you don't have to worry about the durability at all.
The quality of the used materials are great. The casters are silent and smooth. Most importantly, the chair is very stable.
Pros & Cons
---
【Genuine Leather Seat】 - The Aloria Series ergonomic office chair by Oak Hollow Furniture comes equipped with an upgraded, soft and supple genuine cowhide leather seat. Why buy a cheap PU or bonded leather chair that may contain harsh chemicals or wear down quickly? This upgraded genuine leather seat design is meant to withstand years of use in a working or home-office environment. Invest in your health with a chair that is intended to last with quality materials and a better ergonomic design.
【Adjustability Options】 - We've outfitted the Aloria Series office chair with a host of adjustability features, including the 4-way adjustable armrests, a padded lumbar support cushion that can be adjusted up and down, a synchro tilt mechanism which allows for 4 different locking positions, a free-float unlocked setting, tilt tension adjustment for greater control of the backrest, and seat depth adjustment for front and back positioning. Find the perfect settings and make this chair your own!
【Perfect Fit】 - This ergonomic office chair is designed to fit the majority of users comfortably! Choose your perfect cylinder height - We provide 2 different pneumatic seat height options so the chair will accommodate most height ranges. Short or tall, it will work for you! Find your perfect height setting, tilt options, backrest tension, and seat position to optimize your comfort in the Aloria Series office chair. Recommended weight limit of 300 lbs., and a wide range of supported heights!
【Sleek and Professional Design】 - Enhance your work space with the Aloria Series office chair - whether you are building a business from home or spending long days on the job, an Aloria office chair is the perfect addition to your office setup. These chairs are perfect as executive and managers chairs, conference room chairs, task chairs, or employee chairs. Whatever the goal, this chair is designed to improve & enhance your office and work space experience with sleek design and comfortability.
【Trusted Products and Service】 - Have peace of mind knowing your purchase is covered under the manufacturer warranty - Oak Hollow Furniture provides a lifetime warranty on the components and a 5 year limited warranty on the leather. We use high density molded foam for the interior and only the highest quality materials for our line of chairs. We believe an office chair should be an investment into your health and well-being, and we stick to this philosophy with our line of products.
---
What are office chairs for knee pain?
If you experience pain in your knees, you should consider carefully how to accommodate and relieve your knee when choosing a chair.
There are many ergonomic models designed to support and align your whole body while seated at a desk.
Knee pain comes in many forms with many different causes, which means that there's no one model of chair that will suit everyone.
Whether you're a regular runner with aches from a long race, someone recovering from an accident or injury, or have knee pain caused by age or disease, there's a range of chairs which might help keep you comfortable.
What are the different types of office chairs for knee pain?
When you have knee pain there are a range of of chair types and features you might consider and some you should probably avoid:
< class="">– Ergonomic Chairs:
with support for your back, head, neck and arms will guide your upper body into correct alignment and allow you to focus on finding comfortable leg positioning for your knees.
< class="">– Foot Rests:
Chairs with foot rests may provide relief for some sufferers of knee pain.
< class="">– Wheeled chairs:
can be used to roll between desks and screens without standing, which is useful for anyone who find that the standing movement places strain on their knees.
If your knee pain limits your mobility, you may want to look for locking wheels to reduce risk of accidental sliding.
< class="">-Chairs With Tilting Seats:
Saddle chairs, or other chairs with tilting seats, place the legs at a more ergonomic angle than the traditional 90 degree seat. This can make standing less effortful and puts less pressure on the thighs.
– Kneeling chairs put pressure on the knee and are unlikely to be a good option. If you have knee pain consult your doctor or physiotherapist before using a kneeling chair.
How does an office chair work when you have knee pain?
If you have any injury or discomfort in your body, you should follow guidance on ergonomic set-up very carefully to ensure optimal chair placement and workstation adjustment which avoid further strain.
A simple checklist guide can help you.
In any office chair, sitters should try to sit actively and move around regularly without spending long periods in one posture, even with an ergonomic model.
What to look for In the best office chair for knee pain?
As well as thinking about how to deal with the pain in your knee, consider both height and weight when looking for an office chair.
Some models work better for smaller or larger people. Working activities and your own sitting preferences are also relevant when choosing a chair.
How do I Stop Knee Pain at My Desk?
Recent studies found that prolonged and static sitting in the wrong posture can lead to knee pain. According to The American Journal of Sports Medicine 90 degree knee flexion while seated can decrease blood flow in the patella, leading to knee pain.
You can do the following things to reduce your knee pain at your desk
Do not sit for prolonged hours; try to take a break within 30 minutes of sitting
Do not sit in any awkward posture such as legs crossed or bent underneath you.
Use an ergonomic office chair that fits you properly where you can recline back and get relaxed.
As 90 degree knee flexion can lead to knee pain. So, you can use a footrest and elevate your leg a little bit for better blood circulation to your leg. To learn more about better blood circulation, you can check our article "Can chairs cut off circulation?"
Correct your sitting posture. You can check this article for better sitting posture.
How should I Sit if My Knee Hurts?
You can sit in the following ways if your knee hurts
Sit with your back against the backrest of your chair, you should not flex your knees in a 90-degree angle that can cause more pain.
Extend your knee 45 – 50 degrees; you can use a footrest to elevate your leg.
If you have an ergonomic chair, you can recline your backrest about 100-110 degrees to get a better sitting experience. This recline feature can help elevate some of the loads from your knees.
Why can't I sit on my Knees?
You can not sit on your knees because you more likely developed Patellofemoral Syndrome which means you will have pain around your knee caps. People who participate in jumping or running-related sports sometimes develop this syndrome.
Why does my knee hurt when I get up from sitting?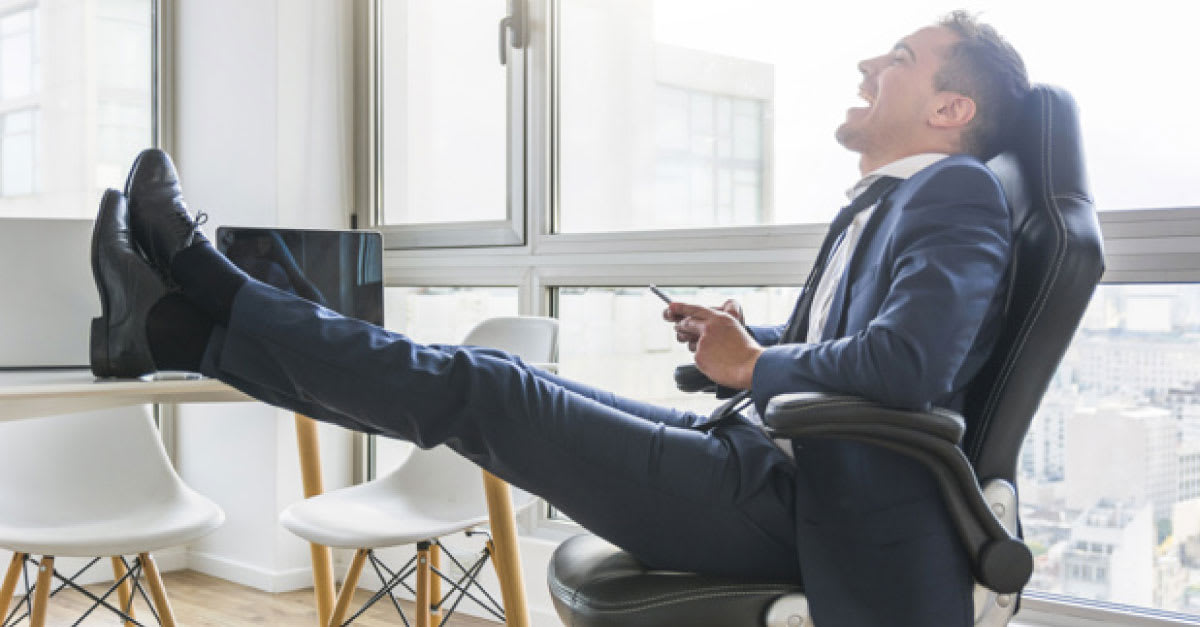 Your knees may hurt when you get up from sitting due to prolonged sitting in a static position. If you are currently practicing wrong sitting posture, sitting in an awkward position can hurt your knees. 
Personal Experience: I developed knee pain by getting injured, and when I used to sit in a cross-legged position, I felt the most pain on my knees. So, I stopped sitting cross-legged and used to extend my knees while sitting, and I do a lot of physical exercises that helps me relieve this pain. Now I don't have knee pain; following the correct posture is really important when you have such issues.
Office workers often complain of back, shoulder and neck pain. Without a doubt, these are some of the more common problem areas for the average person who spends hours sat a desk all day. However, there is one more part of the body that can cause pain and stiffness – the knee.
Although knee pain is a less frequent complaint, it is a problem that can severely affect quality of life. Not only is it uncomfortable, but many cases of knee pain can be persistent and difficult to resolve.
How to avoid office knee pain
1. Stay active
This is the simplest but also possibly the most effective way to ease knee pain or prevent getting it in the first place. Avoid sitting still in one position for long periods of time. Take a break from work at least once every hour; the more frequent, the better. During these breaks, get up from your chair to ease the pressure on your knees. Do some knee exercises (we have suggested a few below) or just take a walk around your office.
Another way to stay active at the office is by using different equipment, such as a balance board, a desk treadmill, or even a standing desk.
2. Adjust your office chair
The chair you sit in can affect the amount of pressure being put on your knees. "One size fits all" office chairs are generally not the best solution. As different people are of different heights, leg length also tends to vary between individuals. Therefore, getting an ergonomic chair that allows you to adjust the height of the seat, at the very least, goes a long way in promoting better posture.
Ideally, while sitting in your chair, you should be able to plant your feet comfortably on the ground without having to bend your knees excessively. Your knees should be roughly in line with your hips, and your back should be straight and well supported by the chair.
Apart from having an adjustable height, wheels or casters is a great feature to have on a chair. Being able to easily swivel away from your desk will give you enough space to conveniently stretch your legs.
3. Get a footrest
Sometimes, it is can be difficult to adjust your chair in such a way that your knees are supported while still being able to work comfortably. This is especially true if your monitor is fixed at a higher position or if your keyboard is placed on a tall, non-adjustable workstation.
In these situations, an alternative solution is to bring the floor close to your feet using a footrest. You don't even have to go out there and purchase a fancy footrest if cost is a concern. Simply stack up books to the correct height or use a stool to elevate your feet.
4. Add a standing mat
If you have a standing desk, great! You are already much closer towards having an ergonomic office set up that is healthier for your body.
However, standing for prolonged periods can just be as strenuous as sitting for a long time, especially on the knee joints. Compared to standing on a hard floor, a standing mat will make standing much more comfortable and it will reduce the pressure placed on your feet, ankles, knees, and lower back. To go one step further, consider getting yourself an active standing mat, such as the ones outlined here. These come with a variety of fixtures, bumps and ridges to further encourage movement while standing.
5. Avoid kneeling too frequently
Apart from sitting, kneeling frequently can also be hard on your knees. Are there files on the floor of your workspace? Is the other equipment you often use placed closer to the ground? Consider moving them higher up on shelves or the table, so you don't have to get on your knees to access these things.
6. Knee exercises
Here are 3 knee exercises that you can do without having to leave your chair. For more exercises that are meant to strengthen the muscles supporting your knee, check out the Arthritis Research UK site.
Sitting leg raise
Roll your chair back to have a safe distance from the desk or any equipment. Sit comfortably in the chair with a supported back for good posture. Then, straighten one leg to raise it off the floor. Hold for a few counts before releasing. Repeat this move on the other leg.
Sitting to standing
Move your chair back to get enough space to stand comfortably. Then, stand up slowly without using your hands for support. As you transition from sitting to standing, move in a slow and controlled manner. Sit back down and repeat.
Leg cross
To do this exercise, raise both legs off the ground while seated on your chair. Cross your ankles. Pull your top leg backwards and push your bottom leg forwards. You should feel your thigh muscles engage. Hold for 10 seconds, and then relax. For safety reasons, only do this in a stable chair, or better still off the edge of a bed or table.
7. Stretch your quads
The quadriceps is a group of muscles on the front of your thigh that consists of four different muscles. It plays a major role in keeping your knee joint pain free, as the kneecap (patella) is kept in place by your quads.
A classic quadriceps stretch is not difficult to do. First, start in a neutral standing position. Grab your foot and bend your knee to bring your foot towards the buttock of the same leg. While doing this, keep your hips square and pointing forwards. Be sure to keep your knees together and avoid bending from the lower back to engage the right muscles.
If done correctly, you should feel the stretch on the front of your thigh. For extra stability, you can hold on to a table or the back of a chair.
8. Maintain a healthy body weight
Several articles have linked obesity with a higher risk for knee pain. Not only is a high BMI bad for your cardiovascular health, it also places extra stress on your joints, including your knee joints.
Studies have found that knee pain is more common in people with a higher BMI. Therefore, maintaining your body weight within a healthy limit would go far in helping to reduce knee pain, both at the office and outside of it after work.
The knee joint anatomy
The knee is a weight-bearing joint consisting of the femur (thigh bone), tibia (shin bone), and the kneecap or the patella. The patella is a small triangular bone that is located in front of the knee and it is kept in place by the quadriceps muscle. As it is not directly attached to the other bones of the knee joint, the kneecap is quite prone to being out of alignment.
Knee pain causes
One of the most common causes of knee pain is patellofemoral pain syndrome (PFPS), also known as runner's knee. But despite its popular name, you may experience this pain even if you are not a runner.
In fact, another name for this condition is "movie-goer's knee". This is because the pain is also brought on by long periods of sitting, such as when watching a movie. People who have this kind of knee pain will often find themselves sticking their leg out into the aisle to take pressure off the kneecap and ease the discomfort.
The pain is typically experienced around the kneecap and behind it. It tends to feel worse after long periods of sitting and physical activity especially activities that need you to bend your knees such as stair climbing or walking uphill.
If your job has you sitting still for long periods of time, you may be prone to this type of knee pain. It is common enough among office workers that it has even been referred to as office knee. Prolonged sitting in awkward postures that place excessive stress on your knee joint, such as in badly designed office workstations, can make this condition even worse.
There are certain steps you can take to prevent or reduce office knee, or patellofemoral pain syndrome. We have outlined several of these in the above list, specifically for people working in an office or just sitting all day. If you already have knee pain, some of the suggestions above may help reduce it.
We hope the tips above help you enhance your knee health. After all, it is important to take good care of your knees. They play a major role in almost all body movements, from running, sitting, to everything in between. Having flexible and strong knees will go a long way towards ensuring a future where you can move freely without pain.
Why do my knees hurt so bad after sitting?
Your knees might hurt after sitting for the following reasons
You probably sit in an awkward posture, such as legs crossed or bent underneath you
Prolonged and static sitting.
Sitting in a traditional chair with no adjustment that might not fit you properly.
If you are practicing wrong sitting posture can hurt your knees.
WRAP UP
Best Chair for knee Pain – As prolonged sitting is the main reason for knee pain. Studies suggest that dynamic chairs or ergonomic chairs can reduce these issues since ergonomic chairs are adjustable to fit every individual correctly. It promotes correct posture and better blood circulation that is important to get relief from knee pain, back pain, shoulder or neck pain.
In this article, I will add the six best ergonomic office chairs that can help you relieve those health issues. To learn more, read the chair's reviews to understand better which chair would be the best fit for you.