Best Chair for Lower Back Pain – If sitting is the new smoking, back pain is the cancerous pandemic. Studies show that 65 million Americans suffer from debilitating back pain, with that number expected to rise as more of us spend our days hunched over a desk. The good news? There's still time to reverse this troubling trend and lessen hardship for those affected.
When it comes to back pain from extended sitting, a supportive office chair makes all the difference. Equipped with proper ergonomics, your chair can bring instant pain relief, followed by long-term health benefits with continued use. This list goes over the best office chairs for lower back pain — options that help soothe the ache and prevent pain from occurring in the first place.
While you may find other lists on the internet, almost all of them will be built to push you into Amazon products. It's important to note that most, if not all of these websites, have never tried the chairs they promote. As someone who has sat in hundreds of chairs, I know there is no way you could ever know what chair is excellent or bad without sitting in each first hand.
Chairs that offer better lower back support do exist, and today we will take a closer look at the ones we have found to provide the best lumbar support. I will show you chairs that are available at different price points so that no matter your budget is, you can start to work more comfortably.
Table of Contents
ROUND UP
1.Steelcase Leap Chair
The Leap provides a one-of-a-kind sitting experience, with a weightless sensation that virtually eliminates lower back pain from the moment you touch down. The chair's exceptional comfort comes courtesy of Steelcase's LiveBack® technology, which flexes alongside your spine to encourage regular circulation. It's also the work of personalization features like Steelcase's specialized lumbar tension system that you can adjust to meet the specific needs of your lower back.
Overall, the Steelcase Leap is one of my favorite chairs for computer work. The Leap's iconic design aligns perfectly with the typical keyboard and monitor height, and its 4D armrests work well in every office environment. Although quite pricey, users consistently praise Leap's ergonomic features for boosting office productivity and relieving pain.
Pros & Cons
---
Fabric is 100% Polyester
Wheels for Hard Flooring
Ergonomic chair – features include adjustable seat depth, fully adjustable arms, height adjustable lumbar, lower back firmness control, pneumatic seat height adjustment, recline tension adjustment, 5 position recline lock, upholstered back and seat
Ergonomic chair – features include adjustable seat depth, fully adjustable arms, height adjustable lumbar, lower back firmness control, pneumatic seat height adjustment, recline tension adjustment, 5 position recline lock, upholstered back and seat
Quality & durability – designed to withstand 24/7 use while providing maximum comfort
Ships fully assembled; 12 year manufacturer warranty
---
2.Hегman Millег Mirra 2
If you work long hours at a desk every day, it's worth investing in an ergonomic chair for back pain that will support your body properly. And our top recommendation is the Herman Miller Mirra 2. Yes, it's expensive. But as you'd expect from a Herman Miller chair, it's fantastically comfortable. And it provides the best back support we've experienced. The butterfly-shaped backrest responds effortlessly to your movements, making your spine feel cradled and supported, and preventing you from slumping or slouching.
The mesh is lovely and breathable, so you can stay cool on warm days. The chair offers excellent lumbar support, which can be adjusted for height (many of the cheaper chairs in our list include lumbar support but that isn't adjustable) and the arms are fully adjustable too. The seat cushion distributes your weight beautifully, and it also takes the largest maximum load (159kg / 350lbs) of all the chairs on this list.
In short, this is the best ergonomic office chair that money can buy, bar none. For more Herman Miller options, see our dedicated guide to the best Herman Miller chairs and our Herman Miller Mirra 2 vs Aeron showdown.
Pros & Cons
---
Features: tilt limiter with seat angle adjustment, adjustable FlexFront seat, adjustable arms, AirWeave 2 woven suspension seat, and carpet casters. Seat Depth- 16.25-18 Inches
Lightweight design, offering a combination of simplicity, flexibility, and personalized ergonomics
The Butterfly back combines the comfort of upholstery with the strength of polymer to provide back support; Fixed Seat Depth
Recommended for people who need to quickly flex between individual activities and group work
Shipped Partially assembled
Renewed and Refurbished by OfficeLogix
---
3.Herman Miller Sayl
Whether you're talking about style, craftsmanship or functionality, Herman Miller chairs are pretty difficult to beat. We've already featured one at the top of our list of the best ergonomic office chairs, but if the Mirra 2 is a little too expensive, or perhaps you prefer a more compact style, then the Herman Miller Sayl could be a very attractive option. It's significantly cheaper, but it still has a sharp design and great ergonomic features.
It has fewer parts than its sibling, but the vented elastomer backrest, made with strands that vary in thickness and tension, provide an excellent balance between support and comfort, not to mention great air circulation. You can adjust the armrests, seat height and seat depth. And the four-setting tilt limiter lets you adjust the tension to your liking. The unique design inspired by the Golden Gate bridge may divide opinion, but we love this chic, offbeat take on the classic Herman Miller chair. And in terms of spinal support, it can't be faulted.
Pros & Cons
---
One of the most notable features of the Sayl chair is its 3D Intelligent back. Its gently sculpted and webbed design allows you to move and stretch, ensuring the balance between support and freedom of movement is struck. The webbed back is made from elastomer strands that provide exceptional support to the spine.
Height (in): 40.75 Width (in): 24.5 Depth (in): 26 Weight (lbs): 54 Seat Height (in): 20.5 Seat Width (in): 18
3-Year Mechanical Replacement Warranty By Chairorama.
---
4.HAG Capisco
You may have noticed that the HÅG Capisco looks a little different from the other chairs on this list. That's because it's a saddle chair, which allows you to sit as if you are saddling a horse. This has been found to be very beneficial for countering and preventing back pain in research such as this study from Cardiff University(opens in new tab).
Advertisement
Saddle chairs are most popular amongst medical professionals, but their use has spread to other types of workplace. They're especially good for use with standing desks. The HÅG Capisco has a wider saddle while the HÅGCapisco Puls has a firmer, narrower saddle that allows you to sit with your legs closer together.
Providing good lumbar and lower back support, it's very comfortable and very adjustable too. The seat tilts, with a tilt lock, and you can tweak its height and depth too, from a low sitting position to a sit-stand position. Plus, from an aesthetic point of view, this radical and minimalist Scandinavian design will certainly put your home office setup on the cutting edge of cool.
Pros & Cons
---
MOUNTS TO: the base of your Capisco chair, around the standard 265mm lift
NO MORE DANGLING FEET: provide a home base for your feet for more comfort, support and endless varied foot positions
IMPROVE YOUR SITTING POSTURE: help maintain the correct sitting posture across a range of heights and reduce stress on your knees and thighs
COMES WITH: 10.4" lift height and 5 star base with breaking casters suitable for both hardwood and low-pile carpet; Add On a Capisco Footring to rest your feet - see below or search Amazon for "Capisco Footring"
EASY ASSEMBLY: easy to attach, or remove, without disassembling the chair
---
5.Humanscale Freedom
If you suffer from back problems, you may often spend hours fiddling with your chair, in a vain attempt to hit that perfect sweet spot. If that sounds like you, we recommend the Humanscale Freedom. That's because automatically adjusts to the shape of your body, in a way that other chairs just can't match.
The clever thing about this design is that the flexible backrest tilts as you move; so if you lean back, it moves with your spine rather than pressing against it. That way, the chair supports your spine naturally, without you having to make any manual adjustments.
On the whole, this is an expensive chair, but several satisfied customers claim that it's changed their life for the better. The attention to detail and high-quality materials mean it should be good value in the long term. And that backrest pivoting function; well, that's quite unique and something you just won't find elsewhere.
Pros & Cons
---
Adjustable Arms
Back Height Adjustment
Hard Casters
Pneumatic Lift Adjusts the Height of the Chair
Adjustable Seat Depth
---
6.ComHoma Office Chair
Short on cash? Don't worry: for quite a small amount you can still get a chair that's going to be kind to your spine. The Conhoma Office Desk Chair is a fairly basic chair, lacking the advanced features of the pricier models on our list. The only adjustments you can make are to seat height and tilt, as well as being able to position the armrests up or down.
However, the mesh back and thick padded seat cushion will keep you comfortable throughout the working day, and both offer great breathability too. Plus the overall design is ergonomic and provides good support for your spine. We'll emphasise again, this is a basic option, but if you don't have much to spend on ergonomic office chair, it's a good choice for at least the most essential recommended features.
Pros & Cons
---
Exquisite Design: Classic color and simple design add stylish accent to your workplace. This office chair has a modern look and is a perfect match to any space: your study, office or a conference room.
Flip up Armrests: The office chair comes with adjustable armrests which can be flipped up or down. It can fit nicely under the desk and save space; or provide comfort when you feel like to rest your arms.
Extra Comfort: Ergonomic design promotes a good sitting posture to avoid stress on the back. Breathable mesh material keeps you comfy all day long. Thick padded seat cushion provides all day comfort.
Multi Function: Pneumatic seat height adjustment; Tilt lock function(angle adjustable); 360 degree swivel; Solid rolling casters for smooth movement.
Easy to Assemble: No additional tools needed. For your convenience, all screws have extra backups. Simple instructions with pictures enable anyone to put this office chair together.
---
What Are the Best Office Chairs for Back Pain?
The best office chairs for back pain are ergonomic chairs with built-in lumbar support. The lumbar region, also known as your lower back, needs support between the chair and the natural inward curve of your spine. Having this support helps you maintain a good and healthy posture. Without lumbar support, the natural tendency is to either slouch or lean forward, and the muscles in your back have to work even harder to support your spine's correct alignment, which tires them out.
Can office chairs help back pain?
Yes, the best ergonomic office chairs can help prevent back pain in the first place and can also help to alleviate it if you're already suffering. That said, if you do already suffer from back pain, we recommend visiting a doctor as well as considering a new chair because there may be other underlying causes.

Health experts provide a lot of advice on the importance of using a good chair. "In the age of technology, we spend so much time sitting at our computers, and our bodies cannot maintain good posture for hours without fatiguing," explains Dr Amy Hoover, a physiotherapist at workouts company P.volve(opens in new tab).

"A chair that allows your lower back to maintain a good neutral position, supporting the natural curve in the lower back, can alleviate stress on the spine and improve the alignment of your spine all the way up to your head."

Lyndsay Hirst(opens in new tab), a physiotherapist specialising in back pain and a specialist in Pilates, agrees. "The right chair set up is essential, not only to support the natural curves of the spine but also the shoulders," she notes. "Armrests are really useful for someone who suffers neck and mid-spine pain. Lumbar support is also very useful. An adjustable seat plate, backrest and arms will allow the user to adapt the chair to their specific posture."
What's the best office chair for back pain?
It's hard to single out one product as the best office chair for back pain overall because there are so many options, but, as we say above, for our money the best ergonomic office chair is the Herman Miller Mirra 2. It's highly adjustable, including lumbar support, uses quality materials and it also looks fantastic. If you're able to invest in the very best support for your back, we'd certainly recommend it.

That said, we recognise that with a price of around $1,500 / £1,300, the Mirra 2 is simply beyond many people's budgets. We've taken that into account and included some more economical chairs for back pain in our guide too. Some of the cheaper options offer great ergonomic features for their prices, but they don't have the same level of adjustability or support as the likes of the Herman Miller and HÅG Capisco chairs. We'd suggest reading below for a few pointers on what features to look for when you're searching for the best office chair for back pain.
What chair features are good for back pain?
There are several ergonomic features that can make an office chair good for back pain. Adjustability is one of the key things so that you can ensure the chair has the right form for your own body shape. See our guide to what makes an office chair ergonomic for full details on what to look for, but in summary, you should look for chairs with:
Lumbar support (see below)
Adjustable armrests
Seat-depth adjustability
Recline and tilt
James Crow, owner of Posture Stars, a website promoting good posture, says: "The best office chair for back pain is one that's highly adjustable, so you can get the back to support you in a meaningful way. Invest wisely: we wouldn't buy the cheapest mattress or car, but many of us are spending eight to 10 hours a day perched on a 'value' chair."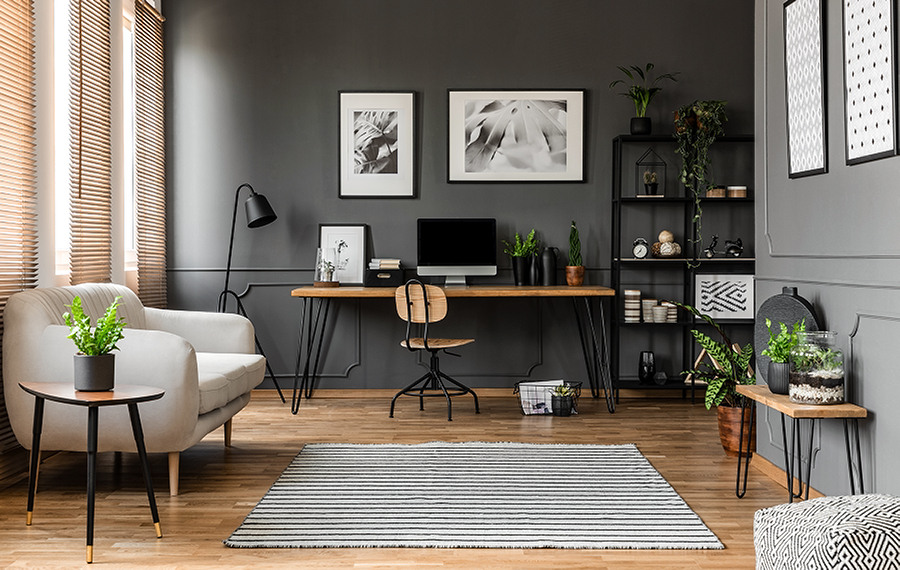 It's also important to replace an ageing chair, he says. "If your chair has been around for more than a decade it's probably time to upgrade. The materials wear down over time, with seat padding especially taking a beating."
What is lumbar support?
When you're shopping for an ergonomic chair for back pain, you'll often see references to lumbar support. But what does that mean, exactly? Well, the word 'lumbar' refers to your lower back, which should curve inward, and as Chongsu Lee, a physiotherapist and creator of the robotic BackHug

(opens in new tab)

 device, explains, "lumbar support can be an attachment, or a built-in part of an office chair that aligns with your lower back to maintain its natural inward curve."

Why does this matter? Well, when sitting, your lumbar becomes sandwiched between the torso, above, and buttocks, below. When you sit, lumbar stress is one-and-a-half times higher than when you stand, and double compared to when you walk.

"Left unsupported over time, the strain causes stiffness, making the lower back prone to injuries like slipped discs," Chongsu says. "Just like support beams in a building, lumbar support absorbs that strain and props your lumbar up, protecting it against stress and injury."
How do you sit properly in an office chair?
According to the NHS website

(opens in new tab)

, your knees should be slightly lower than your hips and your feet should be flat on the floor or a good footrest. Do not cross your legs as this is a recipe for posture-related aches and pains. An adjustable chair (tilt, height and recline) will make sure your lower back is properly supported, and if you're using a keyboard then make sure your chair is positioned so you can use it with straight wrists and hands (level with the floor).
How you sit in your chair while you task
Not all users task the same way. While some work in perfect posture with their back up against the chair, others tend to slouch. Maybe you like to lean to the side when you type. It's essential to understand how you like to sit when finding the perfect office chair.
One of the most significant issues we've seen is that customers try to adapt to an office chair. This is the quickest way to failure, as most habits can be hard to break. Some sitting habits aren't bad, and the expectation that you sit perfectly for long hours throughout the day is unrealistic. Finding a chair that provides proper support for the way you sit, is likely to improve your support while seated.
Does the chair offer good support while reclined?
Do you like to recline in your chair? Is this something that you spend a lot of time doing? If you are taking a lot of phone calls, in meetings or even working from this position, proper support while reclined can be important if you have lower back issues.
Just because a chair offers great support while you're sitting upright, doesn't automatically mean that you will see the same support when reclined. We've found through testing all of the chairs in our office, there can be significant differences in lower support as you recline back into the chair.
Depending on how the recline function moves on your chair, the lower support can change in various ways. Whether it's diminishing support or that the support actually moves up the back, both can have a significant impact on your lower back pain.
Is the lumbar support height and depth adjustable?
While not always true, having a lumbar support system that is height and depth adjustable can be important. If the lumbar support system doesn't provide a good fit for your body, you will need the ability to move it up and down your back. Having depth adjustment will allow you to add and reduce the amount of pressure applied to your back. Depending on the amount of support needed, this can be a nice feature to have.
Does the backrest and/or lumbar move with you in the chair?
Depending on the type of tasks you perform in your chair, you may want to consider how the backrest and lumbar moves with you. If you are doing a lot of twisting and reaching, having a backrest that moves with you and provides continuous support is good if you really need a lot of lower support.
We have seen a lot of different types of backrests that will provide this function. From the entire backrest bending and flexing, to only the lumbar support automatically adjusting in depth. If this is important to you, you'll want to pay close attention to the back of the desk.
What material is the lumbar system made from?
The last thing to consider is what type of material the lumbar and backrest are made from. Certain types of materials will flex more, spreading out the support through your back. We have seen upholstered lumbar systems with padded backing that can feel more stiff and will focus more on a certain area. Depending on your needs, this type of focused support can be good or bad. This is especially true if you're able to fine tune where you can place the support.
Depending on the amount of support you require and where you need it most, finding a chair with excellent lower back support is always a good idea. Each chair in our list offers, at a minimum, excellent lower back support for long hours of tasking. If you're interested in reclining, the list shrinks somewhat. Finding how much support you need, where you need it most, and what type of material to have the chair upholstered in will ensure a good sitting experience. I hope this list has helped you narrow down the best choice for your lower back needs.
When you're shopping for the best office chairs to help relieve back pain, lumbar support is important because it takes this responsibility and pressure off of your lower back muscles.
Some desk chairs for back pain also have ergonomic support built-in for your head, neck and arms. These chairs are taller and have full back support. Depending on the size and nature of your office, such chairs can be the perfect fit. However, if you are tight on space or prefer a sleeker aesthetic, there are also mid-back height office chairs for back pain that offer top-quality support in a more compact design.
The ability to recline is also a useful feature on some desk chairs for back pain. Reclining at a slight angle can sometimes be more comfortable and make the chair feel more natural to sit in. Still, you want the reclining chair to support the natural curve of your back — not leave you hunched over or in a sleeping position.
We've rounded up four of the best office chairs for back pain that are sure to meet the individual needs of your back — and your office.
The market for ergonomic chairs is quite vast. Many companies claim to have the best ergonomic chairs for lower back pain. The task of finding the best ergonomic chair for lower back support is therefore challenging. Autonomous has done the bulk of the search for you and we have put together some fantastic options to help you choose the best office chair for lower back pain.
We have selected 14 of the best office chairs with back support that offer you lumbar support, increase your output and productivity, improve your posture, and promote many more benefits.
Sitting in an office chair for 8+ hours a day can cause some serious back pain and possibly long term back problems. So, to help you relieve your pain from sitting for long hours, we purchased and tested 40 different ergonomic chairs to find the best office chair for lower back pain and good posture. You may also want to read about the best office chair under 500. All in all, you need to get the best office chair.
As a part of our tests, we sat and worked in each of these chairs for hours on end, measuring their pain-relieving functionality, overall ergonomics, and adjustability. After our hands-on testing, we narrowed down our list of the Best Office Chairs for Lower Back Pain to the top 10 products and discovered that the Herman Miller Embody Chair is the best for back pain relief.
WRAP UP
Best Chair for Lower Back Pain – The best office chair for back pain can be quite an investment, but it's an important one. Whether you work at home or in an office or studio, if you're a digital creative you probably spend a large portion of the day sitting at a desk. Experts on health warn against long periods of time sitting, and how we sit and what we sit on can exacerbate the negative effects of a sedentary lifestyle. Taking regular breaks and changing posture, is highly recommended, but for those of us who have no choice but to spend long hours at a screen, the best ergonomic office chairs can at least help ensure we're sitting well.
Bad posture can cause really serious health issues in the long term. The best ergonomic office chairs can help avoid this by supporting the back in the right places, particularly the lower back area known as the lumbar spine. Supporting the lumbar spine's natural curve and keeping it in a neutral position is recommended to alleviate stress on the spine. The best office chairs for back pain do this with the use of various forms of support – fixed in the case of cheaper chairs and adjustable in more expensive option.