Best Chair for Lower Back Support – Sitting in an office chair for 8+ hours a day can cause some serious back pain and possibly long term back problems. So, to help you relieve your pain from sitting for long hours, we purchased and tested 40 different ergonomic chairs to find the best office chair for lower back pain and good posture. You may also want to read about the best office chair under 500. All in all, you need to get the best office chair.
As a part of our tests, we sat and worked in each of these chairs for hours on end, measuring their pain-relieving functionality, overall ergonomics, and adjustability. After our hands-on testing, we narrowed down our list of the Best Office Chairs for Lower Back Pain to the top 6 products and discovered that the Herman Miller Embody Chair is the best for back pain relief.
Considering that many of us spend over half of our waking hours sitting down, if you suffer from back pain, the right ergonomic office chair can be a godsend in managing your pain and relieving tension. The question is, just what is a good office chair for back pain?
The fact is, almost every ergonomic office chair claims to help with back pain, but that doesn't make it true.
Table of Contents
ROUND UP
1.Flash Furniture Chair
The Flash Furniture Mid-Back Mesh chair offers great back support for a small price. It's got a simple design with built-in lumbar support that makes it a good choice for anyone looking to buy an office chair on a budget. The lumbar support isn't adjustable, but it works well enough that you'll likely still benefit from it being there.
This budget choice features a mesh back that almost everyone will find comfortable, especially during extended periods of use as, because it conforms to the way you're sitting at any given moment and keeps your back cool and comfortable. Its ergonomic features provide proper support at various sitting positions.
You can adjust this breathable mesh chair in the standard ways, like height and tilt, but it's decidedly lacking overall in the adjustment department. While you can flip the armrests up, you can't adjust their height, and the seat isn't adjustable, either. Taller or larger people may find the lack of adjustability uncomfortable. Despite these downsides, you still get a comfortable mesh seating chair for under $100, which can be hard to do. But you can also check out other options with more adjustability, lumbar support, and comfort, by reading about some of the most comfortable office chairs on the market today.
Pros & Cons
---
Satisfy all the professionals in the office with a high standing desk, with this ergonomic drafting stool with flip-up arms. The contemporary high back draft chair serves as your dual office chair, to be enjoyed as an armless chair or with arms
Ventilated curved back provides lumbar support and breathability
Full swivel seat, modernized height adjustable foot ring, pressure relieving contoured seat with waterfall edge
Tilt lever - push in to lock in an upright position; pullout to activate rocking motion, while tilt tension knob controls tilt resistance
PRODUCT MEASUREMENTS >>> Overall Size: 27"W x 27"D x 42-49.5"H | Seat Size: 20"W x 19"D x 21.5-29"H | Back Size: 17-17.75"W x 21"H | Arm Size: 30.75-38.5"H from floor; 6.5"H from seat | Foot Ring Size: 20" Diameter
---
2.Ergohuman High Back
The Ergohuman High Back Swivel chair is similar to the popular Amazonbasics Midback Mesh, or the Herman Miller Aeron chair, but better. It has a unique design with one purpose in mind: ergonomics. This is one of the high back office chairs that lets you customize almost every single component so you can create the most comfortable mesh seating experience tailored specifically to your preferences. You can adjust the backrest, the headrest, the seat depth, the armrests, and it has adjustable height.
The ergonomic chair features a comfortable mesh fabric that can be a little sticky at times, for lack of a better word. You may experience the mesh hanging onto your pants as you stand up or adjust in the chair, which can get annoying. The Ergohuman chair lacks adjustable armrests, but each arm rest does swivel, which is nice, but they don't lock in place and tend to move too easily.
Aside from the adjustable arms, the overall construction on the Ergohuman is sturdy and attractive. You can use the tension control adjustment to control the amount of force to recline or sit up straight as well. Chairs with tension adjustment are very good at improving posture. It also has a pneumatic cylinder to adjust the height. Put the best paper shredders close by so that you remain comfortable while working. For people with different levels of scoliosis, you should check our guide on the best office chair scoliosis.
Pros & Cons
---
Made of Chrome/polypropylene base with nylon casters, this chair is made of 97% recyclable components
Product dimensions – 29" D x 26.5" W x 46"-52" H | Seat dimensions – 18.5" D x 20.5" W | Seat height (lowest/highest) – 18.5"/22.2" | Back dimensions – 20.5" W x 28" H | Product weight – 66 lbs. | Weight limit – 250 lbs.
Synchro-tilt mechanism and seat depth adjustment ensure users sit correctly and get the support they need, whether sitting upright or reclining
Pneumatic cylinder raises and lowers chair quickly | Back, seat cushion, and headrest all adjust to fit an array of users and accommodate their individual needs
Back angle adjustment with 3 position tilt-lock adjusts easily - lock the chair back into place in one of three positions, or simply use the tension control adjustment to control the amount of force to recline or sit up straight
---
3.Steelcase Amia Fabric
The Steelcase Amia is sleek, simple and highly adjustable. If you have both back pain and hip pain or even neck pain, you'll want to find a chair that offers a lot of adjustability in the seat to reduce back pain. The Steelcase Amia fits the bill, which is why it's the best at addressing "lower back and hip pain".
It allows you to adjust seat depth and height with the height adjuster, and it features a flexible seat edge that relieves pressure when you recline or lean forward in an upright position, further alleviating any pain you might experience in your hips so that you can have some pain management. Sitting vs leaning back can make a big difference when it comes to finding the right chair for you.
This chair for lower back and hip pain also features a unique feature that Steelcase calls "LiveLumbar." The back of the chair adjusts with your back as you move, and you can slide the lumbar support to the position that gives you the most pain relief. These tilt mechanisms are important in an ergonomic chair.
Unfortunately, you don't get a headrest and the chair itself is a little heavy, but it offers a wonderful option for anyone looking to relieve both lower back and hip pain during their working hours. It has a tilt locking feature that locks in in the upright position. Ergonomic office chairs are not easy to come by on a budget but this is one of the sleekest desk chairs out there at an affordable price and Steelcase also makes the popular Leap chair, so they know quality. The Steelcase Leap is a favorite of many workers. If you want to add a chair to your home too, check out this list to find the best reclining office chair.
Pros & Cons
---
10 Year Warranty Exclusively with DesignerSeating
Arms telescope in and out, move forward and back, pivot and adjust up and down so you can find a natural position that comfortably supports your needs
Live Lumbar technology contours to fit your spine for continuous lower back support as you move in your chair
Weight tested and warranted up to 400 lbs. with no loss of performance
---
4.Oak Hollow Aloria
The Oak Hollow Aloria is one of the best executive office chairs we've come across, not just in terms of build quality, but comfort and adjustability that will benefit most people with back pain, especially sciatica.
The seat on the Aloria is light years ahead of most competitor's thanks to the supple cowhide leather upholstery. Unlike PU leather, real leather is both breathable and much more durable, giving you the best of both worlds.
What makes the seat stand out for people with back pain however is the waterfall seat edge and seat depth adjustment setting. The two features promote good circulation under your thighs, and is especially important if you suffer from sciatica.
For people with lower back pain, an adjustable lumbar support and rocking backrest are also vital. The Aloria chair comes with both. The tilt mechanism allows the backrest to tilt into 4 angles, with the maximum degree being around 135 degrees. The result is a chair many people with back pain have come out praising because of how it's managed to reduce or even eliminate their back pain.
Pros & Cons
---
【Genuine Leather Seat】 - The Aloria Series ergonomic office chair by Oak Hollow Furniture comes equipped with an upgraded, soft and supple genuine cowhide leather seat. Why buy a cheap PU or bonded leather chair that may contain harsh chemicals or wear down quickly? This upgraded genuine leather seat design is meant to withstand years of use in a working or home-office environment. Invest in your health with a chair that is intended to last with quality materials and a better ergonomic design.
【Adjustability Options】 - We've outfitted the Aloria Series office chair with a host of adjustability features, including the 4-way adjustable armrests, a padded lumbar support cushion that can be adjusted up and down, a synchro tilt mechanism which allows for 4 different locking positions, a free-float unlocked setting, tilt tension adjustment for greater control of the backrest, and seat depth adjustment for front and back positioning. Find the perfect settings and make this chair your own!
【Perfect Fit】 - This ergonomic office chair is designed to fit the majority of users comfortably! Choose your perfect cylinder height - We provide 2 different pneumatic seat height options so the chair will accommodate most height ranges. Short or tall, it will work for you! Find your perfect height setting, tilt options, backrest tension, and seat position to optimize your comfort in the Aloria Series office chair. Recommended weight limit of 300 lbs., and a wide range of supported heights!
【Sleek and Professional Design】 - Enhance your work space with the Aloria Series office chair - whether you are building a business from home or spending long days on the job, an Aloria office chair is the perfect addition to your office setup. These chairs are perfect as executive and managers chairs, conference room chairs, task chairs, or employee chairs. Whatever the goal, this chair is designed to improve & enhance your office and work space experience with sleek design and comfortability.
【Trusted Products and Service】 - Have peace of mind knowing your purchase is covered under the manufacturer warranty - Oak Hollow Furniture provides a lifetime warranty on the components and a 5 year limited warranty on the leather. We use high density molded foam for the interior and only the highest quality materials for our line of chairs. We believe an office chair should be an investment into your health and well-being, and we stick to this philosophy with our line of products.
---
5.SMUG Office Chair
This office chairs may look simple and affordable, but don't let those two things fool you. The SmugDesk office chairs offers an adjutsable back and is built with ergonomics in mind.
To that end it's back is made of mesh, which means breathability. So if you run hot this chair will be a fit for you. Included is a headrest, which great for added support during long working sessions. The lumbar support will also help with lower back support as will the adjustable arm rests. If not, have a look at the best memory foam seat cushions that feature ergonomic designs, lumbar support, pain relief, durability, and breathability too.
Pros & Cons
---
The high-density seat cushion is designed with a breathable mesh surface, so you will not feel stuffy and tired even after sitting for a long time.
This office chair with a curved backrest can perfectly fit your back and avoid shoulder pain.
A strong five-legged base makes this desk chair have a good load-bearing.
This computer chair with multi-directional casters can run smoothly and low noise. It is suitable for most offices or homes and will not scratch the floor surface.
This home office desk chair is easy to assemble through our detailed instruction manual. And we provide you with a free warranty service within one year.
---
6.Duramont Chair
Budget office chairs are usually a hit and miss, though the Duramount manages to get a lot of it right with this ergonomic chair. Think of it as a stripped down version of the first two chairs above, with all the core features of an excellent chair for your back at an accessible price below $250.
Adjustable lumbar support? Check. The Duramount Chair's lumbar support can be adjusted for firmness, besting most chairs in the same price range. Combined with being height adjustable, and one user said he's finally found a chair that has helped with his chronic back pain.
High degree of recline? Sort of. The chair reclines all the way back to 120 degrees. A knob beneath the seat lets you adjust the tilt tension, an important feature in relieving stiffness in your back.
Adjustable headrest? Check. Like all chairs featured in this guide, the Duramount Ergonomic Chair comes with an independent headrest to cradle your neck as you recline. Measuring 12″w x 6″h, it is both height and angle adjustable for total head support.
Overall the Duramount is a decent ergonomic office chair, especially for the budget conscious. It's well made, comes with a seat that is thick and uncharacteristically comfortable for a mesh seat, with a large lumbar support area that many cheap chairs lack.
Pros & Cons
---
★ MORE ADJUSTABLE THEN ANY OTHER CHAIR IN ITS CLASS — Unlike the office chairs sold by our competitors, which allow you to either fully recline or sit upright, we have a SECOND adjustment lever that allows you to lock in your desired recline angle at ANY degree. That way, you can be assured of finding the perfect comfortable seating position just for you.
★ BREATHABLE MESH - The breathable mesh back on this ergonomic office chair provides support while keeping your back cool and comfortable. Cool air circulates through the mesh keeping your back sweat-free and allowing you to sit in the chair comfortably for longer periods of time compared to traditional chairs
★ FULLY ADJUSTABLE BACK SUPPORT - Having back issues or don't want to develop them? Our unique office chair includes adjustable lumbar support that goes in and out, up and down, and a recline feature that allows you to tilt the backrest back or sit straight. Now you can quickly find a position that makes your back feel the most comfortable!
★ EASY TO INSTALL - Simple instructions enable anyone to put this executive chair together in eight simple steps! Then once built you'll be able to adjust the chair to your individual needs. The chair's pneumatic controls will let you raise or lower the seat and tilt back the backrest or sit straight up. You can easily find the ergonomic position that will allow you to work comfortably for long periods of time
★ HIGHEST QUALITY WITH 5-YEAR WARRANTY - This adjustable task chair is made to last. It has a weight capacity of 330 LBS and is made from the highest quality materials, including a soft cushion seat, sturdy arm and head rests and rollerblade caster wheels that allow you to move easily across the office floor. Get your office chair – and boost your work comfort! Your purchase will be backed by a 100% money-back guarantee. Try this chair for 90 days - if you don't love it, you can return it
---
Office Chair Lower Back Pain Buying Guide
When looking for good task chairs for low back pain, there are a few things you should consider. And while sitting in the chair is the best way to know if it's comfortable, there's still a lot of research you can do beforehand to ensure a good level of success.
The top chairs for lower or mid back pain not only alleviate this pain point, but they can also help you start on the path of curing it completely. You can choose a low back, midback office chair, or a high back. There is a lot of science that goes into office chairs for back pain that focuses on increasing blood flow and preventing important ligaments from shrinking.
Some popular models that didn't make our ranking include the Serta Midback office chair, the Herman Miller Sayl chair, Amazonbasics midback, Viva Office, the Leap Fabric chair, and the Steelcase Gesture chair, which are runners up.
However, remember that buying a chair for back pain is only the beginning. Consider getting up, moving around and stretching every so often while working at your desk to promote even better blood flow.
You may also want to consider purchasing a standing desk that you can use along with your office chair for alleviating your discomfort and to create a comprehensive solution.
Features to Consider When Shopping for a Lower Back Pain Chair
Consider the following features as you do your research. Office chairs with these features are the best choices when it comes to relieving pain your lumbar and hip areas.
Lumbar Support
If you're looking to relieve chronic pain in your lower back throughout the day, you absolutely need to buy an office chair that features some kind of lumbar support. Most office chairs are curved in the lumbar area to provide this support, but the best chair for back pain will do more than that. If you have poor posture these chairs will help. Consider finding a chair that offers adjustable lumbar support or lumbar support that contours to the shape of your body automatically. These chairs will relieve your pain the best.
Comfort and Blood Flow
It may go without saying, but you'll want to buy an office chair that's comfortable. Increased comfort typically leads to increased blood flow (and vice versa), which will help you stay healthy while sitting for extended periods of time. For this reason, a padded seat is recommended. Again, you may not be able to gauge specific comfort without sitting in the seat itself, but you can form a pretty good idea of overall comfort based on the materials used in the chair's construction. The most comfortable office chairs encourage blood flow and increase breathability using a mesh-fabric hybrid that is both durable and well-ventilated.
Adjustability
Most people suffer from back pain because they sit too stiff in their office chairs. The best ones let you lean back and adjust a wide range of comfort settings to prevent ligaments and hip flexors from shrinking and pulling on your back. As such, adjustability is an important component to consider. Chairs that offer more adjustments also make good standing desk chairs due to their flexibility. It should have the proper height and width to seat you comfortably. The top chairs for back pain will allow you to adjust almost every single component of the chair,  including the lumbar support to help correct poor posture. Consider chairs with plenty of adjustable features that also allow you to adjust seat depth, seat height, and have adjustable armrests. Seat height adjustments will make sure your legs are perpendicular to the ground which is essential for good ergonimics. When you buy a fully adjustable chair, you can customize your sitting experience to target your comfort needs and wants. Some people may prefer a kneeling chair, treadmill desk or an electric standing desk to stay upright and exercise, but most of us have to sit. Speaking of standing desks, a standing desk mat is great for your feet while using any chair as it encourages your feet to be in the proper position.
What is an executive chair?
An executive chair is a premium, high back chair that supports the entire upper body. An executive chair comes with more features and tends to be of a higher quality than other standard desk chairs. In layman's terms, it refers to the "bosses" chair when the quality and cost of office chairs corresponded with seniority.
Finding the best office chair, that will help reduce lower back pain, is a quest for many office workers. While most office seating companies claim to have lumbar support, they almost always lack in this area.
While you may find other lists on the internet, almost all of them will be built to push you into Amazon products. It's important to note that most, if not all of these websites, have never tried the chairs they promote. As someone who has sat in hundreds of chairs, I know there is no way you could ever know what chair is excellent or bad without sitting in each first hand.
Chairs that offer better lower back support do exist, and today we will take a closer look at the ones we have found to provide the best lumbar support. I will show you chairs that are available at different price points so that no matter your budget is, you can start to work more comfortably.
How you sit in your chair while you task
Not all users task the same way. While some work in perfect posture with their back up against the chair, others tend to slouch. Maybe you like to lean to the side when you type. It's essential to understand how you like to sit when finding the perfect office chair.
One of the most significant issues we've seen is that customers try to adapt to an office chair. This is the quickest way to failure, as most habits can be hard to break. Some sitting habits aren't bad, and the expectation that you sit perfectly for long hours throughout the day is unrealistic. Finding a chair that provides proper support for the way you sit, is likely to improve your support while seated.
Does the chair offer good support while reclined?
Do you like to recline in your chair? Is this something that you spend a lot of time doing? If you are taking a lot of phone calls, in meetings or even working from this position, proper support while reclined can be important if you have lower back issues.
Just because a chair offers great support while you're sitting upright, doesn't automatically mean that you will see the same support when reclined. We've found through testing all of the chairs in our office, there can be significant differences in lower support as you recline back into the chair.
Depending on how the recline function moves on your chair, the lower support can change in various ways. Whether it's diminishing support or that the support actually moves up the back, both can have a significant impact on your lower back pain.
Is the lumbar support height and depth adjustable?
While not always true, having a lumbar support system that is height and depth adjustable can be important. If the lumbar support system doesn't provide a good fit for your body, you will need the ability to move it up and down your back. Having depth adjustment will allow you to add and reduce the amount of pressure applied to your back. Depending on the amount of support needed, this can be a nice feature to have.
Does the backrest and/or lumbar move with you in the chair?
Depending on the type of tasks you perform in your chair, you may want to consider how the backrest and lumbar moves with you. If you are doing a lot of twisting and reaching, having a backrest that moves with you and provides continuous support is good if you really need a lot of lower support.
We have seen a lot of different types of backrests that will provide this function. From the entire backrest bending and flexing, to only the lumbar support automatically adjusting in depth. If this is important to you, you'll want to pay close attention to the back of the desk.
What material is the lumbar system made from?
The last thing to consider is what type of material the lumbar and backrest are made from. Certain types of materials will flex more, spreading out the support through your back. We have seen upholstered lumbar systems with padded backing that can feel more stiff and will focus more on a certain area. Depending on your needs, this type of focused support can be good or bad. This is especially true if you're able to fine tune where you can place the support.
With nearly 65 million American adults dealing with back pain, it's only logical that designers are making furniture more in tune with our bodies, especially office furniture. Those with desk jobs often spend the majority of a given workday in a sedentary, sitting position, which can exacerbate existing back pain. Making a choice as simple as deciding to swap out our existing office chair for an ergonomic model can help make you significantly more comfortable throughout the day.
Whether you're working from home at a DIY desk setup or commuting to an office, you may have begun to feel the strain that sitting for seven or more hours a day can put on a body. If said strain has led you to wonder whether it's worth investing in a better, more ergonomic office chair, the answer is almost certainly yes. "Makeshift setups can cause a laundry list of problems, including back, shoulder, and wrist pain," explains Dr. David Perna of Back and Body Medical. Dr. Marc Agulnick, an orthopedic surgeon based on Long Island who's affiliated with NYU Winthrop Hospital, agrees: "If you're sitting for a long period of time in one position that's not natural or a bad position from a postural standpoint, over time, that's going to break down your spine." Take it from someone who spent the first year and a half of the pandemic crouched over my computer on a kitchen bar stool or working from bed (and whose neck, shoulders, and wrists paid the price): Invest in a good office chair.
Finding the right ergonomic office chair, though, can be tricky — there is no universally perfect model, because every body is different, according to Agulnick. "If you take a one-size-fits-all approach, there are a lot of people who are miserable with it, because what's comfortable for one person is going to be miserable for another," he explains, and being comfortable in your office chair is definitely a priority.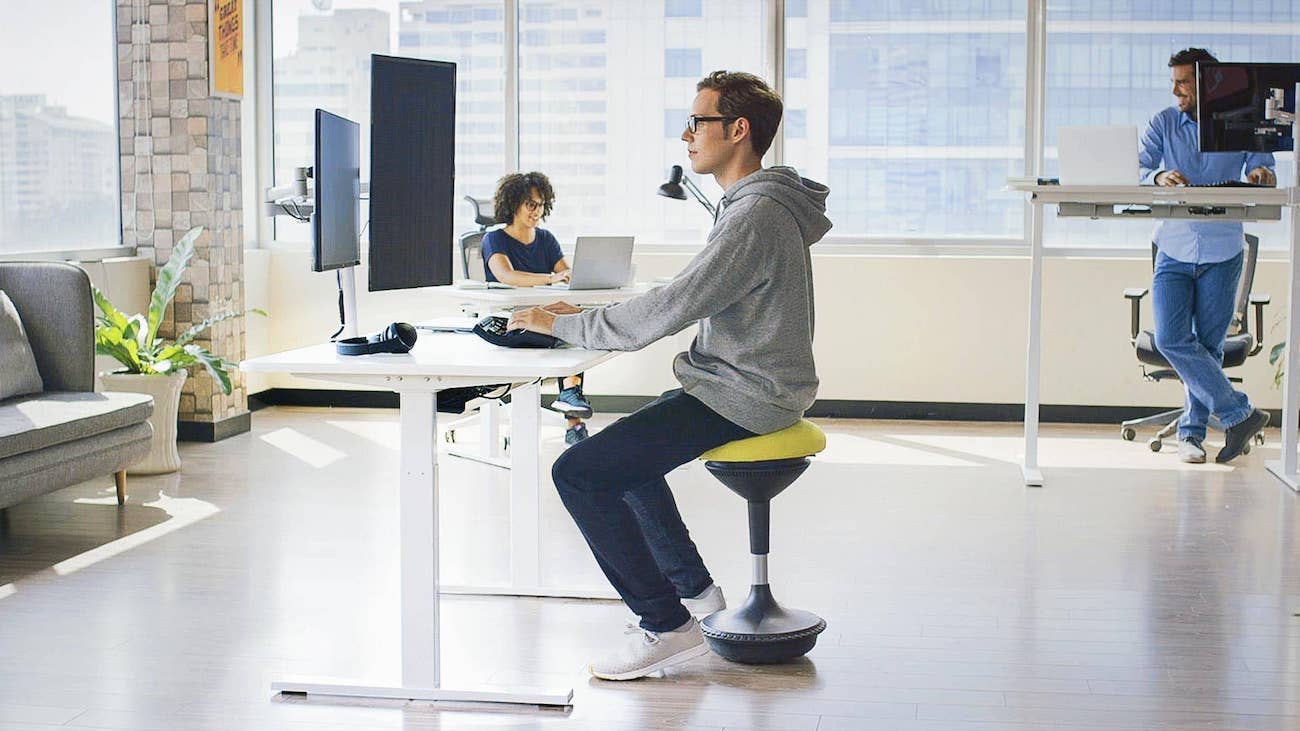 What Are the Best Office Chairs for Back Pain?
The best office chairs for back pain are ergonomic chairs with built-in lumbar support. The lumbar region, also known as your lower back, needs support between the chair and the natural inward curve of your spine. Having this support helps you maintain a good and healthy posture. Without lumbar support, the natural tendency is to either slouch or lean forward, and the muscles in your back have to work even harder to support your spine's correct alignment, which tires them out.
WRAP UP
Best Chair for Lower Back Support – When it comes to back pain relief, especially lower back pain, the angle of the backrest is critical. There are many chairs on the market that help promote good sitting posture, by either going with a straight 90 degree backrest, or even a backless design, such as a yoga ball or kneeling chair. What's good for your posture and core however may have the opposite effect on your back pain.
Numerous studies back an office chair that reclines as the best for people with lower back pain. Researchers studied various sitting positions and examined the amount of pressure each posture exerted on the participants' discs.
Unlike most guides on the web, in this post, we actually spent hours pouring over the latest research to find out scientifically just what the best office chairs for back pain should look like. Is a high back really better? What about an office chair that reclines versus one with a 90 degree straight back? Just how important is lumbar support in back pain relief? And what about the material? We look at all the evidence before coming up with our list of 6 of the best office chairs that fit the bill, or ones that actually help with lower and upper back pain.