Best Chair for Meditation – When getting started with meditation, even the slightest distraction can spark frustration and difficulty. How can you focus on your breath if your back is aching, or you can't feel the circulation in your legs?
Veteran meditators may be better at detaching themselves from these frustrations, but if you are going to sit in the same position for a considerable amount of time, it needs to be geared towards your comfort too.
This is why there are so many benefits of a meditation chair. Not only does a comfortable place to sit help you stay focused, but also you are creating a dedicated meditation space and taking care of your mental health. This helps to solidify meditation as a habit.
If that's all not convincing enough, your choice also serves as a really comfortable chair for you or visitors to sit on as you relax!
Below you'll find the list of the best meditation chairs and cushions to meditate comfortably.
Table of Contents
ROUND UP
1.malu Luxury Chair
Meditating without solid back support is a real deal-breaker for some.
This Malu folding meditation chair offers arguably the best support out of this list, and the portable factor is a real plus. Keep it in the car boot or in the corner at the office, and break it out whenever a chair isn't readily available.
The price does set it as one of the most expensive options on this list… but can you really put a price on good posture and maintaining feeling in your bum?
Pros & Cons
---
Five Adjustable Positions - Your Malu floor chair comes with an adjustable backrest made with a unique metal-locking technology and can be easily adjusted to 5 different positions, as per your preference. Use it to sit on the floor while working on your laptop, watching TV, playing video games, meditating or as an extra seat when you have guests over- the versatility of this piece of furniture is limitless!
Foldable & Portable - Watch out yogis, this floor chair is so flexible that it can be folded into half, or lie completely flat! It comes with a shoulder strap that makes it super easy to carry outdoors to sports games, to the park, camping or even to the beach!
Padded for Extra Comfort - Your Malu floor chair offers superior comfort, thanks to its foam-padded, thick seat. Relax and meditate in an upright position. Stop slouching NOW and bid goodbye to back-pains as this chair provides ultimate comfort chair for floor seating!
This floor chair comes with an easy-clean nylon bottom that helps use the chair both outdoors and indoors. The chair cover is full removable and machine washable, made from a luxurious microsuede fabric, so you can easily clean it after an outdoor use. The trimmings are made of vegan leather and look super chic!
Superior Customer Care - Be assured that with Malu, you will have easy returns, quick, hassle-free refunds and a long-term warranty to ensure 100% satisfaction with your Malu Floor Chair. If you're not fully satisfied with your purchase, return it for a 100% refund of your purchase price or contact us at Malu for an immediate and expedited replacement. Our customer's satisfaction is our #1 priority!
---
2.BackJack BJI
The BackJack seat is a sturdy "use anywhere" type of floor chair. This Chair Model is an all-purpose chair. It can be conveniently used in Lamaze classes, Meditation halls, camping, and in front of the TV. Moreover, it is the perfect chair for deep chanting or meditation.
The Back Jack Floor chair is ideal if you are looking for a floor chair that does more than just provide cushioning to keep you off the floor. While people who meditate find that meditation helps them with getting a better posture over time and sitting up straight without support, beginners might not find this so easy.
The Back Jack Floor Chair provides the user with just the support you need for your back. We found that the floor chair is very stable thanks to the thoughtful design. You never feel like you are going to fall over when you lean back in the chair.
A floor chair takes up more space than a meditation cushion, but we found that the Back Jack Floor Chair is easily folded and stored. It is also not very heavy, so you can carry it somewhere else if needed (e.g. if you go to a meditation class).
With this BackJack meditation chair, getting into the zone is made easier owing to its comfortable lumbar support. You can prop it up vertically or lay it flat horizontally for a sweet little slumber with a simple mechanism. The cotton duck outer cover is cooling, soft, and breathable so you don't feel overheated even after sitting for long hours. The BackJack meditation chair is also filled with 90% cotton for offering utmost comfort to you.
Pros & Cons
---
GREAT GAMING CHAIR: easy to move and place right in front of a tv. Very comfortable, provides back support, takes up little space, and stylish for both children and adults.Â
PERFECT FOR YOGA AND MEDITATION: This chair is low to the ground which allows one to complete all yoga moves. With a comfortable cushion and structured frame it helps one maintain proper posture while exercising/meditating.
READING: Take this chair anywhere you want and sit down and open up a good book. This chair prevents one from hunching their back and getting sore.
PARENTS AND FAMILIES love these chairs. They allow parents to be hands on with their children and be more interactive without compromising their posture or comfort. These chairs take up little space and are lightweight so that children can put them away themselves.
SPACE SAVING: Compact and stackable. Perfect for a classroom, home, apartment, or office. Makes a perfect gift to give to someone heading off to college.
---
3.Gaiam Chair
With all the good things said about the Gaiam Rattan Meditation Chair, it's not the perfect meditation chair on the market. One caveat about this piece of furniture is it's not an ideal choice to place it on your porch or backyard. Rain and humidity might damage the rattan material. Also, the paint job might fade over time when continuously exposed to the elements.
Despite its shortcomings, its positives outweigh its negatives. This Gaiam Meditation Chair is still a suitable choice for numerous meditation practitioners out there. Sit on its cushy surface with a cross-legged position, and you'll find yourself deep in your thoughts trying to find your inner peace in no time.
The Gaiam Rattan Meditation Chair aims to let users say goodbye to spending meditation sessions on the floor. It also promises to be a better alternative to meditating on an exercise or yoga mat. Certain meditation practitioners might find its claims to be too good to be true, but it delivers most of its promises without a hitch.
This meditation chair has a relatively large construction with dimensions of 34 x 25.5 x 19.5 inches for its width, depth, and height respectively. It also weighs 28 pounds which isn't too heavy or too light. Aside from its weight and dimensions, this Gaiam chair has a tall 8-inch back that acts as ergonomic support. The wide base makes it possible to sit cross-legged on the comfortable cushion for extended periods.
Speaking of its cushion, the pillow-like surface has a natural cotton cushion cover to add an extra layer of comfort. This cover is removable and machine washable for easy cleaning. Inside the cushion, you'll find an extra-thick filling of sustainable kapok. Meditation practitioners can deeply focus for extended periods when they're sitting on this comfortable surface.
Pros & Cons
---
Boost energy & focus: Micro-movements from sitting on a balance ball chair work to engage the body and mind, leading to higher energy levels and increased productivity and focus at home, in the classroom at school or at your desk in the office
Recommended user height: Designed for users 5 feet to 5 feet 11 inches tall and fits most standard height desks. For a taller chair, add 2 inches with the Gaiam Leg Extenders (Sold Separately) Weight Capacity = 300poundss
Ball chair includes: Removable 52 centimeter Exercise Ball, Chair Base, Support Bar, Metal Ball Holder, 4 Easy-Glide Caster Wheels (2 lockable), Air Pump, Desktop Exercise Guide (Minor Assembly/Setup Required – see packaging for details) Weight = 13pounds
Inflation notice: It may be necessary to re inflate the ball after initial inflation to allow the ball's material to stretch to its final size. Inflate ball with air, let stand for 24 hours, deflate 50%, then fill again to 52 centimeter height
---
4.Friends of Meditation
This meditation chair is an ideal piece of furniture for beginners in meditation. One of the main challenges of beginners is trying to maintain the cross-legged position for long periods. Thankfully, this chair comes with a comfortable surface to help in prolonged sitting. This comfy material also helps older people who may need additional support when sitting close to the floor.
Expert meditation practitioners can also benefit from this chair. It's an ideal choice to escape and relax after a long, stressful day. This piece of furniture is also great to use for a vipassana retreat.
Furthermore, this yoga and meditation chair has dimensions of 29.1 x 23.6 x 9.8 inches and a weight of 15 pounds. These figures translate to a decent size and weight. Most users won't find it a problem to move this furniture around the house.
The brand Friends of Meditation takes the act of finding inner peace seriously. It's a company that dedicates its efforts in bringing products to meditation products to its customers. The firm's operations involve innovation-leading manufacturing tools in creating a host of items to facilitate the ease of practicing yoga and meditation techniques for different skill levels.
With that being said, the Friends of Meditation Relaxing Buddha Meditation and Yoga Chair is a great item to add to the brand's list of great pieces of furniture for yoga and meditation practitioners. It has several great features like extra-long back support to help users in doing certain positions like the lotus and cross-leg postures, and the ardh siddasana. This back support can also help people with back problems or those with limited flexibility. It's not the most durable backrest in the world, but it still does the job in providing a more-than-adequate level of support to most users.
Pros & Cons
---
Designed by Sw Dhyan Unmesh ( Yoga and Meditation Facilitator)
Specially designed back support for lower back in sukhasana Posture.
Specially designed back support for lower back in sukhasana Posture.
Meditation Chair with a carry Bag. Fully foldable.
Seat Size : 20 x 18 Inch x 3 inch with 7 years warranty
---
5.BIRDROCK HOME
BIRDROCK HOME brings to you a model of their floor meditation chair that scores a 100 points for appearance. Soft and plush fabric covers a filling of chopped memory foam that is super soft to the touch.
Conforming to your body to keep your back properly aligned, this meditation floor chair with back support can be adjusted into 14 positions. After you've successfully completed a session, you can easily lie down for a quick nap as well. It also gives you no hassle in terms of assembly as it arrives put together and folds down flat for compact storage.
Pros & Cons
---
COMFORTABLE: designed with high quality chopped memory foam and soft plush fabric to give a comfortable seat on any floor. The memory foam conforms to your body giving you a perfect seat. Provides back support when sitting on the floor.
ADJUSTABLE: easily adjust the floor into 14 different positions allowing you to lay the chair flat to take a nap, lounge to watch your favorite movie or use at 90 degrees to play board games
Universal USE: the chair gives you a variety of options for how to use it. Allows you to read your latest book, meditate comfortably on the floor or play board games with your family! Great for adding extra seating when friends and family come over to watch the game! Perfect for kids playing games, reading, coloring, or playing
EASY STORAGE: lay the chair completely flat to store under your bed or tall couch. Also lay the chairs flat to stack them on top of each other making them easy to put away
DELIVERED FULLY ASSEMBLED. DIMENSIONS: Flat Position Dimensions: : 21.25" Width x 41.25" Depth x 6" Height. 90' Degree Position Dimensions: 19" Width x 23" Depth x 22.5" Height. Weight: 10.5 lbs.
---
6.bonVIVO Floor Chair
The bonVIVO portable meditation chair with back support is well-padded to keep you cozy whether you want to sit or lie down. You can adjust the back up to 180° to improve your posture and maintain body stability.
The upper polyurethane fabric is stain-resistant, making cleaning as easy as pie in case of any accidental spills.With its comfort level, you can also use this chair to lounge around in when having your morning coffee. bonVIVO's meditation floor chair is also perfect for lounging around to read or catch up with your friends on the weekends.
Pros & Cons
---
COMFORTABLE - The bonVIVO Easy II chair provides flexible floor seating for adults and kids alike. Each floor seat is designed with padded cushioning, so you can lean back and lounge after a long day.
ADJUSTABLE - It's a multi-angle floor chair for all your sitting needs! Lay the floor lounger completely flat to take a nap or position the backrest at an angle that best supports your back and posture.
VERSATILE - Your seating options are aplenty with our floor chairs for adults and kids. Use one as a comfy floor cushion for the reading nook, a meditation chair with back support, or as a floor gaming chair.
PORTABLE - It's no problem carrying these floor seats around the home. Thanks to its lightweight design, the floor chair can lay flat by the couch, in the bedroom, or in the video game room.
EASY TO CLEAN - A premium cover protector on this meditation and gaming floor chair makes wiping away stains a breeze. Just use a damp sponge on the affected area and voila! The seat will be as good as new.
---
One of the beautiful aspects of meditation is you can practice it anywhere and at any time. It won't even cost you a penny. You can find a nice, flat area on the floor, close your eyes, and start meditating. Meditation chairs help you get extra comfortable while meditating. These pieces of furniture utilize ergonomic designs with comfortable cushions for you to easily enter a meditative state. Continue reading to know more about the benefits of using meditation chairs.
Helps You Stay Comfortable, Relaxed, and Free From Distraction
A major challenge of trying to meditate is sitting on a hard surface. After a few minutes on sitting on the floor, your feet, legs, or butt will start to hurt and stiffen. You'll find yourself trying to fidget around hoping to get to that comfortable position for your legs and back. Since you're now trying to focus on getting to that relaxed position, you lose focus on your breath, mantra, or visualization exercises.
Meditation chairs help combat discomforts to help you reached a comfortable and distraction-free state. Manufacturers use comfy cushions like memory foam or soft cotton designed to protect the body from the rigidity of trying to meditate on a hard floor. Cushions on meditation chairs have constructions that can support standard sitting positions. You may even use it when you're watching TV if you wish.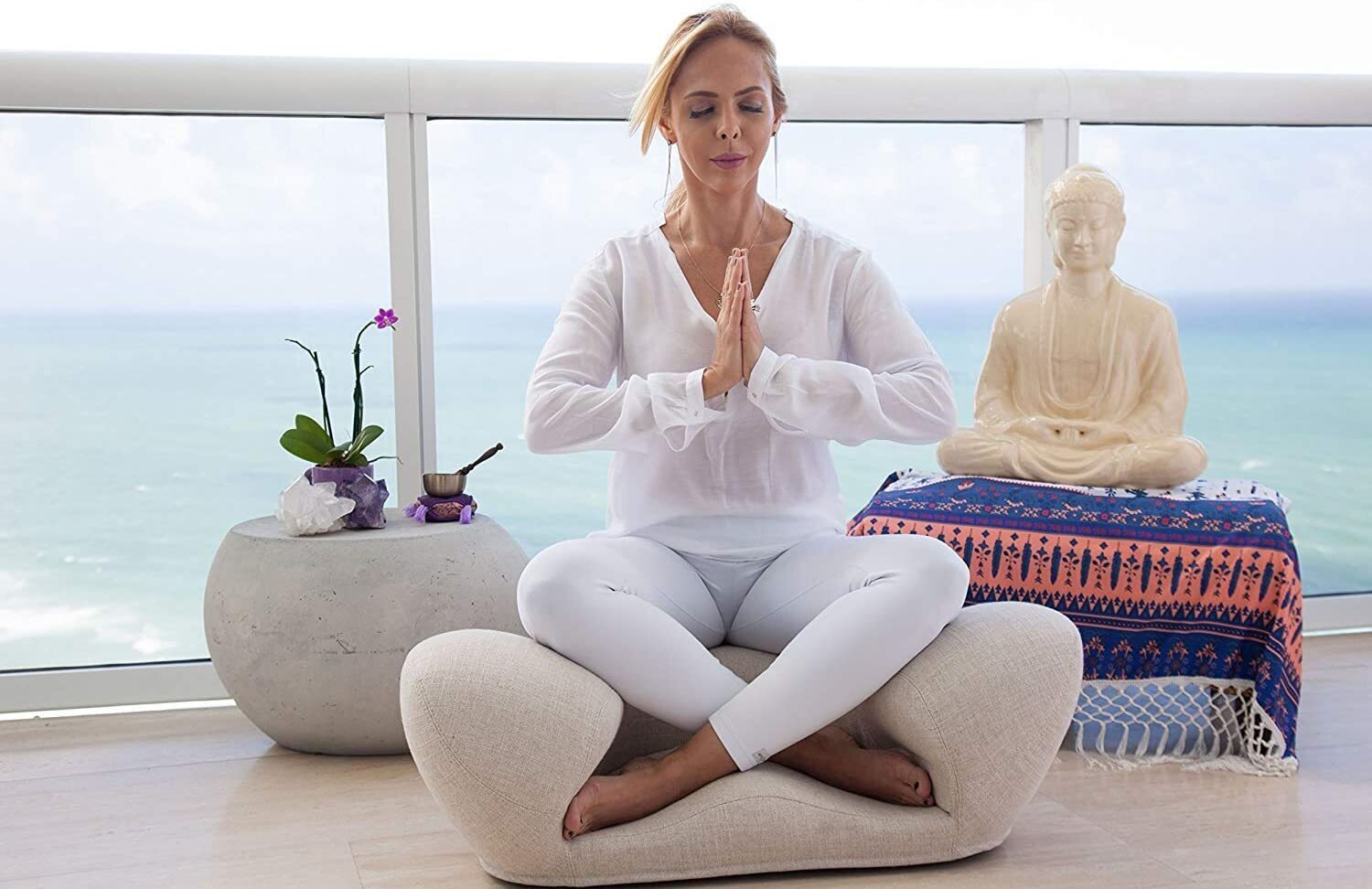 Creates a Meditation Space for Yourself
Many meditation practitioners dream of having a room dedicated to meditating and for nothing else. The area will have all the relaxation tools you need. If you're trying to achieve that objective, you can start by purchasing and using a meditation chair. Even if you don't have a meditation room yet, you can place the chair near a quiet corner of your home. It's going to be your meditation spot to help you feel at one with yourself.
When you have that dedicated space, you'll start to build a long-lasting meditation habit. Maintain a routine of sitting and meditating on your meditation chair each day. You'll soon find yourself falling into a relaxed rhythm that suits your preferences. Also, place the chair in an area of the home where you can easily see it. The furniture will become a visual reminder that you still need to meditate.
Helps Maintain a Proper Alignment
An essential aspect of meditation is good posture. You're going to sit for long periods each day. You need to achieve good posture to straighten your spine. Remember, your spinal column cannot handle a curved position for a long time. Poor posture during meditation may even lead to distracting aches, pains, and even injuries.
A good meditation chair will help support proper spinal alignment for numerous kneeling and sitting positions. The ergonomic design will help support your spine, legs, and butt. Some chair designs will even have additional back support to ensure comfort and ease during meditation.
Last, meditation chairs help practitioners of the habit to have easy access to inner peace and relaxation. Certain individuals may have ailments or disabilities that make it difficult to go down to the floor to get into a relaxed sitting or kneeling position. Meditation chairs can help alleviate this concern as the cushion is at a reasonable height for people to sit or kneel without additional stress to specific body parts.
Meditation is one of the best ways in which you can relax and shrug stress away from your body. Aside from that, there are other several benefits that you can enjoy out of using meditation seat. Here are some of them:
Meditation chairs are often available in unique, ergonomic designs. They are designed in a way that allows you to sit with the appropriate posture, even for a longer time. As a result, you can further enjoy a good session of meditation.
The absolute harmony between the mind and body is needed while engaging in a meditation session. Any discomfort during the session may be disturbed easily. With a meditation chair, this issue can be solved.
Sitting on a meditation chair will allow your back to relax, saving you pain as a result of the wrong posture while sitting.
Meditation chairs are designed especially for adequate alignment and support needed to achieve the maximum experience out of your meditation session. An ordinary chair cannot provide you with this type of support and comfort.
Since comfort and support are taken care of by the meditation chair, you can now expect to experience and overall improved meditation. These are very effective for both beginners, as well as avid ones.
Using a meditation chair there is many more benefits:
Supports your weight
Provides cushioning
Align your spine
Keeps pressure off your joints
Keeps your limbs from falling asleep during meditation
Makes it easier to focus on meditating instead of focusing on your posture
Motivates you to meditate
Meditation is a very personal experience, and finding the best meditation chair is different for everyone. When you look for a floor chair, ask yourself the following questions:
Do I want back support?
Do I need a meditation chair that forces me into the right position or am I already experienced enough not to need that much support?
Do I want to be able to choose a particular color?
Do I want my chair to be organic and eco-friendly?
What kind of material do I want to sit on?
How much space do I have for my meditation chair?
Do I need to carry the floor chair around?
When purchasing a meditation chair, there are certain things that you can take into consideration:
You also have to take into consideration your actual needs. What are the reasons for getting a meditation chair? Is it just purely for relaxation? Or to help you with a treatment plan? These needs should be well taken into consideration beforehand.
This also includes the need to consider your size, height, and the required comfort level. There are certain meditation chairs that are adjustable as well, which is ideal especially if there are other people who will also be using the chair aside from you.
Some meditation chairs are designed to equip with extra features that particularly cater to the needs of the actual users. Some focus on providing back support by using a slight angle, thus promoting an improved posture.
Some are also designed to be portable and light weight, perfect for those who does not have enough storage and may need to move it frequently. Some come with beautiful designs, meant for women who prefers them. Choosing your meditation chair should also involve your personal preferences.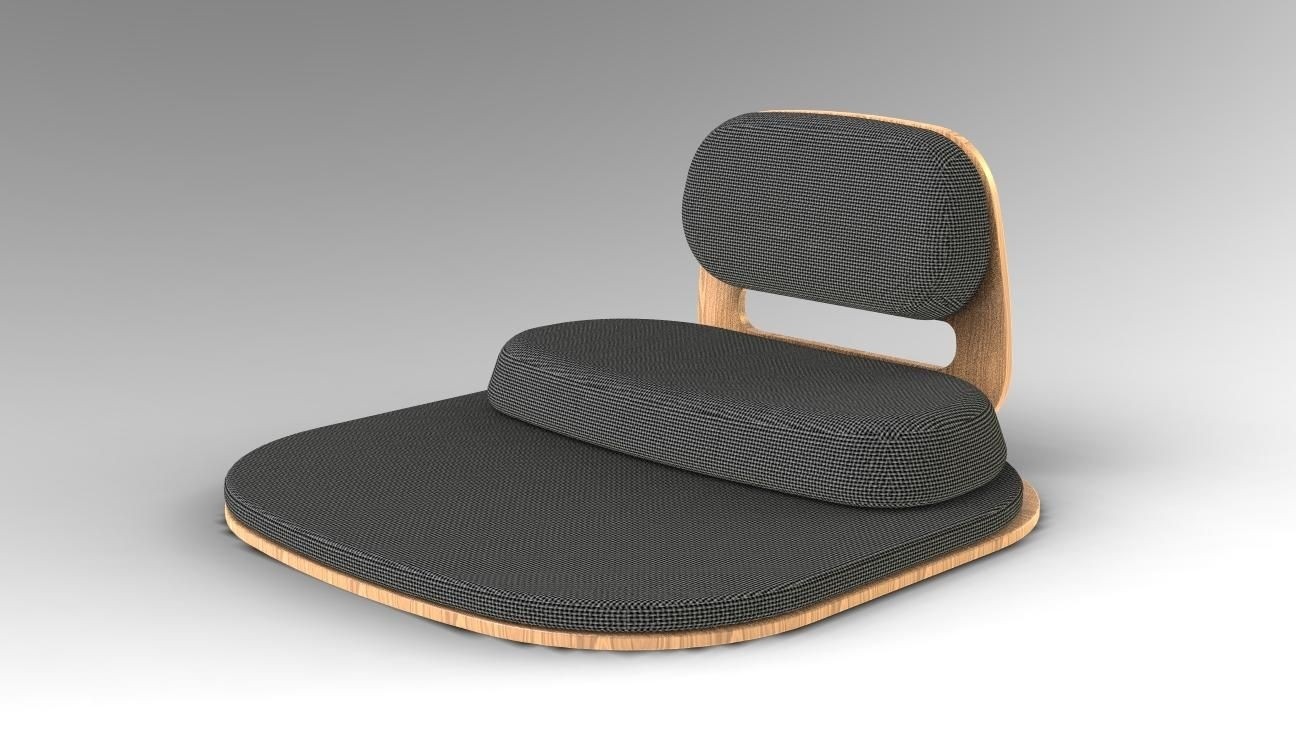 The answers to those questions will help you in finding the best chair for you.
Meditation is a pious practice that can lead to the serenity of the mind and body if done in the right manner.
The classical meditation techniques often require a complex body posture or a steady position with an aesthetic ambiance.
Not everyone can pull this off easily, most people discontinue meditation owing to the pain or discomfort. Meditation chairs are what comes to the rescue to lead you through your meditation journey.
Meditation chairs often prove to be a great asset to cater to your comfort while sitting in those composite postures that feel uncomfortable.
What is a Meditation Chair?
A meditation chair is like any other piece of furniture, specially designed to leverage the user's comfort while they meditate.
These chairs provide the required support and composure for the people who need extending back support or have any sort of physical difficulties or simply for people who cannot sit on the floor comfortably.
Having a meditation chair can be a big plus while you focus and channelize your energy and remain calm and steady at the same time.
If you're reading this article, you're probably one of those go-getters who actually started and stuck with daily mindfulness practice in lockdown and now you're ready to upgrade your equipment. While it's possible to access your inner peace from the floor of your office, the living room couch, or even your bed, meditation just feels better in a high-quality meditation chair.
Meditation chairs aren't just a fancy accessory—they provide serious back support so you can breathe in peace without worrying about muscle strain. Plus, many designs are cute enough to leave out in the open.
We've rounded up ten of our favorite seating options that combine fashion and functionality. As a bonus, you can use these chairs for other activities besides meditating, such as watching TV, gaming, doing yoga, or just relaxing. Finding studio-quality meditation furniture for your at-home meditation practices has never been easier.
You might have a doubt running through your mind that, Can I sit in a chair for meditation?
Well, there are a lot of reasons to back this as an affirmative.
Having a chair can let you build a dedicated meditation space. You won't need a whole lot of space with only a chair in one corner. Moreover, a chair can also act as a visual reminder to keep meditation on your to-do list.
Body aches will no longer be a thing that diverts your attention during the meditation process.

Do meditation chairs really help in meditating?

Actually, yes! If you haven't spent years practicing yoga or sitting in your optimal meditative stance, sitting on the bare floor for extended periods of time can get real uncomfortable real fast. Think of a meditation cushion as an athletic shoe for your body—a product designed specifically to cushion your limbs and prevent discomfort or strain.

Is a meditation chair necessary for meditating?

Not always. You could meditate while standing in line at the self-checkout, sitting on your couch, taking a walk—basically any time and place. However, a meditation chair can help make meditation pain-free and relaxing. That's one less excuse to skip your daily 10 minutes of calm.

Can I check the quality of the chair before buying it?

We're in the "read 50 reviews before purchasing" club. Reading the experience of past buyers is one of the best ways to hear—and see, if pictures are provided—what a meditation chair is like in real life. Make sure to read the bad reviews in addition to the good ones.

Finally, after thousands of years of meditation practices in India, China, and Japan, Western civilization is tuning out in order to tune in.

Meditation and mindfulness practices are becoming more and more mainstream, with over 18 million adults and nearly a million children engaging in meditation in the United States alone according to research.

Various religions and recent Western medical studies affirm that meditation increases the quality of life by reducing anxiety, lowering high blood pressure, reducing chronic back pain, and bringing cholesterol levels back in line.

Ancient traditions suggest that if you meditate regularly, you can integrate the body and the mind with your spirit or soul.

But sitting on a floor mat can be a back-breaking lesson in achieving Nirvana.

Ask any meditator, and you'll hear a story about mid-meditation back spasms and burning pain.

It's much easier to reach a state of equanimity and balance when your body is comfortable, and for many meditators, the most comfortable way to practice is by sitting or kneeling on a meditation chair.

A meditation chair is an essential meditation tool for the people who are reaching Baby Boomer status or for those who need more back support.

If you have a minor injury or just don't like sitting on the floor on a meditation cushion, you need to consider a meditation chair.

There is a wide range of meditation chairs, and not all of them fit the people who want to use them.

That's why it's important to do the research and check different meditation chair designs and the materials that make them meditation-worthy.

We did a little research for you, so you don't get caught in meditation chair-choosing agony.
WRAP UP
Best Chair for Meditation – When you buy a meditation chair, always remember that the most critical things are that it offers excellent support for your body and that it helps you focus. All the ones we've looked at in this list will do precisely that.
Note that if you still find it uncomfortable sitting in meditation, Yang Yang [founder, Center For Taiji And Qigong Studies and clinician at Memorial Sloan Kettering Cancer Center in New York] tells us that standing meditation is also a great option and is a fundamental teaching of Chinese martial arts.
Lying down is also an option, and this method is used by the likes of Jon Kabat Zinn [American professor emeritus of medicine and the creator of the Stress Reduction Clinic and the Center for Mindfulness in Medicine, Health Care, and Society at the University of Massachusetts Medical School] as part of the Mindfulness Based Stress Reduction course.