Best Chair for Musicians – If you spend the majority of your time sitting down while you're producing or mixing, then it's only natural to invest in the best  chair for Musicians so that you can be comfy and free from back pain. Are you a guitarist? Head over to our guide on the top guitar stools.
Many budding producers focus all their energy on the musical equipment and recording gear inside their home studio. They tend to forget that a studio chair isn't just a piece of studio furniture. It's also an essential object for contributing to your skills as a producer. If you're in discomfort then you won't be able to work in the studio for long hours. It's also impossible to feel creative and inspired if your lower back is aching.
If you're starting to put together a new studio, make sure to get the right insulation with high-quality bass traps (click here for the guide).
There are some fantastic music studio chairs on the market. To make life easier for you, we've spent time researching and testing them so you don't need to. We've settled on a top ten, which we'll show you in a moment, along with reviews of each product. At the end of this article, you'll find a handy buyer's guide and answers to frequently asked questions. You'll be ready to make a wise purchase once you've finished the article.
Table of Contents
ROUND UP
1.Herman Miller Classic Aeron Chair
Herman Miller Aeron chair has been upgraded. That is one reason behind it being listed among the most popular ergonomic chair producers do purchase.
It is an expensive ergonomic chair, but does the price worth the chair come to think of it?
The Frame of a Herman Miller Aeron Chair is made from durable metal, which can be acquired in polished aluminum or satin aluminum of three different sizes. Also, the backrest and the seat of this chair are gotten from breathable mesh.
Herman Miller Aeron chair can easily be adjusted. You can adjust how far your back can be leaned and the amount of space between the bottom and the back of the chair after doing so.
Been a producer, you need to be very considerate about your ergonomic health, and in doing that. It is advisable to budget for a high-end chair with tons of adjustment options to select from.
Herman Miller Aeron will do just that, but you will have to pay a full price because you'll never want to buy another chair again.
One of the major reasons Herman Miller Aeron hasn't been listed as "Best Premium Option" is that most users can't offer the price range of the chair.
Either way, if money isn't an issue, then this chair can't be recommended highly enough.
Pros & Cons
---
---
2.NOUHAUS Ergo3D
This Ergo3D is a comfortable ergonomic office chair with 3D Adjustable Armrest, 3D lumbar support and rollerblade wheels. If your job requires you to sit for hours in front of a computer, this chair will please your back and rear-end no end.
No more sitting hunched at your computer with this guy thanks to the high back design and which can recline up to 135°. If your old studio chair is starting to give you backache, make the smart choice and check out this strong contender.
Pros & Cons
---
CONFORMS TO YOUR LIFE: With it's 4D Adjustable Armrest and Lumbar System, ElastoMesh, 135 Degree Back Tilt, Smooth HydraLift, Dual Castors (and a set of hardwood floor Blade Castors) – it's easy to think the Ergo3D is from the future, but instead it's evolved Ergo Seating at its finest and it's here now.
EASE INTO WORK, OR PLAY: Mesh Headrest adjusts up and down while the 4D Adjust Arms go forwards, back, up, down, side to side, and rotate for the best fit to your body. 3D Lumbar Support hugs your back, while the seat glides up and down for the ultimate in customized comfort in the office, or in front of your game!
SOFT HD OFFICE CHAIR: Our breathable ElastoMesh provides optimal airflow to avoid sweating and sticking. But it's also smooth, and nothing like sitting on wire like many of the chairs you'll see today. And while it's good to take regular breaks, the Ergo3D is so comfy you'll forget you're even working.
HEAVY DUTY: Our 5-Point Base with dual castors gives greater stability and strength over common 4-Point, single castor chairs. And our strong iron base makes this heavy-duty office chair ideal for adults up to 275 lb. We also give a set of blade wheels – smooth as silk on hardwood.
SUPER-LOUNGE RECLINE: Settle back, because you have up to 135° of tilt to keep you in the perfect position for your next task, or to simply lounge back and admire how smart you are for finding such a remarkable ergonomic chair. Try the Ergo3D and feel the difference it makes to your life.
---
3.XUER Ergonomic Office Chair
Ergonomic office chair has adjustable height headrest for meeting all kind of people's need, the back of the chair with the chassis is for raising and lying, intelligently sensed gravity lumbar support is for adjusting the lumbar force and correcting lumbar spine and pelvis, 3D PU leather armrests are for adjusting up and down, left and right, back and forth, releasing your arms and shoulders and maximizing the satisfaction of various needs.
 The black grilled paint chassis is made of mechanically thick steel and has a four planetary line control locking, the three-stage gas lift is made of steel, which can be lifted 65mm, 340 black nylon chair feet all passed the American BIFMA test.
The whole mesh chair is made of high-quality special mesh fabric, which is breathable and comfortable, no longer afraid of sedentary in summer. Smooth and durable nylon casters are suitable for hard floor, carpet floor, etc, without noisy when it swivels and won't scratch the ground.
Pros & Cons
---
★【Ergonomic Office Chair】XUER office chair features an S-shaped backrest that fits your lumbar spine better, protecting your back and shoulders from pain and fatigue from prolonged sitting. W-shaped design sponge cushion, reduce the pressure on your legs, suitable for long-term sedentary work up to 8 hours a day.
★【Breathable Mesh Chair】Our computer chairs are made of high-quality mesh, which is resistant to abrasion and not easily deformed. The mesh backrest keeps the air flowing, refreshing and comfortable, so that the summer is not sweltering.
★【Adjustable Function】Compared to other desk chairs, we are more adjustable. 3.93 inch stepless height adjustment, 126° super-angle backrest tilt, PU lift armrest and adjustable headrest. Find the most comfortable sitting position for you.
★【High Quality】XUER home office desk chair has passed BIFMA and SGS test. Made from the highest quality and environmentally friendly materials, it can support a weight of up to 330lbs. Rollerblade wheels let you move easily and protect your floors.
★【3-Years Warranty】The installation tools and instructions are in the carton, and the installation only takes 20 minutes. If the chair has quality problems, please contact us, we promise 3-years warranty and replace the damaged product accessories for you free of charge.
---
4.Hbada Ergonomic Chair
If you want a full backrest and reclining abilities but you're working with a budget, the Hbada Ergonomic Office Recliner Chair is a great option. With an angle-adjustable headrest, a footrest for when you're kicking back, and mesh fabric on the back to keep your body cool (similar to the Aeron), it's great value for money — and the white version will look pretty unique in most environments.
The Hbada Office Task Chair is slightly cheaper than its reclining cousin. By our calculations, it's one of the best affordable office chairs on the market that can also function as a recording studio chair. One of its biggest draws is the flip-up armrests, which make it perfect for tracking guitar or bass in the studio. Combine this with the height adjustability and most of the chair can tuck away under the average desk when it's not in use.
Pros & Cons
---
[Ergonomic Office Chair]--Ergonomic office chairs provide four support points (head/back/hips/arms) for the body, and a certain waist support. It can easily adjust the height of headrest, backrest, armrest and seat to meet different needs and is suitable for sitting office for a long time.
[Adjustable headrest/waist/armrest]--The height and angle of the headrest can be adjusted to fit our neck. The height and depth adjustable lumbar support provide the waist a comfy support. The lifting armrests will support the arm and save office space.
[Big Size & Comfort]--A larger chair can accommodate different body types. The whole seat size: 26.8"W x 26.8"D x 44-47.2"H. Pu silent wheel rolling smoothly, no harm to wood floor; The reclining function makes the backrest recline backward (90~125)°) or sit up straight; Weight capacity: 250 lbs.
[Breathable Mesh]--Mesh chair back keeps air circulation and makes it more comfortable. High quality mesh, wear-resistant, deformation resistant, suitable for long-time office use.
[Easy Installation & Security]--The instructions and tools are clear, and the ergonomic chair is easy to assemble (about 20-30 minutes). The sturdy pentagonal base and chair frame add durability and a stylish look. You can contact us at any time if you have any problem during use.
---
5.OFM ESS
OFM's ESS gaming chair isn't nearly as extravagant as some of its more expensive counterparts, but it comes with a lot of the same features — tilt and recline controls, a built-in headrest, high weight capacity (up to 275 pounds) — and also has the added benefit of flip-up armrests. It comes in a variety of color options, meaning you can make your chair match your studio environment.
Pros & Cons
---
COMPUTER GAMING CHAIR: A race car style chair Generation 1.0 that provides luxury and comfort whether used during intense gaming sessions or long workdays.
Generation 1.0 : ERGONOMIC SWIVEL CHAIR: With contoured segmented padding, integrated padded headrest, and padded arms, this video game chair provides quality support and comfort for hours of play.
ADJUSTABLE RACING CHAIR: Features height adjustment, center-tilt control, flip-up arms and 360 degrees of swivel.
PREMIUM LEATHER CHAIR: Upholstered in SofThread Leather and contrasting colored upholstery for an aggressive style and cool feel.
DURABLE OFFICE FURNITURE: This heavy duty chair has a 275 lb weight capacity for long-lasting use. Seat Height-17-20.75 inches. Seat Size-20 W x 19 D inches
NOTE : To ensure proper assembly, please follow all steps provided in the installation manual (provided in pdf below)
---
6.Flash Furniture Chair
If you're sick of your bad back or aching butt and crave a chair that keeps you supported but also looks good in your workspace, the adjustable executive Flash Furniture chair is worth your attention.
This studio chair is an excellent choice for those of you who aren't a fan of headrests; this studio chair is functional and beautifully simple. The ventilated curved back provides lumbar support, and the height and angle are fully adjustable.
The chair comes in many snazzy colour options, including purple, orange, red and blue mesh with a white frame. Perfect for gaming, studio sessions, computer work, the whole caboodle.
Pros & Cons
---
Not just for your office, this mesh desk chair will be a comfortable ergonomic gaming chair for online gamers and video game testers. Offering up a 3-paddle control you'll reach your desired comfort in this executive office chair
[_Our chair conforms to ANSI/BIFMA standard X5.1-17_] Contemporary executive chair offers superior comfort
Ventilated curved back provides lumbar support, adjustable back height, back angle adjustments with infinite lock positions
Tilt lever - push in to lock in an upright position; pullout to activate rocking motion, while tilt tension knob controls tilt resistance
PRODUCT MEASUREMENTS >>> Overall Size: 25.75"W x 27.5"D x 36.75-43.5"H | Seat Size: 19"W x 17"D x 18-23"H | Back Size: 17.5"W x 19-21"H | Arm Size: 27-31.75"H from floor; 7.75-10.25"H from seat
---
Why is it so important to pick a good Musicians chair?
For a typical music producer, beat maker, or the like, you spend many hours in front of a computer while in the studio. Whether you're mixing a song or recording a guitar track, you're more than likely going to be sitting in a chair.
Many music producers complain of having neck pain, back pain, hip pain, and more from spending long hours in the studio sitting in a less than ideal chair for them. I can attest to this, as I have developed back and shoulder pain from slouching over a studio desk while I was seated on a couch.
Diving deeper into all this, the pain you get from sitting, leaning, bending, and reaching towards your desk can cause specific issues, not just overall joint or muscle pain and malaise. These specific physical ailments are classified into a type of disorder called musculoskeletal disorders (MSDs). Musculoskeletal disorders affect the body's movement, so your muscles, tendons, ligaments, joints, blood vessels, nerves, and discs can all be affected. Musculoskeletal disorders can vary in different levels of severity, extensiveness, and pain.
Some examples of musculoskeletal disorders include:
Tendonitis,
Frozen Shoulder,
Tension Neck Syndrome,
Degenerative Disc Disease,
Mechanical Back Syndrome.
What causes musculoskeletal disorders?
There are two categories of risk factors that lead to musculoskeletal disorders: ergonomic risk factors and individual risk factors.
Ergonomic risk factors
Ergonomic risk factors are related to the body's specific movements and the actions and force that cause the muscles and joints to fatigue, eventually causing MSDs. Ergonomic risk factors can therefore also be called work related risk factors.
Bad posture – Slouching and slumping over your desk or midi keyboard causes pain from excessive force on your joints and muscles.
Repetitive movements – Tasks like repetitive mouse movements, playing an instrument, or mouse clicking can contribute over time to MSDs.
Force – Tasks that require a great amount of exertion from high force loads increases muscle and joint fatigue, so if you frequently move heavy studio equipment you are prone to MSDs.
Stress – Stress can also contribute to MSDs if you work in an especially stressful environment or put yourself through unnecessary stress in the studio.
Long work hours – The longer you stay in the studio in front of your computer, the more prone you are to getting a musculoskeletal disorder. Long work hours cause fatigue on top of all the tasks you do during those hours.
Individual risk factors
Individual risk factors have more to do with your individual lifestyle and the choices you make on a daily basis.
Poor work practices – Things like overstretching trying to reach the gear on your desk, reaching for the mouse for hours, or using poor lifting techniques when lifting gear can lead to MSDs.
Poor overall health habits – Things like smoking and drinking also make one prone to getting MSDs along with other chronic diseases.
Not getting enough rest and recovery – Being in the studio for days at a time without sleeping, or hours on hours of sitting at your desk day after day can absolutely wear the body down fast and progress the speed of developing an MSD.
Poor exercise, nutrition, and hydration habits – If you don't try to eat healthily, stay hydrated, and get out of the studio and go for a walk, you definitely should as bad diet and exercise habits set you up for plenty of MSDs.
Genetics – Some people just have bad muscle and joint problems that run in their family. Producers with relatives who have MSDs in their family should definitely be cautious of developing an MSD if there is a chance that any are hereditary. Genetics on top of prolonged incorrect posture and other habits make up an awful recipe for joint and muscle issues.
Getting the individual risk factors under control can improve how you feel immensely, but working in a studio is taxing on your muscles and joints regardless, which means you still need a good studio chair even if you have your individual risk factors managed.
When seated in a more ergonomically designed studio chair, many producers have reported that they feel much better, both physically and mentally, if they have to sit at a computer in the studio for many hours. This is because their body is being supported in an ideal manner that does not cause any extra stress to the musculoskeletal system.
Overall, the main reason why it's so important for you to pick the right studio chair for you is that it will be easier on your body and better for your health.
The advantages of sitting in the ideal Musicians
Let's break down some of the health benefits that picking the right studio chair can give you as opposed to a random chair from your local department store or something like a chair from a dining room furniture set.
Advantages
Decreases fatigue: Sitting in an ergonomic studio chair can decrease fatigue because your body doesn't have to work as hard to support your joints as much as it would have to in a non-ergonomic chair.
Alleviates back and neck pain: An ergonomic studio chair helps to alleviate neck, back, and other joint pain due to the design. The design of these chairs usually features an adjustable seat back with lumbar support for optimal comfort.
Increases overall productivity and efficiency: If you're feeling good while sitting in your studio chair, you're likely not going to feel as sluggish, and therefore you're more likely to be more productive than you would be if you were seated in a non-ergonomic chair.
Improves focus and reduces distractions: Being in pain is distracting. If you're uncomfortable in your studio chair, you won't be able to focus on your work. Rather than taking pain meds for joint pain while sitting, an ergonomic chair will reduce that pain, thus reducing distractions keeping you from making music.
Disadvantages
The list of disadvantages of a good studio chair is much shorter than the list of advantages, there's really only a couple big ones that stand out.
Expensive: Ergonomic studio chairs often come at a pretty steep price point, which is really the only disadvantage there is when buying a studio chair. Producers with a lower budget will suffer more, but there are still some cheaper alternatives that are very comfortable and ergonomic.
Size: A lot of studio chairs can be big and bulky, ergonomic models including. This can be a disadvantage if you have a bedroom studio or a small studio in general, or even if you just have a big studio with not much extra space due to other furniture and gear.
Personal health advantages of using an ergonomic Musicians
The personal health advantages of using an ergonomic studio chair are aplenty, ranging from fatigue alleviation to pressure relief. The following is a list of some other health benefits you will likely get from sitting in a more ergonomic chair for your music studio.
Alleviates neck and back pain,
Alleviates fatigue,
Increases energy and focus,
Alleviates joint inflammation,
Alleviates pressure on bones,
Provides proper lumbar support,
Encourages better posture,
Prevents headaches or migraines,
Prevents muscle or eye strain,
Relaxes the body,
Increases productivity and efficiency,
Prevents musculoskeletal disorders (MSDs) and alleviates pain from them.
What elements you should look for in an ergonomic Musicians?
A few elements you will almost always see in the design of ergonomic studio or office chairs are the following:
Lumbar support,
Mesh or supportive backing,
Wheels.
These design features are becoming more popular as more and more music producers are emerging on the scene and more new ergonomic chairs are introduced.
There are a few things you should look for in a studio chair. Some of these things are more of a preference, but others are definitely something you should prioritize.
Sturdy yet flexible backing – necessary in order to properly support your spine as you move. Many times this backing is a mesh material that is durable with plenty of give to mold to your body.
Lumbar support – great for adding extra support to your middle or lower back.
Sturdy yet comfortable seat – provides comfort and cushioning when sitting for long hours so you don't feel stiff and uncomfortable.
Adjustable height – essential to reduce eye strain.
Adjustable arm rests – great for when you have to record guitar, you can just fold them away or push them down.
Adjustable headrest – ideal for supporting your neck.
Reclining seat – adds a ton of comfort if you want to sit back farther.
Chair that moves with you – a chair that responds to your body movement (whether it's just the seat material or the whole chair itself) is going to give you much more comfort and pain relief than a stationary chair will.
Self locking casters – A great feature that is especially useful when getting up out of the chair or sitting down to reduce strain.
Durable and comfortable materials – For maximum support, comfort, and chair longevity, make sure you select a chair that has durable and comfortable materials, whether it be foam, mesh, hard plastic, or metal. Breathable material will keep you cool while seated, materials like aluminum won't rust but steel will.
Quick buying guide
When you go to buy a new studio chair, ask yourself these questions to help determine what you need in a studio chair. From there you can do your research based on your answers.
How much do I weigh? – A bigger or heavier person should be in a bigger chair and so on and so forth to get the ideal amount of body support needed.
How much space do I have in my studio? – How much space you have in your studio will dictate just how big of a chair you can get.
What are my problem areas? – Someone with back, hip, and neck pain will most definitely benefit from an ergonomic chair, so if you specifically have pain in these areas you will find plenty of options for joint and muscle support features, like lumbar support or adjustable headrests.
How much time will I be spending in this chair? – Long hours in the studio mean you'll likely want something that is extra cushiony or can recline. Short back chair models are more ideal for shorter studio sessions.
Will I be more stationary or will I need to move around a lot in the studio? – If you prefer to be more stationary and stay in front of your desk, a chair without wheels or a chair with locking wheels may be ideal for you. Otherwise, get a rolling chair.
Is my studio carpeted or does it have hard flooring? – Chairs with wheels work fine on hard floors, of course, but there are also wheels that are made to roll on carpet, and there are wheels that will roll fine on both. If you have carpet but don't want to spend the extra money on wheels made for carpet, you can get an office mat.
What gear will I need to be able to access while seated? – You will need to ensure that your chair will support you when you're reaching but also not get in the way of anything when fetching gear.
Will I need or want arm rests? – If you are going to be spending long hours in the studio, you'll probably want arm rests, however, if you're a guitarist you'll need a chair with arm rests that can be swiveled out of the way. There are also many chairs that don't have them at all.
How long will I be keeping this chair for? – If durability is what you want, look for chairs with hard plastic and metal, or specialized synthetic materials designed for the chair in question. If you don't plan on having this studio chair for very long or want a secondary chair, it is more reasonable to spend less on a less durable chair.
Answering these questions can give you a good idea of what you'll want and get you started on purchasing a good studio chair.
Remember that you won't find all the features you need in a single chair, you will have to give and take here and there and you may have to be willing to make sacrifices. If you can't find a chair you like, you may consider exploring the option of finding someone who makes custom studio chairs. That way you will be able to get everything you want and need for it. Sadly, this is a more costly option, so it is usually better to just get something from a retailer.
If you really want an expensive studio chair but don't have the budget for it, don't forget to check out used or refurbished models on Amazon, eBay, or even a local music store.
After your purchase
After you've made your final decision and your chair is about to be delivered or picked up, before it has arrived, make sure your studio has ample space for you to assemble it (if you ordered it online) if need be.
Make sure everything is organized and cleaned up so that you can get right into using your new chair without any hassle. If your floor is carpeted, you may want to put down a hard office mat to ensure that the chair moves fluidly.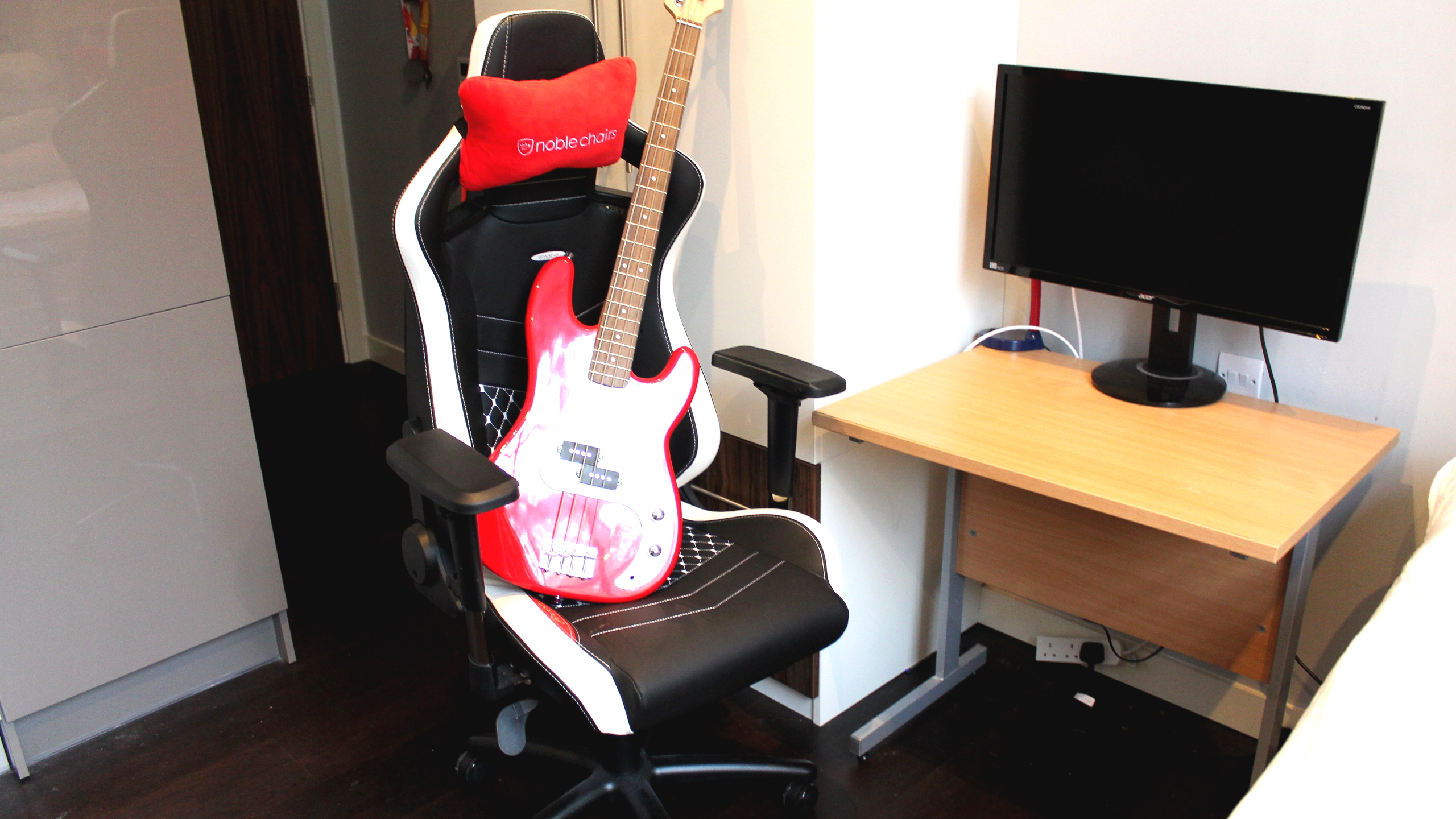 These reviews of the best studio chairs available in 2022 and guide on their advantages and how to pick them will give you enough information to go out and start doing your own research. Remember to reflect back on the information you've read here and utilize the bulleted lists in the guide to help you organize your thoughts when narrowing down options.
A good studio chair is a fantastic investment for your home or bedroom studio, one I highly recommend. Be sure to check back with us soon for more high-quality information on the top music production gear, software, and furniture available!
WRAP UP
Best Chair for Musicians – You know how it goes; by nature, we musicians, producers and engineers tend to lose track of time when working on a project in the studio.
Before you know it, you've been sitting down in a chair for hours on end at a time. This slowly and steadily leads to poor posture and nagging aches & pains.
On top of that, there are the long hours spent sitting in a car or van travelling between gigs. This creates the perfect storm for making back and neck pain.
To help you become pain-free and more productive at work and play, We've found some of the best ergonomic and lumbar support chairs for you to look at.
Don't scrimp on this one. Remember – buy cheap, buy twice. Once you invest in a good quality studio chair, you'll wonder why you waited so long.