Best Chair for Nail Clients – Nail technicians must sit for long periods, so having the best chair available is non-negotiable. A nail tech chair with back support is vital for your well-being and ability to perform your job with excellence.
Most people experience back pain. When the pain is severe, it is aggravating and debilitating, preventing you from working. With many chair options available, you can find one that provides back support while also being stylish and versatile.
Before diving into fantastic options for nail tech chairs, here are three tips to consider when finding the best chair for you and your salon.
Table of Contents
ROUND UP
1.MAYAKOBA Chair
This is a smart looking, professional quality stool. The chrome plated finish, and acetone resistant vinyl covers would look great in any salon setting. The back is nicely supportive, but doesn't interfere with the full maneuverability, which, thanks to the five heavy duty wheels, is smooth and effortless. Suitable for either client or manicurist, it's well padded, fully height adjustable and completely stable.
Pros & Cons
---
Chrome Trim, Easy mobility with 5 easy glide casters
Ergonomic backrest design ensures comfort while working long hours
Minimal assembly required. Manual included and assembly video available.
Adjustable height: 13" to 15" from the floor to the top of the seat
300 lbs. Weight Capacity provided by strong metal frame and base
---
2.DevLon NorthWest
This is another multi-functional chair that can be used in medical offices, salons, spa and as well at home. It is lightweight, very comfortable with a 360-degree swivel.
This chair also has a lever system in place at the back. This lever can be pulled anytime to adjust the height to your taste without stress.
Another thing that set this chair apart from other chairs is that it's made with PU leather with foam inside and it's very easy to clean. There is also an extra 2 inch of padding added to the seat for comfort.
The added padding helps keep you or your client comfortable for a long period of time. There's also a caster wheel in place for you to slide effortlessly thereby putting the 360-degree swivel in use.
The stool is available in 7 colours ( White, grey, light grey, turquoise, light brown, black and light pink) so there are different choices for you to make with a maximum carrying limit of 225 lbs.
Pros & Cons
---
*THIS STOOL IS LIGHTWEIGHT AND PRACTICAL AND EASY TO ASSEMBLE. THE SCREWS AND TOOL NEEDED IS INCLUDED IN YOUR BOX.
*EASY CLEANUP PU LEATHER AND COMFORTABLE 2 INCHES OF PADDING ON SEAT PROVIDES SUPPORT WHEN SITTING LONG PERIODS.
*PERFECT FOR SALON, MEDICAL OFFICE, SPA AND HOME USE. ADJUSTS SMOOTHLY WHEN THE LEVER HANDLE IS PULLED.
*SLIDE EFFORTLESSLY WITH 5 CASTER WHEELS THAT ALLOW YOU TO GLIDE WITH EASE AND UTILIZE THE 360 DEGREE SWIVEL.
*W 14" D 16" H 21"-31", WHEEL BASE 18", SEAT DIMENSIONS 13" X 13", SEAT HEIGHT 19"-27", WEIGHT LIMIT 225 LBS.
---
3.Yaheetech Chair
Having a manicure chair whose seat height can be adjusted with the lever attached at the back from 19.7'' to 25.2'' in your salon indeed makes a difference.
Well, if you think it doesn't then you need to have a rethink. When a stool can be adjusted to a certain height, then that stool can be used for various needs and that's precisely the reason you need this chair.
This chair is powered with 5 heavy-duty swivel caster for effective movement around your salon with a rubber wheel that helps prevent against scratches.
Its base is of chrome steel build to resist rust and corrosion which makes it durable. The seats and backrest are also made with quality foam and covered with quality PU leather to give you that maximum comfort you need.
Another thing worth mentioning is that this chair is multifunctional. What does it mean to you? It means that it can serve different purposes. It can be used at home (even in the offices, in beauty salons for manicure or pedicure.
Pros & Cons
---
High quality: the salon stool is made of high quality steel and sponge material, sturdy and durable to use
360°Swivel: the seat can be 360°rotated, you can fetch things or chat with others without moving, super convenient stools to have in the kitchen or at the bar
Adjustable height: the seat height can be adjusted from 46.5 cm/ 18.3'' to 61cm/ 24'' by a simple lifting at the handle under the seat, which can meet varied needs
Heavy duty: built in solid structure with high weight capacity up to 264.6 Lb
Versatile: counter height stools perfectly suit your kitchen counter, also works great in the massage shop, bars, pubs, cafe and so on
---
4.Boss Office
Boss Office Products is an office furniture brand that has been around since 1990. It was first established in Los Angeles, California by William Huang. They started their business by importing chairs from Taiwan and handling the distribution in the United States.
In 1991, the company was the first US office chair company to set up their own manufacturing plants in China. This location was called Choaya Boss Furniture and is composed of 2 separate sites with over 1 million square feet of space between them.
Today, Boss Office Products is a MAS Green Certified Company with a vast selection of furniture. Whether you need chairs, desks, or a new front desk in the lobby, they have you covered.
The subject of this review is their Deluxe Fabric Task Chair, which comes in several colors and options for different armrests, or none at all. It includes an ample amount of padding, and several adjustable features to ensure it suits your needs.
Below you will find a more in-depth look at each of this chair's features and the benefits they provide.
Pros & Cons
---
Ergonomic design Emulates the natural Shape of the spine to increase comfort and productivity.Product Width: 24″, Product Depth: 24″, Product Height: 33.5″, Max Product Height: 39.5″ Back Height: 9.75″, Back Width: 16″, Seat Depth: 16″, Seat Width: 16″, Seat Height: 20.5″-26.5″ H
Upholstered in durable Cares soft vinyl for easy maintenance and cleaning
Adjustable Seat Height with a 6" vertical Height range
Attractive chrome Finish on the base and gas lift
Dual wheel casters allow for easy movement
---
5.KKTONER Swivel
360 swivel stools:360 degree rotation with 5 rolling caster wheels,wheel diameter is 17.3 inch. Adjustable stool: Seat Height adjusts from 18.1 to 24.4inch,cushion diameter is 14.4 inch. COMFORTABLE leather stool rolling: Cushion Made of high quality PU Leather with Sponge,Hold up 300lb. Easy assemble and clean pedicure stool : Assembly completed in 5 minutes,easy to install and clean. The Rolling Stool with Back Rest—ideal for Work Home Tattoo Massage Facial Shop SPA Medical Salon
Pros & Cons
---
Drafting chair:360 swivel and seat height adjustment from 20.7 to 26.8inch, the footrest can also be adjusted
Style:Unique design creates the Drafting stool an industrial look and sleek contemporary style
Easy to assemble :Assembly completed in 5 minutes
Comfortable 3.9 inch thick and 14.2 inch diameter cushion made of PU, Holds up to 300 lbs
Rolling Stool without Arms ideal for Work Home Kitchen Shop SPA Salon Bars Beauty
---
6.Henf Multi-Purpose
This comfortable office chair is made of high-quality PU leather which makes it more good-looking and easy to clean. The simple, classic and nice appearance improves the over-all quality of your office.
This multifunctional chair can 360-degree swivel. By using the tilt tension knob under the chair, you can recline the chair for 90° to 135°, and rise the chair from 16.1 inch high to 21.3 inch. It means you can adjust the chair to suit any positions you want to make you more comfortable and relaxing.
The thick waist pad is made of springs which makes it more soft and elastic to bring you extra comfort while sitting. The cushion is filled with high-density foam and has a waterfall-style seat edges which can reduce your leg pressure all day to make you feel comfortable even if you have to sit for several hours.
This chair has a heavy duty base and nylon rolling casters. The heavy metal tripod with a maximum load capacity of 300 LBS and the high-strength PU casters roll quietly and can prevent the floor from scratching.
All accessories of this chair are easy to be assembled. You can complete the assembly under the instruction of the manual with the necessary accessories. Delivery from local US warehouse, package usually arrive within 5-15 days.
Pros & Cons
---
★This Bar stool with backrest is made of high quality PU leather & sponge & iron plating chrome material, durable and safe. Please pay attention to its size before buying this stool. 13" x 13" x 27-33" (L x W x H)
★This barber hairdresser stool features five casters with strong metal base, which is easy for you to move around firmly
★This swivel drafting stool is designed according to ergonomics,which is very comfortable.Weight capacity: 250 lbs
★This beauty salon spa stool will be shipped from US directly with 4-7 days arriving in normal (If you receive defective or damaged items, you can offer us pictures of the damage items. We will provide replacement or refund)
★Compact design makes this lifting pub stool ideal for use in small spaces where extra seating is needed, such as hair and beauty salons, tattoo studios,medical place or anywhere else a chair like this may come in handy
---
How to Find the Best Nail Tech Chair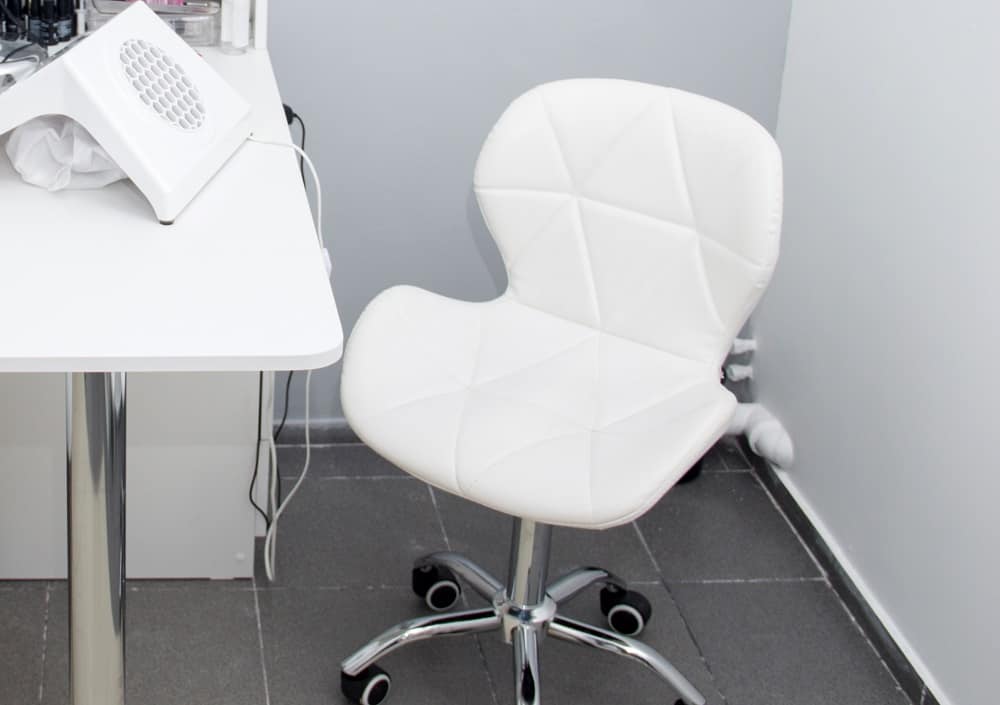 Here are three critical questions to ask yourself when searching for the right nail tech chair.
Is the Nail Technician Chair Comfortable?
Comfort comes first. You only know how comfortable the chair is if you can sit in it, so try to test out the chair before buying.
Make sure the chair keeps your spine in proper alignment. A well-designed chair allows your lumbar spine to maintain a slight curve while being fully supported.
Furthermore, the back and base of the chair should be well cushioned. You want supportive padding that will maintain its comfort and density over time.
An ergonomically designed chair must also be the right height for your work surface. Double-check that your chair has a pneumatic adjustment so your feet can maintain complete contact with the floor.
Is the Nail Technician Chair Attractive?
Salons are about creating beauty, and customers want to be served and pass their time in an attractive and pleasant environment. Therefore, your furniture and decor choices are critical to the customers' first impression and overall experience.
Look for chairs that are chic and stylish. At the same time, they must coordinate seamlessly with the overall look of the decor of your nail salon.
As you look for your chair, consider the design and color. Ask yourself whether it enhances your space.
Is the Nail Technician Chair Functional?
Finally, consider whether this chair makes your job easier to perform. A manicure chair should be made with durable, easy-to-clean material.
Nail tech chairs also need to slide smoothly, so you have the mobility to move to a new station, grab supplies, and navigate around the salon.
In summary, be sure to consider your personal needs, the salon aesthetic, and functionality when selecting the perfect chair.
In conclusion, salons need to provide excellent nail services and exceptional customer experiences. Nail technicians are a vital part of the client experience and must ensure they take care of their health in every way.
Correct posture is key to maintaining spinal alignment, avoiding injury, and feeling your best. When you sit for most of the day, the only way to ensure proper posture is to have the correct type of chair.
Finding a chair with adequate back support helps you as a nail technician; it also means your clients will receive better service.
There's no point listing the best of manicure chair if we didn't put so many things into consideration. We know and understand that some chairs are way too pricey and some are just below standard, for these reasons, below is a sum up of the things we considered for any item to make it into our list.
We looked into the features of each chair listed out here and we went after only those that favour both the nail tech and also, the client.
We also looked into the prices of each of the chairs and also, the comfort you're likely to enjoy and picked that which provides maximum comfort only so you're assured of comfortability should in case you go on to make a purchase after going through our list.
No doubts, There may be lots of manicure chairs online but the truth is, only a few are made with quality materials and we don't want you to go through the stress of testing all of them out and having to waste money in the process.
So to avoid this, we've gone one step ahead, for you to bring you all of the best, in one place, just for you. We sourced through forums, chats, social media and of course, your favourite online store – Amazon and what we found we be made known to you in the next heading.
Even if you don't find our list convincing enough, you can as well look through to get an idea of what a perfect manicure chair should look like which will obviously help you when next you want to buy a manicure chair or stool for your salon.
The first thing you should consider before buying a manicure chair is how much you have with you. Having a set budget will enable you to plan things according to your capacity.
If you're someone with a tight budget, then there are places you can get a good quality manicure chair at an affordable price without breaking the bank. One place to get these chairs is on Amazon.
Also, even though you have the money to invest in some high priced manicure chair, it's also good to read reviews like this to get an idea of what you intend to buy.
Everyone wants to invest in a chair with back support and I'm sure you too want to but unfortunately, not all manicure chair has this feature in place. They are quite a few without back support and there are also those whose backrest are well cushioned.
But in all, the presence of a backrest in a stool gives the user some level of comfortability as it provides rest to your back and helps keep your spine at rest. So whichever chair you wish to go with, ensure that there should be an excellent support system in place.
The material is another thing you need to look into before you make a purchase. Does the chair has adequate material covering the stool?
Are the material cushioned or soft? What about their durability? Is the materials leather or just fabrics This are some of the things you should be asking yourself because buying a stool with poor coverings can ruin your client's manicure experience.
Also, you should be aware that not all materials are easy to clean. A stool covered in PU leather can be easily cleaned than the ones covered with fabrics.
The presence of a lever at the back of a chair is what determines how much a stool can be adjusted. Although, majority of the chairs you're most likely to find has this hydraulic lift system in place but try to note the height to which the seat can be adjusted to as different stool has its own limit.
Some can be adjusted to a height of 15 inches, others like the one from AmazonBasics can be adjusted up to 25 inches.
Wheels or caster enables the chair to move smoothly however, there are still a few stools whose wheel are not properly fitted making it hard for them to be moved. So it's best that you put that into consideration as well.
It is surprisedly to note that majority of the stool these days lacks this feature but if you eventually find a manicure chair with a brake system in place, that's a good sign that you've found a gold mine, go for it.
This is something a lot of people don't pay attention to but here's something they might be missing. A manicure stool with stainless steel or chromed frame hardly rust and doesn't hold stains as well. So consider this as well before making a purchase.
Another thing on this list of items to consider is the carrying capacity or seat weight. This chair has varying degrees of weight they can carry. There are some that can carry weight more than 200 lbs others may not be able to. So try to know the carrying capacity of the chair you intend to buy for your salon.
If you want something catching and at the same time appealing and comfortable then you need to pick a style that will add complement to the look of your salon.
Also, when picking a style, let the end-user which is your client be in your mind. If you go after a style that looks appealing to your client and that which provides maximum seat comfort for the duration your client will stay.
It doesn't matter if it's a retro or classic style, just be sure that the style gives your client that homely feeling and once this is put in place, it will encourage more returning client.
As you already know, these chairs ain't build the same, some are a bit bigger why some are just the perfect fit. But whichever the case may be, before you proceed with ordering for a manicure chair, always consider the available space left in your salon. Don't go and buy a chair that would end up taking all the space in your salon but rather, buy only that which will fit and doesn't consume so much space.
What Are The Best Manicure Chairs?
Any manicure chair irrespective of the type that can provide you with enough comfort for a long time, has a backrest and of course have a caster system in place can be a good option.
How Much Weight Can A Manicure Chair Hold?
The amount of weight or capacity a manicure chair can carry varies with each chair model but on average, they can carry around 150-350 lbs. To be sure of the carrying capacity of yours, check the instruction manual of your chair.
Weight Limit, Does It Really Mean A Thing?
Yes, a weight limit is the recommended amount of weight a manicure chair can carry without damaging it so it's important that you know the limit the chair can carry.
If someone that weighs more than the recommended limit set by the manufacturer sits on such chair, it might void the warranty covering your chair and damage them completely.
How Many Manicure Chair Should I Own?
There isn't a universal answer to this question but here's the deal. You can own as many stool you want depending on the available space plus your budgets.
If you're just starting out, owning a few manicure chairs isn't a bad idea. If you intend to start big, then it's fine if you want to buy as many chairs as possible.
Having manicure stool is a great addition to any nail salon. This chair gives comfort to the manicurist and as well keeps the client happy.
When buying your manicure chair, certain things must be considered so that you don't end up buying what you don't need.
Check to see if there is an adequate support system in place, the materials used, is it adjustable and the most obvious, does it have a 360-degree swivel seat? All of these is what you need to look into.
But in all, a good quality chair should be able to provide you and your client the maximum comfort you need plus a backrest to keep your spine in shape.
I hope we've been able to provide you with a complete guide to buying a manicure chair? If so kindly do us a favour by clicking on the SHARE buttons located underneath.
Now over to you? Which of our recommendation do you find amazing and which do you want to purchase right away? Let us know in the comment box if you need any further assistance.
Before we start, I want to mention my logic of choosing candidates for this list. I believe that there are four key aspects at which you have to look especially close while making investments in your lovely salon:
Surface material. One of the most important factors that undoubtedly affects the quality and appearance is the upholstery material. Low-cost models usually use poor quality material, so it quickly loses its appearance.
That is why the quality and type of material should be considered with extreme carefulness. It should also be borne in mind that, like any other equipment, chairs also need to be periodically cleaned and disinfected. The best and most durable options are high-quality synthetic leather or vinyl leather.
Chair carcass. An equally important element in the design of a hairdressing salon chair is its frame. In cheaper versions, plastic is used, but it is better to choose from the models with a metal carcass. They are more expensive, but they can withstand a bigger load than plastic ones.
The frame may also have wheels that are quite convenient for transportation. But it is quite tough when your client rolls away around the place. That is why stationery options with a round or square base are selected more often.
Lifting mechanism. This small detail often has the greatest percentage of the cost of the entire chair. The most common and reliable options are pneumatic and hydraulic systems, which are very convenient to use.
There are also electric lifting mechanisms but I don't recommend them due to their expensiveness and insecure construction. And in the case of hydraulic mechanisms, there is always an option of changing broken details due to the simpleness of such systems.
Design. Feel free to argue with me, but I personally love old school design solutions when it comes to hair salon chairs. If we are talking about a men's barbershop, then you certainly have to look for classic black chairs with comfy back.
For a women beauty salon, you have a wider range of color solutions, but I prefer when the hair salon chair design reminds of old vinyl salons (which is a wide-spread trend if you know). Nonetheless, I've tried to be objective and added various types of chairs so you don't have to stick with my point of view.
Choosing the best salon chair can be a great disaster if you don't know where to look. Luckily, this is not the case if you are familiar with goods on my list. All of the above-mentioned chairs show great performance and solid quality.
If you are trying to figure out exactly which product suits you the best, you have to consider some points. First of all, if you are looking for such single-purpose things as dryers or hair washing machines, they are represented by single options in my article (BR Beauty and Ainfox chairs respectively).
If your task lies in finding the best salon barber chair for general barber procedures, you have to look at significant features of each product which I've distinguished before my Top 15 list. So, you have to look at surface material, base construction, height pump quality, etc. And then just compare how many useful functions you get for each price. Figuring out the most functional chair should be an easy task if you make these simple calculations.
WRAP UP
Best Chair for Nail Clients – Remaining seated for hours as you tend to client's nails can be tiring; however, as a nail technician you need to be able to move around the client, or indeed, move them, so sitting in a normal, static chair just won't do. Luckily, there's a solution – chairs specifically designed so that both the nail tech and client are fully swivelable.
Like pedicure chairs, a manicure chair, or stool, is the perfect addition to any nail salon, and there are plenty on the market. But you want your salon to stand out, both in terms of the quality of service your clients receive, but also for a high standard of style. So, it pays to take your time choosing the best chair for you, your salon and your clients. Most importantly, your manicure chair should be the right fit with your manicure table to give you maximum comfort. The best manicure tables for sale will indicate the type of chair you need.