Best Chair for Napping – You may find yourself stuck in your office overnight, or becoming quite fatigued by lunchtime, needing a short nap. There is also the chance of house guests arriving unannounced, leaving you with the chair to sleep on.
Whatever may be the reason for an overnight or power nap on your office chair, the fact that remains, is that you will need a very comfortable and well-designed office chair, in order to get sufficient rest, that does not leave your body with aches and pains.
You don't have to be like  George Costanza from Seinfeld if you to want to grab a quick nap during breaks at work.
Truth be told, there are a lot of productivity benefits to grabbing a "catnap" at the office – so much so that plenty of workplaces are encouraging their employees to grab a little bit of shuteye (15 or 20 minutes at a time) halfway through the day to give them a bit of a boost.
Employees that grab a quick nap report feeling more creative, more energetic, and able to overcome problems and obstacles with a lot less mental fatigue – all while pushing back against stress, pressure, and anxiety.
Table of Contents
ROUND UP
1.Duramont Chair
Easily one of the most impressive office chairs designed with grabbing quick naps in mind, the Duramont is super comfortable with picture-perfect ergonomics while in the sitting or sleeping position.
With the ability to recline almost all the way back, you're going to be able to create the perfect sleeping platform with absolutely zero extra effort whatsoever. All you really have to do is swing yourself backwards and the tilting mechanism handles everything else for you.
As solid as they come, this office chair can support up to 250 pounds (even while fully reclined) with zero difficulty at all. Made out of high quality construction materials (including synthetic leather that is highly breathable, soft to the touch, and easy to clean) this is a chair built to last.
The high-back design also provides plenty of lumbar support while sitting or sleeping, and a "waterfall" style seat eliminates pressure points that can build up on the back of your legs.
Nearly silent when moving around, you won't have to worry about waking up any of your coworkers from there naps, either!
Pros & Cons
---
★ UNIQUE WATERFALL SEAT EDGE - The high back design gives you maximum support for comfort and convenience. The chair has soft padding and a waterfall seat edge for less pressure on the back of your legs so that you can stay comfortable even when you have to sit down for hours. Forget about uncomfortable office chairs that make it impossible to concentrate on your work. The Duramont executive chair was designed to give you uttermost comfort
★ FLEXIBLE RECLINING ANGLE WITH RETRACTABLE FOOTREST - You can adjust the office chair any way you need to so that it can accommodate all your comfort needs. The chair has a locking system that will enable you to securely keep the right angle you need to (90 to 155 degrees.) Also, you can pull out the footrest as a recliner for napping and more
★ HIGH-END MATERIALS - We make sure that we use the right materials for maximum comfort and style. The chair is made with bonded leather that gives it a unique and elegant style and makes it the perfect addition to any office. The bonded leather also makes the computer chair incredibly durable and comfortable for the best possible experience
★ STRONG SOLID CONSTRUCTION - The office chair has a heavy-duty Metal base and nylon rolling casters that make it incredibly easy to move around but also keep you steady when you need to work. The chair can withstand up to 250 pounds for best results and is very easy to assemble and set up
★ RISK-FREE PURCHASE - Your satisfaction matters, and this are why we make sure that each chair is flawlessly made just for you. We are confident that you will love our executive chair. Still, if for any reason you are not completely satisfied, our products are backed by a 1-year warranty so if anything goes wrong, just let us know
---
2.Dowinx Chair
One of the most uniquely designed office chairs money can buy, this sleeper model is a gaming chair on steroids.
The ergonomics on this chair are top-tier.
For starters, you have a high-back chair with over molded sides. This makes the chair look a little bit like something that would have been pulled from the front seat of a racecar, but the ergonomics keep you in the perfect position (and help you with your posture) without feeling tight or constricted.
The adjustable lumbar support is a dream come true, too. You'll be able to configure that lumbar support to hit the right spots while you are sitting, never compromising your posture or your lower back health.
At the top of the back rest is a very comfortable pillow that can be detached if you don't want it there. Most people end up keeping it, though, because it makes the fully reclining system such a great sleeper.
The foldout foot rest, the swinging armrests, and the super silent casters all help to make this one of the best office chairs money can buy.
Pros & Cons
---
【NEWLY-ARRIVED】: Extraordinary sitting experience guaranteed by our newly improved linkage armrest and the massage lumbar pillow with a fits-all USB port which helps a lot with easing back pain.
【EVERYTHING YOU NEED FOR A CHAIR】: High level mobility supported by a 360-degree swivel and ultra-smooth caster wheels; 90°-165° reclining for working, gaming, reading or napping; 20° controllable rocking and retractable footrest for relaxing; Up to 350 lbs capacity, adjustable seat height, highly flexible head pillow and lumbar support.
【FOR NOT ONLY GAMER】: The trustworthy wingback provides multi-contact for releasing your lumbar pressure while your spine is also well protected by the neck pillow. Plus, the retractable footrest and the re-designed soft wing frame further upgrade your sitting experience.
【STURDY CONSTRUCTION & ECO FRIENDLY MATERIAL】: Alloy frame covered in quality hand-sewing PU leather and 5 inches high density foam. Upgraded LANT gas cylinder and mechanism largely prolong the life expectancy of the chair.
【INSTALLATION AND AFTER SELL SERVICES】Detail instruction manual included in the package. 24/7 customer services team all for shopping experience. One-month replacement services and 1 year parts quality warranty as promise.
---
3.Office Chair
Pros & Cons
---
COMFORT FROM EVERY ANGLE - Our brand-new ergonomic racing chair is thickly cushioned for maximum comfort, whether you're spending long hours at the office, in front of the computer, or gaming. Covered with breathable premium PU leather, the chair is equipped with freely adjustable lumbar support and a headrest pillow to protect your spine and neck, while the adjustable reclining feature allows users to lock in any reclining position, from 90-155°.
BUILT FOR ALL-DAY COMFORT - Bucket seats provide extra comfort for those long working days, with an extremely comfortable back that molds around and supports your spine, while freely adjustable lumbar support and a cushioned headrest pillow protect your spine and neck.
ERGONOMIC DESIGN - Our chairs are designed to last, with ergonomic construction, and BIFMA-approved heavy-duty metal base, sitting on nylon smooth-rolling casters that swivel 360° for maximum mobility and support up to 250 lbs.
EASY ASSEMBLY – Our chair comes ready to assemble, with all the hardware and necessary tools. With step-by-step instructions, you'll be set up and ready to game, take on the office in about 10-15 minutes!
CUSTOMER GUARANTEE – We want all of our customers to feel 100% satisfied. If you're not, or have any questions, please contact BestOffice customer service.
---
4.Hbada Chair
Made with the modern office in mind, adjustability, sleep comfort, and overall temperature control are the real standout features with this office chair designed for napping.
In the adjustability department, you're going to have the opportunity to control and configure pretty much every aspect of the way this chair is set up. You'll be able to move the armrests, the backrest, the independent had breast, the extendable foot rest, and most every other piece of this chair until you get it exactly where you want it.
The breathable mesh upholstery material guarantees you won't overheat in this chair, either.
Anyone that's ever worked in a warm office knows exactly how hard it can be to get comfortable just working in heavy, thick chairs – let alone trying to sleep in one, too.
With this Hbada chair, though, that's never going to be a problem.
The fact that you can recline the back of this chair all the way to 150° is a game changer. You'll be able to create the perfect sleeping platform for getting a quick nap in whenever you like, bouncing back to your standard position when you need to get back to work.
Assembly on this chair is relatively straightforward. You'll need tools you likely already have on hand (the process from start to finish takes about 30 minutes alone), but everything is really intuitive.
At the end of the day, this is a strong, stable, and relatively affordable option that works well whether you're sitting or sleeping in the office.
Pros & Cons
---
ERGONOMIC RECLINER - Synchro tilt reclines the backrest increasing the angle between your torso and thighs for a comfortable, ergonomic sitting position. With multiple height, tilt, lift and lock settings for added adjustability, once you find your best position, use the tilt lock function to stay in place
ADJUSTABLE OFFICE CHAIR - Waterfall seat cushion slopes slightly downward to help reduce stress on your legs. Built-in lumbar support and rotatable headrest help you been in right sitting posture for protecting your neck and waist.
BREATHABLE MESH - Contemporary ergonomic black mesh office chair promotes increased air flow, keeping you feeling cool and comfortable during long sessions. Designed to provide you all-day comfort with fully upholstered back, height adjustable seat, armrests and pullout footrest
STABLE & DURABLE FRAME - Steel frame construction ensures durability. 5-star silienced wheeled base allows for quick and easy movement on any surface. Weight capacity of the high back chair is tested to support up to 250 lb for maximum
Customer Warranty Service: Hbada provides three years warranty that is processed in the most hassle-free way possible. Customer-first is the original aspiration of Hbada.No matter what problems you encounter during use, you can contact us. We will provide you with professional services on the product.
---
5.DEVAISE Chair
Perfectly dialed in ergonomics is the main focus on the Devaise, something that it hits right out of the park.
The foundation of this chair is a design principle this company calls the "Ergonomic Human Curve". Everything has been built to support good back health, lessening pressure points, and creating a chair that is super comfortable when sitting or sleeping but also one that boosts energy levels and productivity.
Almost every aspect of this chair is fully adjustable, too.
You can adjust the headrest, the seat cushion angle, the lumbar position and angle, and the extendable foot rest that is attached to this chair as well.
A synchronized tilt mechanism guarantees a super smooth reclining system that allows you to tilt back all the way to 160°, creating that nearly perfectly flat sleeping platform that is perfect for grabbing a quick nap at work.
The breathable material of this office chair is also going to help with temperature control. It's nice not to have to worry about boiling in your office chair when you need to grab a nap, but it's just as nice to know that there's a bit of substantial padding in this chair so that you can stay nice and toasty in the colder months, too.
Keep a small pillow and a light blanket in your desk drawer and you'll be able to grab some great sleep on this office chair with zero extra effort whatsoever.
As far as how it works in the productivity department, the chair tilts up to 90° (with infinite angle stops between 90° and 160° thanks to the locking lever that stops the reclining system) so that you can get work done comfortably, too.
Pros & Cons
---
ERGONOMICS RECLINER: The computer desk chair features Ergonomic Human Curve designed backrest, eases pain on back for everyday use. Suitable for home office environment
ADJUSTABLE CHAIR: Ergonomic reclining office chair with comfortable headrest and seat cushion help to release spinal pressure and make your position comfortable. Adjustable lumbar support can meet needs of people of different heights to reduce pressure
RECLINING SYSTEM: Synchronized tilt mechanism provides smooth, effortless recliner and enables personlized fit, allowing the chair can be locked at any angle between 90-160 degree. 90 degree for working, and 160 degree with adjustable footrest for a sleep
BREATHABLE MESH DESK CHAIR: This task gaming chair with breathable mesh material keeps your back and legs cool and comfortable. Offer a big adjustable seat and armrest with comfortable foam padding
DIMENSION & SERVICE: Over Size: 20.9"L x 20.9"W x 45.7 - 48.8"H; Backrest Dimension: 17.1"W x 29.5"H; Maximum Bearing Weight: 300 lbs. Easy to assemble. For further assistance, please feel free to contact us.
---
6.Vinsetto Chair
Just one look at this office chair tells you everything you need to know about how comfortable it's going to be when you want to grab a nap!
The design is super ergonomic, with lumbar support, a waterfall style front seat edge, adjustable armrests (that are fully padded) and an extendable foot rest that can be completely customized, too.
But the material that this office chair for sleeping on is what really sets it apart from the rest of the pack.
The outer material itself is incredibly soft and almost flocked, kind of like a great pair of sheets or a perfectly worn in T-shirt. It feels great against your skin, feels great when you lay down to sleep on it, and (somehow) still helps with temperature control as well.
The inner material is designed to complement the ergonomics of this chair. Made from high density sponge material (not that dissimilar from memory foam, the kind you probably have in your mattress at home) you'll feel like you are sitting – and sleeping – on a cloud as soon as you pop down on this piece of furniture.
Almost every component of this chair can be adjusted and customized by pulling on a pneumatic lever. You'll be able to adjust the seat height from between 19.25 inches to 22.5 inches and tilt the seatback from between 90° (upright and perfect for working) to 150° (almost completely flat so that you can get great naps in at the office).
The frame of this chair is very well-made and capable of supporting up to 330 pounds. That's almost 80 more pounds of weight capacity than some of the other top options on this list. The casters are strong, the seat rotates 360°, and the movement mechanism is almost completely silent in operation.
Combine all of that with a fantastic warranty and a near legendary reputation for durability from this manufacturer and this chair quickly becomes a bit of a no-brainer.
Those looking for a new office chair that can boost their productivity and still get in a quality nap will want to consider this for sure.
Pros & Cons
---
ERGONOMIC DESIGN: The comfortable office chair is ergonomically designed and padded with high-density sponge to fit your body curve and give you a comfortable sitting feeling.
ADJUSTABLE FOR DIFFERENT USE: To fit your body size and to meet your different needs, this executive office chair has a seat height (19.25"-22.5") and tilt degree (90°-150°) that can be adjusted by a pneumatic lever.
STRONG SUPPORT: With headrest and lumbar pillow, the high back office chair provides you strong support for long-time sitting and working. The armrest and the footrest gives an extra place for your limbs when you want to rest.
360° SWIVEL BASE: This chair for desk is equipped with 360° rotatable seat and five castor wheels for you to move around without getting up.
RECLINING OFFICE CHAIR DIMENSIONS: Overall Dimension: 26" W x 27.25" D x 45.25" - 48.5" H. Weight Capacity: 330 lbs. No additional installation tools required.
---
Best Office Chairs That Recline For Naps Buying Guide
If you're buying a reclining office chair so you or your staff can take power naps to reinvigorate them throughout the day, there are certain things to look out for.
Buy A Recliner!
Well, d'uh, right?
You'd be surprised. There are office chairs out there that recline a little. And then there are office chairs that recline a lot. All recliners are not made equal. Look for a recliner that gives you a good chance of actually napping, rather than one that just tips you slightly backward. That's fun for no-one, because you don't feel relaxed so much as it brings back memories of the dentist's. Avoid, avoid, avoid.
Pick A Pathway
There are two main pathways in terms of office chairs that recline for naps. There's the full-on gamer chair which envelopes the napper in padding and soft leather. Then there's the more corporate, steel and mesh 'office chair with a secret' style, for more commercial office environments.
Pick your pathway and commit to it. Decide what kind of workplace you have, and then go for the most comfort available on your pathway.
Remember The Office
Never buy a reclining office chair just because it gives you good naps. Remember that at least 90% of its working life will involve supporting you in ergonomic comfort while you actually do your job. If you want something that's just good for naps, buy a sleeping pod. Or even a bed. Always balance the choice of a reclining office chair against the reality of its working life.
While there are lots of things you want to zero in on when buying a new office chair designed for productivity and the occasional workplace nap, these are the features you want to focus on most:
You cannot simply sleep in a regular chair. That way, you risk injuring your back. Instead, you need to buy a good napping office chair. In the following text, we'll go over the most important things that such a chair should have:
Reclining Options
Depending on your needs, your chair should recline according to your sleeping patterns.
Footrest
Having your feet up can change your napping game. With a product that has a nice footrest, you'll benefit from better and healthier blood flow, and you'll have a better rest.
Good Padding
For the nap to be effective, you need to be well-rested. And being well-rested is always tied with being comfortable.
So, how are you comfortable? By laying on a reclined chair that is well padded.
Ensure that your model has excellent padding on the headrest, the seat, the back, and the footrest.
Good Weight Capacity
People come in different shapes and sizes. So, this is why the most important thing you need to look after is the weight capacity of your chair. Ensure that it can hold your weight correctly, so you avoid uncomfortable and possibly painful falls.
Stability
Last but not least, your chair should have a strong base and durable casters. In addition to this, proper construction will ensure greater stability and balance on the chair, even in a fully reclined position.
Reclining Capabilities – Sleeping in the standard is next to impossible to pull off unless you are flat out exhausted, in which case you're probably not getting your best work done to begin with. Look for chairs that recline as much as possible.
Height Adjustable – Height adjustability of your chair is going to make a world of difference when sleeping (and sitting) in this piece of office furniture. Look for something with (at minimum) a pneumatic height adjustment lever.
Customizable Backrest – A customizable backrest allows you to move things in and out on the back of your seat, adjusting the lumbar region but also giving you the ability to lay flat when you want to take a nap.
Good Lumbar Support – Speaking of the lumbar region, look for office chairs that have plenty of lumbar support so that you can enjoy better posture, better relief from pressure points, and a lot more comfort in your new chair.
Solid Ergonomics – The ergonomics of your chair should be really dialed in, with just the right amount of seat depth and seat width to feel like you are sitting in your chair rather than being squeezed or pinched by it.
Breathable But Soft – Lastly, it's important to look for a chair that is very breathable to modulate temperature but still plenty soft enough to sleep on. Hitting that sweet spot is going to be a personal mission for everyone, but it's something you want to knock out of the park for sure.
Best Office Chairs That Recline For Naps FAQ's
Why are we allowed to sleep at the office now?
Sometimes, it's better to acknowledge the devil you know than pretend he doesn't exist. Modern office culture can be draining. It's actually more effective sometimes to embrace napping in the office if it refreshes people than it is to fight it and have people only half-awake, listless, and watching the clock. Power napping can improve effectiveness significantly.
Why do we need reclining chairs to nap at work?
Ever tried it in a standard office chair? The likelihood is you'll slump, your spine will bend out of shape, and you'll wake befuddled, woolly-headed and with a crick in the neck. If we're going to allow napping at work, let's do it properly, safely and comfortably.
Which is better for office napping, gamer chairs or mesh?
Better is actually relative. The decision on this will be down to office culture – if people are happy using gaming chairs in the office, go gamer! If they're more commercial offices, steel and mesh is the way to go.
All you need is a good chair for doing so. Just make sure that you actually have a good nap desk chair and that your feet are elevated to the right height. This way, you'll get the perfect power naps.
So, make sure that you have a chair with a good footrest that suits your height. Another thing you should have in mind is the ambiance you sleep in.
We have established that you do need a specialized office chair to take naps in, now let us see what the key factors to look for, in a good office chair for sleeping are;
Find a chair that can recline all the way back, at minimum up to 180 degrees, so that you can lay down completely.
A slide out or hideaway footrest that you can slide out when you are ready to nap, and slide back when you want to work, or need more space.
The chair must offer good lumbar support to prevent backaches and pains.
Make sure that the seat, back, footrest, and armrests are well padded and comfortable enough to rest on.
Similarly, with being to decline 180 degrees, you will moreover require multiple recline positions.
A padded headrest will serve as a pillow, so make certain that it feels like a pillow!
Durability is one of the most important factors, not just for the upholstery but similarly for the frame and padding of the chair.
Office chairs are under normal circumstances covered with leather, which is easy to clean and maintain, and not so bad for sleeping on, whereas breathable fabric could correspondingly be appropriate.
Look for a chair that can hold your weight capacity, as your entire weight will be on the chair when you are in a reclined position.
Divine to have, but not essential, is a rocking function to soothe you to dreamland.
Adjustable height I any office chair is an absolute must, for sitting or reclining.
A high back will ensure that you have that extra length to sleep on, and ergonomic office design will contour, and support your body where needed.
If you want to get proper rest, make sure that you avoid noise and stressful situations – so, if you can back away from your coworkers, you'll be doing yourself a favor. This is also where movable chairs with casters are most helpful.
Lastly, don't forget to get a good desk chair. As you can see in the previous paragraph, there are different features that are important for an office sleeping chair. If you have those in mind, you'll have a product that can easily serve as a nap pod for you.
So, besides the completely heavy-duty reclining chair features, they usually come with leg rest features. Thanks to these, you can feel as if you work in your own nap pod.
What can feel better than being able to straighten your feet while working, gaming, or reading in your favorite office chair? Probably. And think about how you could also squeeze in a power nap whenever your body asks for it. You can do it all with a high-quality reclining office chair with a retractable footrest.
Here's our comprehensive guide to the best recliner desk chairs with a footrest, their features, and benefits. Make sure you examine it thoroughly before deciding to purchase your first recliner computer chair and finally let your feet rest while working or playing video games.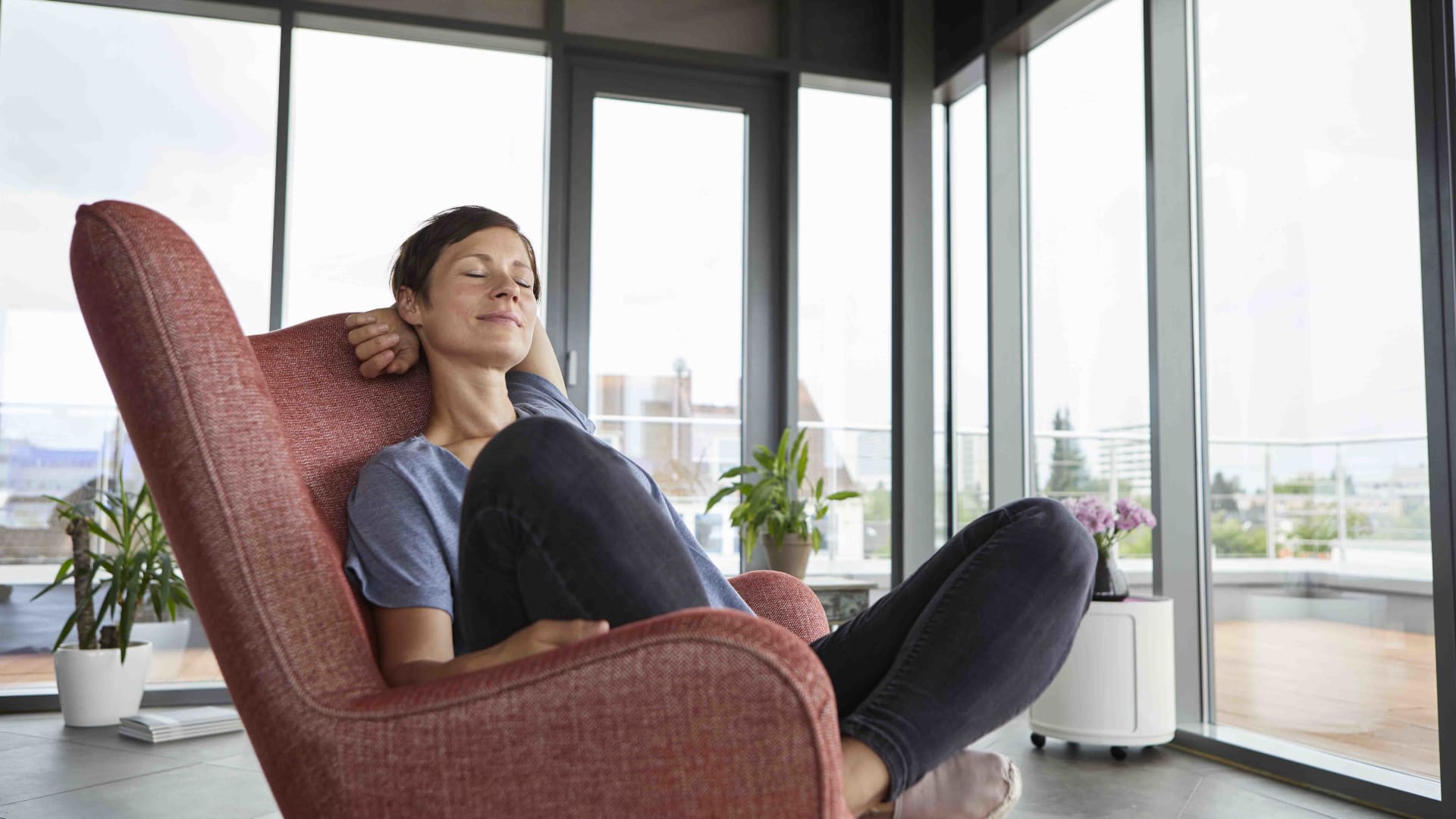 Of course, their purpose is to serve as chairs you can work in. They offer comfy sitting just as the best office chairs too. Depending on the type and the brand, some have high-end features.
Consider an investment in the high-quality office recliner chair with a footrest as a contribution to your daily comfort. Whether you spend hours working, gaming, or reading in your chair, having a nice padded footrest will help you feel more relaxed and less stressed. Plus, it can also help you take better care of your body.
With the multiple adjustable features and big padded seat, a recliner office chair with a footrest will take your home office to the next level. So, don't hesitate to take your time before opting for one.
WRAP UP
Best Chair for Napping – It is OK to need a short nap whenever you work. After all, you deserve it, especially on stressful days. Just make sure to get a chair that is worthy of your money.
Regular desk chairs are usually single-position chairs, and the top models might even have a slight reclining mechanism.
Compared to them, desk chairs are chairs you can rest inconveniently. These chairs offer solutions for the modern-day working person. Many of them are entirely lay flat desk chairs that allow you to take a break from work and have great naps.
In my experience, Duramont Reclining Chairdid wonders for my work regimen, and it increased my productivity significantly.
American business has embraced the work-nap. The work-nap is exactly what it sounds like – you're at work, but you're catching some zzz's. In previous decades, that would have been a firing offence. Now though, the wisdom of occasional at-desk catnaps to power up staff has been accepted as a productivity booster.
It's neither spinally safe nor remotely comfortable napping in a standard office chair. That's why lots of firms are now making office chairs specifically designed to aid your napping.