Best Chair for Neck Pain – Neck pain can be caused by many things, and sitting in an office chair all day long is one of them. If you experience fatigue and pain, it's likely that your current office chair doesn't provide you with proper back and neck support. And since you're reading this right now, you probably already figured it out.
However, just a headrest isn't enough to ensure your shoulders and neck are fully protected. If your chair doesn't help you maintain correct posture throughout the workday, it means your spine is in the wrong position, and, as a result, your neck as well.
So how do you find exactly what you need?
Of course, the first thing you do is google. But the number of chair models online can be very overwhelming. And what seems like a few-minute task can easily turn into a day's long browsing quest…if not longer. So to save you time and prevent frustration, we've reviewed dozens of chairs and selected the nine best office chairs for neck pain.
ROUND UP
1.NOUHAUS Ergo3D
We start off the list with one of the coolest looking ergonomic chairs – and I'm not exaggerating!
Available in a choice of four colors, the chair has a high mesh back to keep you from sweating like a pig while maintaining a proper posture, and it's also designed in such a way that you won't get lined marks on your back if you lean against it for too long either. Paddle control mechanism allows for some rangy angle adjustments, as well as lock, height (3.9" lift) and tilt adjustments for the seat and back, much needed for your comfort no matter your build.
Another thing this chair has over others is its durability, shown in its high quality Aluminum base and casters, or more like the wheels you stole from your kids scooter!
On top of its technical flavours, the chair sports a really modern artsy look to it, or should I say quirkily contemporary with curves and bends all over, so for the eye candy lovers out there you might want to have a check. The built-in headrest is adjustable up and down, and angles forward and backward, so one can say that it's the firm and stable type which is most suitable for long hours of continuous work.
On the outside it's extremely well designed, with a beautiful ispine-type curve shape like the rest of the chair that covers a larger area in the back of your head, which encourages its users to recline against it, get supported and ease off some pressure.
Pros & Cons
---
CONFORMS TO YOUR LIFE: With it's 4D Adjustable Armrest and Lumbar System, ElastoMesh, 135 Degree Back Tilt, Smooth HydraLift, Dual Castors (and a set of hardwood floor Blade Castors) – it's easy to think the Ergo3D is from the future, but instead it's evolved Ergo Seating at its finest and it's here now.
EASE INTO WORK, OR PLAY: Mesh Headrest adjusts up and down while the 4D Adjust Arms go forwards, back, up, down, side to side, and rotate for the best fit to your body. 3D Lumbar Support hugs your back, while the seat glides up and down for the ultimate in customized comfort in the office, or in front of your game!
SOFT HD OFFICE CHAIR: Our breathable ElastoMesh provides optimal airflow to avoid sweating and sticking. But it's also smooth, and nothing like sitting on wire like many of the chairs you'll see today. And while it's good to take regular breaks, the Ergo3D is so comfy you'll forget you're even working.
HEAVY DUTY: Our 5-Point Base with dual castors gives greater stability and strength over common 4-Point, single castor chairs. And our strong iron base makes this heavy-duty office chair ideal for adults up to 275 lb. We also give a set of blade wheels – smooth as silk on hardwood.
SUPER-LOUNGE RECLINE: Settle back, because you have up to 135° of tilt to keep you in the perfect position for your next task, or to simply lounge back and admire how smart you are for finding such a remarkable ergonomic chair. Try the Ergo3D and feel the difference it makes to your life.
---
2.Duramont Chair
Very similar to the Nouhaus Ergo3D chair, this offering from Duramont offers you a comparable amount of ergonomic adjustment and comfort.
It also comes with a high mesh back to keep you from sweating, but with a more padded seat. It has back tilt angle adjustments, as well as a pretty cool lumbar adjuster. This chair will mould for your comfort no matter your build and is a 'smooth' operator.
This is another durable chair, shown in its high quality Aluminum base and casters, nice and large to get over those rougher surfaces or thicker carpet.
Reviews for the chair have been predominantly positive, with reviews praising its durability; also its ease of assembly. There have been some negative reviews from non-US purchasers, but they are in the minority.
Pros & Cons
---
★ MORE ADJUSTABLE THEN ANY OTHER CHAIR IN ITS CLASS — Unlike the office chairs sold by our competitors, which allow you to either fully recline or sit upright, we have a SECOND adjustment lever that allows you to lock in your desired recline angle at ANY degree. That way, you can be assured of finding the perfect comfortable seating position just for you.
★ BREATHABLE MESH - The breathable mesh back on this ergonomic office chair provides support while keeping your back cool and comfortable. Cool air circulates through the mesh keeping your back sweat-free and allowing you to sit in the chair comfortably for longer periods of time compared to traditional chairs
★ FULLY ADJUSTABLE BACK SUPPORT - Having back issues or don't want to develop them? Our unique office chair includes adjustable lumbar support that goes in and out, up and down, and a recline feature that allows you to tilt the backrest back or sit straight. Now you can quickly find a position that makes your back feel the most comfortable!
★ EASY TO INSTALL - Simple instructions enable anyone to put this executive chair together in eight simple steps! Then once built you'll be able to adjust the chair to your individual needs. The chair's pneumatic controls will let you raise or lower the seat and tilt back the backrest or sit straight up. You can easily find the ergonomic position that will allow you to work comfortably for long periods of time
★ HIGHEST QUALITY WITH 5-YEAR WARRANTY - This adjustable task chair is made to last. It has a weight capacity of 330 LBS and is made from the highest quality materials, including a soft cushion seat, sturdy arm and head rests and rollerblade caster wheels that allow you to move easily across the office floor. Get your office chair – and boost your work comfort! Your purchase will be backed by a 100% money-back guarantee. Try this chair for 90 days - if you don't love it, you can return it
---
3.Humanscale Freedom
We continue the list with one of the most famous ergonomic chairs, the Freedom by Humanscale. This Humanscale's chair is one of those top end office chairs that is actually worth your money – if you're rich enough to buy it of course.
Created by the famed and revered designer Niels Diffrient, it's beautifully designed with high-end materials, especially in the back functions that can be vertically adjusted easily and freely (no puns intended) to accommodate most body heights and builds.
Its built-in lumbar support is firm while the entire backrest curves inward at the lower-back, providing great support for the neck. When you recline your head, it will still face forward, instead of upward like most chairs, due the headrest being designed to have an upright position always.
Thus, your whole head weight is supported when you're trying to both relax in a back leaning position and still read or view something on a monitor. However, that's not to say it can't be adjusted to be slightly reclined to your likings either.
The gel armrests are creative additions and they recline with the back which helps keep your arms comfortable, however these can be adjusted as well if you want to rest your arms on level with the keyboard stand. As a whole, this is a true ergonomic chair that can be crafted and adjusted in any way to your needs. Its great recline features makes it a fantastic chair for those who don't want (or is suffering) from back and neck pain. Again, top end, so expensive.
Pros & Cons
---
Adjustable Arms
Back Height Adjustment
Hard Casters
Pneumatic Lift Adjusts the Height of the Chair
Adjustable Seat Depth
---
4.Alera Elusion II Series
This is another chair that is extremely adjustable, and the price is quite lax too, even compared to the average ergonomic chairs.
The contoured seat cushion is one of its strongest aspects, it's made of premium fabric and feels nice to sit on, pillow-like yet firm, so your butt doesn't fall into it, which prevents tailbone pain.
The multifunction mechanism makes the back angle adjustable relative to the seat, tilted or locked, coupled with the cool, breathable mesh makes for a satisfying experience leaning… back. The whole chair has a good height adjustment system that allows high limits, and it suits most individuals who are fairly shorter or taller than 6'.
This Alera Elusion chair comes with no headrests – however, one can be easily installed for about $20.
With the adjustable back angle, you could have your skull hitting the base of the top of the seat if needed, and thus the inclusion of a headrest will work beautifully to support your neck. The assembling is fairly easy too. As a whole, I would recommend this chair for almost anyone, from gamers to vloggers to office workers, just for the tasty price to adjustment level ratio.
It's actually currently the chair I'm sitting on while writing this.
Pros & Cons
---
Height and width adjustable arms for comfortable positioning.
Breathable mesh back provides better air circulation.
Contoured molded foam fabric seat delivers all-day comfort.
Ergonomically designed frame supports proper sitting posture.
Ratcheting chair back enables quick and easy adjustments.
---
5.STAPLES Hyken
Very good ergonomic chair with decent price. Its built-in headrest can be adjusted nicely in any angle and height. With the pivot points behind allowing for some nice supports to the neck, reducing muscle pain around it, no matter if the headrest is reclined into a forward position or back slightly to your working needs.
With its sturdy carpet casters, this Staples office chair's seat can support up to 250 pounds a full work day, with reclining resistance and adjustable lumbar support mechanism and armrests.
It gives a great leaning experience for both large and small built people, and even if you're too tall or too short, the said awesome headrest can be adjusted or uninstalled entirely to accommodate. The technical mesh back creates a nice and cool airflow to combat the heat as well.
Easy to assemble, and a highly adjustable task chair, this Staples Hyken beauty is super comfy and as ergonomic as any – if not more! Perfect for "involuntarily" rebellious sleepers.
Pros & Cons
---
Sold as 1 Each.
BREATHABLE MESH MATERIAL: This high-back office chair has a mesh breathable back that offers a modern look while keeping you cool. Built for both form and function, the mesh upholstery allows air to circulate while providing enough support for your body.
EASILY ADJUSTABLE: Adjustable tilt tension and tilt lock let you find an ideal seating angle, and height adjustment options make it easy to find the proper configuration for your desk. Plus, each arm on this desk chair adjusts height for ultimate comfort.
DIMENSIONS: This mesh task chair measures 24"L x 27"W x 46"H. Designed with sturdy carpet casters, this executive office chair can support up to 250 pounds over a full workday and easily roll across your office floor.
WE ARE STAPLES: The line between work and life is blurring. We have solutions to keep your teams productive, connected and inspired. Whether you know exactly what you need, or you're looking for tools and inspiration to hit goals, Staples is here for you.
---
6.Steelcase Leap Chair
Unlike its best selling fabric chair counterpart, this one flies very low under the radar. But it's more expensive, so it's better.
Just kidding. It's better for your neck, however. The former doesn't necessarily have a bad neck support, just that this one is much better in that aspect, with the optional headrest and all that jazz. Along with the patented LiveBack technology, the chair gives us a very convenient system that allows the back of the chair to mimic the movements of our spine, and thus both correcting our postures and supporting our weights no matter if we're leaning back or not, in turns preventing back pain. The armrests are highly adjustable and they telescope in and out, move both forward and backward, or up and down to our needs – very similar to the Freedom chair above, extremely suitable for office workaholics.
The seat depth and height (pneumatic) adjustment for this version of the Steelcase Leap is almost picture perfect.
With exceptionally wide range of adjustments, and well tried and tested weight limits, it can deliver full support for all body shapes and sizes, so you can get it to fit you even if it does look bigger or smaller than your body at first. Adding that to a fantastic, optional headrest that also has a wide range of adjustments (vertically up to 6', and designed to stay upright with some recline resistance) your heads weight is supported at all times, and as a whole, your body is not at any time tempted to break out of the likened posture either.
A plus, the chair is really pretty too, expected of a high end ergonomic chair, satisfying both your mental and physical comfort.
Pros & Cons
---
Buzz2 fabric is 100% polyester
Wheels for carpet flooring
Ergonomic chair – features include adjustable seat depth, fully adjustable arms, height adjustable lumbar, lower back firmness control, pneumatic seat height adjustment, recline tension adjustment, 5 position recline lock, upholstered back and seat
All day comfort and back support - Leap's contoured backrest changes shape as you move to support your entire spine, ensuring long-term comfort
Quality & durability – designed to withstand 24/7 use while providing maximum comfort
---
Vital Things to Look For in an Ergonomic Office Chair for Neck Pain
Neck pain tends to arise for a number of reasons but most of them are related to posture. This means that, no matter the chair you pick, it should promote the best possible posture you can have while sitting for short and long-term.
Comfortable Size
This is, by far, the simplest AND overlooked thing that you would need to take into account when buying an office chair. If you are a taller guy/girl, look for high back chairs. If you are a shorter person, look for a short/mid-back office chair. Some manufacturers offer chairs of different sizes (e.g. Alera Elusion that comes in both – mid- and high-back – size) whereas others don't. One way or another, make sure the chair fits you well to begin with – the rest of the features are only used for fine-tuning.
Headrest
It might seem counter-intuitive but the headrest is not a real necessity, yet it absolutely offers a great benefit for anyone struggling with neck pain. There are two caveats to getting a proper headrest.
First, it should ideally be height-adjustable because you want it to fit your body type perfectly. The last thing you want is a headrest that is too short/tall and you can/t do anything about it. Second, you can also opt in for a head support that can be slightly turned up or down for even better fit.
Adjustable Armrests
Armrests that fit well and are comfortable is a very important thing for people with neck pain because a lot of can be attributed to strained trapezius muscles. The only way to release them is through supporting elbows that would rest on the armrests while you are typing.
Height adjustable armrests are an absolute minimum requirement any office chair should possess in its arsenal of features (unless the chair already fits you well). You can also opt in for height and width adjustable armrests (referred to as 2D) or height, width and angle adjustable armrests (aka 3D). While having 2D armrests is a plus, picking the chairs with 3D (or even 4D) setup might be a little too much.
Lumbar Support
Neck pain and back pain often go together so having a lumbar support and neck support that actually fits you is important. There are really only two types of lumbar support – adjustable and non-adjustable.
Unless your best ergonomic office chair fits you well from the start, it is always recommended to pick one with the height adjustable lumbar support. That way you are at a better chance of finding a comfortable sitting position which would also help you to reduce tension in your neck and shoulders.
How to Reduce Neck Pain While Sitting At a Desk Or When Using a Laptop
Neck pain appears from prolonged sitting while maintain a posture that is incorrect. To get rid of it you have to set up the monitor all the way up to your eye level so that it's right in front of you and you are not looking down. This is by far the most significant adjustment you have to make.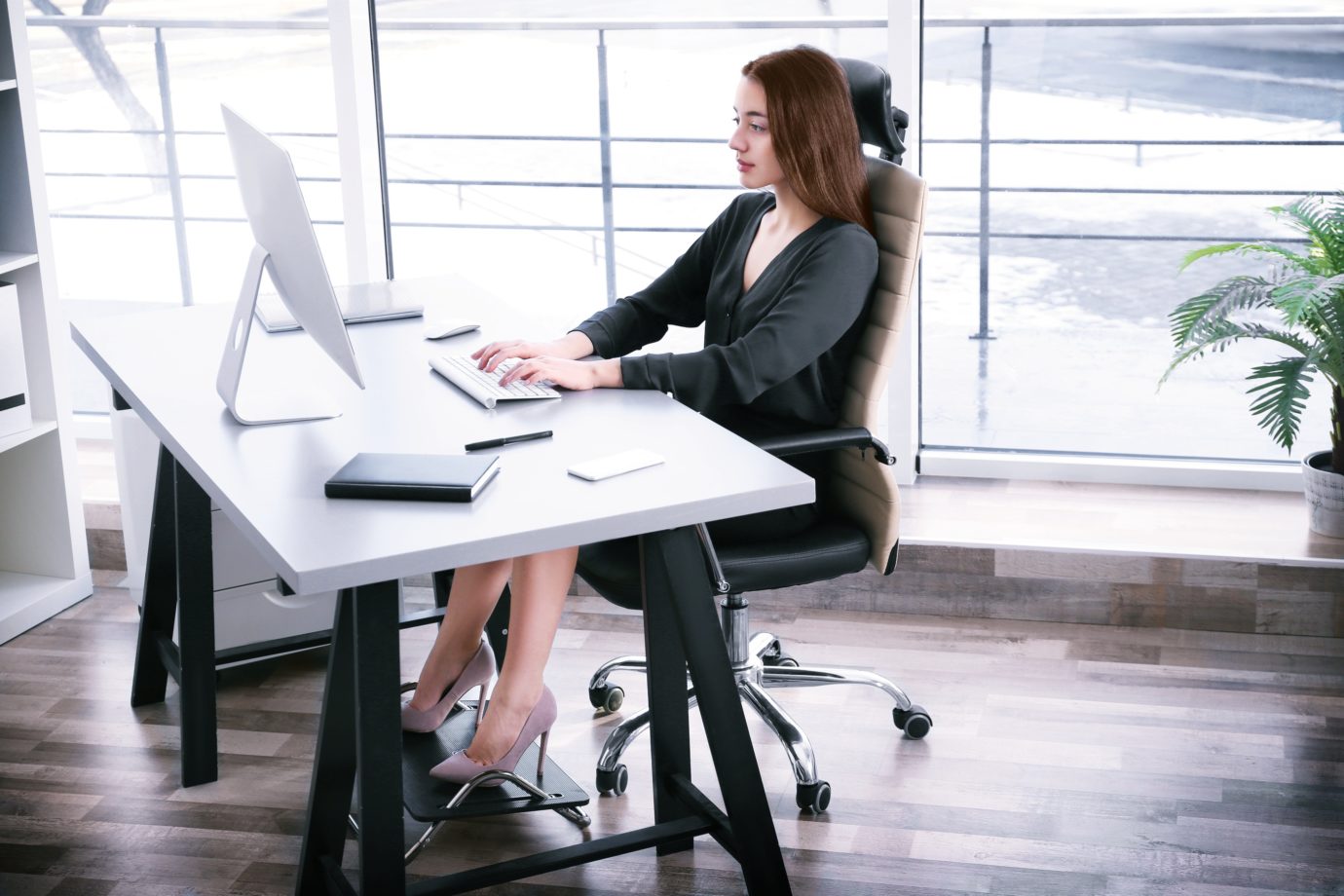 So if you are using a laptop, you should ideally have these:
a laptop stand (this thing would actually elevate the monitor all the way to your eye level)
a separate keyboard and mouse (as you won't really be able to use the ones on your laptop)
You should also have your ergonomic chair setup in the correct manner. Make sure it's:
Big enough for your frame (especially the backrest)
Setup up according to your body type (e.g. knees and elbows at 90 degrees)
It is also recommended to take regular breaks and actually get up from your ergonomic office chair. If you get up every half an hour and spend a few minutes standing, that would go long way not only towards your neck health but towards your overall health.
Best Sitting Posture for Neck Pain
According to OSHO (Occupational Safety and Health Administration) there are 4 positions which promote correct posture (and a neutral spine). Here are 3 of them that apply to sitting:
The Upright Sitting posture is the one that is most commonly recommended by ergonomic experts. However, on this specific image the posture is not entirely correct because the monitor is not on the user's eye level. The user is then forced to always look down on the monitor which strains the muscles on the back of their neck causing neck strain and discomfort. If this posture is not improved, the strained muscles from the neck might also result in shoulder pain.
The good thing posture is that the user's elbows are resting at the correct level reducing the tension they would otherwise have in the upper back and neck.
You can also set your ergonomic office chair to a declined sitting posture but the problem is still the same – the monitor is not on their eye level and that in itself will contribute to neck and shoulder muscle strain and pain.
Reclined position tends to help with decompressing the spine. This is especially important if you suffer from pain caused by disc rupture, bulging or hernia. In fact, a research paper that was published back in 2006 concluded that:Across all measurements, the researchers concluded that the 135-degree position fared the best. As a result, Dr. Bashir and colleagues advise patients to stave off future back problems by correcting their sitting posture and finding a chair that allows them to sit in an optimal position of 135 degrees.
Sure, 135 degree sitting angle is not "one size fits all" silver bullet type thing but…if you have been experiencing neck and back pain, try this trick and recline to 120-135 degrees to see how that feels!
Stretching Exercises for Neck Pain At Desk
Last but not least! Here are some great stretches and exercises for when you are starting to feel pain the neck and shoulder area.
It is recommended to do those exercises regularly but without too much pressure because you only really want to release some muscles while activating others.
If you think that you don't need a chair and doing exercise will be enough to cure your neck pain, then let us tell you that a comfortable office chair designed specifically for individuals suffering from chronic pain will be effective from day 1.
Whereas exercise won't be very effective because you will spend a large portion of your day sitting on a chair, and your posture will be compromised a lot.
Thirty minutes of exercise can't overcome the fatigue of sitting for 7 hours in a bad posture. Trust us; it's your body; you must take care of it. You can try one of the office chairs listed above for a day and notice the difference.
Benefits of an Office Chair for Neck Pain
If you're still doubting whether it's worth investing in an office chair for neck pain, here are a few more benefits that might convince you:
It can help you create a more ergonomic office setup
It can lower pressure on your back and legs
It can improve your sitting experience
It can relieve neck pain
It can promote good posture
You can use it for both working and playing video games
You can choose from a variety of models and upholstery types
You can fully adjust it according to your body type and specific requirements
Should I Buy an Office Chair for Neck Pain?
If you're a remote worker or spend five days per week sitting in an office chair, sooner or later, you'll start experiencing pain in your back or neck. And if you already notice that you're feeling fatigued after a day at work, it's worth buying a high-quality chair to help you prevent these unpleasant scenarios.
And while you might be buying an office chair for neck pain, it will still be protecting your whole body, including your spine, legs, and shoulders. We know that a high-quality ergonomic chair for neck pain isn't super cheap, but if you use it almost every single day, it's absolutely worth it.
We hope you managed to find what you were looking for. And if you have any questions or have an idea of what we should review next, please let us know.
Talking about Americans, around 30% of American adults suffer from chronic neck, and out of this 30%, 70% of individuals suffer from neck pain due to bad sitting posture.
Does it have adequate lumbar support?
As we've already mentioned, if your back is hunched, tilted to the side, or simply super uncomfortable for eight hours per day, your neck can't be feeling any better. That's why it's crucial to choose an ergonomic office chair that has high-quality lumbar support. And if you want to have the ability to customize your chair even more, go for one that features adjustable lumbar support.
What type of headrest does it have?
While we noted that headrest isn't a deal-breaker, it's still good to have an option to use it and give your neck even more support. Some office chairs come with either adjustable/removable or built-in headrests. Which one you should choose depends on your preferences and height. We recommend opting for an adjustable headrest to ensure it's not too low for your neck if you're on the taller side. In addition, some chairs offer headrests that you can move up and down, back and forward, and change the tilt angle.
Is the seat cushion comfortable?
Yes, the comfort of your neck depends on your body's overall experience when sitting. An ergonomically designed seat cushion that encourages you to sit straight and takes away pressure from your legs will definitely contribute to you feeling less tired at the end of your workday. Thick-padded waterfall or W-shaped seat cushions are some of the best options on the market.
Is the seat depth adjustable?
Suppose you really want to ensure the most comfortable seating position. In that case, a seat depth can give these extra adjustability options to ensure the lumbar support is actually "hugging" your spine in the right way. This feature is especially useful if you're shorter.
Does it have adjustable armrests?
You might not think that armrests are an important feature of an office chair for neck pain. However, keeping arms in a proper position can help maintain good posture, prevent shoulder pain, and contribute to better rest in between work sprints. So even if you don't use armrests often, it's still a good thing to have them in case you ever change your mind and decide to test them out and see how it improves your experience.
If you are among those who experience neck pain, and if it's due to bad posture, we highly recommend you replace your current chair with something more comfortable and ergonomic.
If you are among those who still enjoy working on the bed, you must note that this enjoyment is temporary. You are putting a lot of pressure on your neck and your back. That's the reason you are experiencing neck pain.
In this guide, we have picked some of the best office chairs that you can get at an affordable price tag, and they'll be super effective in your neck pain.
You can pick any of these as per your pocket and preference. However, if you are experiencing extreme chronic pain, it is recommended to visit a medical expert.
WRAP UP
Best Chair for Neck Pain – As the title suggested, we've reached the good part, what we're all here for, some of us after a really swift act of scrolling! Even if you don't suffer from neck pain, you should really know your options, to understand what the best chairs for neck pain are, getting one may just guarantee never becoming a sufferer of neck pain
Just before we view them, its important you know what to avoid. Sitting with a forward head posture can lead to, or make worse a condition called Kyphosis which is also known as Dowagers Hump. It is the curving of the back (uppermost vertebrae) that make the sufferer appear to have a rounded or hunched back. The condition can be eased with proper posture from an ergonomic chair.
I will give you a summary of what was above… ergonomic chairs good, neck pain bad!
I can't promise you that using these 6 chairs below will save all of your 99 problems, but at least you will know neck pain won't be one of them… Possibly purchase budget as well – since I included in the list all kinds of ergonomic chairs from low-end to high-end – to turn your frown upside down at the sight of the figures. If you are fortunate to be looking for something a bit further up the budget scale then, in case you missed it, maybe read this for high end ergonomic chairs!