Best Chair for Pregnancy – Pregnancy office chairs are made with enhanced lumbar support to minimize the pressure on your lower back. These chairs allow you to bend your legs underneath the seatpan while also keeping your back straight. All of these chairs are made with breathable materials and with a thick seatpan for your growing weight.
Generally referred to as pregnant chairs or pregnancy office chairs, these sitting tools should be as adjustable as possible. If you've been pregnant before, you know just how different your body can feel from one carrying a baby to another.
Three things need to be cared for the most in pregnancy, Nutrition, mother and fetus health, and the physical changes to face during these times. As you land in the pregnancy's later stages, your spine's workload becomes worrisome.
So meanwhile, what matters the most is your sitting posture, habits, and working routines. If you are a working lady or proud homemaker, you need a specialized chair that supports your back health on good notes.
For mommies to be, don't get stranded for unfortunate physical complications due to negligence in picking a good chair. A best office chair for pregnancy will keep you going through these challenging times without any fatigue.
But just to burst the bubble of confusion, bear in mind, a pregnancy chair doesn't mean a mysterious piece of furniture with additional bells and glitters. However, you can also assume some points on what to consider while choosing pregnancy office chairs and home recliners.
Table of Contents
ROUND UP
1.Hbada Chair
Hbada's main ergonomic home office chair has exploded in popularity. It sits well above other brands and office chairs in online sales and we can see why.
Its ergonomic design means you can sit up properly, even while pregnant. It won't push your belly in and it won't cut off the circulation in your legs with its waterfall seat edge design.
These Hbada pregnancy chairs recline so that you will allow your body to go back a bit when you're past that 3-month mark when the belly starts to grow.
Most importantly, this pregnancy chair with back support comes with an adjustable lumbar area. This is crucial for your back that is going to signal its extra weight soon enough anyway.
Made with breathable materials, it will not make your body overheat. This is yet another crucial benefit of the chair. The thick high-density cushion for pregnancy seems made for this purpose, even if Hbada made the office chair for all types of users.
Other smaller benefits include an angle-adjustable headrest. We don't particularly like headrests on pregnancy office chairs but we feel the 30-degree adjustment should be suitable to keep your head in a straight position. All in all, it gets high praises for its ergonomic sitting as one of the ideal ergonomic office products as well.
Pros & Cons
---
DOUBLE S ERGONOMIC - This office chair features Ergonomic-Human-Curve designed backrest and headrest which creates total spinal support. So that the chair moves with postures to hold spine perfectly and ease pressure & pain on back for everyday use
STAY COMFY FOR 8 HOURS - Ergonomic mesh back allows air, body heat and water vapor to pass through, keeping away the buildup of heat and humidity close to the body. And this chair also offers an upgraded big ergonomic & adjustable seat with comfortable foam padding
SLEEK & DURABLE - Based on Structural Mechanics Principles, this Minimalism style chair is well built and sure is a compelling seating choice that refresh your office with its modern and fashion sense. Heavy duty steel base,SGS certificated gas lift cylinder and tilt mechansim provide sturdy and stable sitting experience
RECLINING SYSTEM - Synchronized tilt mechanism provides smooth, effortless recliner and enables personalized fit, lock at any angle between 90 - 150 degree,which makes it a perfect office partner - back straighten up for Work Mode and full reclining for Rest Mode
Customer Warranty Service: Hbada provides three years warranty that is processed in the most hassle-free way possible. Customer-first is the original aspiration of Hbada.No matter what problems you encounter during use, you can contact us. We will provide you with professional services on the product.
---
2.Herman Miller Aeron
Pregnant women are at risk of suffering from back pain. There are many reasons such as hormonal changes, changes in your center gravity and the additional weight can lead to back pain. The Herman Miller Aeron has many supportive qualities to ensure a healthy posture.
With its patented 8Z pellicle material, it offers flexible suspension to allow some forgiveness for comfort, but also supportive, so that you don't sink in too deeply. In addition, this flexible nature eliminates the pressure points in your body to keep you relaxed while sitting.
In addition, the Aeron features the PostureFit SL which are adjustable lumbar pads. These pads can be adjusted separately to ensure that it fits in the arch of your spine. Users can also tilt their backrest from upright to mid-recline to full-recline when needed.
Pros & Cons
---
Size B Fully Loaded Chair
Adjustable Lumbar Support
Forward and Rear Tilt
20 Step Inspection Process.Discontinued By Manufacturer.
Assembly Required Tools Provided
3-Year Mechanical Warranty Provided.
---
3.Delta Children Blair Slim Chair
For mommies looking for a small size and whisper-quiet performer with comfortable cushioning and durability as the leader among all the specs, this pregnancy lounge chair won't frustrate you at all. With its smooth gliding and rocking function, this could be your ultimate companion from earlier stages to late pregnancy to the nursery.
On the materials part, the chair comes in non-toxic and easy to clean fabric. The ultra-synthetic woven fabric stays in shape and original colors for the most extended period of time. Moreover, if you have a more sunny room, don't worry about the breathability as it won't stick to your body.
The professional and luxurious design keeps it highly patchable with your room aesthetics. The sturdy wooden frame glides, rocks, and swivels without making any disturbing noise. However, some users have claimed it creaks a bit after some time.
The gliding function helps you to snuggle, feed, and soothe your baby without any mess. On the other hand, the rocking function relieves you to sit with a good sitting posture and stands from your position without much leaning forward.
This whole adjustability performance, including the smooth 360 swiveling, makes your sitting a heaven breeze.
The chair looks small, but it isn't under-performing when it comes to comfort and durability. Though it isn't heavily padded, the seat cushion, neck support, and armrest part seem well-padded with soft sponge foam. Besides, the foam cushion seat is removable, so you can clean it easily by dispatching it.
Honestly speaking, what I love the most is the durability factor here. The chair is ASTM and CPSC tested, making it super durable and safe for the mommy and baby. With over 100K times rocking mechanism testing and 20K impacts for cushion testing, it has austerely been tested to serve for ages.
As a result, this can be your best pregnancy chair for home that'll blossom your perinatal period with great care. And the specs sheet tells us it can easily hold 225 pounds of weight limit which I think a decent number for not-so-chubby moms.
Pros & Cons
---
Chair Dimensions: 26.5"W x 31.5"D x 36"H | Seat Dimensions: 19.75"W x 19.75"D x 17.25"H | Backrest Height: 22" | Seat Cushion: 5.5" thick
Other dimensions: Seat: 19.25"W x 23.25"D x 19.75"H; Seat to Backrest Height: 22"; Seat Cushion: 5.5" thick Designed with your comfort in mind, tested for safety and expertly crafted for durability Sturdy frame providing stability
Durable steel mechanisms to ensure quiet movements
Armrests are thickly padded for comfort
Removable cushion for easy cleaning
---
4.Modway EEI-757-BLK
The Modway Ergonomic Mesh Chair is an excellent piece of Modway brand that has recorded a fine reputation throughout its manufacturing of sleek furniture designs. The chair has adjustable features and an attractive design that you would love for seating and decorating your office cabin or room. The lumber and selective padding consider your pelvic support prior and have a mesh body type for active ariation. Somehow, its warranty is not enough to stand for long times, but it's reliable until it exists. People with short heights are incredibly comfortable with this product. Hence, the tall heights are rarely suitable with less extended height adjustments in it.
For a cheaper office chair for pregnancy, the Modway Articulate claims many ergonomic characteristics that similarly-priced office chairs shortfall. Some primary specialties cover the flexible adjustment of sections, installed lumbar maintenance, and the fancy pillow seat for improved support. The joined lumbar in back supports develop a physically fit backbone. Furthermore, it helps in a decent, correct position, which possibly boosts strength and heals your posterior.
On the different mesh chairs, the chair itself is mesh pulled stingy over a synthetic structure. But this feature is not just the same in Articulate office chairs. It makes you receive an elegant, cozy seat filling that is surprisingly sufficient to sit pleasantly. The internal seating space and other dimensions are versatile and enough for supposing it the best pregnancy chair for work. It holds you back comfortably that the chair's back gives you integrated experience for both neck and spine support. Also, the management with this chair is exceptionally feasible, and you will find it a light-weight solution for spending the pregnancy journey reliably and even in a suitable price.
For pocket-friendly office chair support for pregnancy or if you are specifically looking for pregnancy chairs for home, the Articulate Mesh Office Chair is the right choice in both workplace locations. It has a clean mesh design at the back, comes in varying shades, and won't occupy a visible volume at your home-table or on your office desk.
Pros & Cons
---
ERGONOMIC OFFICE CHAIR - Featuring reliable ergonomic support, Articulate comes with a breathable mesh back, passive lumbar support, and generously padded and contoured 6" thick mesh seat cushion
RELIABLE COMFORT - Designed with productivity in mind, Articulate is perfect for everyday use. Sturdy and supportive, this executive office chair holds up to 331 lbs and comes in a variety of colors
ADJUSTABLE SEATING - Articulate is a computer chair that easily adjusts to your needs with height adjustable armrests, one-touch chair height adjustment, 360 degree swivel, and a tilt and lock system. Seat : 18 - 22"H
OFFICE UPDATE - Refresh your office space with this versatile choice for computer desks and workstations. Enjoy mobility over carpeted or hardwood floors with five dual-wheel casters
OFFICE CHAIR MEASUREMENTS - Product Dimensions: 26.5"L x 26"W x 34 - 39"H; Armrest Height: 27.5"H - 32"H. Backrest Height- 22 H inch. Cushion Thickness-6 inch. Floor to top of Bacrest- 37 - 41.5 H inches, Seat To Top of Backrest- 22 inch
---
5.Lorell Executive Chair
Another super product to be your best chair for pregnancy is here. You won't have to look around for expensive models of adjustable chairs. This is an all-in-one package of assistance during pregnancy workouts with a modern appearance; you would love to place it as the latest furniture. In case, you are buying this chair to elaborate on the unique furniture collection, so this would not be a good option. It owns a general appearance, not so appealing, and has fewer shades in stock.
Lorell's high-back office chair adds immense characteristics you desire to notice in any ergonomic choice. The posterior of the chair possesses a natural arch that adequately establishes your position. The 360-degree pivot and length arrangement are too compensable and make it all-around a healthy choice for pregnant working women.
However, the armatures are not multi-dimensional in motion but are highly manageable to provide an edge for elbows and resist swelling across ankles. There are exceptional options available to The seat is also made up of suitable padding material, and from the surrounding, it comprises the breathable mesh. This setting is quite desirable for hot summer days and helps passing out the excess sweat from your back to maintain average body temperature.
Its ergonomic design allows you to adjust your spine and shoulders simultaneously to the backrest. The posterior width can heal the back with natural lumbar support fixed inside. You can increase the height of it up to 17 – 21 inches, which is quite suitable.
In an overall conclusion, the product will be your priority to opt for when you don't have a subtle flair of budget, and in performance, you have a five years guarantee journey to get the ease out of it.
Pros & Cons
---
Functions include pneumatic seat-height adjustment, 360-degree swivel, tilt tension and tilt lock
Frame and five-star base are made of polished aluminum
Executive high-back chair features a headrest, black mesh back, black leather seat and arm pads
---
6.Steelcase Leap Chair
Steelcase Leap Task Chair is the outright top-drawer of the best. Thankfulness to its unbelievable support, adjustability, and manufacture. It is a good choice for those who require seat and backrest padding but not in leather form, and in sleek technical design. However, it goes a bit expensive than others and emphasizes weight while dragging it to locations.
The Steelcase Leap is manufactured with many synthetics, which retain the chair's entire mass slightly downward. It is also allotted for the chair to give adaptability in blocks required for great comfort. The adjustable rear provides the lower body to force out and give high-grade coarser aid, while the top part bends apart. The seat bed's face also presents some elasticity, building a different seat that flows with you as you modify during the day.
One of the typical real objects to count on an office chair is chair encouragement, which can be tricky to guess without several user attempts. Among many diverse material standards in office chairs, the Leap chair is engineered to secure at the head of the record with 85 percent.
The anterior third of the chair pillow is adjustable, providing for real extra progress in the seating. This capacity is self-manageable and claims no original idea. It is remarked that it accommodates tiredness in the limbs' ends, particularly when relaxing for prolonged time spans.
If you try to find the alternate of this chair, you must need to checkout our comparison guide on steelcase leap vs gesture for more details.
One of the elements that are actually famous among clients about the Steelcase Leap chair is the point it transmits wholly built. The unique thing you're needed to make is to separate the chair from the carton and draw it apart from the smallest packaging.
Pros & Cons
---
Buzz2 fabric is 100% polyester
Wheels for carpet flooring
Ergonomic chair – features include adjustable seat depth, fully adjustable arms, height adjustable lumbar, lower back firmness control, pneumatic seat height adjustment, recline tension adjustment, 5 position recline lock, upholstered back and seat
All day comfort and back support - Leap's contoured backrest changes shape as you move to support your entire spine, ensuring long-term comfort
Quality & durability – designed to withstand 24/7 use while providing maximum comfort
---
The one isn't as luxuriously padded as the other. The latter being pregnancy chairs of course. The comfort set forth by chairs that pregnant women appreciate consists of a well-padded backrest, seat, armrest, and footrest. This means your entire body is bound to relax, and not just the spine.
There are chairs equipped with a USB port for charging as well. So you don't have to get up and can spend hours just lounging on the chair. Needless to say, normal chairs don't have all that. What they're also not designed with is the glider function, which allows you to rest in the most relaxing and comfortable position.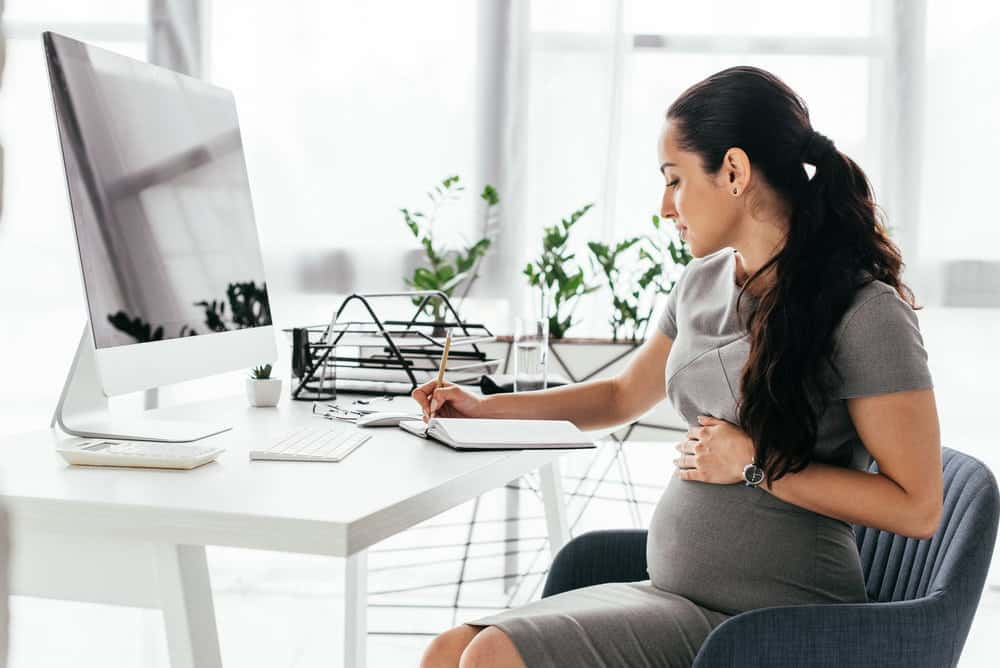 In our opinion, this is the most common type of chair for pregnant and nursing women. No doubt, the design is ergonomic and extremely comfortable. The 360-degree swivel feature is the best for times when all you wish to do is relax. More importantly, it allows your spine to take a breather.
However, the downside is that a swivel glider cannot be a desk chair.
< class="">
Desk or Office Chair
If buying an office chair is your priority, because why take a break from work right, so this is the type you should be looking for. A chair like this naturally features height and recline adjustments, along with proper lower back support.
Some of them are designed with a swivel function, so you can move freely. It's the most suitable option for those who spend long hours at the desk.
< class="">
Rocker Recliner
Another very popular type of chair pregnant and nursing women appreciate to the fullest. Because, just like the swivel glider, this too comes with a padded seat, armrest, backrest, and footrest.
With rocker recliners, you can easily adjust the position of the recline and even the footrest. But what sells these types of chairs is the fact that you can rock forward and backward in them. And you know what that means – putting your newborn to sleep while also relaxing your body at the same time.
Just the idea of buying a massage chair sounds like such an incredibly comfortable and pain-relieving experience, doesn't it? With that in mind, it's the best type of chair for pregnant women dealing with back pain, especially the lower back.
These chairs have massaging modes, heat function, vibration function, etc. Even reclining comfortably is a part of the deal.
These are the kinds of chairs that mold to the shape of your growing body during pregnancy. After all, bean bags can add support to all areas of the body at the time of sitting.
They may not be strategically structured like the other types of chairs, but that doesn't make them any less comfortable.
< class="">
Kneeling Chair
Sitting on this type of chair is something that many doctors highly recommend during the end of pregnancy. Because that's when your tummy is at its largest, which inevitably welcomes more back and body pain. At the same time, your posture can also benefit from a structure like this as it creates an open body angle.
Agreed that buying a proper chair can improve your posture and reduce lower back pain. But that only happens if you know how to sit the right way.
For pregnant women, the seated position involves keeping the back straight and making sure that the back is in contact with the support of that chair.
How about the legs and feet? Legs should be positioned at a 90-degree angle with your hips. Lean slightly forward, place your feet evenly on the ground, and align your pelvis. However, don't be seated in any one position for a very long time. Keep moving as much as you can to avoid the onset of cramps and numbness.
In that case, what is the correct way of getting out of the chair? Slide to the edge, straighten the legs and then stand up. But don't bend forward at your waist. Otherwise, you'll end up straining your back.
Don't sit cross-legged.
Don't slouch or keep your back straight when sitting.
Don't dangle the legs in the air. Your feet should be touching the floor evenly while sitting.
Don't maintain an incorrect posture for a very long time.
Don't bend at the waist when sitting or getting up from the chair.
Don't switch positions suddenly. First, get from the chair and then change your position.
< class="">
Padding
Does the chair have enough cushioning in the backrest, headrest, seat, armrest, and footrest? If yes, then it's surely worth your time, money, and attention. Because without sufficient padding, there's no comfort for your pregnant body.
< class="">Adjustments
After comfort, what matters the most is support. And this support, more often than not, is determined by the adjustability of the chair. So what adjustments are crucial here? The list includes lumbar support adjustment, recline position adjustment, height adjustment, and sometimes even armrest adjustment.
< class="">Material
Something that's easy to clean should be your priority number one. Plush microsuede and soft polyester are not only the easiest to clean but also exceptionally durable. There's just no sense in buying a chair packed with adjustments and padding unless its material is high-quality and feels comfortable against your skin and body.
< class="">Swivel
A 360-degree swivel function is the one most important thing that differentiates pregnancy chairs from the regular version. With this swiveling feature, you get to move around very comfortably during your pregnancy months.
< class="">Lumbar Support
The lower part of the spine carries all that extra weight of your growing belly during pregnancy. So it's only natural for lower back pain to develop. All the more reason to choose a chair with superior lumbar support, don't you think? This helps in maintaining proper posture while also taking some load off the spine.
< class="">Neck Support
Neck pain and even headaches are common pregnancy-related troubles. So why aggravate the condition caused by physiological and hormonal changes in the body! Instead, find a solution by opting for a chair built with sufficient and maybe even padded neck support. And this is even more important when working at a desk.
Are Pregnancy Chairs Good for Backache?
The best part about pregnancy chairs is that they allow you to move around, meaning you can change the position you're sitting in and your posture. You can even sleep in them very comfortably. All because these chairs are designed with a swivel glider. Therefore, they are good to relieve and prevent back pain.
Is It Okay to Sit During Pregnancy?
As long as you're sitting in a correct manner, you don't have to worry about sitting during pregnancy. With the back straight, shoulders not slouching, buttocks touching the back of the chair, and lumbar support pressing against the curve of the back.
Keep in mind that how you're seated does indeed have an effect on the position of the growing fetus. Particularly during the later stages of pregnancy when your baby starts to move into your pelvis.
Are Massage Chairs Okay to Use During Pregnancy?
If you're in two minds about the safety factor, then there's nothing to be scared about. Just so that there are a few massage chair brands that advise pregnant ladies to keep away from their chairs. But that's only because the stimulating massage pressure points in the back may give rise to premature labor. Nothing dangerous as you can see!
Are Recliners Good for Pregnancy? What About Sleeping In A Recliner Chair?
Resting and even sleeping in a recliner chair during pregnancy is totally acceptable.
As to how far to recline, you can adjust the recline feature at a 20-30 degree angle as well. It all depends on what position alleviates pressure or pain. Just don't lie flat on your back, that's all.
Why Is It Not Okay to Sit Cross-Legged When Pregnant?
It's only common to experience back pain, cramps, and muscle strains at the time of pregnancy. So you're only just inviting more of this kind of discomfort with your legs crossed. Not that this particular position hurts your baby, it's just that the position might cause leg camps and maybe even ankle swelling.
Are Ball Chairs Good for Pregnancy?
Ask just about any woman who has already delivered a baby how uncomfortable it is to sit on a flat surface. So the remedy is to sit on a ball chair to alleviate pressure and pain during the later stages of pregnancy.
There are birthing balls too you know. These relieve pressure often found in the spine, lower back, and pelvis.
Is Sitting for Long Hours At A Stretch Bad During Pregnancy?
A healthy lifestyle is a must when pregnant, for the sake of your physical and mental well-being along with your baby's health. So include some sitting, standing, and walking throughout the day.
When you sit for too long at a stretch, the chances of blood clots increase. Likewise, standing for too long during pregnancy restricts the flow of blood to your baby.
The belly grows, the body experiences serious hormonal changes, backache never seems to leave, and a lot more. Pregnancy may be a unique experience for women, but that doesn't make it the most comfortable. So to make sure your body is well-relaxed, pain-free, and simply just properly postured, it's important to get a good chair.
And buying a proper chair is even more crucial when you spend a sufficient number of hours sitting for work. Plus, there's a wide range of pregnancy chairs available nowadays. This includes desk/office chairs, swivel glider chairs, rocker recliner chairs, massage chairs, etc. So you can pick one based on your personal needs and preferences.
As long as the chair is designed with a good amount of adjustability, padding, lumbar support, and recline, it doesn't matter what type of chair you select.
WRAP UP
Best Chair for Pregnancy – Being pregnant brings new challenges in your life. Many soon-to-be moms still work during pregnancy. Unfortunately, many pregnant women experience back pain. There are many possible reasons for this such as hormonal changes, weight gain, posture changes, stress, and muscle separation.
Pregnancy is a beautiful transition for women to motherhood. It brings with it tons of happiness and a bundle of joy. But the pregnancy phase itself can be taxing for the mother as her body goes through a lot of changes. The hormonal changes, the increasing belly, increased sensitivity to pain all are quite difficult for a pregnant lady. The best solution for all these problems is adequate rest, which can be achieved through a proper comfortable pregnancy chair. Invest in one, and you are more than ready to have a better pregnancy experience.
It's imperative to maintain a healthy posture and find an office chair that supports your full body while working in an office. To help you during this precious time of your life, we've compiled our top 9 office chairs for pregnant ladies.