Best Chair for Recording Studio – Selecting a chair of your choice can be a little bit challenging because of the variety of options available.
Truth has been told, the only way you can go wrong in selecting a chair is to discover that after spending too much money on a chair, it doesn't serve the purpose of its purchase.
You aim to be perfect in choosing the best music studio recording chairs. So be ready to experiment until you get the right chair of your choice.
If you spend the majority of your time sitting down while you're producing or mixing, then it's only natural to invest in the best studio chair so that you can be comfy and free from back pain. Are you a guitarist? Head over to our guide on the top guitar stools.
Many budding producers focus all their energy on the musical equipment and recording gear inside their home studio. They tend to forget that a studio chair isn't just a piece of studio furniture. It's also an essential object for contributing to your skills as a producer. If you're in discomfort then you won't be able to work in the studio for long hours. It's also impossible to feel creative and inspired if your lower back is aching.
If you're starting to put together a new studio, make sure to get the right insulation with high-quality bass traps (click here for the guide).
There are some fantastic music studio chairs on the market. To make life easier for you, we've spent time researching and testing them so you don't need to. We've settled on a top ten, which we'll show you in a moment, along with reviews of each product. At the end of this article, you'll find a handy buyer's guide and answers to frequently asked questions. You'll be ready to make a wise purchase once you've finished the article.
Table of Contents
ROUND UP
1.Herman Miller Classic Aeron Chair
The Aeron Chair by Herman Miller is known as being a standard studio chair in the music industry. You will find an Aeron chair, or at the very least a Herman Miller chair, in many professional music studios. The reason for this is simple: this chair is absolutely amazing.
The materials and design are engineered to work with the body's natural motion to provide an extremely comfortable sitting experience due to its ergonomic quality.
The Aeron (both the seat and the seat back) is made from Pellicle, a flexible yet sturdy and breathable mesh material that supports the back and allows moisture and heat to escape from the body. Pellicle molds to your body as you move to give you maximum support.
Another great feature of the Aeron is the lumbar support. The lumbar support is adjustable so that you can receive that extra boost of support where you need it. This is great for producers who spend long hours in the studio as it reduces fatigue and back pain.
The Aeron is fully adjustable in terms of height and it can also recline and bend forward quite a bit to provide you support and comfort in various sitting positions no matter how you move.
The overall design of the Aeron Chair is 'posture positive' – it encourages proper posture in a clever way without making you uncomfortable or overdoing it. These features make this chair extremely comfortable, maybe even the most comfortable chair you've ever sat in.
The Aeron Chair also features adjustable arm rests that can also be folded away, which is great for producers who want to record guitar in the chair. Durable wheels provide a smooth feel when rolling. The Aeron Chair comes in a few different sizes and colors, so you have plenty of options when customizing your chair.
Pros & Cons
---
---
2.Hbada Chair
Coming in with another budget option is a bit of a hybrid chair. The Hbada Reclining Office Desk Chair is a chair that brings a lot of the best of many chairs into one lightweight model.
The Hbada Chair is another ergonomic option that is made with sturdy yet flexible mesh material, but it provides the relaxing feature of a recliner and a high back, so you will be extremely comfortable in this chair. The mesh material used for this chair is strong and even tear resistant, but still breathable enough that you won't get too warm against the chair if you're surrounded by gear that emits lots of heat.
The Hbada Chair also features a headrest that uses the same mesh material as the back of the chair. The headrest is height-adjustable and can be rotated up and down 30 degrees. A lumbar support feature on the back of the seat back is also included in this chair; it is also adjustable up and down to provide ample support to the lumbar region of your spine. Considering this is a reclining office chair, it also has a footrest. This footrest is also adjustable, so you can change it depending on your height; the armrests and seat back are adjustable too.
If you want max comfort while in front of your studio computer, this is one of the most comfortable chairs you can get, due to the high seat back that contours to your body. The seat cushion is very thick and padded, it's not overly firm or too squishy. The overall design of this chair makes it a good option for mid-size or bigger studios considering it's quite a bulky model, but it isn't so bulky that you wouldn't be able to put it in a bedroom studio.
Pros & Cons
---
ERGONOMIC RECLINER - Synchro tilt reclines the backrest increasing the angle between your torso and thighs for a comfortable, ergonomic sitting position. With multiple height, tilt, lift and lock settings for added adjustability, once you find your best position, use the tilt lock function to stay in place
ADJUSTABLE OFFICE CHAIR - Waterfall seat cushion slopes slightly downward to help reduce stress on your legs. Built-in lumbar support and rotatable headrest help you been in right sitting posture for protecting your neck and waist.
BREATHABLE MESH - Contemporary ergonomic black mesh office chair promotes increased air flow, keeping you feeling cool and comfortable during long sessions. Designed to provide you all-day comfort with fully upholstered back, height adjustable seat, armrests and pullout footrest
STABLE & DURABLE FRAME - Steel frame construction ensures durability. 5-star silienced wheeled base allows for quick and easy movement on any surface. Weight capacity of the high back chair is tested to support up to 250 lb for maximum
Customer Warranty Service: Hbada provides three years warranty that is processed in the most hassle-free way possible. Customer-first is the original aspiration of Hbada.No matter what problems you encounter during use, you can contact us. We will provide you with professional services on the product.
---
3.RESPAWN Chair
A lot of producers also enjoy playing games on their PC, so if you like the style of gaming chairs, they are definitely a suitable option for a music studio as well. The Respawn Omega-Xi is one of their Omega series chairs that will make you feel like a commander in front of your mixing console or computer desk in the studio.
The Omega-Xi is a gaming chair that fully reclines, and it even has a footrest. Diving into the design of this chair, it features a high seat back with an integrated headrest. Like most typical gaming chairs, it cradles you very slightly by curving around the edges. The seat itself is very thick and extremely well cushioned, so you can spend hours in this chair and still not be stiff.
The chair is adjustable in height and tilt, but does not have lumbar support. You can, however, lock it at any angle of your choosing when reclining. While the loop style armrests aren't adjustable, which is a bummer for guitarists who like to record while seated, they too are heavily padded and will give your arms ample support when using your mouse or just sitting in front of your desk.
The included footrest is neatly tucked away underneath the seat and can be pulled out and extended to match the length you need when you want to relax. The Omega-Xi also has wheels that roll smoothly on hard surfaces.
While the chair is a bit bulky (as most, if not all, gaming chairs are), it still manages to look sleek, modern, and stylish. There are 12 different color schemes for this chair, so you're sure to find a scheme that matches your music studio.
Pros & Cons
---
GAMIFIED SEATING: A racecar-style gaming chair that provides luxury and comfort, whether it's used for intense gaming sessions and climbing to the top of the leaderboards, or long work days.
ERGONOMIC COMFORT: With segmented padded designed to give highly contoured support when and where you need it most, this ergonomic chair is also equipped with an extendable footrest for position reinforcement. Adjustable headrest and lumbar support pillows, as well as padded armrests provide all-around comfort.
PREMIUM MAKE: Upholstered in bold, contrasting colors but maintains a professional look, this gamer chair can also be used as an office chair. Gaming chair includes a 275 pound weight capacity for long-lasting use.
4D ADJUSTABILITY: Find your optimal position by raising or lowering your chair and reclining between 90 - 155 degrees with infinite locking positions. Soft, padded armrests pivot with the chair as it reclines. Full 360 degrees of swivel rotation enable dynamic movement.
WE'VE GOT YOUR BACK: An award-nominated brand, RESPAWN is committed to your satisfaction and covers this video game chair with the RESPAWN 5-Year Limited Warranty, and dedicated, year-round representative support.
NOTE : To ensure proper assembly, please follow all steps provided in assembly video and the installation manual (provided in pdf below)
---
4.Argomax Chair
If you're wondering what the best recording studio chair that money can buy is, look to the Argomax. Argomax Ergonomic Mesh Chair is the closest you'll get to the performance of the Aeron in a mid-priced chair. The mesh back is nice and high, with good lumbar support, and features a removable headrest. The seat itself is relatively thin cloth padding, with a plastic bottom. The frame is made of nylon and fiberglass. This makes it lightweight, but also less durable than metal-framed chairs.
There are plenty of available adjustments here. You can set the lumbar support's height and depth with pinpoint accuracy, and there's a single handle that lets you control both the height of the chair and the angle of the back to help eliminate back pain. One of the best features are the armrests which, while not completely removable, are adjustable which is really handy for ensuring you're sat comfortably.
Pros & Cons
---
✔ADJUSTABLE LUMBAR SUPPORT. Separate support for back and lumbar can decompose the pelvic and back pressure with full and durable resilience compared to normal ones, getting high praise for its positive pelvic support that helps you maintain correct spinal alignment. Great benefits to the occupational health, safety and productivity.
✔ERGONOMIC ADJUSTABILITY. The ergonomic mesh office chair by Argomax is designed exclusively with all the necessary adjustments including rotatable headrest, tilt back, tilt tension, lumbar support, 2D padded armrest as well as seat height to fully support proper posture. Allow you to target problem like the lower back and make the chair conform to your body, supporting healthy circulation and making sitting for hours a day easier on the back and spine.
✔SMART AUTO ADAPTIVE BASE. Thanks to modern intelligent technology, the smart adaptive base can automatically adjust suitable elastic force of the chair back according to the weight of the user, for which the elastic force can be maintained at a balanced range when it comes to people of various weight.
✔2 IN 1 LEVER AND S HIGH BACK. Easy to adjust seat height and tilt back with only 1 lever. Simple to adjust tilt tension with the black gadget. 135-degree and 3-position tilt lock, together with S-shaped high back design, make it effortless for you to recline with comfortable head, neck and back support to have a good rest in case sometimes you are too tired after work.
✔HIGH END AND LONG LIFESPAN. Argomax ergonomic mesh office chairs have been certified by BIFMA and SGS. Nylon and glass fiber frame. Breathable mesh back. Soft padded armrest. Dense foam waterfall seat. Explosion-proof air rod. Firm 5-star base which supports weight up to 330lbs. PU mute caster wheels. (Note: Not cheap recyclable materials)
---
5.Gabrylly Chair
The Gabrylly Office Chair is one of the only chairs online which has continuously maintained fantastic ratings. It's reasonably priced, and has a tall mesh back with a removable mesh headrest. The seat is also meshed, and the frame is made of two-tone aluminum.
The headrest, seat, and armrests are all adjustable, although this chair doesn't provide as much lumbar support as some of the others on this list.
On the other hand, the armrests swing up and out of the way, so this is a great chair for those of you that want to be able to switch between 'guitar mode' or mixing mode.
In terms of user reviews, the Gabrylly Office Chair is the highest-rated one we reviewed. It doesn't provide the best lumbar support, but it's reasonably adjustable. The armrests also conveniently swing out of the way for guitarists and musicians who need it.
Pros & Cons
---
【ERGONOMIC OFFICE CHAIR】- The ergonomic chair provides 4 supporting points(head/ back/ hips/ hands) and a proper lumbar support. It's easy to adjust seat height, headrest, backrest and flip-up arms to meet different needs, good for sitting long hours. Suitable for people of about 5'5" to 6'2".
【LARGE MESH SEAT】- The office chair is larger than other chairs, and it could accommodate different body build. The whole Chair Dimensions(including the arms): 25.6"W x 22"D x 45.3"-54.9"H, the Seat Dimensions: 20"W x 19.3"D x 18.5"-22.05"H. Loading Capacity: 280 lbs. The recline function makes you tilt the backrest back (90~120°) or sit straight freely.
【ADJUSTABLE FLIP-UP ARMREST】- Folding the armrests up, you can push the executive office chairs directly under the desk to use more area. It's easy to raise or lower the folding armrest by pressing the black buttons on the armrest.
【BREATHABLE MESH CHAIR】- The mesh back and mesh seat keep air circulation for extra comfy. High quality mesh resists abrasion and transformation, it makes the high back computer desk chairs good for sitting for 4 ~ 8 hours, perfect for a long day sitting.
【EASY INSTALLATION & WARRANTY】- All ergonomic office chairs come with 2 years warranty, so please email us directly, we will offer you effective solutions ASAP. With clear instruction and tools, the office computer chair is easy to assemble (about 15~20 minutes). PU mute wheels roll smoothly, no harm on wooden floor; the sturdy five-pointed base and chair frame add durability and stylish appearances.
---
6.Amazon Basics Low-Back
It's height adjustable, and moves freely on castors so is ideal for portability in larger studios.
We especially liked the mesh back, which aided breathability over padded foam, while the included one-year warranty gives additional peace of mind. The AmazonBasics range, which has grown hugely in popularity, has some great products and we're happy to say the Low-Back office chair meets the needs of a small home studio perfectly.
Pros & Cons
---
Comfortable task and computer chair with black contoured mesh back for support and breathability
Pneumatic seat-height adjustment; 2-inch-thick padded seat for added comfort
275-pound maximum weight capacity
BIFMA Certified
Chair Dimensions: 20.47*20.08*32.87-37.4 inches (WxDxH)
---
Why is it so important to pick a good studio chair?
For a typical music producer, beat maker, or the like, you spend many hours in front of a computer while in the studio. Whether you're mixing a song or recording a guitar track, you're more than likely going to be sitting in a chair.
Many music producers complain of having neck pain, back pain, hip pain, and more from spending long hours in the studio sitting in a less than ideal chair for them. I can attest to this, as I have developed back and shoulder pain from slouching over a studio desk while I was seated on a couch.
Diving deeper into all this, the pain you get from sitting, leaning, bending, and reaching towards your desk can cause specific issues, not just overall joint or muscle pain and malaise. These specific physical ailments are classified into a type of disorder called musculoskeletal disorders (MSDs). Musculoskeletal disorders affect the body's movement, so your muscles, tendons, ligaments, joints, blood vessels, nerves, and discs can all be affected. Musculoskeletal disorders can vary in different levels of severity, extensiveness, and pain.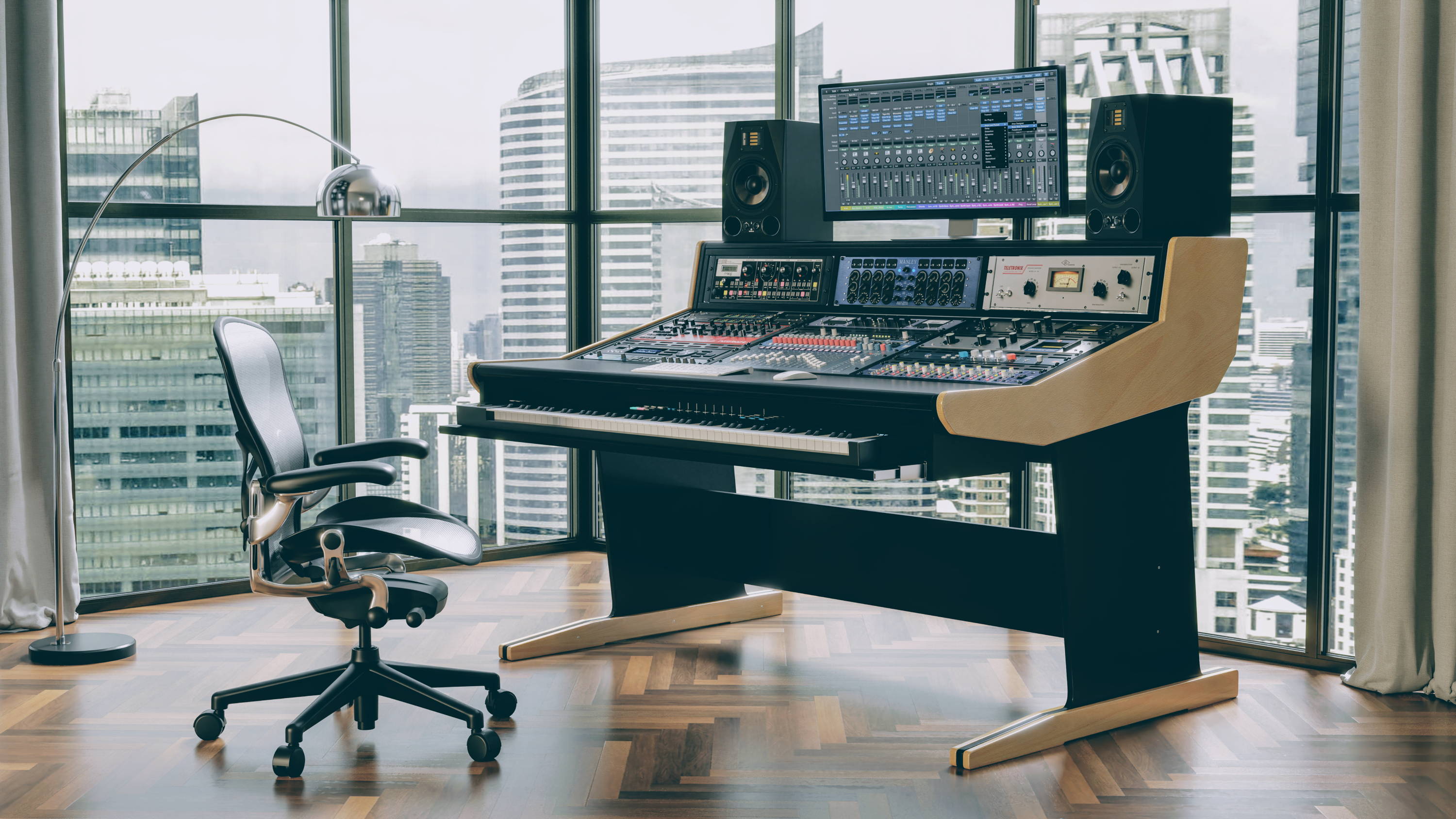 Some examples of musculoskeletal disorders include:
Tendonitis,
Frozen Shoulder,
Tension Neck Syndrome,
Degenerative Disc Disease,
Mechanical Back Syndrome.
What causes musculoskeletal disorders?
There are two categories of risk factors that lead to musculoskeletal disorders: ergonomic risk factors and individual risk factors.
Ergonomic risk factors
Ergonomic risk factors are related to the body's specific movements and the actions and force that cause the muscles and joints to fatigue, eventually causing MSDs. Ergonomic risk factors can therefore also be called work related risk factors.
Bad posture – Slouching and slumping over your desk or midi keyboard causes pain from excessive force on your joints and muscles.
Repetitive movements – Tasks like repetitive mouse movements, playing an instrument, or mouse clicking can contribute over time to MSDs.
Force – Tasks that require a great amount of exertion from high force loads increases muscle and joint fatigue, so if you frequently move heavy studio equipment you are prone to MSDs.
Stress – Stress can also contribute to MSDs if you work in an especially stressful environment or put yourself through unnecessary stress in the studio.
Long work hours – The longer you stay in the studio in front of your computer, the more prone you are to getting a musculoskeletal disorder. Long work hours cause fatigue on top of all the tasks you do during those hours.
Individual risk factors
Individual risk factors have more to do with your individual lifestyle and the choices you make on a daily basis.
Poor work practices – Things like overstretching trying to reach the gear on your desk, reaching for the mouse for hours, or using poor lifting techniques when lifting gear can lead to MSDs.
Poor overall health habits – Things like smoking and drinking also make one prone to getting MSDs along with other chronic diseases.
Not getting enough rest and recovery – Being in the studio for days at a time without sleeping, or hours on hours of sitting at your desk day after day can absolutely wear the body down fast and progress the speed of developing an MSD.
Poor exercise, nutrition, and hydration habits – If you don't try to eat healthily, stay hydrated, and get out of the studio and go for a walk, you definitely should as bad diet and exercise habits set you up for plenty of MSDs.
Genetics – Some people just have bad muscle and joint problems that run in their family. Producers with relatives who have MSDs in their family should definitely be cautious of developing an MSD if there is a chance that any are hereditary. Genetics on top of prolonged incorrect posture and other habits make up an awful recipe for joint and muscle issues.
Getting the individual risk factors under control can improve how you feel immensely, but working in a studio is taxing on your muscles and joints regardless, which means you still need a good studio chair even if you have your individual risk factors managed.
When seated in a more ergonomically designed studio chair, many producers have reported that they feel much better, both physically and mentally, if they have to sit at a computer in the studio for many hours. This is because their body is being supported in an ideal manner that does not cause any extra stress to the musculoskeletal system.
Overall, the main reason why it's so important for you to pick the right studio chair for you is that it will be easier on your body and better for your health.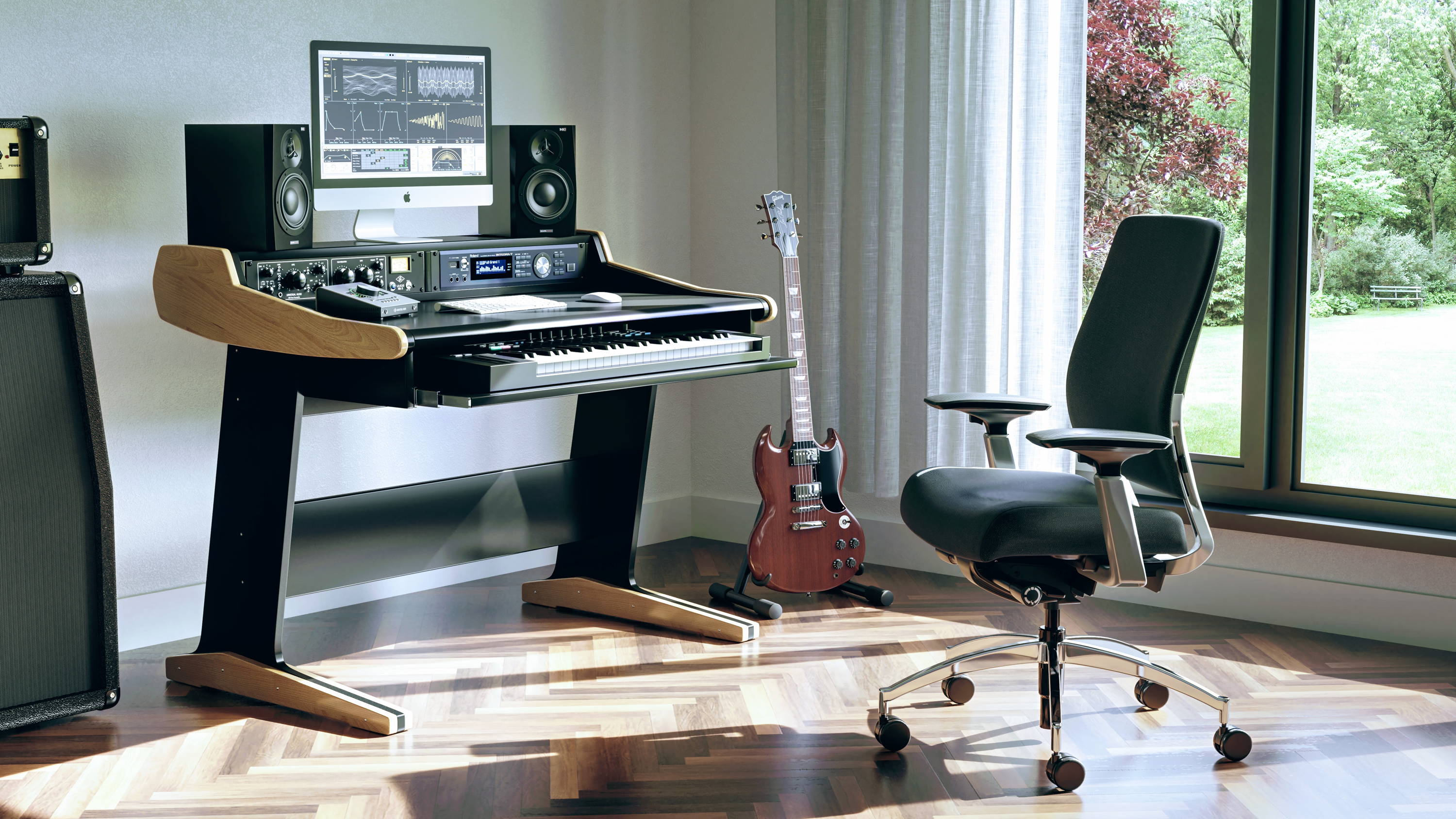 The advantages of sitting in the ideal studio chair
Let's break down some of the health benefits that picking the right studio chair can give you as opposed to a random chair from your local department store or something like a chair from a dining room furniture set.
Advantages
Decreases fatigue: Sitting in an ergonomic studio chair can decrease fatigue because your body doesn't have to work as hard to support your joints as much as it would have to in a non-ergonomic chair.
Alleviates back and neck pain: An ergonomic studio chair helps to alleviate neck, back, and other joint pain due to the design. The design of these chairs usually features an adjustable seat back with lumbar support for optimal comfort.
Increases overall productivity and efficiency: If you're feeling good while sitting in your studio chair, you're likely not going to feel as sluggish, and therefore you're more likely to be more productive than you would be if you were seated in a non-ergonomic chair.
Improves focus and reduces distractions: Being in pain is distracting. If you're uncomfortable in your studio chair, you won't be able to focus on your work. Rather than taking pain meds for joint pain while sitting, an ergonomic chair will reduce that pain, thus reducing distractions keeping you from making music.
Disadvantages
The list of disadvantages of a good studio chair is much shorter than the list of advantages, there's really only a couple big ones that stand out.
Expensive: Ergonomic studio chairs often come at a pretty steep price point, which is really the only disadvantage there is when buying a studio chair. Producers with a lower budget will suffer more, but there are still some cheaper alternatives that are very comfortable and ergonomic.
Size: A lot of studio chairs can be big and bulky, ergonomic models including. This can be a disadvantage if you have a bedroom studio or a small studio in general, or even if you just have a big studio with not much extra space due to other furniture and gear.
Personal health advantages of using an ergonomic studio chair
The personal health advantages of using an ergonomic studio chair are aplenty, ranging from fatigue alleviation to pressure relief. The following is a list of some other health benefits you will likely get from sitting in a more ergonomic chair for your music studio.
Alleviates neck and back pain,
Alleviates fatigue,
Increases energy and focus,
Alleviates joint inflammation,
Alleviates pressure on bones,
Provides proper lumbar support,
Encourages better posture,
Prevents headaches or migraines,
Prevents muscle or eye strain,
Relaxes the body,
Increases productivity and efficiency,
Prevents musculoskeletal disorders (MSDs) and alleviates pain from them.
What elements you should look for in an ergonomic studio chair?
A few elements you will almost always see in the design of ergonomic studio or office chairs are the following:
Lumbar support,
Mesh or supportive backing,
Wheels.
These design features are becoming more popular as more and more music producers are emerging on the scene and more new ergonomic chairs are introduced.
There are a few things you should look for in a studio chair. Some of these things are more of a preference, but others are definitely something you should prioritize.
Sturdy yet flexible backing – necessary in order to properly support your spine as you move. Many times this backing is a mesh material that is durable with plenty of give to mold to your body.
Lumbar support – great for adding extra support to your middle or lower back.
Sturdy yet comfortable seat – provides comfort and cushioning when sitting for long hours so you don't feel stiff and uncomfortable.
Adjustable height – essential to reduce eye strain.
Adjustable arm rests – great for when you have to record guitar, you can just fold them away or push them down.
Adjustable headrest – ideal for supporting your neck.
Reclining seat – adds a ton of comfort if you want to sit back farther.
Chair that moves with you – a chair that responds to your body movement (whether it's just the seat material or the whole chair itself) is going to give you much more comfort and pain relief than a stationary chair will.
Self locking casters – A great feature that is especially useful when getting up out of the chair or sitting down to reduce strain.
Durable and comfortable materials – For maximum support, comfort, and chair longevity, make sure you select a chair that has durable and comfortable materials, whether it be foam, mesh, hard plastic, or metal. Breathable material will keep you cool while seated, materials like aluminum won't rust but steel will.
Quick buying guide
When you go to buy a new studio chair, ask yourself these questions to help determine what you need in a studio chair. From there you can do your research based on your answers.
How much do I weigh? – A bigger or heavier person should be in a bigger chair and so on and so forth to get the ideal amount of body support needed.
How much space do I have in my studio? – How much space you have in your studio will dictate just how big of a chair you can get.
What are my problem areas? – Someone with back, hip, and neck pain will most definitely benefit from an ergonomic chair, so if you specifically have pain in these areas you will find plenty of options for joint and muscle support features, like lumbar support or adjustable headrests.
How much time will I be spending in this chair? – Long hours in the studio mean you'll likely want something that is extra cushiony or can recline. Short back chair models are more ideal for shorter studio sessions.
Will I be more stationary or will I need to move around a lot in the studio? – If you prefer to be more stationary and stay in front of your desk, a chair without wheels or a chair with locking wheels may be ideal for you. Otherwise, get a rolling chair.
Is my studio carpeted or does it have hard flooring? – Chairs with wheels work fine on hard floors, of course, but there are also wheels that are made to roll on carpet, and there are wheels that will roll fine on both. If you have carpet but don't want to spend the extra money on wheels made for carpet, you can get an office mat.
What gear will I need to be able to access while seated? – You will need to ensure that your chair will support you when you're reaching but also not get in the way of anything when fetching gear.
Will I need or want arm rests? – If you are going to be spending long hours in the studio, you'll probably want arm rests, however, if you're a guitarist you'll need a chair with arm rests that can be swiveled out of the way. There are also many chairs that don't have them at all.
How long will I be keeping this chair for? – If durability is what you want, look for chairs with hard plastic and metal, or specialized synthetic materials designed for the chair in question. If you don't plan on having this studio chair for very long or want a secondary chair, it is more reasonable to spend less on a less durable chair.
Answering these questions can give you a good idea of what you'll want and get you started on purchasing a good studio chair.
Remember that you won't find all the features you need in a single chair, you will have to give and take here and there and you may have to be willing to make sacrifices. If you can't find a chair you like, you may consider exploring the option of finding someone who makes custom studio chairs. That way you will be able to get everything you want and need for it. Sadly, this is a more costly option, so it is usually better to just get something from a retailer.
If you really want an expensive studio chair but don't have the budget for it, don't forget to check out used or refurbished models on Amazon, eBay, or even a local music store.
After your purchase
After you've made your final decision and your chair is about to be delivered or picked up, before it has arrived, make sure your studio has ample space for you to assemble it (if you ordered it online) if need be.
Make sure everything is organized and cleaned up so that you can get right into using your new chair without any hassle. If your floor is carpeted, you may want to put down a hard office mat to ensure that the chair moves fluidly.
WRAP UP
Best Chair for Recording Studio – There we have it. You've now been introduced to 6 awesome producer's chairs.We hope that you've found the one you want.
We must stress that while looks are important, above all else the chair needs to be comfortable and supportive. You don't want to have any back or neck issues ruining your ability to produce. We can recommend any chair that's got lumbar support, ample padding, and an ergonomic design. For anyone who gets over-heated, then consider a mesh back too.
Always keep an eye out for small features too. For example, being able to fold up the armrests might not seem like an important feature, but it certainly is. If you want to play an instrument while you're sat on the chair, then make sure the armrests can be folded.
We hope that you've found this article rewarding. Let's hope that your new chair will help you on your journey to recording a Top Ten hit.