Best Chair for Sciatica – Sciatica can cause pain in the lower back and bottom parts of the legs – the major body parts engaged when sitting on a chair. Therefore, getting an office chair that relieves your nerve pain is extremely important for a smooth, pain-free work shift.
There are tons of chairs available in the market, but we've reviewed the best office chairs for sciatica. They're a little costly but worth every penny.
Long sitting sessions (while working at home or at the office) are more likely to cause back pain. According to a survey, almost 80% of Americans complain of lower back pain at least once in their lives. If not treated properly, this pain can turn into sciatica.
In this case, comfortability and productivity are two challenges to meet while keeping your spine in alignment.
I have encountered many patients who have chronic pain and discomfort despite having tried various treatments like acupuncture, chiropractic, ice & heat therapy, to name a few.
Sciatica sufferers, therefore, need a comfortable ergonomic office or home chair with lumbar support and adjustability that prevents lower back pain and piriformis syndrome.
If you are one of them, the following best office chairs for back pain or sciatica can help you by reducing stress on your connected tissues, muscles, and bones.
Table of Contents
ROUND UP
1.Steelcase Gesture
When it comes to office chairs, you can't go wrong with any product from the luxury brand Steelcase. The Grand Rapids, Michigan-based company is the go-to pick for office chairs and other furniture pieces, including desks and storage.
The Steelcase Gesture is the brand's flagship office chair. It's a great option for those dealing with sciatica because it offers a range of motions and contours to the spine like a glove. Even better, the headrest is adjustable to keep your neck and upper back in a comfortable, stable position. And when your neck and upper back are straight and secure, your lower back will also be in a suitable position to help alleviate — or at least stabilize — sciatic pain.
The Steelcase Gesture comes in a bevy of beautiful colors. It's on the heavier side at 72.8lbs, but it can support up to 400lbs, which is quite impressive.
Here are some other things we like about the Gesture:
Beautiful design. Steelcase is known for modern designs that make office furniture stand out in the crowd. The Gesture is no different, featuring sleek lines and top quality materials.
Ships fully assembled. Office chairs aren't exactly difficult to put together, but they can take time due to their size and weight. The Gesture comes ready to sit in the box.
Adjustable arms. While this doesn't necessarily help with sciatic pain, it's a game changer in terms of overall comfort. The Getsure 360 arm moves like a human arm and can essentially be set in any position — perfect for all-day typing.
The Gesture is on the higher end of the pricing spectrum, as are most products from Steelcase. But if you're upgrading your home office, or if human resources is letting you splurge for a new chair at the office, you can't go wrong with the Steelcase Gesture.
Pros & Cons
---
Connect fabric is 100% polyester
Wheels for hard flooring
Ergonomic chair – this model includes an adjustable headrest, adjustable seat depth, fully adjustable arms, adjustable lumbar, pneumatic seat height adjustment, recline tension adjustment, 4 position recline lock, wrapped upholstered back and seat, black/black frame color scheme
All day comfort and back support - Gesture's seat and back move as a synchronized system, following your body as you move throughout the day to ensure long-term support. Seat Height from Floor : 16" - 21"
Quality and durability – designed to withstand 24/7 use while providing maximum comfort
Ships fully assembled; 12 year manufacturer warranty
NOTE : To ensure proper assembly, please follow all steps provided in the installation manual (provided in pdf below)
---
2.STAPLES Hyken
For those experiencing lower back pain, but who also have a tighter budget for a new office chair, the staples Hyken is an excellent choice with minimal compromises.
Sure, it doesn't look as sleek as the more expensive Steecase or Herman Miller options, but the number of adjustments on this chair allow you to custom tailor it to your lower back needs.
First, let's talk about the mesh back. If you tend to run warmer, you'll appreciate how this chair keeps your cooler throughout the work day. The tight mesh also aids in back support, offering the perfect amount of give.
The adjustable tilt tension features a wide range of seating angles, allowing you to hone in a seating position that best supports your individual back.
One downside are the adjustable arms. They go up and down, but don't swivel for full 360-degree control. Some have also argued that the armrests don't come down low enough for complete comfort.
With a 250lbs weight capacity, this chair also can't hold as much weight as its more expensive counterparts. The chair itself only weighs 28lbs, making it one of the lighter chairs on our list.
For the money, you'll be hard pressed to find a better chair. So, if you're willing to deal with some of this chair's shortcomings, then by all means buy one today.
Pros & Cons
---
Sold as 1 Each.
BREATHABLE MESH MATERIAL: This high-back office chair has a mesh breathable back that offers a modern look while keeping you cool. Built for both form and function, the mesh upholstery allows air to circulate while providing enough support for your body.
EASILY ADJUSTABLE: Adjustable tilt tension and tilt lock let you find an ideal seating angle, and height adjustment options make it easy to find the proper configuration for your desk. Plus, each arm on this desk chair adjusts height for ultimate comfort.
DIMENSIONS: This mesh task chair measures 24"L x 27"W x 46"H. Designed with sturdy carpet casters, this executive office chair can support up to 250 pounds over a full workday and easily roll across your office floor.
WE ARE STAPLES: The line between work and life is blurring. We have solutions to keep your teams productive, connected and inspired. Whether you know exactly what you need, or you're looking for tools and inspiration to hit goals, Staples is here for you.
---
3.Herman Miller Classic Aeron
When you see the name Herman Miller, you know you're looking at an office chair with a higher price tag. But you also know you're buying a quality piece of furniture that will last a long time — and most importantly, keep you sitting with a great posture to help alleviate any sciatica pain.
The Herman Miller Aeron certainly falls in that category and it's our pick for best mesh office chair. Like most Herman Miller products, you can completely customize the materials and colors of this chair to fit your aesthetic needs. Because these chairs are custom made, you might need to wait a few months to receive your chair after ordering.
The sliding posturefit SL is the key component to supporting your back while at work. In fact, Herman Miller was one of the first companies to actively design an ergonomic office chair. It has been fine tuning this chair over the past 25 years.
So, if you have a higher budget, definitely check out the Aeron.
Because these are custom-made chairs, Herman Miller gives you three different size options, from small to medium to large.
The chair comes full assembled, so don't worry about getting your tools out. You can sit on it right out of the box.
If you're dealing with sciatica, have a healthy budget, and are looking for an office chair to support your back — and something that looks absolutely stunning — you definitely need to look into the Herman Miller Aeron.
Pros & Cons
---
---
4.HAG Capisco
Pros & Cons
---
PERFECT FOR: Shifting between sitting and standing at an adjustable or standing height desk – seat height 22.5" – 33" with 18.5" backrest
ALL DAY COMFORT: Award winning design, Capisco's soft and wide saddle seat promotes healthy blood flow and encourages movement to sit forwards, backwards or sideways
FULLY ADJUSTABLE: Seat height, seat depth, back height and back tilt allows for maximum healthy sitting positioning with a maximum weight of 250 pounds
COMES WITH: 10.4" lift height and 5 star base with breaking casters suitable for both hardwood and low-pile carpet; Add On a Capisco Footring to rest your feet - see below or search Amazon for "Capisco Footring"
ENVIRONMENTAL FRIENDLY: Made from 50% recycled material and is 90% recyclable
---
5.La-Z-Boy Delano
For those with the impressive mahogany-filled offices and large, impressive desks, the La-Z-Boy Delano might not only be the most comfortable chair on this list, but it also does a darn good job at supporting your posture and alleviating sciatica pain.
Now, this chair isn't for everyone. The whole "executive office" fad pretty much died in the early 2000s, but there's certainly a crowd out there who still finds the large leather roller office chair attractive and useful.
So, for those interested, here's what you need to know about our pick for best executive office chair that also helps with your lower back pain:
Great weight capacity. One benefit of a larger chair is a larger weight capacity. This chair, which weighs in at about 55lbs, can support up to 350lbs worth of weight. Additionally, this chair undergoes rigorous BIFMA testing.
Solid materials. Yes, those arms are made of real mahogany, which is a very sturdy wood.
Reclines. The ability to recline is extremely important for those who deal with sciatica pain.
One of the best parts of this chair is its price tag. It's on the lower end of this list and very affordable by most measures.
Some owners have complained about quality control issues, but La-Z-Boy has responded promptly by sending new parts.
Pros & Cons
---
PREMIUM CUSHIONING: Ergonomic office chair with memory foam cushioning that contours to your body
STYLISH AND VERSATILE: A tasteful complement to any office, home, or entertainment space
BIG AND TALL DESIGN: 45- to 48-inch height range and 21-3/4-inch seat width. Sturdy components surpass rigorous BIFMA testing standards and supports up to 350 pounds.
WARM AND INVITING: Chestnut brown bonded leather upholstery with rich mahogany-stained wood
ALL DAY COMFORT: Fully adjustable height, recline, and tilt settings
NOTE : To ensure proper assembly, please follow all steps provided in the installation manual (provided in pdf below)
---
6.DRAGONN by VIVO
One of the best chairs for those with sciatica pain, but certainly not one to sit in all day, is the Dragonn by Vivo kneeling chair. This unique chair is designed to support everything from your back to your knees, shins and buttocks — and it does a great job at that.
There's certainly a learning curve with any kneeling chair. You have to build up some muscle in your shins and knees that will develop over time and simply get used to "sitting" in a kneeling position.
Owners of this chair say it has offered great relief from their back pain, but are adamant that this isn't an all-day chair. Your knees can hurt after a few hours and will almost definitely hurt after six to eight consecutive hours. If you're in a job where you're at your desk for 20-60 minutes at a time, but are constantly moving around, this could be a great option.
We really like how there are wheels included, making adjustments quick and painless. The front wheels do lock so you can stay in place.
Impressively, this kneeling chair can support up to 250lbs. Its height is adjustable by 10 inches.
There are more expensive kneeling chairs on the market, but this one is a steal when it comes to price. If you're on the fence about a kneeling chair, you can't go wrong at least trying this one out. Chances are if you don't like it, you could sell it second hand to someone else who is interested in learning about kneeling chairs.
Pros & Cons
---
Ergonomic Kneeling Chair - We've got your back (and your knees, shins, and your behind!) Your ergonomic kneeling chair is equipped with a mesh three-inch thick cushion to ensure excellent support. It features 4 casters (wheels) so you have the freedom to move – just like your old office chair! Please Note: You will use different muscles in a kneeling chair, so it's best to acclimate yourself when first using or switch positions throughout the day.
Better Posture While Tilted - There is no reason to hunch over your keyboard or desk for hours on end anymore. This posture chair has a functional design that gives you the posture benefits of standing and the relief of sitting all in one. It will keep your back at an upright position, distributing your weight evenly throughout your buttocks and legs, all while keeping your spine aligned.
Heavy Duty - This ergonomic kneeling stool is designed with a strong metal base and is constructed to last. Your new rolling kneeling chair supports up to 250 lbs.
Modern Design - With a sleek all black style – your new kneeling stool is perfect fit for your home, office, classroom, or anywhere you need a little extra support!
Height Adjustable - You can adjust the DRAGONN chair to the size that suits you. It ranges from 21" to 31", allowing you to find the perfect position. Once you sit in our ergonomic chair, you will wonder why you didn't get this earlier.
---
Choosing the Best Office Chair for Sciatica
When shopping for an office chair to help with your sciatica pain, you have a number of features and requirements to look into before making a purchase. Use this guide to make the best-informed purchase.
Ergonomics
Obviously, the ergonomics of a chair are most important. You want a chair with the following:
An adjustable lower back support. This is typically a curved plastic plate that wraps around your back that slides up and down.
A recliner. The ability to recline can help you stretch your lower back while sitting and comfortably adjust. It's also nice to sometimes lean back and relax!
Adjustable armrests. Many chairs today feature a 360-degree swivel to allow you to use your keyboard and mouse in the most comfortable position, cutting down your chances of carpal tunnel.
More expensive chairs feature full back support and ultra-comfortable headrests.
Another important key factor to look for is an ergonomically designed office chair. The best office chairs for sciatica will have the proper support in the right areas so you can sit comfortably and work productively all day long.
The best office chairs for sciatica will be ergonomically designed to fit your specific size so you can work without pain and discomfort all day long. If the seat is too big or too small, it could cause problems with your back and legs.
Removable lumbar support pillow
Some best office chairs for sciatica will have a removable lumbar support pillow so you can regulate pressure on the lower part of your spine during long periods of sitting. Lumbar pillows can also help support your lower back more comfortably as it eases pressure on the spine.
When seated, your lower back should be fully supported but not so much that it causes poor posture or more pain than comfort. You will be able to find the perfect balance with a good office chair for sciatica.
Armrests and knee rest
Many best office chairs for sciatica will have armrests and/or knee rests built into the design so you can sit comfortably without too much weight on one area of your legs and give them some rest by providing support at crucial points during long periods of sitting.
This feature is especially helpful for those with bad backs who need immediate relief from discomfort in order to continue working productively.
Height and tilt adjustment
It is important that your office chair be adjustable so you can find the perfect position for your body. The height should be adjustable so you can sit with your feet flat on the floor, and the tilt should be adjustable so you can find a comfortable position for your back. If the chair does not have these adjustments, it will not be ideal for long-term use. 
Fabric or leather
Many people prefer leather chairs because they are durable and easy to clean, but fabric chairs are often more comfortable. Choose the material that will make you most comfortable so you can sit in your chair for hours at a time without feeling any pain.
Weight capacity
Make sure the chair you choose can support your weight. The average weight capacity for office chairs is 250 pounds, but some chairs can support up to 350 pounds. If you are heavier than this, make sure to find a chair that can accommodate your weight.
This is not an exhaustive list, and all these factors may or may not be found in one chair. You should find a chair that will work for you while you take each of the factors into consideration.
Bookmark our website and subscribe to our blog if you are looking for more tips and advice regarding sciatica and back support. We will keep you up-to-date with the latest research, products and information.
 Type of material the office chair is made from
Another key factor to consider when looking for the best office chair for sciatica is the type of material the office chair is made from. You want to choose an office chair that is made from a breathable material like mesh or cloth, so you can stay cool and comfortable while you work.
Soft, comfortable, cushioned seat
The best office chair for sciatica will also have a soft, comfortable, cushioned seat so you can sit comfortably for long periods. Make sure to choose an office chair that is easy to move around, so you can easily get up and walk to the printer or water cooler.
Stimulate blood circulation while you work
This is optional, but if you have extra savings to spare, you can choose a chair that stimulates blood circulation, so your body doesn't ache. Look for an office chair with weight-activated massage, adjustable lumbar support and adjustable headrests.
Lumbar Support
Lumbar is another word for the "lower back." So, anything that supports your lower back is considered lumbar support.
Look for a chair with an adjustable lumbar support option because everyone has different needs.
In terms of sciatica pain, some kind of lumbar support is critically important.
Typically, lumbar support is controlled by a knob, while other chairs simply mold their mesh back in a way that provides adequate lower back support.
Adjustability
Luckily, most chairs on the market today can adjust in all the right places: height, armrests, and back supports. More expensive models feature more detailed adjustments, like 360-degree adjustable armrests, or fully adjustable back supports.
These adjustments are controlled by knobs typically located under the chairs seat. But some models figured out that it's more convenient to include knobs or paddles under the armrests that control things like height.
Comfort (seat comfort, back comfort, armrest)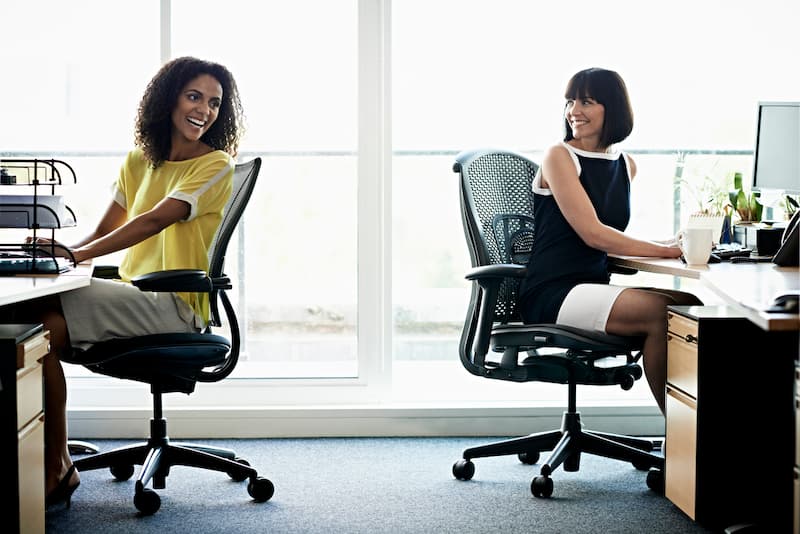 Obviously, people want an office chair that is comfortable. If we didn't, we'd be OK sitting on a slab of stone.
Here's what you should look for in terms of comfort:
Mesh backing. Mesh is not only surprisingly supportive, it also allows your back to breathe and keep you cooler.
Memory foam. The best chairs implement some kind of memory foam into the seat that allows you to slowly sink into a comfortable, supportive position.
Cushioned armrests. There are plenty of chairs on the market today that feature metal or hard plastic arms. You need a chair with a plush armrest that makes typing much more comfortable.
Build Quality
Quality materials are important as any chair — both expensive and cheap — will eventually wear out. Unfortunately, shopping online is always a difficult way to decipher build quality outside of reading user reviews.
You have a couple options:
Research the materials listed in a product description.
Go with the chair with the least amount of plastic, as it wears out the fastest.
Price does matter. The cheaper you purchase, chances are good the materials are also cheaper. Find something priced in the middle of cheap and expensive.
Price
Office chairs vary significantly in price, with the cheapest models around $200 and the most expensive models flirting with $2,000.
Yes, you're buying a much higher quality and likely a better looking chair when you're shopping on the higher end of the spectrum, but you can certainly find an office chair that works for you — and is affordable.
Remember to stick with your budget and research as much as you can to find a quality piece of furniture that not only helps with your sciatica pain, but also looks nice in your office.
< class="rank-math-question">What kind of chair is best for sciatica?
A chair that can recline and include solid lumbar support is the best option for those dealing with sciatica. While a chair won't heal your back pain — only stretching and physical activity will do that — it can prevent your pain from getting worse. Of course, you also want something that's quality and can handle you reclining in your chair throughout the day.
< class="rank-math-question">How do you sit in an office chair with sciatica?
Start with both feet flat on the floor — no crossing your legs! Next, keep your hips and knees bent at a comfortable 45 degree angle. If your chair has wheels and a swivel, it's important to use those when working around your desk, as opposed to constantly twisting your spine in different directions.
< class="rank-math-question">What position is best for sciatica pain?
In terms of sitting, there isn't a position that will cure your sciatica. Stretching and physical activity is the only cure, but proper sitting will prevent your pain from getting worse. Sit up straight, keep both feet on the floor, and position your hips and knees at a 45 degree angle.
When it comes to sleeping, sleeping on the back is considered the best position for those dealing with sciatica. Adding a small pillow under your hips and/or lower back can help alleviate any stress around those ligaments, and on the sciatic nerve.
Sciatica is often caused by prolonged sitting in an uncomfortable chair that does not offer the support and comfort that your body craves.
The pain erupts when there is compression on the sciatic nerve. Not only can awkward posture cause sciatica, but so can sitting for too long at a time or too often.
Office chairs for sciatica are chairs made specifically to reduce spine associated with pressure on the sciatic nerve.
These chairs often have saddle shaped seats which provide the necessary support while simultaneously reducing the pressure on the sciatic nerve and tailbone.
The cushions on these types of chairs are also often very soft, yet remain supportive to promote good posture.
The lumbar support is perhaps the most important feature of office chairs designed for sciatica. They also usually have tall back supports to encourage good posture.
Many options are also highly adjustable so that you can use it for your exact specifications.
Check out this video explaining three different exercises that you can use to prevent sciatica while sitting in your chair!
WRAP UP
Best Chair for Sciatica – Whether you're working from home or going into an office five days a week, today's work environment isn't the most conducive for those with back pain — especially lower back pain. Prolonged sitting can make your lower back pain even worse and cause sciatica, a common condition that can be relieved through consistent stretching and physical activity, but one that can be irritating and even painful if left untreated.
In addition to physical activity, you can help alleviate your sciatica issues by using an office chair with the proper ergonomics. As you can imagine, several manufacturers have found a market for those dealing with sciatica and other back issues, resulting in a number of chairs on the market today.
We've done the research to help you find the perfect office chair for sciatica for any budget.