Best Chair for Shoulder and Neck Pain – If you think that you don't need a chair and doing exercise will be enough to cure your neck pain, then let us tell you that a comfortable office chair designed specifically for individuals suffering from chronic pain will be effective from day 1.
Whereas exercise won't be very effective because you will spend a large portion of your day sitting on a chair, and your posture will be compromised a lot.
Thirty minutes of exercise can't overcome the fatigue of sitting for 7 hours in a bad posture. Trust us; it's your body; you must take care of it. You can try one of the office chairs listed above for a day and notice the difference.
Table of Contents
ROUND UP
1.Steelcase Gesture
The best of the best for neck pain, that's the Steelcase Gesture with the added headrest. From versatility, customization, and support, this chair checks all the boxes. There are so many levels of adjustments that you're guaranteed personalized comfort, especially in the lower back and neck regions.
What makes the Gesture stand out in terms of reducing neck pain is the chair's ability to cradle your neck right where you need it. You can adjust its height and angle or position it a little bit forward or backward. I also love the synchronized back and seat which move together to adapt to your body whichever position you may be sitting.
The Steelcase Gesture with Headrest will cost you a pretty penny, but if neck or lower back pain are your main issues, this is the chair the doctor ordered.
Pros & Cons
---
Connect fabric is 100% polyester
Wheels for hard flooring
Ergonomic chair – this model includes an adjustable headrest, adjustable seat depth, fully adjustable arms, adjustable lumbar, pneumatic seat height adjustment, recline tension adjustment, 4 position recline lock, wrapped upholstered back and seat, black/black frame color scheme
All day comfort and back support - Gesture's seat and back move as a synchronized system, following your body as you move throughout the day to ensure long-term support. Seat Height from Floor : 16" - 21"
Quality and durability – designed to withstand 24/7 use while providing maximum comfort
Ships fully assembled; 12 year manufacturer warranty
NOTE : To ensure proper assembly, please follow all steps provided in the installation manual (provided in pdf below)
---
2.NOUHAUS Ergo3D
If you're looking for a more affordable version of the Gesture, look no further than the Nouhaus Ergo3D. For a fraction of the price of the Gesture, you get a well-ventilated dynamic mesh back which responds to your every movement, similar in function to that on the Gesture's.
Just like the back, the headrest is made of mesh. This means that during summer or if you have a tendency to perspire a lot, the Ergo3D can keep you cool. Since its both height and angle adjustable, it will also support your neck in different positions.
Finally, unlike most office chairs which only come with standard casters, the Ergo3D comes with a free set of rollerblade wheels. No more buying extra casters if you have a hardwood floor.
Pros & Cons
---
CONFORMS TO YOUR LIFE: With it's 4D Adjustable Armrest and Lumbar System, ElastoMesh, 135 Degree Back Tilt, Smooth HydraLift, Dual Castors (and a set of hardwood floor Blade Castors) – it's easy to think the Ergo3D is from the future, but instead it's evolved Ergo Seating at its finest and it's here now.
EASE INTO WORK, OR PLAY: Mesh Headrest adjusts up and down while the 4D Adjust Arms go forwards, back, up, down, side to side, and rotate for the best fit to your body. 3D Lumbar Support hugs your back, while the seat glides up and down for the ultimate in customized comfort in the office, or in front of your game!
SOFT HD OFFICE CHAIR: Our breathable ElastoMesh provides optimal airflow to avoid sweating and sticking. But it's also smooth, and nothing like sitting on wire like many of the chairs you'll see today. And while it's good to take regular breaks, the Ergo3D is so comfy you'll forget you're even working.
HEAVY DUTY: Our 5-Point Base with dual castors gives greater stability and strength over common 4-Point, single castor chairs. And our strong iron base makes this heavy-duty office chair ideal for adults up to 275 lb. We also give a set of blade wheels – smooth as silk on hardwood.
SUPER-LOUNGE RECLINE: Settle back, because you have up to 135° of tilt to keep you in the perfect position for your next task, or to simply lounge back and admire how smart you are for finding such a remarkable ergonomic chair. Try the Ergo3D and feel the difference it makes to your life.
---
3.Duramont Ergonomic Office Chair
On a budget but still looking for a decent ergonomic chair with good neck support? The Duramont chair is probably what you're looking for.
The Duramont's headrest is nothing to scoff at. The large contoured design helps limit stress on the neck for both short and tall people of up to 6'3". It's just the right firmness and can be easily tweaked in terms of height and angle even when you're sitting down. Plus, the padded armrests have a slight concave to them so they're more comfortable to use. Completing the package are the refreshing mesh backrest, slightly contoured foam seat, and rollerblade wheels which are easy on hardwood surfaces.
Pros & Cons
---
★ MORE ADJUSTABLE THEN ANY OTHER CHAIR IN ITS CLASS — Unlike the office chairs sold by our competitors, which allow you to either fully recline or sit upright, we have a SECOND adjustment lever that allows you to lock in your desired recline angle at ANY degree. That way, you can be assured of finding the perfect comfortable seating position just for you.
★ BREATHABLE MESH - The breathable mesh back on this ergonomic office chair provides support while keeping your back cool and comfortable. Cool air circulates through the mesh keeping your back sweat-free and allowing you to sit in the chair comfortably for longer periods of time compared to traditional chairs
★ FULLY ADJUSTABLE BACK SUPPORT - Having back issues or don't want to develop them? Our unique office chair includes adjustable lumbar support that goes in and out, up and down, and a recline feature that allows you to tilt the backrest back or sit straight. Now you can quickly find a position that makes your back feel the most comfortable!
★ EASY TO INSTALL - Simple instructions enable anyone to put this executive chair together in eight simple steps! Then once built you'll be able to adjust the chair to your individual needs. The chair's pneumatic controls will let you raise or lower the seat and tilt back the backrest or sit straight up. You can easily find the ergonomic position that will allow you to work comfortably for long periods of time
★ HIGHEST QUALITY WITH 5-YEAR WARRANTY - This adjustable task chair is made to last. It has a weight capacity of 330 LBS and is made from the highest quality materials, including a soft cushion seat, sturdy arm and head rests and rollerblade caster wheels that allow you to move easily across the office floor. Get your office chair – and boost your work comfort! Your purchase will be backed by a 100% money-back guarantee. Try this chair for 90 days - if you don't love it, you can return it
---
4.KCREAM Executive Office Chair
Next we have the SmugDesk Leather Office Chair, which is one of those rare executive chairs that feels supportive even after long hours. If you're looking for a leather office chair with decent total upper body support, including the neck and head, the KCream is a good option.
The headrest on the KCream is fixed, though it does span the entire width of the backrest, supporting your head even when it's turned sideways.
The backrest on the KCream Executive relines to a text-book 135 degrees, the perfect angle to relieve back pain according to various studies. You'll be able to relax in comfort with the generous cushions cradling your body as you rock and tilt to give your back a break from an upright position. Meanwhile, the pull out footrest is a nice touch, supporting your lower limbs whenever you're in a heavily reclined position.
Pros & Cons
---
---
5.Glitzhome Adjustable
If you're not just looking for a comfortable headrest in a chair, but one that is soft and supple through and through, check out the Glitzhome Executive Office Chair.
This mid-century style generously cushioned chair has a high back with a built-in padded headrest that is akin to a giant pillow attached to the chair The height of the headrest is just right for people that are between 5'0" and 6'4".
Many owners praise the opulent PU leather finish and thick cushioning that offer an extremely comfortable sitting experience, even for larger people. One user that is 6'2″ was thoroughly impressed with the chair, especially with how it is able to support his head even at his height as he leans back.
Pros & Cons
---
EXQUISITE DESIGN - Leatherette Office Chair in camel color is designed to add an accent and stylish touch to your workplace. Mid-Century Style office Chair is the ideal addition to any workspace.
ASSEMBLY AND CLEAN REQUIRED - Easy to assemble, perfect as a office chair. Easy to maintain clean, spot clean or professional clean only.
FLEXIBLE ADJUSTMENT- Provide your comfort with this home office chair, 87°-106° adjustable angel backrest, 3°-10° adjustable angel seat cushion,360-degree swivel smooth-rolling casters, great for a variety of applications and ideal for personalized comfort.
LOAD-BEARING: 275 lbs - Safely certified pressure rods, combined with the perfect sponge cushion, are your best choose.
MULTI-FUNCTION - Whether you're responding to emails, evaluating reports, or brainstorming with colleagues, these modern adjustable swivel chairs provide not only sleek, professional style, but also sophisticated support for all-day comfort.
---
6.CLATINA Ergonomic
The Clatina is one of our favorite fabric office chairs with great neck and upper body support. Its mesh headrest, lumbar support, and padded armrests are all height adjustable to provide personalized comfort. In addition, the headrest rotates vertically to support your neck whether you're looking straight ahead or upwards (in a reclined position).
With a weight capacity of 275 lbs, the Clatina Ergonomic Office Chair feels extremely well built, with metal used for both the base and frame. It follows the BIFMA standard, passed the SGS testing, and has gone rigorous testing to ensure that it is strong enough to support the advertised weight.
To back this up, you get a 5-year warranty along with a 90-day money-back guarantee. This means that even if you're on the heavy side, you'll be able to use this to mitigate your neck pain for a long time.
Pros & Cons
---
FULLY ADJUSTMENT DESIGN: you can adjust the seat height and depth, the armrest height and angle, the lumbar support height, the backrest tilt angles and tilt tension. All these designs aim to help you find a comfortable sitting position just for you.
RELIABLE COMFORT: this super comfortable office chair features breathable back that allows airflow to keep your back cool. Besides, the updated thick pad with soft texture can obviously decline the pressure of the sedentary.
ENHANCED FRAME: featuring reliable ergonomic support, this 360 degree swivel chair seat back reclines from 90 up to 135 degrees. Its gas lift has been tested and the solid construction can support up to 275 lbs.
EASY TO INSTALL: simple instructions enable anyone to put this executive chair together in FIVE simple steps! Once chair is mounted, you'll be able to adjust the chair to fit your individual needs.
5-YEAR WARRANTY: Your 100% satisfaction is our #1 priority. We offer a 60-month warranty and free replace or return sevice within 90 days. Feel free to contact our CS if you have any qustions.
---
Most Important Things to Look For in an Office Chair for Neck Pain
The most important thing in preventing neck pain is to maintain proper posture. As such, the key features in an office chair that are most effective in preventing and reducing chronic neck pain are ones that encourage a good sitting position.
Neck pain can be caused by many things, and sitting in an office chair all day long is one of them. If you experience fatigue and pain, it's likely that your current office chair doesn't provide you with proper back and neck support. And since you're reading this right now, you probably already figured it out.
However, just a headrest isn't enough to ensure your shoulders and neck are fully protected. If your chair doesn't help you maintain correct posture throughout the workday, it means your spine is in the wrong position, and, as a result, your neck as well.
So how do you find exactly what you need?
Of course, the first thing you do is google. But the number of chair models online can be very overwhelming. And what seems like a few-minute task can easily turn into a day's long browsing quest…if not longer. So to save you time and prevent frustration, we've reviewed dozens of chairs and selected the nine best office chairs for neck pain.
Ergonomics
What is an ergonomic chair? It's a chair that allows you to sit and work in the most proven position that's healthy for your back, hips, arms, neck, shoulders and wrists. The best ergonomic chairs can accommodate a variety of different sized people. More expensive options from companies like Herman Miller and Steelcase, for example, are insanely ergonomic because they can support a 6-foot-3-inch, 225-pound man just as good as it can support a 110-pound, 5-foot-2-inch woman.
In terms of neck and shoulder pain, you want a chair that features an ergonomic headrest, in addition to multi-positioned lumbar support.
Remember, the human body is all connected. So a tight hip is going to pull on your hamstrings, which in return is going to pull on your lower back and so on and so on. So, a chair that is ergonomical all around is a necessity.
Build Quality
Build quality is certainly important when purchasing any office chair.
Think about how long you'll be using this chair. If you work from home, it could be anywhere from six to 10 hours each day five days per week. That's well over 1,500 hours of use each year. If you buy cheap junk, it's not going to last.
So, what should you look for in terms of build quality? Here are some suggestions:
Metal support. There are certainly office chairs made completely of high quality plastics that can last, but nothing is as tough as metal. Find a chair with at least a metal base so that can handle day-after-day use.
Made in the U.S. You can find a quality office chair that's mass produced overseas, but it's not going to feature the same quality as an American-made chair. Of course, those American-made chairs, like those by Herman Miller, are going to be significantly more expensive.
Quality mesh. Many office chairs feature mesh because it's supportive and breathable. Make sure the mesh is taught and not fraying. Higher quality chairs feature top of the line mesh.
This isn't always the case, but the higher quality bikes tend to come with longer warranties because the craftsmanship is so high in the first place.
Head and Neck Support
Let's start with the most obvious – head and neck support. There are two types of neck support commonly found on ergonomic office chairs.
The first is a fixed headrest that spans the width of the entire backrest. Typically found on executive office chairs, it consists of a protruding pillow that can be very comfortable, provided it is the right height.
The second type of neck support comes in the form of an articulated headrest that is shaped and curved to conform to the user's cervical spine. If you have neck pain, it's vital that any articulated headrest is at least height adjustable to support the exact region of your neck that needs extra support. Otherwise, it could exasperate your condition.
A chair with good back support is also going to help with your neck and shoulders. Why is that? Because if your chair is letting you slouch, you're not going to be looking at your computer screen and typing in the best possible position.
Your first order of business is finding a chair with adjustable lumbar support. This is typically a slider that also protrudes in and out, allowing you to pinpoint the perfect amount of pressure to support your back. The best lumbar supports have adjustable heights, depth and firmness.
In addition to lumbar support, there's also the backrest, which should tilt back at least 20 degrees. For those with bad back pain, you need a chair that can recline at least 135 degrees. If your chair can't recline, you can't stretch that lower back throughout the day. The backrest should be height adjustable.
Why is tilting so important? It allows your back to make "micro movements" throughout the day. The best office chairs allow you to lock in that recline position, which can be quite comforting for your back.
Lumbar Support
The lower part of the spine naturally curves inward to create what is called the lordotic curve. A lumbar support fills in the gap between the backrest and the spine to prevent slouching, which can lead to a forward head posture over time.
Look for a chair with a good lumbar support, which can greatly help prevent postural problems that cause not just neck pain, but shoulder and back pain as well.
There are three types of lumbar support that can be found in office chairs:
Fixed Lumbar Support: Typically found on lower end chairs, it cannot be adjusted to better fit the user.
Adjustable Lumbar Support: For this type, the height, depth, or firmness of the lumbar support can be manually adjusted.
Dynamic Lumbar Support: The best out of the three, it automatically adjusts its depth and firmness depending on your position.
A lumbar support depth of 0.6 to 2" is sufficient for most people. However, since women have a more pronounced lordotic curve, a better choice for them would be an office chair with a deeper lumbar support. If you're on the tall side, a taller lumbar support is ideal.
Headrest
An adjustable headrest — specifically something that can pivot — is extremely important if you need an office chair to help alleviate your neck and shoulder pain.
The headrest should adjust up and down, but also have the ability to pivot left and right. Not everyone's neck pain is in the same spot, so having the ability to adjust left and right as well is a really helpful feature.
Not everyone needs a headrest, though. If you don't suffer from neck pain, a headrest could actually be cumbersome for your back because it can restrict movement in the upper body. If you have neck pain, though, you're definitely going to want a headrest.
Adjustable Armrests
When talking about neck pain prevention in the office, the armrests are probably one of the last things that you'll think of. However, lack of arm support or poorly placed arms while working can lead to shoulder pain, which can then travel to the neck.
The proper arm position is such that the forearms are parallel to the desk surface, with the elbows assuming a 90 – 100 degree open angle. At this position your arms and shoulders are most relaxed.
To achieve this posture, look for office chairs with armrests that are at least 2D (height adjustable).
Adjustability goes hand-in-hand with ergonomics. You need an office chair that can adjust at all points, from the backrest to even the front of the armrests if you want precise positioning for your wrists while typing. Remember, an ergonomic chair is a highly adjustable chair.
Most chairs on the market today adjust in all the right places: height, armrests, and back supports. More expensive models feature those more detailed adjustments, like 360-degree adjustable armrests.
These adjustments are typically located under the chair's seat, but newer chairs are moving those knobs and adjusters to under the armrests for easier access.
Seat Comfort
You certainly don't want to be sitting on anything too hard for an extended period of time. Thanks to chair technology (and our adaptation to those types of ergonomic chairs) our bodies aren't accustomed to sitting hard surfaces. As a result, our muscles are going to get tired trying to support our full weight.
All of that being said, if a seat is too soft, you're going to sink in and exhibit poor posture.
So, like Goldilocks ultimately found in the Three Little Bears, you need a chair that's just right.
Memory foam is quite popular today because it's firm enough to support you, but cushiony enough to prevent your muscles from wearing out from sitting on a hard surface all day.
Robust Seat Height
Another feature that you'll want in an office chair for neck pain is robust seat height control. According to the Occupational Safety and Health Administration (OSHA), a seat height adjustment range of 15 to 22" works for most people. The reason for this as it relates to neck pain is the same as armrest height adjustment.
When your desk is too high, you move your shoulders up and raise your hands, wrists, and forearms to reach the right height. However, staying in this position for too long will strain your neck muscles and eventually cause headaches as the suboccipital muscles at the bottom of your skull get fatigued.
On the other hand, when your desk is too low, your neck and upper body flexes forward, shortening your suboccipital muscles and causing headaches, neck pain, and muscle spasm.
When people are shopping for a new office chair, they're most commonly researching chairs that help support their lower back because they're dealing with sciatica or some other type of back issue.
But neck and shoulder pain is nearly as common — and if you don't have a proper office chair designed to support your neck and shoulders, that pain is only going to get worse.
Thankfully, there are a number of great chairs on the market that are specifically designed to help people with neck and shoulder pain. Because of that, though, finding the perfect chair for you can be a tad daunting.
Don't worry. We've done the research and come up with a great list of 10 chairs that won't necessarily solve your pain (that's on you to stretch and build strength in those areas), but will certainly not make matters worse.
Any working environment should be conducive for everyone. Both walk-in clients or servers should be safe. Every employer needs to buy chairs that provide comfort all through. Niggling neck problems can put one down for long. Investing in proper chairs is bound to save organizations on health-related claims. Research far and wide to get the right set of office chairs before buying.
Factors to consider in buying the best office chair for neck pain are many. Some of these ideals include head and neck support, lumbar support, and seat height. You should also consider adjustable armrests.
No life of any employee is worth risking by having substandard office chairs. Invest wholly in having the right sets of long-lasting office chairs. The cost implication may be heavy in the short term but rewarding in the long run.
When it's time to choose which office chair for neck pain you're going to order, there are a few things you need to compare and evaluate first.
Does it have adequate lumbar support?
As we've already mentioned, if your back is hunched, tilted to the side, or simply super uncomfortable for eight hours per day, your neck can't be feeling any better. That's why it's crucial to choose an ergonomic office chair that has high-quality lumbar support. And if you want to have the ability to customize your chair even more, go for one that features adjustable lumbar support.
What type of headrest does it have?
While we noted that headrest isn't a deal-breaker, it's still good to have an option to use it and give your neck even more support. Some office chairs come with either adjustable/removable or built-in headrests. Which one you should choose depends on your preferences and height. We recommend opting for an adjustable headrest to ensure it's not too low for your neck if you're on the taller side. In addition, some chairs offer headrests that you can move up and down, back and forward, and change the tilt angle.
Is the seat cushion comfortable?
Yes, the comfort of your neck depends on your body's overall experience when sitting. An ergonomically designed seat cushion that encourages you to sit straight and takes away pressure from your legs will definitely contribute to you feeling less tired at the end of your workday. Thick-padded waterfall or W-shaped seat cushions are some of the best options on the market.
Is the seat depth adjustable?
Suppose you really want to ensure the most comfortable seating position. In that case, a seat depth can give these extra adjustability options to ensure the lumbar support is actually "hugging" your spine in the right way. This feature is especially useful if you're shorter.
Does it have adjustable armrests?
You might not think that armrests are an important feature of an office chair for neck pain. However, keeping arms in a proper position can help maintain good posture, prevent shoulder pain, and contribute to better rest in between work sprints. So even if you don't use armrests often, it's still a good thing to have them in case you ever change your mind and decide to test them out and see how it improves your experience.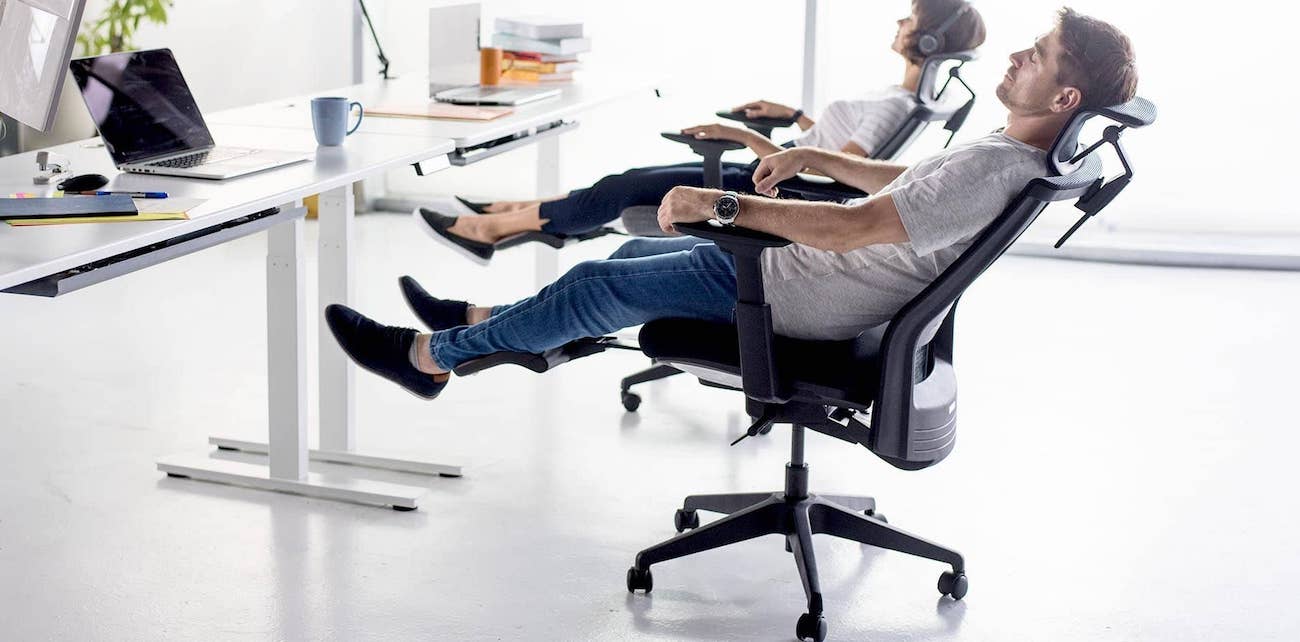 If you're a remote worker or spend five days per week sitting in an office chair, sooner or later, you'll start experiencing pain in your back or neck. And if you already notice that you're feeling fatigued after a day at work, it's worth buying a high-quality chair to help you prevent these unpleasant scenarios.
And while you might be buying an office chair for neck pain, it will still be protecting your whole body, including your spine, legs, and shoulders. We know that a high-quality ergonomic chair for neck pain isn't super cheap, but if you use it almost every single day, it's absolutely worth it.
We hope you managed to find what you were looking for. And if you have any questions or have an idea of what we should review next, please let us know.
WRAP UP
Best Chair for Shoulder and Neck Pain – Talking about Americans, around 30% of American adults suffer from chronic neck, and out of this 30%, 70% of individuals suffer from neck pain due to bad sitting posture.
If you are among those who experience neck pain, and if it's due to bad posture, we highly recommend you replace your current chair with something more comfortable and ergonomic.
If you are among those who still enjoy working on the bed, you must note that this enjoyment is temporary. You are putting a lot of pressure on your neck and your back. That's the reason you are experiencing neck pain.
In this guide, we have picked some of the best office chairs that you can get at an affordable price tag, and they'll be super effective in your neck pain.