Best Chair for Software Engineers – As a programmer or software developer, you are guaranteed to be seated for most of your workday. To ensure comfort and relief to your body, we suggest you invest in the best chair for programmers.
It can help you sit through the intense hours of coding and also support your health and posture. If you are considering buying a chair, we have a list of the best chairs for programmers below. Read on to find your ideal fit.
Whether you are a freelance individual, a corporate employee, or a micro agency, a best programming chair will positively boost work productivity. So, your primary concern should be the comfort that'll allow you to be the super-star at your desk without getting hunted by spine and neck fatigues.
Table of Contents
ROUND UP
1.Steelcase Gesture
With much alike build quality and comfort level to its sister Leap office chair, the Gesture resembles a lot with Herman Miller Embody. Looking for a best programming chair, you'll discover tons of adjustability options, the same minimalist comfort-oriented design, and a hefty price tag starting from 1000$.
It comes with a variety of upholstery options, with Buzz2 as the default variant. Besides, leather, Remix, Cogent, Billiard, and Bo Peep are other upholsteries varieties available at a minor/major price difference.
But then, the seat cushioning is still thin but rich in comfort. With 2" of seat padding, it produces the same comfortable feel to use it for long 8-10 hours of sitting. So don't let the slim padding seat fool you; the seat comfort is the strong performer here.
The Gesture arises with tons of adjustability capacity, including a whole unique Armrest setup. The armrest design is "Never seen before" in the market with an incredible movement range. Technically, the armrest material is the same as the Leap variant, yet the specialty here is the movement that delivers 10.25" width (10.25-22.50") and 4.5" height adjustment.
So for some longer arms or bulkier body frames, long movement plays an important role in your productivity.
Furthermore, you would also see adjustable lumbar support that feels minimal, nevertheless, renders enough satisfaction. The lumber support befalls in a flexible plastic material that better flex according to body size and pressure. However, the backrest height adjustment is still lacking in this model, too.
Notwithstanding, the backrest is already long, posing a 24.1" height for guys above 6Ft.
Meanwhile, the seat is adjustable through a dialer like a controller. You'll experience smooth seat adjustment without standing from your position.
Another department where this programmer chair shines explicitly is the weight capacity. With a 400lbs weight limit, Gesture has attained 2 cylinder variants same as Leap V2 setup. The standard one is the 4.2" inches chair model, yet if you want to take it into drafting chair styling, a long-range cylinder will suit you better.
On the whole, the chair feels much like a small boy, but practically, it's a comfort and flexibility beast.
Pros & Cons
---
Connect fabric is 100% polyester
Wheels for carpet flooring
Ergonomic chair – this model includes an adjustable headrest, adjustable seat depth, fully adjustable arms, adjustable lumbar, pneumatic seat height adjustment, recline tension adjustment, 4 position recline lock, wrapped upholstered back and seat, black/black frame color scheme
All day comfort and back support - Gesture's seat and back move as a synchronized system, following your body as you move throughout the day to ensure long-term support
Quality and durability – designed to withstand 24/7 use while providing maximum comfort
Ships fully assembled; 12 year manufacturer warranty
NOTE : To ensure proper assembly, please follow all steps provided in the installation manual (provided in pdf below)
---
2.Autonomous ErgoChair
The ErgoChair Pro is one of the best chairs for programmers and workers in general. This chair, developed by Autonomous, has everything someone could ask for in an ergonomic chair. Full adjustability, excellent lumbar support, and various colors are available for you to choose, which best suits your place's aesthetic.
Autonomous designed this programmer chair to provide full-body support with its mesh back, armrests, and neck rest that are completely adjustable. The ErgoChair Pro also offers you the chance to decide how much lumbar support you want to receive and an outstanding tilting backrest. Getting recognized by BIFMA is not a small task, but Autonomous did it with this programmer chair! So don't doubt its quality.
Pros & Cons
---
Sturdy, high customization and breathable fabric
Ergonomic design brings comfort to boost your working productivity
7-way adjustable angle for the any sitting-posture
Lifting capacity: 330 lbs. Seat size: 19.7x19.7 inches
Easy and very fast to assemble
---
3.Ergohuman Chair
The best chair for programmers is the one that prioritizes your health and helps you correct your posture, and that is precisely what the ErgoHuman High Back Chair does. Apart from a programmer office chair's essential function, this one offers a unique synchro-tilt mechanism that helps you correct your posture regardless of your position, fully supporting your back.
It's also good to know that this chair helps you to improve your blood flow and circulation, making it even better for your health. As it should, the ErgoHuman High Back chair also has eight different adjustable features for you to check until you get to your sweet spot.
Pros & Cons
---
Tilt Tension Control
Feature- Tilt Lock
Back Angle Adjustment
Synchro-Tilt
Seat Height Adjustment. Seat height : 18.1" (at lowest point) ; 22.9" (at highest point)
---
4.Gabrylly Ergonomic Mesh
This best programming chair helps to treat many parts of your body since it supports your back, head, hips, and arms.
The Gabrylly Mesh Chair is ideal for long-period schedules because of its comfortable mesh that keeps air circulation and adds a whole new comfort level. This product also comes with a great range of adjustments and allows you to lower or raise your armrests.
Pros & Cons
---
【ERGONOMIC OFFICE CHAIR】- The ergonomic chair provides 4 supporting points(head/ back/ hips/ hands) and a proper lumbar support. It's easy to adjust seat height, headrest, backrest and flip-up arms to meet different needs, good for sitting long hours. Suitable for people of about 5'5" to 6'2".
【LARGE MESH SEAT】- The office chair is larger than other chairs, and it could accommodate different body build. The whole Chair Dimensions(including the arms): 25.6"W x 22"D x 45.3"-54.9"H, the Seat Dimensions: 20"W x 19.3"D x 18.5"-22.05"H. Loading Capacity: 280 lbs. The recline function makes you tilt the backrest back (90~120°) or sit straight freely.
【ADJUSTABLE FLIP-UP ARMREST】- Folding the armrests up, you can push the executive office chairs directly under the desk to use more area. It's easy to raise or lower the folding armrest by pressing the black buttons on the armrest.
【BREATHABLE MESH CHAIR】- The mesh back and mesh seat keep air circulation for extra comfy. High quality mesh resists abrasion and transformation, it makes the high back computer desk chairs good for sitting for 4 ~ 8 hours, perfect for a long day sitting.
【EASY INSTALLATION & WARRANTY】- All ergonomic office chairs come with 2 years warranty, so please email us directly, we will offer you effective solutions ASAP. With clear instruction and tools, the office computer chair is easy to assemble (about 15~20 minutes). PU mute wheels roll smoothly, no harm on wooden floor; the sturdy five-pointed base and chair frame add durability and stylish appearances.
---
5.Homall Gaming Chair
Homall gaming chair has a full-length back to support the neck, shoulders, and head. It is made with perfection and designed to fit the body's natural shape.
The long-lasting recliner chair is made of high-quality PU leather and provides utmost comfort.
Pros & Cons
---
Selected Material: High density shaping foam, more comfortable, elasticity resilience and service life. 1.8mm thick steel frame, more sturdy and stable. Pu Leather, skin friendly and wear resisting.
Upgraded Configuration: Class 3 gas lift, durable, reliable and supports up to 300lbs. Rubber casters, rolling quietly and tested by 1000 miles rolling.
Multi Function: 360 degree swivel and multi direction wheels, load capacity: 300-pound maximum weight capacity. Recline function. Between 90 to 180 degree. Rocking function: chair can rock back and forth when you adjust the knob beneath the seat.
Dimension: Size of back: 22.5 inch and 30.5 inch. Size of seat: 14.5 inch and 20.5 inch. Seat adjustable height: 17.3 to 21.5 inch.
Wide Usage: This gaming chair is suitable for you to play computer games, watch show, do the work and have a rest. It will make your space more modern and elegant.
---
6.Herman Miller Chair
The Herman Miller is hands-down the best chair for programmers if price isn't a factor. It's adjustable, sturdy, comfortable and cool (as in temperature). Of course, it's extraordinarily pricey, too.
This is why we offer it as a gift on an employee's one-year anniversary with the company.
We're 100% remote, so we don't have traditional office space, but we like to reward our employees as much as possible and this chair has been one of the best received gifts we have sent out.
Pros & Cons
---
---
How to Choose A Good Chair for Programming?
Now that you know the importance of finding a good programming chair, it appears the following question: What to look for in a programming chair? That is an excellent question because you need to take into consideration some critical criteria.
There are tons of office chairs, but not picking the right one that offers you what you need can turn out to be a bad investment for you.
We want to help you make the right choices, so here are some fundamental things that you should look for when buying an ergonomic chair: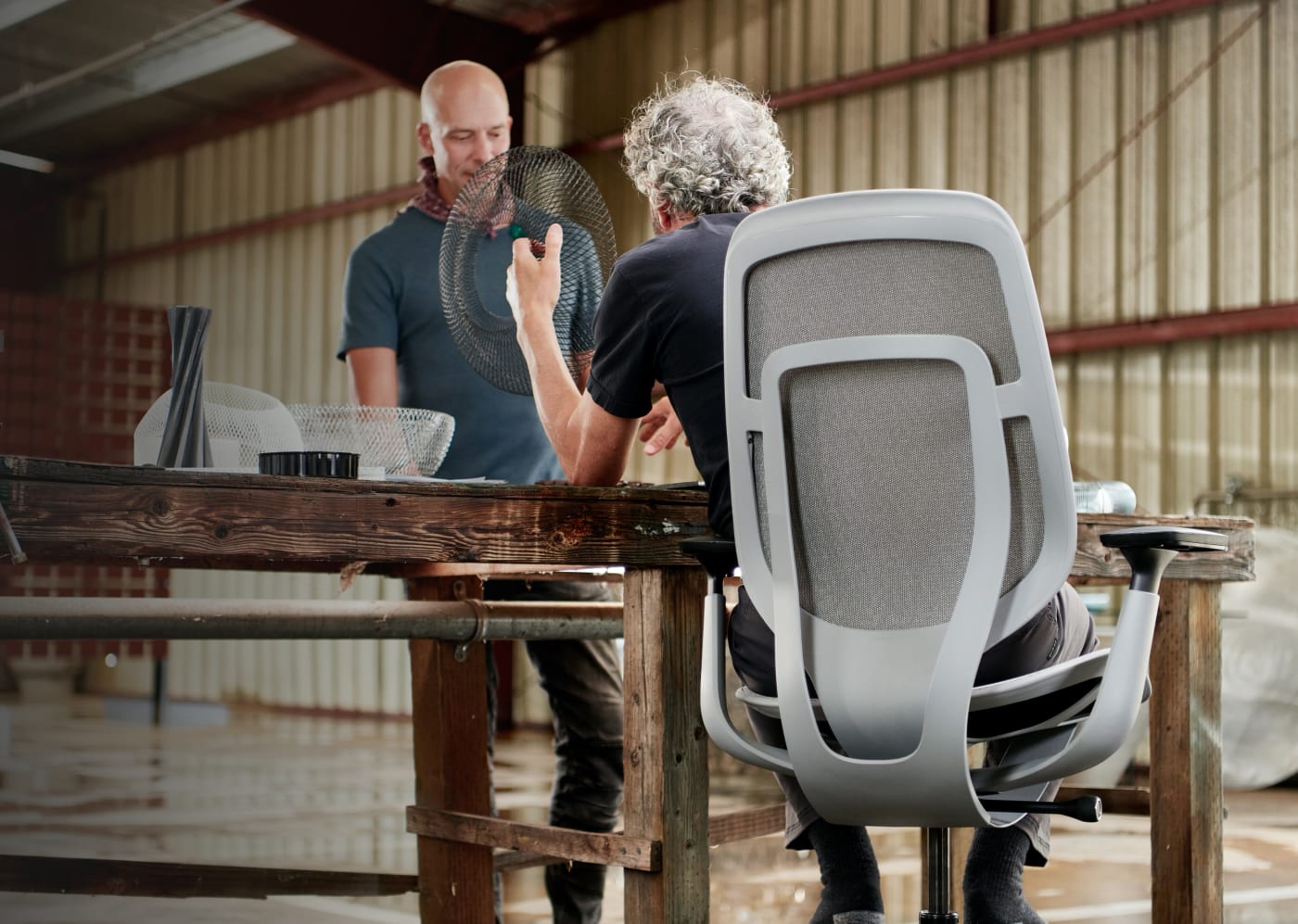 < style="font-weight: 500">Adjustability
Traditional chairs can often cause back pain or discomfort when sitting in them because people make them with general characteristics and can't change them. That lack of adjustability is well known by the ergonomics industry, which is why they offer you the possibility of adjusting your chair according to your needs.
The seat height or depth, the armrests, the leg rest, and the back support are just some of the few things that you should be able to modify in a good ergonomic chair. However, some offer up to 19 different modifications exclusively for you to find the spot when you feel the most comfortable in them. So, look for a chair that lets you adjust it into the best chair for you.
< style="font-weight: 500">Seat Height
As explained before, seat height is one of the things that you should be able to adjust in a good programming ergonomic chair. This one is pretty important since it can make a chair useless if you can't fit it with your programmer desk setup other components.
Whether it's too high or too low, working without being at the perfect height for your computer can be highly unpleasant for any programmer. Some people look for chairs with a seat height from 16 to 21 inches off the floor and are happy with them. However, those chairs may only be useful for one task and limit the possibility of using the chair for something else.
< style="font-weight: 500">Material
The materials of a programmer chair are like the ingredients of a food recipe; they are essential. The ergonomic chair design can be spectacular, but the chair is just a sophisticated conventional chair without adequate materials. The main goal of a chair is to be as comfortable as possible, avoiding anything that could make the users experience unpleasant or average.
Some of the best materials for an office chair for programmers are:
Mesh: It boosts your back seat breathability, improving the airflow of the chair.
Vinyl: Vinyl makes the chair highly resistant, which assures its longevity. It also is very easy to clean.
Leather: Because it makes your chair look sophisticated and offers outstanding comfort.
What Things Can I Fit an Ergonomic Chair With?
It doesn't matter if you have the best chair for programming if it's the only thing you have to work on. Programmers and people who work from their computers, in general, need a good working setup that improves their productivity and energy. There is nothing more pleasant than working in a place you like to be in.
We have a few recommendations regarding the improvement of your workplace, which occurs when you combine the comfort of a good programmer ergonomic chair with other elements that boost each other's assets, working together to make your performance better.
Fit
If at all possible, you should try sitting in a lot of chairs before you pick one. You can, of course, stop by your local office store, but they might not have some of the higher end chairs. In that case, you'll need to look for specialty stores in your area. If you can't try them out personally, at least consider what you think is the best choice compared to the fit of your existing chair — are they similar in style? Is that a good or bad thing?
Adjustability
It can't be the perfect chair if it doesn't adjust to fit your needs. A great chair will have a good reclining range, be easily raised or lowered, and have armrests that are equally flexible. This will let you create the most well balanced and customized seating arrangement, in turn helping your posture and leaving you completely comfortable.
Material & Support
Do you prefer to sink into your chairs or be held up by them? Would you be unable to survive without leather or does a modern mesh hold more appeal? Each material has its own pros and cons, many of which depend on personal preference. However, regardless of which material you choose, you must make sure the chair includes adequate support along your upper and lower back. Without such support, you might as well have purchased a stool.
< style="font-weight: 500">Desk
Naturally, you need a place where you can put your computer and other stuff you need to do your job adequately. A perfect standing desk is an ideal match for an office chair for programmers since they work as two parts of the same setup, complementing each other and functioning to achieve the same goal.
The first thing you need to worry about when purchasing a desk or using an old one is the space available for you to put things in it. Before you try to add items to improve the aesthetic, make sure you have everything you need to work at hand without disturbing other components of the setup.
< style="font-weight: 500">Dual Monitors
Dual monitors are a gift for everyone who works on their computer. Investing in adding these to your workplace shows a significant but positive change in your productivity since it allows you to work with more information. Dual monitors also save tons of time because, with them, you don't have to waste time closing and opening windows and side programs since you can work with both altogether.
< style="font-weight: 500">Music
Working with music may not seem an important thing that makes a big difference, but it does make a huge one for some. It is proven that music helps you develop your ideas faster and make you feel more comfortable in the place you are in, so it wouldn't hurt to try to work with some mood music for concentration in your workplace to notice if there is any visible change.
< style="font-weight: 500">Lumbar Support
The lumbar support feature in ergonomic chairs is essential to its primary function, delivering comfort and easing back pain. That allows your low-back to rest correctly and the rest of your back to breathe appropriately.
Almost every office chair or ergonomic chair provides this function, varying its quality and level of support. It is recommended to find a chair that lets you adjust how much lumbar support you want to receive. That way, you can make the chair fully support you and adapt to your body shape.
Working from a computer has excellent benefits and perks but requires a significant amount of focus. Programmers can develop unique and creative projects but still need to focus on doing their job correctly. If you are thinking about back pain and having a bad posture, you are more likely to be distracted. Since we want you to be comfortable doing the best job you can, we bring you a list of the top 10 best chairs for programmers in 2022.
Whether it's a back strain or just feeling less active while working, these problems can determine if your job performance gets worse. No worker should suffer from those problems, but it's very common ergonomic office injuries since not everyone is actively investigating the issues that using a conventional chair can cause.
You could ask yourself: What is a good programming chair? The question is not that hard to answer. The best programming chair is the one that supports your back and makes you comfortable while working. Since some of these chairs are designed with that purpose entirely, there is no need to be worried about feeling any pain.
Alternative Seating

All of the options we have covered so far are task chairs that you will see most people use in an office setting. As we mentioned before, there are also executive-style chairs. Another type of traditional seating, executive chairs are usually built for comfort and covered in leather to make them look fancier. This Ticova is an example of a typical executive chair.
Traditional task and executive chairs are not the only kinds of seating available. There are some alternative types that most people do not think about, but include some benefits far beyond support and comfort. These chairs help correct bad posture, build and strengthen muscles, increase circulation, improve balance, and help you build stamina.
It's almost like exercising while you are sitting at your desk working. It not only helps to preserve your health but helps you do so in a relatively short time. There are two non-traditional types of seating that I have experience with. The first is a kneeling chair; the second is an exercise ball. Let's take a look at both.
Kneeling Chair
This chair forces you to sit with your thighs dropped to about a 120-125-degree angle from your spine. At that angle, your shins are forced to support some of your body weight. Using a kneeling chair is not quite like sitting, it's not quite like kneeling either. Since it has no back, it forces you to use proper posture and use your muscles to balance and hold yourself upright.
This chair helps you build strength and improve posture, and takes much of the stress off of your lower back since your legs are no longer at a 90-degree angle. Traditional chairs put most of your upper body weight on your lower back, causing lower back pain and possible damage to your lower spine.
This positioning allows you to sit upright with little effort while getting rid of the need for a chair back. It keeps you well-positioned to work at a computer keyboard and look at a computer screen, making it an ergonomic and unique way to sit while developing software.
Exercise Ball
You may have seen some people use an exercise ball as office seating. If not, you may be surprised to know that an exercise ball can make a superb office chair. I've been using one of these for a few years now and have seen enormous benefits to my back health. I don't even have to use it all day to see the benefits; a few hours a day are enough to enhance my posture significantly.
I used to suffer from severe back pain due to bad posture. After using an exercise ball, I have strengthened my core muscles, gained better balance, and improved my posture. Because of this, my back troubles have almost completely disappeared. The ball not only helps with health issues but is comfortable and easy to move around on in my office space.
One thing to think about when using non-traditional seating is that it will take some time to get acclimated. It is best to start with small amounts of time each day so that your body can adjust. Expect to experience some muscle soreness as you begin working muscles that may not have been used much in the past.
Are gaming chairs good for programming?
Gaming chairs are ergonomically loaded. So better ergonomics better play against the discomfort and fatigue. As the programmers tend to spend half a day on their chairs, gaming chairs are good performers when it comes to extended programming sessions.
Which chair is best for posture?
There are two different things to understand. Firstly, chairs can't remake an already bad posture. Secondly, the best chair can help stop a healthy and right sitting posture from going into the worst one.
Why is Herman Miller so expensive?
The premier brand invests an immense fortune in design and comfort research to form a technological sound and exceptionally comfort-orient seating setup. Also, Herman Miller chairs carry a prolonged warranty duration that also makes Herman miller an expensive luxury brand.
Coding needs a great mind juice, but don't let a lousy recliner squeeze your back juice. For that reason, I have added plenty of luxury and comfortable programming chairs in my listing. But still, which comes on the Number 1 spot? It still needs an answer, I know.
So making an easy recommendation, I assumed Steelcase Gesture is a clear winner. The chair is elegant, minimal but technological sound in design and execution, delivers great performance delivery for long hours, and brings some unorthodox armrest setup. Yes, it still lacks the Backrest Height adjustment but features a high back backrest to cover this lack.
Factually, this is an expensive piece of technology that can't get under everyone's budget. So for that reason, you can consider the ErgoHuman Swivel chair with some compromises on your table. The comfort level isn't compromised though you'll find somewhat less adjustability scale and upholstery option.
Other than these, you can check out other best chairs for programmers according to your specification priority.
So if you are a programmer who is ready to take your office space to the next level? Then it's time to get to the best chair that doesn't hold you back with creaks, squeaks, groans, and other pains. Everyone works better when they can "get in the zone", and the right chair will help you find your flow by putting you in the most comfortable and relaxed position possible.
We'd also love to hear which chair was the one that got your ideas flowing freely at work, so drop us a comment below if you have something to add.
Do You Need A Computer Chair At All?
If you're a programmer or computer technician and spend much of your day at an office desk, then these recommendations are meant precisely for you. The chairs here are investments that will help you ease in and out of work, feel comfortable all day, and never cause you trouble. If you're currently using a chair that's old, torn up, or broken, it's time to upgrade and get something that will help you work more efficiently.
While we're certainly focusing on programmers who spend the majority of their work time at a desk, you don't have to work in tech to appreciate a great office chair (nor do you need one if you are used to working on a standing desk). No matter what kind of desk job you currently work in, these chairs are all great choices and will help you breeze through the day.
As the years go on, I've discovered chairs with little to no support can take a toll on my body. An uncomfortable or poorly adjusted chair can take away from the concentration and enthusiasm I once had as a new programmer.
When I have a nice chair and get it adjusted just right, I become possessive of it. I remember once when someone moved my chair overnight and switched it with another one. I tried to use a replacement, but could never get it adjusted and positioned quite the way I had before. I searched for days, bugging other co-workers until I finally found the original that made me feel comfortable and ready to write code.
WRAP UP
Best Chair for Software Engineers – So, coders, software engineers, and testers, you know, spending a heinous time on your desk is pretty regular at the office. A strong logical code is not only directly connected to your skills or mind but also your comfort. Apparently, a comfortable coding chair is the need of the hour in this situation.
Some of the coding minds love to have lavish office chairs, yet some (with their gaming genes) love to taste a best ergonomic gaming chair for their multi-purpose approach.
I have my own list of best chairs for programmers as I have plenty of programmers in my circle. While talking to them and through market research, I have picked up some big lavish names, plus some highly productive and affordable solutions for tech guys