Best Chair for Streamers – A high-quality chair is essential for long streaming sessions. It should be able to support your body without any aches or pains and generally improve your whole playing experience.
To achieve such comfort, adjustability is a major factor for any chair. Everybody's shape/ size is different, which is why it's important to look out for adjustable features in the arms, lumbar, and seat depth, etc.
Before you decide to purchase a gaming chair, it's important to consider the various factors such as the brand, comfort, adjustability, materials, price, and aesthetics of the chair. Every person is unique, which means you should focus on the chair's qualities that best suit your needs.
Sure, it might seem like a hefty initial investment, but it's well worth the cost to spend on a high-quality gaming chair to help you remain healthy and efficient when sitting for long hours. We hope you found a lot of value from our list of best gaming chairs and buyer's guide for Twitch streamers!
With this in mind, we will cover the best "racing style" and "ergonomic" chairs on the market right now.
Table of Contents
ROUND UP
1.DXRacer OH/RAA106
The DXRacer Racing series chairs may not be the most luxurious chair. However, it has a sturdy, comfortable, hip, and a durable build that suits gamers who enjoy playing for a long time.
We like that the chair has an extended backrest to support the entire length of a person's spine, which redistributes weight evenly. This means less pressure on your body's crucial areas and a lower chance of back problems.
As a gamer, adjusting your position is a huge aspect of being comfortable. The DXRacer has fully adjustable arms enabling it to move in all directions, including up, down, in, out, left, or right. Furthermore, you can easily tilt back to your desired position up to 135 degrees.
This chair is also quite comfortable. It features padding of high-density, elastic mold shaping foam, which perfectly adjusts to the user's body shape and offers full-body support. Like most gaming chairs, it has both a headrest and lumbar cushion pillow for enhanced ergonomics.
Pros & Cons
---
UNIVERSAL USE: Unique style is suitable for all environments and occasions including homes, offices, gaming, and more to ensure a comfortable experience
COMFORTABLE MOLDING FOAM: Ergonomic and high backrest filled with high quality mold shaping foam and elastic leather cover design allows your head, back, and hips to be supported correctly and well protected
360-DEGREE SWIVELED BASE: Includes adjustable armrests, tilt-rocking capability, adjustable angular backrest, and adjustable height
RECLINING BACKREST: 90 to 135-degree reclining backrest element is easy to adjust and allows you to sit or lie down
COMPATIBILITY: Model is suitable for people weighing up to 200 pounds and have a height up to 6 feet tall and the 3D adjustable armrests can meet your arm length requirements, matching virtually all body shapes and sizes
---
2.GTRACING Gaming Chair
GTRACING is one of the best most affordable gaming chairs in the market. It has all of the adjustable features that you'd want in a gaming chair.
This chair has quite a deep recline allowing you to lean back from 90 degrees up to 170 degrees. Better yet, users can tilt their backrest slightly even after 170 degrees to create a rocking motion, which makes it very comfortable to sleep on. Their armrests are 3D adjustable, allowing for plenty of movement to prevent carpal tunnel syndrome.
The GTRACING chair does an excellent job of not sacrificing quality despite the low price. It's built with smooth PU and padded seat cushion, making it comfortable to sit for long hours.
This type of artificial leather is easy to clean especially if you experience stains or spills. In addition, it includes a removable lumbar cushion and headrest pillow for extra comfort.
We find that this chair is great for both tall and larger individuals. The chair has a high weight capacity and a wider seat width measuring 21 inches in width. Its foundation is built on a five-point base with a metal frame to ensure long-lasting durability along with smooth-rolling casters to move around the room.
Pros & Cons
---
MULTI-FUNCTION: Armrest and seat-height adjustable; 90~160°reclining and rocking; 360°swivel; 5-point base built with heavy duty; Smooth-rolling casters; Removable headrest pillow and lumbar cushion.
---
3.Herman Miller Aeron
Although the Herman Miller Aeron comes with a steep price tag, this chair has become a symbol of status and has the features to back it up. We've found that this chair has unique ergonomic features that garner that hefty price.
This chair uses their patented PostureFitSL mechanism that follows your back's S shape, which is useful for posture correcting by ensuring proper spinal alignment. Also, the lumbar support is made of soft and supportive high-density foam.
The Aeron replaced the standard classic foam padding with an improved breathable membrane, woven pellicle material. This material is designed to support the eight tension points providing firmness in those areas, while relaxing it in others.
It's also very breathable and has a waterfall design to increase circulation. This increase in circulation and blood flow provides more oxygen in your brain to focus longer.
Aeron comes with the standard features that you'll need as a gamer or streamer. This includes a seat angle tilt mechanism, fully adjustable arms, leather arm pads, and quiet-rolling casters. One thing we love about the Aeron is that they fully back the durability of the chair. Herman Miller offers a full 12-year warranty on their chair, which proves their belief in this product.
Pros & Cons
---
---
4.Homall Gaming Chair
If you're in the market for cheap gaming chairs, it's hard to beat the Homall brand. There are nine different racer-style design color schemes that you can choose from to match your room's decor. Overall, the Homall chair has an excellent combination of comfort, ergonomics, and resilience.
With Homball, it offers a 150-degree reclining feature so that you can lean quite far back. This is great for people who enjoy taking breaks or even napping in between game sessions or work. We enjoy the memory foam padded seat, which is meant to relieve tense pressure points in your legs and buttocks.
The chair features a high back to keep your posture fully upright, along with a removable headrest pillow and lumbar support cushion.
It comes with an upgraded upholstery that is made from PU leather. The advantage of PU leather is that it doesn't absorb water, making it very easy to clean. They're also quite durable and tear-resistance, ensuring that it won't snag over time. For someone who wants to find an excellent gaming chair on the budget, you can't go wrong with the Homall chairs.
Pros & Cons
---
Selected Material: High density shaping foam, more comfortable, elasticity resilience and service life. 1.8mm thick steel frame, more sturdy and stable. Pu Leather, skin friendly and wear resisting.
Upgraded Configuration: Class 3 gas lift, durable, reliable and supports up to 300lbs. Rubber casters, rolling quietly and tested by 1000 miles rolling.
Multi Function: 360 degree swivel and multi direction wheels, load capacity: 300-pound maximum weight capacity. Recline function. Between 90 to 180 degree. Rocking function: chair can rock back and forth when you adjust the knob beneath the seat.
Dimension: Size of back: 22.5 inch and 30.5 inch. Size of seat: 14.5 inch and 20.5 inch. Seat adjustable height: 17.3 to 21.5 inch.
Wide Usage: This gaming chair is suitable for you to play computer games, watch show, do the work and have a rest. It will make your space more modern and elegant.
---
5.RESPAWN 110 Chair
Respawn 110 is one of the most comfortable chairs for its price range in the gaming chair market. The 110 focuses on providing enhanced comfort for gamers who frequently play long hours without pain on their thighs, backs, and necks. It features segmented padding that provides contoured support and gripping your body with minimal friction.
Another aspect of comfortability has to do with the adjustments that a chair has. Respawn has a height adjustment feature to raise or lower your seat matching the height of your desk.
It has a reclining feature so you can set your desired angle to any position from 90 to 155 degrees. One of the stands out features of this chair is its padded footrest. The footrest flips out from beneath the chair, allowing you to kick back and relax.
This chair is made from bonded leather material, which has a very consistent and smooth texture. It also provides a very luxurious feel to the chair without being expensive.
In addition, the chair uses a five-point metal base and a metal steel frame to ensure long-lasting durability. We also noticed that the assembly time for the Respawn chair is much faster. It includes installations for users to refer to and takes less than 20 minutes to assemble.
Pros & Cons
---
GAMIFIED SEATING: A racecar-style gaming chair that provides luxury and comfort, whether it's used for intense gaming sessions and climbing to the top of the leaderboards, or long work days.
ERGONOMIC COMFORT: With segmented padded designed to give highly contoured support when and where you need it most, this ergonomic chair is also equipped with an extendable footrest for position reinforcement. Adjustable headrest and lumbar support pillows, as well as padded armrests provide all-around comfort.
PREMIUM MAKE: Upholstered in bold, contrasting colors but maintains a professional look, this gamer chair can also be used as an office chair. Gaming chair includes a 275 pound weight capacity for long-lasting use.
4D ADJUSTABILITY: Find your optimal position by raising or lowering your chair and reclining between 90 - 155 degrees with infinite locking positions. Soft, padded armrests pivot with the chair as it reclines. Full 360 degrees of swivel rotation enable dynamic movement.
WE'VE GOT YOUR BACK: An award-nominated brand, RESPAWN is committed to your satisfaction and covers this video game chair with the RESPAWN 5-Year Limited Warranty, and dedicated, year-round representative support.
---
6.RESPAWN RSP-900
For gamers who typically play console games on their television, the Respawn RSP-900 is an excellent choice. This chair uses a 360-degree swivel base which sits lower to the floor, making it the ideal height for playing games on the TV screen. However, the base is high enough for you to swivel around, recline backward, or kick your feet up.
As far as comfort, we love it's one of the softest and supportive gaming chairs in this price range. It offers segmented padding throughout the chair, which contours to the shape of your body.
Furthermore, there is a removable plus headrest pillow to provide neck support along with padded armrests. Most armrests are hard, making it uncomfortable to rest your arms for long periods. Additionally, a nice padded footrest is designed with a continuous surface without any open spaces to prevent wires from being caught.
The Respawn RSP-900 also includes useful storage options such as a cup holder built-in on the left arm, and a removable side pouch to store accessories such as your phone, controllers, and wires. If you want to nap after a long Twitch stream, you can kick your feet up on the footrest, and recline back up to 135 degrees!
Pros & Cons
---
CONSOLE GAMING COMFORT provided by a plush removable headrest pillow and segmented padding that lead to the ultimate experience -- a fully functional gaming recliner that lets you level up while laying back.
CONTROLS AND DRINKS AT THE READY with a removable side pouch that hangs off the left arm to keep game controllers close and a cupholder built into the left arm so you don't have to pause the gaming action to refuel.
CONTINUOUS SURFACE WITH INDEPENDENT CONTROLS. The chair and footrest are a continuous surface, no open spaces to get wires caught, but operate independently to give you total control over your gaming chair experience. Features a 275 lb weight capacity.
RECLINE WITH CONFIDENCE. Comfortably recline up to 135-degrees and feel secure because the 360-degree swivel base provides sturdy support for both the extendable footrest and reclining back -- allowing you to focus on your foes, not your balance.
AWARD-NOMINATED BRAND, RESPAWN is committed to your satisfaction.
---
How to Choose the Best Gaming Chair for Twitch Streamers (Buyer's Guide)
It's crucial to understand that your budget plays a massive role in the features incorporated in the design of the ergonomic gaming chair. More expensive models usually equip the ergonomic gaming chair with more advanced technology to effectively produce these features. In contrast, cheaper models are likely to provide less advanced technology that creates low-quality features or completely omits certain features.
There is a variety of streamer chairs that can be considered as the best ergonomic gaming chair. This can make choosing one daunting. That's why we have searched to find a good list of options to choose from that could be deemed as the best ergonomic PC chair.
An ergonomic gaming chair should offer the following features to streamer chair user:
A significant range of adjustability. The purpose of an ergonomic design is to provide the user with comfort. To achieve this comfort, the chair should offer the user the ability to adjust the back angle, seat height, armrests, and more to better fit the user's body.
An effective lumbar support system. The best ergonomic gaming chair is one that is equipped with an adjustable lumbar support system. This adjustability allows the user to change the support system to follow the spine's curvature.
A high backrest that's designed with a curve. The purpose of a backrest is to offer neck and upper back support.
Tension mechanisms and tilt lock features. These features are used to lock the tilt of your backrest in place, which accommodates the user's different postures.
Mesh materials used in the design. Mesh is an excellent fabric that helps make the best ergonomic gaming chair. This fabric is breathable, which allows for more air-flow and more comfortability for the user.
Brand
If you're in the market for a gaming chair, there are many brands to select from. Different brands vary in quality and price. Some brands such as Herman Miller prioritize ergonomics and comfort, while other brands like DXRacer and Secretlab are more geared towards gamers. Before purchasing a chair, it's best to understand what each brand is known for.
For example, Herman Miller chairs typically are more expensive and position themselves as luxury chairs. They offer unique material and technology not found elsewhere. You get excellent ergonomic features to help prevent and correct bad sitting posture.
In contrast, X Rocker chairs are all about console rocker chairs that sit lower to the floor. These chairs focus less on ergonomics but enhance the gaming experience by adding speakers and vibration motors to feel like their gameplay is real.
Comfort
Comfort can be very subjective since one person may feel differently about a chair than another. However, typically gaming chairs are designed with a high padded backrest and a headrest pillow and lumbar cushion.
This design helps to correct your posture in an upright position to prevent strains and back pain. The cushion helps to make sitting in a straight perpendicular position much more comfortable.
Another aspect of comfort is the seat padding. Most of the chairs we've listed used high-density padded memory foam padding on their seats, which relieve pressure points throughout your body.
This memory foam also contours to your body's shape, applying pressure to spots that need more support. Some chairs even include padded armrests and footrests for users. These soft cushions throughout the chair help to distribute the weight evenly and absorb the weight pressure. As a result, this puts less pressure on your joints and provides ample support for your spine.
Adjustability
Adjustability plays a huge role in determining whether a seat is comfortable. The more adjustments that can be made, the more you can find the sweet spot for sitting. Every gaming chair should have a standard height adjustment to adjust the height of your seat to fit the computer screen.
Most gaming chairs also include a reclining feature where you can lean back on your chair to any desired angle. The angle can range from 90 degrees up to 180 degrees. Sitting in a straight posture for long periods can feel strenuous on your body. It's best to take a break now and then by sitting back or going for a walk as a streamer.
In addition, some chairs have multi-directional armrest adjustments. A 4D armrest adjustment allows you to adjust it horizontally, vertically, side to side, and at various angles. Setting your arm in the right positions lets you comfortably use the keys on your keyboard and mouse, preventing additional strain, which can lead to carpal tunnel syndrome.
Build Quality & Materials
The right materials can make all the difference in the durability and comfort of your chair. There are a few common materials, such as leather, PU leather, PVC leather, fabric, and mesh when it comes to seating.
Many budget-friendly chairs use PU leather because it's cheaper to produce than genuine leather.
while gaming chairs aren't cheap, it is better to spend a little more for one that you won't have to replace anytime soon. Look at it as an investment in your future.
PU leather can provide a luxurious appeal without the price tag, and it's very easy to clean since it doesn't absorb water. However, the problem is that PU leather can puncture or tear more easily than real leather.
On the other hand, more expensive brands use mesh material to add breathable comfort to a chair. It allows air to pass through, which increases blood flow and circulation. Mesh chairs typically have a modern appeal and also can be cleaned easily with a soapy rag.
The problem with mesh chairs is that they are much thinner than leather, so it doesn't offer the same softness level. Instead, mesh materials are flexible, allowing users to move more freely on their chairs.
Style – choose something that will match the rest of your decor and that can "grow with you." While racing stripes look cool, styles often change. Going with an option that could also double as an office chair will give you more mileage out of the seat.
Ergonomic Support – you need to keep your body comfortable and healthy and using ergonomics can help do that. Choose a chair that is adjustable to your height and body shape so that you can have the proper support while you game.
Aesthetics
Many professional gamers and streamers have popularized the gaming chair industry. People want to emulate these professionals by purchasing these aesthetically appealing designed chairs. Gaming chairs are purposely designed with a race-car themed seat appearance, which adds to the chair's luxuriousness. Gamers feel more important when sitting in a professional gaming chair than just a standard office chair, which improves their gameplay.
Furthermore, there are different types of gaming chairs. Racing style chairs look like a chair inside of a race car. Console chairs are much thicker and look more like an armchair sofa. These chairs typically come with a variety of color schemes to fit your room's style.
Do You Need a Gaming Chair for Streaming on Twitch and YouTube?
Technically speaking, you don't need a gaming chair for streaming on Twitch or YouTube.
However, gaming chairs are designed specifically to suit the gamer's insatiable appetite to play for long hours. These chairs offer great adjustability, excellent lumbar, and posture correcting features, along with aesthetic designs to enhance the gaming experience.
Investing in a gaming chair might be costly upfront, but it's well worth it to ensure great posture and help you enjoy your game more.
Where do YouTubers get their chairs? YouTubers that command a large audience are usually given chairs for free by brands and sponsors as part in order to promote their products. This is especially true for brands like Maxnomic and DXRacer, who provide chairs and sponsorship for various eSports teams, twitchers, and YouTubers.
Is DXRacer the best gaming chair brand? DXRacer is definitely one of the best brands to go for if you're looking for a high-quality chair. They have a good range of different designs and offer chairs that are durable and fit for gamers with a large build. The only real downfall with DXRacer are the prices, but their chairs are sure to be reliable and high quality. However, if you are not sure about what gaming chair you should buy, I've made a list of the 26 best gaming chairs on the market. Or you can use our gaming chair selection tool, which allows you to find the best gaming chairs for you.
How much should I spend on a gaming chair? Gaming chairs come in a range of different prices, so it's hard to say what is the right amount to spend. Some gamers choose to use cheaper chairs, but you may find that the quality isn't as good as more expensive models. It's possible to find really good, high-quality chairs that cost between $200-$300.
If you're keen to get a top of the range chair, then you could pay up to or exceeding $500. It really depends on the budget you have, but if you're planning to game for long periods of time, be on the lookout for ergonomic chairs that are comfortable and good for posture.
What Gaming Chairs Do Professional Twitch Streamers and YouTubers Use?
Are you curious about which gaming chairs the professional Twitch streamers and YouTubers actually use?
When choosing a gaming chair, it is important to consider style, comfort, ergonomic support, and quality. You want to make sure that you are comfortable and that the chair will last for years to come.
You shouldn't be surprised that all best gaming chairs look like they've been ripped straight out of a custom Subaru Impreza. Not because we're all racing obsessed degenerates (some of us are, but still) it's because drivers and gamers alike spend a lot of time sitting. That means when someone designs a chair for them, they have to encourage great posture and comfort.
Picking the best gaming chair for you will ensure your one any only spine is taken care of. That fragile, meatbag body is more delicate than you might think, so why pay top dollar for an extreme gaming PC build, only to ignore your health?
Many of the best gaming chairs seem a little overkill, with bucket seats, and satanic rune sporting gaming chairs abound. For those with an inclination toward the less flashy, we've made sure to add a few sleek, office-style chairs to make up for it. Take the impressive, mesh-style Herman Miller X Logitech G, for example—a crowning jewel among restrained-style gaming chairs.
Whichever route you go down, keep your posture in mind. It may not be top of your list as you embark on a ten-hour raid, but we suggest you don't disregard ergonomics. We've tested dozens of gaming chairs from today's most reliable companies, and while you could always go the cheap gaming chair route, why not treat your posterior to something special.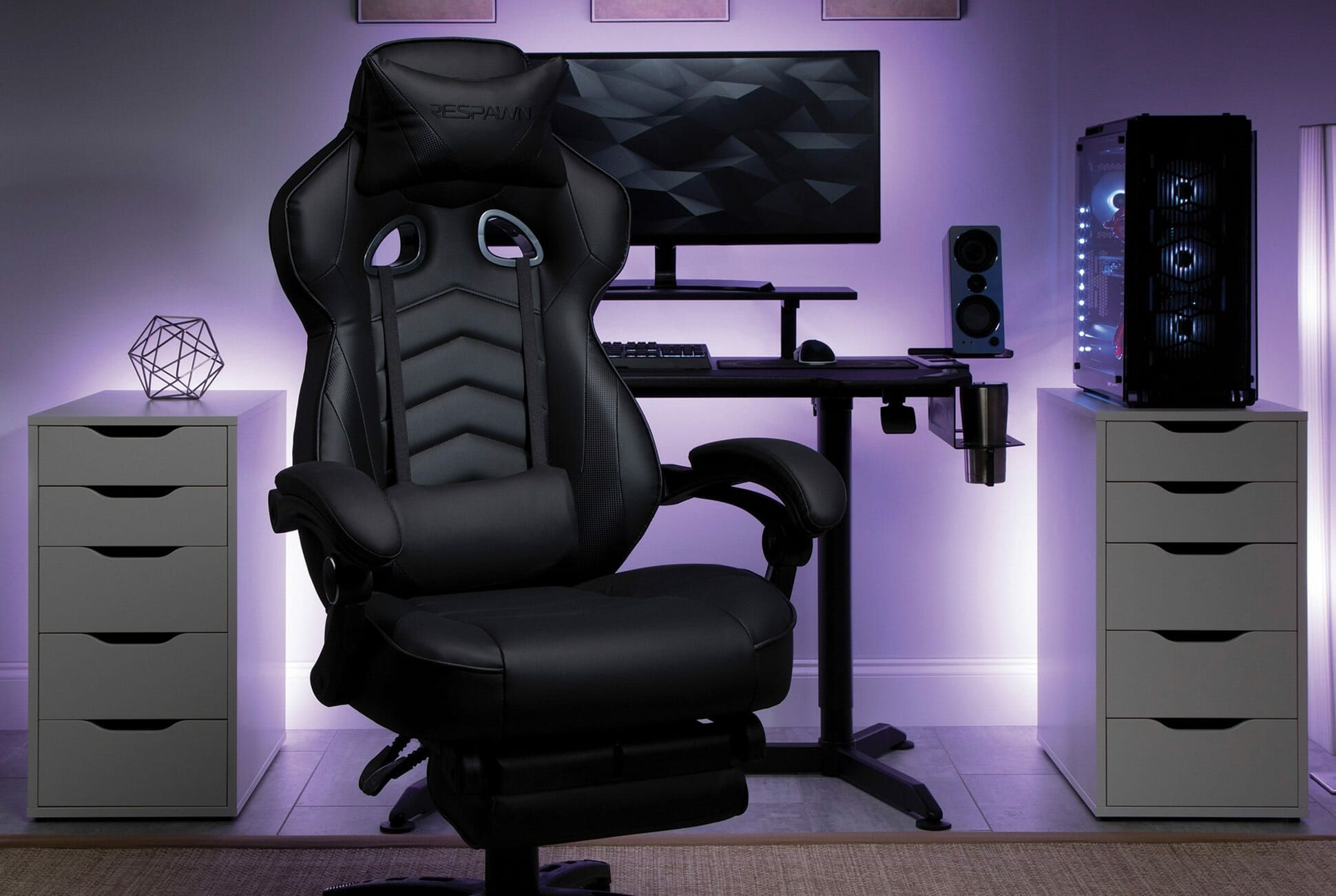 What is the best streamer chair for gaming? There are many different streamer chairs that claim to be good for gaming. However, one thing is certain. An ergonomic design is needed in a gaming chair. The market is flooded with products that advertise being the best ergonomic pc chair. This can make choosing the right chair difficult.
Nonetheless, choosing the perfect ergonomic gaming chair shouldn't be as challenging as building your gaming PC. That's why we have created this article – to help you make the right decision and get an ergonomic gaming chair that offers incredible comfortability while you spend hours gaming. This ergonomic gaming chair is crucial as it enhances your gaming experience and provides you with an excellent gaming setup.
WRAP UP
Best Chair for Streamers – If you're wondering what gaming chairs YouTubers and Twitch streamers use, you're in the right place. These professionals spend hours a day sitting on their chairs, which can be detrimental to a person's health unless they have the right chair.
When sitting for hours of gaming or streaming, it is important to have a chair that is both comfortable and gives you the proper support you need. You also want something that is aesthetically pleasing so that it looks good to any visitors to your home or viewers on Twitch.
This post will go over our top 6 picks for gaming chairs as well as help you determine what you should personally look for when picking one.
Sitting for extended hours can lead to postural problems such as disc damage, strained neck, and back pain. We've compiled a list of 10 gaming chairs that are best suited for YouTubers and Twitch streamers. These chairs vary in features, price, weight capacity, and comfort, so be sure to check them out to see which style best suits you.