Best Chair for Thoracic Back Pain – Considering that many of us spend over half of our waking hours sitting down, if you suffer from back pain, the right ergonomic office chair can be a godsend in managing your thoracic pain and relieving tension. The question is, just what is a good office chair for back pain?
The fact is, almost every ergonomic office chair claims to help with back pain, but that doesn't make it true.
Unlike most guides on the web, in this post, we actually spent hours pouring over the latest research to find out scientifically just what the best office chairs for back pain should look like. Is a high back really better? What about an office chair that reclines versus one with a 90 degree straight back? Just how important is lumbar support in back pain relief? And what about the material? We look at all the evidence before coming up with our list of 6 of the best office chairs that fit the bill, or ones that actually help with lower and upper back pain.
ROUND UP
1.Hbada
Especially for a reasonably priced option, the Hbada office chair has a ton of great features, including an S-shaped backrest for ergonomic support, several adjustable parts, a sleek, rounded appearance, five silent rolling wheels, and a heavy-duty design that can support up to 250 pounds. Unlike some other brands, it even has flip-up armrests so you can pull your chair all the way in, even when working at a lower desk. Pair that with the high rating and thousands of reviews, and it's no wonder it's the number-one pick for most people.
Height of backrest: 18.5 inches
Backrest material: high-density mesh, Seat material: high-density foam, Adjustability: 17.7- to 21.1-inch seat height, rotatable seat, 90- to 120-degree rocking backrest, 180-degree rotatable armrests, 360-degree swivel
Maximum weight capacity: 250 pounds, Available colors: black, white
"I've had this office chair for a little over a month now. I needed an office chair that provided back support, and I am really glad I decided on this one. The "S" curve of the back of the chair helps relieve my lower back pain. I really appreciate the foldable arm rests since my "office space" is very small."
Pros & Cons
---
Home Office Desk Chair - Sleek design and simple adjustment mid-back desk chair. Match different decorative styles. Ergonomic backrest fit the natural curve of the lower back and take the pain of spinal away from your body
Space Saving - You can flip the arms up and put the chair under the desk for saving space.Suitable for livingroom, study room, conference room and office
Breathable - High density mesh back, flexible supportive, breathable. Designed to support your lower back
Adjustable - Hbada home office task chair has a 120° tilt tension, pneumatic height adjustable from 16.5 inch to 19.5 inch, match different stature. Weight capacity: 250lb.
Stable & durable: Heavy duty base with smooth and silenced rolling casters, Max Capacity 250lbs
Customer Warranty Service: Hbada provides three years warranty that is processed in the most hassle-free way possible. Customer-first is the original aspiration of Hbada.No matter what problems you encounter during use, you can contact us. We will provide you with professional services on the product.
---
2.Amazon Basics Mesh
On a budget? No problem. While the AmazonBasics swivel chair doesn't have all of the features, it definitely offers some of the most important ones at a great price. It has a contoured backrest made of mesh as well as a 2-inch padded seat, plus it swivels, raises, lowers, and rolls. For just over $60, it's a definite upgrade from that folding chair, especially considering it has thousands of five-star reviews.
Height of backrest: approximately 15 inches, Backrest material: mesh, Seat material: padding, Adjustability: 15- to 20-inch seat height, 360-degree swivel
Maximum weight capacity: approximately 250 pounds, Available colors: black, blue, green, red
"So far this chair is excellent. Nice and thick cushion on the bottom and good back support. It only has height adjustment and is very basic, but it feels well made and it is comfortable."
Pros & Cons
---
Comfortable office chair with contoured mesh back for breathability
Pneumatic seat-height adjustment; padded seat for comfort
Stable 5-point base with dual-wheel casters; 275-pound maximum weight capacity
User manual with assembly instructions included
BIFMA Certified
Chair Dimensions: 25.2 x 24 x 35.6-40.3 inches (DxWxH)
---
3.Steelcase Office Chair
The Steelcase Gesture is a high end ergonomic chair often talked about in the same breath as the famous Herman Miller Embody chair. We reviewed both chairs last year and found them extremely comfortable, though when it comes to an office chair that specifically helps with back pain and even sciatica, the trophy has to go to the Steelcase Gesture.
What differentiates the Gesture from its Embody counterpart is the choice of a high back plus a headrest. Both of these components as mentioned at the beginning of this article are vital for long term comfort for someone suffering from back pain.
In terms of lumbar support, Leap uses what it calls LiveBack technology that spans the entire lower back of the backrest. Using special materials, the lumbar flexes as you change postures to conform to your back. One owner of the Gesture who was in a car crash and couldn't sit in a regular chair for over 15 minutes says the Gesture has completely changed that. He even slept in it for 3 hours without pain. The lumbar requires very little adjustments to feel comfortable- like a second back it basically bends and contours as you shift your back, which is especially helpful for people with back pain.
For people with sciatica with pain that extends to the thighs and legs, the Steelcase Gesture comes with a flexible seat edge that bends to reduce pressure in your thighs as you sit. This can greatly help with pain in those areas thanks to better blood circulation.
The headrest on the Gesture is also a huge deal when it comes to relieving neck tension and stress. The design is especially robust, and moves up/down 5 inches and forward and backwards 4 inches to meet your head in any posture. As one owner said, with the headrest, it takes the Gesture chair from good to amazing.
About the only real shortcoming of the Gesture is the rather shallow degree of recline, at 120 degrees. A "Backstop" paddle sets how far back the chair reclines as you lean back, though it will always snap back to a relatively upright position when no force is applied. The chair was designed as a serious productivity chair, and not a reclining chair. In general however, many owners of the Gesture with back or neck pain have found the chair a godsend in helping them work pain free throughout the day, a testament to the chair's solid set of ergonomic features.
Pros & Cons
---
Buzz2 fabric is 100% polyester
Wheels for carpet flooring
Ergonomic chair – features include adjustable seat depth, fully adjustable arms, height adjustable lumbar, lower back firmness control, pneumatic seat height adjustment, recline tension adjustment, 5 position recline lock, upholstered back and seat
All day comfort and back support - Leap's contoured backrest changes shape as you move to support your entire spine, ensuring long-term comfort
Quality & durability – designed to withstand 24/7 use while providing maximum comfort
---
4.Eurotech Chair
Some customers said that they live in a hot climate, so they loved the product for its breathable mesh fabric.
Another reviewer said that the assembly is highly straightforward (spare screws are even provided, just in case) and requires only the included Allen key.
Are you looking for a comfortable stay in your 8 to 9 office hustle? Well, this chair offers a combination of features aimed at your comfort. If you are a weighty person, however, go for a chair with upto 500lbs capacity.
Pros & Cons
---
Tilt Tension Control
Feature- Tilt Lock
Back Angle Adjustment
Synchro-Tilt
Seat Height Adjustment
Tilt Tension Control
Feature- Tilt Lock
Back Angle Adjustment
Synchro-Tilt.Seat Height Adjustment
Note : To ensure proper assembly, please follow all steps provided in the User manual (provided in pdf below)
---
5.Ticova Ergonomic Office Chair
It's a high-back desk chair with a unique headrest and high-quality mesh provides more comfortable neck and head support. Besides, the breathable mesh features high tensile strength for prolonged hours of comfortable sitting.
One customer said that the lumbar support is excellent. This was because of the springs inside the back, which provide excellent lumbar support and resilience.
The Ticova Ergonomic Office Chair – High Back Desk Chair is an excellent addition to your office. This is particularly true because of its elegant features for computer compatibility. Therefore, if you are looking for a chair that offers comfort and style as well, then this is your product.
The most striking feature associated with this chair for upper back pain is its adjustability. You can adjust back and lumbar support height to your most comfortable position.
Additionally, you can adjust headrest height and angle, tilting angle up to 130°, and make your preferred comfort positions.
Pros & Cons
---
【Adjustable Mesh Chair】You can adjust lumbar support height and depth; headrest height and angle; armrest height, angle, forward & backward; seat cushion height; tilting angle up to 130°and rocking resilience to your personal most comfortable position
【Ergonomic Backrest & Seat】Our adjustable backrest can perfectly fit your spine and significantly ease the fatigue and pain of your back. Also, our seat is made of 3 inches high density foam with W-shaped and waterfall-edge design, providing larger support area and disperse pressure on hip and thighs
【Unique Metal Armrest】Compared with all other ergonomic desk chairs' plastic 1D armrest, our stainless electroplating metal 3D armrests with bigger, thicker & softer PU paddings are much more durable and best fit to your favorite position
【Unique Headrest & Quality Mesh】Our home office chairs' big curved foam headrest provides more comfortable neck and head support. Plus, our breathable mesh with strong tensile strength provides cool and comfortable back support, enabling long hours sitting relaxed without sweat
【Warranty】We provide 30 days money-back guarantee, one year warranty and professional after sales service for our ergonomic office chair. If there is any quality problem, please contact us and we will provide 100% satisfied solution. Our ergonomic computer chair has comprehensive packaging and clear instruction, enables everyone to assemble easily without damage worry. Our high back office chair passed BIFMA test and 1136 kg static pressure test
---
6.Serta Chair
This chair's high-performance design offers unparalleled comfort for gaming. The lumbar support is ergonomic and contoured, relieving stress in your back and neck while the mesh sections help you stay cool. (Here is a list of the 10 best office chairs for neck pain.
This chair features Air Lumbar technology that supports your back while reacting to your back movement. Again, the air-filled pad soothes your spine into a relaxed shape, thus creating the necessary tension and freedom for your back to rest.
One customer was so happy, citing the comfortable feel of the chair and that it was indeed easy to assemble.
Another customer said, "Great chair for the price, it's comfortable." She said that she could use it for hours on end without being tired. Moreover, the reviewer praised the ease of assembling the chair.
I probably wouldn't recommend it for big and tall folks as it holds up to 250 lbs only. However, if you are a gamer looking for some comfort, then grab the product. Further, it would give your space an elegant feel due to its high-gloss platinum finish.
Pros & Cons
---
COMFORT MEETS PRECISION: Sleek office chair designed with gamers and programmers in mind
ERGONOMIC SEAT AND LUMBAR SUPPORT: Customized to help reduce stress in back, neck and shoulders
RACE-CAR-INSPIRED DESIGN: Leather upholstery with breathable mesh accents
GREAT FOR WORK OR PLAY: Helps keep you comfortable and relaxed whether you're working or kicking back
VERSATILE AND MOBILE: Adjustable height settings, convenient swivel design, and rolling casters
Seat Height: Min 19" - Max 23"
---
How To Choose A Chair That Will Relieve Upper (thoracic) Back Pain ( Buyers Guide)
Does your job involve prolonged sitting? Then you need a high-quality chair with comfortable back and neck support so as to avoid upper back problems.
Here are some tips on choosing the appropriate upper back pain chair.
Choose A Seat With Adjustable Height 
The height of your chair ought to allow your legs to touch the floor at 90 degrees. To ace this rule, many ergonomic chair manufacturers make the height adjustable so that you can modify it to suit your needs.
Additionally, a chair that is too high would exert excess pressure on the knees. On the other hand, if a chair is too short, then the pressure comes to your thighs. However, the trick is to get a chair that can adjust to different heights.
Nevertheless, if you're extremely short, be sure to engage a footstool to rest your feet comfortably. This goes a long way in alleviating back pains, certainly.
Choose A Chair With The Right Seat Depth
The seat's depth is essential in allowing your buttocks to move freely and for the knees to bend naturally.
Importantly, an ergonomic chair should feature a comfortable material, usually strong towards the back where most bodyweight lies.
Also, the chair seat pad must match the body shape and be spacious enough to fit your bottom.
Lastly, a chair with appropriate seat depth can significantly reduce back injury, ease muscle strains and boost energy levels for increased job performance.
Consider The Chair Backrest 
The best office chair for upper back and neck pain should be supportive and comfortable. The backrest should be adjustable to accommodate both short and tall people.
Moreover, it should be able to be pushed forward or backward so you can find a perfectly comfortable position.
Choose A Chair With Proper Armrests 
Most importantly, a good ergonomic chair should have armrests.
Therefore, when looking for a chair that addresses your upper back pain, be sure to choose one with armrests. Then, the armrests need to be adjustable to fit your body and height.
In addition, to find a comfortable position for your arms, be sure to rest your elbows at 90 degrees and your wrist at the same level as your desk.
Is An Upper Back Support In An Office Chair Helpful? 
The answer is a resounding 'Yes!'. Indeed, upper back support is most helpful in a chair. It prevents unnecessary movements that can damage the back by removing unnecessary weight from your spine and intervertebral discs.
The upper back support cushion aligns your spine and strengthens your muscles. This leads to healing and consequently relief from upper back pains.
What Could Be Causing Your Upper Back Pain? 
Other than acquiring a chair for upper back pain, most importantly, you need to understand what causes back pains. You need to investigate the specific reason why you have a painful back. Once the cause is clear, you are better positioned to choose a chair that addresses the problem rightly.
Here are the causes of upper back pain:
Bad Sitting Position
Prolonged sitting requires a comfortable posture to avoid straining the body and spinal cord. A bad posture is a known recipe for many health challenges, including back pains. Even worse, using a standard chair for hours on end may worsen the scenario.
A lousy posture exerts pressure on your back, and the spinal cord bears the weight and may quickly become painful.
Strain 
There are frequent strains that cause back pains. These include;
Injuries
Fractures
Falls
Muscle spasm
Strained muscles muscle tension
Damaged disks
Basically, the common causes of a strain include lifting heavy objects, making abrupt movements, and improper lifting of objects among other causes.
Structural Problems
Several structural factors cause back pains.
These include a ruptured disk, bulging disk, sciatica, arthritis, abnormal curvature of the spine, and Osteoporosis, among others.
Risk Factors
There are various factors associated with high chances of developing back pain. These are:
pregnancy
older age
obesity and excess weight
genetic factors
strenuous work
medical conditions
poor physical fitness
Moreover, back pain is also common in women and men. This is greatly attributed to hormonal chemistry and mood swings as a result of stress and anxiety.
More? Read this awesome ultimate recliner guide for lower back pain.
Other Effective Lower Back Remedies
Hot/cold compresses
According to studies published by the US National Library of Medicine, hot and cold compressors can help with pain relief.
If you are experiencing back pain after an injury, then ice packs can help to ease the pain by reducing the inflammation and numbing the area. You should make sure that you apply it for no more than twenty minutes at a time.
If your muscles are stiff and achy, then a hot compress or a heating pad can help to relieve the pain. Just be careful that the compress doesn't burn your skin.
We'd also recommend checking your injury with a doctor before choosing which compress to use; the wrong one could do more harm than good.
Devil's claw
Devil's Claw is extracted from an African plant and according to a report released by U.S. National Library of Medicine, its anti-inflammatory properties can help to manage back pain, with studies finding it as effective as some NSAIDs ( Non-steroidal anti-inflammatory drugs).
Choose and take a devil's claw product daily with at least 50 to 60 mg of harpagoside, the active ingredient in devil's claw. According to UHN, a lower dosage has shown to be significantly less effective than the aforementioned amount.
Turmeric
Turmeric is a spice commonly used in Asian curries and is rich in Curcumin, which has powerful anti inflammatory properties and is generally safe for use by adults.
There are many ways to incorporate Turmeric into your diet, from taking turmeric supplements, making turmeric and ginger tea, to cooking with turmeric.
Note that people with gallbladder issues however should avoid using it, according to the NCAAM.
Capsaicin
Capsaicin can desensitize the channel which sends pain signals to the receptors in the brain. Capsaicin is effective when applied topically to the back for lower back pain relief.
According to the National Health Research Institute, a double blind study using Capsaicin topically on patients saw a 25% improvement in current back pain after 3 weeks. The majority of patients rated the efficacy "excellent".
In the study, one patch (12 x 18 cm) containing 22 μg/cm2 capsaicin per day  was applied to the area of pain in the morning.  Patients were told to keep the patch in place for 4 to 8 hours.
What Are The Benefits Of An Office Chair With Upper Back Support? 
As seen above, there are various causes of upper back pain. So how do we alleviate the problem?
Well, the answer lies in investing in a chair that supports the upper back. This is because their features aim at getting the upper back pain gone.
Here are some of the benefits of an office chair with upper back support.
Posture Improvement
Firstly and most importantly, the upper back support office chair is meant for posture improvement. The Ergonomics companies come up with chair designs that alleviate upper back pain altogether.
They usually design those desk chairs with your size in mind in order to give you a comfortable sitting posture. Moreover, these chairs come with adjustable features so you can modify your chair to your comfort needs.
Improves Productivity 
When you work in a comfortable chair, your performance definitely improves. This is because of improved concentration. Undoubtedly, upper back pains would distract you from performing your tasks due to the disturbing discomfort.
Luckily, the solution lies with a desk office chair with upper back support. Its adjustable height and breathability relieve pressure from your spinal cord. Consequently, there is no upper back pain, and, therefore, much concentration is geared towards job performance.
It Improves Blood Circulation
Blood circulation prevents mobility and flexibility issues. However, ordinary chairs don't take into consideration the issue of blood flow.
Fortunately, the office chair upper back support addresses this issue thanks to its ergonomic features. Ergonomic chairs are made to improve your blood circulation through your whole body. This improves the general feeling of well-being and boosts energy levels.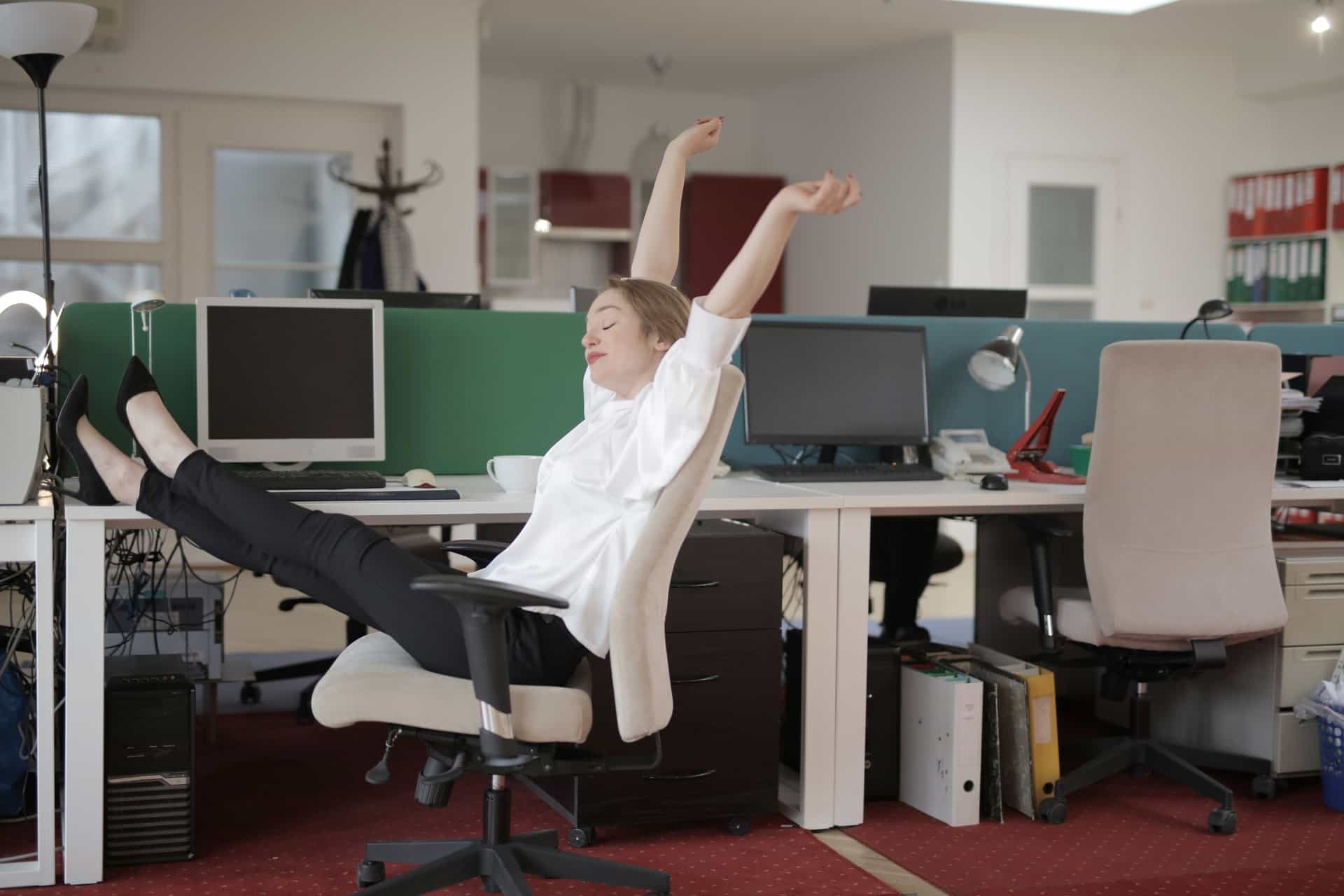 Can office chairs help back pain?
"In the age of technology, we spend so much time sitting at our computers, and our bodies cannot maintain good posture for hours without fatiguing," explains Dr Amy Hoover, a physiotherapist at workouts company P.volve.

"A chair that allows your lower back to maintain a good neutral position, supporting the natural curve in the lower back, can alleviate stress on the spine and improve the alignment of your spine all the way up to your head."
Lyndsay Hirst, a physiotherapist specialising in back pain and a specialist in Pilates, agrees. "The right chair set up is essential, not only to support the natural curves of the spine but also the shoulders," she notes. "Arm rests are really useful for someone who suffers neck and mid spine pain. Lumbar support is also very useful. An adjustable seat plate, back rest and arms will allow the user to adapt the chair to their specific posture."
It's especially important to replace an ageing chair, says James Crow, owner of Posture Stars, a website promoting good posture. "If your chair has been around for more than a decade it's probably time to upgrade," he explains. "The materials wear down over time, with seat padding especially taking a beating.
"The best office chair for back pain is one that's highly adjustable, so you can get the back to support you in a meaningful way. Invest wisely: we wouldn't buy the cheapest mattress or car, but many of us are spending eight to 10 hours a day perched on a 'value' chair."
Note that the chairs above give you a great chance of avoiding back problems in the future. If you're experiencing pain already, make sure you visit your doctor or chiropractor, as there may be underlying issues besides your chair.
What's the best office chair for back pain?
There are many options, but for our money the best office chair for back pain is the Herman Miller Mirra 2. Now, that retails at around $1,500, so it won't be in everyone's budget, but if you want the very best support for your back, and you're able and willing to invest in your back's health, the Herman Miller Mirra 2 does a sublime job of supporting you. Super comfortable, and looks beautiful too.
What chair features are good for back pain?
See our guide to what makes an office chair ergonomic for full details, but in summary, you should look for chairs with:
Lumbar support
Adjustable armrests
Seat-depth adjustability
Recline and tilt
What is lumbar support?
When you're shopping for an ergonomic chair for back pain, you'll often see references to lumbar support. But what does that mean, exactly? The word 'Lumbar' refers to your lower back, which should curve inward, and as Chongsu Lee, a physiotherapist and creator of the robotic BackHug device, explains, "lumbar support can be an attachment, or a built-in part of an office chair that aligns with your lower back to maintain its natural inward curve."

Why does this matter? Well, when sitting, your lumbar becomes sandwiched between the torso, above, and buttocks, below. When you sit, lumbar stress is one-and-a-half times higher than when you stand, and double compared to when you walk.

"Left unsupported over time, the strain causes stiffness, making the lower back prone to injuries like slipped discs," Chongsu says. "Just like support beams in a building, lumbar support absorbs that strain and props your lumbar up, protecting it against stress and injury."
How do you sit properly in a chair?
According to the NHS website, your knees should be slightly lower than your hips and your feet should be flat on the floor or a good footrest. Do not cross your legs as this is a recipe for posture-related aches and pains. An adjustable chair (tilt, height and recline) will make sure your lower back is properly supported, and if you're using a keyboard then make sure your chair is positioned so you can use it with straight wrists and hands (level with the floor).

What's the conclusion of the matter, therefore? While the best office chair for upper back pain may help deal with upper back pain, they wouldn't do the job for you entirely. So, you have a responsibility to adopt an appropriate sitting posture so as to achieve optimal results.

Coupled with a great choice of a desk chair, I'm sure this review will help you deal with your upper back pain and spine issues once and for all.
WRAP UP
Best Chair for Thoracic Back Pain – Now more than ever, investing in the best office chair for thoracic back pain is a wise idea. Whether it's at home or at the office, it's fair to say that many of us spend a lot of time sitting down at the desk (we're looking at you creatives!). So it makes sense – whether you're uncomfortable or just want to look after yourself – to look into choosing an office chair that works for you. Well, we can help you get one of the best office chairs for back pain and save you money with this dedicated page.
Buying an ergonomic chair will improve your posture and avoid unnecessary suffering in the long term. The best office chairs for back pain allow your lower back to stay in a neutral position by supporting its natural curve, alleviating stress on the spine. They also offer adjustable height to ensure your feet are grounded without changing the position of your back. If you have specific questions about what to look for in a chair, use the quick links below to find the answers.