Best Chair Under 300 – If your sitting posture at the work desk is not right then that can lead to fatal body disorders in future. No matter how much work out you do to burn out calories gained, but the back pain generating out of your chair at your work desk is not going to leave you unless you make your sitting position right. A playful sitting ambience at the high stress working area is required for long term health benefits and productivity. So, it's very important to choose a right office chair which helps you enjoy sitting while working.
If you're out in the market in hunt of best chair with $300 in your pocket, then there are lot of office chairs from different manufacturers that claim to be good in ergonomics and sturdy enough to withstand for next 4-5 years. But, we cannot just believe on those words advertised by chair manufacturers and buy the chair. Right?
So, we at Chair Adviser, reviewed dozens of office chairs in $300 price range and picked the 10 best office chairs under $300 so that you don't end up wasting your money and time by buying a bad office chair for yourself.
Spending up to $300 can give you or your employee a right posture which will eventually lead to better productivity and work management. So, we think you should never compromise in investing your money on a good office chair that can give you a lot of health and work related benefits!
So, if you're ready then let's proceed with our comprehensive list of budget office chairs on which you can spend your hard earned $300, blindfolded.
Table of Contents
ROUND UP
1.SIHOO Ergonomic Mesh
It's very hard to find an ergonomic office chair with a footrest for under $300. Two aspects stand out about the Sihoo Office Chair. We love that it includes a retractable and adjustable padded footrest for users to relax and take breaks. Secondly, this chair has the perfect combination of mesh material and fabric cotton material. Most chairs only use one type of material for their chair. The Sihoo chair uses an elastic styling cotton for its seat pad for nice soft support, and it uses a mesh back to provide better spinal support and air circulation.
We're also impressed by the outstanding features that Sihoo has. It's designed with a high backrest along with an adjustable padded headrest. Users can adjust the headrest about four inches up and down. In addition, the headrest can swivel up to 45-degree back.
Sihoo has all of the adjustability features you've come to expect from a high-quality office chair. Users can use the rear knob to adjust the lumbar support to suit each individual's preferences. Other adjustment capabilities include seat height, armrests, and backrest angle.
Pros & Cons
---
★ 【Features】Adjustable head restraint allows the neck to lean easily and comfortably, adjustable lumbar support bracket for free adjustment of height depth, 3D adjustable armrest for different office applications, 90°-120° arbitrary backrest adjustment for multiple work positions, any switch 10cm lift, 360 ° Freedom to rotate freely 3D handrail.
★ 【Ergonomic design】SIHOO is recommended by Ergonomics Application Association. SIHOO's ergonomic design is based on the human body dynamic digital model. The ridge backrest and the human spine are exactly the same. The close fitting helps release the spinal pressure. The flow waterfall arc seating design Thigh support is comfortable, SIHOO will make you more comfortable
★ 【Material】The aluminium base is steady and durable,having good bearing quality. The silent castors move freely without noise. Double-back-frame design is steady and durable.
★ 【Design】SIHOO is the crystallization of the common wisdom of many professionals in human body, physiologist, product designer, mechanical engineer,does its best to make every step comfortable and safe for every customer. Every small part has strict safety quality testing. Cushion impact test, handrail fatigue test, chair foot static pressure test, in line with the strict standards of office chairs.
★ 【warranty】Product warranty period is one year. If there is any quality problem, please contact us. After confirming, we will change the accessory for you. We promise to provide you with zero profit product accessories within three years of the warranty period.
---
2.STAPLES Hyken
If you're a fan of mesh chairs and prefer a modern design, the Staples Hyken Chair seems to fit the bill. It features a durable, breathable mesh back to keep users cool. Mesh material is ideal for enhancing breathability and ventilation to your seat. Warm seats can typically cause great discomfort.
The Staples Hyken Chair is also designed with a high backrest with an adjustable headrest, particularly ideal for taller individuals. Tall people tend to get the short end of the stick if the backrest is short in length or the headrest isn't adjustable.
It also has all the standard adjustments you'd want in an office chair, such as seat height, armrest height, tilt lock, and tension. This product comes in three available colors: black, charcoal gray, and red to help match the existing home decor of your office space. The Hyken comes with silent and durable carpet casters, so you can easily move the chair around. Furthermore, it holds up to 250 pounds making it the ideal seat for most individuals.
Pros & Cons
---
Sold as 1 Each.
BREATHABLE MESH MATERIAL: This high-back office chair has a mesh breathable back that offers a modern look while keeping you cool. Built for both form and function, the mesh upholstery allows air to circulate while providing enough support for your body.
EASILY ADJUSTABLE: Adjustable tilt tension and tilt lock let you find an ideal seating angle, and height adjustment options make it easy to find the proper configuration for your desk. Plus, each arm on this desk chair adjusts height for ultimate comfort.
DIMENSIONS: This mesh task chair measures 24"L x 27"W x 46"H. Designed with sturdy carpet casters, this executive office chair can support up to 250 pounds over a full workday and easily roll across your office floor.
WE ARE STAPLES: The line between work and life is blurring. We have solutions to keep your teams productive, connected and inspired. Whether you know exactly what you need, or you're looking for tools and inspiration to hit goals, Staples is here for you.
---
3.NOUHAUS ErgoTASK
Mesh office chairs typically get a bad reputation for feeling very wirey and rigid. The Nouhas chair uses their patented ElastoMesh material to provide a more smooth and softer mesh back without feeling like you're sitting on a wire. Like all mesh materials, it provides optimal airflow to prevent stickiness and sweating.
Another highlight of the Nouhas office chair it's three-sectioned back design. The backrest is designed into three sections, lumbar support, mid-to-high backrest, and headrest. The lumbar support is quite dynamic and flexible because it responds to the pressure that a user places on it. This allows the support to provide equal support to your lower back to prevent slouching. The headrest is adjustable in angles and height.
In addition, this chair has three-dimension armrests allowing users to adjust it back, forward, up, down, and rotate in and out. It also has a tilt angle of up to 135 degrees. Lastly, we're very much impressed by their confidence in this product. They offer a full five-year warranty on their product to ensure that this chair will last a long time.
Pros & Cons
---
WHEN TASKS MEET ERGONOMICS: Until now, the humble mesh task chair was pushed to the side of the room, or under desks as the "cheap, basic" way to sit for a few hours. But we discovered (after building our Drafting Chair) that it didn't take much to turn a space saving basic into comfortable all-day long seating. Now, meet the ErgoTASK. The task chair with arms, that feels like an ergonomic office chair.
IT CONFORMS TO YOU: With the curved 2D Headrest / Neck Support, you can adjust up and down, and tilt forwards and back for optimized head position. Settle in with comfort on tough tasks because the 135 Degree Synchro 2:1 Tilt lets you tilt your High Back Office Chair simultaneously with your seat. A much comfier alternative to a simple dorm chair, student desk chair or basic armless rolling chair.
KEEPING YOU ON TASK: Strong, height variable arms with comfortable Soft-Grip PU keeps you on task as you as you sit back (or lean in) to think, while the bag/coat hanger holds things securely off the floor. Speedy smooth Rollerblade Wheels let you glide in and out of your desk and across floors. So satisfying! The soft, breathable ElastoMesh Seat is curved for comfort and keeps you cool under pressure.
MORE DURABLE TOO! We've all sat in a small desk chair and felt how "basic" it was. But not now, because The ErgoTASK has a heavy duty nylon base, max capacity of 240lb and hip space of 19.3in. The seat to floor height range of 20 to 24.8 Inches is served by a Smooth Class-4 Gas Lift
EASY TO ASSEMBLE: The ErgoTASK is easy to put together and comes with tools and instructions. It weighs only 33.51lbs! Available in Classic Black or Grey, why not try it now, and discover a NOUlove for the 'humble' task chair.
---
How to Choose the Best  Chair Under $300 – A Complete Buyer's Guide
Ergonomics
Many people who work in an office setting spend around eight hours sitting per day. This increases the likelihood of injury. Ergonomics help to reduce pain, boost wellness, and boost productivity by ensuring a healthy posture.
Most ergonomic chairs design their backs to have a natural S shape to support the spine's curvature. This reduces the stress on the pelvis and the spins since it prevents slumping. Ergonomics in an office chair means that the chair has features designed to correct bad posture so that every position is aligned for a good seating position.
Every chair should have adjustments to keep your back in an upright position and your neck in a neutral and relaxed position. In addition, a person's arms should be parallel to the floor, and their feet should be perfectly flat on the floor to relieve some of the tension of the back of their legs and increase blood circulation. The height should be adjustable so that a person's monitor should be around eye level, which prevents their neck from being in an uncomfortable position.
Build Quality
There are many types of materials used for an office chair. However, the best build quality varies from person to person depending on their priorities. Every material has its pros and cons.
Fabric chairs usually come in a variety of patterns and colors while also being quite cost-effective. This helps people who want to find an office chair to match their existing office decor. It's also quite durable and easy to clean. However, it does seem to restrict air circulation and make it more likely to cause odors and moistures.
Although mesh chairs might not seem very comfortable, they are very flexible and supportive. Mesh materials are very flexible, meaning they contour to a person's body shape and distribute the body weight across the entire back seat. This reduces the pressure the incurs on your spine, buttocks, and hips. Also, it allows for blood circulation and airflow to your back, making this material perfect for warmer climates. The downside is that it can be difficult to clean since it's highly textured and won't be as soft as padded or plush materials.
Vinyl chairs are quite sturdy, durable, and soft, making them excellent material for office chairs. They offer quite a luxurious appearance while also being easy to clean. One of the biggest problems with vinyl chairs is that they do not have much temperature control. It won't hold the heat in the winter, not will it be breathable in the summer.
Leather chairs add prestige to your office chair and are often heavily padded with memory foam cushions for enhanced comfort. They're quite easy to clean and a great option for people with sensitive skin. The problem is that it's usually quite expensive to purchase leather office chairs.
Comfort (seat comfort, back comfort, arm comfort)
There are many factors you should look for when determining whether or not an office chair is comfortable. If you'd like a comfortable seat surface, the best material is usually genuine leather or high-grade fabric. For seats with padding, look for a chair that has molded memory foam over cut foam. The high-quality foam tends to contour and shape a person's body while relieving pressure. It'll also feel extremely soft but still have the right amount of firmness to support your body in a healthy seated position.
When it comes to back support, there should be a high backrest to support taller individuals and lumbar support to prevent lower back pain. Consider the upholstery of the back seat. We've found that mesh backs perform the best in comfort since it improves blood circulation and has an S-shaped curve for a person's spine.
Lastly, arm pads make a huge difference. Having soft pads is much more comfortable than resting your forearms and elbows on a hard surface. Armrests should be adjustable so that it's perpendicular to your desk and just the right width to work on a desk without straining your arms easily. Having memory foam and paddings around the chair can be a game-changer when it comes to comfort, so it's crucial to look for chairs that include these extras.
Adjustability
Having the right adjustments on an office chair adds to your comfort level. Every chair should have the ability to adjust the seat height, width and depth, lumbar support, angle of the backrest, and armrests. The seat height ensures that a person sits at eye level with the monitor, their thighs horizontal even with the desk, and feet flat on the floor.
The width should be wide enough for a person to sit with about two to four inches of space. Every person needs a different amount of lumbar support since their spine in the lumbar area has an inward curvature. Without lumbar support, this leads to slouching over time. The lumbar support adjustment helps people properly fit their spine to match the inward curve of their spine.
Typically, most chairs include a reclining angle that ranges from 90 to 155 degrees. The reclining features allow the user to sit in any position desired. After working for hours, it's relaxing just to take a nap. Lastly, the armrests should be adjustable to keep the person's forearm elbow and resting comfortably. If the armrests are too wide or too high, it could cause strain on your shoulder or arm.
Design
Always consider the purpose of your office chair. There are many different types of chairs designed for different purposes. For example, if you need a chair for gaming, it's better to get a gaming chair instead. Gaming chairs usually come with detachable pillows, winged backrest design, a three or four dimension armrest, and a higher degree of recline than office chairs.
For those who are big or tall, consider getting a big and tall chair. These chairs are designed to have a weight capacity that ranges from 300 to 1,000 pounds. It also comes with reinforced frames, a wider seat, thicker padding, higher and wider backrests, and higher seat height adjustments.
If you're a person who is in a position of power, consider the executive office chairs. Company executives typically are searching for a luxurious chair with comfortable features. It includes extra cushioning and padding on the seat, backrest, headrest, and armrest. It is made with high-quality materials like genuine leather and fine wood. 
Many people believe that finding a comfortable and ergonomic chair at an affordable price is like looking for a needle in a haystack. But it doesn't have to be that complicated! As you can see, there are plenty of best value options for under $300.
Generally, at this price point, you'll find chairs that have armrests, backrest tilt functions, built-in lumbar support, a headrest, and a weight capacity of at least 250 pounds. These chairs are usually made of a mesh material or faux leather with padding. We've hoped you found our list of office chairs under $300 and our buyer's guide to being helpful in your search for an affordable ergonomic office chair.
In this buyer's guide we review the very best ergonomic office chairs you can get for under $300 (or around). These ergonomic chairs offer a far better back-rest, head-rest, arm-rest adjustments and improved lumbar support compared to less expensive chairs. Some of them even come with adjustable lumbar support that can be moved up or down to cater to your lower back precisely. 3D Arm rests are plentiful with chairs that made our list, which can angle inwards to match the angle of your arms as you type. Adjustable headrests that can be risen to match the height of individuals are also found.
Our Office Chair Ratings Methodology
At Overheard on Conference Calls, we take pride in how we review office chairs. Our team of office chair experts spend hours researching and reviewing dozens of products before they even start writing their review or article. Our goal is to bring you honest and unbiased information to help you make an informed choice that will be the best for you. Our recommendations are not for sale and they are not influenced by any of the manufacturers we review.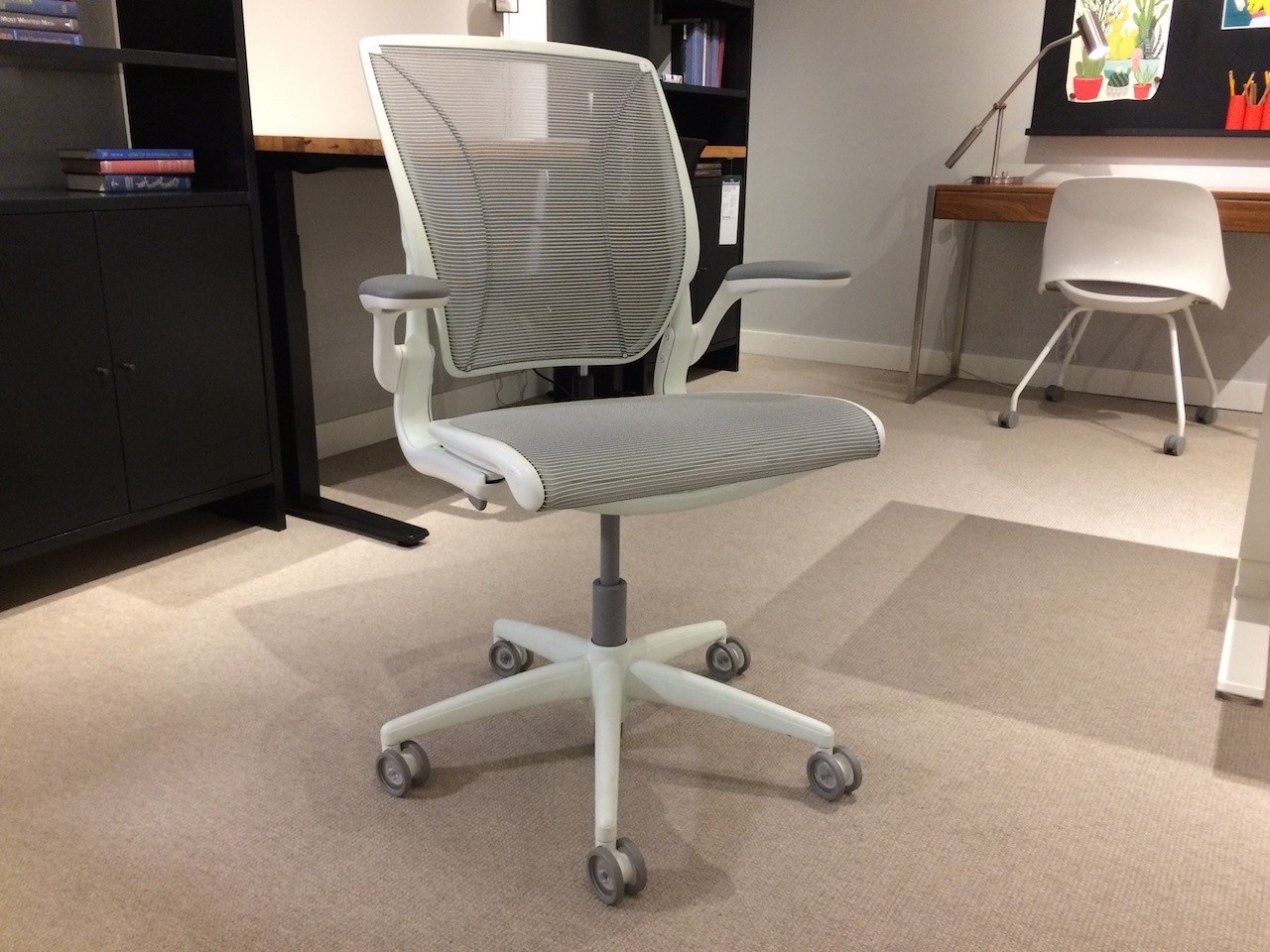 When reviewing an office chair, there are numerous factors we analyze to determine our recommendations. Here are our four most important:
Comfort: Comfort is key to a good office chair. It's likely you'll be sitting in it for hours so you'll want something that won't cause you aches and pains after hours of use. We gauge comfort by testing for 4+ hours as well as looking at the thickness of the seat cushion and its material.
Durability: Not all office chairs are built the same. Our durability factor looks at the quality of the materials and how sturdy the chair is after assembly. Because we have a limited tested period, we also conduct customer research of longtime users.
Lumbar Support: While this is an ergonomic feature, we made this its own separate rating factor because of how important it is to your overall posture, health, and comfort. We analyze each chair for its lumbar support or lack thereof.
Ergonomic Features: In addition to lumbar support, we also look at other ergonomic features such as the armrests, height adjustment, reclining, seat ergonomics, and more. The better it is for your ergonomics and the more features/adjustability, the better.
Why isn't price included on that list? Fair question! We do consider price in the order of our recommendations but because everyone has their own budget in mind, we won't rule a chair in or out just because it has premium or budget price.
Our team has researched and reviewed hundreds of chairs and we're confident in our recommendations. We strive to only recommend the best products and we periodically refresh our reviews and rankings.
WRAP UP
Best Chair Under 300 – Finding a high-quality ergonomic office chair under $300 might be a real challenge, especially considering all the models that are on the market right now. It's a lot to go through if you want to find the best. Well, I did it and let me tell you, it was a lot of work. But, I was happy to do it so I could help you find the perfect office chair.
If you're reading this, you probably want to know whether you can feel comfortable working long hours sitting in a chair that costs less than $300. Yes, you can if you know what chair to purchase. We reviewed dozens of chairs of all types and styles, looking at key features such as comfort, material, durability, stability, ergonomic features, and, of course, price.
Here are our nine best office chairs under $300 you might want to consider if you strive to feel great after a long workday in your desk chair and avoid paying a fortune for it.
If you are looking to find an ergonomic, high-quality office chair without breaking the bank, you are at the right place. Finding the best office chair under 300 can be challenging, particularly considering the many models available on the market right now. The prices have gone high, and you cannot trust cheap ergonomic office chairs to give you the support you require or stay sturdy for years.
Fortunately, I have done the hard work for you by reviewing the best ergonomic office chairs under 300. Most of these chairs provide a headrest, lumbar support, armrest, and lots of adjustable features.