Best Chair Under 500 – We know that it might be hard to find a perfect office chair without compromising your preferences or budget. That's why we set out on a mission to help you pick a high-quality office chair under $500 that wouldn't sacrifice ergonomics and comfort and also meet your desired price point.
While, of course, more expensive chairs offer undeniable functionality and quality, often, they also have features that aren't necessary or practical, which bump up their price. So in this guide, we decided to focus on chairs that will help you create an ergonomic work setup, protect your spine, and contribute to your overall comfort while still staying within your $500 budget.
Scroll down if you're curious to discover the best office chairs under $500. And don't worry, if you decide to lower your budget, we also have created a few lists of office chairs under $300 and $200.
While most people prioritize comfy, some want something that presents a healthy disposition, I included. Either way, you'd want a budget-friendly chair.
With an ergonomic chair, your joints, back, brain, and back will thank you. Our buyer guide narrows down the best office chairs under $500 out there. So, take it with lots of salt.
Let's get started!
Table of Contents
ROUND UP
1.Duramont Ergonomic Office
This ergonomic office chair has made an appearance on quite a few of our lists, and it also perfectly fits the requirements of the current one. Because of that, it was an obvious pick for our top office chair under $500.
Duramont mesh back chair has a simple yet very functional design. Starting from high-density foam and finishing with all sorts of adjustable features, you can customize this computer desk chair to suit your body and any other preferences. However, the most valuable aspect of this model is its ergonomic back support.
And believe it or not, this one can help you maintain good posture for less than $500. Plus, you can purchase it without worrying as the manufacturer offers a 5-year warranty and 90-day money-back guarantee.
The only thing you might find a bit annoying is that the wheels might not roll very easily on carpets.
Pros & Cons
---
★ MORE ADJUSTABLE THEN ANY OTHER CHAIR IN ITS CLASS — Unlike the office chairs sold by our competitors, which allow you to either fully recline or sit upright, we have a SECOND adjustment lever that allows you to lock in your desired recline angle at ANY degree. That way, you can be assured of finding the perfect comfortable seating position just for you.
★ BREATHABLE MESH - The breathable mesh back on this ergonomic office chair provides support while keeping your back cool and comfortable. Cool air circulates through the mesh keeping your back sweat-free and allowing you to sit in the chair comfortably for longer periods of time compared to traditional chairs
★ FULLY ADJUSTABLE BACK SUPPORT - Having back issues or don't want to develop them? Our unique office chair includes adjustable lumbar support that goes in and out, up and down, and a recline feature that allows you to tilt the backrest back or sit straight. Now you can quickly find a position that makes your back feel the most comfortable!
★ EASY TO INSTALL - Simple instructions enable anyone to put this executive chair together in eight simple steps! Then once built you'll be able to adjust the chair to your individual needs. The chair's pneumatic controls will let you raise or lower the seat and tilt back the backrest or sit straight up. You can easily find the ergonomic position that will allow you to work comfortably for long periods of time
★ HIGHEST QUALITY WITH 5-YEAR WARRANTY - This adjustable task chair is made to last. It has a weight capacity of 330 LBS and is made from the highest quality materials, including a soft cushion seat, sturdy arm and head rests and rollerblade caster wheels that allow you to move easily across the office floor. Get your office chair – and boost your work comfort! Your purchase will be backed by a 100% money-back guarantee. Try this chair for 90 days - if you don't love it, you can return it
---
2.Serta Big and Tall
This office chair from Serta is another worthy choice for anybody looking for a good office chair with little compromises. This particular choice is another well-built choice and it's probably going to last a very long time. The comfort is quite up there with the other choices out there, with the seat cushion being especially thick and inviting. While I would like the armrests to be a little bit better made, the rest of this seat is very well made. Another worthy choice.
The first thing that we must talk about with this office chair is how comfy it feels. The reason for this is that the model uses Serta Smart Layers Premium Ultra foam material, which is Serta proprietary foam material. The end result is a memory foam-like material that contours to your body over time. This is a great material for those folks who are looking for a model to sit on for a very long time.
There are a few things that I do not like about this model though. The first one being the fact that the armrests aren't as supportive as the rest of the chair. They kind of feel like they aren't well screwed and kind of an afterthought. This can be very irritating, and it's going to be a dealbreaker for some. Still a great chair worth a look if you are willing to overlook that though.
Pros & Cons
---
SIT LIKE AN EXECUTIVE: Enjoy the most comfortable seat in the office with the Serta Big and Tall Smart Layers Executive Office Chair
PLUSH COMFORT: Designed with premium Serta Ultra Smart Layers Foam, ComfortCoils, layered body pillows, and supple bonded leather
ERGONOMIC SUPPORT: Adjustable settings for a comfortable adjustable seating position and an elevated headrest to support the neck
BIG AND TALL: Supports up to 350 pounds with heavy duty components that exceed BIFMA standards. Designed to help alleviate strain and discomfort
SMOOTH ROLLING: Multi-surface casters make it easy to move around
Seat height: 21.5" - 23.5"
---
3.DUOREST Gold
The Duorest Gold Ergonomic Office Chair boasts an innovative design, with twin backrests that move along the X, Y and Z axes, which helps the spine maintain its natural curvature and promotes a healthy posture. The tilt and tension can be locked in place per user specification and the armrests are fully removable, which can also help with posture, depending on height.
It boasts a large weight capacity, at 400 pounds, and we found the chair extremely easy to assemble, though we did notice that several of the tension and adjustment knobs were torqued extremely tight, forcing us to loosen them with a wrench in order to fully test out the product. It does, however, fit our criteria for best office chair for lower back pain.
Pros & Cons
---
【ERGONOMIC DUAL-BACKREST DESIGN】: The Duorest dual-backrest system offers maximum support for your spine. This innovative backrest supports your back while relieving pressure on your backbone allowing your spine to maintain it's natural shape. The dual backrests conform to your body, and move with you allowing freedom of movement while maintaining stability and support as you go throughout your day.
【MAX COMFORT, IN THE OFFICE OR AT HOME】: This chair is an excellent option whether you've been experiencing back pain, or just want a more comfortable chair for long periods of sitting. The Duorest specializes in minimizing pressure on the back by more than 44lbs, and supports the natural curve of your spine to keep your posture straight. This chair particularly ideal for people suffering from discomfort with other office chairs.
【DUOREST GOLD, THE BEST SELLING MODEL】: Duorest GOLD is the most popular model among our brand. It has advanced functions such as multiple tilt, tilt tension and locking at reasonable price. Also, you can choose the materials (Leather or Knit) and colors depending on your preference.
【EXCEPTIONAL QUALITY & REASONABLE PRICE】: We're Duorest (AKA Duoback in South Korea). The industry leader in high-end ergonomic office chairs for over 35 years. Our factory produces and delivers straight to consumers. We also pass on the savings to you by taking out the middleman in office furniture stores. Gold model passed TB117, GREENGUARD Gold, and ISO 14001 & 9001.
【YOUR SATISFACTION IS OUR TOP PRIORITY】: We design our unique and custom options with the customer in mind. Our customers trust us. And their satisfaction is invaluable to us. We always make sure that our products arrive as specified. If anything unexpected should occur with your order, contact us immediately. Warranty is valid for 1 – 3 years as specified.
---
Things to Consider While Buying an Ergonomic Office Chair
Before we dive in to review chairs themselves, it's a good idea to check out some key things to consider before making a purchase. Otherwise, it will be regret if you buy a chair that is below the standards as per your needs and desires.
Ergonomics
Ergonomic is probably the most critical factor in office chairs and should be overlooked before splashing your hard-earned money. Ergonomics are directly related to or correlated with chair comfort. The key aspects here are back support, lumbar, and neck support.
Lumbar support: Many brands claim to embrace this feature, but not all have put in place the mechanism to enhance this. This key feature is aimed to support your entire back at all sitting postures and angles.
Back support: An ergonomic chair should superbly improve your back. People with back problems not only need support but relaxation as well. A chair that comes with a reclining backrest ensures rest for your joints and back muscles.
Shoulder and Neck Support: Always go for a stable, height-adjustable headrest without a second thought. This helps your body to relax and relieves pressure from your shoulder and neck.
Build Quality
Because of the rising demand for office chairs, many manufacturers have styled up their game to address build quality without compromise. Since some are there to gain high profits with sub-standard products, not all will address this factor.
Office chairs are supposed to last for several years as long as they're taken care of. At no point should you surpass the weight capacity as per the user manual.
Of all, build quality is goes hand in hand with the quality of the material used to construct it. So, it's good to pick sturdy but light material.
Adjustability
A chair with adjustable armrests and backrests will make a difference. Tall and big people or those with different body shapes should focus on this feature. You can adjust the width, height, and tilt to provide additional support.
If you want to lean or sleep on them, just adjust them to achieve a percent reclining angle.
Benefits of an Office Chair Under $500
If you're searching for a few more reasons to justify spending up to $500 on an office chair, here are some of them:
You can have a quality similar to chairs for a few thousand dollars yet without overpaying for the fancy features you mightn't necessarily use or need
You can choose from a variety of colors, styles, and designs to fit your interior design
You can finally protect your back from pressure and pain during an 8-hour long workday
If you choose your chair correctly and according to your weight, height, and other preferences, it can serve your workspace for a long time
You can create a fully ergonomic work setup without spending a fortune
Why should I buy an office chair for under $500?
While the budget is always up to you, we strongly recommend spending up to $500 on an office chair that will make your life better. Don't just spend this money on the first chair you see. Do your research or check ours if you don't have time to review thousands of different options.
We know for sure that your back isn't something to save on as improper sitting position and cheap office chair might lead to much bigger health problems in the future. So whether you work remotely or at the office, you need to do everything you can to ensure a good ergonomic chair protects your spine.
What is the essential feature to look for when buying an office chair?
High-quality lumbar support is what will define how good the new chair is going to protect your back, neck, and shoulders. Next, of course, cushioning. Good chairs usually feature seat cushions that help relieve pressure from your legs and distribute the weight properly.
Does it matter how much I will spend on an office chair?
Everything depends on your expectations and how often you plan on using your new chair. For example, more expensive chairs usually offer better sturdiness, high-quality upholstery, and adjustability. So if you do work from home every day, it's a worthwhile investment. But if you use your office chair only for a few hours per week, you might consider opting for a cheaper option. Yet, we still suggest paying attention to the chair's ergonomic feature even if it's not a sophisticated brand or model.
We hope you managed to find what you were looking for. And if you have any questions or have an idea of what we should review next, please let us know.
Check out some of our other product reviews:
Best under desk footrests
Best triple monitor stands
Best dual monitor stands
Looking for a standing desk? We've got you covered! Check out our standing desk reviews.
How We Review: Our Office Chair Ratings Methodology
At Overheard on Conference Calls, we take pride in how we review office chairs. Our team of office chair experts spend hours researching and reviewing dozens of products before they even start writing their review or article. Our goal is to bring you honest and unbiased information to help you make an informed choice that will be the best for you. Our recommendations are not for sale and they are not influenced by any of the manufacturers we review.
When reviewing an office chair, there are numerous factors we analyze to determine our recommendations. Here are our four most important:
Comfort: Comfort is key to a good office chair. It's likely you'll be sitting in it for hours so you'll want something that won't cause you aches and pains after hours of use. We gauge comfort by testing for 4+ hours as well as looking at the thickness of the seat cushion and its material.
Durability: Not all office chairs are built the same. Our durability factor looks at the quality of the materials and how sturdy the chair is after assembly. Because we have a limited tested period, we also conduct customer research of longtime users.
Lumbar Support: While this is an ergonomic feature, we made this its own separate rating factor because of how important it is to your overall posture, health, and comfort. We analyze each chair for its lumbar support or lack thereof.
Ergonomic Features: In addition to lumbar support, we also look at other ergonomic features such as the armrests, height adjustment, reclining, seat ergonomics, and more. The better it is for your ergonomics and the more features/adjustability, the better.
Why isn't price included on that list? Fair question! We do consider price in the order of our recommendations but because everyone has their own budget in mind, we won't rule a chair in or out just because it has premium or budget price.
Our team has researched and reviewed hundreds of chairs and we're confident in our recommendations. We strive to only recommend the best products and we periodically refresh our reviews and rankings.
How We Decided
To help narrow down to truly the best office chairs under 500 and create the above list, we tested out dozens of chairs, looking for models that were extremely comfortable and offered good lumbar and neck support. We focused on products that remained comfortable even after using it for several hours, causing no back pain to speak of. To that end, we favored chairs that were fully adjustable, allowing use by a wide variety of body types.
We also took a look at aesthetics, choosing models that would look great in the home office or in the office away from home. We chose chairs made from ultra-durable materials, such as steel, that stayed cool even in use, thanks to fine mesh backings and other comfort forward features. Additionally, we leaned toward products with a high maximum weight capacity, as much as 450 pounds.
Finally, we picked products that were easy to assemble, with everything you need coming right out of the box and no need for external tools or screws. We also wanted to make sure these chairs were backed with money back guarantees, for as long as 90 days, and warranties in the one to five year range.
If you're happy to spend a bit more than $500, there are a number of great chairs available with even more fantastic features and customizable options.
Ergonomics are very important in office chairs, and it's one of the main things that you should be looking for when shopping for one. Ergonomics are directly correlated with chair comfort, and an ergonomic chair will seriously improve your posture when sitting for long periods of time. You should really care about ergonomics if you have back problems, or really care about sitting straight for health reasons. 
Many think that build quality is compromised in chairs under 500 bucks, but I'm happy to report that this is not the case. Manufacturers have really stepped up their game and have started providing chairs that really stand the test of time at this price point. Most of the office chairs above will easily last you several years provided that you don't surpass the recommended weight capacity. Build quality also has to do with the quality of the metal used on the office chair, which is really good for most of the models below.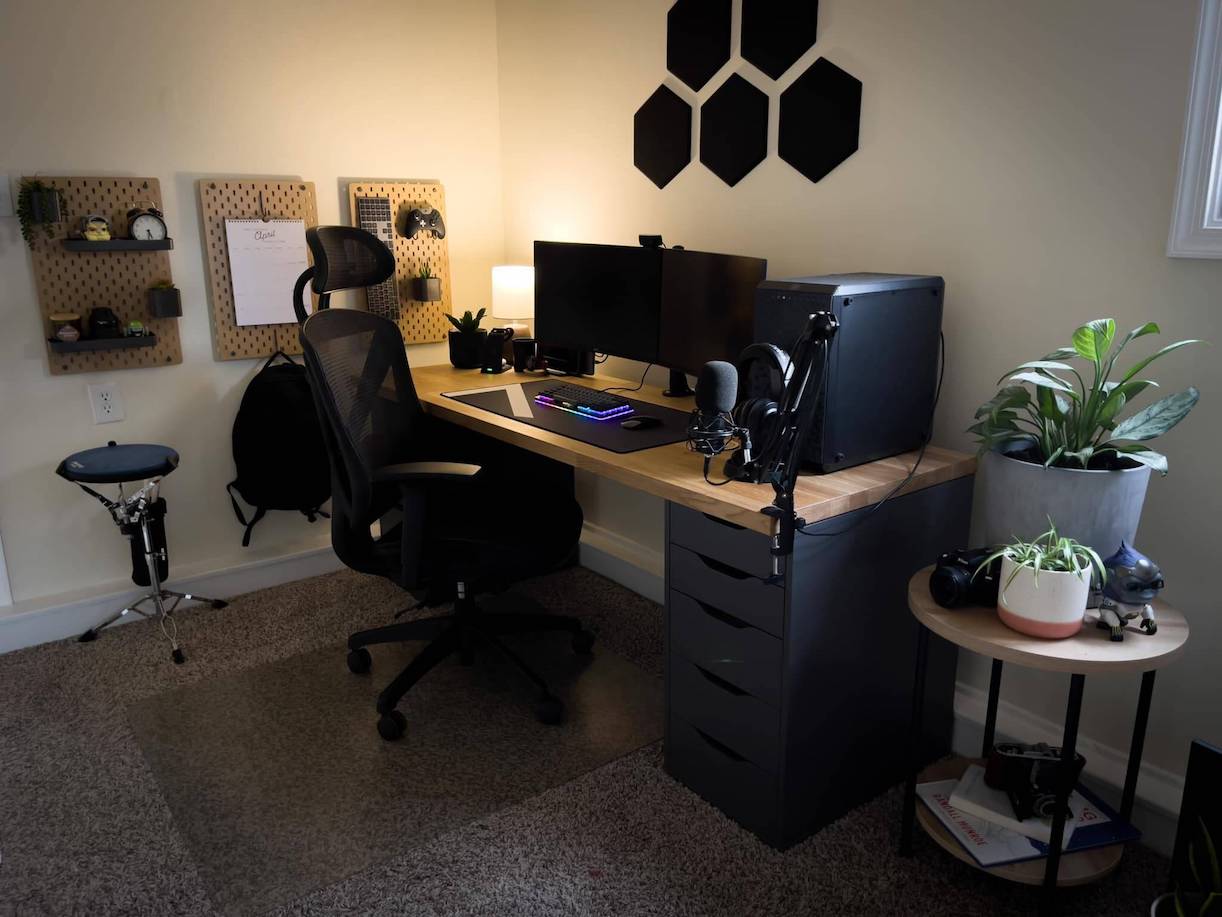 Perhaps the most important thing that a chair must-have is a comfortable seating position. The most comfortable office chairs tend to have a lot of foam padding, preferably memory foam, but it's not a necessity. They also tend to be ergonomic, without being too restrictive or tight. In general, comfort tends to be subjective, and what feels comfortable to me might not be comfortable to you, but if you have a normal body type, then you won't feel out of place in any of the office chairs below.
Adjustability is especially important for people that are big & tall or just have a different body shape than 99% of people. Things like 4D armrests, adjustable backrest, lumbar support and more are things that are really appreciated, not only by big & tall folks but by everybody in general. Some office chairs even give you the ability to completely recline them so you can sleep on them.
WRAP UP
Best Chair Under 500 – To help you find the best office chair under $500, we've tried out dozens of models, testing them for back and neck support, ergonomics, breathability and adjustability. We also tended to favor ultra-durable products, with a high weight capacity, made from quality materials. Finally, we wanted to make sure each chair we chose looked great, came with a decent warranty and was easy to assemble. You can also find other suitable chairs in our best office chair guide.
Aside from a tasty mug of coffee and a favorable environment, a comfortable office chair is part of a mesmerizing office setup. Unluckily, you simply need to plant yourself in a chair to get the job done. But what makes an office chair great? how to find a feature-packed chair? Well, I spent hours together searching through different chairs, read tons of reviews and decided to write this buying guide with the purpose of helping you make a decision.
The best office chair should be designed with a healthy posture, ergonomics, and build quality in mind. Despite that, choosing the right model is really subjective. Everyone would want a different chair, depending on their needs.