Best Computer Chair for 300 lbs – Many big folks are having trouble finding the most comfortable chairs for office work. Regular chairs on the market are either too narrow to sit on or too low-quality for everyday uses. Therefore, here I will introduce the best office chair for 300 lbs for your reference.
When I was younger, office chairs for obese people weren't really a thing. Or maybe I just didn't notice because I wasn't as fat as I am now. Whatever the reason, I hadn't give the issue a single though until my work chair started making some pretty concerning sounds.
I know I'm not alone in this, but the point was really driven home in a Facebook message that I got through our blog page the other day. Here's the gist of it:
"I had been working at my computer all day, pretty much pounding my head on the keyboard trying to get the job done that had taken me the better part of a month.  I honestly wasn't even close to finishing, but I figured getting lunch (and Diet Coke) would do me some good.
I leaned back in my chair for one of those "I've-been-sitting-so-long-I-shrunk-an-inch" stretches, raised my arms above my head, and, with a giant *CRUNCH* my head smacked the ground.  At first, I thought my chair had tipped over, (it wouldn't have been the first time,) but I realized my butt was still in my chair and I was just draped over it.  The back had literally broken off my chair!  Do you have any recommendations for a new chair? I'm a pretty heavy guy and need a chair with more than a 300lb capacity. Thanks!
Well, my friend, you're in luck. I just recently spent a week cruising every online and local store trying to find a 500lb capacity office chair. In the end, I didn't find very many. Which made the decision of which one was best pretty easy!
Table of Contents
ROUND UP
1.OFM ESS
Pros & Cons
---
Tension Control: Tension controls allow you to lean back easily or increase tension within the chair so your chair can move incrementally as you lean back.
Adjustable arms offer the flexibility of sliding up and down and the option of remaining locked in place. The arm pads can turn both inwards and outwards; when the arm pads turn inwards, it is easier to relax your arms when reading a book or reading on your ipad or mobile phone
The tilt lock allows you to sit in a fully upright position, promoting a healthy posture especially important when working long hours. You can unlock the tilt lock to lean back in your chair when taking a break, participating in a conference call or reading a book.
The lumbar pad is a key feature in driving the Fully Loaded Herman Aeron Chair's longstanding popularity.
---
2.HON Chair
HON's Wave Big and Tall Executive Chair is an ergonomic office chair with a breathable mesh design. If you liked the style of the Space Seating Seat but would like the taller back and head support that comes with an executive-style chair, the HON Big and Tall Executive Chair is a great option.
The weight capacity of the HON Big and Tall Executive Chair is 450 pounds, the highest on this list. The seat is 22" wide, fairly standard for heavy duty office chairs. One 425 pound user said that this chair lasted where other big and tall chairs had broken.
One impressive feature of this chair is the tilt control. One knob controls the tilt tension, so you can adjust how much give the chair has when you lean back, and another knob locks the tilt if you want the back to stay at a certain angle. Users comment that this chair feels very sturdy and the tilt works smoothly, but it can squeak at higher levels of tilt tension.
Finally, the HON Big and Tall Executive Chair is simply comfortable for large users. The mesh back and seat are breathable, so sweating shouldn't be an issue even for people who weigh 400 pounds, and there is lumbar support included to keep your posture good. One user reported that these designs did make the chair comfortable, specifically that mesh kept him cool enough to prevent excess sweat.
Overall, the HON Big and Tall Executive Chair provides lots of comfort for a reasonable price, and it boasts a higher weight capacity than even most heavy duty office chairs. The design is executive, but the mesh back and seat keep this chair as cool as anything else on this list.
Pros & Cons
---
Renewed to Perfection mechanical warranty provided
Posture fit support for your back
Size B(Medium) Classic Aeron
Forward and Rear Tilt,Adjustable Arms
---
3.Duramont Chair
Similar to the office chair above, this particular offering from Duramont is good, but not great. The cushioning used on the seat is just adequate for big and tall folks, and while the comfort is just okay for what you pay, I would personally would go for something that feels more ergonomic and solid, especially when it comes to the arm and head rests.
While the seat structure feels solid and well built, the armrests feel like they were bonded together with Elmer's glue. Initially when you assemble this chair, the armrests feel solid, but as time goes on, they start wiggling around, and I wouldn't be surprised if they broke eventually. The same thing can be said about the headrests.
I personally find the pricing to be a little bit too steep for what you get. Aside from the rollerblade style casters that makes it really easy to move around, this chair doesn't really have any other redeeming qualities.
Pros & Cons
---
Size B Fully Loaded Chair
Adjustable Lumbar Support
Forward and Rear Tilt
20 Step Inspection Process.Discontinued By Manufacturer.
Assembly Required Tools Provided
3-Year Mechanical Warranty Provided.
---
4.Steelcase Leap Plus
Out of all of the office chairs that I have sat on in my life, the Steelcase Leap has been the very best. It is made in America with top quality materials that are built to last. Whil
If you are looking for an attractive, yet classy looking office chair that you can sit on for hours on end without you ever feeling uncomfortable, then this is the one for you!
Aside from this, another thing that I love about this office chair is how well built it is. As soon as you sit on it, you will notice how substantial it feels, as if it weighs much more than the advertised 58 pounds. This chair is #1 on the list for a reason: it has the best combination for style, weight capacity, comfort, and sturdiness. Highly recommended!
As I mentioned above, I have sat on countless office chairs of the big & tall variety, and while many of them feel relatively comfortable to sit initially, over time you just want to sit somewhere else. Either the cushioning is too hard or the chair's ergonomics do not fit my body too well. However, this isn't the case with this one.
The chair's cushioning is just soft enough that you can sit on it pretty much all day without your butt feeling cramped, without it being too mushy either. The chair has been weight tested to up to 500 pounds, and I'm pretty sure this is a conservative number. This chair feels so rock solid that 600 pounders could easily sit on this chair without a problem.
Combine this with a very ergonomic backrest and you have the makings of a very cozy and snug office chair with a very elegant aesthetic. The chair's minimalist but classy design would fit right in the office of a company CEO or physician. It definitely looks expensive, and guess what: it is! Actually, this is the only con that I have found on this chair, but if you are looking for something that will handle more than 500 pounds while feeling super comfortable to sit for several hours, then you can't do much better than getting this chair!
Pros & Cons
---
---
5.Herman Miller Aeron
Herman Miller is no stranger to best office chair lists, and this specific model is perfect for folks that are a little bit bulkier than usual. Herman Miller offers 3 sizes in their Aeron model, and this is their size C, specifically made for big & tall people. This is one of my favorite models because of the fact that it's a little bit lighter and more maneuverable than other chairs on this list, perfect for people who need to be moving often inside an office on even a bigger bedroom.
This model only weighs 39 pounds, unlike the Steelcase Plus that weighs 20 pounds more. Herman Miller achieved this weight by focusing on using lighter materials throughout, with them using mostly mesh on the back rest & actual seat portion. In the process of doing so, they made sure not to skimp on the ergonomics of the chair. The result is a light but sturdy chair perfect for any gamer or office employee that needs to be moving often as I said above.
There's algo a big pro of using mesh over other materials: it ventilates better than the traditional cushioning used on most office chairs. This makes this chair a better choice than what you might think for sitting for long periods of time. Foam cushioning might be quite comfortable but it heats up so much, especially on rooms with no air conditioning.
Aside from this, another big advantage of the Aeron and the main reason why this chair is so comfortable for big & tall folks is the PostureFit technology used in this model. Which means that you can adjust this structure to fit the curve of your spine. This is the great thing about the chairs on this list: they are built so that they can be accommodated to your specific body type, and not the other way around, and the PostureFit support is one of the reasons why Herman Miller is one of the leaders when it comes to big & tall chairs.
Pros & Cons
---
Your purchase includes One Herman Miller Aeron Ergonomic Chair – Size B, graphite color
Chair dimensions: 41" H x 27" W x 16.75" D. Seat heights: 16"-20.5".
Tilt Limiter lets you set the recline range at one of three postures. Tension control lets you adjust the amount of effort needed to recline comfortably. Seat Angle Adjustment changes seat angle from neutral to engaged
Try the Adjustable PostureFit Sacral/Lumbar support. Two individual pads flex independently and can be adjust to fit the curve of your spine
Fully Adjustable Arms adjust from a height of 6.8" above the seat to 10.8 inches above the seat, slide backward and forward over a range of 2.5 inches, pivot 15 degrees outward and 17.5 degrees inward
---
6.DXRacer Chair
Another DXRacer chair, this Tank series gaming chair is perfect for those folks who might need something that's a little bit less bulky than a traditional big & tall chair. Now, don't get me wrong: this is still a great choice for bigger folks, but not everybody needs 400lb weight capacity on an office chair. If this is your case, and you still want something that doesn't skimp on comfort and quality, then this can be a great choice!
With a weight capacity of 275 lbs, this chair is perfect for those folks who are above average in both height & size, but not bulky enough to warrant the bigger Tank series chair. Anybody between 5'11 & 6'2 and 190 & 250 lbs will really love this chair. Aside from that, this DXRacer chair has everything that you might expect on a DXRacer, including 4d armrests, ergonomic fit, and a spine stabilizing construction that will really hold you in place for hours on end.
Another thing that I love about this particular chair: it's rather affordable, especially when you consider the MSRP of the first 2 choices above. The build quality is very solid, and the chair feels substantial without feeling overly heavy or hard to move, unlike the tank series above.
Aside from these facts, you really have to appreciate the attention to detail DXRacer has put into these chairs. It's safe to say that these chairs look like they were pulled straight from a Ferrari or Lamborghini, with the same luxuriousness that you would expect from those cars. All in all, this could be the perfect gaming chair for the bigger than average gamer that wants something a little bit slimmer than the Tank series chair above.
How to Choose the Best Desk Chair for 300-lbs Guys
People weighing 300 lbs also have difficulties finding the most durable and suitable chair for office work. The recommendations above are great solutions. Yet if you want to know more about what to look for in a 300-pound-capacity work chair, please read on. Listed below is a rule of thumb. This guidance will be the most practical one.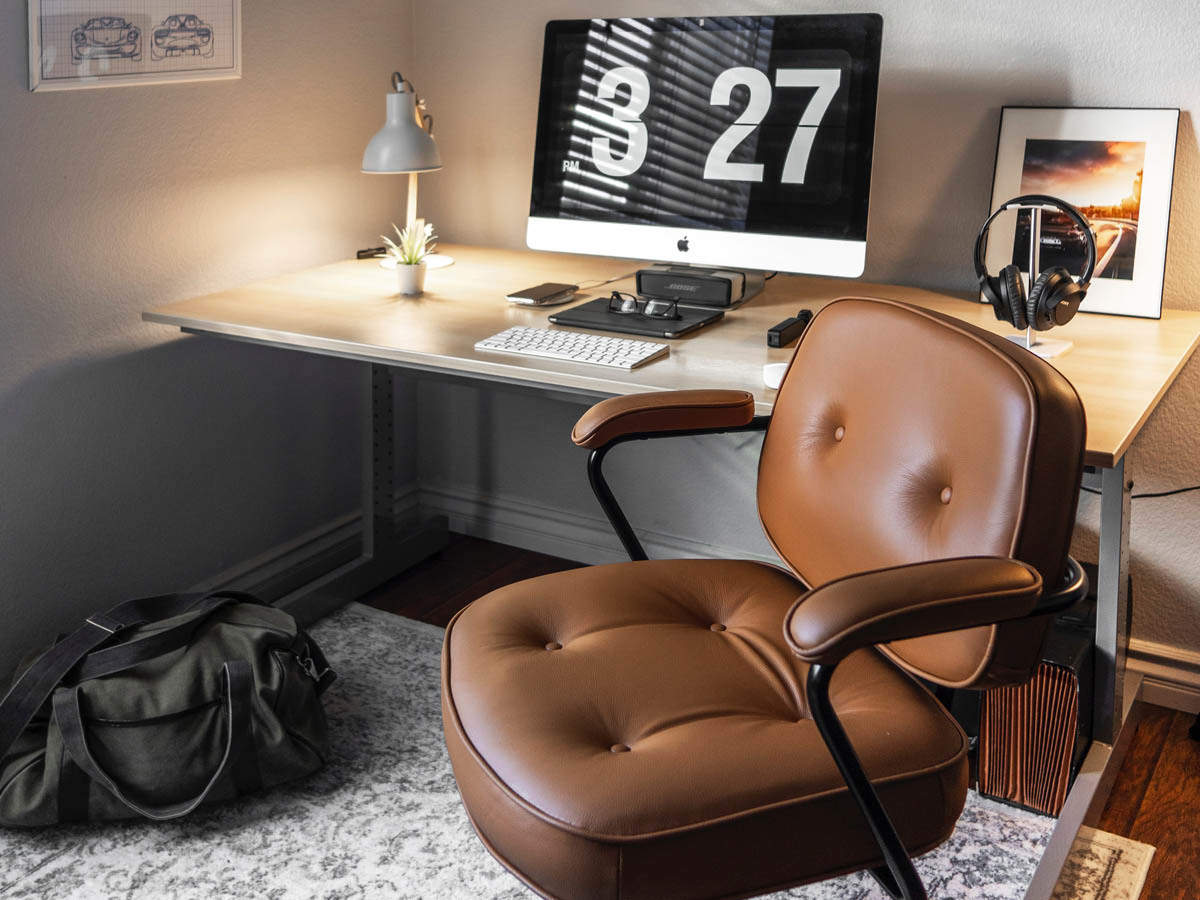 1. Budget
Whenever you buy computer desk chairs, set a limit for your budget first. In the world of office chairs, you often get what you pay for. There are some cheap but good chairs that can satisfy most of your needs. Here is a brief reference for people who weigh 300 lbs.
A. Under $ 50: Not for Big Guys
Chairs under $50 are even available, but they often can not hold more than 250 pounds. Nor will they fit for long-time abusive uses for people weighing 200 lbs. Therefore, if you are big and tall, you will need to set your budget higher.
B. $50 – $150: for Short-term Uses
Desk seating that costs $50-$150 is an economical choice. They can come with a higher weight limit for the big folks. Meanwhile, they will have more than adjustable seats, enabling you to modify the position of the armrests, too. However, these chairs may still lack features for durability. They may use materials of lower quality, which is not suitable for long-time or heavy-traffic uses. Yet you can find pretty good picks if you want them for short-term or temporary uses.
C. $150 – $300: for Long Sitting Hours
Cost-effective quality chairs mostly fall in this price range. Computer chairs at $150 – $300 are much better if you are 300 lbs and always sit for long hours.
These chairs will have better materials for long sitting hours as well as everyday uses. In making chairs, the materials available differ in quality. Whether it is wood, plastic, or fabric, there are various levels. The higher the level, the better the material. With better materials, you can use the chairs longer without breaking them. Besides, these chairs often have dense padding and high adjustability for added comfort. All these features add up to make for an ergonomic place for your office hours.
D. $300 – $1,000: for Pain Relief
This price range can be subdivided into more groups, but they share a common feature that all sitters care about: the ability to relieve back pains. With a higher price, these chairs have better materials and more ergonomic features. While most chairs claim to be able to relieve back pains, they can hardly get to the root of the problem and promote good postures. Instead, they mostly encourage bad sitting positions like slouching.
These chairs at $300 – $1,000, however, can serve to support you in different positions. Some of them have adjustable lumbar support. You can move them up and down and front and back. By doing so,  you will gradually get rid of back pain.
E. Above $1,000: for Your Overall Health
While $800 chairs promote good postures, paying an extra $200 will make for the most ergonomic and comfortable seating ever. For such a price, you can even buy a professional massage chair. So why would someone invest so much on a seemingly ordinary chair? One main reason is the ultimate ergonomics in the design of these chairs.
These expensive chairs tend to have unique features to make you feel unprecedented comfort while sitting. Herman Miller Aeron chairs, for example, have the PostureFit SL mechanism to support your lower back. The chairs from Steelcase have the 3D LiveBack system to encourage movement when you sit. Such functions will beat the simple adjustment on regular chair backs by a large margin.
2. Weight Capacity
Regular office computer chairs can hold up to 250 lbs, which is sturdy enough for people of average sizes. However, if you are on the bigger side weighing over 250 lbs, then this is far from enough for you. Generally speaking, you should look for chairs that hold 50 pounds more than your weight. That is, when you weigh 250 pounds, then the chairs with a capacity of 300 lbs will be the best fits. For the 300-pound guys, chairs that hold up to 350 lbs are on hand.
3. Adjustable Seats
When you weigh more than average, you will want a seat larger than normal. So, you should choose either extra-large seats or depth- and width-adjustable ones. Normal seats are likely to be small for your butts. When the chair seats are not deep enough, more than half of your thighs will lack support when you get seated. In this case, you are likely to pay extra attention to your postures while sitting. However, this is not that you are trying to keep in the proper postures. Instead, you are taking unnecessary attention to make sure you are not falling off. Also, some chairs are so narrow that you can barely squeeze yourself onto them. If you have those chairs, you will have difficulty sitting in the proper way. Needless to say, that will be extremely uncomfortable.
Therefore, manufacturers have made chairs with extra wide and deep seats. Generally speaking, regular seat width measures 19″ – 21.625″ and seat depth, 15.75″ – 18.5″. If you are on the taller side, then the sea depth should be larger than that. Similarly, if you are larger than average, then look for a wider seat. Most big and tall office chairs will have seats measuring 20″ by 20″ or above.
4. With/without Arms
Armrests on chairs are to support your arms. When you put your arms on them softly, your shoulders will bear less pressure and thus less prone to pains. Whether you are thin or overweight, this will be reliving if the width between the two armrests is enough for your upper body. However, as people on the bigger side, many chairs will fail to offer the space you need. Therefore, some chairs allow you to modify that width to fit your body shape. Also, there are other adjustments to the armrests feasible to find the most comfortable support for different activities.
However, armrests will, more or less, take up some space. If these width-adjustable seats still can not cater to your needs, consider the armless alternatives. Chairs without arms will not set a limit to the width of the actual seating area. Though the chairs themselves do not offer support to your arms, you can place them on your desk instead of when you type.
Besides, if you don't feel like the armless chairs on the market, it's fine. Many chairs now come unassembled. If you buy this type of chair, you can choose not to assemble the arms. This trick is feasible for most office chairs requiring assembly. But still, you'd better make it clear before making a purchase. In this way, you will also find the best office chair for 300 lbs.
5. Mid Back or High Back
Many people recommend high-back chairs for people weighing 300 lbs. As I see it, however, mid backs are more suitable. Many chairs now have a breathable seat and back. They use quality materials that allow for good air circulation. However, they may still be not cool enough for 300 lbs guys like you, who are sweatier than average. If you need to sit for long hours on high-back office chairs, you are likely to sweat more.
Therefore, if you have long been troubled by that, I'd recommend the mid-back alternatives for you. They will have adequate support for your lower back. Meanwhile, your upper back can enjoy a wide range of motions since there's no chair back to limit its motions.
However, if you are prone to scapula pains, high-back options are way better. They will give adequate support to your shoulders and share some of the pressure you unconsciously place on them.
The best office chair for 300 lbs can help you solve many problems. Obesity is a growing problem in many industrial nations, with a third of adults being overweight, and another 1/3 being flat-out obese. Many office chairs on the market list their maximum weight capacity as 200, 225, or 250 pounds. Yet there are many working professionals that weigh more than that, be it obesity or bodybuilding. When they sit in chairs designed for lower weights, the structural integrity of the furniture is worn down and the occupant risks their own health, posture, and support.
The answer is office chairs designed for people who weigh 300 pounds or more, as some chairs support weights up to 350 pounds. This is a critical thing to have in the American market, where a growing number of adults are getting physically heavier with each passing year. Finding, selecting, and maintaining a chair is a worthy investment. Keep reading to learn questions you might have about this and some answers to them as well.
Are the Expensive Chairs with 300-Pound Capacity Worth the Money?
It is true that office chairs for people over 300 pounds are more expensive than standard office chairs in most circumstances. However, these chairs pay themselves back over time in three different ways. First, standard chairs break down over time when the occupant is too heavy, so having the right chair in the first place spares you from having to buy another chair for a very long time. Second, spending time in the right chair is going to support the frame and posture of the occupant of the chair, meaning that there will not be expenses like chiropractors or doctor visits to correct issues that might otherwise develop. Third, a chair designed for a heavy individual is going to be very comfortable for them, so they can sometimes pay for themselves as an investment in increased productivity.
WRAP UP
Best Computer Chair for 300 lbs – I hope you found this post helpful. Choosing the right office chair can be difficult, especially because of all the options available.
If you're looking for the best office chairs for heavy people, then you can't go wrong with any on this list.
I did my best to include chairs of all different styles and price points, so you'll surely find something that that's the right fit for you. Keep in mind that choosing the right chair can be very subjective.
Since it's a matter of personal preference, I would highly suggest trying them out first in a physical store if you have the option to find one that really fits your body type.
And finally, remember that choosing the perfect office chair is an investment, especially if you're a heavier individual.
Since office chairs for heavier people are larger, they'll typically cost a bit more. Also, if you're a very heavy person, you'll also need to keep in mind that your body weight will wear on the chair quicker.
Sometimes, if you can, spending a little more up front on a quality chair that will last will end up saving you money in the long run.