Best Computer Chair for Big and Tall – Looking for the best big and tall office chair? You're in the right place. Spending endless hours in an office chair can be unpleasant and uncomfortable if the chair you're in doesn't fit you well. If you're a tall or bigger person (or both), you probably know what we're talking about.
Quality and comfortable office chair can make your workday easier and prevent some health problems in the future. So, if you're a person who is big and tall, what should you do if you find regular office chairs too small and inconvenient?
Even though there are tons of different office chairs on the market, the number of big and tall office chairs is a bit limited. Of course, there's no magic chair that would be a great fit for everyone. But, we set out on a mission to find the top nine best big and tall office chairs to help you enhance your work setup.
While reviewing the best heavy-duty office chairs, we considered the chair's weight capacity, dimensions, comfort, and style. Dive in if you're in search of a high-quality big and tall office chair.
If we were to define comfortable office chairs with one word, the word would be "invaluable". In fact, this is especially true if you have a few extra pounds under your belt. No matter if you need to work on your income taxes, give the finishing touches to that corporate report, or even evaluate your student's coursework, something is clear: a comfy, ergonomic office chair specifically made for heavy folks is paramount in order to do those tasks efficiently!
That's why I decided to write this article. I decided to find the very best office chairs for heavier folks like me. I also talk about why they are the best ones, with detailed information about pricing, ergonomics, weight capability, and style, among other things. If you are looking to spend your hard earned money on an office chair that will feel comfortable to sit for hours on end, then this is the article for you!
ROUND UP
1.BestOffice Chair
Finding the right support, and a chair with enough adjustable features can be harder when you fall into the big and tall category. But we think this pick from BestOffice is one of the best big and tall ergonomic office chairs from our research. We like that it supports up to 400 pounds. While that isn't the largest capacity from our research, it's a solid option for any office space.
The fact that you also get adjustable, built-in lumbar support is a great value-add, though you can always get even more support with the best back support for office chair models. You can choose from six different lumbar positions. If you're looking for an office chair with better capacity, you'll like that this is a mesh-combination pick and has a ventilated backrest for breathability with a thick cushioned seat for additional comfort. You'll appreciate the adjustable armrests and that you can adjust your seat height from 17 to 22 inches thanks to the pneumatic height adjustment controls. And with a seat that's 24 inches wide, it's one of the most comfortable office chairs. You may also be interested in the best office chair for scoliosis that can also be used to help prevent sciatica, herniation, muscle strain, and fatigue.
Pros & Cons
---
❃【Excellent comfort】Comfortable and not prone to deformation! This gaming chair is wider than the average desk office chairs. Easily adjusted for height and breathable PU leather make sure you will feel comfortable and cosy.
❃【Ergonomic office chair】This Computer chair designed with human-oriented ergonomic Construction for providing comfort sitting experience.
❃【Easy to install】 This office chair super easy to put together. It took maybe 10-15minutes. Follow the desk chair instructions, you'll found easy to set up and comes with all hardware & necessary tools.
❃【High Quantity】 Our chairs pass all components of the BIFIMA certification, and are a reliable and sturdy option for users weighing up to 250 pounds.
❃【Customer Guarantee】 We guarantee you will love this computer desk chair which is cheap but good material. If you're not satisfied with this desk chair, please get in touch with us, best service for you!
---
2.Sadie High-Back Chair
If you prefer the look of a traditional wheeled office chair, then the Sadie Big and Tall Office chair is a great option. It's another great big and tall office chair that supports 400 pounds, making it a sound option for a variety of body types. We like that it's' another mesh combination model with a breathable mesh backrest and a thickly padded cushion to keep your hips, buttocks, and legs comfortable as you work.
We like that this pick also features built-in lumbar support in the backrest to help minimize back pain. You'll also get four inches of seat height adjustment from 19 to 23 inches. The armrests are also adjustable from 25.6 to 31.5 inches. You can compare this with best armless office chairs for a different option. The one drawback with the Sadie Big and Tall Office chair is that the seat width is a little narrower than we would prefer at just 22 inches.
Pros & Cons
---
COMFORTABLE STYLE: Segmented padded back and seat with ultra plush cushioning give this home office chair unparalleled support and comfort with an upscale look
EXECUTIVE SWIVEL CHAIR: The smooth, pliable SofThread Leather seating surface gives an upscale, luxurious feel at a compelling price
ERGONOMIC POSTURE SUPPORT: Fully adjustable seat back recline, back height, back support, and seat height match your comfort and work preferences
ADVANCED FEATURES: Pneumatic seat height adjustment, adjustable padded arms, and multi-adjustable asynchronous control
DURABLE OFFICE FURNITURE: This heavy duty chair has a 225 lb weight capacity for long-lasting use
---
3.Serta Chair
Executive chairs add a touch of sophistication to any office environment, but they can also be incredibly supportive. We think the Serta Executive Leather Big & Tall chair is one of the best office chairs for plus size individuals because it offers an adjustable lumbar support panel that responds to your movements to provide proper support as you move or shift in the chair. And best of all, it supports up to 400 pounds — making it a solid choice for a big and tall office chair.
While it's not made from genuine leather you'll love the luxe feel of the bonded leather and the contrast it creates against the mahogany wood base. This chair is available in five colors — including white. You get 3.5 inches for seat height adjustment from 18.75 to 22.25 inches. Compare that to the best standing desk chairs on the market. One drawback with this chair is that it has one of the narrowest seat widths we found at just 21.5 inches wide. Still, with a weight rating of 400 pounds, this is a great big and tall executive chair.
Pros & Cons
---
FIT FOR AN EXECUTIVE: Enhance your office experience with the comfort and luxury of the Serta Big and Tall Executive Office Chair
BIG AND TALL: Supports up to 350 pounds and has a generous seating area
TRANQUIL SEATING EXPERIENCE: Deep layers of plush body pillows and hand-sculpted, upholstered armrests
OPTIMAL NECK SUPPORT: An elevated headrest for improved neck support for taller individuals
SMOOTH ROLLING: Multi-surface, dual-wheel designer casters make it easy to move around
Min/Max Seat Height : 27" to 30.75"
---
4.Payhere Chair
Just because you're shopping for a big and tall office chair doesn't mean that you should sacrifice on style or function. The Payhere big and tall office chair is our Best Quality because it fits the bill of merging these two criteria in an affordable executive bonded leather office chair — along with a variety of great features that will make this a worthy investment at a reasonable price point.
First, you'll get a chair with built-in lumbar support and a USB-powered massager. While there's only one vibrating mode, this is a great way to give your back some TLC to alleviate lower back pain and serve as stress relief. Next, we like that you get a commendable 30 degrees of rocking functionality from 90 to 120 degrees. And if you prefer, there's a tension control feature to adjust the flexibility of your rocking. While the armrests are fixed, we do like that they're padded for added comfort. You'll get a fully padded backrest as well as just over three inches of seat height adjustment from 19 to 22.2 inches. And this seat is 23 inches wide, making it a solid choice for people seeking a big and tall office chair. You should also try the best ergonomic kneeling chair that not only relieves back pain but does so without shifting discomfort to the other parts of your body.
Pros & Cons
---
SUPERIOR QUALITY MATERIALS: Our Stain-resistant & skin-friendly 3D air mesh task chair PASS THE BIFMA CERTIFICATION. American-made high density mesh, Breathable and resilient padded high resilience foam cushion, SGS certificated gas lift cylinder. All materials are in good quality, durable, and not easy to deform, Ventilated office chair seat cushion prevents sweating from long seating.
ERGONOMIC OFFICE CHAIR: Ergonomic design promotes a good sitting posture provides lumbar support to avoid stress on the back. Breathable mesh material keeps you comfy all day long. Thick padded seat cushion provides all-day comfort. This computer chair has a modern look and is a perfect match to any space: your study, office or a conference room.
MULTI-FUNCTION: Our chair pneumatic seat height adjustment; Tilt lock function(angle adjustable); 360 degree swivel, it easy adjustment height from 18" to 21"; Solid rolling casters for smooth movement.
EASY TO ASSEMBLE: No additional tools needed. For your convenience, follow the desk chair instruction, simple instructions with pictures enable anyone to put this computer chair together, you'll found easy to assemble, and computer chair estimated assembly time in about 10-15mins.
WARRANTY & GUARANTEE: Customer satisfaction is our top priority. With our desktop computer desk chair, we guarantee 100% customer satisfaction rate. Our customer service team is always here for you! If you are not satisfied with our computer chair mesh, please contact us. We provide quality cheap office chairs for your home office furniture sets and gaming table.
---
5.YITAHOME Chair
Maybe you're a gamer, or maybe you just feel that gaming chairs are designed to be comfortable — more comfortable than any traditional office chair. And we get it, which is why we included the YitaHome Big and Tall gaming chair in our guide. We think it's the best big and tall gaming chair because it's packed with incredible features designed to keep you comfortable especially if you're working (or playing) for extended periods. However, with a lower weight capacity of 380 pounds, this may not be ideal for everyone.
Still, we like that this reclining office chair offers a 180-degree lay-flat reclining feature so you can literally kick back and take a break whenever you want. And to add to that, you'll get a retractable footrest so you can comfortably lay flat. The seat height is lower, making this a better choice for shorter people since you can adjust the seat height from 13.8 to 17 inches thanks to the gas lift controls. The seat measures 22.4 inches wide so it's in the middle range for comfort. You'll also love that the lumbar support includes a removable USB-powered massaging pillow to ease the discomfort and makes it one of the best office chair's for back pain.
Pros & Cons
---
DELUXE GAMING EXPERIENCE- YITAHOME high-end racing gaming chair. Overall size: 22.8"L x 22.4"W x 51.6"H , holds up to 380 lbs.; Embrace infinity in your finite gaming chair as racing game chair, office chair, massage gaming chair and video game chair
ADVANCED MATERIALS AND MASSAGE CUSHIONS- Removable headrests and massage lumbar cushions features USB ports that upgrade functionality, ease your back pain from sedentary sitting; The reinforced metal frame provides a stable and strong structure; Thick backrests and deep bucket seats ensure extra comfort; Made from waterproof and easy-to-clean premium leather; All materials are non-allergenic
ERGONOMIC DESIGN- Soft and cushy texture allows for waist, head, and hips to fit snugly into the chair; The product soothes your cervical and thoracic spine to rejuvenate you after long work hours or intense competitions
VERSATILE FUNCTIONALITY- YITAHOME gaming chair offers a tailor-made relaxation experience; The adjustable backrest reclines up to 155°and can swing by 30°; 5 smooth-rolling durable rubber casters allow for silent, multi-directional mobility
EXQUISITE ACCESSORIES- Premium accessories provide better consistency, stability and safety; Armrest height can also be adjusted; Retractable footrest keeps your legs elevated to improve posture and circulation
---
6.Amazon Basics Chair
There's no reason you shouldn't be comfortable in your home office, which is why we're including this pick from AmazonBasics. It's relatively affordable, and comes in three bonded leather upholstery finishes, including white. This pick is, in our opinion, the best big and tall office chair for home offices since it provides the essential features you need in a chair, even if the weight capacity is lower at 350 pounds.
You'll get a chair with a seat that measures 22 inches wide, which puts it in the median range for a big and tall chair. The seat height can be adjusted from 18.75 to 22.25 inches. But the armrests, while padded, are fixed which may be a deal-breaker for some people.
Pros & Cons
---
Comfortable high-back executive chair upholstered in bonded black leather and PVC
Padded seat and back for all day comfort and support
Pneumatic seat height adjustment; 360 degree swivel; smooth rolling casters
Measures 29.13 by 25.59 by 41.34 to 45.08 inches (LxWxH); 1 year limited warranty; assembly instructions included
Maximum weight capacity 275 pounds
BIFMA Certified
---
What is a big and tall office chair?
The actual definition of a big and tall chair is exactly as the name says; a chair that is designed for someone who is both big and tall. More specifically, users that are over 250 lbs. and over 6'4" tall. The problem with big and tall seating, is that not everyone will be both. People come in different shapes and sizes, so finding a chair to fit your needs can be difficult if you're only one of the two.
Things You Must Consider Before Buying a Big & Tall Chair
 Seat Width and Depth
The first thing you must consider when looking for a new large office chair is the seat width and depth. If you're unsure the width you need to be comfortable, measure your current chair. If that isn't as wide or narrow as you'd like, estimate what width you require to be comfortable.
While seat width is fixed, seat depth can be extended on chairs with depth adjustment functions. They provide adjustment both directions, creating a better fit for shorter and longer legs than a fixed seat. While this feature isn't as common on heavy capacity chairs, higher-end models will offer it.
When looking at the different models of chairs available, there are certain design aspects that can impact the seat width. If the chair has side bolsters, this can restrict the width of the seat. You'll find these on gaming chairs. If there is a hard-plastic frame exposed, this can sometimes be uncomfortable to sit on.
 Seat Height
Getting your legs in the proper position will require proper seat height. The standard size office chair will offer a range between 16" to 20". If you're over 6'4" tall, 20" high for the seat is already too short for proper ergonomics.
All body types are different, some users carry more height in their torso and others in their legs. What height you require will depend on how your body is proportioned. The recommended way to sit is with your feet flat on the floor and your upper and lower leg at a 90-degree angle.
To find this height, we recommend positioning yourself on an existing chair and verifying the measurement to get your legs positioned this way.
 Back Height
The average back height of an office chair is between 19-22" tall. If you're under 6'2", backrest height doesn't often become an issue. If you're over 6'2", some backrests will be creating discomfort from their design.
It's important to consider the design and shape of the backrest. If the upper frame of a backrest is made of hard plastics, it can dig into your shoulder blades. This will lead to extreme discomfort if you're tall.
Chairs that include headrests can also pose an issue for tall people. If the headrest isn't tall enough, they can hit you in the shoulders. Some will create a minor annoyance, while others will push you forward. Both are bad when considering proper ergonomics in a chair. Selecting a chair with a headrest should only be done if the chair is designed for a tall user.
Weight Capacity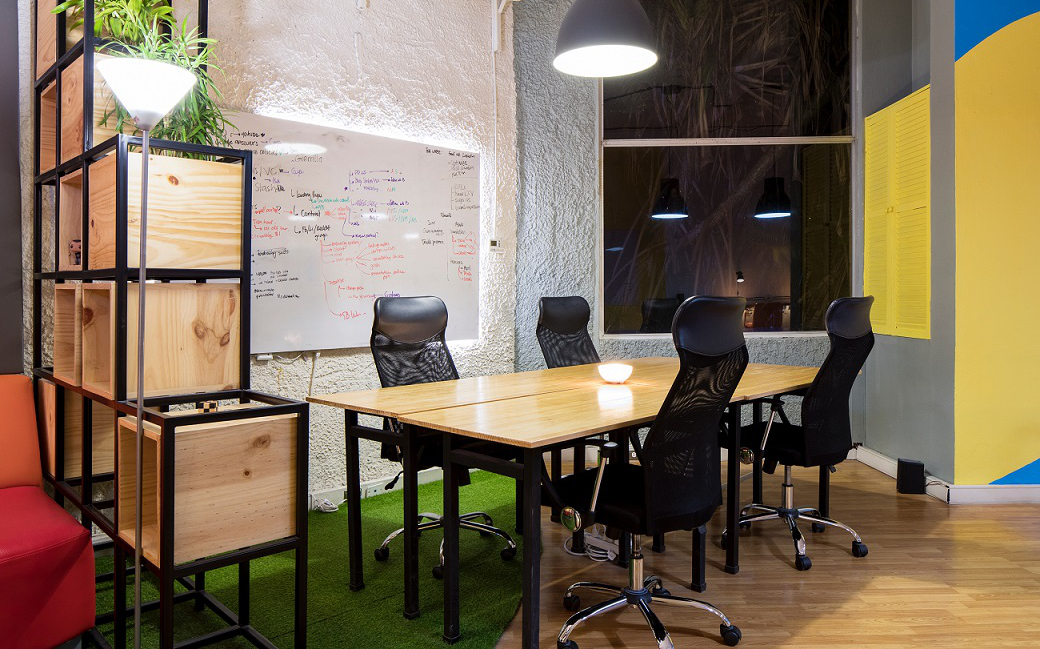 Standard office chairs are typically rated for 250 up to 275 lbs. While you may be under the rating for the chair, it might not be a good option for you. If you're looking for a solid investment, that will last a long time, I would suggest picking a chair at least 10% over your current weight. Selecting a chair that is close to your weight brings the potential for issues down the road.
Something additional to consider with weight capacity: just because a chair is rated for 400 lbs., doesn't mean that it will fit someone that weight comfortably in the chair. A good example of this is the Steelcase Leap and Gesture chairs. Both are rated at 400 lbs. but are standard size office chairs. If you're 300 to 400 lbs., there is a good chance you won't be comfortable in their products. This is where consideration of chair dimensions is so important.
 Ergonomic Adjustments
One of the common things we've found with big and tall office chairs, especially low-cost products, is they tend to be fairly basic. Because of the capacity required, manufacturers like to limit the movement in the components to avoid chairs breaking. That doesn't mean that big and tall chairs can't come with good ergonomic adjustments.
If you're looking for well-built big and tall chair with all of the common ergonomic adjustments, you will need to start your search over the $700 mark. This can be expensive for some budgets but looking below this price is likely to leave you with a broken chair sooner than later.
Looking at the chairs in our list, the least expensive true "ergonomic" option starts at $700. Well-built chairs below that price will only feature a few adjustments or won't offer capacities over 350 lbs.
If you truly care about your back, legs, and arms, you should opt for a chair that offers an ergonomic design and helps you support a correct posture. Here are some features to look for to ensure an ergonomic big and tall chair:
Lumbar support – Any good office chair should come with lumbar support, but it's especially important with a big and tall chair. What you're looking for is the S-shape frame in the back to mimic a spine. Often times there will be support behind mesh or extra padding.
Adjustable Armrests – Getting your chair's armrests to the proper level and position is key to your comfort. You'd be surprised at how uncomfortable it can be with them in the wrong position. When shopping for a chair, check for this feature and for the amount they can adjust.
Adjustable Height – This is another standard on most chairs. But, like the armrests, having the right chair height is key to comfort. Having it at the wrong height can lead to pain in your knees, arms, or other areas.
Tilt Tension Control – While not having this may not impact your health or ergonomics, it'll certainly help your comfort. If you want a chair that can rock back and forth, you'll want to make sure you can adjust that ability.
Seat Design – This is another feature which can play a crucial role in your health and comfort while working. Not having proper seat design can lead to more pressure on the back of your thighs which can cause aches and pains. Additionally, it can help keep circulation. We look for a waterfall seat — a seat which slopes downward.
Bigger and taller people are more prone to breaking their chairs. That's why you should check the warranty and return policy before you purchase a tall and big chair.
Back Height
If you're over 6 ft tall, then having a suitable seat back is a must. Ensure your new big and tall chair has an adjustable seat height to fir your unique body type.
Seat Width and Depth
If you're a bigger guy or a bigger person, you want to make sure you're going to fit in the chair that you buy. If you want to avoid constant numbing, endure that your chair wide enough for you to spend hours sitting in it. However, also make sure it's not too wide.
ANSI/BIFMA guidelines say that the preferable seat width is 22 inches. We recommend a minimum backrest depth of 20 inches and a seat depth of at least 19 inches.
Cushioning
This is twofold. First, if you sit to work for long hours, you're going to want to be comfortable. There's not much worse than having a lousy cushion when you're working at your desk.
Second, you're going to want something that will last. Plenty of office chairs that we've tested feel great but then after a week or two of use, the cushion wears down and it feels like you're sitting on wood.
With that in mind, you want to choose a chair with a cushion that's made of high-density foam so it will be able to keep its shape and support. We recommend a cushion thickness of at least 2.5 inches, if not more. If you're 350 lbs. or more, consider 3 inches as a cushioning threshold.
Materials
This can be subjective — as in, it's up to you! Some people prefer a leather or PU leather chair while other prefer fabric. Some folks like a mesh back as its the most breathable. We recommend going with what you prefer, but if you're unsure, consider the following:
Do you get hot easily? If you do, fabric and mesh should be your top choices.
Do you sweat often? Like the bullet above, you'll want to go with fabric and mesh.
How important is the look? This is totally personal preference. But think about how much you prefer style over substance.
 Warranty
One of the most important things to look at when protecting your investment is a solid warranty. Because of the high capacities, manufacturers warranties will vary significantly here. Some products in the big and tall category will be offered with warranties as short as 30 days.
Our best pick for warranty comes with a 15-year warranty that is rated for 24/7 usage. It's important to look at the fine print of the chair you're considering. Manufacturers will often provide warranties for 40-hour weeks and limited coverage of certain components.
If you're looking for a good warranty, you should plan on spending more than $500 for your next chair. Almost all the products under that price point will offer warranties that are two years or less. In understanding the value associated with a solid warranty, it might be worth the extra money to get a better chair with a longer warranty.
What is the best big and tall office chair?
The best big and tall office chair is going to be heavy-duty and designed to safely support larger weights and offers wider dimensions specifically in the seat width, seat depth, and seat height adjustment range so that you can comfortably sit while maintaining proper posture with your feet flat on the floor. You'll also want to ensure the chair can support high weights of 400 lbs and 500 lbs.
What is the best office chair for sitting all day?
The best office chair is one that is ergonomically designed so that you can maintain proper posture. Ideally, look for a chair with proper lumbar support and a padded seat. You should be able to adjust the seat height so that you can sit comfortably with your back touching the backrest and your feet flat on the floor.
Is it better to have an office chair with or without arms?
There's an argument for both options, but it's going to depend on your preferences. A chair with arms can help reduce the strain on your shoulders but isn't without drawbacks. A common downside with armrests — specifically fixed ones — is that they can't be repositioned. And especially for people who fall into the big and tall category, armrests can feel constraining and limit your freedom of movement.
What is the average chair height?
Average chair height is usually listed in terms of standard office chairs — which isn't always compatible with someone who is considered "big and tall". However, a good rule of thumb is that there should be a one-foot difference between the height of your desk and your office chair seat. So, if you have a desk that's 32 inches tall, your office chair height should ideally be at 22 inches.
WRAP UP
Best Computer Chair for Big and Tall – While there are a ton of different chair options on the market, the number of heavy-duty big and tall chairs is somewhat limited. We've already featured some of the top big and tall gaming chairs and now today we're going to take a look at the best big and tall office style chairs.
We've rated and reviewed seven of the best office chairs for larger users. These office chairs have maximum weight capacities of up to 500 lbs. and we have left out any option that doesn't have a capacity of at least 350 lbs.
We have been selling big and tall office chairs for over 15 years. From chairs that start at $200, to high-end options that retail for up to $3,000, we've seen almost everything available. Having sold office seating this long, one thing has become clear, there is no single best option for everyone. Instead, there are a handful of options ranging in price that should suit most user's needs. Whether you are big, tall or both, our best of list should have something to fit your needs.
Picking the best office chair will likely come down to your needs. With so many different body types and preferences, there isn't a clear cut best, big office chair for everyone.
The most important thing to consider is size first. Ensuring the seat and back fit you comfortably is a great place to start. If the chair is the correct size, you'll want to ensure it has a good capacity. Picking something right at your current weight could pose an issue in the future.
If this is a long-term investment, you'll want to consider a good warranty. Cheap chairs will often break down sooner and have shorter warranties. Paying a little more up front can pay big dividends down the road.