Best Desk Chair for Small Spaces – Working from home has become an unpredictable reality for many of us. As for myself, this laptop I'm typing on and I have traveled every area of the house in search of the perfect makeshift workspace. We're talking the kitchen table, the living room couch, and even the backyard patio. The change of scenery is "fun" temporarily, until the neck and lower back pains kick in.
While working from home long-term does come with many perks (including the option to stay in yoga pants all day), it cannot be denied that investing in a suitable desk and office chair are essential to remote working. However, if you're living in a studio apartment or tiny home, you may not be able to make room for super-clunky office furniture that hogs up a ton of space. We get it! That's why I've rounded up a collected of small-space-friendly office chairs that are stylish, unique, and cozy.
If you're trying to create a cozy and effective home office in a spatially-challenged home, a compact office chair might just be the key. Of course, not just any small chair will do. It has to be comfortable so you can focus on being productive. Bonus points if it looks stylish.
Keeping size, ergonomics, and aesthetics in mind, here are the best office chairs for tight spaces that we've found.
Table of Contents
ROUND UP
1.Gabrylly Ergonomic Mesh
If you'd like full coverage, the Gabrylly has your head and back – literally. A mesh articulated headrest and backrest work together to put your head and spine in a healthy position. What's more it isn't as bulky as other high back chairs so it will still be a good fit for your small office.
The Gabrylly is 25.6″ at its widest and 22″ at its deepest part. Just like the Mimoglad, it has padded arms that swivel out of the way to save you some space when it's not in use. What sets it apart from the Mimoglad, however, is that its armrests are height-adjustable so you get more personalized support.
The full back and seat are mesh for good air circulation. While the lumbar support is fixed, the Gabrylly makes up for it with a 30° backrest tilt. There's also the height-adjustable headrest which you can also adjust by angle at two points.
Pros & Cons
---
【ERGONOMIC OFFICE CHAIR】- The ergonomic chair provides 4 supporting points(head/ back/ hips/ hands) and a proper lumbar support. It's easy to adjust seat height, headrest, backrest and flip-up arms to meet different needs, good for sitting long hours. Suitable for people of about 5'5" to 6'2".
【LARGE MESH SEAT】- The office chair is larger than other chairs, and it could accommodate different body build. The whole Chair Dimensions(including the arms): 25.6"W x 22"D x 45.3"-54.9"H, the Seat Dimensions: 20"W x 19.3"D x 18.5"-22.05"H. Loading Capacity: 280 lbs. The recline function makes you tilt the backrest back (90~120°) or sit straight freely.
【ADJUSTABLE FLIP-UP ARMREST】- Folding the armrests up, you can push the executive office chairs directly under the desk to use more area. It's easy to raise or lower the folding armrest by pressing the black buttons on the armrest.
【BREATHABLE MESH CHAIR】- The mesh back and mesh seat keep air circulation for extra comfy. High quality mesh resists abrasion and transformation, it makes the high back computer desk chairs good for sitting for 4 ~ 8 hours, perfect for a long day sitting.
【EASY INSTALLATION & WARRANTY】- All ergonomic office chairs come with 2 years warranty, so please email us directly, we will offer you effective solutions ASAP. With clear instruction and tools, the office computer chair is easy to assemble (about 15~20 minutes). PU mute wheels roll smoothly, no harm on wooden floor; the sturdy five-pointed base and chair frame add durability and stylish appearances.
---
2.Yaheetech Adjustable Task Chair
The YAHEETECH Adjustable Task Chair is one of the most unique-looking office chairs for small spaces.
The white, polyurethane leather (PU) gives the chair a distinctly cool and modern appearance that makes it a popular choice for minimalist work environments. The striking chrome frame also adds to its appeal.
That's not to say the chair is all style in no substance, though.
The YAHEETECH Adjustable Task Chair gets high marks from us due to the lack of armrests. That feature makes it an ideal candidate for working in small spaces because it doesn't take up a lot of room, and can tuck effortlessly under your desk when you're done working.
On the flip side, though, the YAHEETECH doesn't come with high-quality ergonomic support you might find in other office chairs. While the height can be moved up and down and the generously padded seat provides added comfort, it's otherwise fairly limited on the ergonomic and comfort front.
Pros & Cons
---
【Ergonomic Backrest】The ergonomic curved shape of the backrest fits the curve of human spines, which helps adjust your sitting posture and reduce your work fatigue while increasing efficiency and productivity, benefit for your health and beautiful figure.
【Soft Padded Seat】The backrest and seat are padded with high elastic foam and covered with soft PU leather, which is specially made for your all-day comfort and support.
【Elegant Design】With sleek PU leather-covered ribbed backrest and seat combined with glossy chrome finish metal base, this aesthetically pleasing chair can be perfectly compatible with your room décor.
【360° Swivel】5pcs heavy-duty 360° swivel plastic casters for smooth, easy and quiet rolling around your workspace and prevent your floor from scratches; rotatable seat is convenient for you to fetch things and for multi-tasking.
【Versatile Chair】This fancy chair will be a nice-looking addition to your bedroom, study, dorm room, office, etc. The armless design enables this chair to be slid under your makeup table, computer desk, writing desk, office desk without any difficulty.
---
3.Humanscale
Humanscale's Diffrient World Task Chair is built with longevity in mind.
A full-function task chair with a unique tri-panel backrest finished in breathable mesh, this one feels light, airy, and gentle despite being made from seriously heavy-duty materials for plenty of support.
In fact, designer Neils Diffrient did away with traditional adjustability mechanisms in favor of designing a chair that harnesses the laws of physics. It puts your own body weight to work in creating the ideal seating position for each individual user.
It should be no surprise, though, that such an innovation comes at a premium price tag. And while it didn't quite make our list of the most expensive chairs in the world, it's still the most expensive office chair for small spaces.
If you do have the budget for it, though, you'll no doubt love the he lightweight mesh and minimalist design, the latter of which makes this one tailor-made for small spaces.
Pros & Cons
---
Humanscale Diffrient World Chair - W11 Adjustable Duron Arms - Pinstripe Mesh Seat and Back - Soft Hard Floor Casters
From design legend Niels Diffrient, the Diffrient World chair features an unprecedented combination of performance, sustainability and simplicity in a task seating solution.
The Diffrient World chair has just two manual settings—one each for seat height and seat depth.
With its weight-sensitive recline, the Diffrient World chair automatically supports every user at every recline position. And its Form-Sensing Mesh Technology provides tailor-made lumbar support without external devices or manual controls.
Weighing as little as 30 pounds and made of one-third the parts of traditional task chairs, the Diffrient World chair requires far less raw material and fewer manufacturing processes—and that means less extraction, energy, waste, shipping and disposal associated with its lifecycle.
---
4.Amazon Basics
While the Amazon Basics Low-Back Adjustable Office Desk Chair may not look all that remarkable, it packs a strong punch.
Rather than focusing on fancy features and elaborate designs, this Amazon Basics chair has kept things simple. Instead, it prioritizes maximum comfort and support for minimal cost.
Unlike other budget-friendly desk chairs, the Amazon Basics Low-Back Adjustable Office Desk Chair comes with a mesh back. In fact, it's reminiscent of a feature you might find in the more premium options on this list. It does a good job of helping you to maintain a healthy posture while allowing plenty of airflow to keep you cool and comfortable during long workdays.
The 2-inch padded seat is also highly-praised, due to the way it provides ample cushioning and avoids the buildup of sore spots — or the dreaded numb backside.
Like others on this list, your adjustability options are limited only to moving the height up and down. That said, you do get a nice choice of four different colors that may suit your aesthetic. The chair is a popular choice for sewing rooms, art studios, and similar small spaces, as well. It offers a level of comfort and quality beyond its modest price tag.
Pros & Cons
---
Comfortable task and computer chair with black contoured mesh back for support and breathability
Pneumatic seat-height adjustment; 2-inch-thick padded seat for added comfort
275-pound maximum weight capacity
BIFMA Certified
Chair Dimensions: 20.47*20.08*32.87-37.4 inches (WxDxH)
---
5.KOLLIEE Mid
The KOLLIE Small Desk Chair is another great, budget-friendly option to put on your radar. It boasts a compact frame but a substantial amount of comfort.
It will take up less space in your workstation, too, since it doesn't have armrests. The KOLLIE Small Desk Chair is made in the USA and offers an impressive level of durability, stability, and strength. It supports a maximum weight recommendation of 250 pounds.
The high-density mesh back, well-made ergonomic lumbar support, high-resilience foam, and affordable price tag all combine to earn this chair a spot on our list of the best office chairs for small spaces.
Pros & Cons
---
SWIVEL, ADJUSTABLE HEIGHT MESH OFFICE CHAIR: 360 degree swivel, adjustable height mechanism, flip up armrests.
ERGONOMIC OFFICE CHAIR: This office chair designed with human-oriented ergonomic construction, providing back support to reduce back pain caused by long time sitting.
HIGH QUALITY OFFICE CHAIR: Our office chair is high quality, environmentally that comes from a responsible manufacturer.
SUPERIOR QUALITY MATERIALS: American-made high density mesh, high resilience foam cushion, high quality gas lift cylinder. All materials are in good quality, durable, and not easy to deform.
EASY INSTALLATION: Our office chair is easy to install. We offer installation instruction and video to help you.
---
6.Herman Miller Sayl
The Sayl Chair from Herman Miller offers a unique modern design that's extremely comfortable and highly adjustable. It has a flexible elastomer back that keeps your spine in proper ergonomic alignment. You can also opt for adjustable lumbar support to help reduce back pain. There are a variety of other adjustable features available for armrests and seat, but keep in mind that they aren't included in the base price.
You can also tailor the Sayl Chair to aesthetically fit your space. There are several base colors available, and a wide range of upholster options for the seat. It's also available with two types of caster wheels—one for carpet and one for hard floors.
Pros & Cons
---
One of the most notable features of the Sayl chair is its 3D Intelligent back. Its gently sculpted and webbed design allows you to move and stretch, ensuring the balance between support and freedom of movement is struck. The webbed back is made from elastomer strands that provide exceptional support to the spine.
Height (in): 40.75 Width (in): 24.5 Depth (in): 26 Weight (lbs): 54 Seat Height (in): 20.5 Seat Width (in): 18
3-Year Mechanical Replacement Warranty By Chairorama.
---
What to Look for When Buying an Office Chair for Small Spaces
When we chose the chairs in our lineup, we looked at the following characteristics to ensure that it can make the most out of your small office space.
Out of all the office chairs suitable for small space, we've picked out seven that are the best of the best. They offer the highest standards of quality, comfort, and all-around value for money.
Here, we're outlining exactly what we looked for when making these selections — as well as what you might need to consider before buying a new office chair for your workspace.
All-Round Comfort Level
When it comes to office chairs, comfort really is key. After all, you could have a chair that fits beautifully into your workspace, but if it's unpleasant to sit on, it defeats the purpose.
Comfort was the deciding factor in all of our choices, and for good reason — picking the right office chair can have long-term effects on your health, body, and overall well-being.
Although comfort is a relative and personal metric — what may feel great for one person may be uncomfortable for another — looking out for features such as mesh backs, ergonomic design, lumbar support, and padded seats is a good way of ensuring you're picking a chair that's going to support you and your body.
Durability
Second to comfort, durability is the next most important factor in choosing the best office chair.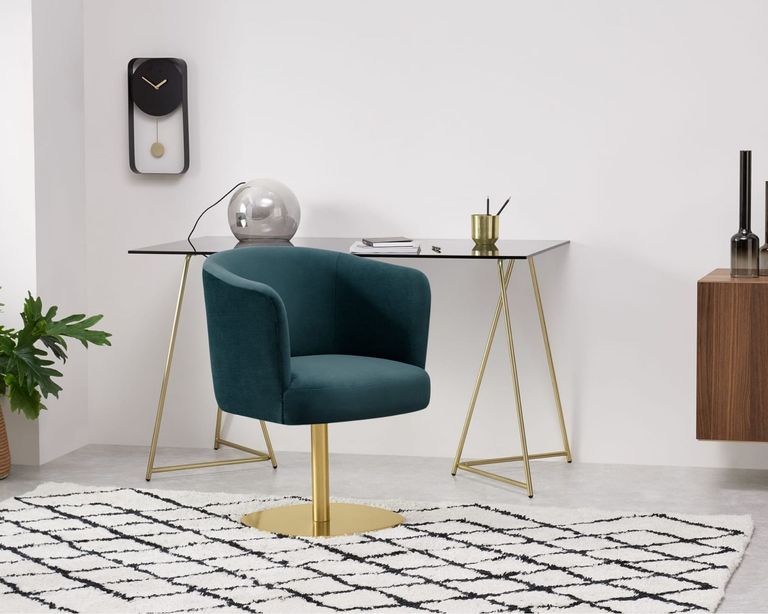 No matter your budget and price point you're targeting, you want to ensure that your desk chair is a good investment and built to last.
While looking at the manufacturer's recommended weight limit can always be a good indication of how strong a given chair is, it's a good idea to look around and get first-hand reviews from other users to get a sense of how the chair holds up over time, as well.
Armrests
When choosing the best office chair for a small workspace, deciding whether or not to get one with an armrest should be an important factor in your decision-making.
While armrests can add to your comfort level by preventing sore shoulders and reducing neck pain, they can also take up a lot of room. Depending on the size of your desk, they also may not fit under it once you're done for the day.
With that in mind, you might want to look for chairs that do not have armrests, or that have flip-up armrests. Doing so can help you save valuable real estate in your workspace.
Style
Style may not be the most crucial factor in choosing an office chair, but it's important nonetheless.
The chair, after all, is an investment — you'll likely be using it for hours per day for months or years to come. Having a chair that matches your personal style can help you create a workspace that you feel happy and at home in.
In the guide below, you'll find a mix of different styles of chairs bound to match your aesthetic. And while we definitely recommend placing a higher priority on comfort and durability, it's still worth considering how your chair looks and fits in with the rest of your space.
Dimensions
Given that we're looking for chairs that should have a small footprint. It's crucial to look at the dimensions of the chair, especially its length at its widest part.
For most chairs, you'll find that the widest part is the base. So, make sure to check if this measurement will fit in your dedicated space.
Armrests
Armless chairs are great because you can easily slide the chair under your desk when it's not in use. However, office chairs with flip-up arms are even better since you get arm support whenever you need it.
Comfort
It won't matter if your chair can fit in in a small space if it's too uncomfortable to sit in.
Mesh and fabric are both excellent choices if you're looking for something breathable. Meanwhile, PU leather should be your go-to if you prefer easy maintenance and a sleek look. In general, mesh is the better pick if you work longer hours.
The seat padding should be sufficient enough that you don't feel the chair's frame. Meanwhile, the seat itself should have enough space to accommodate your tush. Bonus points if it has a waterfall edge seat to prevent leg pressure.
Ergonomics
Look for adjustable features if you want to avoid discomfort and musculoskeletal disorders in the long run. This is especially true if you sit for long periods at a time. A high level of adjustability means that you can customize the chair to support your body shape and size.
Some ergonomic features that you might want to look for are adjustability in the lumbar support, headrest, armrest, seat height and depth, and tilt function.
Weight Capacity
The weight capacity of office chairs for small spaces are limited to 250 lbs to 300 lbs. This is simply because larger users need bigger chairs.
When buying a chair, it's important that you're within the stated weight capacity to protect your safety and make the chair last longer.
Aesthetics
Think about it. This is a chair that you'll be using for years. Do you really want to be spending that much time with a chair that's not pleasing to your eyes? Besides, a small room will just light up with a carefully chosen chair. Especially if you pick something with a lighter hue, it can make your home office look roomier.
That said, you should still prioritize your budget, comfort, and the chair's ergonomic features over style.
"The main features of ergonomic chairs are that they are supportive, highly adjustable and comfortable," says Dr. Rahul Shah, a board-certified orthopedic spine and neck surgeon based in southern New Jersey. Ideally, your seat should be adjustable in numerous ways, allowing you to customize it to fit both your body and work desk. At the very minimum, look for an option with adjustable arms and height, as well as neck and back support. The more ways you can adjust it, the better. With these factors in mind, here are the best office chairs to improve your productivity, regardless of your budget.
Many people have small workspaces for which they require a small office chair that can fit into the small space well. However, it can be difficult and confusing to find a good office chair that requires small space as you have to look for dimensions and other factors before you make the buying decision.
Besides the size, there's a lot of factors that make an office chair perfect for small spaces, and there are even many things you can do to save some space. Picking the right office chair can make a whole lot of difference in terms of comfort and productivity.
In this article, I will discuss all these factors to help you find the best office chair for your small workspace. I can assure you that if you read the full article, it will save you hours while making your purchase decision easier.
Whether to choose armrests or not depends completely on your personal preference. If your chair has an arm, it will definitely cost you extra space, which you might not want if your workspace is smaller in size.
From my experience, Armrests of a chair are very helpful as it allows your elbows to rest while you work at your desk. So, it is not very wise to give up on armrests. That's what I think.
For this reason, I think you should buy an office chair with flip-up arms.
It allows you to flip the arms up and slide the chair under your desk while you are not using the chair at all.
Also, if the arm height of the chair is adjustable, you can lower the arms as well and slide it under the desk. That's why I have recommended the Steelcase series 1.
It doesn't have flip-up arms, but if you lower the height of the armrests, you can still slide it under your desk, considering that your desk height is standard.
I had worked at a bank where my workspace was very limited. It wasn't easy to get up from the chair every time I needed something to pick up from nearby places or shelves.
At that time, I understood the importance of having 360 swivel features and wheels. Because of these features, I could rotate my chair and easily pick nearby things without the hustle of standing up. If you want to know how a swivel chair works, check out this article: How does a swivel chair work?
So, I suggest you look for this feature when you want to buy a chair for yourself and your workspace is smaller in size.
There are many small office chairs out there that do not have good build quality. So, if you want a small office chair for your tiny workspace, make sure the build quality of the chair is awesome; otherwise, it won't last very long.
You can check out our article on how long an office chair is by clicking here to know more about how built quality and other factors affect the longevity of any office chair.
All the office chairs that I have mentioned in this article have awesome build quality. This will make sure that the chairs will last for a long time.
When you are looking for an office chair for a small space, you might end up buying an office chair that has limited weight capacity.
To be sure if the office chair is right for you or not, you must check that the maximum weight limit is on point.
If you have been reading our blogs, you must know that we give a lot of emphasis on weight capacity.
Small space chairs are designed to maximize your space. So, you should start by measuring the square footage of your workspace to determine what will work the best for your desk or workbench. Then check the chair dimensions and specifications you're considering. Buy a chair that's multi-purpose or multi-functional. Plus, foldable chairs can be easily tucked under your desk when not in use.
If you have an uncomfortable small chair, that will lead to muscular and skeleton disorders. So look for the following adjustments. The first is seat height, so a good ergonomic office chair should have adjustable seat height. The optimal sitting position is the one where your feet can be placed flat on the floor. Backrest lumbar support supports the natural "S" shape of the human spine. Armrests will take the tension off your shoulders and enable them to relax.
Usually, this compact chair construction is made from durable and sturdy steel or metal. But you can choose between different upholstery materials. That includes fabric, mesh, leather, vinyl, plastic. Mesh become industry standard for office chairs. Faux leather is easy to clean and it looks elegant. Most common is fabric, known for its durability. Fabric is available in a wide range of colors which you can't find in other materials.
The weight capacity of office or home office chairs for small spaces is usually limited to 250 to 300 pounds. There is a very simple logic beyond that – the larger users require bigger chairs. When choosing the chair, you must be within the stated weight capacity to protect your safety.
When choosing the best space-saving office chair, deciding whether or not to get a model with an armrest will be a very important factor. The chair with an armrest will add to your comfort level by preventing sore shoulders and reducing back pain, but also take up a lot of room. If you don't have space for an armrest, look for armless chairs or those with flip-up armrests.
Usually, office chairs do come with wheels and they have a lot of advantages (better flexibility and mobility, you don't have to stand up and pick nearby things). However, if you work in a really tight workspace, you can't take the advantage of having wheels. Non-wheeled chairs have a smaller footprint.
This maybe isn't the crucial factor when choosing the office chair for a narrow space, but don't ignore it completely. Having a chair that matches your personal style and office interior will create a nice and balanced space. For example, a compact black desk chair will complement any office style.
All models below are designed for long sitting periods, making them ideal for office or home office use. They have different characteristics, as you'll see, so you can find the model that suits all your needs. The first model features flip-up arms, great ergonomics, the third model is a bit unusual but has a great design adjusted to human posture. Also, you can find ergonomic armless chairs that free up more space.
WRAP UP
Best Desk Chair for Small Spaces – The office is transforming from a factory-like setting to a more casual environment. From the coffice (coffee shop), a tropical beach near a digital nomad hub, to the workstation in the living room, work is no longer at a fixed location.
Whether you are a home based entrepreneur, a student, or a remote worker, arranging a comfortable space in which you can thrive and your productivity is optimized may require some well-designed furniture.
Especially when you are spatially-challenged at home. Small houses ask for clever home office furniture solutions.
This all begs the question: What is the best office chair for your small office? It can certainly be a tough decision, and undoubtedly a financial investment.
The answer, though, is that it depends on what's most important to you.
If you're looking to spend as little money as possible, then the AmazonBasics Low-Back Adjustable Office Desk Chair should be at the top of your list.
Are you trying to find a cozy and functional chair in a spatially-challenged home office or office?
A space-saving desk chair will be the perfect solution for your requirements!
Keeping size, ergonomics, aesthetics and quality construction in mind, we found the best narrow desk chair models currently available in the market. The easier option will be to look at chair dimensions, pick the smallest one and finish this task, but there are more factors you need to take into account.
We considered some factors that will maximize your space and boost your comfort and productivity.