Best Drafting Chair for Back Pain – If you own a standing desk or like to work at the kitchen counter to avoid sitting for too long, you know how grueling it can be after a while. Standing for too long comes with its share of adverse health consequences (just ask a cashier or retail clerk). So where do you find a chair that's tall enough to work with your standing desk to give you periodic respite from standing without breaking your workflow? Two words: drafting chairs.
No longer reserved for architects or artists, drafting chairs and stools have entered the mainstream as an ergonomic solution in the modern workspace. The perfect companion to standing desks, these chairs support your body and let you easily switch between standing and sitting when working at a standing desk, kitchen counter, or any type of elevated work space. Better yet, drafting chairs typically can be lowered to normal desk heights to work with conventional desks as well when needed.
The best drafting chairs and stools support your back and upper and lower limbs as you sit at an elevated height. They should be sturdy enough to support your body weight while you're perched up high, come with a foot rest so your feet aren't dangling, and follow the same ergonomic principles when it comes to seat design . Below are the 5 best drafting chairs and stools you can get based on these criteria.
ROUND UP
1.OFM Core
Most ergonomic drafting chair with robust backrest height and angle adjustments
Chair height adjustment (with included drafting kit): 26.75″ to 33.25″ inches.
Most drafting chairs are quite limited when it comes to ergonomic adjustments, making it hard to truly feel comfortable, at least after a while. This is why the OFM chair is so special- it's basically a full fledged ergonomic office chair with the height range of a drafting stool thanks to the included drafting kit.
This chair comes with two chair lifts that raise the height of the seat an additional 9″ or 12″. With the later lift installed for example, the chair height range is 29.75″ – 33.25″.
What's really awesome about the OFM chair however is just how adjustable it is. The backrest for example, apart from supporting lockable tilt and recline, is also height adjustable to better cater to different body sizes. In addition, the seat is also depth adjustable, which one tall owner that is 6'6″ says is the key for making the chair comfortable for him.
At the end of the day, the OFM drafting chair is among the few chairs that combine the ergonomics of a real office chair with the height of a drafting stool. And for that, it tops our list of the best drafting chairs for the year.
Pros & Cons
---
BIG & TALL CHAIR: Fully upholstered in easy to clean vinyl, this guest chair will help create a germ-free work environment whether in a reception area or waiting room
COMFORTABLE OFFICE CHAIR: Sink into comfort with the 4.75" thick padded seat, and 4" thick padded back
ARM CHAIR: The sturdy tube frame with integrated padded arms creates the ultimate stability and comfort for the chair
DURABLE OFFICE FURNITURE: Perfect for an area with people coming and going, this chair has a sled base for easy movement and can hold up to 400lbs
WARRANTY & SUPPORT: Relax knowing this reception chair is backed by the OFM 10-Year Limited Warranty
---
2.Amazon Basics
Affordable drafting stool with a simple design that adequately fulfills the basic ergonomic and functional requirements
Chair height adjustment: 30.3 to 36.2 inches
True to its name, the AmazonBasics drafting stool is minimalist in design. The bonded leather that covers the thickly padded seat and backrest makes for a smooth and comfortable feel.
You can configure the AmazonBasics drafting chair into a true stool by removing the backrest. The 360-degree rotation and absence of armrests enables a wide range of unobstructed movement, allowing workers to do their jobs while seated. The chair height is the only thing that can be adjusted, compared to the Modway chair above with lockable tilt of the backrest.
The foot rest is quite sturdy so that the chair can easily sustain a weight of 250 pounds. However, although the product description says that "The foot rest can be raised or lowered as needed," it is in fact not adjustable from what I can tell. Users on Amazon have echoed the same sediment.
The chair comes with a Proposition 65 warning as per California law stating that the chair contains chemicals known to cause various health issues. That's not to say the chair will kill you, but it's something to keep in mind.
Pros & Cons
---
Drafting stool with black bonded leather upholstery—ideal for home or workplace
250-pound weight capacity; adjustable seat height (from 20.3 to 25.4 inches)
360-degree swivel; chrome arched base with heavy-duty, dual-wheel casters for smooth maneuverability
Supportive back cushion measures 16.5 by 10.2 inches (WxH)
Measures 24.4 by 24.2 by 32.5 to 37.6 inches (LxWxH); weighs 18.5 pounds; backed by an Amazon Basics one-year limited warranty
---
3.Flash Furniture
Heavy duty design with excellent lumbar support and stable backrest tilting
Chair height adjustment: 24 to 32 inches
The melrose gold frame and smooth curvature of the Flash Furniture Drafting Chair gives it a refined polish that's a rarity in drafting chairs. Looks aside however, the Flash Furniture drafting chair provides excellent lumbar support, with a mid-back backrest and a waterfall edge seat for great lower limb circulation.
Tilting the backrest on the Flash Furniture Drafting Chair is as smooth as can be, by using a a 2-to-1 locking synchro mechanism. This lets you recline without feeling like you're about to fall over. Combined with the tilt tension knob, and this is the drafting chair to get if you like to kick back often to relax.
The padded armrests on the Flash Furniture support the upper limbs well and can be flipped up for greater range of motion, similar to the Modway drafting chair above.
Many users have lauded the chair's sturdy and comfortable ergonomic support. The mesh backrest and seat offer cooling for those who choose to sit for longer periods of time. However, some people have reported discomfort at the backs of their legs when seated for long periods, due to the chair's lack of cushioning along the edges of the seat. Most of us who use the drafting chair for short sitting breaks will not mind this issue, however.
Overall the Flash Furniture Drafting chair is one of the most solidly built drafting chairs available, with a ultra tough nylon composition and adjustable seat that makes long hours of working in front of the computer while standing an easier chore.
Pros & Cons
---
Whether you're moving up the corporate ladder at work or illustrating your latest comic at home, a comfortable chair is paramount to your success. This drafting chair features an abundance of ergonomic features to keep you on task and productive
Ventilated curved back provides lumbar support and breathability, full swivel seat, height adjustable chrome foot ring, pressure relieving waterfall edge
Tilt lever - push in to lock in an upright position; pullout to activate rocking motion, while tilt tension knob controls tilt resistance
Mid Back Drafting Chair style ergonomic drafting chair for the home or office
PRODUCT MEASUREMENTS : Overall Size: 24.5"W x 25.5"D x 43.25-50.75"H | Seat Size: 20.25"W x 19"D x 23-30"H | Back Size: 17-20"W x 23"H | Arm Size: 31.5-39"H from floor; 8"H from seat | Foot Ring Size: 20" Diameter
---
4.HON Volt Task
Nicely bonded leather ergonomic chair with adjustable footrest
Chair height adjustment: 16" to 21" inches
The smooth leather covering and simple monochromatic black design makes this task stool a must-have for anyone wishing to project sophistication into their workspace. What's better is that the chair is relatively affordable, costing about the same as the above chairs.
This HON chair boasts tailored stitching and soft bonded leather, with a generously sized backrest and seat that should satisfactorily fit many body types.
The adjustable foot rest is a bonus, allowing users to raise or lower it based on individual preference. The chair itself measures 27 by 29.5 inches (L x W), and can support a maximum weight of 250 pounds.
With HON's full lifetime warranty, this chair definitely brings a lot of quality for its value. The one thing lacking for users looking for a more traditional top seat is the armrest, though that can be purchased separately to complete the picture for everyone.
Pros & Cons
---
COMFORT, STYLE AND VALUE: This task stool features stain-resistant seat and back cushions and a sharp-looking geometric design all at a surprisingly affordable price
SIT TO STAND: Avoid the hassle of raising and lowering your sit to stand desk--instead sit comfortably at any height with this task chair's extended height adjustment and adjustable foot rest
ERGONOMIC ADJUSTMENTS: Let this comfortable office chair take care of your body while you work with generously-proportioned and contoured seat & back cushions plus pneumatic height adjustment. Chair Base : Base Diameter: 26.0 Inch. Chair Back : Back Width: 17.0 Inch
ON THE MOVE: Pull up to your computer desk, swivel around to collaborate with your teammate, or wheel over to the snack area for a quick break with this five-star base and durable wheels.DURABLE TASK STOOL: We use only high-quality materials to keep your stool rolling for years but keep you covered with the HON Full Lifetime Warranty just in case something goes wrong.Chair Seat - Seat Depth - Useable - 18 Inches. Seat Overall Depth - 20 Inches. Seat Width - 19 Inches
Note : To ensure proper assembly, please follow all steps provided in the installation manual (provided in pdf below)
---
5.Boss Office B16245-BK
The Boss Office drafting stool is designed for work environments with tight spaces or where individuals need more mobility. For example, people who work in the medical field, such as dentist or doctor's offices, may need to easily move between their computer and their patient.
In environments where you need to freely move your arms and hands, having an armrest can be restrictive. That's why the Boss Office drafting chair has an incredibly minimalistic design to it. This chair doesn't have any armrests or high-backrest. Instead, it features a slim mid-backrest and a densely padded seat cushion. Since many people who use drafting chairs are prone to leaning too far forward, the backrest helps prevent slouching and encourages a healthy posture.
This drafting chair has an adjustable 6-inch vertical height range to match any desk height that you have. Whether you choose to work on a standing desk, an office desk, or everything in between, this chair will work. We like how the upholstery is made of a caressoft vinyl material giving the chair a smooth texture similar to leather. It's easy to maintain because the material is abrasion and water-resistant. Furthermore, there's a foot ring for users to rest their feet on, which gives them stability when sitting at an elevated height.
Pros & Cons
---
Upholstered in durable beige (bg) or black (bk) caressoft for easy maintenance and cleaning
Adjustable seat height with a 6-inch vertical height range
Dual wheel casters
Attractive chrome finish on the base and gas lift
Adjustable back depth
275-lb. weight capacity
Included Components: Boss Office Caressoft Medical/Drafting Stool With Back Cushion
---
6.NOUHAUS ErgoTASK
The Neuhaus ErgoDraft chair is one of the best value drafting chairs in the market. It has many ergonomic and adjustable features that allow users to get into a comfortable position. For example, it includes a 2D mesh headrest that can be adjusted up and down and forward and backward. This means you can optimize your head position for maximum comfort.
In addition, the Neuhaus ErgoDraft has a unique 2:1 Syncro reclining backrest that enables users to adjust the backrest angle and the seat angle at the same time. Reclining the seat backward encourages movement while sitting, and it also reduces some of the strain on your spine and associated ligaments.
The backrest of the chair uses an ElastoMesh material that is both flexible and breathable. Mesh materials are great for ventilation, allowing air to pass through. Chairs with leather or pleather materials are prone to trapping heat and keeping users sweaty. This chair also comes with a built-in bag or coat hanger so that you can store possessions nearby and away from the floor.
Pros & Cons
---
NOW YOU KNOW: Life has a funny way of bringing us things we never knew we needed. Like The ErgoDraft+. It's the solid drafting table / computer chair with footrest that you were looking for of course, but the High Back, 2D Head Rest and 2:1 Synchro Tilt now lets you sit tall, but better.
CREATE YOUR POSTURE: With the curved 2D Headrest / Neck Support, you get to adjust up and down, and tilt forwards and back for optimized head position. The 135 Degree Synchro 2:1 Tilt, allows you to tilt your High Back Office Chair simultaneously with your seat, so you stay focused in comfort. These never-seen-before drafting chair features go beyond simple ergonomics. It's Seating, with Meaning.
HOLDING WHAT'S IMPORTANT: Strong, height variable arms with comfortable Soft-Grip PU holds you at ease as you as you ponder, while the bag/coat hanger holds your possessions close to you, and off the floor. The soft, breathable ElastoMesh Seat is curved for comfort and keeps you cool under pressure.
SAFE, HEAVY DUTY SUPPORT: The ErgoDraft+ has a HD aluminum base and max capacity of 275lbs with strong weight bearing aluminum footrest. The smooth Class-4 Gas Lift provides a seat to floor height range of 23.4 to 30.9 Inches (and seat to footrest 9.4 inches). You have a max hip space of 19.3in. and the Anti-Roll Caster Wheel Locks let you move freely and safely from seat to feet.
EASY TO ASSEMBLE: The ErgoDraft+ is easy to put together and comes with tools and instructions. You'll notice it weighs only 37.7lbs. Available in Classic Black or Grey, try it now and discover the NouComfort in drafting chairs.
---
What is a Drafting Chair?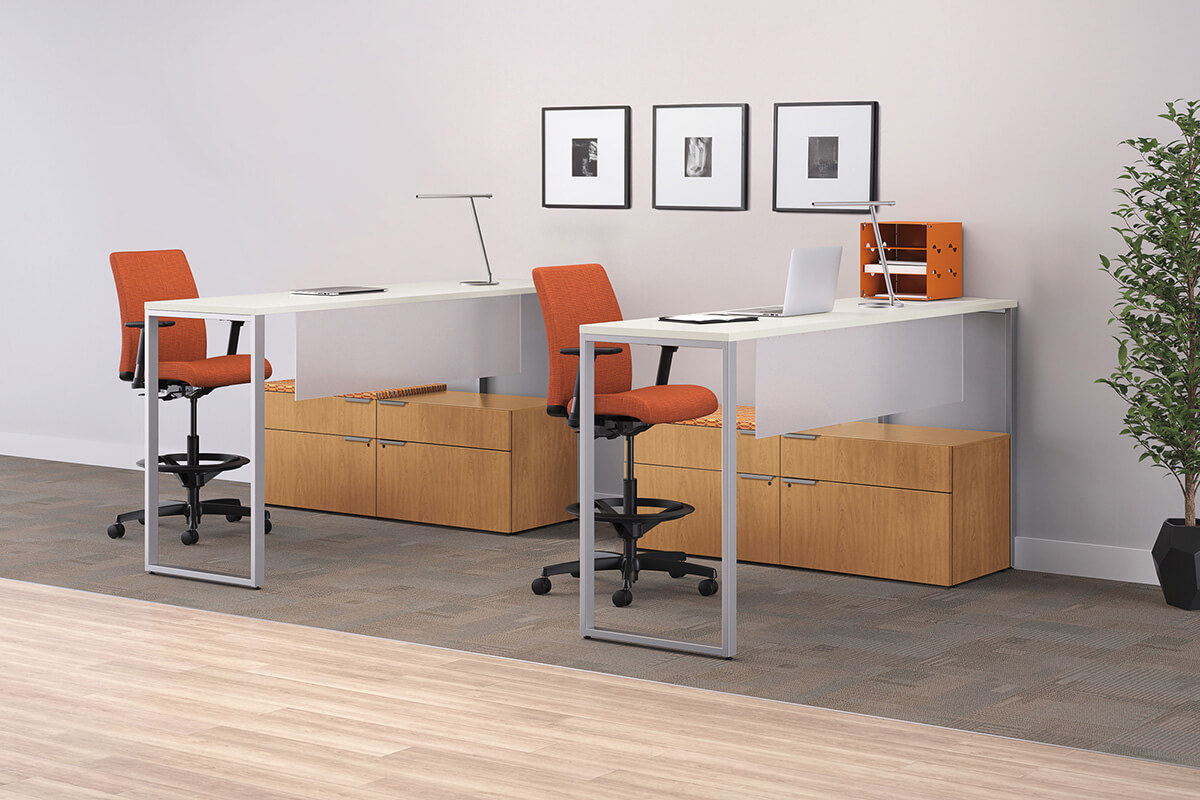 The term "Drafting Chair" is interchangeable with "Drafting Stool". These chairs originally applied to people who were using a stool with a drafting table. Drafting tables are large and have a slanted portion that makes them quite tall. You can stand at the table, but it is also nice to be able to take a break from standing while still being able to work. A stool was the solution to that problem and gradually those stools were tweaked and modified until they were designed to be great solutions for sitting while drafting.
The world has changed a lot since the need for a drafting chair arose. There are now a lot more jobs that can benefit from the ability to sit down. There are many positions where a counter height chair can greatly improve the comfort and health of an employee.
A drafting chair in today's terms is going to be much broader. It is not simply made for people that need to sit down while drafting. A drafting chair today is just an office chair that has a taller seat height than normal chairs and also some type of footrest. The seat height will typically be around 30" on most drafting stools. Some chairs will have arm options, but some will not.
How Did We Pick Our Drafting Chairs?
When we started the process of considering which stools to include on our list, we first had to identify the needs of most people when searching for a drafting chair. What are the factors that are most important and what applications are these chairs being used for? After addressing these two questions, we came up with chairs that meet specific criteria to fulfill the needs of our customers.
Once we knew which types of chairs we needed to include, we used our experience using drafting chairs and our sales history with them to pick the specific drafting chairs included on our list. We have been selling drafting chairs for nearly two decades. We know what is important to look for, which manufacturers are better than others and what you will want to avoid.
We also have a strong history of drafting chair sales to go off of. We can use this history to see which chairs have been popular and which chairs haven't. We can see if a particular chair has had a lot of warranty issues or customer complaints and we know not to include that chair on the list.
4 Things You Must Consider Before Buying a Drafting Chair
1. Seat Height
The most important thing to consider when looking for a new drafting chair is the seat height range.
This is usually going to depend on the height of the desk, table or counter that you will be using the stool with. For these situations, you will want to measure the height of the table and then make sure the stool you are considering has a seat height range that is around 8-12" lower. For example, if your counter height is 42", then you will want to look for a stool that has a seat height range of 30-34".
If you have a height adjustable desk, then you do not need to worry as much about the seat height. You have more freedom to put your priorities in other areas because you can use your desk to match the drafting stool. The only really important thing to think about in this situation is that the stool is not too tall for you to get out of comfortably.
The same goes for those of you that are not using the stool at a counter or desk. This can be common for people like photographers. Our studio has a drafting stool that can be used to give the person shooting the video a break from standing, while still being able to record footage. The main concern with this application is that the stool goes low enough to be able to get in and out of it comfortably and easily. It can also allow your feet to easily touch the ground to make it easier to wheel the stool around while remaining seated.
2. Footrest
Another thing to consider is what type of footrest you prefer. Almost all drafting stools have some sort of footrest. Otherwise, your legs are just dangling in the air, which is uncomfortable and bad for your circulation. There are three main types of footrests available: teardrop, platform or ring.
The most common footrest is the footring. This is usually a metal circle that goes completely around the chair. Many footrings have height adjustment so that you can put it in the best position for you. Footrings are the most functional option for most applications.
A teardrop footrest is a metal U shaped bar that hangs from the underside of the seat. Sometimes they will be tied to the seat and will only move with the seat. Other products have tear drop footrests that will swivel separately from the seat. The teardrop is not as versatile as the footring, but some people find it to be more comfortable.
The final footrest option is the platform. This can be metal or plastic and acts as both a step and a footrest. These products offer much more surface areas to rest your feet on, but they are not always the best options for people that are constantly moving their chair around their workspace because they are a bit more clunky than the footring.
3. Adjustments
Adjustability is another thing to consider. Drafting stools are inherently less adjustable than similarly priced office chairs. Sometimes customers can be surprised by the lack of functionality on some drafting chairs. This is the last thing we want to happen. Nothing is more disappointing than getting a new office chair and then immediately finding out that it isn't what you thought it was.
Before you start looking at drafting stools, think about what functions are crucial for you. Are you a tall person that will really value seat depth and back height adjustment? Maybe you will be doing heavy tasking and want some seat tilt and adjustable arm options. Whatever the functions are, know what you need so that you can search for chairs that meet your requirements and avoid the chairs that don't.
4. Upholstery
The type of upholstery is important to think about. Some upholsteries excel in some areas but not so much in others. Urethanes and vinyls are great for factory and industrial applications. They are also perfect for laboratories, cleanrooms and medical facilities because of how easy they are to clean. But, they are probably not the best option for office settings because they are not as visually appealing.
Fabric and mesh are nice for offices, homes and classroom environments. They look nice and are comfortable to use. They are not great for factories or industrial areas because they are not very easy to clean and can hold particles and debris that won't happen with urethane or vinyl.
Leather is the final upholstery we see on drafting chairs. Leather is not the most durable so it is not as well suited for areas that urethane and vinyl excel in. But, leather has the nicest look and most high-end appeal. This can be attractive for home users or people in executive offices that may want to pair a drafting stool with a standing desk.
Comfort: Comfort and ergonomic support usually go hand-in-hand — pain is sometimes your body's way of telling you that you're not sitting properly. The drafting chair's padding should be sufficient to support your body — it's an ominous sign if you can feel the chair's frame when you sit down. A seat with a larger surface area enables more movement, while the covering should also be comfortable to sit on. Mesh is usually my preferred material for longer bouts of sitting, while faux leather feels better if you're only occasionally sitting down.
Durability: The quality of the materials used to make the drafting chair is critical, especially the base and gas cylinder that prop up the chair. Look for chairs with a heavy duty 5 star nylon base and strong metal cylinder with hydraulic lift. The lift will invariably wear out over time, though luckily there are replacement lifts you can get easily and install yourself. The quality of the wheels are important too, as faulty wheels are a potential injury waiting to happen.
Budget: Sometimes our finances may stop us from getting the very best things in life, including office chairs. When looking at chairs however, you should also consider the longevity of the chair — a chair with a metal frame may be more expensive than a plastic chair, but it'll most likely have a longer lifespan. Similarly, your health is invaluable, so it's not worth getting a poorly fitting chair only to sacrifice your posture (which can lead to chronic injuries that costs much more to fix). In short, aim for the best drafting chair you can afford based on your needs, versus the cheapest.
There are several different types of drafting chairs. Different chairs are better suited for different situations. The drafting stool market has grown to a point where you can find almost any type of product to meet your needs. This is both good and bad. It is good to have a product available to meet anyone's needs but that also means that the market is flooded with products which can often be difficult to sort through.
This list has a good mix of different style products. These are not only products that we like but many of them are also products that our customers have found to be nice options. If you can't find something that meets your needs on this list, then make sure to use our things to consider when shopping for a drafting chair. You'll have a good foundation to use to find the best drafting chair for you.
A drafting chair gives extra functionality and padded support so you can stay comfortable for extended periods.
This important piece of office furniture serves a critical purpose for artists, engineers, and architects. You can reach across different tables and oversee work thanks to their height and swivel functions.
To determine the best drafting chair we looked at the following features: height and width, adjustability, footrest, and materials. We noted that it was important to have a footrest and ignored any drafting chair that lacked one. We also focused on the height adjustment controls and noted if a chair also offered footrest height adjustment. Likewise, we prioritized mesh designs because they are the most breathable, but also included alternatives for people who prefer a different design aesthetic. Keep reading to learn more about our selection criteria and to shop from our recommendations on the best office chairs.
WRAP UP
Best Drafting Chair for Back Pain – Drafting chairs have been available for quite some time now. They have always been a really niche product, best suited for very specific uses. With the growth in standing desk usage in recent years, drafting chairs are also becoming more popular. They are a natural fit to be paired with a standing desk. This has caused manufacturers to come up with more designs and more options.
There is now a wide selection of drafting chairs that offer a range of different functions, upholsteries and aesthetics. We sell many different types of drafting stools on BTOD.com. We have for years. We have taken our experience with drafting chairs and what our customers have liked, to compile a list of the best drafting stools.
This list will not provide a perfect solution for everyone, but it should help to get an idea of what is available and what to look for when shopping for a new drafting chair.
Do you have back pain? Do you spend hours at your desk each day? If so, you may need a good drafting chair to help alleviate your back pain.
A good drafting chair can help take the strain off your back and make sitting at your desk more comfortable.
In this blog post, we will discuss the best drafting chairs for back pain and provide you with some tips on how to choose the perfect chair for you.