Best Ergonomic Chair for Short People – After conducting extensive research, we nominated the Flash Furniture Mid-back Ergonomic Office Chair as our Top Pick for the best office chair for short people. We liked this office chair because it's an ergonomic mesh-combination chair with a breathable backrest with built-in lumbar support and a padded cushioned seat. The pneumatic height controls allow for seat height adjustment between 17 to 21 inches, and you can still adjust the arms and backrest too.
Most office chairs are built to accommodate an average frame. If you are petite or short in stature (under 5'3" for women and under 5'8" for men), your so called ergonomic chair could be exacerbating your existing aches and pains – or potentially creating new ones.
In this guide we take a look at all the important ergonomic factors that short people need to focus on when picking an ergonomic chair, followed by a comprehensive list of the best office chairs for short people. All of these chairs are appropriately sized in the key areas that make all the difference for short people, from seat depth, height, to seat pan width.
Please note that we will be using terms such as "short", "shorter" or "petite" to describe people that are under the statistically average height for men and women. This post will not focus on chairs for little people, or people with dwarfism.
If you're looking for the best office chair for a shorter person, you're in the right place. We're here to help those with a petite body structure choose the most ergonomically suitable office chair for them.
If you're a smaller person (under 5'3" for women and under 5'8" for men), you know the struggle of spending hours in a regular office chair. Not only can it make your workdays harder, but it also creates more back problems.
Table of Contents
ROUND UP
1.Flash Furniture
The Flash furniture office chair is great for shorter people, which is why we nominated it as our Top Pick and the best office chair for a short person. We like that it has some of the best seat adjustments for not just the seat, but the back and arms as well. You'll especially like that the armrests can also flip up giving you the freedom to transition between a seat with armrests or without when you don't need them.
We like that this chair comes with a ventilated mesh backrest that comes with built-in lumbar support. Thanks to the pneumatic controls, you can smoothly adjust the seat height from 17 to 20.5 inches. And thanks to the comfortable padded seat, you'll stay comfortable as you work and will appreciate having this as part of your office furniture. And for a sheer luxury experience, check out any one of the most comfortable office chairs.
Pros & Cons
---
If you're seeking exceptional seating comfort for yourself or multiple employees this ergonomic mesh back office chair will fit the bill. Everyone from the CEO to the front office staff will enjoy working in comfort with this office task chair.
SAFETY & COMFORT: Our chair conforms to ANSI/BIFMA standard X5.1-17. Ventilated curved mesh back with built-in lumbar support prevents overheating, 3" padded waterfall seat relieves pressure from the legs while providing cushioning for long workdays
HIGHLY CUSTOMIZABLE: Pneumatic height adjustable 360 degree swivel seat, Tilt lever - push in to lock in an upright position; pullout to activate rocking motion, Tilt tension knob controls tilt resistance, Functional flip-up arms allow ease of access
VERSATILE USE: Commercial grade material and quality creates a superior chair that can be used in home offices, commercial business work spaces, college dorm rooms and student study spaces in the home
Note : To ensure proper assembly, please follow all steps provided in the Installation manual (provided in pdf below)
PRODUCT MEASUREMENTS >>> Overall Size: 24.5"W x 25.5"D x 37.5-41.25"H. Seat Size: 20.25"W x 19"D x 17.25-20.75"H. Back Size: 17-20"W x 23"H. Arm Size: 26.25-30.25"H from floor; 8"H from seat
---
2.Amazon Basics
When you're a petite person, a seat that can be lowered beneath 18 inches isn't just a nice to have, but an essential feature. Our Honorable Mention goes to this leather executive office chair from AmazonBasics. In addition to creating a lux effect for any office setting, we like that that swiveling chair can adjust to as low as 16.5 inches for the seat height — making it one of the best ergonomic office chairs.
While this doesn't feature the popular breathable mesh backrest, we do like that you get a 360-degree swivel function and that this chair is available in three colors — black, white, and brown. It also features one of the highest weight capacities from our research, with the ability to support up to 275 pounds. And as is common, this chair also features a five-spoke base with casters. Compare this model to the best executive leather office chair that is also able to support up to 275 pounds..
Pros & Cons
---
Padded mid-back rolling office chair upholstered in durable polyurethane bonded (faux) leather
Height-adjustable padded seat with adjustable seat angle, tilt control and padded armrests; perfect for home office, computer desk, guest work station or conference room
5-legged base with durable casters for smooth-rolling mobility; 275-pound max weight capacity
Product weighs 26.5 pounds; assembly instructions included
BIFMA Certified
Chair measures 24 x 24.2 x 34.8-38.6 inches (LxWxH); seat width 20.1-inches, seat depth 16.5-inches, seat back height 18.7-inches
---
3.SMUG Office
For someone who's truly petite, a standard office chair can feel overwhelming. We think this Smugdesk office chair is the best narrow office chair because it features one of the smallest seat width measurements from our research. At 17 inches wide, this is ideal for a smaller individual who doesn't want to feel like they're sitting in an oversized chair.
You'll also get a 270-pound weight capacity with this chair. We like that the Smugdesk chair is another option that relies on pneumatic controls to adjust the seat height. So, you can adjust your seat height from 17 to 22 inches. And you'll like that the mesh backrest offers plenty of ventilation while still providing built-in lumbar support. Best of all, the seat pad is made from breathable padding and covered in mesh to ensure you stay comfortable as you work. Compare this model to the best mesh office chair that is designed to keep you comfortable during long working hours.
Pros & Cons
---
The high-density seat cushion is designed with a breathable mesh surface, so you will not feel stuffy and tired even after sitting for a long time.
This office chair with a curved backrest can perfectly fit your back and avoid shoulder pain.
A strong five-legged base makes this desk chair have a good load-bearing.
This computer chair with multi-directional casters can run smoothly and low noise. It is suitable for most offices or homes and will not scratch the floor surface.
This home office desk chair is easy to assemble through our detailed instruction manual. And we provide you with a free warranty service within one year.
---
4.Modway Veer
While chairs with lower seat adjustment ranges are ideal for shorter people, this assumes that all short people are working at standard-height desks. Yet, we know this isn't always the case. So, if you're working at a taller table like a drafting desk, or like to work at a standing desk, you're going to want a chair with a higher height adjustment range.
We like the Modway drafting chair because it's one of the few office chairs that can still accommodate shorter people while also providing a large eight-inch height adjustment range. Through the use of gas cylinder controls, you can adjust your seat height from 21.5 to 29.5 inches. We like that you still get a breathable mesh back with built-in lumbar support. And since this is one of the best drafting chairs, you'll get a built-in foot ring which can give you a place to rest your feet, and make you less reliant on needing a chair that allows you to firmly place your feet on the floor.
Pros & Cons
---
ADJUSTABLE HEIGHT - With a tall glass cylinder, Veer is ideal for office desks, reception areas, and studios alike. The stool's one-touch height adjustment ranges from 21.5" to 29.5" off the ground.
ERGONOMIC SUPPORT - Featuring a breathable mesh back, lower back lumbar support, and padded waterfall mesh seat, sit relaxed in a thoughtfully designed chair that adjusts according to your needs.
SLEEK STYLE - Refresh your work, home, or school space with a seating choice that makes a sleek, stylish statement. Sitting atop five dual-wheeled casters, glide around any flooring surface with ease.
QUALITY DRAFTING STOOL - Featuring a 360 degree swivel and a sturdy nylon base and frame with armrests that rotate up to draw, paint and draft with ease, Veer offers reliable support for everyday use.
STOOL MEASUREMENTS - Overall Product Dimensions: 26"L x 26"W x 42 - 49.5"H; Cushion Thickness: 2.5"; Weight Capacity: 331 Pounds. Seat Dimensions-19 L x 20 W x 21.5 - 29.5 H inches. Backrest Dimensions-18.5 W x 22 H inches. Armrest Dimensions- 10 L x 3 W x 2 H inches
Note : To ensure proper assembly, please follow all steps provided in the installation manual (provided in pdf below)
---
5.Boss Office Chair
If you're only using an office chair occasionally, it's not always necessary to splurge on some of the pricier models that we outlined in our guide. In fact, if you're outfitting a home office that only gets used a handful of times a month, this pick from Boss Office Products is the ideal petite office chair and comes in five colors — including one bold camo print. Most importantly, we think it's an ideal home office chair because you can adjust the seat height from 18.5 to 23.5 inches using the pneumatic seat controls.
Another great feature is that you can adjust the armrests too. Although this does lack the popular mesh backrest, we do like that it's padded with lumbar support for added comfort. Note though, that it's upholstered in tweed so you may experience heat buildup. Still, the armrests are also padded for extra comfort. Plus, this chair can support up to 250 pounds. For stability and even better support, have a look at the best office stability chair.
Pros & Cons
---
Fabric type: 100% Polypropylene
Armless task/office chair from Boss with lumbar support; waterfall-contour seat relieves stress to legs
Nylon, swivel 5-star base with double wheel casters; padded seat covered in durable tweed fabric
Pneumatic seat height adjustment for heights from 18-1/2 to 23-1/2 inches; adjustable seat back depth
Requires simple home assembly; 250 to 275 pound weight capacity
Measures 17-1/2 inches wide by 25 inches deep with a 35-to-40-inch overall height; limited 6-year warranty
---
6.Alera Etros Series
If you're the type who's focused on precise adjustments, then you'll appreciate this option from Alera. Their Etros chair is available in a petite size and allows for some of the most precise adjustments that we've seen through our research. With three separate levels, you can control not just the seat height, but also the backrest angle, seat slide, and forward tilt.
We like that you can adjust the seat height from 17.5 to 21.5 inches which is ideal for shorter people. You'll also like that the armrests are also adjustable. As is fairly common, this chair is a mesh combination option with a breathable backrest and a padded cushion for added comfort. And you'll appreciate that the backrest has built-in lumbar support as well. And if you suffer from back pain, you will need best office chair for back pain.
Pros & Cons
---
A modern classic is the smart choice for your office
Designed and scaled with the petite user in mind
Breathable mesh back with cushioned mesh fabric seat
Adjustable lumbar support
Waterfall seat edge reduces pressure points at the back of the knee
---
Picking an office chair is all about finding the one most likely to keep you comfortable after extended periods. And this is especially true when you're shopping for a chair and are shorter than average height. To create our guide, we focused on the following key features — adjustability, lumbar support, seat height, and materials.
All of our recommendations featured adjustability specifically in customizing seat height. But if you want full customization, you'll want to look for chairs that allow for backrests that can be independently raised or lowered, back angles, and adjustable armrests.
Lumbar support is another key feature that is fairly common when shopping for an ergonomic office chair. All of our picks come with built-in lumbar support. But another factor to consider is breathability, which ties into materials. You'll note that the majority of our recommendations feature a mesh-combination chair with a mesh backrest and a padded seat. This option allows for some of the best ventilation while still providing lumbar support and a comfortable seat. Still, you can find fully padded backrests or chairs made from leather, faux leather, or other fabric upholstery. Just keep in mind that those chairs may not be as breathable.
Of course, seat height is going to be an important issue — especially for shorter people. Picking the wrong seat height range could leave you working in a chair where your feet don't touch the ground. We prioritized options that offered a lower seat adjustment range. This means that we looked for chairs that could be adjusted to heights of at least 18 inches or lower from the ground to the base of the seat.
Best Office Chair for Short People Buying Guide
Searching for a good chair is a challenging and overwhelming task. It's become more difficult to find a comfortable chair that will fit perfectly for a short person.
If you are working from a chair that doesn't physically fit you well then you might end up having back pain, neck pain, lack of blood circulation in your legs and possibly pain in other places.
Using a suitable ergonomic chair is highly recommended. In this blog, we have selected some of the best ergonomic office chairs for a person whose height ranges from 5'4″ to 4'11". These chairs are highly adjustable, ergonomically built, well designed to fit you perfectly.
We did our research and tried to make a list of the best office chairs for short people in the market right now, which provides you with a good sitting experience if you are a short person.
We have considered the best ones with different price ranges as well. If any of the chairs that you like but don't fit with height properly, you can use a footrest to resolve the issue.
We have also added two different types of chairs which are a drafting chair and a kneeling chair that might not fit you well. However, do check them out; both of the chairs have a good value in terms of price.
Please do share your thoughts in the comment section. If you think we have missed some chairs worth mentioning, please feel free to let us know in the comments as well.
Seat Height
The first thing to think about is the seat height of your office chair. You want to be able to have your knees at 90 degrees, with your feet flat on the floor. Most office chairs will have a seat height range of around 17 to 22 inches. This is going to be too tall for people who are five feet six inches and under.
You will need to find a chair with a minimum seat height of 16 inches if you are five-foot-six and 15 inches if you are five-foot-two. If you are shorter than five-foot-two, then you will want to find a chair that gets as low as 14 inches if you plan to have your feet flat on the floor. 
2. Adding a Footrest
One super valuable tool for your workstation can be a footrest. Adding a footrest allows you to bring the floor up to your chair, instead of forcing your chair to go down to the floor. By doing this, you will make it much easier to achieve that 90-degree knee angle, while also opening the door to chairs with higher minimum seat height ranges. Most of the people in our office use a footrest, including myself. 
3. Desk Height
Your desk height is another really important factor. You want your typing height to be about 8 inches above your seat height. If you are going to use a chair at 16 inches, then your desk needs to be able to go as low as 24 inches to accommodate an ergonomic position. Standard desk height is 30 inches, so there is quite a big difference there.
There are a few ways to help you accomplish this. The first is to go with the footrest discussed above. This can close the gap by a few inches by bringing your chair height closer to a standard height desk. The second is to get a height-adjustable desk that can lower to a position that is below the standard desk height. The final option is to add something to lower your keyboard, like a keyboard drawer or keyboard tray. 
4. Seat Depth
The next thing to consider is seat depth. You want to be able to position the front of the seat to within 1 to 2 inches from the back of your knees. Most standard office chairs will have seats that are around 17 to 18 inches deep. This will be too large for short people.
If you are five-foot-six or under, you want to find chairs with minimum seat depths of 16 inches or less. Chairs with an adjustable seat depth range as low as 15 inches will be the best options to go with for this category. 
5. Arm Width
The armrests will be another important factor to consider. You want to be able to hang your arms naturally at your sides and then place your elbows at a 90-degree angle. You do not want to have to angle your arms outward to reach the armrests. This can put unnecessary strain on your shoulders and neck.
Standard office chair arms will typically be about 17 to 18 inches apart. If you are under five feet six inches, you will want to look for arms that have a minimum width of 16 inches or less. For those of you in the five feet and under range, then arms as narrow as 13 inches will probably be what you want to look for. 
6. Arm Height
Height is the second thing to look at when it comes to the armrests. You really want to make sure that the arms on the chair you want to buy have a range that will work for you. People that are under five feet six inches will want to have their arms about 9 inches above their seat to be able to achieve that 90-degree elbow angle. People who are five feet tall or under will want a minimum arm height of 7 inches or less. 
7. Headrests
Be careful when buying chairs with headrests if you are a short or petite person. We have found that headrests will often be in an awkward position for short people. Many headrests are designed to fit into the curve of your neck. If you are too short to use them properly, then the headrest just ends up pushing the back of your head forward.
The same thing can happen on chairs with more standard headrests. If you are too short to reach the intended headrest, then the chair will not be comfortable because it was not designed to fit you properly.
If you really want a headrest, then look for chairs that were specifically made for short people that also offer a headrest option. This should ensure that the headrest was designed for short people and will give you the best chance that it fits you properly.
The selection of office chairs for petite and short people can feel limited. There certainly isn't going to be as many options as standard office chairs, but there are things that you can do to expand your selection. Things like a footrest and keyboard tray can be amazing tools. An electric height-adjustable desk can also be a game changer for a lot of people. These will make the seat height less of a problem.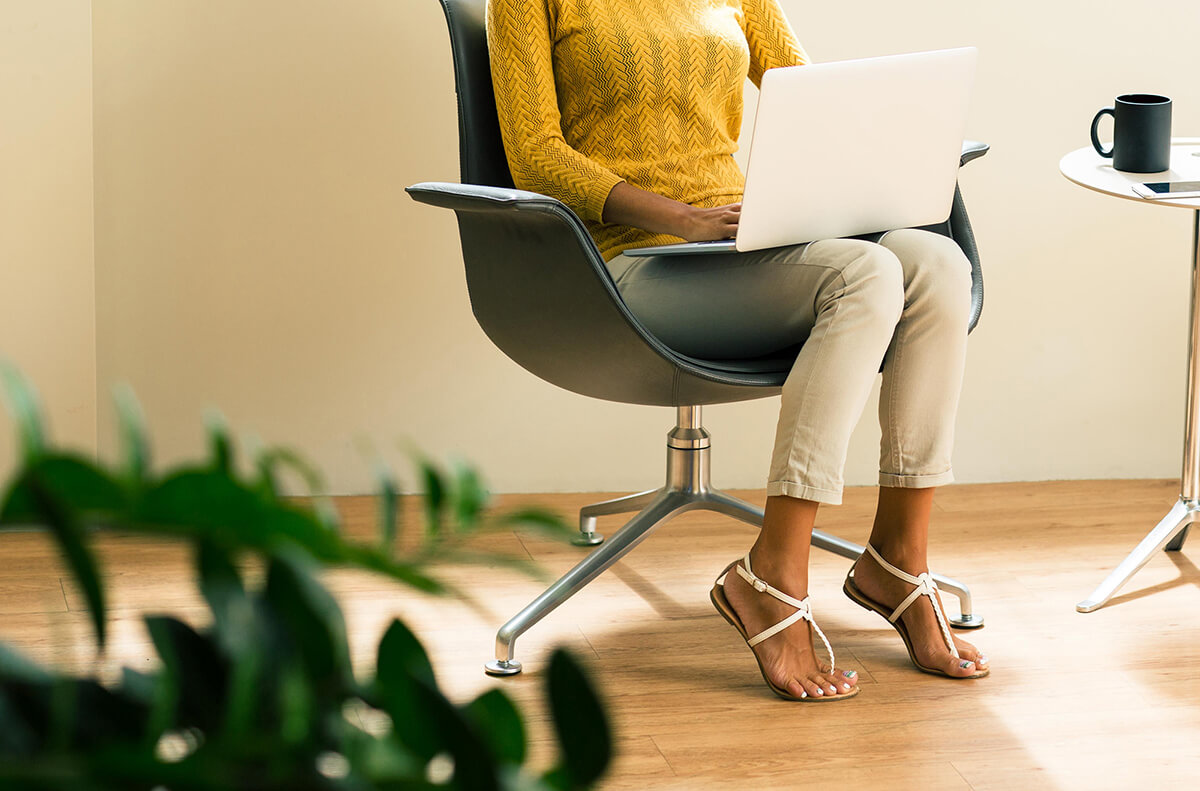 If there isn't a chair on this list that will work for your needs, then make sure to take our "7 Things to Consider" with you on your search. If you are armed with the knowledge of what to look for and what to avoid, you should be able to find the best chair for your needs.
What is the best office chair for a short person?
The best office chair is going to be one with seat height adjustment that allows for customizing the seat height to within 18 inches from the floor to the seat. In our guide, we prioritized those types of chairs with a focus on chairs that offered even lower seat adjustments between 16 to 17 inches at their lowest settings. Our Top Pick, the Flash Furniture Mid-Back Ergonomic Office Chair is a great option that can be adjusted to as low as 17 inches.
What is the best office chair for sitting long hours?
If you're going to be sitting for long periods, you'll want a chair that offers a waterfall edge, as well as something that is well padded to provide additional comfort. From our guide, the Best Quality pick from Serta would be ideal since it's a fully padded chair with a waterfall edge that's designed to mimic the comfort and support you would get from a body pillow.
How do I know what office chair will fit?
You'll want to look for a few key features when shopping for a new office chair. First, the backrest should be adjustable, with the ability to comfortably follow the shape of your spine. You should be able to adjust the seat height so that your feet rest flat on the floor. You should also be able to adjust the armrests so that you can work with relaxed shoulders. And your arm height should be able to match the height of your desk.
Are mesh office chairs better?
There are benefits and drawbacks to mesh office chairs. On the one hand, they're one of the most breathable options, which can be important if you spend long periods sitting in a chair. But sometimes cheaper mesh-based chairs lack proper support and can lead to sagging over time. A good option is to pick a mesh combination seat with built-in lumbar support. A combination seat will usually feature a padded cushioned seat that's either upholstered in mesh or fabric and a mesh backrest with the built-in lumbar support.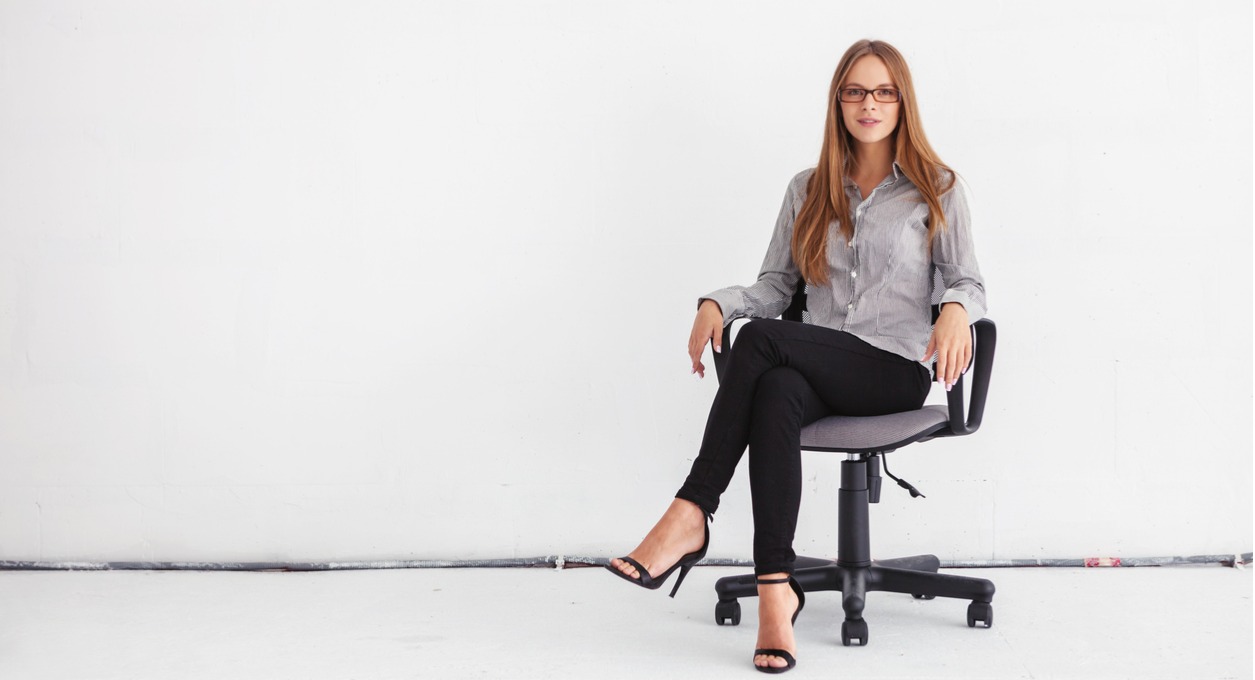 Our two lists are dominated by just three companies, with Herman Miller claiming three of the five spots in the mesh category, and Steelcase and Serta claiming two each in the upholstered category.  The problem is that the Herman Miller and Steelcase chairs cost significantly more than the others and may be out of reach for many potential buyers.
We understand that which is why we've opted to list the remaining entries in our top ten in each category.  The rest of the list (those that didn't make the top five) is dominated by smaller brands that aren't as well known, but there are some surprisingly good options out there that don't cost a ton of money.
Not to worry, we'll give you the complete scoop on all of them, so you'll have everything you need to make an informed purchasing decision.  We feel confident that lurking somewhere in this review, you'll find your next office chair, and it will be a perfect fit for you!
WRAP UP
Best Ergonomic Chair for Short People – As a short person, you have additional comfort issues to contend with when selecting an office chair. Remember, you'll possibly be using your chair for more than 8 hours, so it's important to know not only the seating measurements, but your own as well.
Thankfully, the companies we've listed have all recognized the importance of avoiding an "average" chair suited for the masses. While it takes an extra bit of research, finding a chair with the right support features and sturdy framework for your petite frame can carry you through the professional work day and beyond in style and comfort.
Even with the end of enforced work-from-home restrictions in sight, workforce norms have changed forever amid the Covid-19 pandemic. Companies that used to mandate coming into an office, including Twitter, are now opening the door for permanent remote work options, giving employees a lot more control over their schedules, not to mention their home office setups.
For anyone under a certain height that never found comfort in their on-site office furnishings anyway, this is a great opportunity to invest in an office chair tailored to your needs. Let your feet touch the floor and experience true freedom with the best office chairs for a short person to enjoy.
So, what are the best choices for petite people out there? In this guide, we'll look at some of the best office chairs for shorter or petite people. We'll be closely paying attention to such ergonomic details as seat height, depth, width, and chair size.
Read on if you're tired of sitting on uncomfortable chairs that aren't made for your petite body structure. Here are the best office chairs for short people you can find on the market.