Best Ergonomic Desk Chair for Short Person – Office furniture is notoriously "one size fits some". But in the quest to target an imagined average of height and weight, generic furniture producers are missing out on a big portion of the market.
Thankfully, there's a handful of office furniture brands that go out of their way to accommodate people of all shapes and sizes.
In today's guide, I'll be selecting from a carefully curated list of these companies to explore the best desk chairs for short people. No matter your budget or style preferences, you'll find a small office chair to suit your needs.
When it comes to office chairs, there is no one-size-fits-all for everyone. Some people need chairs to accommodate their height a bit more than a standard chair might be able to offer. For example, many chairs are big and tall, only left to accommodate users that have a taller or wider frame by having a wider and deeper seat pan and taller chair backs.
If you are looking for the best ergonomic office chair for a short person, you know that you have come to the right place!
Some petite chairs offer similar accommodations, but without the ergonomic benefits of full-sized chairs. Smaller seat pans and shorter chair heights can make petite chairs more comfortable for short people, but without the state-of-the-art benefits, everyone has come to know in the 21st century. Smaller users who may find a petite chair slightly uncomfortable have an option that is a full-size chair, but thanks to its customization options, can accommodate a user of all heights, even some of the shortest professionals in the business.
ROUND UP
1.Herman Miller Aeron
If you're looking for an ergonomic office chair that can truly add to your physical health and productivity, the Herman Miller Aeron Chair is the perfect option to consider.
Ever since the brand was introduced more than twenty years ago, the company has strived to continuously enhance its products in order to match modern workplace environments.
This particular chair is manufactured from recycled material and is available in four colors. It also has a tilt regulator that allows you to choose between three posture settings.
The tension control feature regulates how much effort you require to recline easily and you can adjust the seat angle by either choosing neutral or engaged.
One of the primary benefits of this chair is the two pads that can be flexed independently to offer support to both the sacral and lumbar regions of your body.
This chair features unmatched technology and promotes a smooth balance of motion.
Most people who bought the chair agree that it is worth every penny. The quality is first-class and once you have the settings right, you basically have a chair that is tailored to your body.
The primary issues customers had with the Aeron is that the seat depth, arm width, and back-height cannot be adjusted.
Pros & Cons
---
Your purchase includes One Herman Miller Aeron Ergonomic Chair – Size B, graphite color
Chair dimensions: 41" H x 27" W x 16.75" D. Seat heights: 16"-20.5".
Tilt Limiter lets you set the recline range at one of three postures. Tension control lets you adjust the amount of effort needed to recline comfortably. Seat Angle Adjustment changes seat angle from neutral to engaged
Try the Adjustable PostureFit Sacral/Lumbar support. Two individual pads flex independently and can be adjust to fit the curve of your spine
Fully Adjustable Arms adjust from a height of 6.8" above the seat to 10.8 inches above the seat, slide backward and forward over a range of 2.5 inches, pivot 15 degrees outward and 17.5 degrees inward
---
2.Steelcase Leap
The Steelcase Leap Fabric Chair features a streamlined and classy design that conforms to the shape of your body.
Its patented LiveBack technology helps to support your spine and changes shape to impersonate your spine movement.
The Leap's seat height can be adjusted, it has a flexible back, adjustable arms, and optimal lumbar sustenance.
Along with the vast amount of adjustability features it has, the chair also promotes comfort and productivity while working for prolonged periods of time.
The Steelcase Leap Fabric Chair received outstanding reviews with most customers commenting on its exceptional quality, comfort, durability, and adjustability.
Most people mentioned how comfortable the chair is when working for hours on end.
Some customers had issues with the quality of the materials and said the seat is too thin and uncomfortable. Still, the majority of reviews were positive.
Pros & Cons
---
Buzz2 fabric is 100% polyester
Wheels for carpet flooring
Ergonomic chair – features include adjustable seat depth, fully adjustable arms, height adjustable lumbar, lower back firmness control, pneumatic seat height adjustment, recline tension adjustment, 5 position recline lock, upholstered back and seat
All day comfort and back support - Leap's contoured backrest changes shape as you move to support your entire spine, ensuring long-term comfort
Quality & durability – designed to withstand 24/7 use while providing maximum comfort
---
3.Steelcase Leap V2
We've found that the Steelcase Leap v2 chair is a contender for almost any "best of" list that we create, but I was still a bit surprised when I found that the Leap v2 is also a great option for short and petite people. You do want to make sure to upgrade to the four-way adjustable arms to ensure that you can take advantage of the huge adjustment range the Leap v2 arms offer.
The Leap v2 has a low minimum seat height of 15.5 inches and the seat depth adjustment allows for the seat depth to be as small as 15.7 inches. You also have a nice arm height range of 7 to 11 inches and a massive width adjustment range of 12.75 to 20 inches. Basically, you can make this chair really small, and that is one of the biggest reasons why this was my number one pick.
The next reason is that the Leap v2 has a ton of adjustability. This is one of the most adjustable chairs that you will find. It comes with a synchro-tilt mechanism, multiple locking positions, and two-way adjustable lumbar support. The lumbar height range is large, which is another bonus for short people. The lumbar goes almost all the way to the bottom of the backrest.
On top of the nice sizing specs and the huge amount of adjustability, the Leap v2 features a great build quality and has one of the best warranties in the industry. You are guaranteed to have one of the best chairs in the industry for a minimum of twelve years.
Pros & Cons
---
Fully Remanufactured by Crandall Office Furniture (Make sure to Verify the Seller)
12-Year Full-Chair Warranty (We Warranty the Entire Chair, Not Just The Parts Replaced)
New Casters, New Gas Cylinder, New Arm Pads, New Fabric
Brand New Foam Seat Cushion with +3/4" of Thickness
---
4.Amazon Basics
When you're a petite person, a seat that can be lowered beneath 18 inches isn't just a nice to have, but an essential feature. Our Honorable Mention goes to this leather executive office chair from AmazonBasics. In addition to creating a lux effect for any office setting, we like that that swiveling chair can adjust to as low as 16.5 inches for the seat height — making it one of the best ergonomic office chairs.
While this doesn't feature the popular breathable mesh backrest, we do like that you get a 360-degree swivel function and that this chair is available in three colors — black, white, and brown. It also features one of the highest weight capacities from our research, with the ability to support up to 275 pounds. And as is common, this chair also features a five-spoke base with casters. Compare this model to the best executive leather office chair that is also able to support up to 275 pounds..
Pros & Cons
---
Padded mid-back rolling office chair upholstered in durable polyurethane bonded (faux) leather
Height-adjustable padded seat with adjustable seat angle, tilt control and padded armrests; perfect for home office, computer desk, guest work station or conference room
5-legged base with durable casters for smooth-rolling mobility; 275-pound max weight capacity
Product weighs 26.5 pounds; assembly instructions included
BIFMA Certified
Chair measures 24 x 24.2 x 34.8-38.6 inches (LxWxH); seat width 20.1-inches, seat depth 16.5-inches, seat back height 18.7-inches
---
5.Modway Veer
While chairs with lower seat adjustment ranges are ideal for shorter people, this assumes that all short people are working at standard-height desks. Yet, we know this isn't always the case. So, if you're working at a taller table like a drafting desk, or like to work at a standing desk, you're going to want a chair with a higher height adjustment range.
We like the Modway drafting chair because it's one of the few office chairs that can still accommodate shorter people while also providing a large eight-inch height adjustment range. Through the use of gas cylinder controls, you can adjust your seat height from 21.5 to 29.5 inches. We like that you still get a breathable mesh back with built-in lumbar support out of this adjustable drafting chair. And since this is one of the best drafting chairs, you'll get a built-in foot ring which can give you a place to rest your feet, and make you less reliant on needing a chair that allows you to firmly place your feet on the floor.
Pros & Cons
---
ADJUSTABLE HEIGHT - With a tall glass cylinder, Veer is ideal for office desks, reception areas, and studios alike. The stool's one-touch height adjustment ranges from 21.5" to 29.5" off the ground.
ERGONOMIC SUPPORT - Featuring a breathable mesh back, lower back lumbar support, and padded waterfall mesh seat, sit relaxed in a thoughtfully designed chair that adjusts according to your needs.
SLEEK STYLE - Refresh your work, home, or school space with a seating choice that makes a sleek, stylish statement. Sitting atop five dual-wheeled casters, glide around any flooring surface with ease.
QUALITY DRAFTING STOOL - Featuring a 360 degree swivel and a sturdy nylon base and frame with armrests that rotate up to draw, paint and draft with ease, Veer offers reliable support for everyday use.
STOOL MEASUREMENTS - Overall Product Dimensions: 26"L x 26"W x 42 - 49.5"H; Cushion Thickness: 2.5"; Weight Capacity: 331 Pounds. Seat Dimensions-19 L x 20 W x 21.5 - 29.5 H inches. Backrest Dimensions-18.5 W x 22 H inches. Armrest Dimensions- 10 L x 3 W x 2 H inches
Note : To ensure proper assembly, please follow all steps provided in the installation manual (provided in pdf below)
---
6.Boss Office Products
If you're only using an office chair occasionally, it's not always necessary to splurge on some of the pricier models that we outlined in our guide. In fact, if you're outfitting a home office that only gets used a handful of times a month, this pick from Boss Office Products is the ideal petite office chair and comes in five colors — including one bold camo print. Most importantly, we think it's an ideal home office chair because you can adjust the seat height from 18.5 to 23.5 inches using the pneumatic seat controls.
Another great feature is that you can adjust the armrests too. Although this does lack the popular mesh backrest, we do like that it's padded with lumbar support for added comfort. Note though, that it's upholstered in tweed so you may experience heat buildup. Still, the armrests are also padded for extra comfort. Plus, this chair can support up to 250 pounds. For stability and even better support, have a look at the best office stability chair.
Pros & Cons
---
Fabric type: 100% Polypropylene
Armless task/office chair from Boss with lumbar support; waterfall-contour seat relieves stress to legs
Nylon, swivel 5-star base with double wheel casters; padded seat covered in durable tweed fabric
Pneumatic seat height adjustment for heights from 18-1/2 to 23-1/2 inches; adjustable seat back depth
Requires simple home assembly; 250 to 275 pound weight capacity
Measures 17-1/2 inches wide by 25 inches deep with a 35-to-40-inch overall height; limited 6-year warranty
---
WHAT IS IMPORTANT FOR A SHORT PERSON BUYING AN OFFICE CHAIR
There is no set height that you have to be, however, it's important to keep in mind your ergonomic office chair should fit you comfortably. This includes the seat height and the distance between where your knees bend and where the end of the chair is. It's best to have a little bit of space between the end of the chair seat and where your knees bend. Your feet should be able to touch the floor.
To give you an idea of measurements, the seat height for petite chairs usually ranges from 20-23″H. The back height for standard chairs can range anywhere from 21″H to 27″H, while the back height of petite chairs is typically is around 21″H. The choice chair for short professionals that we'll highlight in this article features a back of 21.4 inches.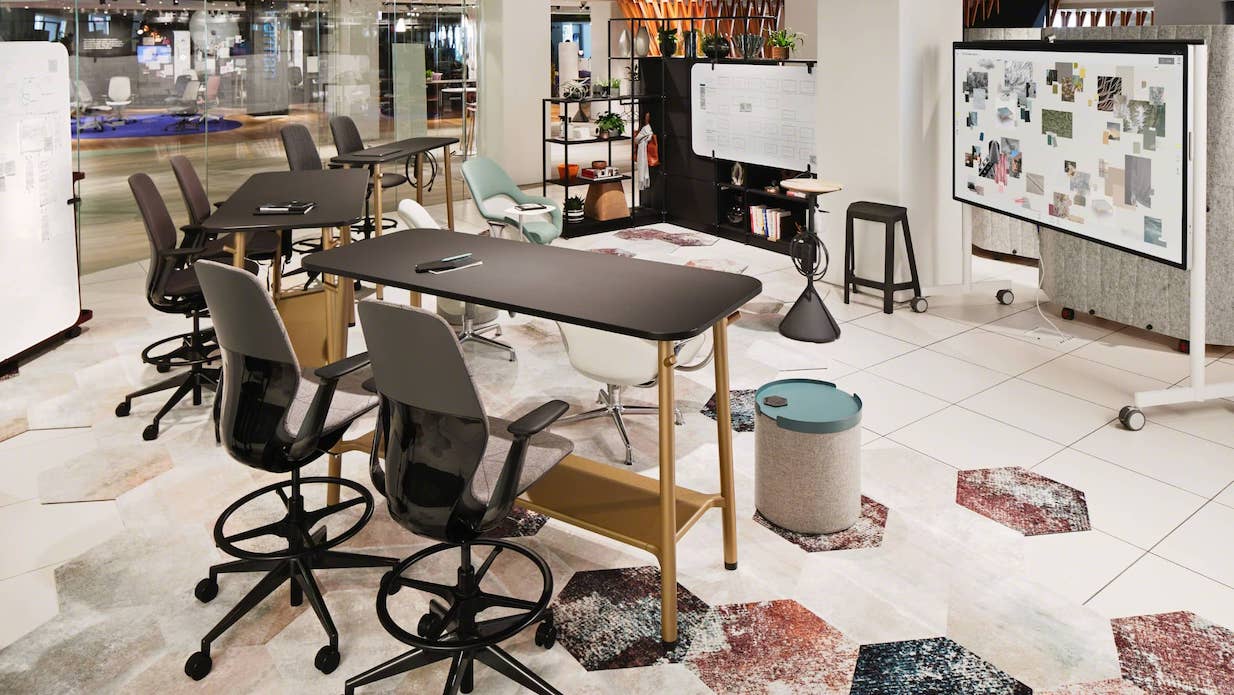 Getting the right height adjustment will set your hips and low back in as healthy a position as possible for the activity of sitting as well. The hip position you establish when you get the height adjustment right provides a starting point for all the other chair adjustments. If you are short, it can be increasingly difficult to find a chair that has the correct height adjustment for the chair's seat. Once you've got the height so that it fits with your frame, the next adjustment to make is the seat depth. Why? When made correctly, the seat depth adjustment enables you to access support from the chair back without cutting off circulation at your knees. Seat depth measurement is about how far forward your body is – an ideal seat depth is one that positions you with as much comfort and support as the chair can give. With the chair supporting you properly, your body does not need to work as hard to keep you upright. If you are short, the ability to get support to sit upright from a chair on which you cannot reach the floor is nearly impossible.
The first thing to think about is the seat height of your office chair. You want to be able to have your knees at 90 degrees, with your feet flat on the floor. Most office chairs will have a seat height range of around 17 to 22 inches. This is going to be too tall for people who are five feet six inches and under.
You will need to find a chair with a minimum seat height of 16 inches if you are five-foot-six and 15 inches if you are five-foot-two. If you are shorter than five-foot-two, then you will want to find a chair that gets as low as 14 inches if you plan to have your feet flat on the floor. 
Adding a Footrest
One super valuable tool for your workstation can be a footrest. Adding a footrest allows you to bring the floor up to your chair, instead of forcing your chair to go down to the floor. By doing this, you will make it much easier to achieve that 90-degree knee angle, while also opening the door to chairs with higher minimum seat height ranges. Most of the people in our office use a footrest, including myself. 
Desk Height
Your desk height is another really important factor. You want your typing height to be about 8 inches above your seat height. If you are going to use a chair at 16 inches, then your desk needs to be able to go as low as 24 inches to accommodate an ergonomic position. Standard desk height is 30 inches, so there is quite a big difference there.
There are a few ways to help you accomplish this. The first is to go with the footrest discussed above. This can close the gap by a few inches by bringing your chair height closer to a standard height desk. The second is to get a height-adjustable desk that can lower to a position that is below the standard desk height. The final option is to add something to lower your keyboard, like a keyboard drawer or keyboard tray. 
Seat Depth
The next thing to consider is seat depth. You want to be able to position the front of the seat to within 1 to 2 inches from the back of your knees. Most standard office chairs will have seats that are around 17 to 18 inches deep. This will be too large for short people.
If you are five-foot-six or under, you want to find chairs with minimum seat depths of 16 inches or less. Chairs with an adjustable seat depth range as low as 15 inches will be the best options to go with for this category. 
Arm Width
The armrests will be another important factor to consider. You want to be able to hang your arms naturally at your sides and then place your elbows at a 90-degree angle. You do not want to have to angle your arms outward to reach the armrests. This can put unnecessary strain on your shoulders and neck.
Standard office chair arms will typically be about 17 to 18 inches apart. If you are under five feet six inches, you will want to look for arms that have a minimum width of 16 inches or less. For those of you in the five feet and under range, then arms as narrow as 13 inches will probably be what you want to look for. 
Arm Height
Height is the second thing to look at when it comes to the armrests. You really want to make sure that the arms on the chair you want to buy have a range that will work for you. People that are under five feet six inches will want to have their arms about 9 inches above their seat to be able to achieve that 90-degree elbow angle. People who are five feet tall or under will want a minimum arm height of 7 inches or less. 
Headrests
Be careful when buying chairs with headrests if you are a short or petite person. We have found that headrests will often be in an awkward position for short people. Many headrests are designed to fit into the curve of your neck. If you are too short to use them properly, then the headrest just ends up pushing the back of your head forward.
Finding a good recline feature can also be difficult for short people. Depending on your chair's features, reclining can often be a problem if it has fixed-tilt tension. This is mostly a problem for lighter framed users who find themselves fighting their chairs when trying to recline. Once again fixed-tilt tension is designed to suit the weight of an average-built person and is much too stiff for lighter people.
Make sure any chair you consider has either adjustable tilt tension or adjusts automatically to individual user weight. Typical weight ranges start at 100 lbs and go up to around 250 lbs.
Seat depth is also another key adjustment missing from far too many chairs. Without it, it's often difficult to gain good leg comfort. Unfortunately, there is no simple workaround for fixing this. Low-cost budget office chairs are highly unlikely to be suitable for petite users as they lack the adjustments and flexibility needed to achieve good working task chair comfort. The best part is thanks to technological advances, you do not need to spend $500 on a great office chair for short people. There are options available for short professionals looking to buy a new office chair that won't break the bank and happen to be designed for user comfort and accessibility.
Chairs, like a lot of office furniture, are not often built with shorter heights in mind. Rather than struggle to find a chair that you can make work, find a chair that works for you. In a perfect world, you would have a chair that allows you to find the perfect seat height, back and seat angle, recline options, and most of all, feel like the chair is yours. Well, the world is not perfect, but these chairs do exist.
Sometimes, petite users have a hard time finding a suitable office chair for them. More so, if you want one with a footrest. You may find your legs hanging from the edge of the seat. Or the recline function will not be able to accommodate your shorter stature
How can a footrest benefit you? You always have an option to stretch out your legs and relax. Thus, preventing your legs from hanging from the edge of the seat. This is a common occurrence for petite users. All in all, a footrest can help improve the blood circulation in your legs, so they will not feel stiff or numb at the end of the day.
A highly adjustable ergonomic chair is the most comfortable for petite individuals. Our recommendation contains the best office chairs for short people. Hope you find the best office chair to help you work productively!
What is the best office chair for a short person?
The best office chair is going to be one with seat height adjustment that allows for customizing the seat height to within 18 inches from the floor to the seat. In our guide, we prioritized those types of chairs with a focus on chairs that offered even lower seat adjustments between 16 to 17 inches at their lowest settings. Our Top Pick, the Flash Furniture Mid-Back Ergonomic Office Chair is a great option that can be adjusted to as low as 17 inches.
What is the best office chair for sitting long hours?
If you're going to be sitting for long periods, you'll want a chair that offers a waterfall edge, as well as something that is well padded to provide additional comfort. From our guide, the Best Quality pick from Serta would be ideal since it's a fully padded chair with a waterfall edge that's designed to mimic the comfort and support you would get from a body pillow.
How do I know what office chair will fit?
You'll want to look for a few key features when shopping for a new office chair. First, the backrest should be adjustable, with the ability to comfortably follow the shape of your spine. You should be able to adjust the seat height so that your feet rest flat on the floor. You should also be able to adjust the armrests so that you can work with relaxed shoulders. And your arm height should be able to match the height of your desk.
Are mesh office chairs better?
There are benefits and drawbacks to mesh office chairs. On the one hand, they're one of the most breathable options, which can be important if you spend long periods sitting in a chair. But sometimes cheaper mesh-based chairs lack proper support and can lead to sagging over time. A good option is to pick a mesh combination seat with built-in lumbar support. A combination seat will usually feature a padded cushioned seat that's either upholstered in mesh or fabric and a mesh backrest with the built-in lumbar support.
Picking an office chair is all about finding the one most likely to keep you comfortable after extended periods. And this is especially true when you're shopping for a chair and are shorter than average height. To create our guide, we focused on the following key features — adjustability, lumbar support, seat height, and materials.
All of our recommendations featured adjustability specifically in customizing seat height. But if you want full customization, you'll want to look for chairs that allow for backrests that can be independently raised or lowered, back angles, and adjustable armrests.
Lumbar support is another key feature that is fairly common when shopping for an ergonomic office chair. All of our picks come with built-in lumbar support. But another factor to consider is breathability, which ties into materials. You'll note that the majority of our recommendations feature a mesh-combination chair with a mesh backrest and a padded seat. This option allows for some of the best ventilation while still providing lumbar support and a comfortable seat. Still, you can find fully padded backrests or chairs made from leather, faux leather, or other fabric upholstery. Just keep in mind that those chairs may not be as breathable.
Of course, seat height is going to be an important issue — especially for shorter people. Picking the wrong seat height range could leave you working in a chair where your feet don't touch the ground. We prioritized options that offered a lower seat adjustment range. This means that we looked for chairs that could be adjusted to heights of at least 18 inches or lower from the ground to the base of the seat.
WRAP UP
Best Ergonomic Desk Chair for Short Person – To create our guide, we focused on the following key features: adjustability, lumbar support, seat height, and materials. Hands down, adjustability, and seat height are the two most important factors. We prioritized picks with seats that could be lowered even as far as 16 inches from the ground. We also ensured that all of our picks included built-in lumbar support. For the most part, we focused on mesh chair designs for breathability but did include other options such as microfiber, leather, textile, and faux leather upholstery. Keep reading to learn more about our selection criteria and to shop from our recommendations on the best office chairs.
Most office chairs are built to accommodate an average frame. If you are petite or short in stature (under 5'3" for women and under 5'8" for men), your so called ergonomic chair could be exacerbating your existing aches and pains – or potentially creating new ones.
In this guide we take a look at all the important ergonomic factors that short people need to focus on when picking an ergonomic chair, followed by a comprehensive list of the best office chairs for short people. All of these chairs are appropriately sized in the key areas that make all the difference for short people, from seat depth, height, to seat pan width.
Please note that we will be using terms such as "short", "shorter" or "petite" to describe people that are under the statistically average height for men and women. This post will not focus on chairs for little people, or people with dwarfism.