Best Ergonomic Office Chair for Back and Neck Pain – Most back and neck pains result from sitting position, especially for those whose work requires sitting on a chair for long hours of work. Plus size, high back or low back office chair whichever is suitable for you, you need the best office chair for neck and back pain support.
It's very important to have the best office chair to prevent regular visits to your doctor due to frequent back and neck pain resulting from your sitting posture.
We've compiled a list of the 8 best office chairs for back and neck pain to guide you in selecting the best you'll need. No doubt, you'd find a suitable one that will help in relieving you from work-related health issues.
Table of Contents
ROUND UP
1.NOUHAUS Ergo3D
If you suffer from back pain or sciatica, you know how excruciating sitting can be. The Nouhaus Ergo3D Ergonomic Office Chair combines a high degree of reclining, self adjustable backrest tension, robust neck support, plus a highly contoured waterfall seat to take the crown for the best office chair for back pain in 2020. It shares many of the same back-saving features as its luxury brand counterparts — but at just around $300 is less than half the price.
Unlike a one-size-fits-all chair that forces you to conform to it, practically every part of the Ergo3D Office Chair is fully customizable. The long curved backrest cradles your entire spine, from neck to hips. The adjustable tilt lets you tailor the chair to your exact needs—from an upright 90 degrees to the expert recommend 135 degrees that puts the least amount of pressure on your spine, and every angle in between.
For those with lower back pain or sciatica, the chair offers an intelligent backrest that automatically adjusts its tension based on the amount of pressure you apply. It is one of the most versatile we've seen in an office chair at this price range. As one owner with back pain said, the backrest cradles him regardless of whether he's leaning backwards or forward.
Back and neck pain usually go hand in hand, and the Ergo3D has you covered on both basis. The large headrest tilts to support your neck at any angle as you lean back. Combined with the versatile 3D armrests that moves in all four directions, and it's hard to find a chair that provides better full body support at this price range
If you're a back pain sufferer, there's little not to like about the Nouhaus Ergo3D. It keeps you comfortable, protects your back, and allows you to focus on your work without being distracted by twinges and aches.
If you liked the third option on our list, here's another NOUHAUS in the house you might want to check out.
The NOUHAUS ErgoFlip office chair model is an excellent choice if some days you prefer comfy cushioned armrests and other days you just want to get close to your desk. Like its Ergo3D "sibling," the EgoFlip is made with breathable ElastoMesh and comes in four pleasant colors: burgundy, black, blue, and gray.
Apart from all these cool features, the chair also features a full-length backrest and headrest to provide optimal support for your neck and back. So if you want a chair that hugs your spine, aligns your posture, and prevents pain, the ErgoFlip has a lot to offer.
However, please note that if you are 6 feet tall or taller, the backrest might be too short for you.
Pros & Cons
---
CONFORMS TO YOUR LIFE: With it's 4D Adjustable Armrest and Lumbar System, ElastoMesh, 135 Degree Back Tilt, Smooth HydraLift, Dual Castors (and a set of hardwood floor Blade Castors) – it's easy to think the Ergo3D is from the future, but instead it's evolved Ergo Seating at its finest and it's here now.
EASE INTO WORK, OR PLAY: Mesh Headrest adjusts up and down while the 4D Adjust Arms go forwards, back, up, down, side to side, and rotate for the best fit to your body. 3D Lumbar Support hugs your back, while the seat glides up and down for the ultimate in customized comfort in the office, or in front of your game!
SOFT HD OFFICE CHAIR: Our breathable ElastoMesh provides optimal airflow to avoid sweating and sticking. But it's also smooth, and nothing like sitting on wire like many of the chairs you'll see today. And while it's good to take regular breaks, the Ergo3D is so comfy you'll forget you're even working.
HEAVY DUTY: Our 5-Point Base with dual castors gives greater stability and strength over common 4-Point, single castor chairs. And our strong iron base makes this heavy-duty office chair ideal for adults up to 275 lb. We also give a set of blade wheels – smooth as silk on hardwood.
SUPER-LOUNGE RECLINE: Settle back, because you have up to 135° of tilt to keep you in the perfect position for your next task, or to simply lounge back and admire how smart you are for finding such a remarkable ergonomic chair. Try the Ergo3D and feel the difference it makes to your life.
---
2.Gabrylly Chair
This Gabrylly office chair has made it on a few of our lists for different types of office chairs, and there are many reasons why it made it to this one too.
This super adjustable office chair will provide you with adequate lumbar support, and most importantly, superior support for your neck.
There are three ways you can adjust the headrest: vertical adjustment, bracket adjustment, and tilt adjustment. Plus, the flip-up armrests can help you easily store the chair under the desk and create more space if needed. So whether you plan to use this chair at your home office or conference room, you can always be sure your spine and neck are in high-quality, ergonomic hands.
While this office chair offers excellent usability features and an affordable price tag, you might notice that you can lock it into position but only on certain parts of tilt, which might be a bit inconvenient if you use the tilt function often.
Pros & Cons
---
【ERGONOMIC OFFICE CHAIR】- The ergonomic chair provides 4 supporting points(head/ back/ hips/ hands) and a proper lumbar support. It's easy to adjust seat height, headrest, backrest and flip-up arms to meet different needs, good for sitting long hours. Suitable for people of about 5'5" to 6'2".
【LARGE MESH SEAT】- The office chair is larger than other chairs, and it could accommodate different body build. The whole Chair Dimensions(including the arms): 25.6"W x 22"D x 45.3"-54.9"H, the Seat Dimensions: 20"W x 19.3"D x 18.5"-22.05"H. Loading Capacity: 280 lbs. The recline function makes you tilt the backrest back (90~120°) or sit straight freely.
【ADJUSTABLE FLIP-UP ARMREST】- Folding the armrests up, you can push the executive office chairs directly under the desk to use more area. It's easy to raise or lower the folding armrest by pressing the black buttons on the armrest.
【BREATHABLE MESH CHAIR】- The mesh back and mesh seat keep air circulation for extra comfy. High quality mesh resists abrasion and transformation, it makes the high back computer desk chairs good for sitting for 4 ~ 8 hours, perfect for a long day sitting.
【EASY INSTALLATION & WARRANTY】- All ergonomic office chairs come with 2 years warranty, so please email us directly, we will offer you effective solutions ASAP. With clear instruction and tools, the office computer chair is easy to assemble (about 15~20 minutes). PU mute wheels roll smoothly, no harm on wooden floor; the sturdy five-pointed base and chair frame add durability and stylish appearances.
---
3.Steelcase Gesture
If budget isn't an issue for you and you simply want to get an ultra-comfy office chair that would protect your body, especially your neck, during long hours of office work, the Steelcase model with headrest should be one of your top picks.
This delicate yet super sturdy office chair will provide you with an upgraded sitting experience. Designed with a back and seat that move with you as a synchronized system, it offers the continuous and persistent support you've been looking for.
Its seat also has a flexible perimeter, allowing you to sit in a range of positions and have your arms and shoulders supported all the time. Plus, this chair can hold up to 400 pounds and accommodate almost any body type and preference.
While this chair is one of the best on the market, the only disadvantage is its price, which definitely puts this model under the label "premium office chair."
Pros & Cons
---
Connect fabric is 100% polyester
Wheels for hard flooring
Ergonomic chair – this model includes an adjustable headrest, adjustable seat depth, fully adjustable arms, adjustable lumbar, pneumatic seat height adjustment, recline tension adjustment, 4 position recline lock, wrapped upholstered back and seat, black/black frame color scheme
All day comfort and back support - Gesture's seat and back move as a synchronized system, following your body as you move throughout the day to ensure long-term support. Seat Height from Floor : 16" - 21"
Quality and durability – designed to withstand 24/7 use while providing maximum comfort
Ships fully assembled; 12 year manufacturer warranty
NOTE : To ensure proper assembly, please follow all steps provided in the installation manual (provided in pdf below)
---
4.Dual-Back Home Chair
If you're a fan of unique, unusual and extravagant,  the Duorest Gold has something in store for you.
This dual backrest ergonomic office chair, aka the game changer of posture chair, allows the spinal column to maintain its natural shape and keep the backbone free from pressure even when reclined.
This will help you forget about the back and neck pain and focus on what you're doing while sitting at your computer desk. Apart from adjustable backrest depth and armrests, you can reduce fatigue after long hours of sitting by adjusting the height of the headrest according to your preferences.
Featuring a curved seat and dynamic lumbar support, the Duorest chair will help you keep good posture and enjoy your work environment.
The one disadvantage you can notice is that the armrests might be a bit noisy and rattle with motion.
Pros & Cons
---
【ERGONOMIC DUAL-BACKREST DESIGN】: The Duorest dual-backrest system offers max support for your back. Relieving pressure on your backbone by helping to maintain its natural shape. The dual backrests conform to your body. Moving with you for all-day freedom of movement, stability, and support.
【MAX COMFORT, IN THE OFFICE OR AT HOME】: This chair is perfect for back pain sufferers. Or if you want a more comfortable chair for long periods of sitting. The Duorest minimizes pressure on the back by more than 44lbs. And supports the natural curve of your spine for a straighter posture. This chair is ideal for you if you're tired of uncomfortable office chairs.
【CUSTOMIZABLE TO YOUR NEEDS】: You can personalize the Duorest Alpha model to fit your body shape and size. It's designed and built for your individual comfort and support. And covers more area of your back than most office chairs on the market. Plus, you can lean back up to 135 degrees, adjust tilt tension, and lock the chair at your desired recline angle.
【EXCEPTIONAL QUALITY & REASONABLE PRICE】: We're Duorest (AKA Duoback in South Korea). The industry leader in high-end ergonomic office chairs for over 35 years. Our factory produces and delivers straight to consumers. We also pass on the savings to you by taking out the middleman in office furniture stores. Alpha model passed the BIFMA, TB117, GREENGUARD Gold, and ISO 14001 & 9001.
【YOUR SATISFACTION IS OUR TOP PRIORITY】: We design our unique and custom options with the customer in mind. Our customers trust us. And their satisfaction is invaluable to us. We always make sure that our products arrive as specified. If anything unexpected should occur with your order, contact us immediately. Warranty is valid for 1 – 3 years as specified.
---
5.KERDOM Chair
If you prefer office chairs with segmented backrests for better neck and back protection, the KERDOM ergonomic office chair could be a perfect match for you.
This breathable computer desk chair provides four support points, including head, back, buttocks, hands, and proper lumbar support to ensure you can adjust your chair to your specific requirements. And while a height and rotate adjustable headrest will be protecting your neck, an abrasion-resistant seat cushion will be providing you with a comfortable experience.
As a result, this office chair is perfect for long-term office use and helps prevent fatigue. Plus, fully adjustable armrests will let you roll the chair close to the desk and create more space in your home office.
Just keep in mind that this chair isn't a heavy-duty model, so if you're looking for a big and tall office chair, you might want to consider other options.
Pros & Cons
---
【Ergonomic Office Chair】 The office chairs are designed with human-oriented ergonomic construction, provides comfortable support to help you keep a relaxed posture in a long time working. Easier to disperse pressure and relieve muscle fatigue.
【Comfortable and Safety】 The computer desk chair is made of the high-density and breathable mesh back with lumbar support and thick cushion to provide you the most comfortable posture. The thickened explosion-proof seat plate give you more comfort and double coverage. Max capacity: 250 lbs.
【Convenient Storage】 The mesh office chair comes with adjustable padded armrests which can be flipped up or down. It saves your space and can be easily stored. Suitable for office, living room, study room, meeting room, etc.
【Multi Function】 Pneumatic seat height adjustment; Tilt lock function(angle adjustable); 360 degree swivel; Solid rolling silencer casters for smooth movement.
【Easy to Assemble】 We offer installation instruction and video to help you. It usually takes about 10-20 minutes to assemble. If you have any questions, please feel free to contact us.
---
6.SIHOO Ergonomic Office Chair
If you're looking for a classic black mesh back office chair with a comfy headrest for your neck, the SIHOO ergonomic office chair competes on par with even more expensive models.
Featuring adjustable back support, headrest adjustment, stepless seat height, tilt adjustment, and height-adjustable armrests, this office chair can be fitted to almost anybody and provide you with a highly customizable sitting experience. Plus, the W-shaped waterfall seat design ensures you sit centrally, and the adjustable headrest supports your cervical spine and helps prevent neck pain.
And did we mention this chair can support up to 330 pounds? So if you need a big and tall chair, this might be an excellent option for you.
Just keep in mind that the headrest might be too low if you're 6'4" and taller.
Pros & Cons
---
【ERGONOMICE OFFICE CHAIR】- The ergonomic chair provides 4 support points (head/back/hip/hands) and proper lumbar support. SIHOO designs ergonomic chairs to meet different needs, with seat height, headrest adjustment, lumbar support and back support adjustment, suitable for long sitting and reduce your pain. Suitable for people 5'6" to 6'2" tall.
【For Home and Work】 SIHOO chairs can be applied in different scenarios according to the needs of different consumers in needs. Can be used as student office chairs, computer chairs, ergonomic chairs, desk chairs, gaming chairs; not only can sit comfortably, but also save money;
【Breathable Mesh】 Mesh Office Chair Premium Backrest features flexible non-pattern mesh fabric while keeping your back cool and comfortable, allowing you to sit focused and relaxed at the same time.
【High Quality & Easy Assembly】This home office desk chair passed the BIFMA test and the 1136kg static pressure test. Our ergonomic office chair can support up to 330 lbs. Simple instructions allow anyone to put the chair together in eight easy steps.
【3-Year Warranty】If there are any quality problems, Sihoo Home Office Chair promises to provide you with zero-profit product accessories within the three-year warranty period
---
Other Remedies to Alleviate And Prevent Back Pain and Neck Pain
Getting a good ergonomic chair is only a part of the solution when it comes to alleviating or even preventing back pain. Take a look at the following suggestions by experts and as backed by various studies.
Stretches and Exercises for Back Pain and Neck Pain
If you already suffer from lower back pain, be sure to consult with your doctor before performing any kind of physical exercise or stretches.
For the following stretches, we consulted with our friend Josie, a certified yoga instructor, on a few yoga poses that help alleviate lower back pain and strengthen the muscles in the back and core as well.
Hip Lift
Lie down on your exercise mat looking up towards the ceiling. Make sure that your back is comfortable on the floor and your arms are positioned at your sides. Your feet should be pressed against the mat. Then:
Lift your hips up towards the ceiling as you feet remains flat on the ground.
Your shoulders, knee, and hips should form a straight line
Squeeze your glutes and tighten your abs as you head and feet remains flat on the floor, your eyes gazing towards the ceiling.
Hold this position for 20 seconds, come down, then repeat for 10 sets.
Supine Twist
Supine twist is great for back pain, but specifically for people suffering from sciatica, as it stretches the entire lower back, hamstrings, and thighs.
Lie on your back with your palms facing upwards.
Bend left knee, placing left foot on the right knee.
Drop the left knee over to right side of body, twisting spine and lower back
Keep shoulders flat to floor.
Hold for 6-10 breathes before switching sides.
Cat-cow stretch
Get down on all fours with your knees on the mat and your fingers spread wide to provide some stability. Make sure that your back is in 'tabletop position', your head should be neutral and your eyes should be focused on the mat.
Then, begin by going into cow position:
Inhale and push your stomach down to the mat while moving your chin and your chest up.
Gaze straight forward or slightly up as you hold this position for 5-10 seconds.
Next, from the cow position, move directly into the cat position:
Exhale and move your stomach into your spine.
Now round your back and tuck your chin gently towards your chest. Hold this position for another 5-10 seconds.
Plank Exercises
According to Dr Jordan, planks are God's gift to people with lower back pain. The reason? They are very effective in strengthening the muscles in your back and core, which reduces the weakness in the lower back and limits the pain that you feel.
Dr Jordon suggests doing plank exercises every day, for 3 minutes:
A minute on planks that focus on the centre
A minute on planks that focus on the left
A minute on planks that focus on the right
With that said, here are 3 great plank exercises to strengthen your back and alleviate back pain. Again, if you already have back pain, talk to your doctor first before performing any kind of physical exercise.
Low Plank (forearms on floor)
Start by lying on the floor with your forearms flat on the ground and your elbows aligned or slightly below your shoulders
Push your body up a few inches above the floor while your forearms remain flat against the floor
Engage your core so your body forms a straight line
Make sure that your feet are flexed, the bottoms of your toes should touch the floor.
Remember to breathe! You should relax your head, keeping it in a 'neutral position'.
Hold the position for about 20 seconds and then lower yourself to the floor. As you get stronger, hold the position for longer and longer.
Repeat the movements.
Side Plank
Start by assuming the 'low plank' position.
Now, rotate to your left so that the body's weight is balancing on the right arm. Make sure that your feet are stacked on top of each other, with your right foot underneath your left one.
Hold the position for about 10 seconds, return to your original 'low plank' position and move back down onto the floor. As you get stronger, hold the position for longer and longer.
Now, repeat the exercise but rotate to the left and make sure your left foot is under your right one.
Keep going!
High Plank
Begin with all fours on the ground, your arms spread shoulders width apart and straight, like in a sit up position
Ground your feet and engage your core and glutes as you lift your whole body up in a straight line
Look slightly ahead and relax your next into a neutral gaze
Hold the position for about 20 seconds and then lower yourself to the floor. As you get stronger, hold the position for longer and longer.
Foods and Supplements for Lower Back Pain
To reduce the pain that you feel in your lower back, strengthening your bones and abdominal and back muscles can go a long way.
According to dietitian Nicolette Pace, using diet to counter back pain is an "emerging field". Various research suggest that tart cherries, soy, and brightly colored fruits and vegetables can reduce inflammation and treat lower back pain. They can't stop the pain completely but they aid the healing process.
There are a few different types of food you should consider adding to your diet if you suffer from back pain. These include:
Potassium-rich foods
According to a report on Sunday Express, Dr Axe suggests that potassium rich foods can:
Reduce swelling
Aid muscular/nerve functions.
To increase your potassium intake, try to eat leafy greens, cultured dairy and bananas.
Omega-3 fats
According to Dr. Cruciani, foods that are high in Omega-3 can help to fight inflammation and manage back pain. This means that it's important for patients suffering from lower back pain to increase the amount of fish and flaxseeds in their diet.
Foods that are rich in Calcium and Vitamin C
NDTV brought attention to the value of calcium and vitamin C rich food for back pain. These two nutrients help to strengthen your back and reduce the weakness in your body, which may be a source of the pain. If you'd like to increase your vitamin C and Calcium intake try to include food like strawberries,bell peppers, oranges,and broccoli, milk and cheese into your diet.
Vitamin D supplements
According to the US National Library of Medicine, Vitamin D deficiency is linked to lumbar spinal stenosis, and back pain is one of the symptoms of this illness. As such, including Vitamin D supplements into your diet can be very important. We'd recommend seeing a doctor for the exact dosage, as they will take your individual requirements into account.
AromaTherapy and Massages for Back Pain
There are a number of aromatherapy oils which help with back pain. According to the US Library of Medicine, they have a positive effect on treating back pain.
To avail their effect,  mix a carrier oil with one of the following essential oils. Then, massage the blend of oils onto your back. Using essential oils in combination with massage can be a powerful 1-2 punch to alleviating back pain. According to researchers, in a study involving 400 individuals with back pain, weekly massages improved the average pain that was experienced by patients by 2 points when measured on a 10 point scale. When the patients underwent a 10- week intervention period, 36% of them reported that their pain was almost gone.
Here are a few oils great to use in combination with massaging for lower back pain:
Eucalyptus Essential Oil
Its strong anti inflammatory properties makes this a commonly used aromatherapy oil.
Peppermint Essential Oil
Peppermint is known for its anti-inflammatory and pain relieving properties. This makes it a great choice for patients suffering from lower back pain.
Lavender Essential Oil
This oil has a multitude of uses but like eucalyptus, it stands out for it's anti-inflammatory properties.
Marjoram Essential Oil
The Marjoram oil has antispasmodic properties, which makes it great for reducing pain, muscle tension and spasms.
Other Effective Lower Back Remedies
Hot/cold compresses
According to studies published by the US National Library of Medicine, hot and cold compressors can help with pain relief.
If you are experiencing back pain after an injury, then ice packs can help to ease the pain by reducing the inflammation and numbing the area. You should make sure that you apply it for no more than twenty minutes at a time.
If your muscles are stiff and achy, then a hot compress or a heating pad can help to relieve the pain. Just be careful that the compress doesn't burn your skin.
We'd also recommend checking your injury with a doctor before choosing which compress to use; the wrong one could do more harm than good.
Devil's claw
Devil's Claw is extracted from an African plant and according to a report released by U.S. National Library of Medicine, its anti-inflammatory properties can help to manage back pain, with studies finding it as effective as some NSAIDs ( Non-steroidal anti-inflammatory drugs).
Choose and take a devil's claw product daily with at least 50 to 60 mg of harpagoside, the active ingredient in devil's claw. According to UHN, a lower dosage has shown to be significantly less effective than the aforementioned amount.
Turmeric
Turmeric is a spice commonly used in Asian curries and is rich in Curcumin, which has powerful anti inflammatory properties and is generally safe for use by adults.
There are many ways to incorporate Turmeric into your diet, from taking turmeric supplements, making turmeric and ginger tea, to cooking with turmeric.
Note that people with gallbladder issues however should avoid using it, according to the NCAAM.
Capsaicin
Capsaicin can desensitize the channel which sends pain signals to the receptors in the brain. Capsaicin is effective when applied topically to the back for lower back pain relief.
According to the National Health Research Institute, a double blind study using Capsaicin topically on patients saw a 25% improvement in current back pain after 3 weeks. The majority of patients rated the efficacy "excellent".
In the study, one patch (12 x 18 cm) containing 22 μg/cm2 capsaicin per day  was applied to the area of pain in the morning.  Patients were told to keep the patch in place for 4 to 8 hours.
In conclusion, while the office chairs may help alleviate pain as you sit, lets's face it, no ergonomic office chair has ever cured back pain. Being mindful how you sit, strengthening your back muscles and proper exercise, a healthy diet, reducing stress and getting adequate sleep are some of the much more important things doctors recommend for addressing back pain at its roots.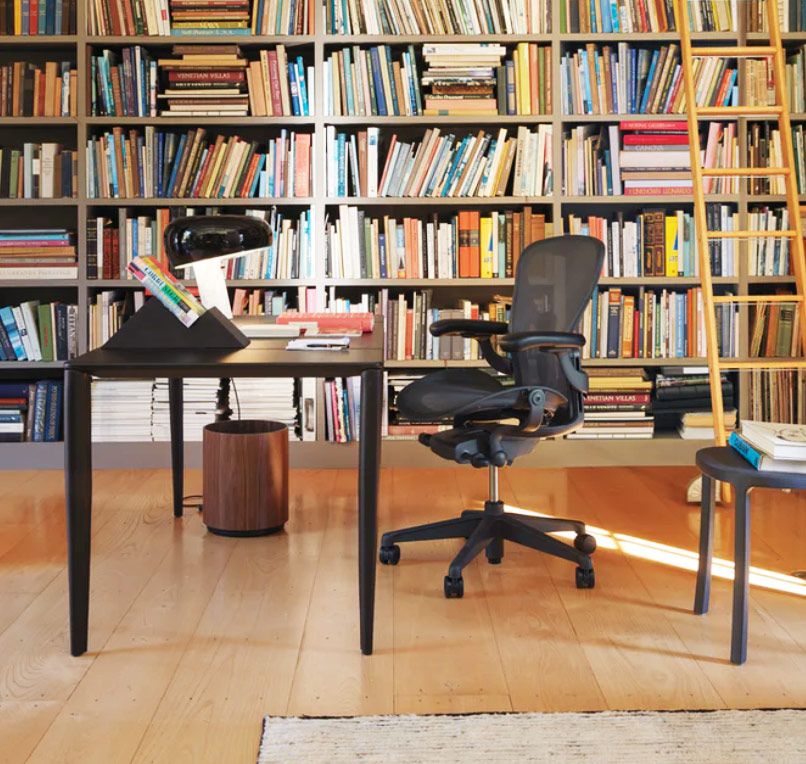 Does it have adequate lumbar support?
As we've already mentioned, if your back is hunched, tilted to the side, or simply super uncomfortable for eight hours per day, your neck can't be feeling any better. That's why it's crucial to choose an ergonomic office chair that has high-quality lumbar support. And if you want to have the ability to customize your chair even more, go for one that features adjustable lumbar support.
What type of headrest does it have?
While we noted that headrest isn't a deal-breaker, it's still good to have an option to use it and give your neck even more support. Some office chairs come with either adjustable/removable or built-in headrests. Which one you should choose depends on your preferences and height. We recommend opting for an adjustable headrest to ensure it's not too low for your neck if you're on the taller side. In addition, some chairs offer headrests that you can move up and down, back and forward, and change the tilt angle.
WRAP UP
Best Ergonomic Office Chair for Back and Neck Pain – When you're glued to a desk for most of the day, having an office chair for back pain (rather, for relieving or preventing back pain) is not a luxury, but a must. Sitting for long periods without the right support can wreak havoc on your back muscles, reinforce bad posture and end up causing a lot of pain and potential damage.
But while so many office chairs promise to be ergonomic and comfy, how can you really tell if a chair is good for supporting your back?
Back pain is something most office workers suffer from and has become a major issue in the USA. After continuously sitting for more than 6 hours, it is normal to feel back and neck pain.
I know it can be really hard to find a suitable Office Chair that will minimize Back and Neck Pain. I have spent a lot of time searching for the perfect chair for me. The good news is, I will be sharing all my findings with you in this article.
So – two sullen looking guys walked into a bar, sat next to each other in front of the bar stand and barked orders at the bartender – who was busy flirting with an attractive white collar girl, presumably one of his colleagues – to bring them the single best house wine there was. The bartender offered them several options that were listed on the big, grand and fancily designed menu above on the granite wall, pointing out which specialties each one had and what their origins were. You know, generic bartending stuff. They looked up and – after a while of finger pointing – their faces slowly turning red and frowning, eyes squinting, bodies shaking, until one of them uttered:
"You're literally a pain in the neck, young'un. Save my neck, zip it and get the best one", as he wiped his nose and brushed the side ends of his hairline over the rims of the old man glasses.