Best Ergonomic Office Chair for Neck Pain – Neck pain can be caused by many things, and sitting in an office chair all day long is one of them. If you experience fatigue and pain, it's likely that your current office chair doesn't provide you with proper back and neck support. And since you're reading this right now, you probably already figured it out.
However, just a headrest isn't enough to ensure your shoulders and neck are fully protected. If your chair doesn't help you maintain correct posture throughout the workday, it means your spine is in the wrong position, and, as a result, your neck as well.
So how do you find exactly what you need?
Of course, the first thing you do is google. But the number of chair models online can be very overwhelming. And what seems like a few-minute task can easily turn into a day's long browsing quest…if not longer. So to save you time and prevent frustration, we've reviewed dozens of chairs and selected the nine best office chairs for neck pain.
Table of Contents
ROUND UP
1.Steelcase Gesture
The award-winning Gesture chair from Steelcase is one of the finest ergonomic chairs money will buy, and that's saying something because Steelcase has some solid chair options and is our Editor's pick.
This revolutionary new office chair is designed to accommodate various natural body positions and sizes, all while supporting and protecting the back and neck.
Gesture uses exclusive LiveBack technology that automatically adjusts to your body, mimicking the natural movement of your spine and neck.
Struggle with certain chairs because the armrests box you in? That won't be a problem with this chair, as you can easily manipulate how the rests are positioned. Nobody wants to feel pinched in their chair. The arms can also swivel with 360 degrees of motion, literally supporting your arms in any possible position.
This design has a slightly taller seat height option. It can raise up to 21 inches, which should be fine for most individuals, even if you are over six feet (although once you push 6'6 you might be too tall for the chair). Most office chairs stop at 20 inches, so this extra inch might be exactly what you need.
Gesture won the Neocon Gold award in 2013 and is available in eight different colors, so you can always feel good about how your chair looks as well as how it functions.
Pros & Cons
---
Connect fabric is 100% polyester
Wheels for carpet flooring
Ergonomic chair – features include adjustable seat depth, fully adjustable arms, pneumatic seat height adjustment, recline tension adjustment, 4 position recline lock, shell back and seat, light/light frame color scheme
All day comfort and back support - Gesture's seat and back move as a synchronized system, following your body as you move throughout the day to ensure long-term support
Quality & durability - designed to withstand 24/7 use while providing maximum comfort
---
2.X-Chair X4
While ratings may mean little to some, I find it hard to believe that thousands of Amazon shoppers have had nothing but words of praise for X4 if it's not actually an exceptional product. This encouraged me to cover the features, potential benefits, and the reasons why it's one of the top-selling chairs out there.
Featuring an exquisite brown leather finish and utilizing an array of unique technologies, most of my questions were answered quickly. This chair rocks SciFLoat Infinite Recline technology, which is essentially a next-generation system that provides superb flexibility, allowing you to find an ideal position quickly.
Full adjustability? Check. Its seat, back, arms, and headrest are all depth and height adjustable. Even though you can't adjust its lumbar support, the DVL (Dynamic Variable Lumbar support) technology ensures you'll stay comfy for hours on end.
In terms of aesthetics, this chair is quite a looker and is available in a variety of different colors. There are a few things I thought could be improved regarding X-4, though.
First and most notably, it may be pretty hard to properly assemble it if you don't have some basic DIY skills. Although the process is straightforward, there are a few features that you'll probably see for the first time, which may puzzle an inexperienced builder a bit.
Secondly, the X4 Ergonomic Office Chair is a pricey chair. With a couple of hundred dollars extra, you could probably afford a Steelcase one. Even so, its aesthetics, unique floating reclining system, and excellent performance overall make it a valuable choice.
Pros & Cons
---
DYNAMIC LOWER BACK SUPPORT: X-Chair's patented Dynamic Variable Lumbar (DVL) Support adjusts itself to your lower back every time you move. DVL will respond to your needs, no matter your size or weight to support you throughout the day. You won't get this from any other chair.
HIGHLY RESPONSIVE LEATHER FABRIC:  Our comfortable, shiny leather fabric is both buttery soft and highly responsive to your body's needs. Plus, you'll have the best looking chair in the conference or boardroom.
FLOATING RECLINE: Our one of a kind SciFloat Infinite Recline technology lets you lean back and  up effortlessly to find the perfect position to float in.
ADJUST IT JUST HOW YOU LIKE: Your seat height, seat depth, backrest, armrests and headrest all can be adjusted to fit comfortably around you.
BUILT TO LAST: Whether it's the polished aluminum frame, cushion, or quality fabric, all of X4's features are highly durable and built to last long.
---
3.ERGOUP Chair
Ergroup's ergonomic office chair is the first mesh chair on the list, as well as one of the sturdiest, best-looking chairs in its price range.
Sporting a metal base and aluminum construction, I'm under the impression that this chair will be able to survive at least a decade of use. Furthermore, it can support up to 550 pounds, which is something not many mesh ergonomic chairs can boast about.
Speaking of mesh, this chair is made of a material that is highly resistant to wear. According to the brand that made it, Ergroup's ergonomic office chair went through thousands of resistance tests before hitting the market.
All of its features are fully adjustable, including the armrests, headrest, and lumbar support, but I want to touch base on its rolling caster wheels. They are unique in that they are outfitted with special foot mufflers that reduce the sound they make when grinding against the floor. Each wheel is covered with PU material, boasting an impeccable level of sturdiness without sacrificing mobility and flexibility.
The only downside to this chair is that it does not appear to be made for taller people. Namely, even though you can adjust the headrest, you can't really extend it too far upward, which makes this feature relatively useless for the taller among us.
Pros & Cons
---
【HIGH QUALITY】ERGOUP Butterfly office chairs have been tested strictly and certified by BIFMA,SGS and SAFEGUARD.Eco-friendly materials can be collected for recyling use.Each part passed strict high quality test,cushion impact test,armrest press test,backrest tilt durability test,caster wheels overload moving test,etc.
【QUICKER ASSEMBLY】Each chair comes with tools and user instructions.Chair upper body is installed in box already.It'll be much easier to put other spare parts together which takes 3-5 minutes only.
【COMFORTABLE LONG TIME SITTING 】Full mesh seat and back brings breathable experience,avoid your sitting area and back getting stuffy sweat.High strength mesh resists wear and transformation.It's suitable for 8 hours or longer sitting each day.
【3-DIMENSIONAL HEADREST】Headrest height and angle meet your basic requirements. ERGOUP Butterfly Chair headrest can move forward-backward,perfectly meeting your neck curve during lunch break and working condition.
【QUICKER PADDLE SHIFT CONTROL】ERGOUP adheres to the design concept of people-oriented. In the control design of lift armrest,it breaks the traditional office chairs operation design,inherits the design concept of the top car gear,use the simple control of the paddle shift armrest to adjust seat height and backrest tilt quicker and more convenient.
【AUTO SITTING POSTURE ADAPT SYSTEM】With A'PAS System,the chair backrest tilting can be intelligently and automatically adjusted within 23 degree for different people's height,weight,sitting posture to reach the user's most comfortable position,and this angles can be locked also.
【SYNCHRONOUS SLIDING STRUCTURE】The engineers of ERGOUP developed & researched the Sync-sliding Structure.The gravity of the chair will move forward when backrest tilt drive the seat moving forward,which can ensure the safety and comfort at same time.
【160 DEGREE TILT.16 POSITION LOCK】 Chairback tilt angle up to 160 degrees which can comfort your lunch break better. It can be locked in 16 different positions.More accurate adjustment will comfort your different sitting posture for working,leisure and rest conditions.
【SUPER THICK ALUMINIUM CHAIRBACK BRACKET LINK】Whole chair weight bearing up to 550LBS.Super thick aluminium chair back brace is much more stronger than plastic and suitable for high weight people.Besides aluminium is a more durable material which is never rusty and anti-corrosion.Just feel free to recline from now on.
【30 DAYS FREE EXPERIENCE.5 YEAR WARRANTY】After you receive the ergonomic chair, if you feel uncomfortable after long time sitting. Just feel free to return the chair without any reasons. Different people has different spine curve structure. We always have one design suitable for you,We provide 5-year warranty time after purchasing. Once your chair get any quality problem,please contact us and we'll provide solutions. There's no worry for purchasing in our store.
---
4.Nouhaus ErgoPRO
The ErgoPro chair is a lighter alternative to Ergroup's model, offering a relatively similar set of features and benefits at a shallower price tag. Although there are a couple of distinct differences that set them apart, NouHaus's ErgoPro is still an excellent choice for anyone searching for customized comfort, regardless of budget.
I was pleasantly surprised with its SWS technology, which is essentially a weight-sensing mechanism that disperses the user's weight in optimal proportion, regardless of how strong the force pressuring it is. On the downside, it can only support 275 pounds of weight, which is still fairly good.
In terms of durability, its base is made of high-quality aluminum while the back is made of breathable mesh fabric. More specifically speaking, NouHaus's proprietary ElastoMesh forms this chair's back, offering excellent sweat-resistance, elasticity, and comfort.
Unlike ordinary ergonomic chairs, this model features proprietary Pro Wheels, which are super-silent and offer a comfortable sitting experience.
Four-dimensional armrests, the headrest, and dynamic lumbar support are all fully adjustable. However, I found that the armrests are a bit too petite for my taste. Be that as it may, this is a wonderful chair that's worth the buck, despite its minor imperfections.
Pros & Cons
---
AN UPGRADE ON AN ALREADY GREAT CHAIR: Search "Ergo3D" on the internet, and you'll find our chair in all the top 10 office chair lists on page one. So, because you loved this desk chair so much, we created a functional luxury upgrade with smooth, silent Nouhaus PRO Wheels, and adjustable everything!
ROOM TO MOVE: For those of us with longer thighs, the ErgoPRO is a gift. In fact, it's a fully adjustable office chair for every height! 2:1 Synchronized Weight Sensing Multifunctional Line Mechanism lets you tilt back, and sit back with plenty of room, while Dynamic Lumbar Support responds to the pressure of your body as you tilt. Seat Depth Adjust also allows you to slide forward and back for ideal seat depth position.
THE FUTURE OF WHEELS: Nouhaus PRO Wheels are like roller blade wheels, but instead with a very cool hollow center. Silent PU and smooth aluminum rims glide across hardwood, polished concrete, tiles, and make easy work of softer surfaces. This is a world first for office chair wheels ; Lucky you.
TOTAL NECK AND ARM SUPPORT: When it comes to desk chairs with wheels and arms AND headrests, it's usually the height of a person that is neglected. But not on the ErgoPRO! 4D Adjustable Armrests glide up/down, forward/back, side to side, and rotate right/left, while the adjustable head rest glides up and down, and tilts back and forwards. And they auto lock into place for full support and comfort.
EASY TO ASSEMBLE: The ErgoPRO is easy to put together and comes with tools and instructions. It weighs only 49.2lbs! Available in Black, Grey, Burgundy and Blue; why not try this upgraded "top-10 chair" now before we run out.
---
5.La-Z-Boy Hyland
Leaning a bit more towards the aesthetics of traditional office chairs, La-Z-Boy's Hyland is a classy chair for classy people. In addition to being a stylish addition to your home office or workspace, it's also exquisitely comfortable, highly adjustable, and offers deep memory foam cushioning.
The Hyland office chair is made of exceptionally sturdy materials and rocks black-bonded upholstery made of sturdy, but comfortable leather. The memory foam adapts to the body, providing natural support in the form of posture correction and spine support.
Furthermore, it packs built-in lumbar support that, even though it can't be adjusted, does the job phenomenally well. Hyland's base is also outstandingly strong while its roller wheels are both silent and durable.
In my opinion, the cushioned armrests are the main reasons why this is one of the leading ergonomic office chairs on the current market. That and its stunning looks are enough to validate its price tag, although it's not nearly as expensive as some of the models in this guide.
Pros & Cons
---
PREMIUM CUSHIONING: Ergonomic office chair with memory foam cushions that contour to your body
FLEXIBLE AIR TECHNOLOGY: Lumbar cushions pivot when you move to support your back at every angle
STYLISH AND VERSATILE: A tasteful complement to any office, home, or entertainment space
WARM AND INVITING: Black bonded leather upholstery with elegant wood detailing
ALL DAY COMFORT: Fully adjustable height, recline, and tilt settings
---
6.Duorest D2A
Duorest is famous for several pioneering technologies, most notably the 'Duo Rest' back design which is used in all their latest chairs. With nearly three decades of service, this brand has graced the market with dozens of innovations, and in my humble opinion, D2A is among their finest releases.
As the brand's name implies, the main feature of D2A is the Duo Rest design, which is essentially a fragmented back design, providing angled support when you're moving, and fixed back support when you're sitting relatively still.
This promotes the support of natural spine positions, alleviating any stress from your backbone, regardless of whether the chair is reclined or not. Speaking of which, its reclining mechanism is advanced – you can practically sleep on Duorest's D2A if you use its full reclining range.
The backrest is completely adjustable, allowing you to find the right depth or height with minimal hassle. This feature reinforces the Duo Rest design, ensuring your back is free of stress and pain at all times; this, in turn, grants a huge level of long-term comfort. Material-wise, it's made of hard plastic and durable latex materials. Although I'm generally not a
fan of plastic-made office chairs, D2A is an exception, as it's actually much more robust than most of its similarly priced counterparts made of the same materials.
In terms of aesthetics, I'm sure there are better-looking ergonomic office chairs, but I wouldn't discredit Duorest's D2A just yet. Due to its smaller back, it appears tiny, or even unfinished, but it also looks very modern, and more importantly, unique.
Pros & Cons
---
Duorest System: Ergonomically designed twin backrests allow the spinal column to maintain its natural shape and keep the backbone free from pressure even when reclined. The backrests flexibly move independently on the X, Y and Z axes, keeping the back supported at all times.
Fully Adjustable Backrest: Easily adjust the backrest's depth and height to comfortably fit the user. Dynamic sitting theory is applied to the backrest to help reduce pressure on the back. The backrests conform to the inclination of the body when reclined.
Self-Tilting Tension: Using Italy DONTAI's self-tilting tension mechanism, optimal tension is automatically measured for the user to maintain a comfortable sitting experience. The tilt lever can be operated to limit the degree of tilt as well as lock it into place.
Fully Adjustable Headrest and Armrests: Curved headrest is height and angle adjustable to comfortably fit the user. Head and neck support is important to maintain proper posture and reduce fatigue. Armrests are fully adjustable to naturally support the elbow and wrist to reduce possible over-pressure.
Duotex Latex: Made from 100% natural latex material (5% additives excluded), weight and pressure is evenly distributed on the seatpan for maximum comfort. This model has latex in both the seat and backrests for thicker, more padded cushions.
---
Choosing the Best Office Chair for Neck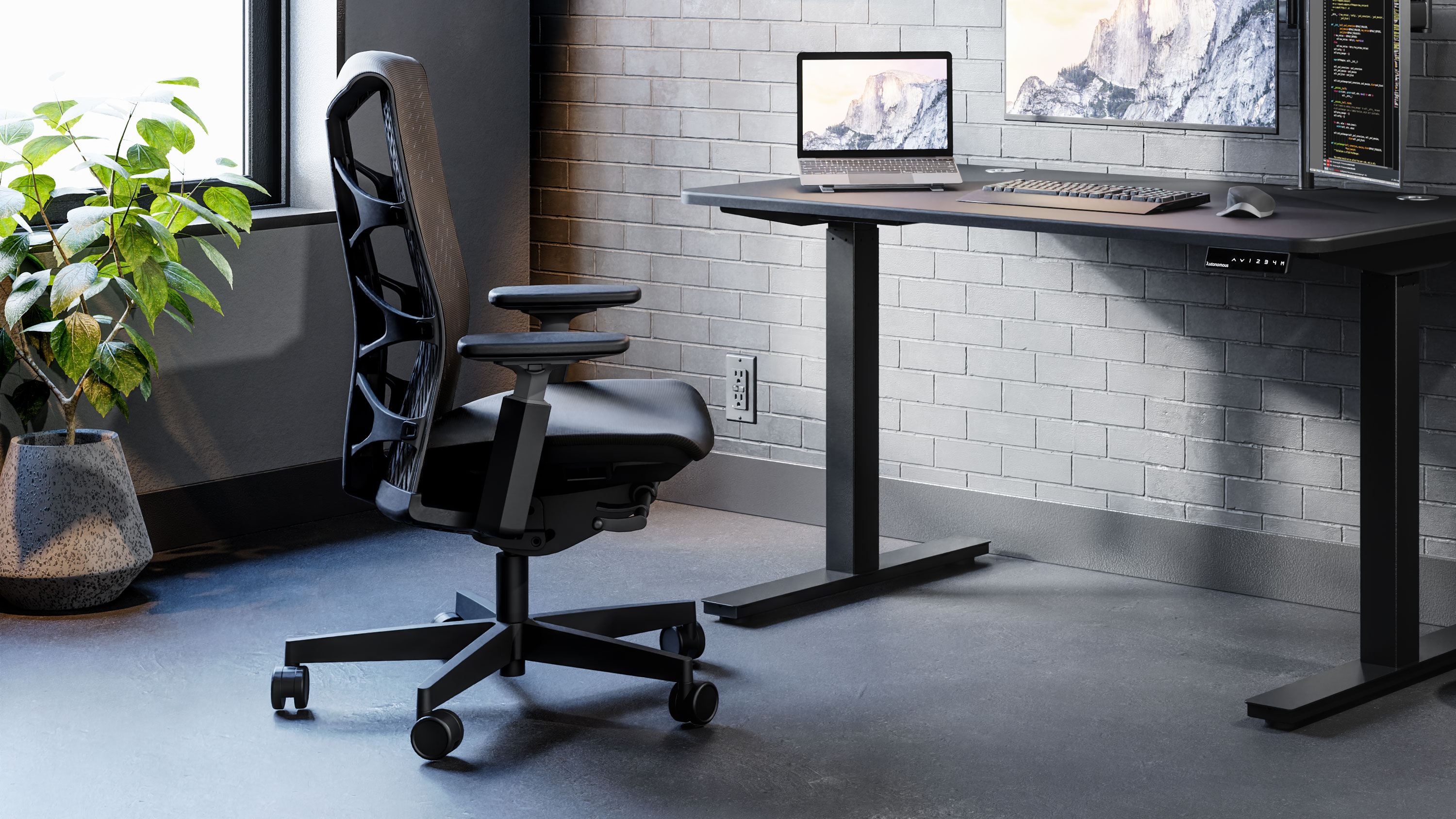 When shopping for your next office chair specifically to deal with your neck and shoulder pain, there are a number of factors to consider. Use this guide to make the best-informed purchase.
Ergonomics
What is an ergonomic chair? It's a chair that allows you to sit and work in the most proven position that's healthy for your back, hips, arms, neck, shoulders and wrists. The best ergonomic chairs can accommodate a variety of different sized people. More expensive options from companies like Herman Miller and Steelcase, for example, are insanely ergonomic because they can support a 6-foot-3-inch, 225-pound man just as good as it can support a 110-pound, 5-foot-2-inch woman.
In terms of neck and shoulder pain, you want a chair that features an ergonomic headrest, in addition to multi-positioned lumbar support.
Remember, the human body is all connected. So a tight hip is going to pull on your hamstrings, which in return is going to pull on your lower back and so on and so on. So, a chair that is ergonomical all around is a necessity.
Build Quality
Build quality is certainly important when purchasing any office chair.
Think about how long you'll be using this chair. If you work from home, it could be anywhere from six to 10 hours each day five days per week. That's well over 1,500 hours of use each year. If you buy cheap junk, it's not going to last.
So, what should you look for in terms of build quality? Here are some suggestions:
Metal support. There are certainly office chairs made completely of high quality plastics that can last, but nothing is as tough as metal. Find a chair with at least a metal base so that can handle day-after-day use.
Made in the U.S. You can find a quality office chair that's mass produced overseas, but it's not going to feature the same quality as an American-made chair. Of course, those American-made chairs, like those by Herman Miller, are going to be significantly more expensive.
Quality mesh. Many office chairs feature mesh because it's supportive and breathable. Make sure the mesh is taught and not fraying. Higher quality chairs feature top of the line mesh.
This isn't always the case, but the higher quality bikes tend to come with longer warranties because the craftsmanship is so high in the first place.
Back Support
A chair with good back support is also going to help with your neck and shoulders. Why is that? Because if your chair is letting you slouch, you're not going to be looking at your computer screen and typing in the best possible position.
Your first order of business is finding a chair with adjustable lumbar support. This is typically a slider that also protrudes in and out, allowing you to pinpoint the perfect amount of pressure to support your back. The best lumbar supports have adjustable heights, depth and firmness.
In addition to lumbar support, there's also the backrest, which should tilt back at least 20 degrees. For those with bad back pain, you need a chair that can recline at least 135 degrees. If your chair can't recline, you can't stretch that lower back throughout the day. The backrest should be height adjustable.
Why is tilting so important? It allows your back to make "micro movements" throughout the day. The best office chairs allow you to lock in that recline position, which can be quite comforting for your back.
Headrest
An adjustable headrest — specifically something that can pivot — is extremely important if you need an office chair to help alleviate your neck and shoulder pain.
The headrest should adjust up and down, but also have the ability to pivot left and right. Not everyone's neck pain is in the same spot, so having the ability to adjust left and right as well is a really helpful feature.
Not everyone needs a headrest, though. If you don't suffer from neck pain, a headrest could actually be cumbersome for your back because it can restrict movement in the upper body. If you have neck pain, though, you're definitely going to want a headrest.
Adjustability
Adjustability goes hand-in-hand with ergonomics. You need an office chair that can adjust at all points, from the backrest to even the front of the armrests if you want precise positioning for your wrists while typing. Remember, an ergonomic chair is a highly adjustable chair.
Most chairs on the market today adjust in all the right places: height, armrests, and back supports. More expensive models feature those more detailed adjustments, like 360-degree adjustable armrests.
These adjustments are typically located under the chair's seat, but newer chairs are moving those knobs and adjusters to under the armrests for easier access.
Seat Comfort
You certainly don't want to be sitting on anything too hard for an extended period of time. Thanks to chair technology (and our adaptation to those types of ergonomic chairs) our bodies aren't accustomed to sitting hard surfaces. As a result, our muscles are going to get tired trying to support our full weight.
All of that being said, if a seat is too soft, you're going to sink in and exhibit poor posture.
So, like Goldilocks ultimately found in the Three Little Bears, you need a chair that's just right.
Memory foam is quite popular today because it's firm enough to support you, but cushiony enough to prevent your muscles from wearing out from sitting on a hard surface all day.
Price
You should determine your budget before shopping for a chair. This will help you weed out chairs that are too cheap and too expensive.
A general rule of thumb is that you're likely going to pay over $300 minimum for a new office chair designed to help with back and neck pain. If that's too rich for you, you'll need to save or find other ways to pay for the chair, like asking your work for a stipend if they've required you to work from home.
While higher-priced chairs tend to be higher quality, price is not always an indicator of quality. In fact, there are several office chairs priced in the lower range of the spectrum that are built very nicely and are true hidden gems.
If you want to save money on your chair, look for coupons online and bargain with a shop in person.
What are the best brands for ergonomic office chairs? 
Some of the best brands for ergonomic office chairs are AmazonBasics and Herman Miller. This does not mean that an off-brand chair won't serve you well, but these brands have plenty of reviews and hefty warranties backing up their quality. 
What is the most comfortable ergonomic chair? 
The most comfortable ergonomic home office chair may be on the higher end of the price spectrum, but that does not mean less expensive chairs are a bad bargain. In our opinion, the Serta Mid-Back Office Chairs is one of the most comfortable ergonomic chairs available around. However, the Embody Chair by Herman Miller and many more follow close behind. 
What is the best office chair for sitting for long hours? 
The best office chairs for sitting long hours should come with key features of adjustable seat arms and height and a design that mimics the curves of your body. This article features some of the best ergonomic office chairs for your back. 
Which chair is the best for your back? 
Ergonomic office chairs with adjustable arms and seat height and a curvy back that aligns with your spine are the best chairs for your back. Adjustable lumbar support also acts as a guarantee of pain-free working days to come. 
What are the best ergonomic office chairs for back pain? 
The Serta Mid-Back Office Chairs and the Embody Chair by Herman Miller are some of the most comfortable ergonomic chairs for your back. 
What is the best Orthopedic office chair? 
The Serta Mid-Back Office Chair and Steelcase Leap Fabric Chair are some of the best orthopedic office chairs. 
What is the best high-back ergonomic office chair? 
The Steelcase gesture chair, Steelcase Series 2 Office Chair, and the Herman Miller chairs are designed to support a wide variety of body sizes. They provide both low and high back positions, making them a winner for most people. 
If you work at a desk day in and day out, you definitely need to invest in a good ergonomic chair for the sake of your health and comfort.  
As discussed above, Herman Miller chairs are top-notch and backed by years of research and testing (see here). If these are out of your price range, we've covered a whole lot of others, so make sure to keep this guide on hand when making a purchase. 
Do share in the comments below and let us know which chair you like the most. As always, your feedback is greatly appreciated.
The importance of comfortable everyday seating cannot be overemphasized. Whether you are a professional at work or a student in college, if you find yourself hunched over the computer screen through the day and struggle with body ache as a result, the best chairs for neck pain can alleviate the problem to a great extent.
Shoulder, back, and neck pain are common among those tied to a desk. These ergonomic chairs for neck pain are designed with a strategic neck rest, cushioned bodies, and adjustable settings to help you maintain proper posture.
When people are shopping for a new office chair, they're most commonly researching chairs that help support their lower back because they're dealing with sciatica or some other type of back issue.
But neck and shoulder pain is nearly as common — and if you don't have a proper office chair designed to support your neck and shoulders, that pain is only going to get worse.
Thankfully, there are a number of great chairs on the market that are specifically designed to help people with neck and shoulder pain. Because of that, though, finding the perfect chair for you can be a tad daunting.
Don't worry. We've done the research and come up with a great list of 6 chairs that won't necessarily solve your pain (that's on you to stretch and build strength in those areas), but will certainly not make matters worse.
If you're a remote worker or spend five days per week sitting in an office chair, sooner or later, you'll start experiencing pain in your back or neck. And if you already notice that you're feeling fatigued after a day at work, it's worth buying a high-quality chair to help you prevent these unpleasant scenarios.
And while you might be buying an office chair for neck pain, it will still be protecting your whole body, including your spine, legs, and shoulders. We know that a high-quality ergonomic chair for neck pain isn't super cheap, but if you use it almost every single day, it's absolutely worth it.
We hope you managed to find what you were looking for. And if you have any questions or have an idea of what we should review next, please let us know.
WRAP UP
Best Ergonomic Office Chair for Neck Pain – There are many reasons why you experience neck pain at work, one of them being your office chair. A chair without a headrest or one that is poorly positioned can add tremendous stress to the cervical spine, leading to neck pain over time.
In this buyer's guide we looked at over 40 office chairs to come up with the best ones for neck pain. Besides offering superb neck support, they also meet our other requirements for what a great ergonomic chair should have.
Finding the best office chair for neck pain and shoulder pain can be quite challenging.
In this guide we share the most comfortable and obtainable budget ergonomic chairs that can help you with that.
Down below I list 6 top rated office chairs followed by the guide on what you should look for when buying a chair for neck, correct sitting postures and even exercises for reducing neck pain.
Scroll down and let's get started with these best ergonomic office chairs for neck and shoulder pain!