Best Gaming Chair for 100 Dollars – Welcome to our guide on the best gaming chair under $100. If you're looking for reviews on the cheapest gaming chairs out there, you've come to the right place.
This guide is based on over 80 hours of research on more than 50 gaming chairs. We didn't look at or include any other types of chairs other than ones specifically designed for gaming. We spent countless hours on Amazon, Ikea, Walmart, and Wayfair poring over product specifications and details. Combined, our team has over 30 years of gaming experience in building gaming setups.
The gaming chairs on this list are by far the best you'll find under $100.
So you've decided you need a real gaming chair, but you don't want to drop too much cash on it. Maybe you're headed to the dorms or a new apartment, or you just have other purchases that are more important right now. Thankfully, you're in luck. You can spoil yourself with something high-quality and long-lasting for under $100.
While these seats might struggle to compete with the luxury tier in areas like adjustability and materials, they'll still be a huge upgrade over a hard-backed dining chair or that itchy, weird-smelling swivel chair you got for a few bucks at a garage sale. Plus, they're great if you need an extra seat for your co-pilot when you game with a friend and you don't want them to have to bring their own furniture.
Table of Contents
ROUND UP
1.Homall Gaming Chair
The Homall gaming chair has features and options that are far more extensive than the price would suggest. We are particularly keen on the included lumbar and neck-support cushions. some of the most expensive gaming chairs available today don't even come with these, so it's nice the see budget offering still looking out for your spine.
Additionally, the Homall gaming chair comes in four different colorways, which is impressive for a budget gaming chair. Given that this chair has a 4.5 rating on Amazon with almost 5.000 reviews you can be confident that it's got some serious bang-for-buck.
Other nice features of the Homall gaming chair include the rubber-coated castors. These effectively eliminate the chances of scratching your flooring, removing the need for a floor pad. The design is also worth noting, with the geometric logo as the centerpiece, this makes for a modern and clean aesthetic, an overall design that wouldn't look out of place on a chair three times the price.
Pros & Cons
---
[Designed for Comfort] Homall gaming chair is made of high quality materials: The soft cushion is made of high-density sponge, and the entire seat is wrapped in elastic pu leather. The back of the chair provides multi-point support, matched with the lumbar and headrests, which perfectly fits your spine.The retractable footrest can be adjusted at will.
[Modern Collocation] The gaming chair adopts ergonomic design, it can make your body fit the seat to the greatest extent, and achieve the effect of relaxing the whole body; In the design of color matching, the main color of the chair is black, you can choose the color you like from 6 different colors.
[Stable & Robust Architecture] The entire gaming chair uses a steel frame as the main structure, the seat back and seat cushion are connected by back steel plate,this connection method is not only strong, but also keeps the stability of the seat back, the textured metal feet can rotate 360 degrees.
[Adjust at Will] The adjustment range of the seat height is 14.3 inch to 17.5 inch, the adjustment range of the seat back angle is from 90 degrees to 160 degrees, both adjustable wrenches are located on the right side of the chassis, you only need to be slightly sideways to adjust the chair easily.
[Easy to Install & Customer Service] The overall design of the gaming chair focuses on the simplest installation method for customers to experience. If you have any questions, please feel free to contact us.
---
2.Office Chair PC
BestOffice makes some pretty reliable chairs and the Ergonomic High Back Office Chair is one of those. Unlike the other chairs on this list, this one makes no pretensions about being some "gaming" chair.
It's just a really good, really flexible office chair.
While some may worry about the differences between an office chair versus a gaming chair, high-end office chairs have the same goal as gaming chairs. That is to provide a comfortable experience for long periods of time in front of a computer.
If, however, you need a higher weight capacity or want some cool extra features, this may not be the best place to look.
Pros & Cons
---
BUILT FOR COMFORT - Wider than the average desk chair, and easily adjusted for height, the locking mechanism keeps the back upright and relieves the stress and pain brought on by other office chairs.
ERGONOMIC DESIGN - Designed with human-oriented ergonomic construction, users have full mobility whether you're gaming, working on the computer, or holding a board meeting in the office.
BIFIMA QUALITY-CERTIFIED - Our chairs pass all components of the BIFIMA certification, and are a reliable and sturdy option for users weighing up to 250 pounds.
EASY ASSEMBLY – Chairs comes ready to assemble, with all the hardware and necessary tools. With step-by-step instructions, you'll be set up and ready to game, take on the office in about 10-15 minutes!
CUSTOMER – We want all of our customers to feel ready to take on the day from the comfort of our chairs. This chair comes with a 90 days , and a 100% satisfaction , but if you're not satisfied, please contact BestOffice customer service.
---
3.BOSSIN Gaming Chair
At first glance, the BOSSIN Gaming Chair looks just like any other gaming chair. It even has most of the same features, including the same ergonomic design, PU leather material, and the 90 to 155-degree adjustable backrest. What makes this gaming chair different, however, is the design of the footrest. Unlike other gaming chairs that do not have footrests, the BOSSIN Gaming Chair has one. You can even extend it to give your foot much more support and rest than you think it will ever need.
Once you've extended the footrest and pushed the seat back furthest, you can relax as if you were lying on your bed. However, this chair is not only comfortable. It is also durable. The SGS-certified class 3 gas lift ensures maximum safety. Meanwhile, PU leather is hardwearing. Finally, the 360-degree rotary knob adds functionality to this gaming chair. Overall, this is one of the best gaming chairs under $100.
Pros & Cons
---
️【Big and Tall Gaming Chair with Footrest】- Liberate Your Feet, Will you feel tired for sitting all the time?Sure.Then you can choose the chair with footrest to relax your feet.When you don't want to straighten your back and sit,just take out the footrest,put your feet up,turn on your favorite music,and start enjoying the comfort!And don't worry about clean,it is also made of high-quality PU leather,just wipe it with a soft cloth and it will shine as new.
️【Ergonomic Design for Multi-occasion】- Professional design team, Enjoy total lower back support with a built-in, fully adjustable lumbar curve that closely aligns to your spine—ensuring ideal posture for maximum comfort in gaming marathons Stronger metal frame, Thicker cushion, More stable and beautiful design. AWESOME!
️【Reject Short-Lived Chairs】- We never hesitate to apply materials.Armrests must be padded from the position of the elbow to the wrist,built-in metal frame must be wider,and the foam under the leather must be rich,it can't collapse as if we are sitting on a hard stone when leaning up, skin friendly and wear-resisting PU leather for years of use, high quality filler bring better feels, Class 3 gas lift verified by SGS, durable, this is a gamer chair for adult teens and kids.
️【EASY ASSEMBLE】-The package included everything that you need. All the screws and small parts come attached on a packet clearly labeled. The directions are easy to follow and make sure you follow all steps exactly! Easily and effortlessly. You will get a modern, fashion, comfortable racing chair.
️【WIDE APPLICATIONS & GUARANTEE】- BOSSIN gaming chair is an ideal seat of choice for working, studying and gaming. Attractive racing car style makes it perfect for game room or modern office. We promise the each gaming chair will pass through high standards of strict test before packaging to ensure every customer will get the best product and service. If you have any problem, please feel free to contact us. We will reply you in 12 hours.
---
Things to consider
Unfortunately, this price range of gaming chairs means that there are going to be a few downsides you just can't avoid. Before making a buying decision, we recommend familiarizing yourself with them so you aren't in for a nasty surprise.
Is it even possible to get a good gaming chair for $100?
It definitely won't be fantastic, but you can get a perfectly cromulent chair at this price point if you pay close attention and manage to sidestep the snake oil. We've managed to cobble together this list, so yes, it's possible, just about.
Prime Shipping Is Rare- Products From Overseas
First thing's first, the shipping on these can be pretty bad. Because they're often based overseas before being ordered, it can take a week or more for you to receive your gaming chair.
A lot of budget options for chairs, monitors, and other products are based outside of the US, and shipping time is a common downside with them if you live stateside.
Won't Last As Long As More Premium Options
Next up is a sad reality: you aren't going to get $500 chair quality and endurance out of a $100 chair. This falls under the category of things that simply don't happen.
However, you will still be receiving a great budget chair for your money. While many of these do come from overseas, their quality is usually better than what you can expect walking into a retail store and buying a chair at the same price.
Because of this, we still recommend them. Just note that they may start showing wear and tear sooner than the truly premium options.
Inevitable Compromises
Last but not least, a few inevitable compromises have to be made at this price range. This compromise is usually seen in the following areas:
Chair weight capacity
Added features
Quality of materials
Most of the chairs on this list opt for good materials, except for the one that chooses weight capacity instead. A few of the higher-end ones manage to pull off extra features and quality materials, but still sacrifice weight capacity.
Weight Limit
The weight limit in a chair determines two things: whether or not you can actually use the chair without worry of breaking it and how sturdy it is.
Ideally, you want to buy a chair with a weight limit that's well over your own bodyweight. This means you never have to worry about breaking it and that your seat will always feel sturdy and stable, not wobbly or unreliable.
Unfortunately for bigger, heavier folks, a lot of the chairs on this list won't fit that criterion. Even if you're under the 250-lb range that most of these chairs recommend, you still won't have the most sturdy seating experience.
And, over time the chair may still get worn down.
Many of the chairs in this price range have a relatively low weight limit. Keep your own weight in mind before purchasing.
Seating Height
While the seating height on these chairs is mostly what you'd expect from an office chair, it's still important to keep an eye on this number. Seating height refers to how far the seat is from the ground and it's measured in inches.
Most adults will be more than fine with the typical 20-ish inch seating height, especially with the option to adjust up and down by some inches. However, if you're particularly tall or short, every inch of height adjustment will count.
Keep in mind the range of seating height when making your purchase. Ideally, you want something that's around the length of your leg from the knee down.
Other Features
Tilt is a really big feature for gaming chairs, tilt refers to the ability for the base and backrest of the chair to rock back together, this is distinct to recline as it includes the base too. We are particularly big fans of tilt function as it makes for more enjoyable relaxation, additionally, it also allows you to tilt and rock back and forth without compromising the ergonomic adjustments. We've made sure to include gaming chairs in this list with both tilt and recline capabailities.
Adjustable armrests are a common feature, too, but usually don't show up in this price range.
Also, keep in mind things, like the materials and build of the chair. PU leather is popular in this range as a comfortable, easy-to-clean material.
How Long Do Gaming Chairs Last?
Overall, a gaming chair should last at least 2 years. That being said, making sure you purchase from a quality and reliable brand should see that number rise exponentially. Like more premium chairs, the best gaming chairs for under $100 utilize better materials, meaning they should withstand the everyday use they go through much better.
Are Gaming Chairs Good For Your Back?
One of the main considerations that go into the construction of every decent gaming chair is how they impact your back health. As all good gaming chair manufacturers know, gamers don't just spend five minutes playing games. No, they spend numerous hours playing their favorite AAA game titles, making back health all the more important.
Chair manufacturers try to ensure that solid back support is a key factor in their design, aiding in the support of your back, neck, shoulders, head, and hips.
Ergonomics
You're going to be spending a lot of time in the gaming chair, so it better be healthy right? That's why we've made sure to recommend chairs here with good ergonomics, like lumbar support, a neck pillow, and high-density foam.
Lumbar support
Good lumbar support is invaluable when it comes to a decent gaming chair. Lumbar support helps coax your spin into the proper position, this maintains its natural curvature which can reduce strain and promote a healthy posture too. This is one of the most important aspects of ergonomics, and for a gaming chair to have good ergonomics, it must start with lumbar support
Neck pillows
Lumbar support keeps your lower back in check, but let's not forget the neck either. Many chairs these days come with an adjustable neck pillow that helps keep your neck positioned at the correct angle, good neck pillows combine with lumbar support to create an overall ergonomic design that will help keep you comfortable and healthy for long periods.
High-density foam
We've all experience overly soft foam, right? Initially delightful, but soon becomes as flat as a board with no support, as the foam degrades you get less comfortable. This is a problem that is functionally eliminated with the implementation of good-quality, high-density foam. This ups the chair's ergonomics, and makes it last far longer, so don't be forgetting high-density foam in your search for the best gaming chair under $100.
The short answer to this question is yes. It doesn't matter if you're a console gamer or trying to take your competitive esports play to the next level. A gaming chair will ultimately make your life that little bit easier. Not only will they provide good comfort, armrests, and the back support you need for healthy posture. But they'll also outlive many other cheaper alternatives.
First thing's first: You need to figure out how big of a chair you'll need. This includes seat width and back height, as well as height from the ground. It's frustrating to find a chair you like only to realize it is too tall for your feet to reach the ground or so short your legs feel cramped.
Most gaming chairs out there have around a 4-5" adjustable vertical height so take that into consideration before you buy. As for weight, it is pretty straightforward.
The next thing you should ask is how adjustable you want the chair to be. If you're planning on using the chair for several hour-long gaming sessions then you probably want something that is extremely adjustable so you can make fine-tuned changes while playing.
This aspect is doubly important if you also plan to use it as an office chair. In general, the more bells and whistles the chair has, the more expensive it will be. However, if you just need something for casual gaming or a nice computer chair, you can go with something simpler. Additionally, the lack of moving parts in less adjustable chairs means they are less likely to break.
In general, there are 2 major styles of chairs: gaming and office style chairs. (Rockers exist too, but are so different that you already know how you feel about them). Gaming chairs often have bucket seats and more elaborate designs. Some also differentiate gaming chairs from racing chairs, but they are very similar so we've lumped them together.
Office chairs often don't have the same types of features, like a footrest, neck and back support, or certain rarer novelties, but they're also usually less gaudy. That being said, it's easy to generalize. Some office chairs have started to blend across the lines with gaming chairs since there is a niche market for one chair that can look professional while also being used for gaming.
Your chair doesn't have to be plated in gold and made from indestructible titanium, but it is a good idea to buy something made of quality materials that will last.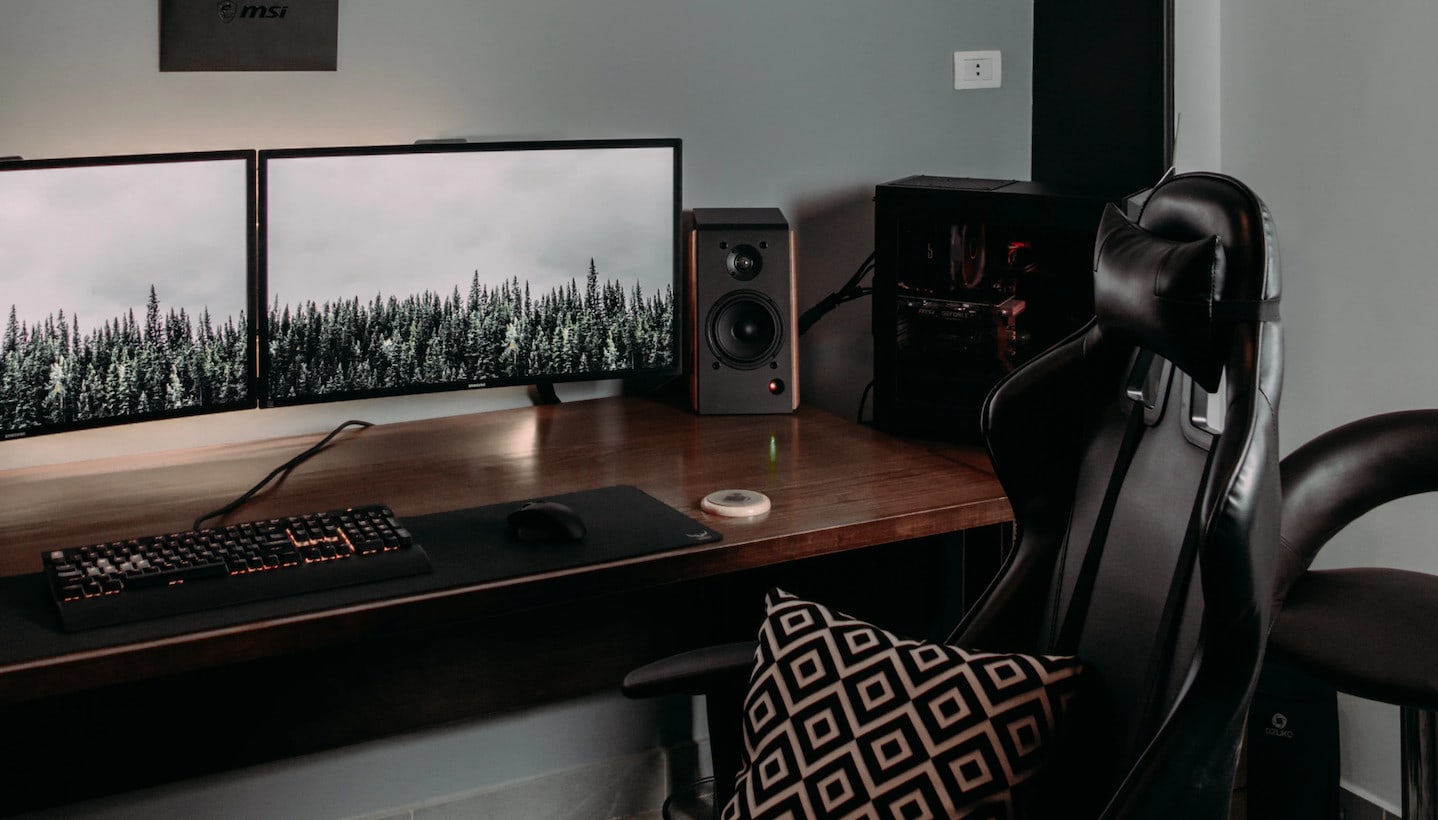 In terms of materials, you should probably go with either mesh or leather. Keep in mind, however, that on a budget like this, you won't be able to find a chair with genuine leather – instead, most gaming chairs at this price point have PU leather, which is still comfortable, durable, and good-looking.
Leather chairs tend to hold in heat more than mesh chairs, so if you are the type of person to sweat easily, or you just get really hot while gaming, you should purchase a mesh gaming chair. It doesn't retain heat as well and provides better airflow.
Make sure the mesh isn't too thin, though, or it might break after prolonged use. You want to make sure your gaming chair can withstand the test of time, even on a budget like this.  On the other hand, if you are always getting cold, a leather chair is a better choice.
Ultimately, you'll want to make sure to look at product reviews before purchasing, especially if it's a budget chair. Often budget chairs may use quality materials, but they may not be reinforced, or they might be inferior versions, etc. It's also always worth verifying and understanding the manufacturer's warranty.
WRAP UP
Best Gaming Chair for 100 Dollars – The best gaming chair under $100 is a tricky page for us to write, considering many gaming mice, keyboards, and headsets regularly exceed $100, you're going to have to make some compromises when trying to find a piece of furniture within that same price bracket.
However, all hope is not lost, with some careful consideration you can get something decent for this price and we're going to help you, so join us as we take a closer look at the best gaming chairs under $100 and sift through the crap to find some diamonds in the rough.
Are you looking for the best gaming chairs under $100? You don't have to spend more than $100 to get a great budget gaming chair. There is a good range of abundant but cheap gaming chairs available for less than $100. However, we noticed that countless people on sites like Google, Reddit, and forums are looking for the best budget gaming chairs. For this reason, we have decided to compile an extensive list of the best gaming chairs under $100.