Best Gaming Chair for Tall People – There are so many gaming chairs that might seem like they can do the job for us big and tall gamers, but the reality is a lot of them are built for more average sizes who don't need as much seat space, as much support, and as tall a back rest. Getting a seat that's properly large enough and provides ergonomic support can make a huge difference for you in long-term comfort and also help avoid potential strains.
We've rounded up a great selection of chairs that won't come up short when it comes to giving big and tall gamers a place to rest their bones. With these gaming chairs, you'll find wider seats, tall backs, and higher load capacities. You won't have to miss out on the classic gaming chair style or other common features, like 4D armrests, to get a big and tall gaming chair either.
As a big and tall gamer, you might not be able to buy the average gaming chair, but that hardly means you have no options. The 6 chairs we showcased in this article prove that no matter your budget, you can find an amazing gaming chair that's comfortable, ergonomic, and sure to win you some cred among your gaming buddies.
Table of Contents
ROUND UP
1.Furmax Chair
Let's get started with the Furmax High-Back Gaming Office Chair. This chair, which can hold 300 pounds max, comes with a seat you can adjust between 16.5 inches and 22 inches. The chair itself is 20.7 inches deep and 20.7 inches wide with a backrest that's 33 inches deep and 20.7 inches wide. That ought to give you plenty of room to sit back and contemplate your next strategy between rounds.
Tilt this racing style chair forward so you never miss a second of the action, or tilt it back when you need to relax thanks to awesome tilt-lock adjustments. The recline angle adjuster can even alleviate pressure so you're ready to get back into the game. Other cool features are anti-scratch casters, backwards movement between 90 and 180 degrees, and swiveling all 360 degrees.
Not only does the carbon fiber leather exterior with a high-density sponge interior fit the tastes of many gamers, but it improves lumbar support as well. That makes the Furmax High-Back Gaming Office Chair a viable pick.
Pros & Cons
---
High quality black and carbon fiber leather with high-density thicker sponge inside to make an ideal seat ,highly durable construction made of tubular steel frame, plastic,headrest and freely adjustable lumbar support provide a ultra comfortable experience
With the upgraded controller, the chair has rocked back and forth. 360 degree swivel, 90 to 150 degree backwards movement ,smooth-rolling casters,anti-scratch and protect the floor
Perfect for office, home, conference occasion and racing gaming chair. Class-3 Explosion-proof gas spring of International standards, verified by sgs, ul, bifma, easy lock-tilt adjustment with recline angle adjuster, relieve tired feeling and pressure after long hours of game or work
Load capacity: 300-pound maximum weight capacity, seating area dimension: 14.8" x 20.5" (W X D),Backrest dimension: 21.8" x 33" (W X D),Adjustable seat height: 16.5"-19.5"
Ergonomic design, smooth lines and beautiful patterns, for your office or game into a new style.
---
2.GTRACING Gaming Chair
Should you need more support from a gaming chair than one that can hold 300 pounds, don't fret. GTRACING's Gaming Chair is a great fit for big and tall gamers. Its wide design is conscious of its users, preventing you from ever feeling squished. That goes for whether you use this chair for gaming and even activities like studying and getting some work done.
The chair measures 47.5 inches to 52 inches tall depending on where you set it. Its width is 22.5 inches and its length 26.5 inches. The exterior is covered in PU leather that has a smooth, slick appearance sure to add to your aesthetic when you stream. Of course, this chair is about more than just looks. It also features pillows at both the headrest and back for better support (these cushions come off), padding at the cushions, nylon casters that roll quietly, and a heavy metal base.
Swivel all 360 degrees so you can move freely if you have multiple monitors as part of your gaming setup. The chair reclines between 90 to 170 degrees for a more rigid or relaxed setup per your preferences. You can also move the armrests up or down for a height that feels comfortable for your arms as you play your way to victory. This customized fit will make GTRACING's Gaming Chair truly your own.
Pros & Cons
---
Designed with 2 Bluetooth speakers.Surrounded sound system brings the best in your entertainment
Connect it to your smartphone, tablet or other Bluetooth enabled devices,and enjoy music,mobile game
Ergonomic Design: Strong metal frame designed to help promote a comfortable seated position
Multi Function: Bluetooth speakers for 16 hour music play,Armrest adjustable,Seat height adjustable
Seat height adjustable;90 to 160 degree reclining;360 degree swivel;Removable headrest
High Quality: Smooth Pu leather upholstery.Thick padded seat cushion made of high density foam
Game and Office: Gtracing gaming chair is an ideal seat of choice for working, studying and gaming
---
3.VERTAGEAR
Pros & Cons
---
Industrial-Strength heavy duty metal base frame to withstand up to 200kg / 440 lbs
Steel Frame and Resilience Foam. Seat Width-21.7 inch. Seat Depth-19 inch. Backrest Width (Shoulder)-20 inch. Backrest Width (Lumbar)-20.5 inch
Reinforced 5-Star Base - Redesigned and constructed from a heavy-duty aluminum alloy material that assures a solid structure
Effortless Assembly - "Slide-in" design creates a quick one-person installation process
Cushioned and contoured to the shape of the arm with adjustability in 4 directions
This is an aftermarket of generic part
---
4.AKRacing Masters Series
The AKRacing brand was involved in race car manufacturing back in 2001, which alone might give you a reason to consider their Masters Series Max Gaming Chair. Each chair is produced in AKRacing's facility. That's how you get such features as the Rock It & Lock It, which promotes rocking tension that you can adjust to your liking. Once you find a setting that works, you can lock it in place so the chair doesn't change angles on you.
The aluminum base is molded and boasts great tensile strength. According to AKRacing, compared to steel, you get 10 times the strength with aluminum. The PU caster wheels are attached to the base, and each measure 2.5 inches. Gas lifts come heavy-duty and customized to support the adjustments of this chair, which has a max weight of 400 pounds.
One of the AKRacing gaming chair's biggest features by far is the width of the seat, which is designed for big and tall gamers looking for space and comfort. Should you need to make some adjustments to your chair when it arrives, it's very simple to do so. The chair reclines 180 degrees while the armrests can go back and forth as well as down or up via sliding. AKRacing's Masters Series Max Gaming Chair comes with a PU leather exterior.
Pros & Cons
---
Extra large size: wide metal frame with anti-corrosive coating covered with high-density cold-curved foam padding for maximum comfort and durability
Top quality upholstery: PU leather on front and back - Easy to clean and guaranteed to last for at least 5 years backed by manufacturer warranty.
400 lbs weight capacity: advanced mechanism with adjustable rocking function and lockable tilt positions and custom heavy Duty gaslift can support up to 400 lbs.
Adjustable headrest and lumbar support pillows for comfort and enhanced ergonomics included.
4D armrests: adjustable in four directions: up & down, back & forth, in & out, and rotate to the sides.
Overall Dimensions: 28.75 - 30.25" W x 23.25" L x 51.4 - 54" H
Backrest: 24.35" W x 34.25" H | Seat: 23.25" W x 5" H
---
5.DXRacer
DXRacer calls its Tank Series Big and Tall Gaming Chair "fit for a king." The higher weight capacity certainly impresses, as gamers up to 400 pounds can use this chair. Another feature we haven't seen yet is the rocking function. No matter how you have the seat set, you can still turn on the rocking feature. Pretty cool!
The base, made of a toughened aluminum, won't buckle as you spend days and evenings digging deep into the latest games. Footrests give you a nice place to keep your feet so you don't have to think about where they'll rest when you should be concentrating on your game. The casters glide with you so you're never interrupted no matter where you want to scoot in your chair. All this on top of the phenomenal race car style seat design makes this quite a chair.
The PU vinyl is breathable so you won't ever come off your chair sticky and sweaty, even after a particularly intense gaming session. The mesh also breathes. DXRacer's backrest is made to be extra tall so your spine and neck are supported. If you need more support, try the lumbar and headrest cushions, both included with your purchase. Also, feel free to adjust the seat this way and that, as you can toggle adjustment settings across the DXRacer King Series chair easily.
Pros & Cons
---
High Quality Comfortable Ergonomic Design with Headrest and Lumbar Cushions
Comfortable Foam Cushioned Armrests Adjust Up and Down Easily
Patent Race Car Seat Design with Higher Backrest to Support Neck and Spine
Stable Metal Five-Point Base with Gas Spring Adjusts to Varying Heights
Perfect as Home Office, Computer, Business Executive or Gaming Desk Chair
---
6.RESPAWN 110
Going from a super pricy gaming chair to a more affordable one, next we've got the RESPAWN 110 Racing Style Gaming Chair. This pick, which measures 35.5 inches by 22 inches by 14 inches, is ergonomic through and through. The padding is segmented for closer contouring. You also get a lumbar support pillow and a plush headrest with your purchase. The armrests even come padded. The bonded leather RESPAWN uses for its racing style gaming chair looks and feels like the real deal, adding to the looks department of this chair even further.
Adjust to your heart's content, as you can swivel 360 degrees for more dynamic movement, pivot during reclining, adjust the tilt tension up to 155 degrees, and lower or lift the chair. The armrests have 4D adjusting features as well.
Rest your feet somewhere comfy with RESPAWN's footrest, which is extendable. Five caster wheels make moving across the room a breeze. RESPAWN's 110 Racing Style Gaming Chair provides an ergonomic experience every time so you can focus on the gaming.
Pros & Cons
---
GAMIFIED SEATING: A racecar-style gaming chair that provides luxury and comfort, whether it's used for intense gaming sessions and climbing to the top of the leaderboards, or long work days.
ERGONOMIC COMFORT: With segmented padded designed to give highly contoured support when and where you need it most, this ergonomic chair is also equipped with an extendable footrest for position reinforcement. Adjustable headrest and lumbar support pillows, as well as padded armrests provide all-around comfort.
PREMIUM MAKE: Upholstered in bold, contrasting colors but maintains a professional look, this gamer chair can also be used as an office chair. Gaming chair includes a 275 pound weight capacity for long-lasting use.
4D ADJUSTABILITY: Find your optimal position by raising or lowering your chair and reclining between 90 - 155 degrees with infinite locking positions. Soft, padded armrests pivot with the chair as it reclines. Full 360 degrees of swivel rotation enable dynamic movement..WE'VE GOT YOUR BACK: An award-nominated brand, RESPAWN is committed to your satisfaction and covers this video game chair with the RESPAWN 5-Year Limited Warranty, and dedicated, year-round representative support.
Note : To ensure proper assembly, please follow all steps provided in the installation manual (provided in pdf below)
---
Best gaming chairs for big and tall guys Guide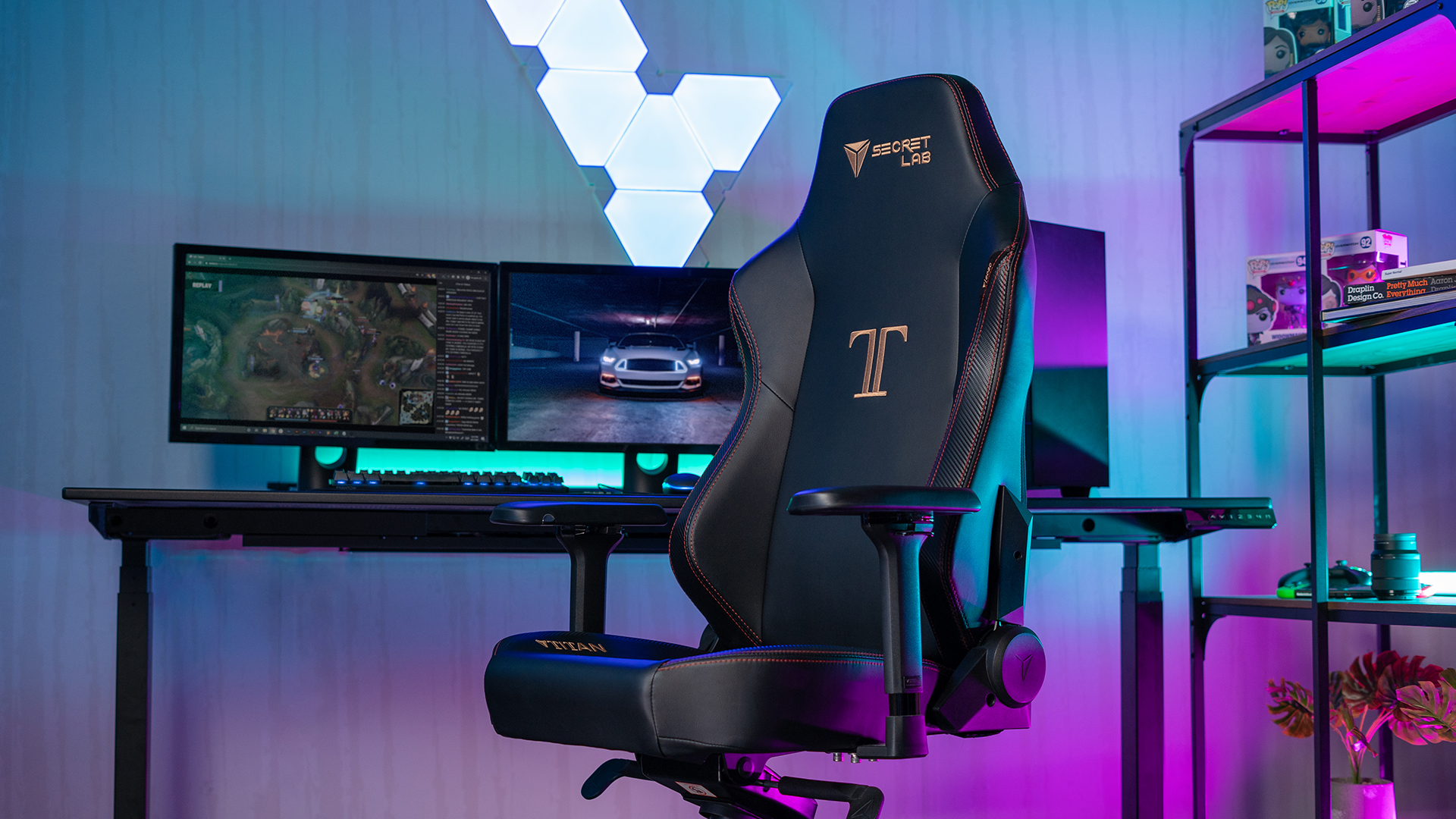 Comfort
As a large person, the most crucial thing a big and tall gaming chair should offer is the comfort that average-sized chairs don't provide. Make sure that the chair is wide enough for you to easily fit in. If you are a tall person, look for a chair with a high backrest to comfortably rest your head.
Adjustable Neck pillow and lumbar support also play an essential role for extra-added comfort. Other features that improve comfort include adjustable armrests, retractable footrest, recline support, and tilt mechanism. Extra thick and structured padding helps improve the overall comfort of the chair.
Design
With so many manufacturers making a lot of gaming chairs, you will find different designs to choose from. The design should be ergonomically fit for your big body that can ensure optimal support and enhances comfort. Gaming chair with the best aesthetics provides a comfy gaming experience for a long time. If a tall gaming chair is not aesthetically perfect for your body, then it will cause discomfort.
Other then the ergonomics, it should have contrasting colors, beautiful racing design, and high-quality finish to be a perfect big and tall gaming chair, just like the Respawn gaming chair with beautiful contrasting colors and a cool racing-style design.
Material
Just like the material of any product, a gaming chair's material determines the quality and durability. Materials in a big gaming chair also tell us about the comfort it provides and the maintenance it requires. For a tall and big gaming chair, the base structure should at least be able to support a weight of 350 pounds.
Make sure to compare the materials in different gaming chairs before buying. Choose a PU leather finish because of its easy maintenance. It is also very breathable, stain-resistant, and easy to clean. It only needs a wet cloth and cleans any dirt or stains. The seat's material determines the life of a chair.
Budget
Let's talk about the price of these chairs for big and tall guys. Other than the furious gaming chair, all of them are above $150 and mostly above $200. So, it requires the right amount of money when buying a solid and sturdy gaming chair for yourself. You can get a big office chair under $200, but as we are talking about gaming chairs, then your budget at least should be $220.
A good gaming chair for your big body can range from $200 to almost $400. The big gaming chairs that we have in our list are at around $300 maximum. I would recommend you to look into your requirements first and then make a choice.
For example, if you are not going to use a footrest or a USB lumbar support massager, you don't need to spend all that money on the features you won't use. But if you want all the features that a gaming chair for big guys should have, check out the "key specification" under all the products and make a choice. There are a few options on the list that will give you all the options at a low price.
Adjustability
Make sure that you get a chair that will support you adequately in different sitting positions or your sitting style. Most of these big and tall gaming chairs make adjustability easier with the included features like adjustable armrests, retractable footrest, rocking function, tilt mechanism, detachable lumbar support, and headrest. Adjustability is an important factor when you are playing games for a longer period.
How to Choose a Big and Tall Gaming Chair that Matches your Measurement
Okay, we have told you enough about choosing a perfect big and tall gaming chair for a big person. Now let's talk about how you will choose a suitable big gaming chair for your body type.
Here's a breakdown of the dimensions you need to determine:
Backrest Height
Backrest height is vital as a suitable backrest height supports your spine and head. For a good sitting posture, the backrest should cover the upper area of your back and neck. Hopefully, most of you know your height already. But to choose the best height of the backrest, you need to measure the length from your neck to your waist.
Make sure the headrest aligns with your head perfectly. A lumbar support pillow and a neck pillow are a great addition to the backrest for a more comfortable experience.
Backrest Width
A wide backrest will let you sit more comfortably if you sit in weird positions like me. But most of the time, the width of a gaming chair doesn't matter that much. But if you have a wide body, then go for a chair with straight backrest wings. Some chairs have wings that are angled inward, which can cramp up your wide body.
The backrest should also be a few inches wider than your width because it provides more space to wiggle and adjusts.
Seat Width
This is where your hip size matters. Get a big and tall gaming chair that will fit your butt easily. Because if you can't fit your butt in an average-sized gaming chair, then you need a chair with a wider seat. This is the most important factor after the weight-bearing capacity.
The seat of a big and tall gaming chair should have an optimal width to comfortably support the user (usually 22″-29″). A standard chair won't fit a wide person perfectly, which causes discomfort even in a short period of sitting. So, measure your hip-size and get a big chair at least 2 inches wider than your hip.
Seat Depth
The seat of a big chair should be deep enough so that the user can sit with the back against the backrest of the chair while leaving about 2″-4″ between the back of the knees and the seat of the chair.
Is footrest a prominent feature in a gaming chair?
For me, yes, it is. It helps feet from hanging, which can cause swelling due to prolonged sitting hours. Some people may get swelling due to water retention in the body. I don't think it is much used for PC gaming, but if you are playing on a console, the footrest is a big plus.
What features to consider before buying a Gaming Chair?
On the above, we have discussed how to choose a big and tall gaming chair in detail. Talking about the features, it depends on your requirements and budget. If the budget is not an issue, then buy a big gaming chair with all the features. But if you are on a tight budget, then look for the features that are important to you and use the most.
Why does an excellent big gaming chair cost so much?
An excellent big gaming chair costs higher than an average gaming chair because of the heavy-duty materials used in the making. A big chair needs to be sturdier than an average chair because it exposed to heavyweight.
More weight causes more wear and tear. This is why big and tall gaming chairs need to be stronger and heavier to bear the weight of a heavy person. These chairs use commercial-grade materials to make a good chair. With all the high-cost material, the chair automatically gets expensive.
What steps should be taken before picking a Gaming Chair?
We have discussed the steps of choosing the best big and tall gaming chairs above in detail.
What is considered a big guy?
A person above 6ft or 220lbs can be considered a big guy. If you look at the chair, whether it will hold you or not before sitting, you are a big guy.
If the person is asked to reach things on the top shelf and unscrew lids that are too tight. These extremely minor triumphs do add up over a lifetime.
Can people with average or smaller frames use big and tall gaming chairs?
Using a big and tall chair by an average person is not a problem. But in a long sitting period, it can cause discomfort. The chair might be too wobbly for them. Sitting in a big chair by an average person is great fun as it will cup them up.
Are they more difficult to set up and move around?
Overall, chairs are easy to assemble, and you won't have any problem assembling. All of these chairs come with instruction manuals. You might have problems with assembling some chairs for different reasons, mostly when they need to be screwed.
Big chairs are also heavier than the standard chairs, but it won't be a problem for a heavy person.
How long should I stay seated on a big and tall gaming chair?
Experts have always advised you to get up, walk, and stretch yourself after every one or two hours of sitting during any activity. The big and tall gaming chairs ensure a comfortable gaming experience for a long time.
Is there a more optimal sitting position for chairs with big and tall frames?
These big chairs are more comfortable for you than using an average gaming chair because of the added padding and wide seats. Sitting positions are the same as the ordinary gaming chair, but you can use the added features for maximum comfort.
Will Insurance or extended warranties on the product make a significant difference?
It makes a big difference, and my advice for you would be to choose a big gaming chair that comes with the insurance or warranty. Big gaming chairs are prone to more wear and tear because of the load they had to bear. These chairs tend to go down earlier than an average chair for a normal person.
If the manufacturer offers an extended warranty, then take it by paying a small fee. It will make your investment safer for an extended period. Every company has its warranty policies, and they are mentioned on the product page. So, make sure you read them and choose the best option.
Every gamer needs a peaceful and comfortable environment to play games. Gaming is not fun if you get tired and start to feel pain in the back. That's why you need a gaming chair that can be comfortable in long sessions of gaming.
Thanks to the advance technology like explosion-proof hydraulics and high-quality materials. These chairs are now sturdier than before and have better aesthetics and agronomical designs. There is a lot of competition in gaming products, which keeps the quality higher and price to a minimum, which is best from a customer's point of view.
Take all these factors that we have told you before buying a big and tall gaming chair and choose the right one. Thank for reading, and we will keep writing articles and guide to help our readers.
Basically, a heavy duty gaming chair in which big and tall people will feel comfortable without feeling too congested. A gaming chair for a big person will provide ample seating space as they are wider than standard chairs, comfortable for longer seating, has an adjustable armrest, longer back, and lumbar support.
Gaming chairs for tall people will specially provide ample leg space by providing a height adjustment mechanism that makes them comfortable for longer seating hours. They also offer high back, which is suitable for back support and headrest adjustment as tall people may need that according to their height.
I think any person over 200 pounds starts to feel uncomfortable in average-sized chairs. Been there, experienced that first hand. Well, the height and weight ratio also matter here. If anyone considers himself as big, trust me, it isn't easy to find good, durable, and comfortable PC gaming chairs easily.
I tried our best to compile a list of gaming chairs for big and tall. I hope you find something suitable for yourself here.
A comparison of various factors is a must. So, when it comes to Best Gaming Chair for Big Guys, there are certain factors that we think are important. We have made a list of key specifications and the pros and cons so that you can have a quick idea of the product.
WRAP UP
Best Gaming Chair for Tall People – If you're a big and tall guy, then finding the best gaming chair that fits your frame can be pretty difficult. You need a chair with quality materials that last, various adjustment features, and a sturdy frame with the high weight capacity.
Once you immerse yourself in a game, you can quickly lose hours if not the whole day exploring in-game worlds, competing with others, and unlocking achievements.
Your current computer chair just doesn't cut it for those kinds of activities. Whether you game just for fun or you're a Twitch streamer, you need a chair that suits your body type. Which gaming chairs should you consider?