Best Gaming Chair for Teenager – Buying a gaming chair for your teenager is a logical idea, mostly because it doesn't cost a lot, yet becomes one of their most favorite accessories at home. If you are clueless on which are the best gaming chairs for teenagers, there are plenty of options.
What your loved ones need is a chair that can support them, one that is adjustable and most of all, a chair that is made of top quality. Today, we are listing the best gaming chairs for teenagers, helping you choose one that is right for their needs and your budget. If you are a teenager, then you can see the features even better and make a well-informed decision.
If your children spend a considerable amount of time playing video games or working on a computer, you might want to bring home the best gaming chairs for kids.
Gaming chairs are designed to help improve children's posture and provide the necessary support to their back and neck while playing video games. Most of these chairs are also pretty versatile and can be used when studying, doing homework, or just relaxing.
ROUND UP
1.Homall Gaming Chair
Homall is known as one of the most popular gaming chair brands on the market, and this model is a good example why that is the case. First of all, it is a great teenage gaming chair because it comes in even 9 different color combinations (including pink and purple) which will suit your needs and help you find your favorite very soon.
With high-density shaping foam, Homall designed this chair as a more comfortable and more resilient model compared to other models. The steel frame (1.8mm) is sturdy and stable, while the materials are skin-friendly and wear resistant.
With rubber casters that won't damage your floor and are designed to roll quietly, there is a lot of reliability in this gaming chair. When not gaming or working on their homework, teenagers can recline up to 150 degrees and relax on it. There is also a rocking function through a knob, meaning that you can back and forth with only one touch of this knob.
Lastly, the price of this Homall gaming chair for teenagers is another reason why many decide to give it a try. The only thing I did not like is that maybe Homall could work on the size of this model and make it a bit bigger, which would help larger dudes like me adapt better to it and enjoy sitting in a decent-sized gaming chair.
Pros & Cons
---
Selected Material: High density shaping foam, more comfortable, elasticity resilience and service life. 1.8mm thick steel frame, more sturdy and stable. Pu Leather, skin friendly and wear resisting.
Upgraded Configuration: Class 3 gas lift, durable, reliable and supports up to 300lbs. Rubber casters, rolling quietly and tested by 1000 miles rolling.
Multi Function: 360 degree swivel and multi direction wheels, load capacity: 300-pound maximum weight capacity. Recline function. Between 90 to 180 degree. Rocking function: chair can rock back and forth when you adjust the knob beneath the seat.
Dimension: Size of back: 22.5 inch and 30.5 inch. Size of seat: 14.5 inch and 20.5 inch. Seat adjustable height: 17.3 to 21.5 inch.
Wide Usage: This gaming chair is suitable for you to play computer games, watch show, do the work and have a rest. It will make your space more modern and elegant.
---
2.X Rocker Pro Series H3
Vanquish your foes in style with the X Rocker Pro H3! With a super-soft leather surface,  an easily-accessible control panel, and thoughtful design to facilitate easy storage this incredible lounger has got you covered. It's our favorite kid's gaming floor chair, made by one of the better-known brands in the industry.
While I personally like to play games with headphones, sometimes kids will want to get together and play as a group.  Either way, this gaming chair has you covered.  It has a headphone jack for keeping the noise down (great for late-night gaming sessions), but it's 4 speakers and powerful subwoofer can pump out enough sound to keep you fully immersed in the action.   What's more, this chair is adjustable, foldable and easy to store, making it ideal for smaller game rooms.  It's also great for watching movies and TV shows.
You'll need to right AV cables to hook up the chair to your gaming console.  I'd look to buy a digital optical converter if I was going to use the built-in gaming chair speakers often – it's inexpensive and will save you a lot of grief.
Improve your gaming experience and play like a pro with X Rocker! It's a great gaming chair for kids.
Pros & Cons
---
ALL PURPOSE GAMING CHAIR: Leather lounging game chair can be used for playing video games, watching movies and TV, listening to music, reading, and relaxing.
COMPLETE MEDIA EXPERIENCE: Chair incorporates four forward facing speakers, audio force modulation technology, and ported power subwoofers into the open space inside the chair for full immersion in your game, movie, or music.
ADDITIONAL VIBRATION MOTORS: The Pro Series H3 includes additional vibration motors that sync with your audio's bass tones to create an even more powerful full-body sensation keeping you comfortable and entertained for hours.
COMPATIBILITY: Compatible with Xbox, PlayStation, Nintendo Wii, MP3s, DVDs and most other gaming systems. Weight capacity 275 lbs.
CONNECTS WITH MULTIPLE CHAIRS: Control panel includes separate volume and bass controls, and input and output jacks for connecting to your audio source so other X-Rocker chairs can join in multi-game mode.
---
3.GTRACING Gaming Chair
The GTRacing gaming chair with Bluetooth speakers will give your teenagers a great feature which is the ability to play music or hear their gameplay from the chair itself. Packed with two Bluetooth speakers (one on each side), the surround sound system is a real advantage over any standard gaming chair, delivering a stereo sound with loud bass and full audio.
In addition to the awesome speakers and Bluetooth connectivity, this GTRacing gaming chair for teenagers is based on a metal frame that is designed to help promote a comfortable position when seated. This keeps you comfortable even after long hours of gaming or working, and the thick padded back and seat are ideal for relaxing.
Speaking of which, there is a reclining feature that lets you go down to a 170 degree position. If you decide to take a nap, there are two pillows (back and neck) that will support you and give you additional comfort.
Overall, this is one of the gaming chairs for teenagers that has a nice design, comes in five different colors (with red and purple variations that are great for girls), and is designed to optimize the sitting position for long use. It is also one of the gaming chairs that is present in many lists, mostly due to its innovative features and sleek design.
Pros & Cons
---
Enjoy Music: The chair is equipped with two Bluetooth speakers,which can be connected to your smart phone,tablet or other Bluetooth enabled devices by a Bluetooth Adapter(not included) within 5 meters,it will bring you remarkable and richly detailed stereo sound in solid bass,clear and full audio.You can enjoy music for 6 hours when fully charged.
High Quality: We never hesitate to use high-quality raw materials to provide consumers with the most cost-effective chairs.Thicken padded seat cushion is not easy to collapse;built-in metal frame is wider and thicker;heavy-duty base keeps chair stable;smooth nylon casters will not damage your floor;premium PU leather can withstand the sun and rain.
Provide More Possibilities: Height of armrests and seat can be adjusted to meet the needs of members of different heights in your family.If your neck and waist are prone to soreness after long term gaming or working,there is no doubt that our headrest and lumbar pillow,which are as soft as cloud,will solve your worries.
Unique Function: Do you want to relax your tired body after working all day at the lowest cost?The function of 90°-170° tilt and swing in the range of 20° will meet your needs.It allows you to sit or lie on the chair and start shaking your body at any angle.Relaxing your body accompanied by soothing music,it is really wonderful!
Worry-Free Purchase: A detailed instruction will be sent to you along with all accessories so that you can assemble the chair easily.Free replacement or refund within 30 days.Free replacement or repair within 1 year.If you have any questions or suggestions,please feel free to contact us,we will do our best to make our customers satisfied.
---
4.OFM Essentials Chair
What looks like a simple chair is actually a much more sophisticated product that can only be felt right if you sit on it. The OFM Essentials high back racing style gaing chair comes in five main color combinations, which are aligned throughout the body of the chair. All of this results in probably one of the sleekest and most sophisticated gaming chair designs (at least in my opinion). Unlike many racing-inspired chairs, this one brings a cooler look with quality PU leather materials all over it.
One of the interesting features of this chair is the segmented padding. It seems like the designers went the extra mile when integrating the padded headrest and padded arms, making this gaming chair for teenagers very sturdy and comfortable even after long hours of playing. Also, this is one reason more why adults can use it for their work duties or just relaxation.
What's also notable is the height adjustment and center-tilt control of this chair. The arms are flipping up and there is 360-degree swiveling motion. The leather and contrasting colored mesh go well together, giving the chair a sleek yet aggressive character with a cool feel. All in all, the upscale look and padded comfort powered by the SofThread technology is what makes this chair premium. If there is one thing I don't like about it, it has to be the 250 lbs weight capacity which may cause troubles to some gamers.
Pros & Cons
---
PREMIUM MAKE & MATERIALS - The chair provides superior luxury and comfort even during long, intense work hours. The premium thread stitched diamond pattern provides a sophisticated detail that provides additional comfort.
CONTOURED COMFORT - The computer chair features contoured, segmented ultra-plush padding, is covered in breathable bonded leather for a luxurious feel, and provides all-day back support with the integrated lumbar cushion.
INTEGRATED SUPPORT - This executive chair features an integrated headrest and arms that are padded for all-day comfort and support with a five-star base that is molded from reinforced resin with a 360-degree swivel.
ERGONOMIC FEATURES - The center-tilt mechanism rotates the chair seat and back together into a comfortable reclining position while the tilt tension controls the rate and ease of recline, ensuring that you don't recline too fast.
RELAX, WE'VE GOT YOUR BACK - This multi-purpose chair features a 250 lb weight capacity. You can purchase this office chair with confidence.
Note : To ensure proper assembly, please follow all steps provided in the user manual (provided in pdf below)
---
5.DXRacer PC Gaming Chair
The DXRacer Formula is another very popular gaming chair, and one of the best gaming chairs for teenagers. However, you should also know that this model is actually a more premium alternative, which means that it is more expensive and made of high quality.
DXRacer is known as a brand with a great track record when it comes to manufacturing amazing chairs. The Formula is a comfortable gaming chair for teenagers that are between 5'8" and 180 lbs, coming in a range of colors for both genders.
When it comes to comfort, this chair is great. It comes with mesh (and PU leather options to upgrade with at an additional cost), which gives you plenty of choices. If you prefer breathability, mesh is great. And if you really want a leather gaming chair, be prepared to pay more.
Next is the lumbar support and head/neck pillows, which are a great addition to this chair. Same goes for the armrests, which bring comfort and offer you plenty of adjustments. So, all of these elements cover the pain points and make the chair more comfortable.
All in all, this is a great looking gaming chair for teenagers that comes with outstanding build quality. Also, it is a model that comes from a brand that is considered to be in the premium range of gaming chair manufacturers. But if you are looking for something even more sophisticated than this, I recommend you to see the next listing or browse through the other (more expensive) DXRacer gaming chairs.
Pros & Cons
---
✅ NO1. Gaming Chair Brand | Born in 2001, DXRacer is the first and original brand of the modern gaming chair. As the leading premium brand of gaming chairs, DXRacer is world-renowned and available on all continents with its headquarters in Michigan, USA. With over 19 years' expertise in innovation and design, DXRacer has already become the top seat of choice for pros, enthusiasts, large esports events, and tournaments.
✅ Your Entry-level Racing Chair | The Formula Series is our first series and the world's most sold gaming chair due to its affordable entry-level price for the premium seating experience it offers. Hailing directly from the world of racing to the world of gaming, Formula is for slim users and is the most popular gaming chair for esports. It holds weights up to 200lbs and height up to 5'8".
✅ Top Gaming Seat For Gamers | To deliver gamers the highest levels of quality and comfort, our products are manufactured with high-quality materials for the covering, higher-density mold shaping foam as well as full-metal frames for maximum stability and sturdiness. All the other components such as class 4 gas lifts are certificated by TÜV LGA, ANSI/BIFMA (by SGS), and ISO9001 for extra safety and durability.
✅ We've Got You Covered | Built with ergonomics in mind, DXRacer chairs are the perfect gaming rig for gamers and streamers. Thanks to the tilt mechanism, adjustable seat height, fully adjustable arms, 135-degree reclining backrest, and smooth casters, users have full mobility whether for gaming, working, or meeting in the office. Moreover, we offer a 2-year warranty on parts, and a lifetime warranty on the frame to guarantee 100% satisfaction.
✅ 6,000,000+ Users' Choice | With 10M+ views on Youtube, 933K+ followers on FaceBook, 157K+ followers on Instagram and 385K+ followers on Twitter, DXRacer has been the most trusted name in the gaming chair industry! DXRacer partners with Sony, Fnatic, Robert Morris University, and many others. DXRacer is also present at major events such as WCG, IEM, LCS, WCS, DREAMHACK, UMG, and more!
---
6.RESPAWN 110 Chair
If your child likes to spend time playing video games or sitting at the computer for school, then a comfortable chair can help him to have a good rest. This chair has many features to offer such as the cushion and padding for comfort, the back rest, the armrest, the headrest and the seat height. It also has a safety mechanism that keeps it upright when it is not in use. This allows your child to work or study comfortably while staying upright.
Pros & Cons
---
GAMIFIED SEATING: A racecar-style gaming chair that provides luxury and comfort, whether it's used for intense gaming sessions and climbing to the top of the leaderboards, or long work days.
ERGONOMIC COMFORT: With segmented padded designed to give highly contoured support when and where you need it most, this ergonomic chair is also equipped with an extendable footrest for position reinforcement. Adjustable headrest and lumbar support pillows, as well as padded armrests provide all-around comfort.
PREMIUM MAKE: Upholstered in bold, contrasting colors but maintains a professional look, this gamer chair can also be used as an office chair. Gaming chair includes a 275 pound weight capacity for long-lasting use.
4D ADJUSTABILITY: Find your optimal position by raising or lowering your chair and reclining between 90 - 155 degrees with infinite locking positions. Soft, padded armrests pivot with the chair as it reclines. Full 360 degrees of swivel rotation enable dynamic movement.
WE'VE GOT YOUR BACK: An award-nominated brand, RESPAWN is committed to your satisfaction and covers this video game chair with the RESPAWN 5-Year Limited Warranty, and dedicated, year-round representative support.
---
What Are The Best Gaming Chairs For A Teenager
"A new gaming chair for teenagers can be a great gift. What is the best way to choose one that your teen will love? There are many things to consider when buying a gaming chair for teenagers, but most people don't know what those are." So keep reading if you want to buy a good gaming chair for teenager.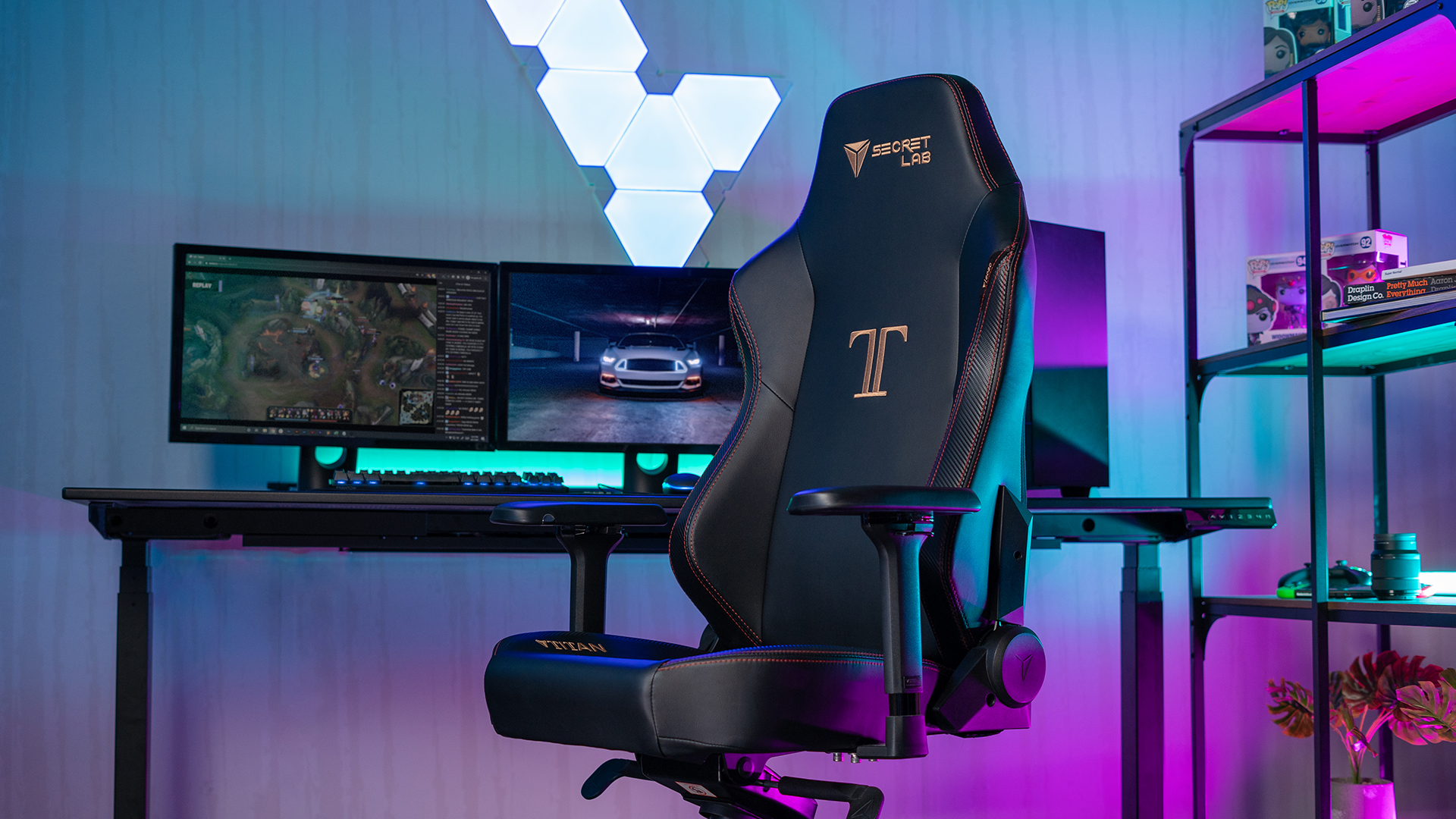 The gaming chair you get for your child should provide proper back support and enable correct posture for the child. Besides this, there are other aspects to look for while buying a gaming chair.
Purpose: Do you need a sophisticated gaming chair or a simple floor chair that can be used for gaming? Find out what the chair is for, as there are many types of gaming chairs to choose from, and not all serve the same purpose.
Age: Keep in mind your child's age, as you need to buy a chair that is not too big or too small for them. Also, look for height and weight specifications.
Comfort: Look for aspects such as back and neck support, cushions, and upholstery as these determine whether the chair is comfortable or not.
Safety: Check if the gaming chair is sturdy and does not trip when your child moves swiftly in the chair. Also, look for other safety aspects such as lock for the reclining lever, etc.
Playing uncomfortably or while sleeping on the bed may spoil their posture and give them a backache. There is no doubt that these gaming chairs give your child the needed support and comfort while playing video games, but make sure they do not spend hours playing video games, as it may have other harmful effects. Buy the chair after weighing the pros and cons, and only if the child will benefit from it.
Why Should You Buy A Gaming Chair For Teenagers
Gamers are always looking for new ways to improve their experience and that often includes buying a gaming chair. A gaming chair for teenagers is just like any other office chair, but it has been designed specifically for gamers. They have a comfortable backrest with lumbar support, they're lightweight and the surface is made of materials that prevent slipping or sliding around on your desk. Picking out the right one can be confusing though so we've created this guide to help you find the best gaming chairs available today.
What kind of gamer are you? If you're into first-person shooters then you might want something with extra padding in those areas; And if you prefer racing games then maybe consider a seat with less padding because these tend to not require as much. If you are a teen so pick one of the above gaming chairs for teenagers.
The Benefits Of Having A Gaming Chair In Your House
A gaming chair is an ergonomic office chair designed to provide support for your back and arms, as well as increased comfort during extended periods of sitting. The benefits of a gaming chair for teenagers include improved posture, reduced risk of neck and shoulder pain from hunching forward or slouching, less eye strain from long hours in front of the computer monitor, and better circulation.
There are many different types available on the market today; some have armrests while others do not. Some chairs come with additional features such as lumbar support pillows that can be positioned at the lower back area for added comfort. Others offer footrests that allow you to keep your feet elevated off the ground which can reduce leg fatigue when playing games for long periods. Some for adults and some for gaming chair for teenagers.
Why Are Gamers More Likely Than Non-Gamers Ho Have Spinal Problems Or Pain In Their Neck, Back, And Shoulders
Computer gamers are at risk for back pain, and it is important to take precautions. These include taking breaks every 2 hours from gaming, sitting up straight with the computer in front of you, not slouching over the keyboard, or hunching your shoulders. If you do experience any discomfort while playing games on a computer, make sure to stop and relax before continuing your game session. This will allow your muscles to recover so that they can avoid possible injury and discomfort when playing games on a computer.
Your posture while using a computer has an impact on how long you play without experiencing fatigue as well as other health factors such as neck strain and headaches. It's important to pay attention to how you're sitting or standing. Because if you ignore it so you may have a serious problem.
Thanks for reading our review about gaming chairs for teenagers. If we miss anything so plz tell us in the comment section and will be happy to fix it as soon as we can.
If your child is an avid gamer, a good gaming chair is one of the best gifts you can give them.
Not only will it make them more comfortable, but a quality chair can also help promote good posture, relieve the pressure put on certain joints by hours of gameplay in the same position and help prevent back and neck pain. In other words, it's well worth investing in one.
Finding the best one for your child will depend on a number of things; do they play Minecraft games on a desktop computer or sprawl on the floor playing PlayStation 3 games? Are they usually sat playing for hours at a time or only allowed to play in short bursts? How much are you willing to spend?
There are several places you can begin your search for the ultimate gamer chair, and several names to look out for. Amazon, Currys and Argos are good places to start, and you'll see X Rocker, Homall and noblechairs models cropping up more than once amongst the best of the best.  Homall make great ergonomic chairs that are immensely popular, particularly in the US, and though they're not cheap, they're a very decent price for a high-end product. noblechairs offer a line of premium products for a premium price – they look and feel like luxury; only you can decide if they're worth the expense. X Rocker are a real market leader when it comes to audio-enabled chairs, and they do some great gaming chairs for kids.
We've gathered together a range of the best kids' gaming chairs on the market so that you can make an informed decision. Take a look below and find your favourite!
If you're looking for cheap gaming chairs, bean bags are a good way to go. Super squashy and so much fun, they're so comfy that once your child has sat down they may not want to get up again! They're also amazingly versatile, able to be used by the whole family for all sorts of activities besides gaming – this one can even be used outside. Available in 12 bright colours, the high back provides ample back support when you jiggle it around and every bag is stain and water-resistant with a fire retardant back coating. Though they say they're designed for adults, we actually find the sizing much more suited to children. One of the best gaming chairs for parents not looking to spend too much.
Kidadl Best Buys selects the top parent-recommended products across the web for families of all ages. If you liked our pick of the best gaming chairs for kids then why not take a look at our favourite kids' headphones that will protect their ears? Or check out our guide to the best kids' laptops!
Between recent articles about the effects of sitting down on your body and our experimentation with standing desks, you might think PC Gamer has fallen out of love with the humble chair.

That could not be further from the truth.
As gamers and office workers, we spend a significant chunk of each day sitting on our money makers in front of screens. Given that most of us don't plan to change that anytime soon, it only makes sense to do so in a great chair. So that's what I set out to find.
We wanted to find chairs that maximized comfort, support, and value. We spoke with Melissa Afterman, MS CPE, a Senior Principal Ergonomist with VSI Risk Management & Ergonomics, Inc., who specializes in workstation setups.
"Absolutely, chairs are still okay," she told me. "Yes, we know that sitting too long is bad for you. The reality is that standing too long is just as bad for you, so the answer is movement. Taking breaks, getting up at least every hour and moving, or changing your position from standing to sitting every hour so that you're not standing too long either."
"If you're typing and working at the computer, you really want more upright support so that you can maintain neutral spine posture and let the chair hold you up," she said. "But when you switch to a gaming mode, you may want to recline a little bit to relax your lower back while still having good support in that position. So a locking backrest and/or some tension control is important."
Another feature to look for, though it tends to be found on more expensive models, is a seat pan slider. This enables you to slide the positioning of your butt forwards or backward relative to the backrest.
Playing video games can be an excellent way to teach your child how to problem solve and boost their fine motor skills. Gaming is not only fun, but it can be extremely educational as well. What better way to motivate your child to learn than to buy them an excellent gaming chair? Allow your child to feel like they're genuinely part of the whole gaming experience with the perfect chair. An added benefit is that the best gaming chairs can be used for other activities such as reading and lounging as well. One chair that has it all in terms of style, comfort, and affordability is the OFM Essentials Collection Racing Style Gaming Chair.
Although most of us look at the best gaming chair as a chair that is designed to enhance comfort, there is another aspect of looking at a gaming chair, and this is, a chair designed to ensure that your health is in good shape. Without the best gaming chair, you risk damaging your back and spinal cord which means that you could be looking at serious health problems in years to come.
To avoid such issues, you will do yourself or your kid some favor once you look around to ensure that you get the best chair designed for long hours of gaming. Having in mind that teens will be spending hours or the whole day on a gaming chair, I will help select a gaming chair that is designed to hold all parts of the body comfortably to protect you from risking your kid's health and posture.
Keep reading as you look forward to buying the best video gaming chair for teens that is worth your hard-earned money. Although most of us overlook the importance of a video gaming chair when setting up a gaming station, you should note that a gaming chair is a crucial item since it plays a big role to ensure your comfort and back health in the long term.
Therefore, avoid risking the health of your teens but get them the best video gaming chairs for teens as reviewed in this article and provide them hours of comfort during the long sessions of playing video games.
WRAP UP
Best Gaming Chair for Teenager – There are tons of amazing video games out there and they can give your Teenager  kids a real boost in terms of problem-solving, decision making and hand-eye coordination. But time can fly by and gamers can find themselves sitting in the same position for hours on end. That's where gaming chairs come in!
Designed for kids comfort and health, gaming chairs are ideal for gaming, working, reading, and relaxing. A good kids gaming chair will encourage correct posture through proper cushioning and back support, which supports and strengthens key muscle structures and enables smooth blood flow. Top gaming chair models also include in-seat speakers, sub-woofers and under-chair vibration for total game immersion.  Besides, your child will LOVE IT.
Gaming chairs, then, are the healthiest and most comfortable way to really get into a game – whether in front of the TV on the PlayStation or other console, or playing on a computer. But which one is right for your little gamer? Here to help is our handy guide to the best gaming chairs for kids.