Best Home Chair for Back Pain – Depending on the amount of support you require and where you need it most, finding a chair with excellent lower back support is always a good idea. Each chair in our list offers, at a minimum, excellent lower back support for long hours of tasking. If you're interested in reclining, the list shrinks somewhat.
Finding how much support you need, where you need it most, and what type of material to have the chair upholstered in will ensure a good sitting experience. I hope this list has helped you narrow down the best choice for your lower back needs.
Finding the best office chair, that will help reduce lower back pain, is a quest for many office workers. While most office seating companies claim to have lumbar support, they almost always lack in this area.
While you may find other lists on the internet, almost all of them will be built to push you into Amazon products. It's important to note that most, if not all of these websites, have never tried the chairs they promote. As someone who has sat in hundreds of chairs, I know there is no way you could ever know what chair is excellent or bad without sitting in each first hand.
Chairs that offer better lower back support do exist, and today we will take a closer look at the ones we have found to provide the best lumbar support. I will show you chairs that are available at different price points so that no matter your budget is, you can start to work more comfortably.
Table of Contents
ROUND UP
1.Ergohuman Chair
The highest-ranked chair in our list for lower back pain, the Ergohuman LE9ERG, scored 82/100 overall. Just looking at the design of the lower lumbar region on the LE9ERG is impressive. Naturally protruding beyond the upper backrest, the lumbar support system is the first part of the backrest to make contact with your back.
The backrest on the LE9ERG is height adjustable, allowing you to move the lumbar support on your back. The design of it also allows for it to be automatically depth adjustable, based on the user's weight and how much you push into the backrest. Additionally, there is some flexibility with how it moves with you as you twist and move around in the chair.
If you tend to lean forward while tasking, the lower support of the LE9ERG stays with you even if you cheat forward. This feature is perfect if you prefer not to lean back in the chair unless you're on a call or browsing the internet.
Because of the design of the lumbar and upholstery, the support is very specific on the LE9ERG. It doesn't spread across your lower back as a mesh alternative would. This is important because some users may not like that feeling. If you're looking for a little less pronounced lumbar support, the ME7ERG Ergohuman does a better job at flexing and spreading the support through the lower back.
When you lean back in the LE9ERG, the motion of the chair will pull the lumbar support up your back some. At about 50 perfect recline, I noticed the support became less pronounced, but it was still good. Depending on the position of the lumbar to start, it could require you to lower it down your back for the right support.
Pros & Cons
---
High Back Leather Chair
Ergonomic, Adjustable Options
Executive, Office Chairs
---
2.Eurotech Vera Chair
The second-ranked chair, the Eurotech Vera, was featured in our best overall back support post. Featuring the most comfortable backrest in a chair we've tested, Vera is also very good with lower support. With a score of 81 out of 100, the Vera managed to score well without a separate lumbar support system.
One of the things you first notice about the Vera is how perfectly upright the backrest positions your body. This allows you to comfortably scoot back into the chair and lets the natural curve of the backrest push against your lower back. Because of the mesh design, the support is spread out across the lower half of your back.
When upright, the Vera has medium to medium-strong lower support. As you recline in the chair, the lower support will start to diminish, with full recline offering minimal lower support.
Because of the upright nature of the backrest, the Vera does provide excellent lower back support when leaned slightly forward for tasking. Because the natural curve of the backrest only pushes so far forward, you need to make sure to scoot your butt back into the chair for excellent lower support.
Pros & Cons
---
MODERN OFFICE CHAIR: Modern office chair with black frame, Piano gray mesh back, and black fabric cushion; Overall dimensions (W x D x H): 28 x 28 x 38.9 to 43.4 inches
ADAPTS TO YOUR WEIGHT: Tilt tension control adapts recline rate according to the weight of the user
ADJUSTABLE RECLINE & DEPTH: Synchro-tilt allows back to recline in a preset ratio and seat depth can be adjusted relative to back; Seat depth (W x D): 18.9 x 15.75 to 17.72 inches; Seat back (W x H): 17.1 x 25.8 inches
CUSTOMIZE CHAIR HEIGHT: Adjust your seat height to the desired position relative to the floor; Seat height: 18.9 - 23.6 inches
6-WAY SUPPORTIVE ARMS: 6-way adjustable arms can be tailored to support your arms
---
3.Humanscale Chair
The Humanscale Diffrient Smart chair is our third ranked chair in the lower back support list, with a score of 80 out of 100. Like the Vera, the Diffrient doesn't have an adjustable lumbar support system, but it does have a unique pivoting backrest design. We found through testing that the Smart chair has medium support when seated upright.
The design of the Diffrient Smart allows you to sit nice and upright in the chair for tasking. This provides good lower support for these tasks as well. Like the Vera, you will need to push yourself back into the chair to experience the best support.
Where the Diffrient Smart shines is when you begin to lean back into the chair. As you do this, the backrest naturally pivots, with the lower portion of the back pushing harder into your back. From 25 to 100 perfect of recline in Diffrient, the lower support moves from medium to medium-strong to strong.
Pros & Cons
---
Featuring Humanscale's weight-sensitive, mechanism-free recline, Smart automatically adjusts to the body weight of each sitter to provide perfect recline support
Free of manual controls, Diffrient Smart has a striking, sleek aesthetic
Contoured seat cushions offer long-term comfort, reduce pressure points and provide weight distribution
Supports up to 300 pounds
Composed of 39% post-consumer, 23% pre-consumer recycled content
---
4.Steelcase Leap Office Chair
Our fourth-ranked chair, the Steelcase Leap, technically tied the Humanscale Diffrient Smart with a score of 80 out of 100. While these two chairs scored the same for lower support, they couldn't be more different. With a more traditional padded upholstered backrest, the Leap was still able to offer medium to medium-strong support, depending on how you configured the lumbar system.
With Leaps intuitive lumbar support system, you can make precise adjustments to how much and where you want your support. The height-adjustable lumbar support allows you to move the pressure up and down your back. There is also a lumbar tension system, which will increase or decrease the curve in the backrest. Depending on how you adjust this it will change how pronounced the lumbar support feels.
If you like to recline in your office chair, the Leap is a good option with up to about a 50 percent recline. Beyond this point, you begin to lose some of the medium to medium-strong support in the lower region of the backrest. Unlike the Vera, at 100 perfect, the Leap does still provide light to potentially medium support in the lower lumbar region.
Pros & Cons
---
Buzz2 fabric is 100% polyester
Wheels for carpet flooring
Ergonomic chair – features include adjustable seat depth, fully adjustable arms, height adjustable lumbar, lower back firmness control, pneumatic seat height adjustment, recline tension adjustment, 5 position recline lock, upholstered back and seat
All day comfort and back support - Leap's contoured backrest changes shape as you move to support your entire spine, ensuring long-term comfort
Quality & durability – designed to withstand 24/7 use while providing maximum comfort
---
5.Herman Miller Classic Aeron
Likely the most recognizable chair in our list, the Herman Miller Aeron came in at number 6, with a solid score of 79 out of 100. The model we tested included the PostureFit SL, which is the best lumbar support add-on available for the Aeron. This is very important if you're interested in purchasing an Aeron and want excellent lower support.
The Aeron offers medium lower support when in the upright tasking position. One added feature that isn't common with most chairs is the ability to the chair in a forward tilt position. This is a useful feature for those who really like to sit forward and task. It isn't for everyone since it gives the feeling of falling from the chair and requires you to engage your legs more than a traditional seated position.
Arguably one of the best features of the Aeron is the fluid tilt function that keeps your feet planted to the floor, and the backrest in perfect unison with your back. As you recline in the Aeron, the support felt when seated upright remains the same. Users that enjoyed the lower support when seated upright will get the same experience, no matter what reclined position they choose to work in.
Pros & Cons
---
---
6.Mac Motion Oslo
On the very first of the chairs for back reviews, we've got the Mac Motion from Oslo collection. With this comfortable friend in your arsenal, you can say goodbye to your painful days once and for all.
As the name says, this one knows you love to make all those grooves when you're on the chair. This is why it comes with a completely adjustable mechanism.
Doesn't matter if you're watching tv, reading a book or just taking a nap, you can have your comfort zone confirmed. Thanks to the side knobs, you can set your reclining level. Rather than just reclining back and forth, you can switch to multiple positions from now on.
The chair adapts to the shape of your body while it soothes each and every single muscle. As your sore butt rests on the chair, it gets enough room as the seat pan is wide and dense.
It straightens your spine and makes sure they don't get any harm at all. You can adjust the headrest as well to take a power nap. Swivel the chair 360 degrees at your comfort. The excellent lumbar support allows you to experience a superior sitting position so that you can relax after embracing the calmness.
And the best part, you get to stretch your legs as well. The Mac Motion comes with an angled ottoman where you can keep your legs on. This will make sure the blood does not just flow to your upper and lower back but also your legs as well.
The manufacturers have used heavy-duty memory foam that enhances cushioning. It absorbs your body weight while relieving the pressure from your entire body, including the places you're experiencing the pain.
As for durability, the Mac Motion comes with top-grain leather which looks stunningly rich that matches your décor.
The leather can withstand all the toughest abuse and you can use it for years to come with no worries at all. If you happen to spill a drink, just wipe it off. Its breather air leather won't leave any strain at all. All that being said, you can call the Mac Motion one of the best recliners for back pain without any doubt.
Pros & Cons
---
360 Degree Swivel
Adjustable Recline
Memory Foam Seating
Top Grain Leather
Lumbar Support
NOTE : To ensure proper assembly, please follow all steps provided in the installation manual (provided in pdf below)
---
Things to Consider Before Buying the Best Chair for Backs at Home
So, you want to get your hands on a good chair to relieve back pain. Good for you. However, do you know what features you need to look for before you make a purchase? If your answer is no, the odds won't be in your favor. To make sure you don't get your hands on the wrong chair, we've provided a short guideline for you. Get to know the things to consider before buying a chair for back.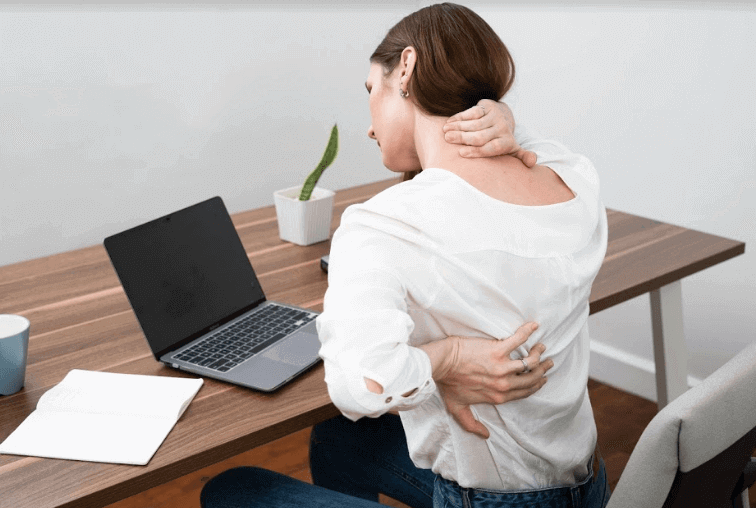 Aesthetics
If you're someone who doesn't want to compromise the outlook of a chair, you should get your hands on something that dominates your place. But that's just one thing. Aesthetics are also important to reduce your back pain as well. If your chair doesn't have a good shape, you will find a hard time sitting on it. It won't adjust to the shape of your body and you won't get your comfort.
This is why whenever you're buying a chair, whether it's a recliner or office chair, make sure the shape is perfect and adapts to the shape of your body. Take the Sayl from Herman Miller for example. The aesthetic is so helpful that it makes sure the Spine of your body maintains the S-Shape.
Is the Seat Wide Enough?
The seat of your chair you're buying should have a wide space, making enough room for your hips to fit in. Often, the chair's all fine, it looks good but just because the seat doesn't have a wide space, the users never get to experience their comfort. You can go for a seat that is at least 18 inches wide.
In the reviews, we have covered a lot of chairs that are up to 23 inches wide. So pick the one that suits you.
Lumbar Support
The chair you're buying should have great lumbar support. As you switch to a new sitting position, you can experience a bad ache if the chair doesn't provide good lumbar support to you.
For example, if you want to get your hands on a recliner with good lumbar support, you can try the Oslo Mac Motion from our review list. As for office chairs, you can go for the Hannah Microfiber Office Chair from Serta. Both of these chairs can offer you the lumbar support you need.
Cushion
Most orthopedic chairs for back pain have one problem in common. They provide you the support you need in your back, however, they often don't provide the cushion you need. Rumor has it, the more the cushion, the more problems you'll face in your back. Pfft!
You can always find the best chair for a bad back that offers you the ultimate cushion as well. Before buying it, make sure it's soft enough to relax your muscles.
Ottoman
Not saying that you must need it but if you can purchase a chair that comes with an ottoman, it's definitely a plus for you. An ottoman will help you stretch your legs and while it helps the circulating blood in your body, it eliminates the lower back pain as well.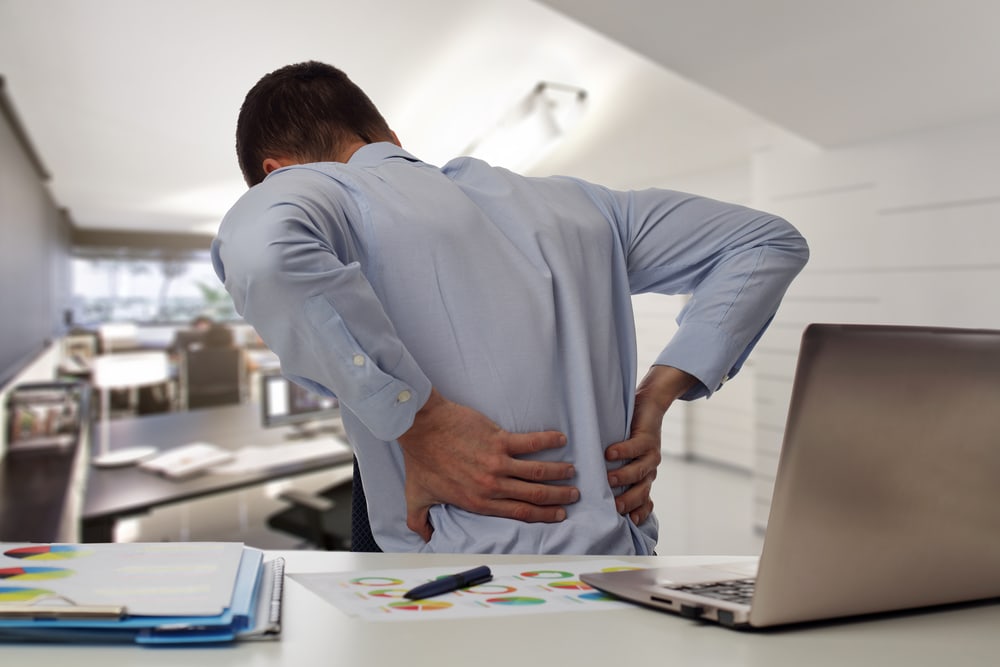 You can go for chairs like Oslo Mac Motion and the Newport Swivel Recliner from Benchmaster. Both of them come with high-quality ottoman that will keep your legs relaxed.
Headrest and Armrest
Getting a chair that reliefs only the pain of your back won't do you any good. If your neck and arms do not stay relaxed, you'll have the same discomfort on your body. Make sure the chair you're buying has a comfortable headrest so that your neck can have the comfort zone. You can go for the adjustable-headrest chairs.
As for armrests, you can choose the one that comes with black padding or the one that has got waterfall style. Both features are unique and provide your arms the comfort they need. You can check the High Back Executive Chair from Amazon Basics or the Commodore II from Comfortable Products. Both the chairs have got amazing armrests.
Durability
Not just chairs, durability matters when it comes to almost everything. If you buy a chair that's not durable enough to last long, you'll have to buy another one within months. This will waste your time and money.
You can go for the chair that has got a top-grain leather construction. The ones that are made of bonded leather are also pretty strong and durable. Also, make sure you check the bases as well. We'd suggest going for the one that has got either a heavy-duty Chrome Base or a Leather-Wrapped Base.
Don't forget to check the memory foam as well. If the memory foam isn't heavy-duty, the chair won't survive for a long time. The inner springs should be durable as well.
Are recliners good for your back?
Of course, however, it depends on the recliner you're using. Some recliners do have problems. As you sit on them, you can face discomfort and fatigue. However, if you can get the recliner that straightens your back, you will have your convenience for sure.
I'm looking for a compact-sized recliner which I can take a nap on sometimes. Which one shall I go for?
For power naps, you can try the Christopher Knight Davis recliner we've reviewed in this right-up. It's compact and eats up very little space. However, if you happen to shift to a spacious room, you can try the Oslo Mac Motion.
Is it hard to move the chairs that don't have wheels? And does it have any impact on the base while moving it?
If you buy a chair that has wheels (the office chairs for example), you won't have a hard time moving them at all. As for the recliners that don't have wheels, it depends on the type you're going for. Some of these chairs are light in weight while others are heavy. So, you might need someone's assistance while moving them.
Am I getting any warranty offered with these chairs?
Of course. You'll have a satisfying warranty duration. However, to know how long the warranty will last, you'll have to contact your seller.
Is assembling these chairs hard?
Not at all. The chairs we've reviewed here are very easy to assemble. Even you can set them up all by yourself. However, if you find it a bit complicated, you can always a helping hand.
Can you recommend the best recliner after back surgery?
These chairs are often used as therapist chairs with good back support. The recliners we've reviewed are often recommended by doctors for patients who go through back surgery.
If you're someone who had surgery already and needs to recover, you can go for any of the recliners we've reviewed here. However, it's better NOT to go for the Christopher Knight Davis in such a case.
Well, that was pretty much everything. Now that you've gone through all the reviews, we think you can get yourself the best chairs for back pain at home. You can give this write-up a read again, keep notes and decide which feature goes with your taste. No matter which one you go for, you won't regret it, that we can say.
Do you like to recline in your chair? Is this something that you spend a lot of time doing? If you are taking a lot of phone calls, in meetings or even working from this position, proper support while reclined can be important if you have lower back issues.
Just because a chair offers great support while you're sitting upright, doesn't automatically mean that you will see the same support when reclined. We've found through testing all of the chairs in our office, there can be significant differences in lower support as you recline back into the chair.
Depending on how the recline function moves on your chair, the lower support can change in various ways. Whether it's diminishing support or that the support actually moves up the back, both can have a significant impact on your lower back pain.
While not always true, having a lumbar support system that is height and depth adjustable can be important. If the lumbar support system doesn't provide a good fit for your body, you will need the ability to move it up and down your back. Having depth adjustment will allow you to add and reduce the amount of pressure applied to your back. Depending on the amount of support needed, this can be a nice feature to have.
Depending on the type of tasks you perform in your chair, you may want to consider how the backrest and lumbar moves with you. If you are doing a lot of twisting and reaching, having a backrest that moves with you and provides continuous support is good if you really need a lot of lower support.
We have seen a lot of different types of backrests that will provide this function. From the entire backrest bending and flexing, to only the lumbar support automatically adjusting in depth. If this is important to you, you'll want to pay close attention to the back of the desk.
The last thing to consider is what type of material the lumbar and backrest are made from. Certain types of materials will flex more, spreading out the support through your back. We have seen upholstered lumbar systems with padded backing that can feel more stiff and will focus more on a certain area. Depending on your needs, this type of focused support can be good or bad. This is especially true if you're able to fine tune where you can place the support.
WRAP UP
Best Home Chair for Back Pain – The best office chair for back pain is a very worthwhile investment. Whether it's at home or at the office, we spend so much of our day sitting down at a desk that it makes sense to think about what we're sitting on and what it's doing to our back.
The best ergonomic office chairs can help with back pain, or can help prevent you from developing back pain to start with by improving how you sit.
Bad posture can cause serious and unnecessary health issues in the long term. The best ergonomic office chairs help counteract that by providing lower back support that allows your lumbar spine to remain in a neutral position. By supporting its natural curve, they can alleviate stress on the spine. They're also highly adjustable, ensuring that you can put the chair at the right height for you so that your feet are on the ground and your knees are not strained.
Below, we round up our pick of the best office chairs for back pain and highlight the models we believe are the best choices for long sessions at the desk. We've considered ergonomics, build quality and style, but we've also been sure to include options at different price points because the best office chairs for back pain do tend to be expensive. If you need some pointers on what you should be looking for, scroll down to the questions section at the bottom of our guide. And if you want to help your poor back even more, see our guide to the best standing desks, which can also be good for your posture. We also have a guide to the best office chairs (not specifically for helping posture).