Best Hunting Chair for Blind – Staying in your deer hunting blind can be challenging if you don't bring a few creature comforts. This is why many hunters are picky about their chair, bow hanger, the shooting stick, and other accessories they might bring along. Choosing the best ground blind chairs for hunting, however, can be difficult due to the countless models currently out there.
Moreover, all these chairs vary in their design, swiveling capabilities, armrests, and other features making the whole buying experience even harder. That's why in this guide we will go through some of the top models for this year and see how they stack up against each other both in terms of their practicality and in terms of how good of a deal they currently are!
Table of Contents
ROUND UP
1.ALPS OutdoorZ Stealth
If you're looking for an excellent bling chair, the ALPS OutdoorZ Stealth is our top recommendation. The rugged powder-coated steel frame is sturdy and includes fully adjustable legs with wide ball and socket feet for uneven ground.
While not light, weighing a little over sixteen and a half pounds, it folds easily into a compact carry to bring it to your blind or stand and back. Besides, the Stealth chair is not meant for run and gun hunting. It's meant to be packed in once each trip or set up in a permanent stand.
At it's lowest setting, the seat sits 19" off the ground, and 23" at its highest, making it perfect for a variety of blinds and stands. The steel frame is rated to support loads up to a stout 275 pounds, although it would not be a good idea to max it out.
The main concerns with the ALPS Stealth are the fabric and packability. Some have experienced seat fabric fraying and squeaking swivels within the first year or two of use. ALPS has a good warranty and customer service so in the rare event you have trouble you should be covered.
Pros & Cons
---
Sturdy powder-coated steel frame wrapped with durable TechMesh material
Adjustable seat height, adjustable/removable arm rests, wide backrest and 360° swivel seat gives you maximum comfort
Large swivel feet with independently adjusting legs accommodates uneven terrain and prevents sinking
Shoulder strap and compression strap for chair base, makes for easy transport
Dimensions: 22" W x 18" D x 34"-42" H; Weight: 16 lbs. 9 oz.; Weight Capacity: 300 lbs.; Seat Height Range: 16" - 24"
---
2.Browning Camping Strutter
The Browning Strutter is a hunting chair designed specifically for the needs of hunting turkey. It comes in two great turkey hunting camo patterns – Mossy Oak Break Up and Realtree Edge.
The Strutter sits low to the ground (3-4 inches) with angled padded armrests. The chair has an ample 25" x 16" seating area and supports up to 300lbs.
The Browning Strutter Hunting Chair has a quality powder-coated steel frame and a padded shoulder strap. While not lightweight at 8-1/2 lbs, the chair does collapse compactly into a carry bag with a shoulder strap.
Pros & Cons
---
Folding chair with arms offers ultimate comfort
Low-profile, powder-coated Steel frame includes padded shoulder carry strap
Compact folding design with included 8" X 28" Carry bag
Four Rotating feet on bottom of chair helps you sit solid on uneven terrain
Dimensions: 25" W x 16" D x 27" H, Weight: 8 lbs. 8 oz., Weight Capacity: 300 lbs.
---
3.Millennium G100
The G100 is the premium choice, possessing every feature you might want. This is an exceptional shooting chair designed with hunting at the forefront. Features like a 360-degree swivel base, adjustable tripod legs, and a full-back ComfortMAX seat have made many hunters happy.
The G100 is a sturdy chair thanks to an aluminum frame that folds up and collapses for easy movement. Millenium advertises this chair at 8.5lbs but in reality, it is a little closer to 10. The quality of materials is evident everywhere, from silent swivel movement, powder-coated frame, to the sturdy seat back fabric.
There are even pre-drilled holes for mounting a G101 shooting stick (sold separately) or to match up with an M600 bow-holder (also sold separately).
The main drawback is the price, but as a premium chair are getting your money's worth. The construction is superior and has a 400lb weight capacity that similar hunting chairs can't match. Some hunters have had an issue with comfort, but that was mostly due to personal preference and health issues.
Pros & Cons
---
DESIGNED FOR HUNTERS: The G100 Shooting Chair swivels a full 360° and is height adjustable from 13-inches to 18-inches. The 3 legs are Independently adjustable for uneven terrain. You'll always be in a good position to take that shot.
COMFORTABLE AND QUIET: No matter what blind you are in, you will be comfortable sitting on the ComfortMax seat fabric. This shooting chair was designed to be quiet which is an important factor while hunting.
PACK IT UP: The lightweight and packable design is perfect for transporting anywhere you need it. Whether you are hunting deer or birds, you will be comfortable. It's even great for a backyard barbeque.
OPTIONS: The G100 Shooting Chair comes pre-drilled to hold the G101 optional shooting stick or can match up with the optional M600 bow-holder
SPECIFICATIONS: The all-aluminum construction features a durable powder coat finish to ensure years of excellent use. Capacity 400-pounds. Weight 8.5-pounds. Seat Size 20-inches wide and 17-inches deep. Seat Height 16 to 19-inches.
---
Selecting the Right Hunting Chair for You
There's quite a bit to consider when picking out your next hunting chair. Think about how you typically hunt, or what specific application you want to use it for.
Deer stands have different needs than ground blind hunting, for example. The guy or gal who is hunting from a blind is more concerned about comfort and mobility than they are about the total weight or ease in portability since they are unlikely to move them once they're set up.
A run and gun turkey hunter, however, should be more concerned about weight and whether the chair can be used on uneven ground.
With those factors in mind, it is helpful to quickly review the types of chairs and stool that are best for hunting, and what type of hunting they are best suited for.
Types of Hunting Chairs
Each type of chair has a hunting application it's best suited for. Some are geared more towards comfort, while others are aimed at a specific application like ground blinds and mobile hunting.
Swivel Shooting Chairs – Just as the name sounds, these chairs allow you to swivel where the action is so you can get a shot at birds, deer, or other game, usually from a blind. Some swivel shooting chairs come with attachments for a shooting stick so that you can steady your aim.
Adjustable Tripods – Tripod chairs have three adjustable legs that enable you to adjust the height of each leg for better comfort and for greater stability over uneven ground.
Folding Chairs – Folding chairs are a lot like the chairs you see in camps. They're portable but comfortable, and weight often isn't a huge factor. They can sit like a normal chair at an average height for sitting in ground blinds or be low to the ground for turkey hunting.
Hunting Stools – Hunting stools are often the lightest and easiest to pack. They fold up so that you can carry them while hunting, making the most portable hunting chair option.
What Type of Hunting Will You Do?
The next step is matching the chair to how you plan on hunting. Are you planning on hunting deer from a deer stand, or are you hunting that elusive elk via the spot and stalk method? Or maybe you're after waterfowl from a ground blind. Regardless, each type of hunting is going to need its own type of chair.
Deer Stands – With a deer stand, chances are you're going to be sitting and waiting a long time. Back support and a padded cushion are an absolute must. It's important to have a chair that is height adjustable to your deer stand, because not all stands are built the same way. At the same time, you might want the ability to swivel and take the shot whichever direction the deer comes from.
Ground Blinds – Like deer stands, ground blinds may require you to sit and wait for a while, which requires good back support and a padded cushion. Unlike a deer stand, you may need to sit low in the stand, especially if you're hunting turkey or waterfowl.
Spot and Stalk – Spot and stalk hunters need portability, a lightweight design, and comfort for sitting on an observation point and glassing for hours when it comes to a chair. You need something that is comfortable when searching for your game, yet light enough that you can pack with you when you put the stalk on an animal.
Bowhunting vs Rifles – If you bow hunt, you need a chair that allows you to shoot from any direction without impeding your aim. With a rifle, a handy feature some chairs have is a bench rest or a built-in shooting stick that allows you to steady your rifle when you take the shot.
Hunting Chair Features & Design
It's hard to imagine that something like the simple chair could make such a difference in your hunt, but it can. Just think about all the times you went hunting and sat for a while.
Were you comfortable or sore when you got up to shoot? Were you able to focus on the animal you were hunting or were you thinking about your aching back, the chair's rocking on unsteady ground, or the fact you were too low or high in the blind?
A good chair will do what you want it to do while still being unobtrusive when you need it to be. Here are some features hunting chairs now have that can vastly improve your comfort and your hunt.
360° Swivel Seat – A 360-degree swivel seat allows you to rotate your body for a shot, rather than having to completely readjust your body.
Adjustable Tripod Legs – On uneven ground, each leg can be set to its own height to create a level seating point. Without this, get ready for a wobbly day of keeping your balance.
Gun/Shooting Rest – Some chairs come with an integral shooting rest or a place to hook your shooting sticks in, so you have a stable platform to shoot from.
Seat Height – Your seat height is important, especially in a blind or a stand situation. An adjustable-height lets you customize the angle of your shot based on your personal height and the stand you are in.
Stools vs Backrest/Armrest – Of all the chairs, stools aren't the most comfortable, but they do have their advantages. Most are lightweight and adjustable but don't have the needed backrest for relief from long hours sitting. Backrests and armrests add to comfort, but armrests can get in the way of a shot and both add significant weight, especially if you're hiking long miles in the backcountry.
Even if you find the right chair or stool with all the features you're looking for, you can still have a bad choice due to poor design and shoddy materials. Here are some things to look out for:
The first thing to take into account when you're going to buy the best chair for hunting blind is the height and overall footprint of the chair. Having the ability to raise or lower the height will give you extra flexibility when aiming and will also allow you to adjust it according to your needs. The weight of the chair is also super important, especially if you have tons of accessories in your gear pack. Most of the best deer blind chairs are between 10 and 15lbs. If you look hard enough, you'll find some lighter ones.
Usually, the better the materials are, the more durable the chair will be. When looking for the best chair for deer blind, make sure the frame is powder-coated steel or aluminum. The powder-coating will prevent rusting and keep it in good condition over the years. Meanwhile, the chair's durability is mainly determined by the fabric materials. Therefore, we recommend choosing rip-proof and waterproof materials for the seat and backrest.
The higher the weight capacity, the better the quality of the chair. Generally speaking, the best chair for deer blind should hold up to 300lbs. Some of the most well-built models can withstand up to 400lbs or even more. Keep in mind that chairs that don't support a lot of weight are at risk of collapsing if you sit on them too abruptly.
Regardless of what you're buying, it should offer you great comfort. The best hunting blind chair will usually feature mesh materials or a padded backrest. You should also know that not all chairs come with armrests. In terms of carrying, some of them have padded shoulder straps or even small backpacks that are easy on your back and super portable.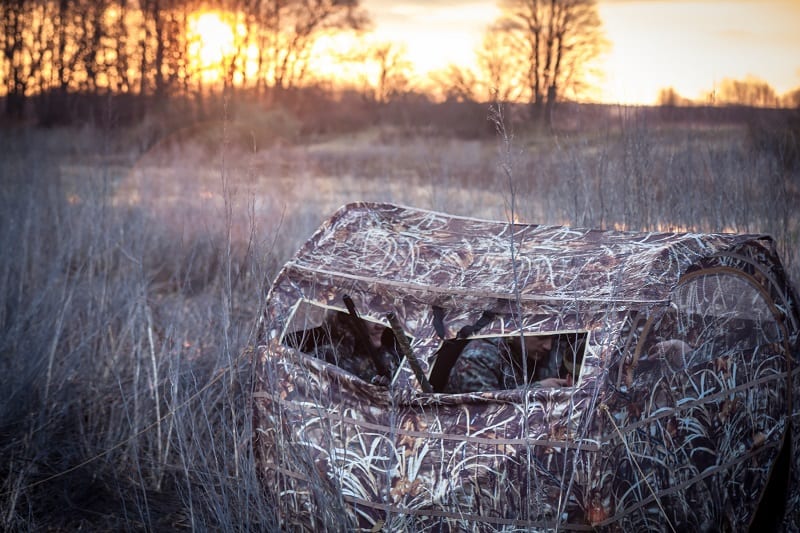 Frame Materials – The frame materials should be lightweight but strong, like aluminum or composite. Don't settle for frames made from heavy steel or cheapened by making them out of shoddy plastic or metal.
Quiet Movement – A chair that creaks when unfolded, or squeaks when swiveled is obviously not a good thing. Quality hunting chairs will be silent on both features.
Seat Materials – The ideal seat material is odorless with scent lock, or one you can wash the cover to remove any remaining scent. Padding should also be scent-free and be firm yet comfortable to sit in for long hours. Mesh is more comfortable and breathable than solid backed chairs.
Weight Capacity – Be sure to get the right stool or chair for your weight. Some chairs aren't made for big and tall men, which means they're more likely to break in the field at some point.
WRAP UP
Best Hunting Chair for Blind – The best ground blind chair all-round in 2022 is the  Stealth Spin Chair. Following our carefully selected criteria, we have highlighted several excellent chairs, but the Hawk Stealth Spin Chair stands out for its 360º rotation, and dead silence.
Picture this. You've set your alarm. You've got up at the crack of dawn, loaded your gear into the truck, and driven to your destination.
You've found your spot and set your ground blind up for a glorious day of hunting. You catch a glimpse of a beautiful deer, but as you incline your head to take a closer look, the unimaginable happens.
Your chair lets off an enormous creaking sound, and the deer escapes in the opposite direction. As you can see there are many hunting chairs to choose from. What you end up buying depends on where and how you hunt. Having a quality frame with good padding are key to getting the most comfort and use out of the product.