Best Lawn Chair for Back Pain – Who does not like to spend their summers out camping? But, if you have a bad back, you would know that it is a constant struggle. A good camping chair can go a long way in making your next trip comfortable and enjoyable.
Even if we don't have a bad back, we want a chair that is comfortable so we can enjoy your time when lounging. Of course, comfort is a major consideration, but it is not the only thing that needs to be considered when buying a camping chair for bad back. We also have to take into account factors such as durability, portability, and ease of setup among others.
Moreover, when it comes to bad back, everybody has different issues. Some may have lower back problems with the upper and mid-back being completely fine and for others, it may be the other way around. On top of that, if you are overweight, things may become even dicier.
So, your decision to go with any camping chair should be well thought out. And, this is where you need recommendations from people who have used the chairs themselves or know somebody who has used the chair and can talk about their experience. I camp a lot and below are my picks for the best camping chairs for bad back. I have used some of them personally over the years and others are those which I know my fellow campers would recommend any day. So, let's get started and help you pick one for your needs.
Table of Contents
ROUND UP
1.STRONGBACK Elite
StrongBack has seven chairs in its line-up, all of them are quality products and a gift for anybody with a bad back. Their biggest selling point is their good posture support. That is with a superior ergonomic design with a high back at 36.5 inches.
The high back supports your shoulders and thoracic area of your vertebrae. From there, the seat comes down nicely to the critical lumbar area where there is curved and padded support. The whole back seat is nice and tight and it essentially follows the curvatures of your spine and gives you the posture you need for back support. This is further helped by its titled seat which holds you comfortably against the lumbar support.
So, in essence, you have a better-aligned spine with shoulders sitting back, chest forward, head supported by your straight neck, and lumbar area supported by the padded curved area.
But, that's not all to it, this chair also has a durable frame with alloy steel. You can use it at the beach, but you will need to wash it and dry it before storing it away because steel does have a tendency to rust over time. For this purpose, you can also use any water-displacing spray such as WD-40. For beach use, you will also like its non-sink feet.
The seat sits at 18 inches from the ground. This height keeps your legs nicely straight without having to bend your knees. However, this height is on the higher side and anybody who is less than 5'7" will not get their feet on the ground. For these people, StrongBack recommends its Guru chair for which the seat sits at 16 inches. The seat for the Elite chair is quite wide at 23 inches.
This chair is rated for 300 pounds of weight and is easy to fold down and comes with a convenient carry bag with shoulder straps.
Pros & Cons
---
Award winning, patented, lumbar supportive design aligns your body posture to provide relief to your spine and ease tension throughout your back
2-YEAR WARRANTY - Best in the marketplace! Durability Guaranteed. See manufacturer for complete details. Contact Strongback Chair directly for warranty issues after 30 days of purchase. Warranty not valid on 3rd party purchases
Spacious ergonomic seat designed to align hips and back for maximum comfort and relaxation; Made for people 5'8" and over (see the STRONGBACK Guru Chair for people 5'7" and under)
Easy to use and lightweight - the perfect portable chair for camping, travel, picnics, beach trips, sports, concert events and other outdoor activities; includes a backpack style carry bag and cupholder
Heavy-duty, durable construction with a 300-pound weight capacity
Improved patented durable frame-integrated lumbar support with stronger rivets for stability
---
2.ALPS Mountaineering
ALPS Mountaineering has been around for some time now and is known for manufacturing innovative and user-friendly camping gear. They make a variety of camping chairs, but the chair we have at hand is their best-selling item by a distance. It has been around for over a decade now and still continues to find admirers.
Making camping chairs and ticking all the boxes is not easy. It is hard to find the right balance between comfort, durability, and portability. You will find chairs which are extremely durable but are bulky and that makes them a bad choice as a camp chair, but not this chair. It is not only durable and well-built with its pro-tech aluminum frame but also weighs in at just 10.5 pounds. I have to say the chair is oddly strong for being so light.
The stand-out feature of this chair is its tall back. It has a total height of 36 inches. This is a good height, so you have support for all of your back and not just your lower back. And you will like that the back has no frame bar running behind it and that adds to its comfort profile.
Moreover, this high-back camping chair has a straight seat that does not sag down even with use. This essentially makes it easy to get in and out of the chair. So, if you have bad knees or hips, this chair is a great choice. This is further helped by its curved and padded armrests which are sturdy to push up from. The seat sits at a height of 17.5 inches from the ground which is pretty standard these days.
It has a pretty wide seat at 20 inches which is good for bulky individuals. Overweight campers would also love its huge weight capacity of 425 pounds.
The fabric used in this chair is durable and comfortable. It does have some padding on the back, but not much on the seat. It is not entirely waterproof but dries down quickly. We also see a cup holder on the front side, but it tips forward and spills your drink. However, you can use it to place other things like a cell phone or wallet.
The folding up and down of this chair is a bit tricky but you will get hold of it with time. These chairs fold down to a reasonable size but are certainly not backpack type camping chairs. I personally like that the feet have plastic inserts and that will protect your RV floor.
Pros & Cons
---
Made of 600D Polyester fabric, providing you a comfortable sitting experience every time
Lightweight pro-tech aluminum frame provides strength and stability for a long-lasting use
Padded curved armrests, extra tall back and cup holder provides you with all the features you need in a chair
Detachable back frame specifically designed for compact transporting and storing
Dimensions: 24" W x 18" D x 36" H, weight: 11 lbs., weight capacity: 425 lbs.
---
3.KingCamp Chair
Next up, we have a camping chair from KingCamp. They make quality camping gear and that too at a decent price. Their chair we have at hand has good quality to offer and provides excellent value for the money. It is not a chair that I would like to retire in, but it still provides good back support for any length of time that I am in it.
It is nicely built with a steel alloy frame and a breathable and comfortable polyester fabric. We have owned it for a couple of years and used it extensively. We take it on our camping trips and my husband takes it to watch games and it has stood the test of time. The color of the fabric has faded a bit. Other than that, it is double sewn and is still going strong.
From a comfort point of view, it has a high backrest at 37 inches and a wide seat at 21 inches. Moreover, you have sturdy and well-padded armrests and these assist you in getting in and out of the chair. But, the diameter of the armrests is a bit on the low side for my liking.
It is easy to set up and fold down as you simply have to scissor it in or out. It is compact when folded down and its low weight of 9.5 pounds further helps its portability. Moreover, you get a carry bag which comes with shoulder straps. I would definitely like the quality of this carry bag to be better.
The overall convenience level of this portable folding chair is good with a rotatable drink holder which can hold your standard water bottles and it also has a side pouch for keeping items such as cell phone, snacks, and wallet.
Pros & Cons
---
【Very Comfortable】KingCamp's high back camping chair is made with an ergonomic design recommended Orthopedic specialist, offering you maximum comfort. Padded armrest for elbow support & Ergonomic high backrest for back support To full Relax you.Fully support your head by a horizontal tube and Double-layer fabric with cotton on the head position, so you can rest your head and neck comfortably. The breathable polyester seat with gauze structure on both sides allows for air flow to keep you comfortable during hot days.
【INDUSTRIAL GRADE MATERIAL】This adults camp chair is made of 7075 aviation grade ALL-aluminum alloy bracket! Compared with the usual plastic connection point+aluminum alloy frame, This camp chair is lightweight yet Durable. And this folding camp chair for adults uses tear-resistant 600D oxford fabric. The Bigger feet Cover for different ground. Support up to 265 lbs! Allowing you to sit comfortably without worry.
【Portable Camp chair】Our ultralight camping folding chair makes it easy for you to take it anywhere! Weight only 3.7 lbs, with zippered outer pocket(size only: 20x5.9x3.9') to carry easily. The aluminum frame comes together and detaches in a piece, and the seat also comes in 1 piece. Just put the poles into the pipe joints and then fit the seat onto the frame! Idea for picnic, camping, hiking, beach, fishing, home and any outdoor activities.
【Details】Adhesive side pockets your phone or snacks; or put an exothermic padding in it and stick the pocket to the bottom of the camping chair seat to keep you warm in cold weather; The camping folding chair outer bag can be hung under the seat as a storage bag
【Satisfactory Service】KingCamp provides the best experience to all of our customers. Please feel free to let us know if you have any questions or concerns. Our ultralight camping chairs are high quality.
---
4.Coastrail Outdoor
The Coastrail Outdoor Camping Chair is well-built with a rust-resistant anodized steel frame and durable 600D polyester fabric. The padding throughout is made up of foam. There are multiple crossbars on all sides and they provide that extra stability and support that this chair boasts about.
With a huge capacity of 400 lbs and above-average dimensions for camping chairs, this back-friendly chair can support even the heaviest users. It has generous padding that extends throughout including the upper section of the back. In the lumbar region, it has an adjustable strap running behind the lower part of the backrest. You can use this strap to change the curvature of the backrest and get better ergonomic support for yourself.
As an RVer, I like that its feet have wide plastic caps, so they don't disrupt my RV floor.
Besides, this folding chair is easy to use and gets ready in seconds, and requires no assembly. It folds down equally easily and can be stowed in its included carry bag which has shoulder straps. I don't like that it does not fold down to a compact size as a folded length of 48 inches can be an inconvenience for storage and transport.
The seat sits high at 19.6 inches and that makes it suitable for tall people and would suit anybody with bad knees.
Probably, the best thing about this chair is its storage features. It has a large pocket behind the headrest and you can easily put a small pillow in it for extra support. We also see a side storage pouch with several compartments on the side. Plus, there is a drink holder on one armrest and on the other side, it has an integrated cooler. This cooler will keep your drinks cold and has dimensions of 7.8L x 2D x 5.5W and can hold up to three cans.
Pros & Cons
---
ADJUSTABLE LUMBAR SUPPORT: The back of the outdoor camping chair has an alignment strap which can be adjusted as your need. Meet the ergonomically designed to support your lumbar so you can enjoy luxuries comfort
COOLER BAG & CUP HOLDER Keep your beverages cool in this built-in cooler bag(3 cans of cokes capacity). A convenient cup holder is built in to the left arm. The fabric is made from a durable outdoor-quality 600D oxford polyester
HEAD & SIDE POCKET: Hanging from the right arm is a convenient storage organizer for all of your gear. It has several pockets to keep things organized and separated. Extra head storage bag for more storage spaces, Stuff with a pillow for neck support
PADDED DESIGN: The padded seat and back of this chair is designed to offer you more comfort and has a weight capacity of 400 lbs. The steel frame offers more strength and durability. The foam padding is a comfort feature that you can't live without!
SIZE: Open: 24" x 19.6" x 42.1" , Folded: 40" x 7", Weight: 12 lbs. perfect to be used indoors or outdoor activities such as a picnic, camping, traveling, hiking, patio parties, fishing, and any other outdoor activities. Even use it in the home!
---
5.Timber Ridge Zero
This next entry is a very similar zero-gravity chair, but it has better construction with its high-quality nylon seating and natural-wood armrests. And as it is zero-gravity, you can be sure of comfort and relaxedness. It will keep your feet elevated and weight off of your sore muscles.
The frame of this chair is made up of tubular steel and for seating has a polyester fabric. The canvas is not only durable but also is breathable and that is a good convenience in the summer months. Besides, it is waterproof to a great extent. The canvas is attached to the frame of the chair by a bungee system and when you sit on the chair this flexes and helps the chair absorb all of your body weight.
This chair requires no assembly and folds up and down in seconds. Just like any zero-gravity chair, it reclines into a number of positions and you can use its efficient locking mechanism to securely lock into any position.
It has a good length of 72 inches. But, it can easily support somebody above that height with a little bit of adjustment by the users when they can rest their ankles over the bottom bar. Moreover, it is rated for 350 lbs of weight and is good 24 inches between armrests. However, the chair itself is pretty heavy at around 25 lbs.
Pros & Cons
---
Outstanding Loading Capacity: Anti gravity chair supports up to 350lbs. Sturdy steel tube frame, premium quality elastic cord, and durable polyester fabric make this heavy-duty zero gravity chair is sturdy enough for everyday use
Adjustable Reclining Position: This outdoor recliner designed with easy locking levers adjust and lock the lounge chairs to any position from upright to fully laid-back. Patented & Easiest locking mechanism on the market.
Oversized Dimension: 43.5 x20 x21.5 inches. This oversized camping reclining chair provides roomy space for your outdoor camping activities. The fully reclined length of the reclining camping chair is 72 inches.
Comfortable Design: The outdoor reclining chair designed with full padded seating, removable pillow for both head and lumbar support. This reclining lawn chair also has a folding sliding side table for resting your phone or drink on
No Assembly: This folding lawn chair can be folded and unfold in seconds. The camping lounge chair is easy transportation and storage. Suitable for patio, lawn, garden, yard or balcony. We back our products with a full 1-year manufacturer's warranty
---
6.EZCHEER Oversized
Reclining zero-gravity chairs are popular among back sufferers because they allow them to lay back without putting any pressure on the back. Moreover, they can change the reclining angle to their liking and get to a position they feel comfortable in. Although Ezcheer does not go the complete 180 degrees, its 150-degree reclining ability is still sufficient for most purposes.
It is durable with a powder-coated steel frame and has an aesthetically pleasing and breathable mesh fabric. However, this chair only comes in black fabric which although certainly looks handsome, some people like options and it would certainly get hot rather quickly out in the sun. However, you can get over this by using an umbrella.
The upholstery gets lashed to the frame with bungee cords and this makes the seating flexible and comfortable. This is further helped by a well-padded headrest pillow. This pillow is removable and you can move it to a lower back position. And on top of all this, you have that weightlessness feeling from zero-G that is sure to help your back.
This black camping chair has a weight capacity of 400 pounds and is quite wide between armrests, so it can hold heavy individuals. However, it sits low to the ground at only 12.5 inches and if you have difficulty getting in and out of chairs, this certainly is not going to help.
Other than that, just like other similar options, it requires no assembly, folds up and down easily, and is well-made on the whole. It also has a good-sized side tray where you can put your drinks and other small items.
Pros & Cons
---
【Comfortable Footrest Pad】Additional footrest cushion provides an extra comfort for your lower legs, and you can sit for hours without pressure or pain
【Heay Duty Steel Frame】This zero gravity recliner features square tubes which won't bend out of shape like round tube have a tendency to do. It is strong enough to support up to 400 lbs
【Padding Extra Wide Seat】 The thicker padding on the whole chair makes this zero gravity chair oversized really comfy. Besides, 29.5 inches(armrests included) seat width is a bonus for large size people
【Adjustable Positions】This folding recliner chair can adjust positions from 90 to 170 degrees for variety of activities, such as reading and napping
【Foldability & Easy Store】 This lounge recliner can be folded up to a compact size and easier to store in your garage or shed
【1 Year Warranty】Our product can replace free with 1 year after sale if it cannot use due to the quality problems. Please feel free to contact us if you have any questions,and we will respond within 24 hours
---
FEATURES TO LOOK FOR IN BEST CAMPING CHAIR FOR BAD BACK
When you have a sound back, a camping chair may not be the first thing on your mind when you pack your camping accessories. However, when you have a bad back, it becomes the most important item of your gear. Thus, having a good chair is crucial and certainly can help you enjoy your time out there.
Therefore, it is important that you do your due diligence when going about purchasing one. Just like camping cots, a camping chair is not the most technical thing of your camping gear, but it still has some crucial features to look for. In this section, I will briefly go over some of these features you should look for.
< id="34-1-comfort-and-ergonomics">1. Comfort And Ergonomics
You should basically look for a chair that would keep your spine in a straight line and relieve the pressure points for you. These pressure points may be in your lower back, mid-back, or upper back. Depending on where your pain is, you should get a chair that provides some sort of cushion to that area. This cushion is usually in the form of some sort of padding.
Most people suffer from lower back pain and most of the commonly available camping chairs do come with lumbar support that provides this cushion. Others come with adjustable pillows or headrests that can place anywhere on your back.
Whether you have a back condition or not, you should always go for a chair with good ergonomics. This means your chair should provide you a nice stable platform to sit and should align your spine in a straight line when you are sitting upright and a natural curvature when you are relaxing. Your legs should also remain straight when sitting without having to bend the knees.
< id="35-2-size-and-weight-capacity">2. Size And Weight Capacity
If you have used office chairs, you will know that they come with all sorts of adjustments, but you don't get this freedom with camping chairs. Therefore, you just can't go with just any camping chair, You should look for chairs that are a good fit for your size.
So, if you are an individual with average built and height, you should go with a chair that has a seat sitting at 17-19 inches from the ground and the backseat should be at least 35 inches high.
However, if you happen to be on either side of the average, you should keep an eye out for these numbers and go with suitable options according to your size.
Similarly, you should always check the weight capacity rating of the chair and go with the ones that have been rated good 50 pounds above your actual weight.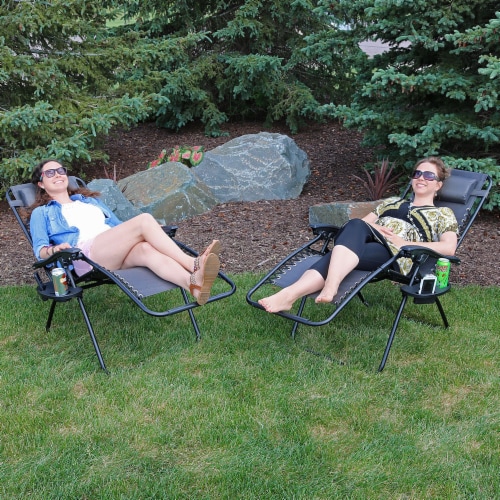 < id="36-3-construction">3. Construction
Just like anything, quality construction is something that can't be ignored. Most camping chairs these days have a metal frame made from aluminum or steel. Manufactures need to use these metals in a hollow tubular form so as to not increase the weight of these chairs, but this does come at the cost of durability somewhat. So, we see chairs that are able to withstand normal use but don't expect these to last any kind of abuse.
For seating, we see a canvas of a synthetic material which needs to be strong and yet breathable and not overly flexible. These materials are pretty standard these days and you can go with good-quality nylon and polyester fabrics.
< id="37-4-portability">4. Portability
Portability is another important factor to look for in camping chairs. Camping chairs travel a lot and you don't always have space to place them in their set-up form. Therefore, manufacturers are making folding camping chairs. However, the original size of the chair affects the size it can be compressed down to.
In portability, the weight of the chair is also crucial as you don't want a chair that is heavy to carry around especially with your bad back. In this respect, we see normal folding chairs which weigh around 10 pounds and are also very compact.
However, we also see zero-gravity chairs which do have a better comfort profile but are not the most portable chairs around. They fold down bulky and weigh upwards of 20 pounds.
Therefore, this is also a weigh-up you will have to do yourself when going about buying your next camping chair for your bad back.
Surveys show that nearly 8% of American's adult population suffers from some sort of back pain, either acute or chronic. If you have chronic back pain, you just can't put everything on hold and therefore you must make adjustments to your lifestyle and life choices and get on with life.

< id="tab-con-33">Type of Camping Chair
Before selecting your camping chair, you'll need to know what kind of chair you're looking for. There are mainly two types:
Low-Gravity Seats
You'll find camping chairs almost sitting on the floor, such as the Strongback Low-Gravity Beach Chair. While it may be challenging to get in and out of it, they make fantastic options when chilling on a beach or by a lake.
The Recliners
Reclining seats — such as the Bliss Hammocks Zero-Gravity Chair — might be the most versatile models. They allow both a sitting and resting position. The latter allows full pressure to be lifted from the lower back potentially helping your bad back..
< id="tab-con-34">Weight Capacity
Weight capacity is an element that shouldn't be taken lightly. Most seats should be able to carry at least 300 pounds. A few camping chairs, however, can withstand up to 350 pounds, such as the PORTAL Oversized Zero Gravity Recliner Chair.
For heavier weights, you'll need a seat with a steel frame and high-quality polyester fabric.
< id="tab-con-35">Armrests
Armrests contribute to the stability and strength of the seat. Furthermore, they're important for comfort and maintaining a proper seating position. The best camping chair for bad back is unlikely to come without wide and padded armrests.
Campers typically travel over 136 miles from their home. With that in mind, a compact and portable camping chair can be more convenient to carry than a bulky one — even more so if you have lots of other camping gear to bring along.
Weight
The first element to consider is the weight of the chair. Not only is a light model easy to transport, but it should also keep your back healthier. Seats generally range from 8 to 30 pounds, but some are even heavier than this.
Heavier camping chairs can often handle more pressure. You'll need to find the right balance between weight capacity and the product's mass. Before purchasing one, it's best to lift the seat and carry it over a short distance to see how it feels.
The Strongback Low-Gravity is the lightest in this at 8.5 pounds, whereas the heaviest are the Bliss Hammocks and Portal Oversized chairs.
Carry Bag
Most camping chairs are foldable; however, not all come with a carry bag. Yet, this convenient feature makes the seat easier to move and transport.
An important aspect of the storage pouch is the strapping system. Two straps are preferable compared to a single one. The weight of the camping chair is then spread over both shoulders, preventing further back pain.
< id="tab-con-37">Accessories and Storage Space
While they may seem unnecessary and luxurious, a camping chair with pockets, a drinks holder, or a tray can be more useful than most may think. When suffering from back pain, any movement can be the source of trouble. Ensuring that your drink, book, tablet, or other devices are handy is, therefore, critical.
Ensure that the camping chair comes with at least a drink holder, ideally one that's insulated. In addition, look for a sturdy tray to hold other items.
Also, a headrest providing storage space isn't only convenient, but it can also provide nice-to-have cushioning and neck support.
If you love camping and can't keep yourself away from it even with back pain, you are not alone. Fortunately, we now have gear that has been made keeping your needs in mind and this includes camping chairs.
In this piece, I have put forward 10 of the best camping chairs available right now for back pain. They are durable, portable, easy to set up, and above all are comfortable and will help you enjoy your next camping trip to the fullest.
All of them are good options and I have also included options for individuals on both sides of an average built and height.
In the end, I talked about different features that I kept in mind when selecting these options and you can give them a look for any future purchase.
That's all I have for now, but keep coming back for our well-researched camping gear reviews and camping updates!
WRAP UP
Best Lawn Chair for Back Pain – Camping is a great activity that is enjoyed by many people of all ages. Kids love to run around and play, and adults like the calm and break from hectic work lives. Having a good camping chair is a must have no matter what. And if your back tends to give you issues or you like to have extra lumbar support, we suggest getting the best camping chair for bad backs to keep you comfy. Although it is often referred to has "roughing it", it doesn't have to be rough on your back. You want to make sure you are comfortable around your campsite. Having a bad back that gets stiff and sore is no fun when you are enjoying the outdoors.
If you have a back pain you probably already know that you need a chair with a lumbar support, so this list of folding camp chair with lumbar support offers some excellent options.  Such a chair is not expected to cure your back, but it will surely help in reducing the pain and relieving any additional stress and in making your camping bearable.