Best Office Chair Under 250 – Any comfortable office chair Under 250 is a must have, if you work a lot in front of a computer. But what does "a comfortable office chair" mean? Well, most of all it means a decent back support. The way you're sitting on your chair is very important, when it comes to your posture. An adjustable chair allows you not only to regulate its height, but also adjust the height of the armrest of the chair. A good posture is a significant factor that many people simply ignore.
If your lower back hurts after a few hours of work, that might be a sign that your current chair is not as good as you thought. The ergonomic shape of an office chair can improve your general sensation and avoid future back pain. Make sure that the position of your wrists is optimal for you, according to your actual body height and the position of your desk.
Bad position of your arms can affect your health. The coronavirus made us work from home. Not everyone has had access to comfortable and ergonomic office chairs. Sometimes people worked from a couch or from a hard, wooden chair. Bad posture and back pain can distract us from work, which leads to decreased effectiveness. You don't have to spend your whole salary on a new office chair.
ROUND UP
1.HON Exposure Mesh
This rolling office chair is a sure hit. It has all the features you're looking for and definitely won't disappoint.
To begin with, the HON HVST141 offers terrific lumbar support. There is an adjustable support area that can be moved to target exactly where you need it to go. This is great if you're on the shorter or taller side as more traditional, stationary supports don't often work.
The chair has a five-point base with smooth rolling caster wheels. If you're someone who likes to move around while they work, or someone who needs to glide to the other side of their office, these wheels offer a smooth roll.
The back of the HON HVST141 has a mesh construction. If you've ever had to peel yourself out of your office chair on a hot summer day, you'll know how important a mesh backing is. Furthermore, if you plan on using your office chair for long hours, either working or gaming, the mesh back will keep you cool the whole day.
Another ergonomic aspect of the HON HVST141 lies within the armrests which are adjustable. Again, if you're taller or shorter, this feature will help you stay comfortable.
The final plus of this amazing office chair is the 400-pound weight capacity. No matter what size you are, this office chair is built to last. It is durable and perfect for anyone, no matter what size you are.
Pros & Cons
---
BREATHABLE MESH COMPUTER CHAIR: This work chair's contoured sandwich mesh seat and dramatic mesh back design keep your body happy, supported and cool so you can concentrate on work
FULLY ADJUSTABLE: Why adapt to your chair when it can adjust for you? Modify the seat position forward or backward, change the seat width, choose how far you want to recline and adjust the seat height until it's a perfect fit
ERGONOMIC ADJUSTMENTS: Let this comfortable office chair take care of your body with adjustable lumbar support, an ergonomic seat design that comfortably aligns your legs and hips plus adjustable arms for outstanding all-day support
ON THE MOVE: Pull up to your computer desk, swivel around to collaborate with your teammate, or wheel over to the snack area for a quick break with this five-star resin base and durable wheels
DURABLE TASK CHAIRS: We use only high-quality materials to keep your chair rolling for years but keep you covered with the HON 5-year Limited Warranty just in case something goes wrong
NOTE : To ensure proper assembly, please follow all steps provided in the installation manual (provided in pdf below)
---
2.Ticova Ergonomic Office
This high back, ergonomic chair was designed by Ticova with elastic lumbar support for maximum comfort and support. The seat is made of a thick and durable foam that feels dense, rather than thin. The frame is not plastic like many office chairs but made with steel and nylon for strength. Yes, this chair rocks and tilts all the way to 140 degrees.
The reviewers loved the thicker, wider armrests, which are concave for a better fit for your body. Ticova has a high-quality standard and boasts about their customer service, which is great if any problems were to arise after purchase.
Pros & Cons
---
【Adjustable Mesh Chair】You can adjust lumbar support height and depth; headrest height and angle; armrest height, angle, forward & backward; seat cushion height; tilting angle up to 130°and rocking resilience to your personal most comfortable position
【Ergonomic Backrest & Seat】Our adjustable backrest can perfectly fit your spine and significantly ease the fatigue and pain of your back. Also, our seat is made of 3 inches high density foam with W-shaped and waterfall-edge design, providing larger support area and disperse pressure on hip and thighs
【Unique Metal Armrest】Compared with all other ergonomic desk chairs' plastic 1D armrest, our stainless electroplating metal 3D armrests with bigger, thicker & softer PU paddings are much more durable and best fit to your favorite position
【Unique Headrest & Quality Mesh】Our home office chairs' big curved foam headrest provides more comfortable neck and head support. Plus, our breathable mesh with strong tensile strength provides cool and comfortable back support, enabling long hours sitting relaxed without sweat
【Warranty】We provide 30 days money-back guarantee, one year warranty and professional after sales service for our ergonomic office chair. If there is any quality problem, please contact us and we will provide 100% satisfied solution. Our ergonomic computer chair has comprehensive packaging and clear instruction, enables everyone to assemble easily without damage worry. Our high back office chair passed BIFMA test and 1136 kg static pressure test
---
3.MOLENTS Rolling Desk
One of the best features of this chair is that it offers Seat Depth Adjustment, meaning that you can adjust the seat for a variety of sitting positions, leg lengths, and for overall leg support.
This helps to disperse the pressure put on your hip and leg joints, helping you to work comfortably for longer periods of time. This chair is fully customizable for your fit and comfort with many other adjustments possible too: lumbar support, seat depth and height, headrest height, distance from seat, backrest tilt, and tilt tension. The use of this chair will help to improve circulation, concentration, and energy levels throughout the day.
Pros & Cons
---
ERGONOMIC S-CURVE DESIGN - The contoured shape of the back helps to align your spine in its natural, healthy S-shape. The backrest tilts back up to 130 degrees and can be locked at 3 different angles, perfect for working, reading, or relaxing.
EASILY CUSTOMIZABLE - Features include adjustable seat depth, 3D adjustable arms, adjustable lumbar, headrest, seat height adjustment, 3 position recline lock, breathable mesh backrest, thick seat cushion.
LUXURY WHEELS - We created a functional luxury upgrade with smooth, silent MOLENTS Mirrored Wheels, and enhance your seating experience!
ADJUST IT JUST HOW YOU LIKE - With its powerful 3D adjustable armrest, adjusting up and down, pivot in and out, and shift forward and back, to provide steady support for your arms so your shoulders can remain in a relaxed position. A wide, curved headrest raises, lowers, and tilts up to 45 degrees back.
EXCEPTIONAL BUILD QUALITY - This adjustable office chair has been certified by BIFMA and SGS. The heavy-duty five-star chair base passed the 2504 lbs gravity test. The maximum capacity of this ergonomic chair is up to 275 lbs.
EASY TO ASSEMBLY - The MOLENTS Ergonomic Chair is easy to put together and comes with tools and instructions. Contact us by e-mail directly if you need any assistance.
STAY FOCUSED - You can adjust the seat slide to find the best position for you. Instead of constantly rolling your body on an uncomfortable chair, adjust the chair as you wish. The thick wide seat cushion with soft texture can obviously decline the pressure of the sedentary ensuring support and comfort throughout the day.
---
Office Chair For Less Than $250 Buying Guide
When you start to research the best office chair for less than $300, you may find that you should look for the same general features found on any chair.
In previous office chair lists, we've outlined all the features you should consider when purchasing a new chair.
Our buying guide outlines the most important features to consider when you're on a budget, be it less than $300 or under $200.
Before you get going, you should recognize that you're not going to get all the premium features you would get when you spend more than $300 on an office chair. However, that doesn't mean you will sacrifice comfort or health just to save a little money.
Features to Consider When Shopping for a Sub-250Office Chair
Office chairs that offer these features are the best choices when you're on a budget. As such, consider the following features when you start shopping.
Sturdy Design
Sometimes, buying an office seat under $300 means you're going to get a poorly constructed chair. However, this definitely isn't the rule, and you'll want to purchase a chair that will last you at least three to five years.
When considering sturdiness, look at the materials used in the design. Caster wheels are commonly made from rubber, plastic, nylon, aluminum, and stainless steel and you'll want to avoid purchasing office chairs that use flimsy plastic parts, especially in the wheels. You should also pay attention to reviews that speak to the durability of the backrest and seat materials. Both mesh and non-mesh fabric chairs can be made cheaply, so try to purchase a chair with durable materials. Another material to look out for is PU leather. Genuine leather is extremely durable and can last between 10 to 20 years, whereas PU leather is artificial and can begin to crack and crease in just a few years.
Adjustable Settings
The best office chair for less than $300 will offer a good variety of adjustable settings. If you want an elevated level of comfort while sitting in your chair, consider what kind of adjustable settings it offers. These settings can include things like seat height, tilt tension, and depth, among others.
The settings you need to adjust can vary depending on your own personal preferences. As such, think about what matters most to you, and then make your buying decision based on those preferences.
Overall Comfort
While many of these chairs aren't as comfortable as more expensive options, there are still plenty of choices that feature designs to promote overall comfort and healthy sitting.
When you think about comfort, consider features like breathable materials, lumbar support, and pressure relief. Breathable materials allow for greater ventilation and lower body heat, especially while sitting for long periods of time. Lumbar support and pressure relief features both help alleviate back pain and increase your body's circulation.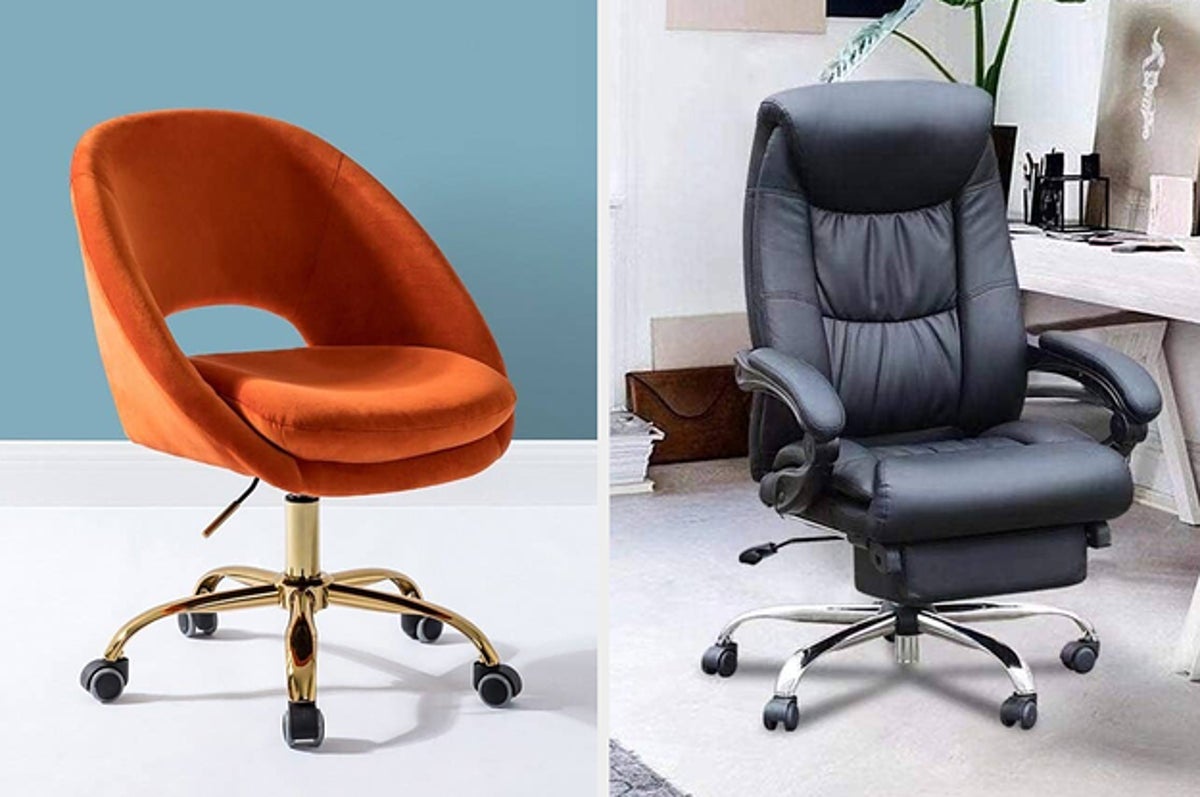 1.What should I look for in an office chair?

When looking for a chair that you plan to be sitting in for many hours at a time, try to think about what matters most to you: breathability, adjustment capability, heighth, depth, high backs, etc. The features are all based on your own personal preference.

2.Why are office chairs so expensive?

Office chairs are often built to a high standard, causing the market price on them to be a bit high. However, the above list includes some of the more affordable ones on the market.

3.Do office chairs recline?

Office chairs are often made with tilt suspension and tilt capabilities to certain degrees. They do not usually recline and stay reclined. Remember to check each listing specifically to find out just how far back you can lean with each of the options.

4.Are the headrests removable?

Many of the above have removable headrests. As always, make sure to check the listing if this is a specific concern for you.

5.Are these chairs okay for tall people or people with long legs?

Most office chairs have weight limits to keep in mind. However, many of the chairs above do seem designed with customizable support options for people of all sorts of heights and body sizes. It's a good idea to read through the reviews and see what others around your size are saying if you're worried that a chair may or may not work for you.

Investing in the perfect office/desk chair can seem intimidating, especially when budget comes into the mix. When looking for a chair that will be the perfect support to your long work day, it's best to consider what is of the utmost importance to you: Are you looking for a more breathable fabric to decrease the likelihood of sweating through your work clothes? Do you need better lumbar support? How about the option to adjust the height and seat depth for those with longer limbs?
WRAP UP
Best Office Chair Under 250 –  Too low or too high positions of your shoulders and wrists can make you suffer from pain in a longer perspective. Don't forget about your head either. Adjustable headrests make a huge difference. A relaxed and stable body position is the answer for better blood supply and oxygenation. The chair material is also a significant factor when it comes to office chair purchases.
Don't buy leather or artificial leather chairs, because they are easy to damage material. It would be the best to buy an office chair with a fabric tapestry. If your office doesn't have any air conditioning, you can also think about a chair with a breathable mesh back to increase your work comfort. In order to buy a good and comfortable office chair and don't regret the purchase, we created a ranking list with the best 5 office chairs under 250$ that you can buy online.
If you've been working from home, you're probably thinking a lot more about your desk chair than you used to. The Shaker-style cane-seated antique desk chair that was once the perfect accent for your room might now be a source of lower-back pain — and the old clunky ergonomic number from the office might be looking more and more like the epitome of style and comfort. But a posture-supporting chair doesn't have to be hideous, and it also doesn't have to cost you hundreds, if not thousands, of dollars.
To find those ideal, relatively affordable office chairs that offer style and support, we reached out to a panel of interior designers and some business owners and CEOs (because they don't call it an executive chair for nothing).