Best Task Chair for Short Person – If you're looking for the best Task chair for a shorter person, you're in the right place. We're here to help those with a petite body structure choose the most ergonomically suitable office chair for them.
If you're a smaller person (under 5'3" for women and under 5'8" for men), you know the struggle of spending hours in a regular office chair. Not only can it make your workdays harder, but it also creates more back problems.
So, what are the best choices for petite people out there? In this guide, we'll look at some of the best office chairs for shorter or petite people. We'll be closely paying attention to such ergonomic details as seat height, depth, width, and chair size.
Read on if you're tired of sitting on uncomfortable chairs that aren't made for your petite body structure. Here are the best office chairs for short people you can find on the market.
To create our guide, we focused on the following key features: adjustability, lumbar support, seat height, and materials. Hands down, adjustability, and seat height are the two most important factors. We prioritized picks with seats that could be lowered even as far as 16 inches from the ground. We also ensured that all of our picks included built-in lumbar support. For the most part, we focused on mesh chair designs for breathability but did include other options such as microfiber, leather, textile, and faux leather upholstery.
Table of Contents
ROUND UP
1.Flash Furniture Mid-Back
If you're looking for exceptional comfort and minimalistic design, the Flash Furniture mesh back office chair will fit the bill and your office space.
This petite office chair features a ventilated curved mesh back with built-in lumbar support that prevents overheating. This doesn't only help you stay fresh during hot days, but it also lets you keep a correct posture throughout your shift. Moreover, a 3-inch padded waterfall seat relieves pressure from the legs while providing cushioning for long workdays.
You can also set the chair's height as low as eight inches from the floor, perfectly fitting your body structure. The list of goodies this office chair offers doesn't stop here. You'll also be delighted with padded flip-up armrests and a convenient footrest that will instantly take your workstation to the next level.
This Flash Forniture chair features a tilt lever that can be pushed in to lock the backrest in an upright position, or alternatively it can be pulled out to activate the rocking motion.
However, the only flow you might notice in this chair is that the height of the armrests can't be adjusted. But at least you can flip them up, right? In any case, if armrests bother you or you're just looking for a space saving chair, then you might want to take a look at the armless office chairs we've reviewed.
Pros & Cons
---
If you're seeking exceptional seating comfort for yourself or multiple employees this ergonomic mesh back office chair will fit the bill. Everyone from the CEO to the front office staff will enjoy working in comfort with this office task chair.
SAFETY & COMFORT: Our chair conforms to ANSI/BIFMA standard X5.1-17. Ventilated curved mesh back with built-in lumbar support prevents overheating, 3" padded waterfall seat relieves pressure from the legs while providing cushioning for long workdays
HIGHLY CUSTOMIZABLE: Pneumatic height adjustable 360 degree swivel seat, Tilt lever - push in to lock in an upright position; pullout to activate rocking motion, Tilt tension knob controls tilt resistance, Functional flip-up arms allow ease of access
VERSATILE USE: Commercial grade material and quality creates a superior chair that can be used in home offices, commercial business work spaces, college dorm rooms and student study spaces in the home
Note : To ensure proper assembly, please follow all steps provided in the Installation manual (provided in pdf below)
PRODUCT MEASUREMENTS >>> Overall Size: 24.5"W x 25.5"D x 37.5-41.25"H. Seat Size: 20.25"W x 19"D x 17.25-20.75"H. Back Size: 17-20"W x 23"H. Arm Size: 26.25-30.25"H from floor; 8"H from seat
---
2.Ergousit Home Office
This office chair for petite people by Ergousit features an interesting butterfly shaped backrest design that not only enhances your overall comfort while sitting, but it is also made to fit most interior styles. More specifically, the S-curve back frame perfectly adapts to the human body, fitting the spine and ultimately allowing you to sit for several hours each day without experiencing any pressure or discomfort.
The chair has a ton of adjustable features included which help you find and keep a comfortable seating position. That'll help you reduce back and neck pain. These adjustments include height customization, which allows the chair to go as low as 15", and a rocking mechanism that lets the chair tilt from 90 degrees to 110 degrees. Plus, the curved headrest, made of mesh fabric, provides head and neck support while you work.
As for the seat cushion, included in the chair we found a thick cushion made of high-density foam that is supposed to keep its original W-shaped design to provide a larger support area while dispersing pressure on your hips and legs.
Last but not least, the breathable mesh used on the backrest enhances air circulation to prevent heat from accumulating.
As a negative note, we noticed that if you sit in the chair leaning all the way back the armrests might result too far apart to actually be 100% comfortable.
Pros & Cons
---
➤【Metal Base & Ergonomic Design】The unique Metal five-star base design makes our ergonomic Big and Tall desk chairs more durable and more sturdy. Besides, Ergousit ergonomic mesh office chair matches the human body very well. The adjustable lumbar support of the Ergousit modern executive desk chair can effectively reduce back pain caused by long time sitting.
➤【7 CM Thick Large Seat Cushion】 Sufficient seating space is the foundation for back support for office chairs to give people physical comfort. Ergousit heavy duty office chair has a large chair seat(20.87''x 20.67''), it will not make you feel constrained. Besides, the seat cushion is made of high-density sponge, which is very suitable for a long sitting time.
➤【Multi-Function】Adjustable height & rocking function & 360° swivel rolling office chairs meet all your basic needs. Thick padded arms provide extra comfort. Recline flip office chair's casters and sturdy base is durable and makes sure you move smoothly and stably. The flip up armrests of Ergousit ergonomic armless office chair with wheels fits perfectly under your desk. It helps you save more space while providing comfortable support for your arms.
➤【Breathable & Comfortable】Ergousit amazon basics office chair has a mesh backrest, it is more breathable and allows air to circulate. High-density sponge cushion and wide seat offer super comfort to your body.
➤【Easy assemble and 5-Year Warranty】Ergousit home office desk chairs is packaged with clear instruction and tools. It's very easy to assemble. We also provide 5-year warranty and professional after-sale service. If there is any problem in use, contact us anytime and we will provide you a satisfied solution.
---
3.KOLLIEE Mid Back
Other than offering a variety of customizable features, this petite chair by Kolliee caught our attention thanks to its good price for value ratio. For less than $120 you can purchase an ergonomic office chair with an adjustable height mechanism that can make the chair go as low as 15" to help you find the most comfortable position to work in.
Speaking of comfort, the chair was designed with a human-oriented ergonomic construction, meaning that the lumbar support will provide back support throughout the day to effectively reduce sitting-related back pain or stress.
The backrest is entirely made of high-density mesh to allow air to circulate freely, while the seat provides a high-resilience foam cushion to keep pressure off your legs. Compared to other foam cushions we've found during our search for the best office chair for short people, we think this one is quite durable and built to last without losing its shape over time.
Lastly, we'd like to mention that even though the armrests aren't adjustable nor padded, they can be flipped up in case you need to store the chair or if they just bother you while working.
Pros & Cons
---
SWIVEL, ADJUSTABLE HEIGHT MESH OFFICE CHAIR: 360 degree swivel, adjustable height mechanism, flip up armrests.
ERGONOMIC OFFICE CHAIR: This office chair designed with human-oriented ergonomic construction, providing back support to reduce back pain caused by long time sitting.
HIGH QUALITY OFFICE CHAIR: Our office chair is high quality, environmentally that comes from a responsible manufacturer.
SUPERIOR QUALITY MATERIALS: American-made high density mesh, high resilience foam cushion, high quality gas lift cylinder. All materials are in good quality, durable, and not easy to deform.
EASY INSTALLATION: Our office chair is easy to install. We offer installation instruction and video to help you.
---
What to Look for When Buying an Office Chair for Short People?
Before buying any office chairs for your company, we should equip pieces of knowledge about their characteristics to select the best one. On the markets nowadays, the manufacturers have provided a variety of office recliners with various designs, brands, shapes, colors, materials, etc.
Hence, to choose the most suitable chair for you, you should know some information as below:
The Size of The Office Chair
Each office chair will suit each stature, hence, remember measuring your height and weight to choose the appropriate product. You can filter various supplies with different width of the seat cushions that you want. A perfect product will not only protect your spine, but also increase comfort in working.
When you finish to select the suitable size of the office recliner, you should observe other elements about main materials, adjustable options, structure of frame or seat cushions.
The Materials of Chair's Frame
The most enjoyable material of the chair's frame that the manufacturers often used to produce their products is premium quality plastic. This material is durable and robust for long-lasting use.
Besides that, you are provided another component of the chair's frame is wood. It will create luxury and modern style for your working environment.
Moreover, the materials of seat cushions are very important for users. So to remove fatigue or pains as a result of sitting for hours on the chair, you ought to select soft pads that absorb sweat.
The Structure of Backrest
The structure of the backrest is another element that you should care about. The modern manufacturers have provided two popular selections including leather backrest and breathable mesh backrest.
If you love dynamic style and comfort in working, you can choose the mesh products. Because they are designed as attractive patterns and can promote cool air circulation in the best way. These meshes are produced with highly elastic that looks like the massage pads to give the most comfortable feeling for users.
Additionally, because of flexible fabrics, you can put a lot of pressure on the backrest effortlessly.
Otherwise, if you enjoy luxury and classic style, the leather chair will be a wonderful decision for you. With glossy and soft material, the product can upscale your working environment and create a comfortable position for users to finish their jobs.
The Adjustable Knobs
Besides the high-quality materials of the office chairs, they need to consist of adjustable options to bring softness and comfort for users.
Most of the products on the markets have high adjustable knobs to modify the height of the chair. With more modern supplies, they are integrated other adjustments including tilt tension, the armrests or headrests. So you should read the instruction of the product carefully to choose the best one for you.
What are The Most Trusted Office Chairs for Short People Brands?
Currently, many manufacturers come from reputable brands that often produce products with premium quality and integrated adjustable options to give complete comfort to their clients. If you are seeking some believed brands, you can refer to Hon, AmazonBasics, Boss, Hbada, Smugdesk, Modway, etc.
If you want your lower back to be supported efficiently by a soft pillow, Smugdesk will not disappoint you. Hbada and Modway are those brands that offer you flip-up armrests for space-saving. Moreover, these brands consist of the optimal knobs to adjust the height of the chair smoothly. Entire the products can swivel 360 degrees effortlessly with a durable base and robust chair's legs.
Besides that, if you like leather material with luxury and modern for your office, you are offered some brands including AmazonBasics, OFM, Sadie, etc. They contain not only the high-quality leather materials, but also soft paddings at the backrest, seat cushions to increase superior comfort for people.
What are The Different Types of Office Chairs for Short People?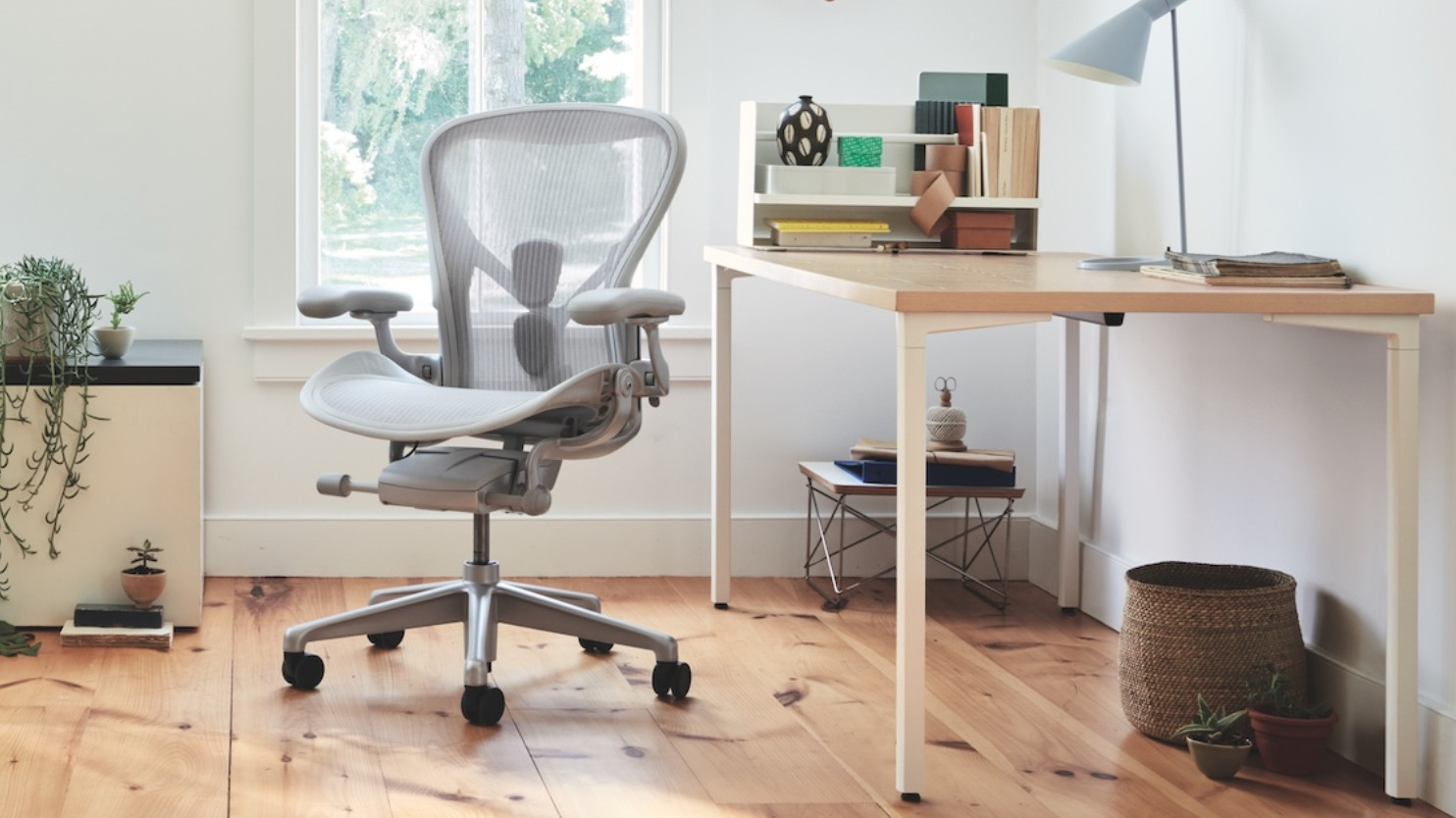 With development of technologies, the manufacturers have produced a variety of products with wonderful functions to response demands of users. Hence, on the markets today, they have many types of office chairs are conference chairs, armless chairs, ergonomic chairs, standing chairs, etc.
Certainly, each kind of chair will contain specific characteristics to create its uniqueness. In this article, I'm glad to introduce the most popular supplies that can remove diseases above are ergonomics, conference chairs, standing chairs.
Ergonomic Chair
The ergonomic chairs are created to fully support the customer's body including standards of posture, lumbar support, comfort, and health. They are researched carefully from health professionals so that users can believe in the quality of products.
Currently, some famous brands have integrated some outstanding elements of ergonomics in their chairs to increase comfort for us. I'm glad to share a lot of beneficial information about choosing the best ergonomic elements for short people in this article as below:
Seat Height
According to the height of petite people, the manufacturers have provided the high ranges of the office chair for them are between 20" and 40".
Seat tilt
The health professionals said that office workers should protect their pelvis because it is the most affected part on bodies. Hence, we need to equip ergonomic chairs that have the tilt tension to support us can recline the product and prevent diseases of our spine.
Lumbar Support
"S" shape of the backrest will be the perfect design that supports our back and spine optimally. Some brands has integrated soft pillow in the backrest to prevent fatigue or slumping on the pelvis and spine.
Conference Chair
To be suitable for offices and meetings, we should equip conference chairs produced with formal designs and had quality functions including lumbar support, soft cushions, armrests and swivel ability.
Standing Chair
This chair is used for high tables or dynamic meetings. It is designed with a higher cylinder to lift the user's body off the ground. Hence, the standing chair has been integrated into a foot ring to create a place for customers putting their foot comfortably.
Low-Back, Mid-Back, High-Back Chair
These types of the chair will support different positions of the user's spine. The low-back office chair will protect the lower back of us and prevent pelvic diseases. Moreover, if we want to protect our spine efficiently, the mid-back product will be the perfect decision for us. Otherwise, the high-back recliner will keep our spine straight the entire time of working.
Why do You Need an Office Chair for Short People?
With a short person or petite user, the normal office chairs will cause some inconveniences because they aren't fit with their stature.
Firstly, the standard chairs will contain bigger seat cushions or the height is taller so that they can't support short people effortlessly. When the user's legs can't touch the floor, they can face a lot of problems with interrupting blood flow and waist fatigue.
Secondly, users can feel uncomfortable when sitting on unsuitable products. Because the functions of the chair will not support them in the best way. Hence, their bodies can cause some fatigue.
Last but not least, a good office recliner should maintain comfort and softness during working for hours. With petite people, they need both advanced adjustable options and durable paddings. Therefore, the chairs are promoted in covered layers and produced from the highest quality materials.
How to Use it?
Before using the office chair, we should assemble the product in the appropriate way. In this article, I'm glad to share experience on how to assemble the office recliner:
Step 1: Unloading entire elements of the office chair that you have bought from store. Reading instructions carefully and checking items to determine the next step.
Step 2: The casters are the easiest way to assemble so we should start from them. You take entire the wheels outside from new packaging and put them into the base.
Step 3: You take the gas strut cover and put them into the fittest position of the gas strut.
Step 4: Then, you put the gas strut in the base of the chair. If we couldn't tighten the gas strut into the base, don't worry, it will be tighter when you sit on the recliner.
Step 5: Using the bolt provided in the packaging and bolt that mechanism easily.
Step 6: Then, you put the chair's back on the mechanism that you have already assembled. Aligning the 4 bolt holes and bolt them tightly.
Step 7: The next step you start to attach the armrests and use the hand screw to tighten them up.
Step 8: When you finish assembling other elements, you can put the chair onto the gas strut carefully.
Step 9: The last step is attaching the headrest.
How to Clean and Care?
We have divided the office chairs into 2 popular kinds are mesh and leather products. With each type of chair, we have different ways to clean and take care of them.
If you are using the leather recliner, you can use damp clothes and wipe the chair's surface gently to remove dirt on frames or cushions. As a result of leather material, you couldn't use too much pressure to avoid sloughing.
Washing the mesh office chair is easier than the other because we can disassemble each part effortlessly. The most important parts that we should clean carefully are headrests, armrests, seat cushions, etc.
Different from leather product, you can wash the mesh chair with water or soapy solution to remove odors comfortably. You ought to sunbathe the chair's parts in the sun to prevent bacterial proliferation and remove water completely.
WRAP UP
Best Task Chair for Short Person – After conducting extensive research, we nominated the Flash Furniture Mid-back Ergonomic Office Chair as our Top Pick for the best Task chair for short people. We liked this office chair because it's an ergonomic mesh-combination chair with a breathable backrest with built-in lumbar support and a padded cushioned seat. The pneumatic height controls allow for seat height adjustment between 17 to 21 inches, and you can still adjust the arms and backrest too.
Most office chairs are built to accommodate an average frame. If you are petite or short in stature (under 5'3" for women and under 5'8" for men), your so called ergonomic chair could be exacerbating your existing aches and pains – or potentially creating new ones.
In this guide we take a look at all the important ergonomic factors that short people need to focus on when picking an ergonomic chair, followed by a comprehensive list of the best office chairs for short people. All of these chairs are appropriately sized in the key areas that make all the difference for short people, from seat depth, height, to seat pan width.