Best Zero Gravity Chair for Back Pain – In this guide, we review the best zero-gravity chairs on the market, taking into account multiple considerations such as ease of reclining, durability, ergonomics, massage functions and more. Some of these chairs are suitable for both indoor and outdoor use, whereas others, especially those made of leather, are a good choice for your living room.
For our research, we scoured the web for reviews from both professionals and consumers who have used these chairs extensively to determine the pros and cons of each model. We put all the information together to create a comparison table and offer you comprehensive reviews for each of the models we considered. At the end, you will also find a buying guide that can help you decide which type of chair is suitable for your needs, by guiding you through all the features and functions you may need to consider before making a purchase. Now let's have a look at the reviews for the best zero gravity chairs for back pain.
ROUND UP
1.Human Touch Perfect Chair
Our editor's choice for best all-around zero gravity chair for back pain is the Human Touch Perfect Chair PC-420, which blends extraordinary comfort with elegant design. This manual recliner uses your body's own weight to reach multiple recline angles, so you can easily find a position that alleviates your back pain and keeps you comfortable for hours on end. Users loved the full support head pillow with articulating headrest that you can position any way you want, as well as the extended armrests that offer constant support, no matter the position you sit in.
Available in multiple colors, this chair sports a premium full grain leather handcrafted design, as well as a base made from solid wood that is hand carved and hand sanded. This results in an elegant piece of furniture that can complement just about any living space and is bound to last for years to come. Users raved about the adjustable lumbar support that is equipped with a release valve, so you can customize it to reach the ultimate sitting comfort level.
This chair is an excellent choice for those suffering from back pain because it provides an optimally ergonomic posture, by placing you in a fixed form sitting position at all reclining angles. This means that you will feel as though you're defying gravity when you sit in this chair, which allows your muscles to find relief, whilst improving your circulation.
Pros & Cons
---
【Power Glider Swivel Rocker Recliner Chair】 The smooth and gentle 270° swivel does not make the chair stiff when used; The 90-135° recliner can satisfy you in various postures such as sitting and reading, leaning against and watching TV, lying down and resting; The features of rocker glider make you more comfortable.
【Specifications】Measurement dimensions-32"W*38"D*42"H; Seat (H)– 20",(D)22.5"; Weight Capacity - 300 lbs;1 USB Port;With the touch of a button, you can customize just how much you want your Chita to recline.
【Installed in 5 minutes】The installation can be completed within five minutes by referring to the product manual, which is convenient and quick.
【Double layer backrest & Truck armrest】The recliner is equipped with headrest truck armrest and double layer backrest,which can deeply relax your head and provide good support for your hands.
【Note】Find a yellow protector at the bottom, then remove it before using before use.
---
2.TIMBER RIDGE
An oversized zero gravity chair that is designed for camping and general outdoor living, the Timber Ridge Zero Gravity Chair is a great option for those who enjoy outside air but don't want to be stuck in a chair that aggravates their back pain. With a backrest that can be adjusted to different positions, so you can sunbathe or read a book, this chair also has adjustable armrests that remain parallel to the ground even when you are in a reclined position.
Users liked that this chair is superbly adjustable, and that it is very easy to set up and transport. Made from heavy-duty materials that include a steel frame and a fully padded seating, this chair also comes complete with a flexible bangle suspension system for extra comfort. The armrests are not made from plastic, but from natural wood instead, so they don't get too hot on a scorching summer day.
The chair has a weight capacity of up to 350 lbs., and users liked that it comes with a removable padded pillow that can be used either for extra head support or for lumbar support. Available in multiple colors to suit any decor, this chair is designed to be ergonomic, but unfortunately does not come with a leg rest extender, so it may not be quite as suitable for taller people.
Pros & Cons
---
STEP YOUR GAME UP – Your gaming experience matters to you, so why are you still hunched over your couch trying to stare at the mini map – With the lounge recliner video game chair by Chic Home you can take your PS4, Xbox One, or Wii game to the next level by playing in style and comfort – No more hunching over or moving the couch, the Chic Home gaming chair is lightweight and adjustable so you'll always be in the best position
SIT BACK, RELAX, AND ENJOY THE SHOW – Not a gamer? No problem! The memory foam floor reclining chair is still for right you – Whether you are catching up on your favorite TV show, watching a movie, or reading up on the news, you can do so from the comfort of the floor rocker chair
GREAT FOR THE WHOLE FAMILY – The Chic Home memory foam floor chair is designed for kids and adults alike – The 5-position recliner chair provides plush seating and sturdy back support to people of all ages – The recliner chair can be laid out flat, perfect for younger children who just want to lay down for a bit – Great in a kindergarten, Pre-K, or day care setting
LUXURIOUS MICRO PLUSH FABRIC WITH MEMORY FOAM FILL - Made with premium quilted micro plush fabric and chopped memory foam fill for a soft yet supportive seat – You and your guests will relax in comfort and style on this chic reclining floor chair
No assembly required
ENGINEERED TO PERFECTION – All Chic Home Furniture products are made with durable top of the line materials under strict quality control standards that create a lasting quality piece for your home
---
3.LUCKYBERRY Deluxe
Our budget pick is the Luckyberry Oversized Zero Gravity Chair, which is an excellent choice for those who want to enjoy the benefits of a zero gravity chair for back pain at a fraction of the price of other models. This chair is suitable for tall people, which is something that is definitely difficult to find, because many difficult chairs designed for the outdoors are too cramped for taller persons. When reclined to the maximum, this chair is 65 inches long and it supports up to 350 pounds.
The chair comes with a padded polyester fabric that makes it comfortable and easy to clean, and the armrests are covered with a wooden finish instead of plastic or bare metal, allowing the chair to remain cooler in the hot sunshine. The adjustable headrest lets you slide down support your lower back and alleviate any pain that you might have. The lumbar support pillow is completely removable, and users like that you can also use your own pillow as there is enough room for it.
The Luckyberry Oversized Zero Gravity Chair reclines and locks into any position between 90 and 170°. This is a manual chair, so you can adjust all the settings by flipping the levers situated under the arm rests. When folded down, this chair is just 6 inches thick, which makes it very easy to transport and store.
Pros & Cons
---
【Comfortable Material & Massage Mode】The recliner is made with high-quality PU leather, skin-friendly, and easily cleaned, thick padding provides better comfort; 2 point massage of the power recliner on the waist. 8 function of the recliner chair gives you the best massage.3 intensity of the reclining sofa offers you the best relaxation.
【Application】This single sofa is a good choice for the living room, home theater, bedroom. The club chair recliner's back can be adjusted from 90 degrees to 160 degrees to read books, watching movies, and napping.
【Upgraded Footrest】This recliner sofa features a dual-function foot extension and a reclining back that will surely help you to unwind and de-stress. Enjoy your favorite entertainment and fully relax your body and mood with this comfortable push-back recliner chair. Steel frame design leads to a more stable; Freely adjustable angle of the footrest, perfect for relaxation during your rest time.
【Durable & Stable】Solid hardwood frame and widened base design make the massage chair more steady when lay back, completely avoid the dangers of flipping back like others' chairs. Maximum Capacity: 275 lbs; Seat height: 17.3 inch; Seat depth:20 inch;Seat width:19.3 inch; Armrest height:22.2 inch; Open dimensions: 27.2 inch x 61.6 inch x 29 inch; Closed dimensions: 27.2 inch x 34.3 inch x 38.6 inch.
【Easy to Assemble & Good Service】Our winback chair massage sofa is easy to install, only takes 2 minutes to install, just slip the back part of the club chair onto the base -- screw four legs -- connect the massage controller and power cable, then you're complete! No tools are required! If you have any problem with our club chair, please feel free to contact us. We offer our customers a 36-month replacement and 100% contentment assurance for this recliner chair.
---
Best Zero Gravity Chairs for Back Pain Review 2022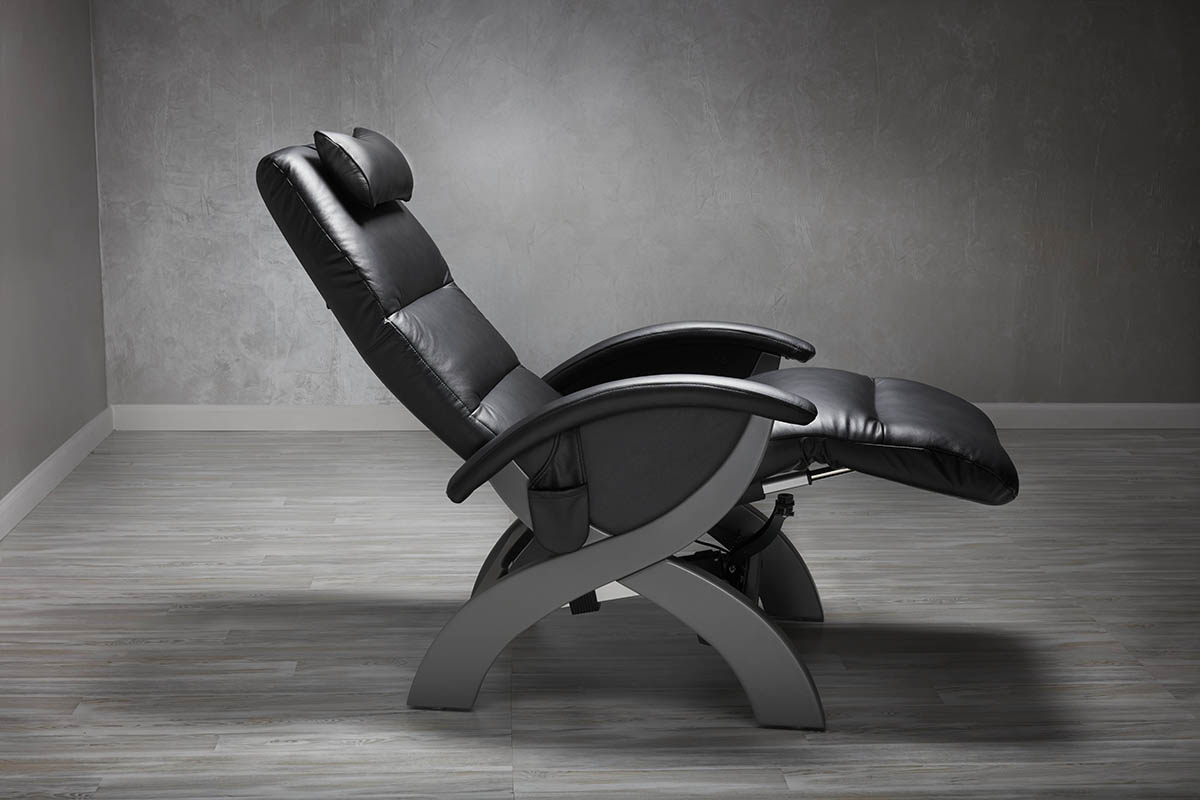 For this guide to be comprehensive, we had to scroll the web for reviews from people who are both professionals and those who have purchased these products well enough to know what their pros and cons are and what makes them the best choice products. We have put all these together to give you a comparison table and, also, give you a comprehensive review for each of these products that will be featured in this article.
After you read the reviews for each product, you will find a guide for buyers that will help decide which type of chair is perfect for your unique needs; by helping you navigate through these features and functions that will be necessary for you to make your purchase.
Let us take a brush at the featured products for the best zero gravity chairs for back pain.
The Perks of a Top-Quality Zero Gravity Chair for Back Pain
Zero gravity chairs have become quite popular because of the level of comfort that they provide, but they are also the best choice for your health. These chairs can help to reduce the pressure on your spine that could lead to severe back pain after you have had a long day at work or sitting in an office chair.
Zero gravity chairs cradle your body in a way that the weight becomes equally spread across your entire body, helping you achieve correct alignment of your spine. They also decrease muscle tension and help promote circulation throughout the body while reducing pressure on your joints.
Features to Look Out for when Choosing a Zero Gravity Chair for Back problems
Between the type of chair it is that you need to design and the number of reclining positions, there are several features that you would need to put into consideration when you are choosing a zero gravity chair that would help with your back problems.
Some zero gravity chair models come with heat and massage functions, while there are others that do not have these functions. You will also find that there are those that you can use outdoors, so you can take them with you to a picnic or even to the beach.
Below, we will be giving you the most crucial factors that you would need to consider when you are trying to make the best choice product:
Type of chair
The two major types of zero gravity chairs that are available on the market are either outdoor or indoor chairs. The outdoor chairs have covers that are usually waterproof and are resistant to the elements, whereas the indoor or lounge chairs usually come with an all-leather design so that they will look great in your living room.
Some models have sleek covers that make them great for both indoor and outdoor use. Each of these chair types has both their advantages and their downsides, but you should choose which is a better choice for you by first considering where you will be using it the most.
If what you want is a zero gravity chair that you can use as an armchair to watch TV in your living room, then you would probably want to go for the full body massage leather model. But, if you plan on taking the chair with you when you travel, a folding model would be a better choice.
Weight Capacity
The weight capacity of a zero gravity chair is referred to as the number of pounds that it can hold. Many of these chairs are ideal for weights of up to 400 pounds, but you should know that the outdoor models can only sustain lower weights of up to 250 pounds or 300 pounds.
If you are in need of a chair that can be used by all members of your family, then you would have to ensure that you take the weight capacity into account.
Recline Position and Locking Mechanism
Full body massage zero gravity chairs usually come with several reclining positions, but there are several outdoor chairs that are very customizable to help you get a zero gravity position as well as a locking mechanism that will help you maintain it.
Note: If you are looking for a zero gravity chair that would help you with your back pain problems, then you would need to make sure that the angle you can lock the chair in is as close as 180 degrees as possible.
Ergonomic Design
This zero gravity has an ergonomic design, and this means that you are bound to feel comfortable in them even if you should sit in it for prolonged periods of time.
The design of the chair is also quite important if you are quite space-limited and you would require a foldable model. The outdoor chairs are quite easy to move and store because they are portable, but they still have a  design that keeps you comfortable and alleviates back pain issues.
Heating Features
Many massage zero gravity chairs are equipped with heating features that are a great option for those that would like to try thermotherapy together with their massage to get rid of the back pain.
When you combine massage settings with heat, you can relax your tired and overworked muscles in a short time. Many chairs that have the heat functions have heated massage rollers that you will be able to customize when it comes to temperature to enjoy therapy that works well for your unique needs.
Dimensions
The dimensions of the chair are not just important for the space that you will like to place your chair in, but also the comfort of the person who will be using it.
Note: It can be challenging sometimes to find a suitable chair if you are a taller then average individual so you would need to make sure that you get a model that has an extendable leg rest.
Foldability and Portability
These features are very important for chairs that you will be using outdoors because you may need to move them from one spot to another, or maybe you would need to store them for winter.
Outdoor zero gravity chairs are usually lightweight, with this, it should not be difficult for anyone to fold and store them. Although you should know that if you need to take the chair say, upstairs or transporting it in the trunk of your car, you would need to ensure that it fits before you settle on a particular model.
Warranty
The warranty that you get for zero gravity chairs usually differs from one manufacturer to the other, but currently, you will be able to get up to 3 years warranty for your chair. You should expect to get more warranty for indoor full-body massage zero gravity chairs than you would for the outdoor models.
Build Quality
With a piece of furniture that costs less than a C-note, expectations are quite low. The biggest complaints are usually for models that cut corners, like the ones that use inferior elastic and skimped on quality control. There are some chairs that have joints that wiggle and their fasteners stick out. It is not easy to see the problems when you are just looking at the chairs, but when you get to sit in them, then you start to notice all the not-so-visible problems.
After the extensive research, it is decided that the Human Touch Perfect Chair PC-420 is our top pick since it uses elegant design with a highly customizable reclining angle that makes it very suitable for all types of chronic back pain.
If you're looking for something you can use outside or a chair that can also give you an amazing massage, keep reading! We found something for everyone. When figuring out which of these chairs was the best, we kept a few key features in mind. We considered the weight capacity so you know how much the chair can handle. Weight and dimensions are also important so you know whether or not the chair fits in your home. Some of these chairs are pretty large while others are actually portable. Finally, we looked at any guarantees to make sure your purchase is protected.
WRAP UP
Best Zero Gravity Chair for Back Pain – Have you ever considered what a zero gravity chair was all about? It might surprise you to find that it is something that you might come to want and enjoy having. It really has nothing to do with astronomy or space or anything like that, but these chairs have been made in respect to the way astronauts sit when they fly into space, with their S-shaped backs and their steep reclining angle that is supposed to put less pressure on the body.
The best zero gravity chairs for back pain that are available on the market are not only super comfortable, but they aid back pain relief and can also help you get better after you have had an injury or some surgery.
In this article, we will be reviewing the best zero-gravity chairs that are available on the market, and we will be taking a few things into consideration, things like ease of reclining, ergonomics, durability, massage functions, and many more other factors that make them the best choice products.
For the term "zero gravity", most people would probably conjure images of floating weightlessly in space (give or take a few aliens). Now take that feeling and imagine you are sitting in a chair on Earth. Zero gravity chairs make users feel like astronauts because of the steep reclining angle and s-shaped back that is designed to exert minimal pressure on the body.
These chairs are therefore perfect for those who want to kick their feet back on a Sunday afternoon instead of getting backstabbed by a cheap plastic lawn chair. The greatly reduced pressure on the body is also ideal for those with lower back pain who need to recline in a comfortable and ergonomic position when taking breaks from standing. Indeed, the zero gravity concept is similar to that used by the zero-gravity treadmill, which helps injured athletes recuperate and exercise without putting too much stress on their lower limbs.